Black and gold are two colors that will work with a wide range of other colors since they are both neutral. Black is one of the most classic neutrals available, and it fulfills the true neutral requirement of lacking color.
That being said, if you are looking for black wall paint, you will find a variety of shades that have hues of blue, green, and gray in them.
The simplicity and neutrality of black means that it will go with any color. It is the ultimate neutral shade in both fashion and interior design.
A little black dress will go with a pair of shoes in absolutely any color, and the same goes for interiors. When you add gold to black, the result is an instant lifting of the tone.
Black on its own can feel drab or morbid, but with the addition of gold, it feels timeless and luxurious. Gold is a warm-toned metallic which has a yellow base. It provides a sense of comfort and elegance, which makes black more sophisticated and appealing.
Black and gold can be used as a color scheme by themselves, but adding an extra color to the mix will make things more interesting, adding an extra dimension to a room's decor. Here are some of the best colors that go well with black and gold.
Tan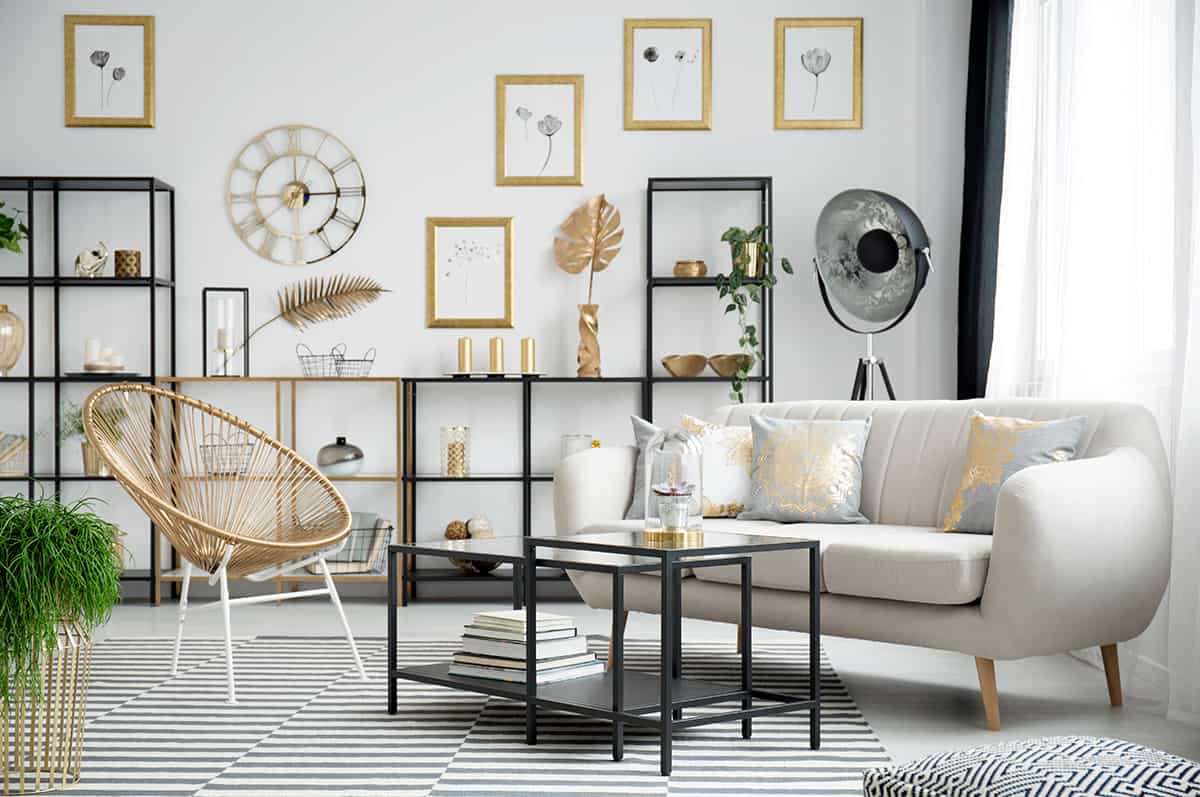 Tan is a color that sits exactly halfway between brown and beige. It could be described as dark beige or light brown, and oftentimes it will have a slightly orange hue which warms it up even further. Tan can appear as a rustic color or an elegant color, depending on how you use it.
It has a versatility that works really well with black and gold because you can elevate the luxury style even further. For example, with tan velvet upholstery, or you can bring a casual feel to the style with the use of tan leather.
In a living room with black walls and gold accents, a tan velvet sofa will punctuate the space nicely, as a color that doesn't hold too much personality but is able to break up the black and gold decor a little. You could consider painting the walls tan if you want a more low-key look using black and gold.
Tan walls will bring warmth and a richness to a space that makes it feel inviting and cozy, while black and gold features will add a sense of glamor.
In a kitchen, paint the walls tan and opt for black cabinets with gold handles and a gold tray on a tan marble countertop holding a variety of black mugs. Since tan does not contrast in terms of hue with either black or gold, these three colors together don't feel too energizing, and they create a comfortable space that you will want to be around to feel safe and relaxed.
If you want a dramatic style, then choose black as your main color and tan as your secondary color, finally finishing with gold as your accent color for accessories.
For a more day-to-day look, use tan as the main shade in the color scheme and black as the secondary color. In a living room, this could look like black sofas with gold legs set against tan walls and a black sideboard with gold inlays on the doors.
Emerald Green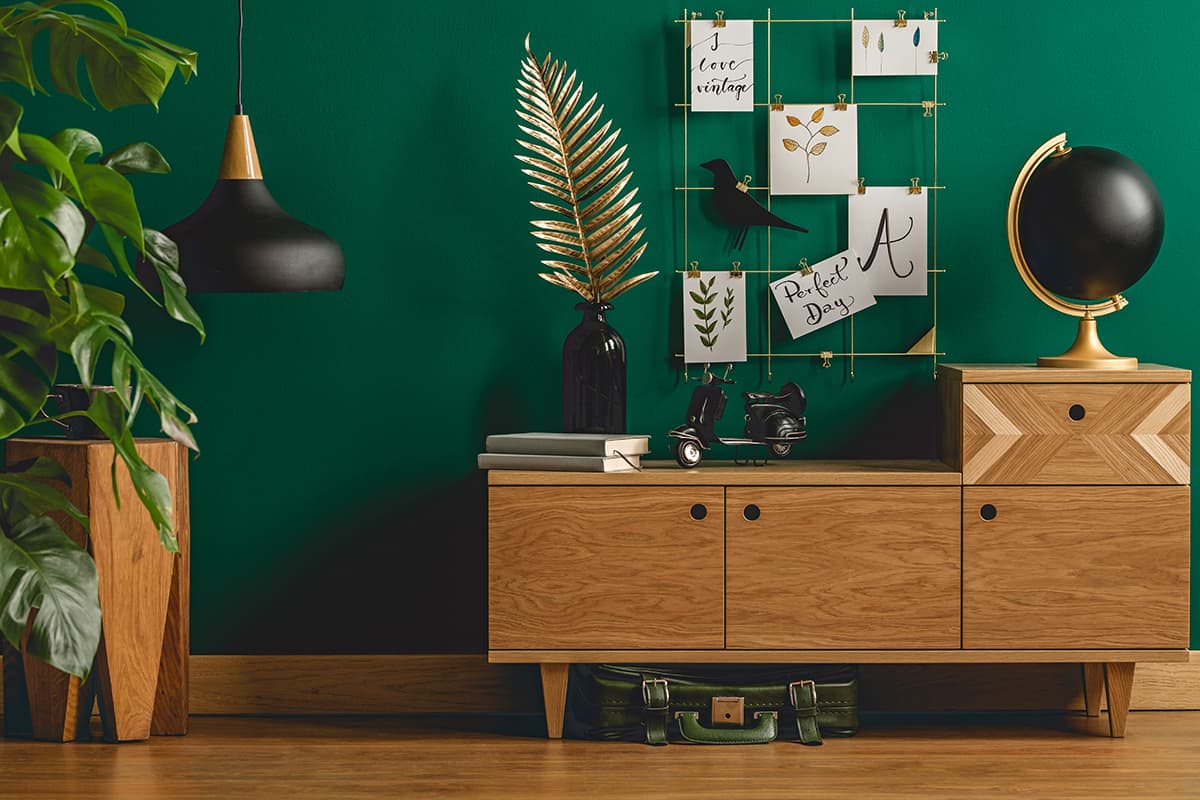 Emerald green is a really trendy color in interior design right now, which is good news for the public because it has filtered down to chain stores and high street stores, making emerald green furnishings and home decor items really easy to find.
The wide availability of emerald green home pieces means not only that you have a huge range of choices but also that you should be able to select items that are comfortably within your budget. Emerald green works so well with so many colors, and this includes black and gold. As a color that exudes luxury, emerald green looks right at home with the glamor that black and gold create.
Once you have settled on this color scheme, decide which shade is going to be your primary color. This is the main color that will typically be used for wall paint but will also be used for furniture and accessories across the room to tie the color scheme together.
Both black and emerald green are deep and dramatic colors that would work well as the main color in a room, working to ground the space and provide a sense of safety that envelops you inside it. Both black and green are also really versatile colors that you can use in different color schemes in the future, so you could base your choice around which color you expect to keep on your wall for the longest.
When you know which colors are the primary, secondary, and tertiary shades, use them in a ratio of 60:30:10. For example, use black across 60 percent of the space, emerald green across 30 percent of the space, and gold across 10 percent of the space. This will ensure a balanced, stylish look.
For a glamorous and intimate look in a living room, paint the walls black and choose emerald green sofas with a black rug and emerald green curtains. Use gold for the metalwork. For example, a gold curtain pole, a gold light fitting, and a gold metal coffee table.
This theme would look equally luxurious in reverse, with emerald green as the wall color and black as the color of the soft furnishings.
Sapphire Blue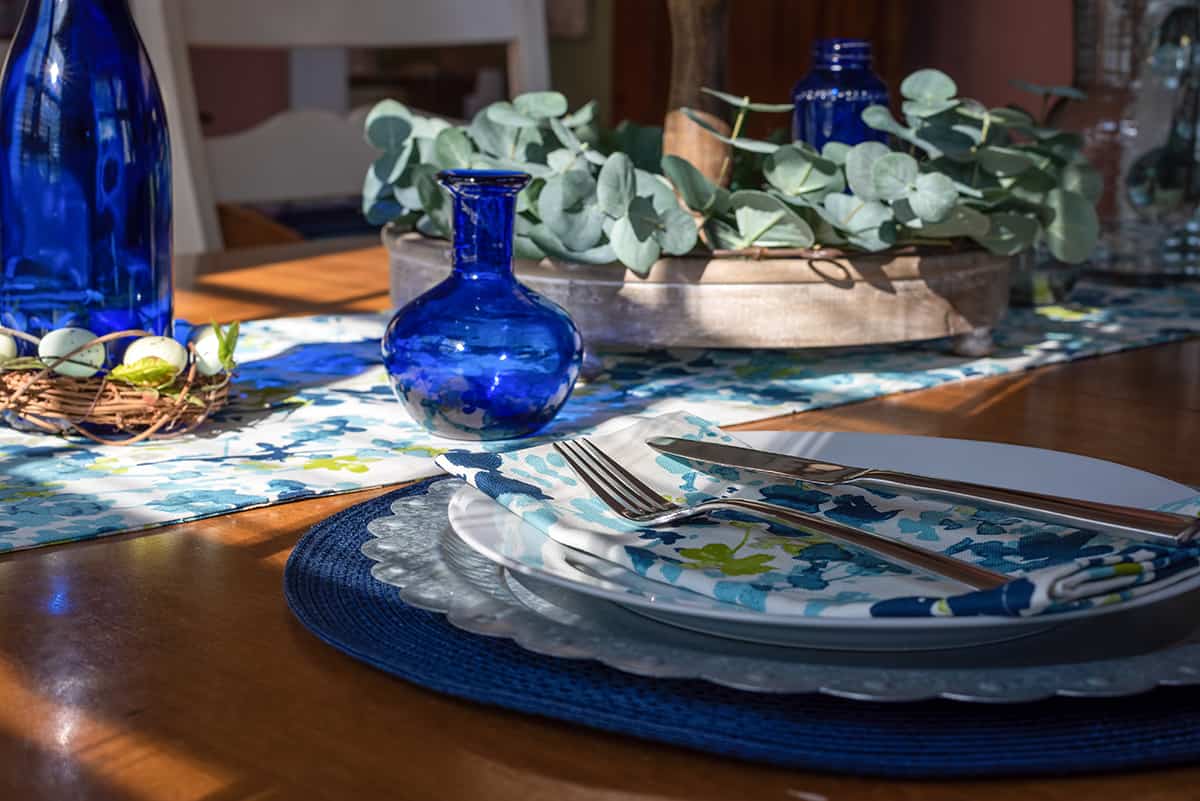 Sapphire blue is a heavily saturated, medium to dark shade of blue that oozes elegance. This jewel tone works perfectly with black and gold in interior design to achieve a look that feels majestic yet modern.
In a dining room, paint the walls sapphire blue and use black as a furniture color. Opt for a wooden dining table that has been stained in black so that you can still see the texture of the grain, or use furniture paint to give a more overall flat look. Alternatively, opt for a black metal framed dining table with a glass surface.
For dining chairs, black-painted wooden chairs would work well or choose dining chairs upholstered in gold velvet for a rich and decadent style. On the tabletop, position sapphire blue placemats at each setting and use a gold candelabra as the centerpiece.
Blush Pink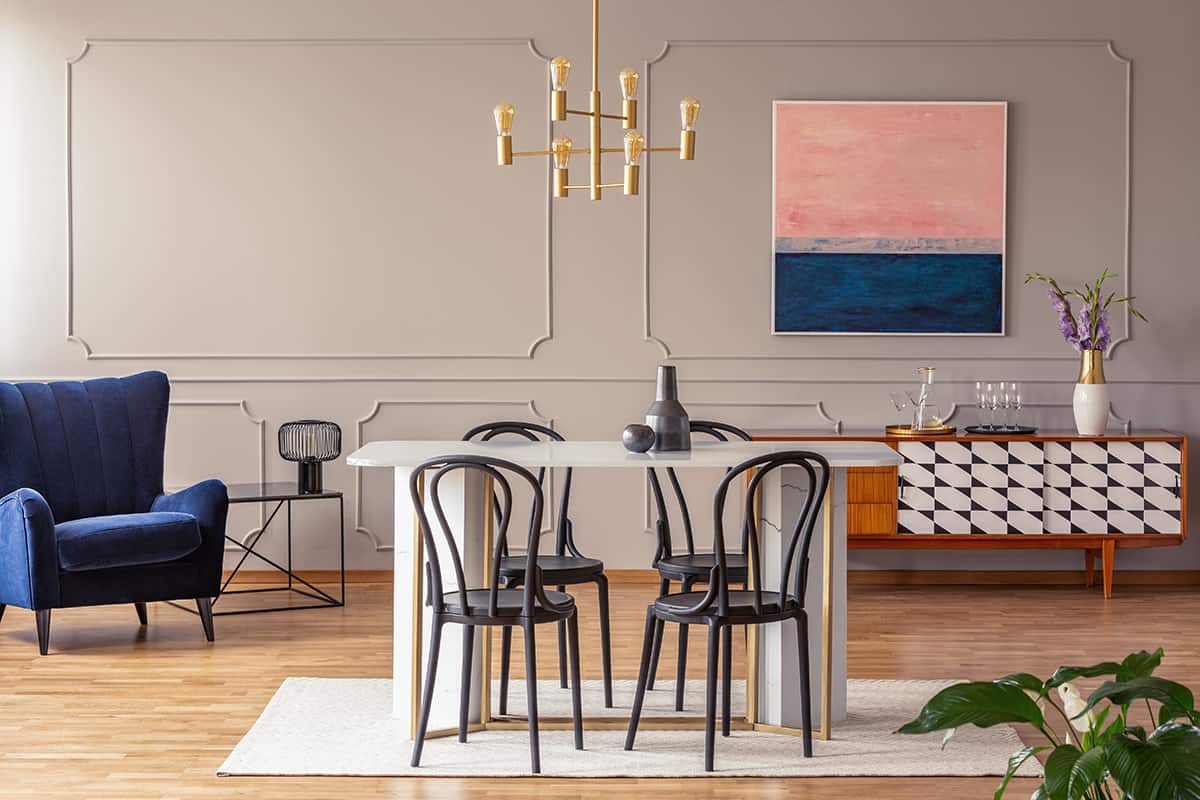 Love it or hate it, you cannot escape blush pink as one of the biggest trends of interior design over the last decade. Despite its delicate look, it has taken on associations of strong femininity and sultry glamor, which makes it work really well with the intensity of black and gold. Black and gold color combinations match well with blush pink, which provides a nice balance because it has a muted appearance.
In a bedroom, paint the walls blush pink and then use black and gold to define the atmosphere as sophisticated and elegant, rather than sweet and innocent.
This can be done by using a black painted bed frame, with gold silk sheets and a black fur thrown over the end of the bed, along with black lampshades on gold lampstands, with a few blush pink cushions positioned on the bed to tie the color scheme together.
Alternatively, use blush pink to bring a softness to a heavy black and gold color scheme. For example, in a living room with black walls and gold metal fixtures, choose velvet blush pink curtains and faux fur blush pink cushions on the sofa.
Gray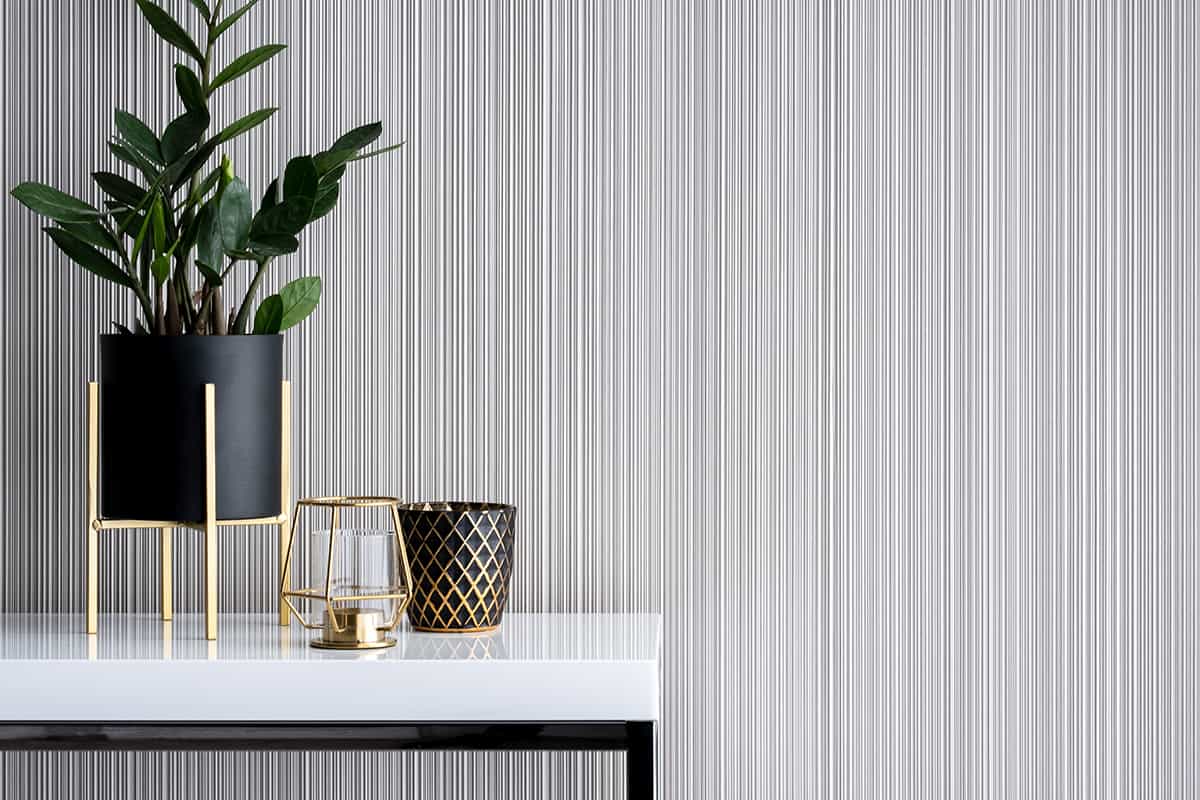 Black and gold is a classic and timeless color pairing that can look vintage or antique, or it can look sleek and modern. By using gray in this color scheme, the resulting style will be effortlessly modern.
Pale grays will bring a lightness to the room, whereas medium to dark grays will be more dramatic. Since dark gray can look close to black in some lights, be sure to choose a shade of gray which is different enough from your shade of black so that there is a distinct definition between the two.
In a living room, paint the walls in medium gray and choose black sofas with gold metal legs, along with light gray cushions and gold light fittings. Gray can also be used as a pale neutral to soften up a black and gold color scheme. For example, in a room that feels dark from black walls, lighten up the space with pale gray curtains and a large pale gray area rug.
Olive Green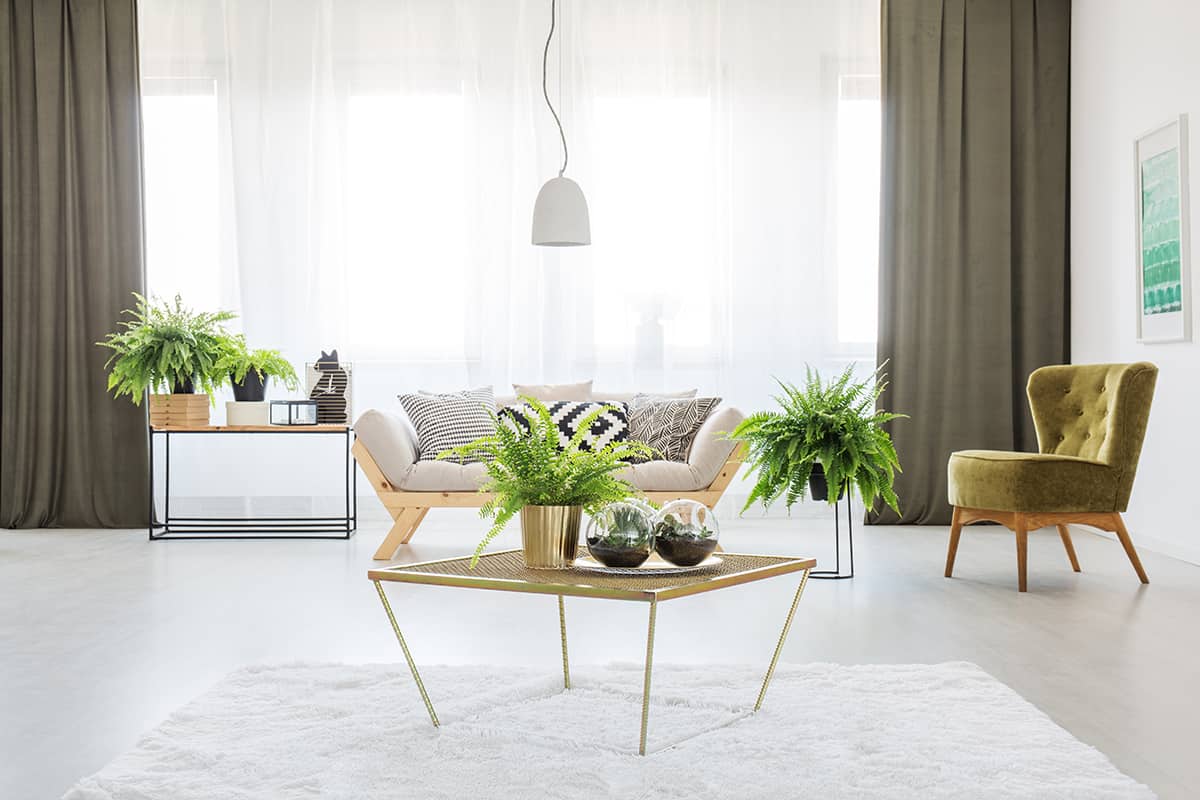 Olive green is an earthy, muted shade of green that looks really contemporary with a black and gold color scheme. The elegance of black and gold makes for a really interesting juxtaposition with the natural and earthy color of olive green.
In a room with black walls, opt for olive green sofas and art prints of olive-colored leaves in gold frames hanging on the walls. Olive green walls would also look chic with black sofas and gold accessories.