Marble has long been a symbol of status that is associated with wealth and majesty. It is an expensive material that can be used in various applications within the home, but it has many excellent qualities that make it popular for use in kitchen countertops, flooring, and tiling.
In this article, we'll uncover many different types of marble.
1. White Marble
White marble is the most popular color of marble to use in home interiors and is among the most popular colors for white granite countertops, thanks to its timeless and classic quality and its ability to work with any style of color scheme. White marble is associated with purity and luxury and makes a statement within a home without being too bold or showy.
1.1. Carrara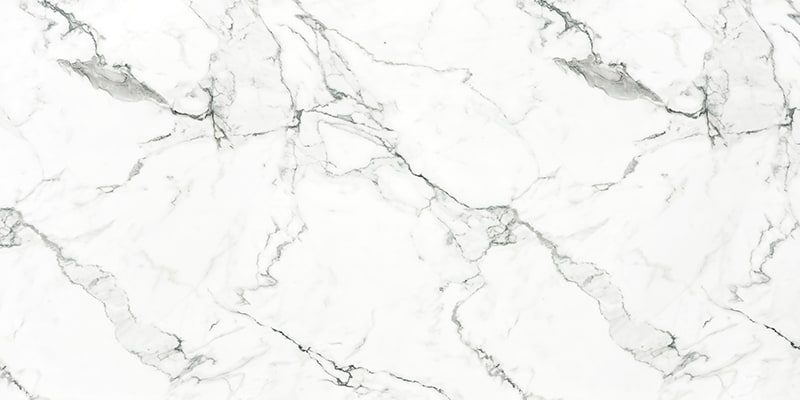 Officially known as 'Bianco Carrara,' this type of marble is the most popular white marble used in homes, being regularly found in both bathrooms and kitchens as a countertop and backsplash. It is predominantly white with gray veining running through it in feathery patterns. Its popularity has made it one of the more affordable types of marble as it can be purchased by stores in bulk.
1.2. Calacatta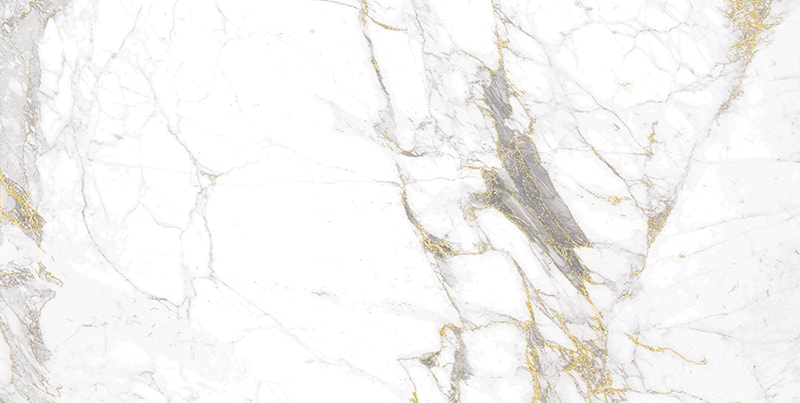 Calacatta marble is sometimes mistakenly known as 'Calcutta' marble, but both types are one and the same. This marble is from Italy and is similar in looks to Carrara marble, but can be distinguished by the thick and solid gray veins running through it. It is also a brighter white compared with Carrara. Calacatta marble is considered a luxury marble due to its rarity. There are various types of Calacatta marble, including 'Calacatta Michelangelo,' 'Calacatta Gold,' and 'Calacatta Borghini.'
1.3. Mystery White
This marble has an off-white color that is reminiscent of cream. It has an almost misty look about it, as there are slight patches of different shades of white, but these are so hazy it is hard to truly distinguish any. This is a good choice of marble for homeowners who want a very simple, minimalist, and contemporary style in their interior. It brightens up a space but does not dominate it and can be used as a good base for other interior design.
1.4. White Himalaya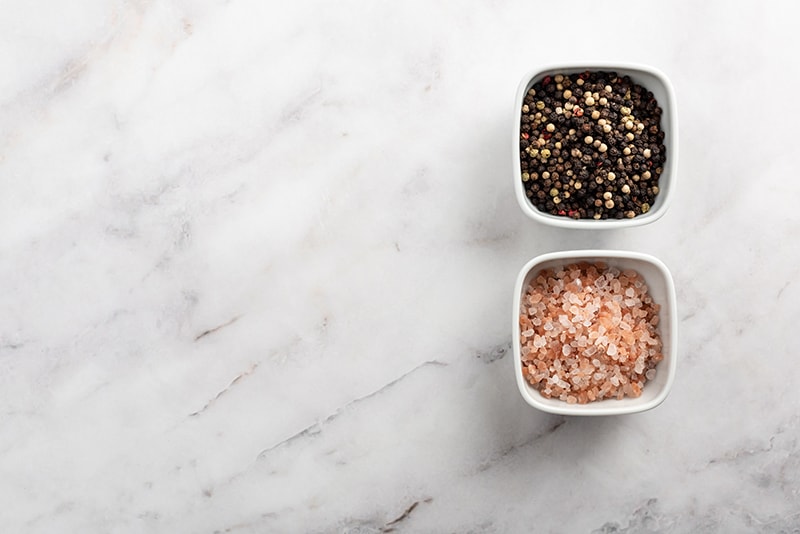 This marble is quarried in Greece. It has a similar look to Carrara marble, with a white base and feathery veinings, but the difference is that the veins in this marble can vary in color. While Carrara marble always has gray veins, White Himalaya marble can have veins in purple, bronze, or gray. This type of marble is popularly used in tiling, especially around bathtubs or in showers.
1.5. Statuario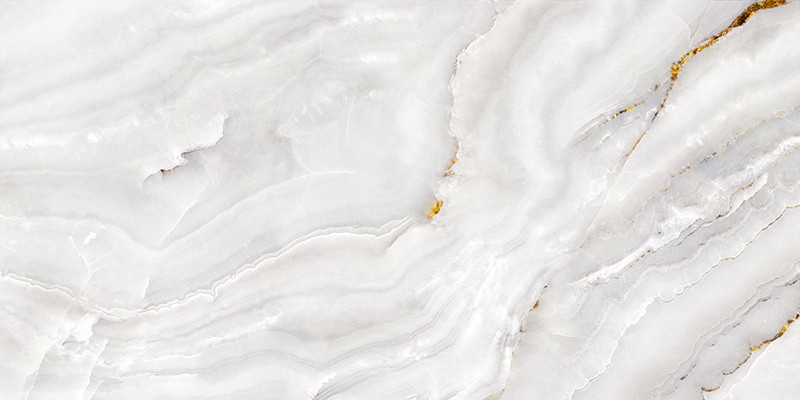 This marble hails from Italy and features an off-white background that is contrasted by heavy gray veining. It was very popular in ancient times amongst sculptors, and in fact, this is where the name 'Statuario' comes from because it was prized for its use in creating statues. It is now predominantly used for kitchen countertops and also for kitchen or bathroom tiles.
1.6. Blanco Macael
This is a solid white marble with a slightly blue hue. It has no veining and is popularly used for kitchen and bathroom surfaces and internal and external flooring.
2. Black Marble
Black marble can be used to make a bold statement in black granite countertops and your home, but it also works well as a neutral base color, depending on how you style it. For a sleek and sophisticated look, choose a solid black marble, or to make the marble a central feature choose one with contrasting and obvious markings.
2.1. Nero Portoro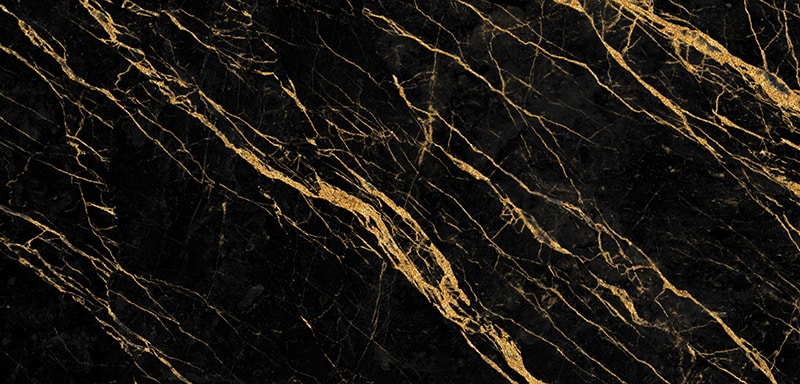 This is an Italian black marble that has a unique gold pattern running through it. The pattern on each slab of marble will be different, but often it can resemble leopard print or mosaics. This is a very bold choice of marble and will make a statement when used in any kitchen or bathroom. It gives a feeling of grandeur and opulence.
2.2. Negro Marquina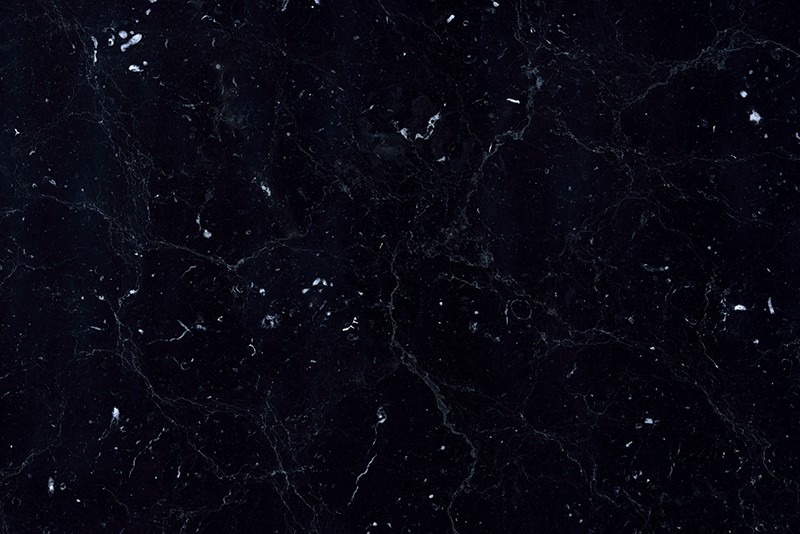 This type of marble is quarried in the Basque region of northern Spain. It is a striking yet subtle type of marble, in a pure black with contrasting white veinings running through it. When it comes to types of black marble, this is by far the most popular choice to be used in homes. When polished, the white markings appear to be almost glistening, giving a majestic look in the kitchen or bathroom.
2.3. Marina Black
This marble is most commonly used as a tile or as a paving slab. It is a solid black with striking creamy white veins running through it at unusual angles. This marble is quarried in Iran.
2.4. Black Calacatta
Despite its name, this is not a true Calacatta marble, and in fact, it is quarried in Mexico, not Italy. It is called 'Black Calacatta' because of its resemblance to the white marble, looking almost like Calacatta in reverse. This marble has a black background and vivid gray veins running through it. It is popularly used as flooring, for wall tiles, or to create marble basins.
3. Red Marble
Red marble can really warm up a space as it has an earthy tone to it. It can work well in a variety of color schemes but try to stay away from accessories that will clash with it.
3.1. Sasso Rosso
This is a deep bronze marble that verges on brown. It has a rich, earthy hue, which is similar to terracotta stone. This marble is quarried in Italy and is most commonly used to create tiles for both floors and walls. It can also be used as a mosaic around patios or swimming pools to add interest and character.
3.2. Domvrena Red
This red marble features a vast array of shades in an unpredictable pattern. In just one slab of this marble, you are likely to spot deep reds, browns, creams, and even a splash of coral. This marble adds warmth and character to a room and is popularly used around fireplaces and as countertops in kitchens and bathrooms.
3.3 Rosa San Marcos
This is a heavily veined marble, in that the veins are a deep and dark red color. Fanning out from the veins are swirls of more subdued shades of red, going right through to pale pink and cream. This is a distinctive marble that works well as flooring, on stairs, and as tile.
3.4. French Red
This red marble is the color of a rich and deep red wine. The base color is a stunning shade of burgundy, with gold, black, and white veining running through it. This is one of the darkest types of red marble you can get, adding great drama and luxury to space.
3.5. Rojo Coralito
This marble has a pale red base color, like a terracotta pot that has been faded by the sun over a number of years. It features masses of fine white veins running in all manner of directions to create a messy spider web effect. This is a very warm toned marble that will work well in Spanish style interior design or those using a desert palette for their inspiration.
3.6. Rojo Alicante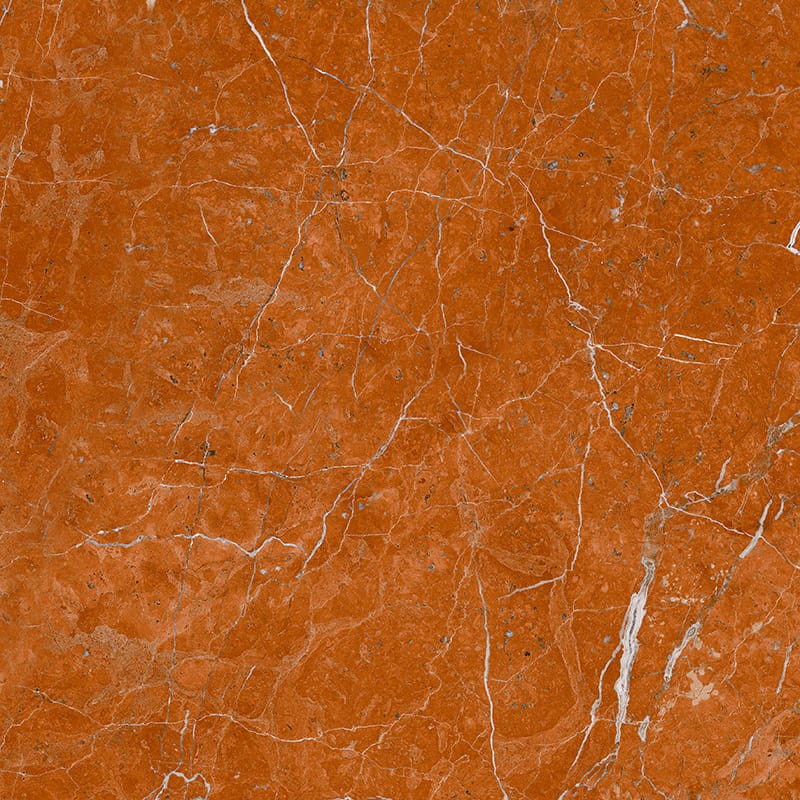 This is a medium red marble with very warm tones. It has fine dark gray veins running through it and occasional contrasting white veins. It works well as flooring or as a countertop.
3.7. Rojo Bilbao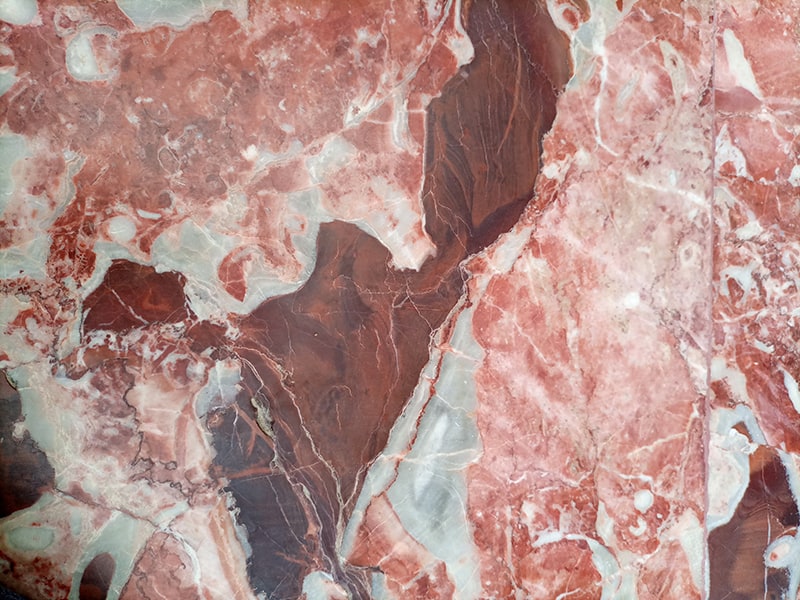 This is a medium to dark red marble that has markings that appear more like splashes than veins. It is quarried in Bilbao, in Spain, and may have flecks of pink or coral in it, which in fact are fragments of shellfish. This is not a commonly known type of marble, and in fact, is among the least-quarried of all the red types of marble.
4. Brown Marble
Brown marble works as a great neutral choice in both kitchens and bathrooms. For a high-end luxury hotel style bathroom, choose a pale, almost beige shade of brown to cover your floor and walls.
4.1. Light Emperador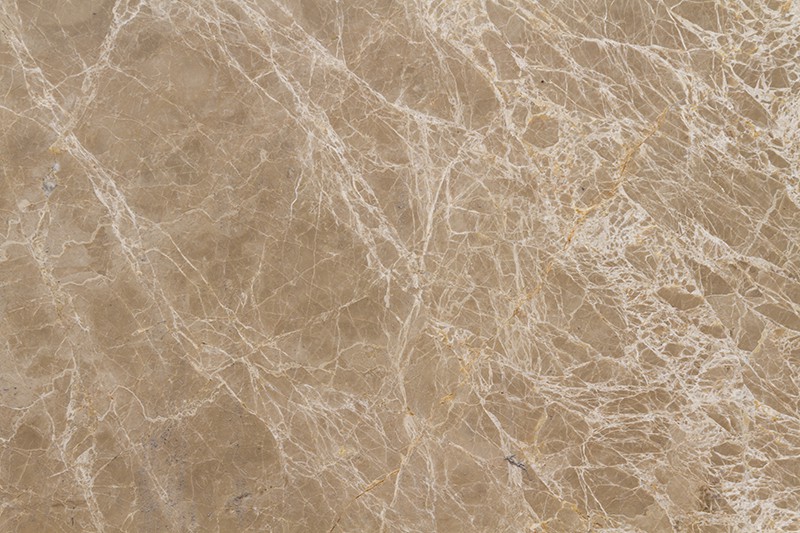 This is a tan or camel colored marble that reeks of elegance and sophistication. It has plenty of overlapping white veins running through it that slice over each other at different angles. It looks great as a flooring and can make a stylish statement as a countertop.
4.2. Dark Emperador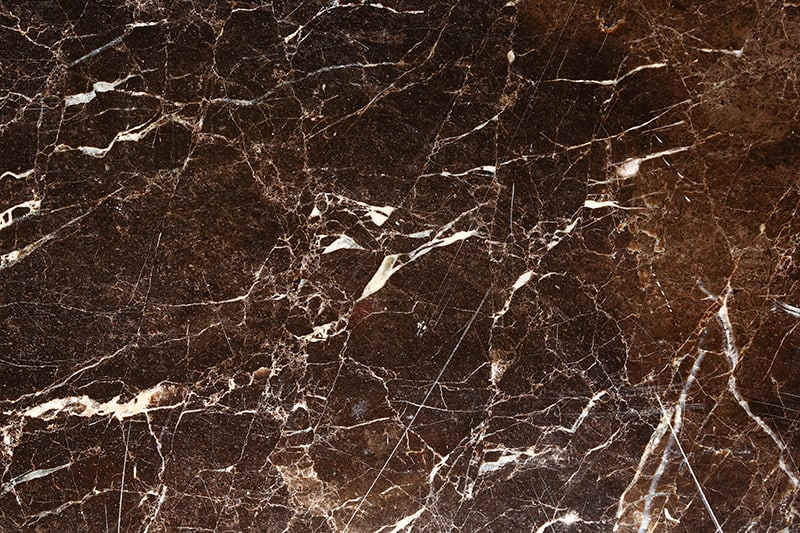 This is a dark and rich brown marble that features fine veining in cream and pale brown, running in different directions creating the look of an old map. It has an elegant, classic, and timeless appeal, which can work with almost any color scheme in your home.
4.3. French Brown
Despite its name, this marble is quarried in India. It has a medium brown base color with various shades of dark brown and tan running through it. This marble has a very warm appeal, with the veins almost running at parallel angles to each other to look like the grain of wood. This marble is popular as flooring.
5. Pink Marble
The shades of pink marble available differ dramatically. Some pink marbles are bordering on red, while others are creamy with a slight hint of pale pink. Pink marble can be a bold or subtle choice, depending on the marble you select and the way you use it. To keep pink marble looking classy, team it with accessories in the same tone.
5.1.Rosa Zarci
This is a very pale pink marble that has an earthy tone to it. The marble has very light and thin feather-like veins running through it, along with some small cream flecks. While not a completely solid texture, the veins do not stand out much and therefore give the marble a consistent and calm appeal. It is popularly used as a countertop, in tiling, and flooring.
5.2. Rosa Levanti
This marble has a pink-brown base with white veins. It is quarried in Spain and is valued for the fossils that are visible in most slabs. The texture of this marble can appear somewhat grainy, but this adds to its unique appeal.
5.3. Pink Spider Marble
This baby pink marble will be popular among those looking for a truer pink shade in their marble. This marble has an almost sugar pink tinge to it, which will work well in pink interior color schemes, such as in a pink and white bathroom as a countertop. The marble has dark red thin veins running through it in wiggly patterns that look like lines drawn with a very unsteady hand. It is popularly used as a backsplash, for tiles, and around sinks.
5.4. Rosa Portugues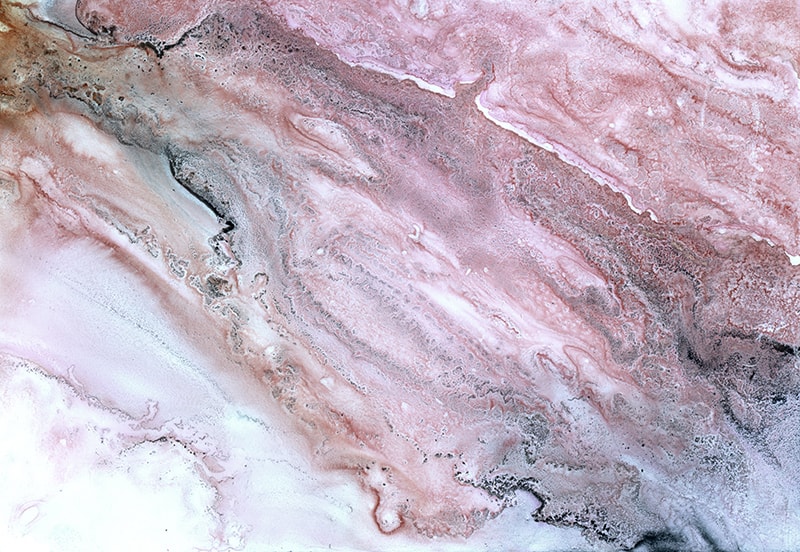 This is one of the most popular types of pink marble and also the most varied. Each slab of this marble can feature different shades of pink as the base color, with gray or tan veining running through it. Some slabs of this marble even have no veining at all, making it a very unique choice of marble as no two pieces are alike.
6. Yellow Marble
Yellow might seem like an unusual color choice for marble, but some of the yellow marbles glisten like gold and would add a real touch of glamor to an interior space.
6.1. Spanish Gold
This is a fairly uniform type of marble that works well as flooring because it has a nice neutral colored base that will go with any color scheme. This yellow marble is a very pale shade of yellow bordering on tan or beige.
6.2. Amarillo Triana
This is a very striking shade of yellow marble that glistens like gold. It has fine brown or gray veins running through it to add character and works well as a centerpiece due to the way it demands attention. This is a very bold color choice that would work well alongside more muted colors, or choose to use it in small areas where it won't overwhelm a space.
6.3. Giallo Monforte
This is a stunning gold marble that has soft markings in pale buttery yellows. This marble is quarried in Italy and can be used for countertops, flooring, and wall tiles.
6.4. Yellow Siena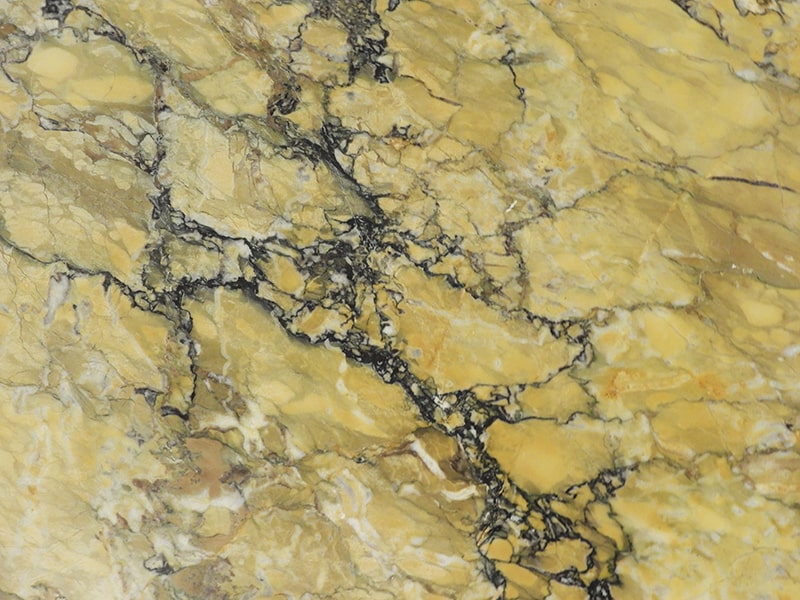 This marble is quarried in Siena, Italy, and has a pale yellow background with deep mustard-colored flashes running through it. It also has cream markings that give it the look of cloudy yellow liquid. This is a striking marble that works well in a range of uses.
6.5. Mykalissos Gold
Quarried in Greece, this marble is warming and easy to look at. It has a very pale, almost earthy yellow background, with white and yellow veining. The markings are mild, so they do not contrast starkly, making the marble suitable for many areas in the home without becoming too dominant.
7. Green Marble
Green marble can bring a feeling of calm and serenity to a space and is a popular choice in Asia. It works especially well in bathrooms.
7.1. Verde Indio
This medium green marble has dark green or black veining running across it, making it resemble a leaf that has been frozen solid. It is a very interesting marble, which can vary in color.
7.2. Galaxy Jade
This marble is quarried in China, and the name is very apt because it looks like something you might expect to see through a telescope when staring into space. The white veins, black clouds, and green pigments look like the aftermath of some sort of galactic explosion. This is a very dramatic type of marble that is popular for use in flooring.
7.3. Verde Oasis
This marble hails from Greece and features an array of blue-green shades that run in wavy streaks, giving the marble an oceanic look about it. This is a very sophisticated yet bold choice of marble that works well in flooring, tiling, and for countertops.
7.4. Dreaming Green
This marble is quarried in China and has a pale jade background. There are dramatic streaks of white running throughout it that are so jagged that they look almost like lightning bolts. There is also some cloudy white pigmentation along with black flecks that give this marble a distinctive look.
8. Gray Marble
Gray marbles have gained popularity in recent years as a contemporary yet classic choice of kitchen countertop.
8.1. Mariah Gray
This marble is a medium smokey color of gray, with fairly consistent veining and patterning. The markings on this marble are similar shades of gray as the base color, giving it an almost solid appearance, which is interesting yet neutral. This marble has a classic appeal and would work well in a wide variety of applications and stylings.
8.2. Marengo Gray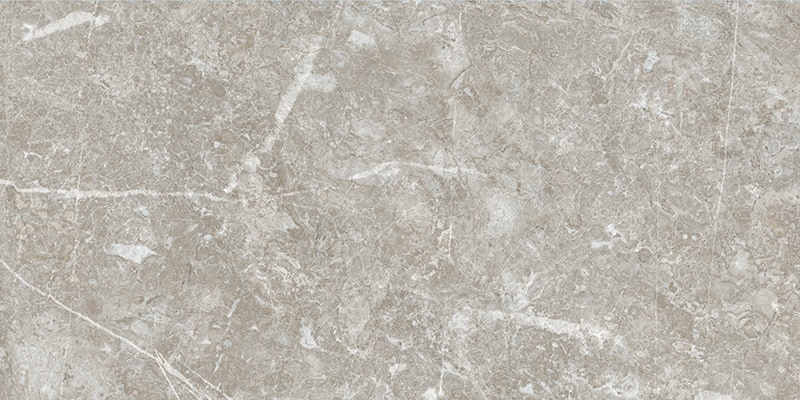 This is a dark gray marble that is almost charcoal colored. It has pale gray and white veins running across it in various overlapping directions. It works well for kitchen countertops and is also a popular choice for tiling and flooring.
8.3. Pieta Gray
This marble is dark gray with thick streaks of white running through it. The two monochromatic colors contrast boldly against each other, making a striking yet classic statement when used in the home. This marble is quarried in Iran and is known for having a smooth and consistent texture.
8.4. Antico Gray
This marble has a mottled effect with a medium to dark gray base color and various other shades of gray flecked throughout it, alongside chunky streaks of pale gray or white veins. It is a popular choice for kitchen countertops, splashbacks, and for use in bathrooms.