Sectional sofas are a much-loved piece of seating furniture in living rooms and open plan living areas because they provide ample seating for several people, as well as the option to lay back with your legs lifted.
The angular component of sectional sofas means they can be used to help define parts of a room for a specific use or be used to break up a space in a large room.
If you want a rug to go with your sectional sofa, you will need to make sure the size is suitable because a disproportionate rug can make the sectional sofa look out of place and unusual.
Here we look at the best rug sizes for various types of sectional sofas and various living room layouts.
Factors Affecting Rug Size with Sectional Sofas
Room Size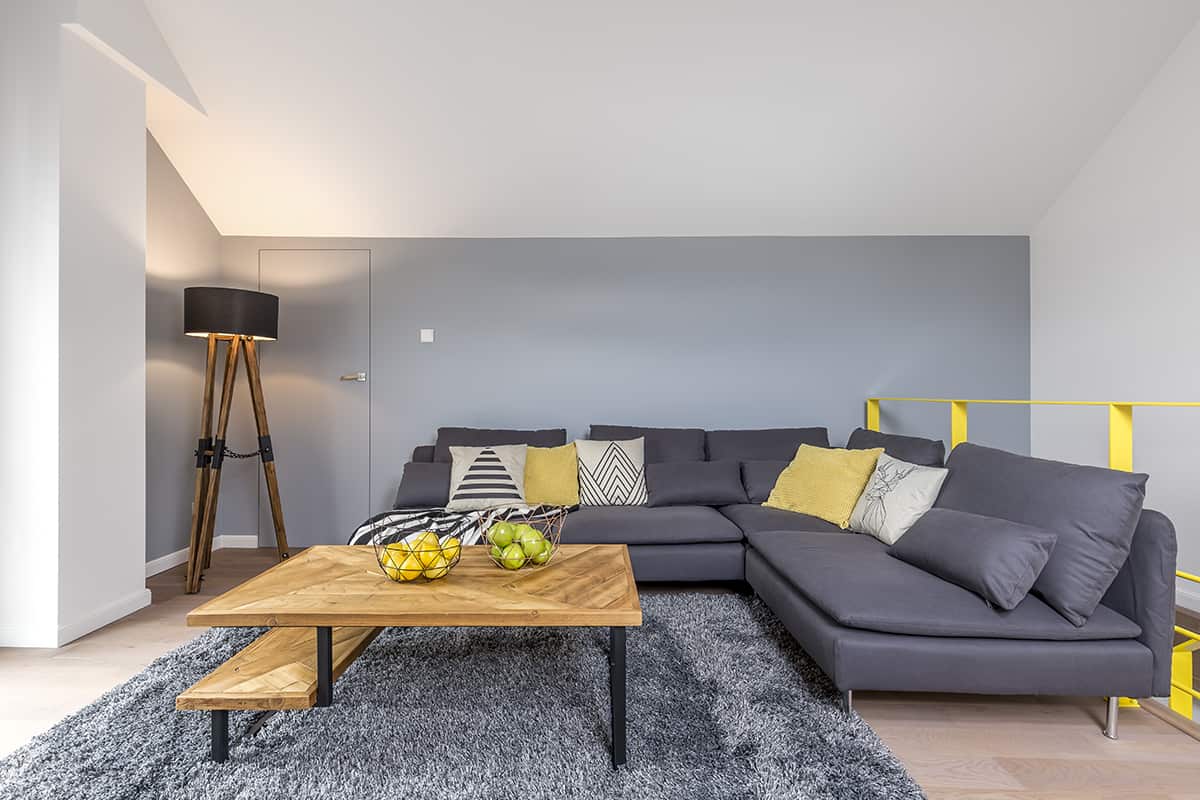 The size of your room will play a big part in helping you to decide the size of rug you need. In a smaller room, you could opt for a rug that nearly covers the whole floor in the room, especially if you want to hide your floor surface or protect it from damage.
The sectional sofa could then be positioned anywhere on top of the rug; however, if you have a small room that you want to make appear bigger, then choose a small rug that only goes under the central coffee table.
This creates the illusion that the room is bigger than it actually is by using the proportions of the rug as a comparison against the room size. For larger rooms, you will need a medium to large-sized rug because a small rug will look dwarfed in a big space.
Sofa Size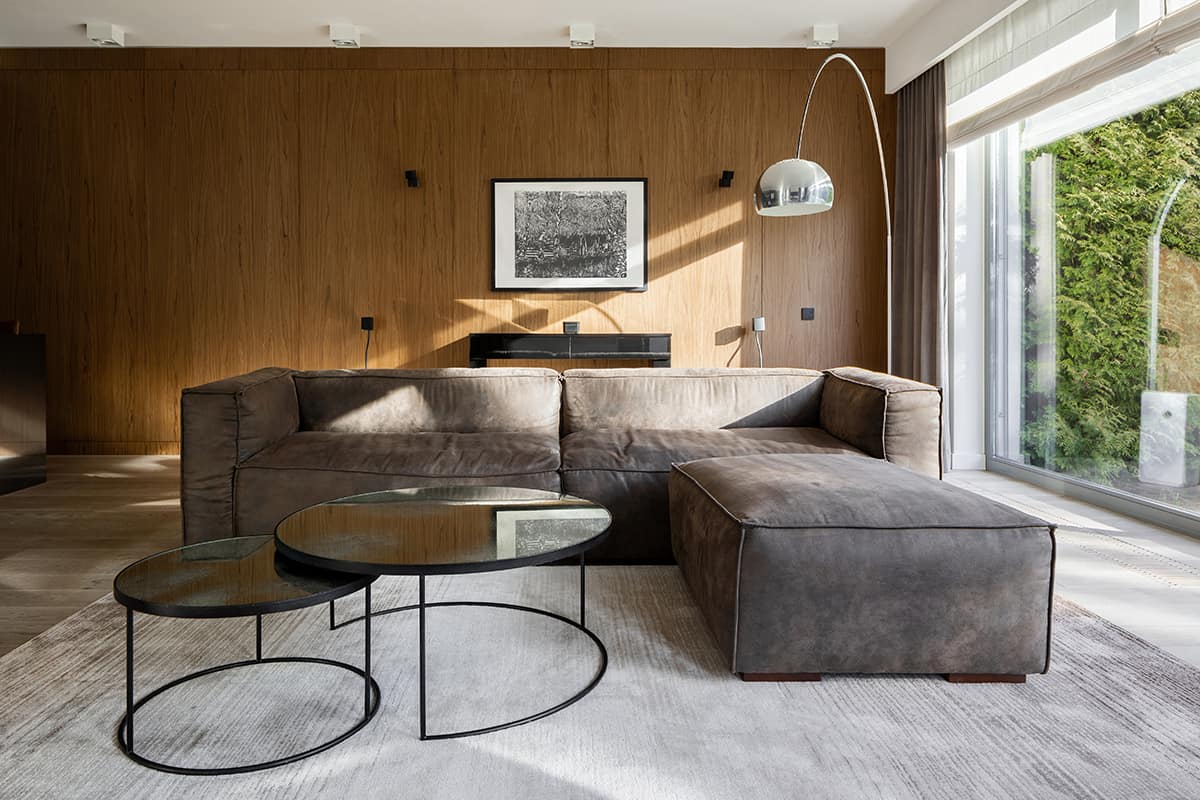 The size of your sofa is, of course, going to affect the size of rug you need. First, you should decide how much of the rug you want to be underneath your sectional.
In an open plan living space, it's a good idea to fit all of the seating furniture on one large area rug, as this will define the living space as separate from other areas. In this case, you will need to measure your sectional sofa and ensure your rug is at least the same width as the sofa and several times longer.
In a room of any size, a good option if you don't need to define the living area is to have just the front legs of the sofa positioned on the rug, with the remainder of the rug having a coffee table or armchairs on it. Keeping all of your seating furniture on a rug helps to create a cohesive look that helps to tie the pieces together.
Alternatively, you could just have the rug under the front feet of the sectional sofa and a vacant area in front of the sofa, where the purpose of the rug is just to provide a soft space for people's feet when using the sofa.
In any case, you should first decide what parts of the sofa you want to be on the rug, along with any additional furniture, and then measure out the space accordingly to figure out the size of rug you will need.
Room Layout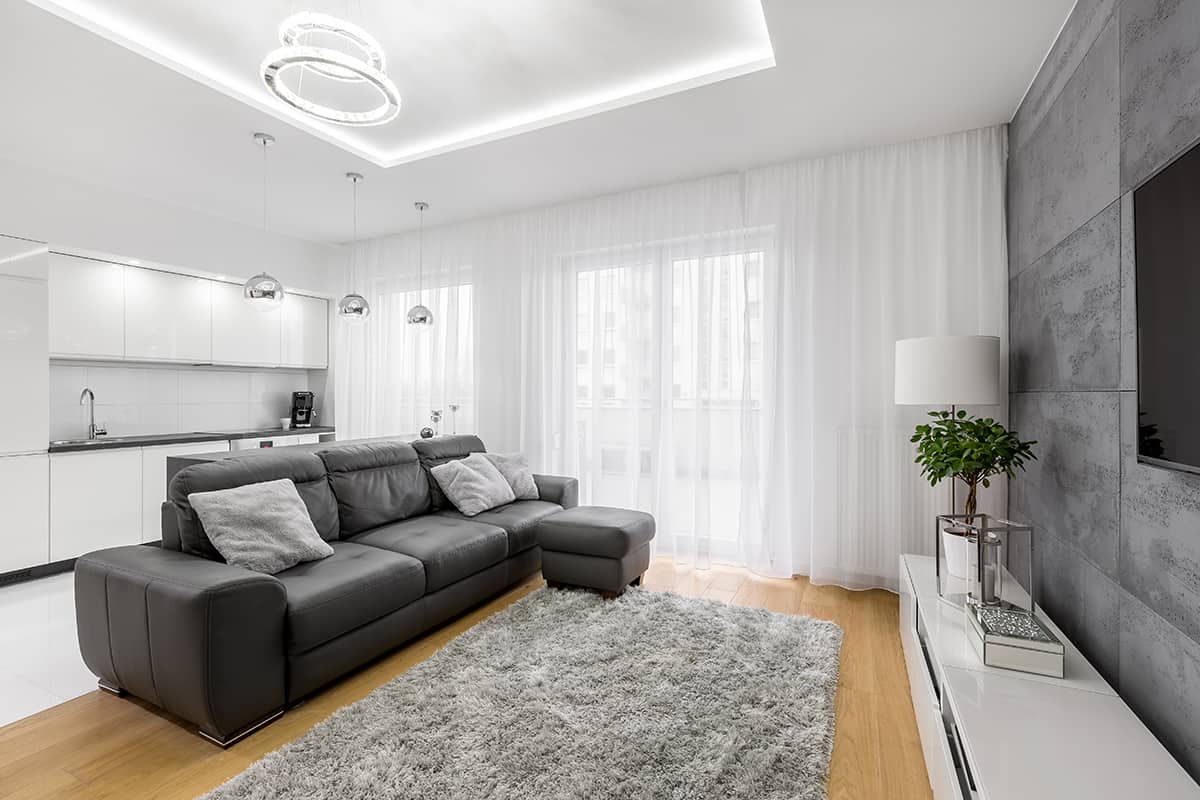 The layout of the room will affect the size of rug you need with a sectional sofa, for example, if your sofa is away from the wall or pushed against it, along with where other items of furniture are positioned in the room.
If the room is open plan, for example, a living room-diner, then the rug underneath the sectional should not creep into the dining space and should be kept separate to help ensure definition.
Standard Rug Sizes
Most rugs come in standard sizes, which are listed below with their corresponding sectional sofa size; however, non-standard-sized rugs are also available, which could present a good option for some living rooms.
4×6 feet
This is a small-sized rug that would be suitable in a small room to go under the coffee table close to, but not underneath, a sectional sofa. The smallest sectional sofas will typically measure between 6 and 8 feet in width, and this is too long to be positioned on top of a 4×6 rug. At the very least, both front feet of the sectional sofa should be on top of a rug; if this isn't achievable, then the rug should be positioned in front of the sofa.
5×7 feet
This is another small-sized rug that will be suitable to go with a small sectional sofa measuring between 6 and 8 feet in width and 8 feet in length.
6×9 feet
This size of rug falls into the small to medium category. It will work well with small sectional sofas to go underneath the sofa's feet.
8×10 feet
This is a medium-sized rug that can be used with average size sectional sofas. Sofas with a width measurement of between 8 and 10 feet and a length measurement of 10 feet will work with this size of rug.
9×12 feet
This is another medium-sized rug that is ideal for average/medium-sized sectional sofas. This could be positioned to fit underneath the front feet of the sectional and also have space for a coffee table and additional armchair. You may also be able to use this size of rug to accommodate large sectional sofas as long as you don't want to fit too much other furniture on top of the rug.
10×14 feet
This is a large size rug that is great for large sectional sofas. A large sectional sofa will have a width measurement of between 10 and 14 feet and a length measurement of 14 feet.
A large room is also required to accommodate this rug, as in a small room, it could look out of proportion. If you want to fit the entire sectional on the rug, along with further furniture items, then rugs measuring in excess of 10 x 14 feet will be necessary.