If you have a room with painted or wallpapered blue walls and would like to benefit from the cozy feel of the carpet underneath your feet, then you'll need to think about the colors of carpet which will compliment your blue walls.
The color of carpets that will work in your space will be affected by the shade of blue on your walls, as well as the type of style and atmosphere you want to achieve.
Here we look at different colors of carpet which work well with blue walls and discuss the different types of styles you can achieve with these color combinations.
Gray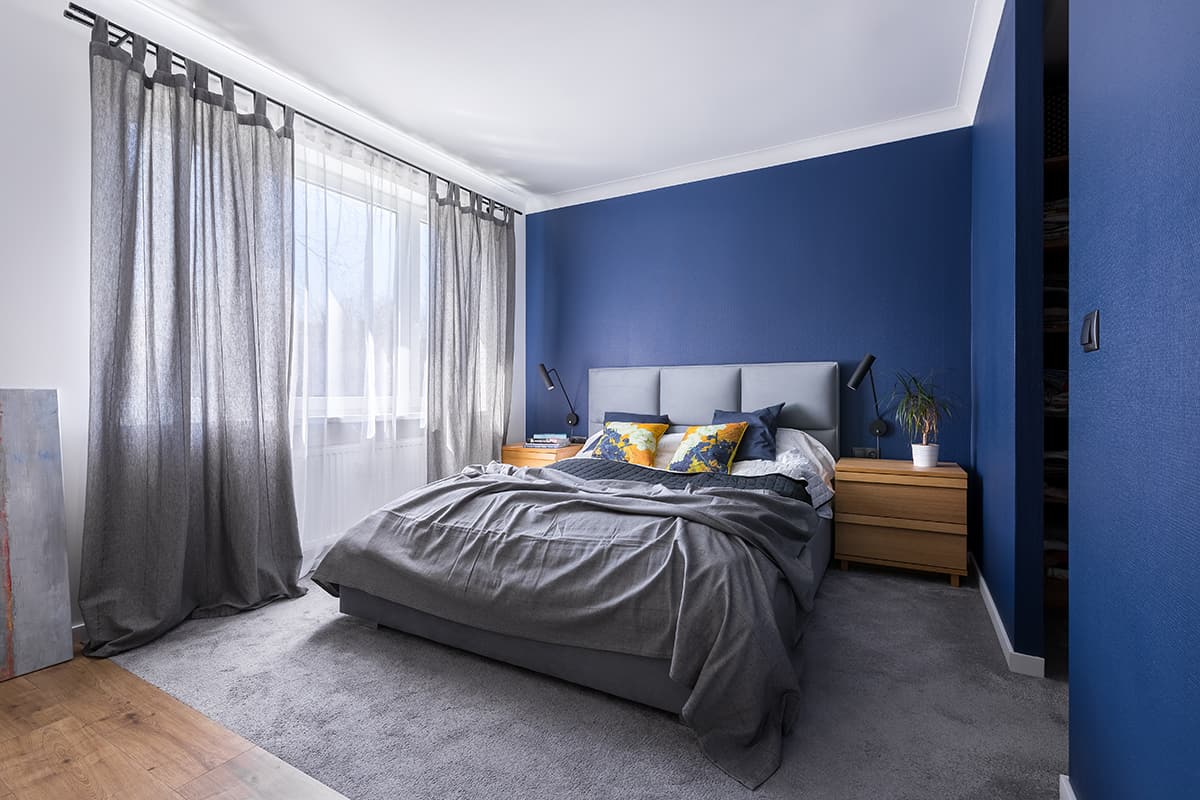 Gray is a neutral color, but more commonly, it will have cool undertones, giving it a similar feeling to blue, which is also a cool color.
There are such a huge amount of variations in the shades of gray you can get, as some will have purple undertones, while others can have green or blue undertones. Less commonly, gray will have brown undertones, which make it more of a warm shade.
The type of gray carpet that will go best with blue walls depends on the paint color you are using and the style you want to create. Blue is a color that represents the ocean and the sky, and so it is often used in nautical or coastal-themed interiors.
Gray carpets will work well with a coastal-themed space because there are also gray tones in the ocean, which means it is a color that can also be represented in this style. If you have pale blue walls and want to maintain a beachy, breezy feel, then a light gray cool-toned carpet will go perfectly.
A warm-toned gray carpet with beige or brown hues will also work well to bring a more comforting feel to the space. Gray carpets can also work really well in modern and contemporary style interiors with blue walls.
For example, teal-painted walls with dark gray carpets will make for a dramatic look that could be highlighted with gold accents. If you have dark blue walls, such as navy or deep sapphire, then you may want to lighten up the room by selecting pale gray carpets.
This can create a nice contrast in terms of shade, despite blue and gray being close to each other on the color wheel and therefore having lots of tone similarities.
Dark blue walls can also be paired with dark gray carpets if you want to create an intimate feel in a room. Being surrounded by dark and deep shades can make you feel safe and cozy.
This is a look that works especially well in bedrooms, but it can also be used in formal living rooms and dining rooms.
Brown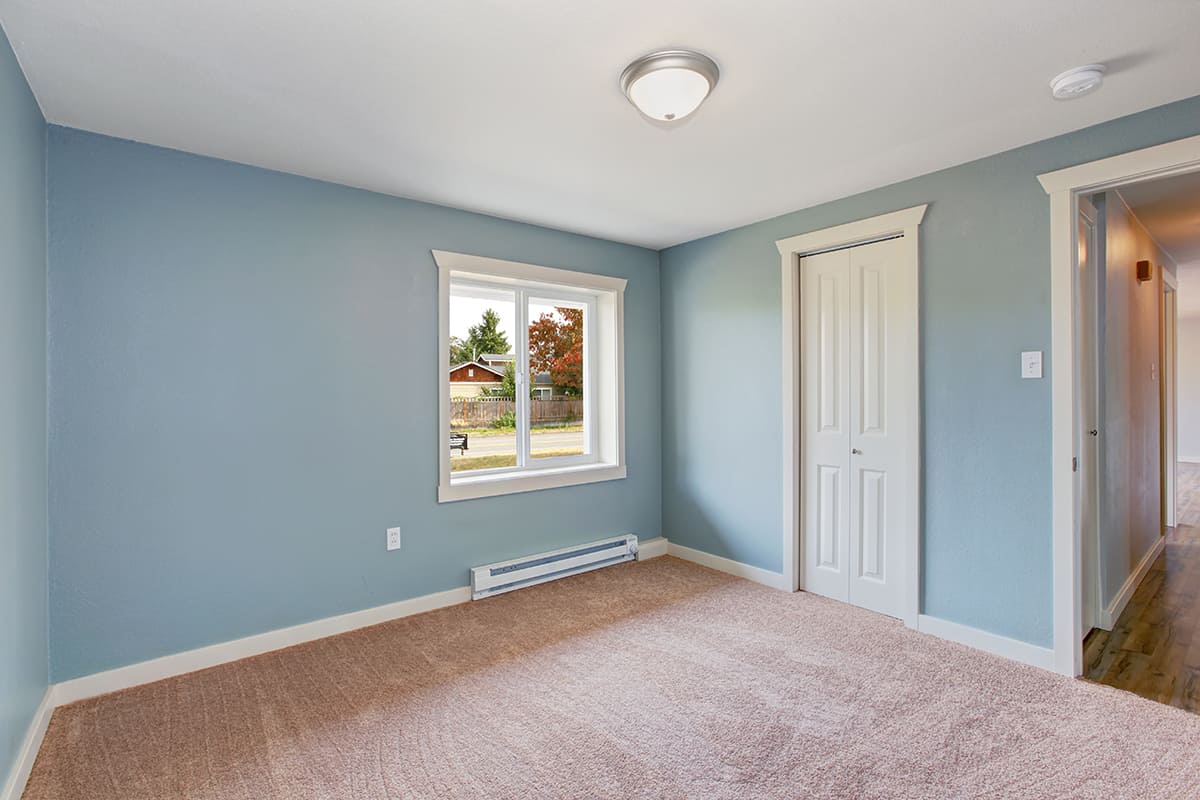 Brown is a popular choice of color for carpet because it is neutral, which works well as a background shade, and doesn't really draw any attention to itself.
This makes it a good option if you don't want your carpet to be the star of the show, and instead, you want the eye to be drawn towards your blue walls and furniture. Brown is a warm color, so it can balance out the cool tones in blue nicely.
Brown will typically have undertones of yellow, orange, or red. When you have blue walls, lean more towards brown carpets with orange or golden undertones, as red-browns can create an overstimulating mix when paired with blue.
There are many shades of brown carpets available, and the intensity of the brown you can choose will be affected by the shade of blue on your walls.
For pale blue walls, you could choose a dark shade of brown to help ground the room and provide a nice contrast or choose a lighter shade of brown, such as tan, if you want to keep the mood of the room light and casual. In a room with dark blue walls, almost any shade of golden brown will work well.
The benefit of darker brown carpets is that they hide stains and dirt more easily than pale-colored carpets, which can make them much less hassle to maintain and can even mean they last longer before they need to be replaced.
This makes brown carpets an especially good choice if your blue room undergoes heavy traffic and footfall, such as a hallway or common areas of the home like a living room.
Blue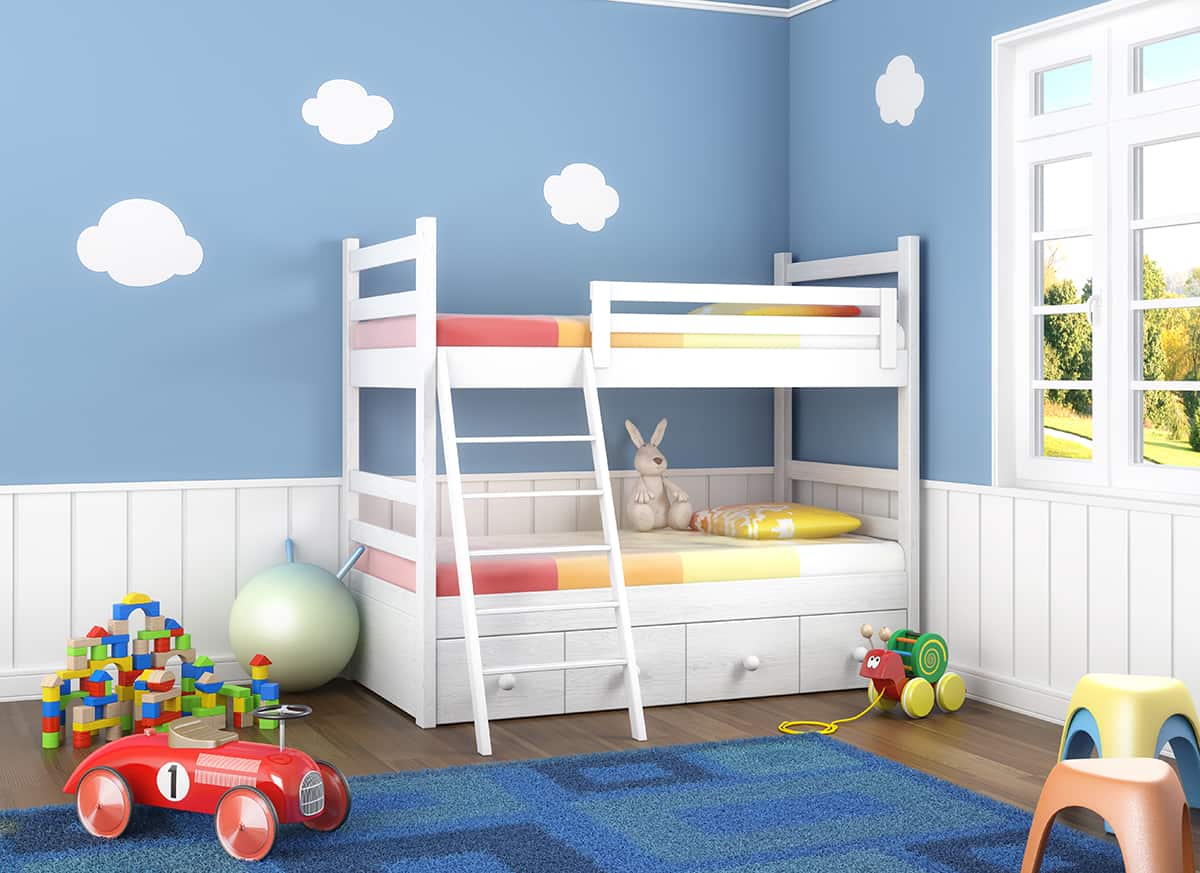 The thought of blue walls with blue carpets might sound too intense, but actually, if you choose contrasting shades of blue, then this can make for a really elegant-looking room. For a room with pale blue walls, consider carpets in a dark blue-gray shade.
This will create a definition between the walls and flooring and will also help to ground the room and define the space. If you have mid-blue wall paint, then you could have carpets at either end of the shade spectrum, with very soft pastel blue carpets or dark navy carpets.
The most important aspect when using the same color for walls and flooring is to create a contrast so that the space doesn't look flat, so try to choose two colors that are at least several shades apart.
Using the same color in various shades can create a really high-end layered look, which you can also try to use around the rest of the space, for example, by adding curtains or cushions in another shade of blue.
Beige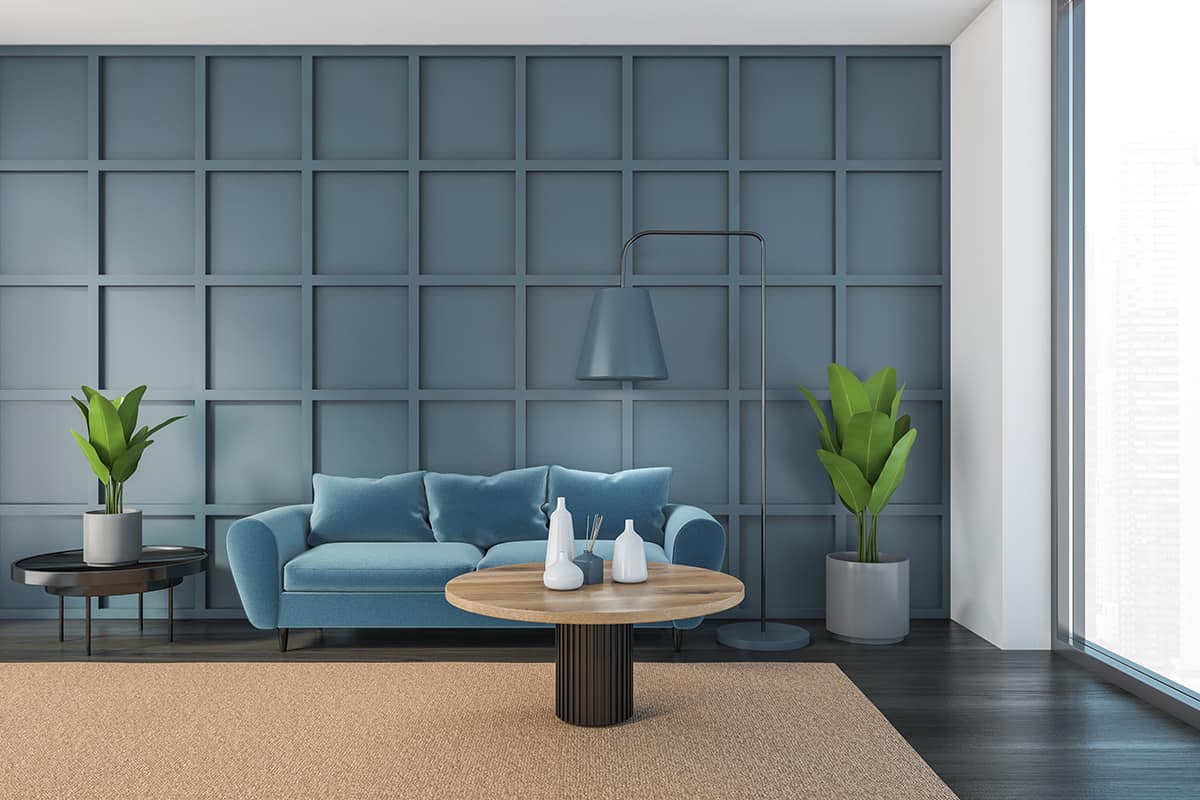 Beige is by far among the most popular color of carpet in new homes because it offers a fresh and modern feel and also helps to make a room feel lighter and more spacious. However, beige can create a dull vibe to the space if not used properly..
If you want to create the illusion of more space in a room with blue walls, then a beige carpet can be a good way to go. This works well in casual-style spaces, such as living rooms and bedrooms.
Beige comes in a wide variety of shades, with paler shades having a more luxurious appeal and darker shades being more practical in terms of showing wear or stains. The texture of your beige carpet can go a long way in helping to define the theme in a blue room.
A thick pile plush carpet will define the room as chic and luxurious, while a more natural-looking beige carpet, such as Berber, will look informal and hint towards a coastal or Scandinavian style.
Some types of beige carpet can be difficult to keep clean, especially if you choose a pale beige that has a consistent solid color.
If you are concerned about keeping your carpet clean but are set on the idea of beige flooring with your blue walls, then consider a beige carpet that has darker beige and brown flecks in it.
This can be a really useful style and texture for hiding dirt or stains because they will blend into the patchy look of the carpet.
White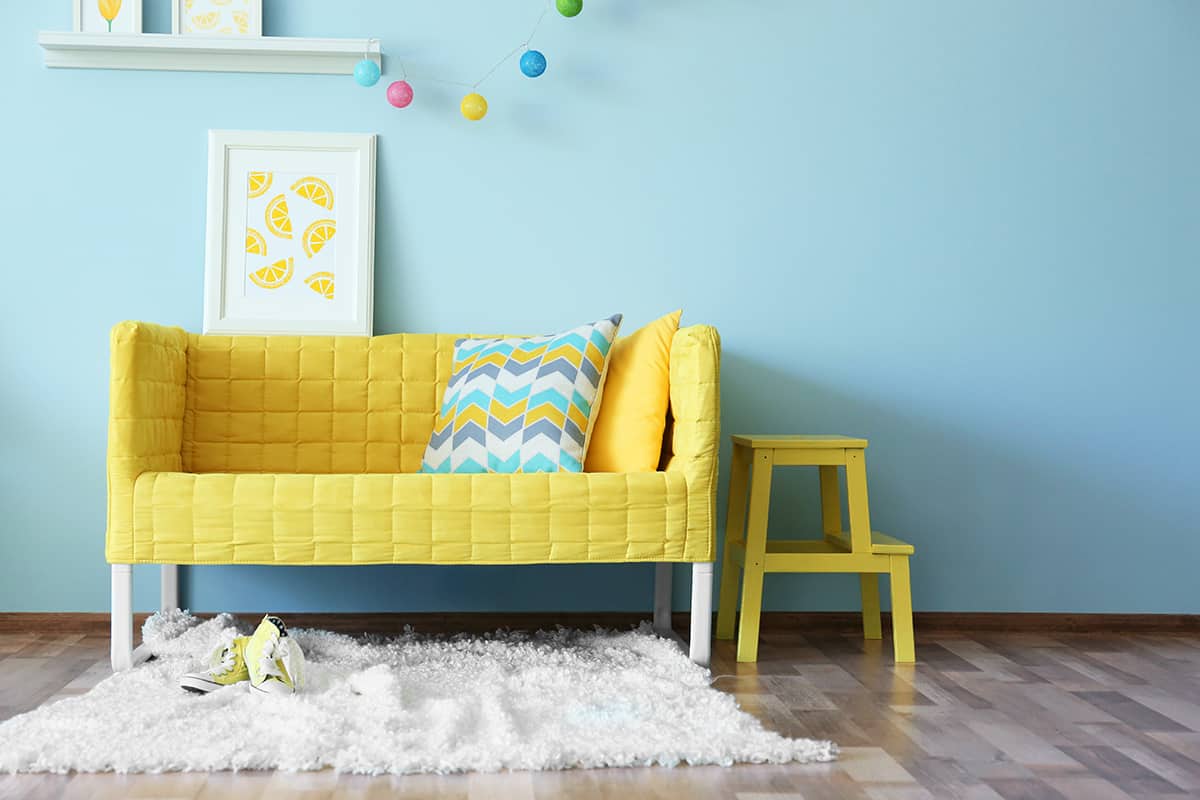 White carpets are very popular in interior design, but as a practical option, they aren't commonly chosen. The fact that white carpets will show up the tiniest fleck of dirt or mud from shoes sadly makes this color an impractical choice.
However, if you live alone and are very careful to remove shoes in your house, or if you have very conscientious family members who will strive to keep your white carpet looking new and clean, then it is an absolutely stunning choice of carpet to go with blue walls.
Dark midnight blue walls will look contemporary and striking alongside white carpets, as a strong contrast and also a way to bring light to an otherwise dark space.
Pale blue walls can also look beautiful with white carpets, especially if you want to achieve an airy, carefree style. White carpets can work with a coastal or nautical theme, with the white flooring representing glistening white sandy beaches.
If you want to use white carpets but are nervous about them being damaged, you can use a large area rug to cover up much of the carpet.
This will protect it while still allowing you to enjoy the contrast of the white against the blue walls, as the perimeter of the carpet will still be on display.
Pink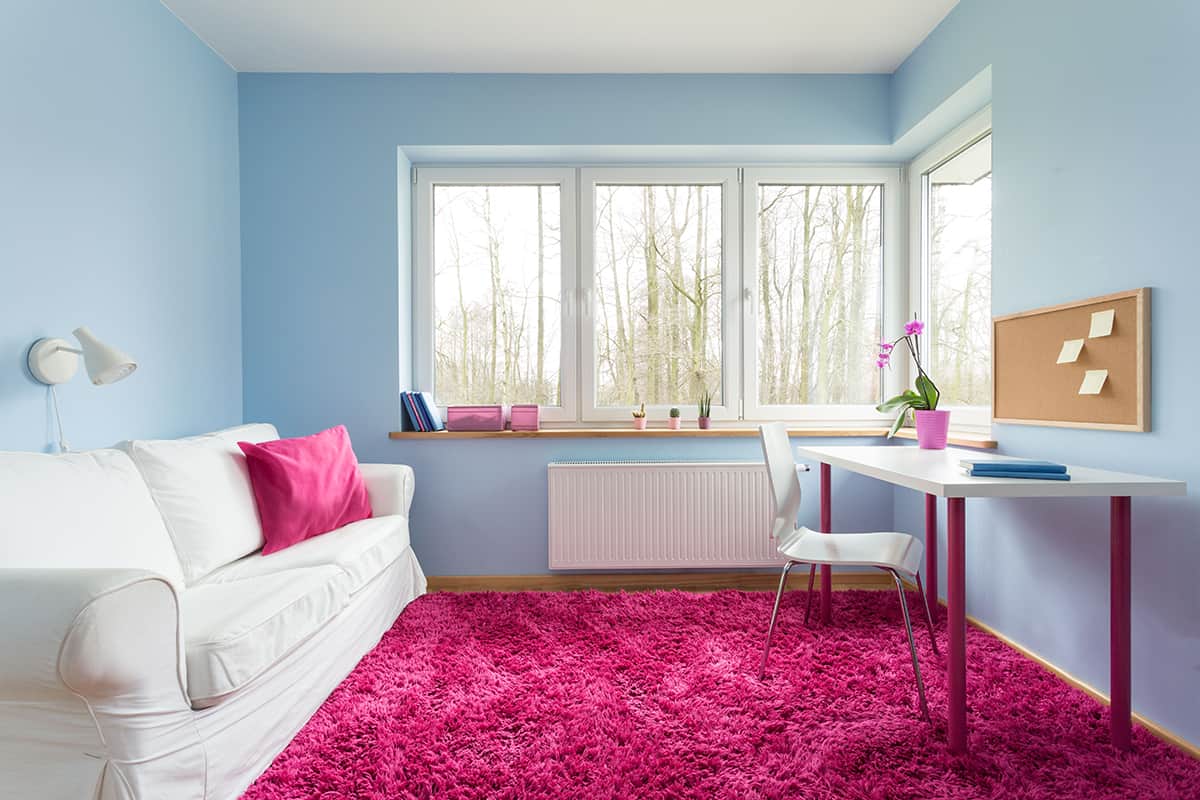 Pink and blue are a lovely color pairing that has become very trendy in home interiors over the last few years.
Dusky pink carpets will bring a romantic feel to a blue room, and they also provide a nice contrast. Choose a pale blush pink for flooring in a navy blue room, or you could go for a deeper shade of blush in rooms where you want to achieve a more cozy feel.
Avoid bright shades of pink for carpeting because this can look too intense and dated, and vivid pink carpets will also be difficult to match to other wall colors in the future if you decide to repaint the room.
Very distinctive shades call also be off-putting to future potential buyers if you want to sell your home.