As gray has become embedded in interior design as one of the most popular new neutrals, there has been a drastic rise in gray flooring surfaces being chosen in homes of all styles.
Knowing which color furniture to use with gray flooring can be tricky because gray is a flooring color that many people haven't dealt with before, as up until recently, beige and brown were the most popular floor color choices.
To understand which color furniture will work best with your gray flooring, you'll have to consider the shade of gray you have chosen and whether you want it to stand out or be used as a background color.
You'll also need to think about the floor texture and the type of feel you want to achieve in your room. Here we consider the different furniture colors available and explain which will work best with various types of gray flooring surfaces.
Solid Furniture
Solid furniture will be that which does not have a soft or cushioned surface and will usually be made from wood, metal, glass, or plastic. Common pieces of solid furniture include coffee tables, side tables, dining tables, bed frames, shelf units, and desks.
If you have a gray carpet floor, then you may find the task of choosing a color for your furniture slightly easier than those who have gray wooden floors.
This is because the question will arise of whether or not you can mix gray wood with a different color of the wood in the same room, and if so, which shades you should consider.
Brown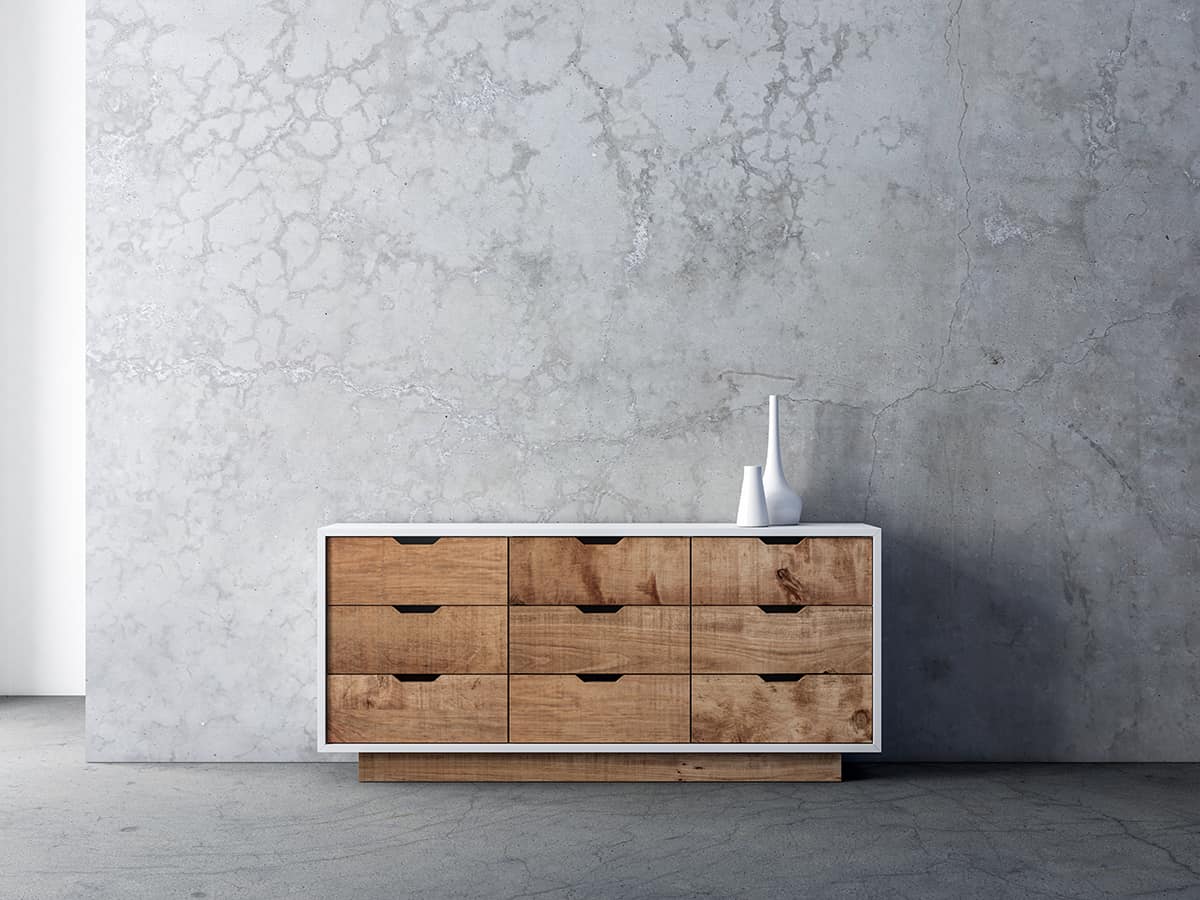 Brown is a neutral color, but it isn't a pure neutral because it will typically have warm undertones of red, orange, or yellow. If your gray flooring is carpet, tile, or lino, then you can choose almost any shade of brown wooden furniture for your room, and it will look stunning.
If your flooring is dark gray, you can choose lighter brown woods, such as oak, to contrast against it and make the furniture stand out, or for a more seamless look, choose a dark brown wood for your furniture, which will blend into the dark shade of the flooring and allow you to use a contrasting light shade on the walls. For pale gray flooring, choose a dark shade of brown wooden furniture to enjoy the contrast but also to help ground the room.
If your flooring is gray-toned wood, then choosing the right color of brown furniture can pose more of a problem. If you want to use furniture with a visible wood grain, then you can do this with a gray wooden floor as long as you stick to wood with similar tones.
Do not try to match the color of wooden furniture with the gray wood of the floor, as this will be near impossible and can look like a failed attempt at coordinating. Instead, find solid wood furniture with similar tones.
To do this, first, identify the tones in your gray floor. If the floor is a greige shade, then you can choose brown wood for your furniture with warm tones. For cooler grays, opt for wooden furniture with cool undertones, such as ash.
Black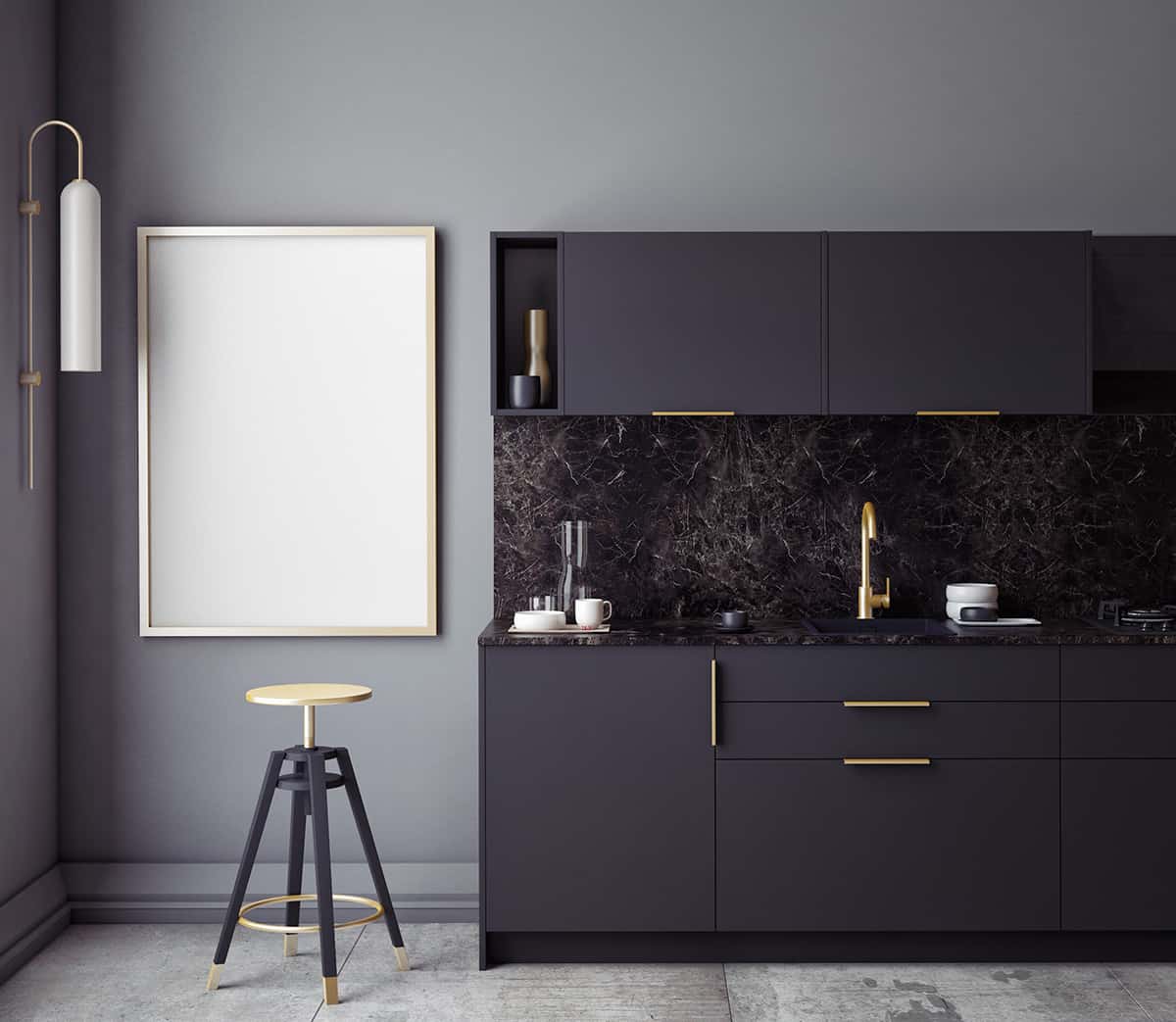 Black is a color of solid furniture that will always work with any shade of gray flooring, whether that be hardwood, laminate, tile, carpet, or lino.
In a room with a dark gray floor, black furniture will add a dramatic look, while a pale gray floor can look striking and monochromatic next to black-painted furniture. If you have a small room, you can still use black furniture; just contrast this with light-colored walls.
White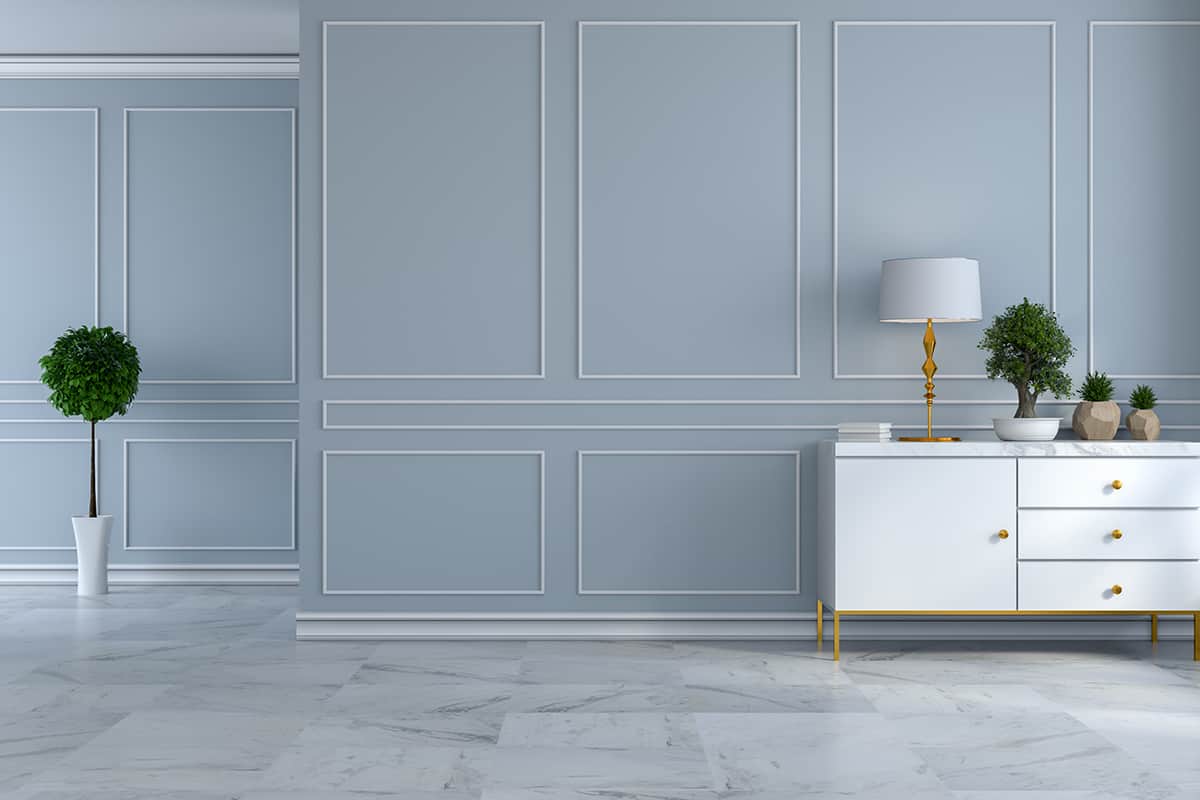 If you want to achieve a casual or informal look in a room, then white furniture with a gray floor is a good way to go. Any shade of gray floor will work well with white furniture, whether that be painted metal furniture or vinyl-covered wooden furniture.
White furniture will help to make a room feel more spacious and can bring a clean and sleek feel or a laid-back vibe, depending on what other elements you incorporate into the room.
A dark-gray floor can be lightened up with the addition of white furniture, or a room with a pale gray floor will look more open and airy with white furniture.
Beige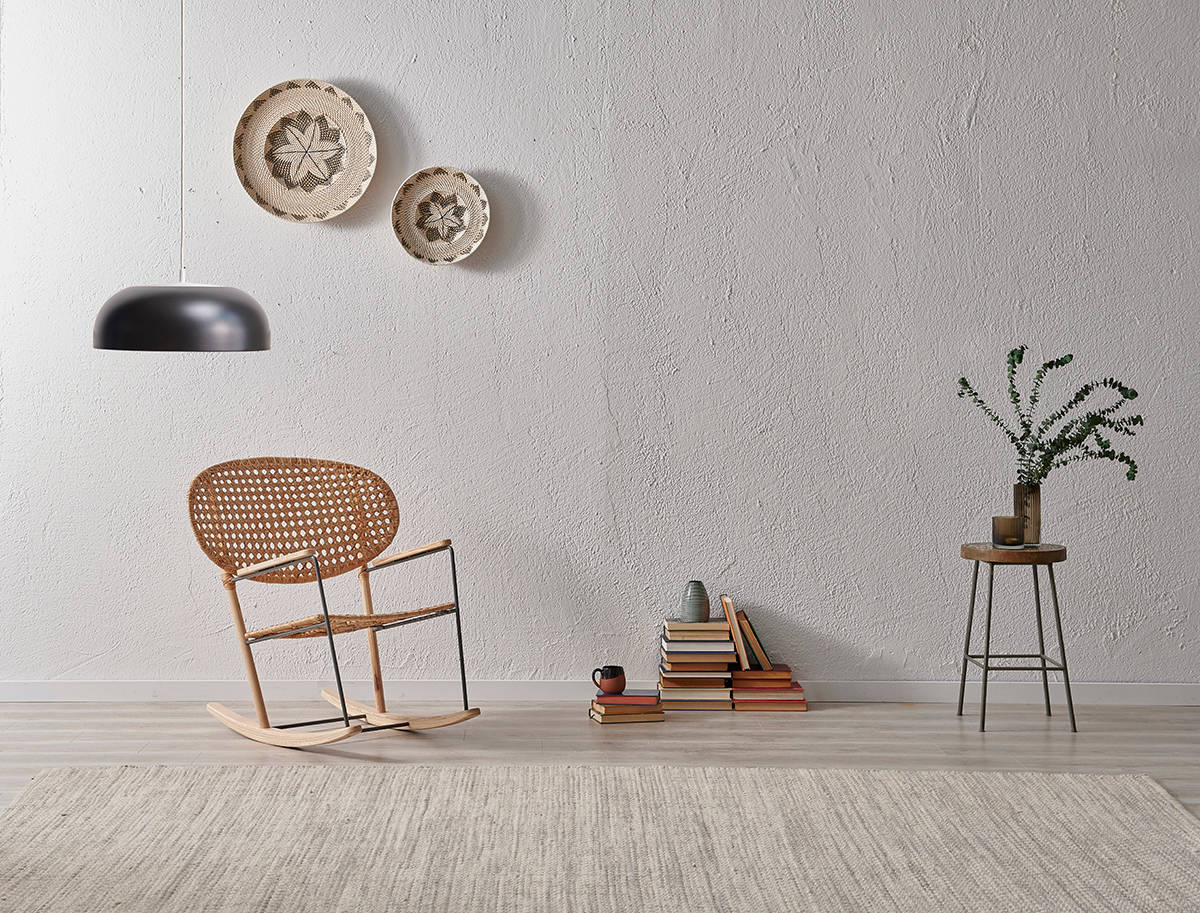 Beige solid furniture is usually wooden furniture with a light-colored grain. Beige can be a cool or warm-toned color, but more typically, it will have warm undertones of yellow or brown.
An example of beige-colored solid furniture is items made from pine or oak. These colors can work beautifully with gray flooring and are easy to coordinate when the gray flooring is carpet, tile, or lino.
A gray-stained wooden floor can be more tricky to pair with beige wooden furniture, but it can be done. The key is to ensure that the gray floor and the beige furniture are several shades apart without being too heavily contrasting.
For example, a very pale gray floor could be paired with medium beige furniture such as golden oak.
Colored Furniture
Solid furniture which has been finished in paint rather than a stain or varnish has become very popular over recent years, with painted furniture being sold in stores, as well as many people seeking to revamp their old wooden furniture themselves by painting it at home.
If you want to paint your solid furniture to coordinate with a gray floor, then there is a wide range of options that can work really well.
Teal-painted furniture would look stylish with dark or medium gray floors, while mustard yellow-painted furniture would look striking with any gray flooring.
You could also consider dusky pink furniture paint, any shade of green, or a metallic furniture spray. There is also the option of creating a layered look by painting furniture in a gray color a few shades apart from your gray floor. This can look very sophisticated and elegant, adding subtle definition to a space.
Upholstered Furniture
Upholstered furniture is that which has been covered in a fabric, such as sofas, armchairs, headboards, and some types of beds.
When choosing upholstered furniture to go with your gray carpet, you'll also want to consider your wider color scheme to ensure all of the color components in the room work together.
Beige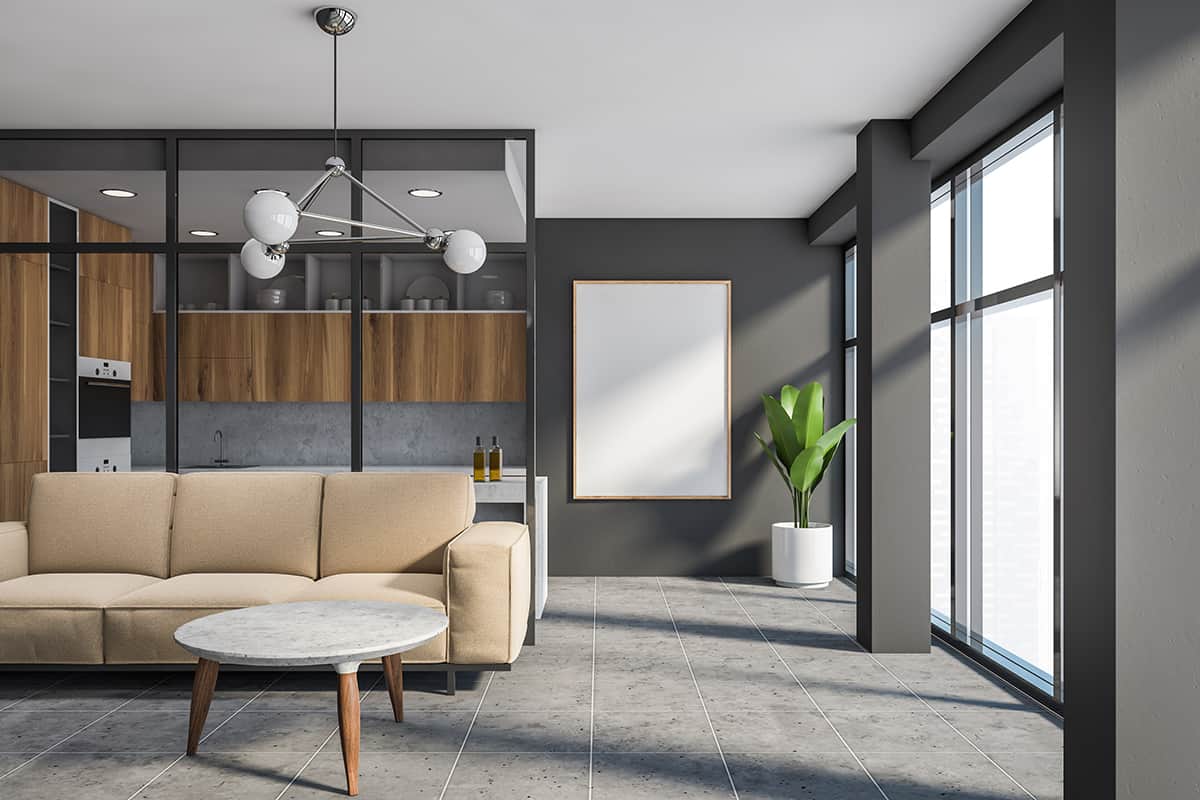 To create a classic and inviting look in a room with a gray floor, you can't go wrong with beige upholstered furniture. In a living room, a gray floor and beige sofa provide a neutral base that you can build the rest of the room around.
Gray is typically a cool shade while beige is warm, so the two colors provide a good balance for each other that ensures the room is both modern and welcoming.
Beige sofas are always a good investment because they can be used over and over in various color schemes, so you won't need to fork out money for a new sofa next time you want to switch up your decor.
Brown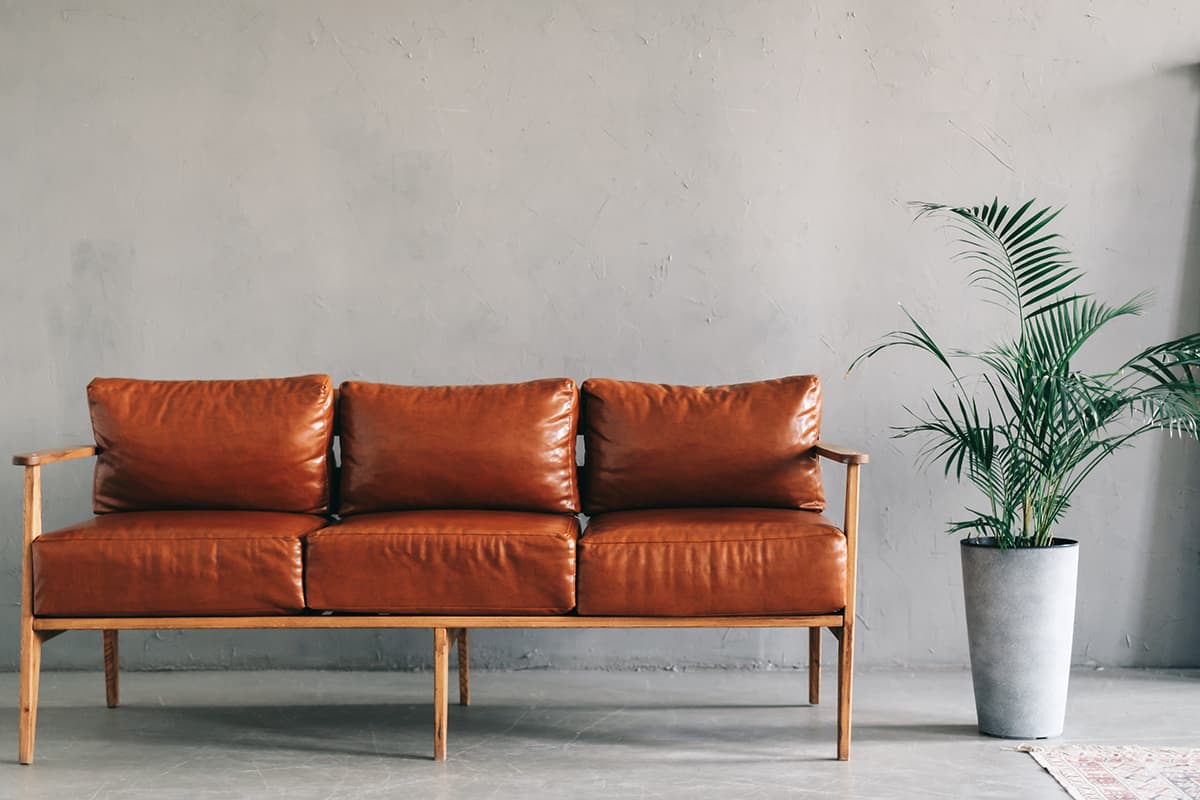 Like beige, brown is a warm neutral which brings a cozy and comfortable feel to a room with a gray floor. Though brown is sometimes considered boring or drab, when combined with a gray floor which is quintessentially modern, brown will look classy and contemporary.
Choose a brown leather sofa to add texture and character to a room with a gray floor, or a softer fabric like microfibre will help to build a homey vibe in a space.
Blue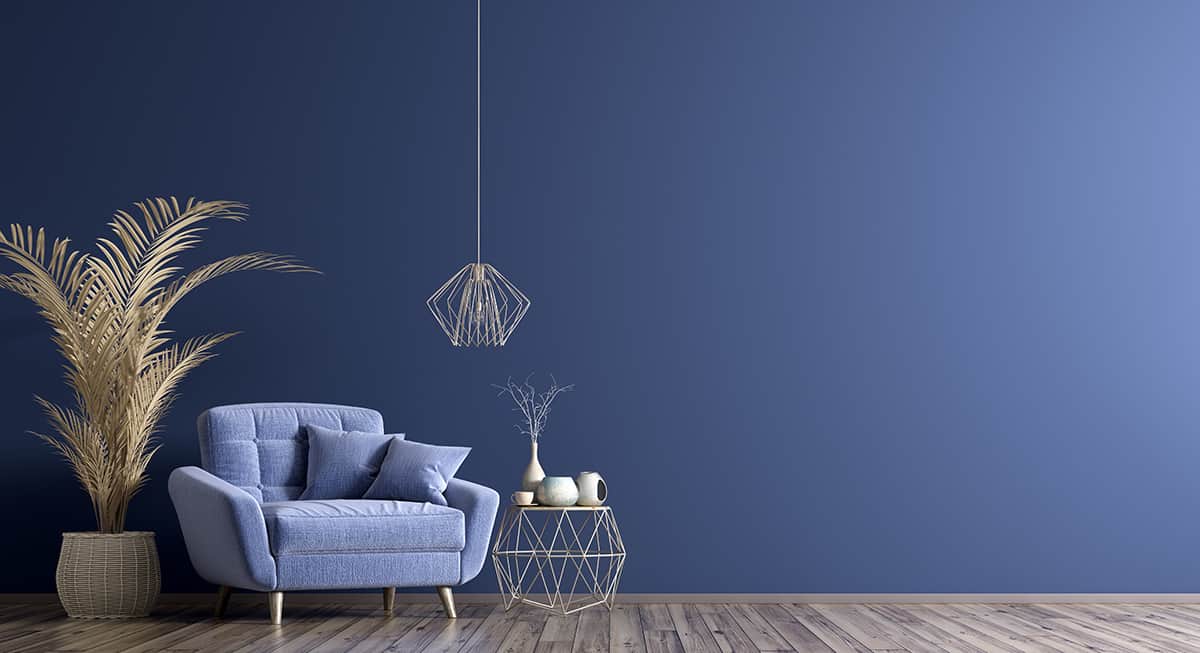 Blue is a color that is easy to live with, which can make it feel almost like a neutral even though it is not. Blue and gray is a modern color pairing that creates a fresh and soothing atmosphere in a space.
For a luxurious style, choose a velvet sapphire-colored sofa, or for a more breezy coastal feel with a gray floor, opt for a cotton pale blue couch. Other shades of blue can look striking with a gray floor if you want to inject more personality and vibrancy into a room, such as teal or peacock.
Yellow
Yellow and gray is popular color combination in modern interior design. A cold gray floor will instantly be transformed into an appealing space with the addition of a sumptuous mustard yellow sofa or a butterscotch-colored upholstered bed frame.
If buying a yellow sofa feels like too bold of a move, then opt for an accent chair instead. This can achieve the same effect on a smaller scale.
Gold is another color that works really well with gray flooring because it is effectively the metallic version of yellow. Opt for furniture with gold-colored metal legs or a gold metal bed frame to infuse a space with a luxurious and sophisticated vibe.
You could also find upholstered furniture, which has been made with a fabric using metallic gold thread, which can add a really luxe feel to a room.