Exposed ceiling beams are an inviting and stunning feature of any home. After all, they contribute to the overall mood of the interior, and their color can make the room appear larger or smaller.
Most types of beams can sometimes go completely unnoticed if it's not painted a solid color. This is why it's important to decide on what color to paint ceiling beams in order to showcase them in your room.
To give you some ideas on the best paint colors for ceiling beams, take a look at our following suggestions:
Ceiling Beam Paint Color Ideas
White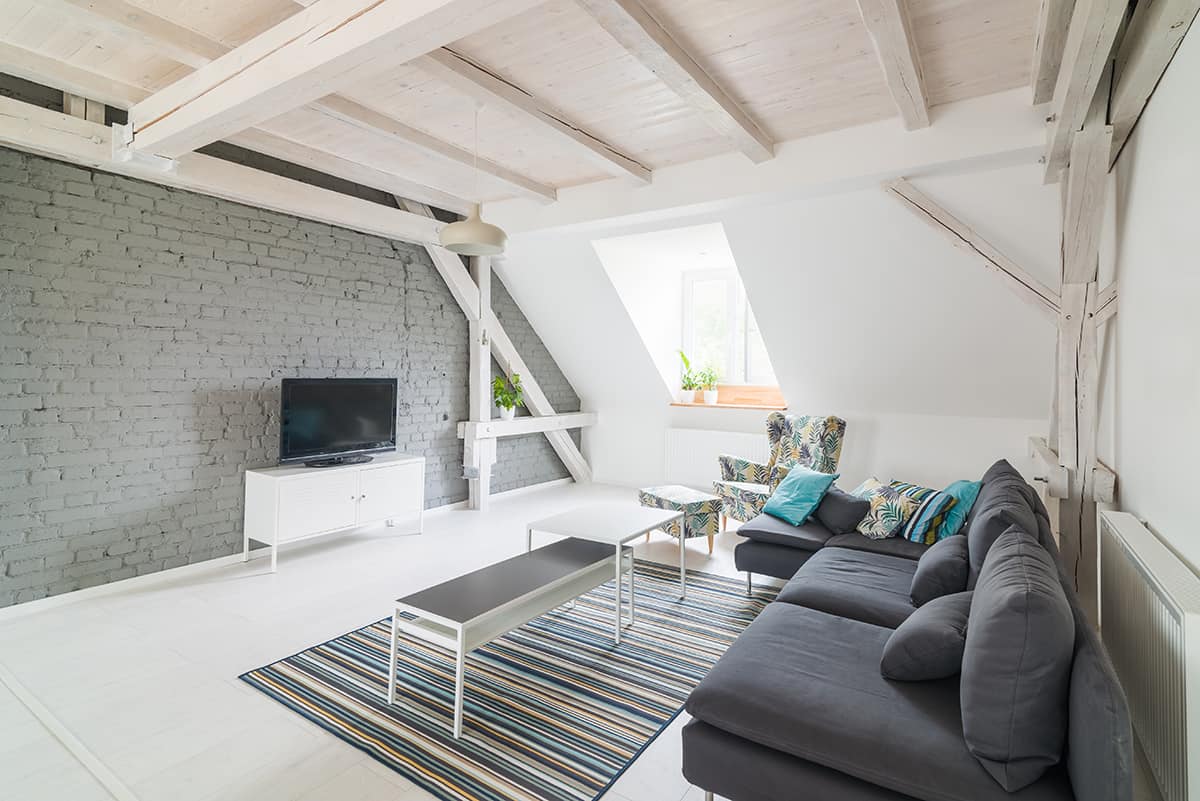 White is the brightest neutral color for the ceiling beams. It is, in fact, a popular paint option to brighten up the interior. This is an especially excellent choice for high, wooden ceilings as it draws the eye directly upwards.
White-painted beams also work well against dark ceilings as they create high contrast. In bright, modern interiors, you will often see white beams paired with gray walls, as shown in this image. You may also opt for black furniture to bring a solid contrast to your room.
Yellow
The energizing ambiance of yellow is hard to ignore. In kitchens, patio spaces, and children's rooms, yellow ceiling beams are especially fashionable as they give the room a breezy and fun vibe. That said, make sure you choose a muted shade like mustard to keep it toned down.
Yellow-painted ceiling beams are not as frequently seen as white, but they are nevertheless a refreshing option without looking too intense. When paired with wooden ceilings, yellow beams will give the interior a pleasant and modern vibe. After all, yellow wooden beams are hard to ignore against neutral backgrounds. Pair them with white walls and darker flooring to help make your yellow ceiling beams stand out.
Rose
Rose is a pale shade of pink, which is a great paint option to use for your ceiling beams. Unlike the subdued yellow, rose has less sharpness and leans towards reddish brown tones. When paired with white ceilings, rose-painted beams instantly draw the eye toward them. Although this option may sound unusual, in traditional interiors with brown furniture, you're likely to find rose-painted ceiling beams.
Dark Brown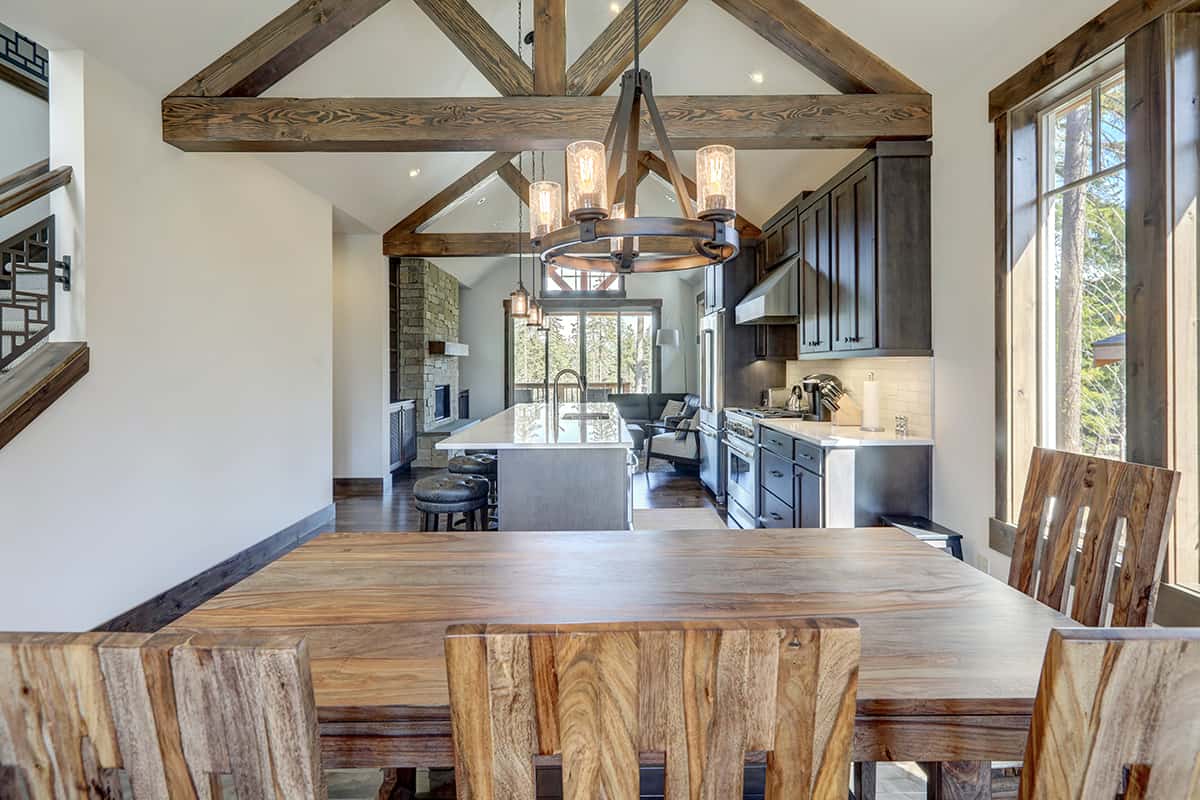 Ceiling beams stained in rich, deep brown provide a stark contrast against neutral ceilings and walls. This is especially true if you have high or vaulted ceilings. Dark brown beams bring character and warmth to high or vaulted ceilings, plus you can create unity by adding wood furniture with the same deep undertone as your beam color.
In modern rustic interiors, rich, brown stained beams paired with dark brown furnishings and white walls create a stunning aesthetic, as shown in this traditional dining room example.
Gray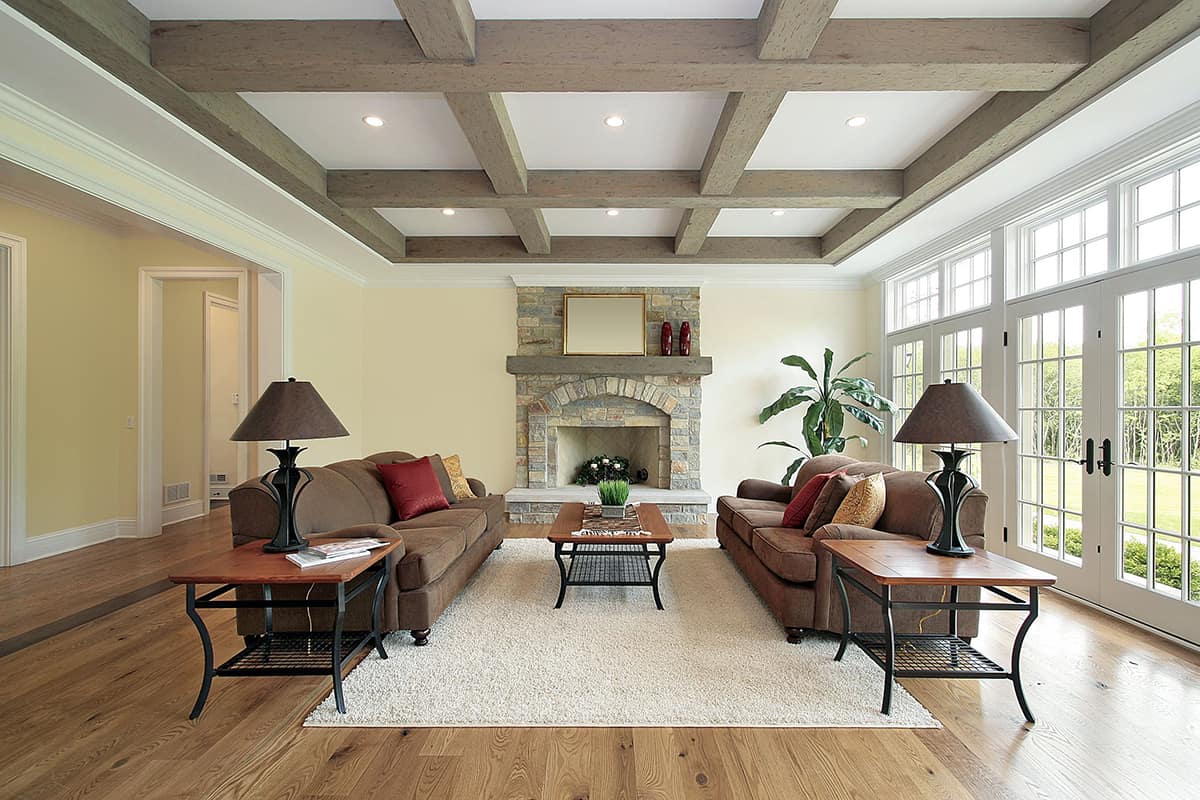 Gray beams are less striking than black or dark brown, but there is no denying their modern look. In a room with beige, brown and white colors, the addition of gray-painted beams can be a stunning feature. The natural gray undertones of the wood stand out beautifully against bright white backgrounds, as you can see here.
Blue
You might not have come across blue ceiling beams before, but did you know this color can evoke a natural, beach-like vibe? A bright shade of blues like turquoise, ocean, or sky will be a perfect color for beams in a nautical-themed interior.
When paired with white walls, blue ceiling beams add a sense of nature to your home. That said, we don't recommend this color for low-height ceiling beams as it can visually shrink the space.
Natural Wood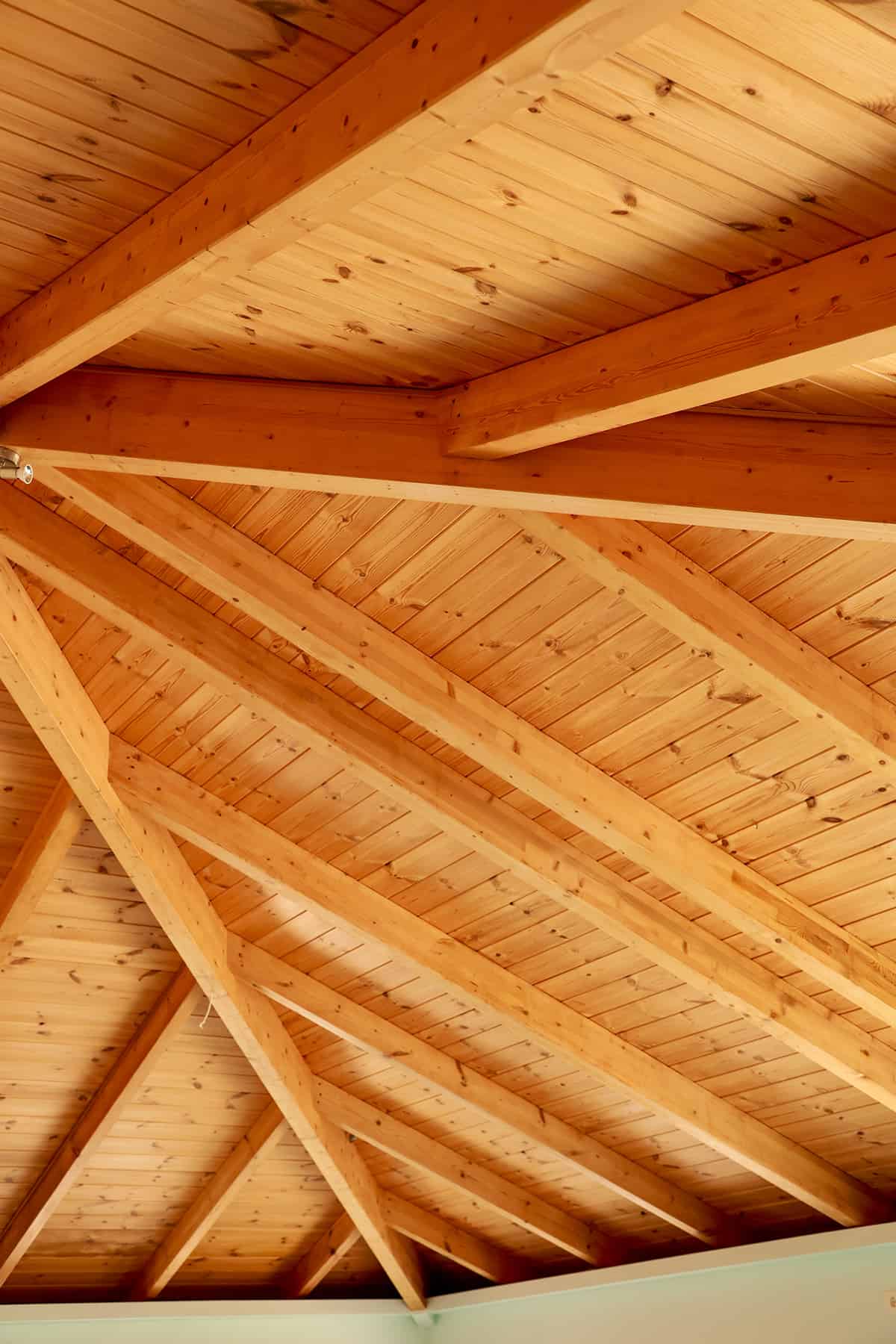 The easiest and most effortless option is to leave your wood ceiling beams unpainted. Exposed beams are typically left in their own natural wood condition in order to create a farmhouse or rustic look. But to protect them from rotting and insect damage, apply a transparent semi to a high-gloss finish. This will keep your natural wood beams in their original color and condition.
Natural wood ceiling beams bring a cozy, traditional feel to both vaulted and low ceilings. By regularly staining them with a transparent, glossy finish, you can enjoy their country cottage, weathered look. Unpainted ceiling beams suit any wall and ceiling color, so you have the freedom to add dark or light wood furniture to complement your natural wood ceiling beams.
Black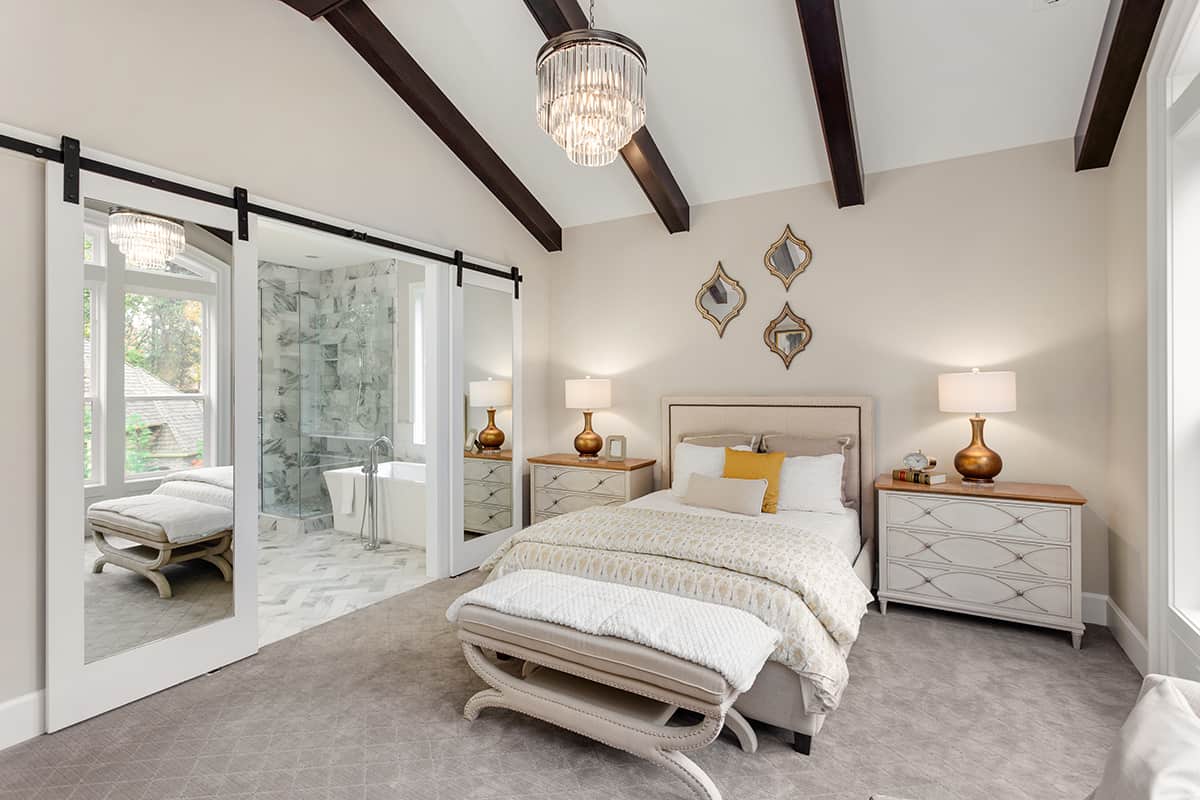 The most striking and powerful beam paint color is black. This neutral color goes with any contrasting wall and floor color whilst giving the impression of a lower ceiling. Black is the ideal color to paint your ceiling beams, especially if you have a high or vaulted ceiling in your bedroom or living room. Not only does this solid color add volume, but it also balances the space between darkness and light.
In rooms with adequate natural lighting, black-painted ceiling beams bring a seamless look to the overall design. If you like minimalist or contemporary style interiors, black should be on top of your list. By painting your ceiling beams in this solid color, your exposed timber joists will add a clean, natural look in both rustic and modern interiors.
Should My Ceiling Beam Color Match the Floor?
No, the ceiling beam color and flooring do not necessarily have to match. While a matching color can pull the room together, it can run the risk of looking bland or monotonous.
For example, if you have dark flooring, painting your beam a dark color can make your room appear like a cave. Choosing a dark matching color can lead to a lack of visual impact. But at the same time, you must take care not to use contrasting undertones as they may clash with each other.
The best way to avoid color clashes is by not overdoing the dark or light color matching between your beams and the floor. If the floor color is darker, you may go with a light beam color to make your ceiling stand out. In low-height ceiling rooms, it is better to paint the beams a lighter color than the floor. By using the same color for both, it will become visually unappealing.
If you are to use the same color for the beams and the floor, make sure it is a shade or two lighter or darker in order to differentiate between them.
Should Ceiling Beams be Painted Glossy or Matte?
If you want to add visual interest and character to your ceiling beams, choose a semi or high-gloss paint finish. This helps make your beams stand out and shine when compared to matte or flat finishes.
By choosing a matte finish, your ceiling beams will appear dull or not as aesthetically pleasing as glossy beams. That's why we recommend a semi or high-gloss finish to highlight your beams rather than neutralize them.
What Ceiling Beam Colors Make a Room Appear Larger or Smaller?
When deciding on the right paint color for your beams, it is understandable to be concerned about your room's overall appearance. Darker paint colors for beams can make your room smaller, but this shouldn't be a problem if your ceiling is high and your room is spacious.
However, for smaller rooms, it is best to paint the ceiling beams a light color to give an open feel to the space. Keep the color contrast between the beams and the walls as minimal as possible so as not to make your small room appear smaller.
For example, if you have painted your beams white to make your room appear larger and airier, consider an off-white or gray color for your walls. Darker beam colors are only ideal for large, open rooms as they won't overwhelm the space. Furthermore, dark beams against white ceilings give visual height, which is an excellent option for large rooms.
Conclusion
Exposed ceiling beams have a charming appearance that instantly captures the eye towards them. Whether you create contrast with black beams against a white ceiling or you go with a similar undertone as your walls, deciding on the right ceiling beam color is usually a matter of personal preference.
Black or bold ceiling beam colors tend to add an energetic visual element to the room. But if you want your beams to blend in rather than stand out, opt for a light, matte finish to minimize the beams' protruding impression. The colors of your walls and the floor should also be taken into consideration when picking the most suitable ceiling beam color.
Therefore, think carefully about whether you want to use contrasting or complementing colors. That said, the right ceiling beam color can boost the character of your interior and reflect your personality.