Storm doors come in standard sizes, making the purchase of a new storm door to replace an old one a fairly simple task. Here we will look at the standard storm door sizes and how to properly measure your storm door opening to ensure a secure fit.
The standard sizes for storm doors are 30 inches, 32 inches, 34 inches, and 36 inches in width. The height will usually be 81 inches tall, though some storm doors also come in the shorter size of 75 inches and, in rare cases, the taller height of 96 inches. The most common among these are storm doors which are 32 inches and 36 inches wide.
Properties that were built after 1990 typically have front storm doors with a measurement of 36 inches wide, though it is essential you measure your storm door before buying a new one rather than assuming that this is the case for your home.
Back storm doors are more commonly 32 inches wide, but in some newer homes, back doors will also have a 36-inch wide back storm door.
Storm Door Dimensions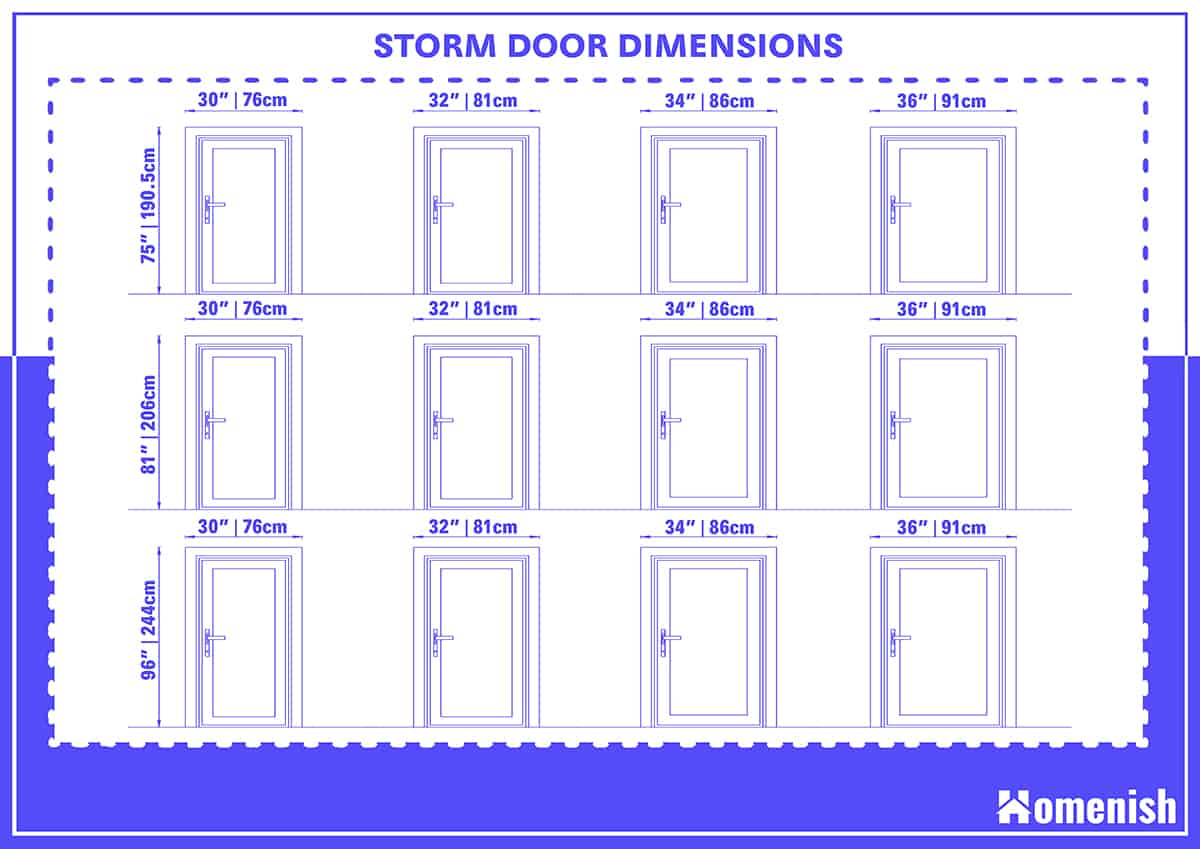 Storm Door Width Sizes
30 inch
This size storm door will fit a door opening with a width opening of between 29 ⅞ inches and 30 inches. It can also be made to fit a door opening with a width of between 30 ⅙ inches and 30 ⅜ inches, but in this case, shims would be required to ensure a closer fit.
32 inch
This size storm door will fit a door opening with a width measurement of between 31 ⅞ inches and 32 inches. If you have an opening of between 32 ⅙ inches and 32 ⅜ inches, this can be shimmed to achieve the necessary opening width.
34 inch
The 34-inch wide storm door will work in door openings with a width of 33 ⅞ inches to 34 inches. They will also work with a door opening of between 34 ⅙ inches and 34 ⅜ inches, though this will require shims to reduce the size of the opening by a small amount.
36 inch
This size of a storm door is suitable for door openings that measure between 35 ⅞ inches and 36 inches wide. They can also be used in door openings with a width of between 36 ⅙ inches and 36 ⅜ inches with the use of shims.
Storm Door Height Sizes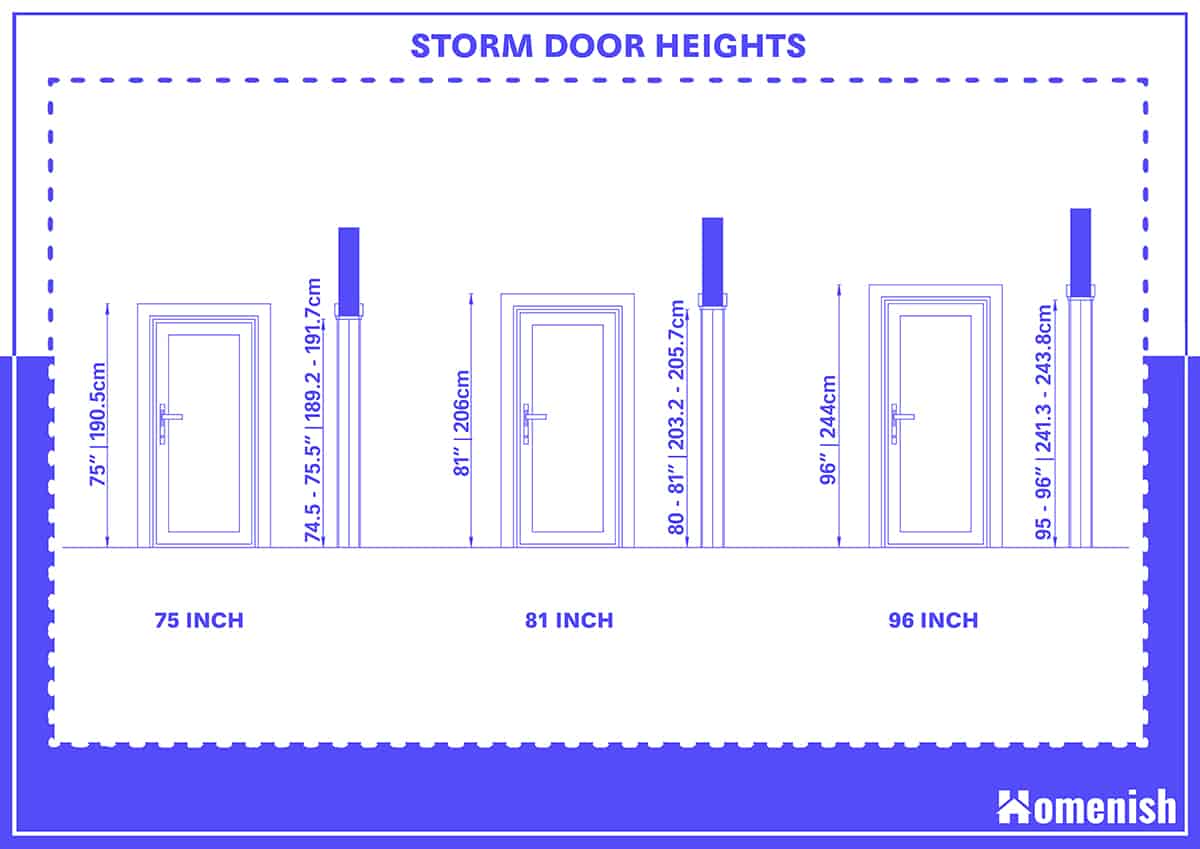 75 inch
This storm door is compatible with door openings that have a height measurement of between 74 ½ and 75 ½ inches.
81 inch
This storm door height will fit door openings that have a height of between 80 and 81 inches.
96 inch
This size of storm door will work with door openings that measure between 95 and 96 inches in height.
Measuring Your Storm Door
To ensure you get an accurate measurement for your door opening and are able to correctly identify which size of storm door you need, follow these instructions and tips.
Height
To measure the height of your door, you will want to use a tape measure and hold it against the floor and up to the upper door frame. You may need two people to achieve this vertical measurement. Take three height measurements on the left side, right side, and in the middle, and use the smallest measurement of all three as the final height measurement for your door opening.
Width
To measure the width of the door, you'll want to take three measurements with a tape measure at a horizontal angle across the door. Take one measurement across the upper section of the doorway, one around halfway down, and one towards the bottom.
It's not unusual for there to be a slight discrepancy between measurements. You should use the most narrow measurement taken as the final dimensions for your door opening. This is because shims can be used in parts of the frame where there are small gaps to improve the fit of the door.
Obstructions
Consider obstructions when planning for the installation of a storm door, and rectify these, if possible, beforehand. Storm doors open outwards away from the house, so you'll want to think about whether the door will be able to open freely without encountering any obstacles.
In some instances, low-hanging roof eaves or siding may prevent a storm door from opening properly, and it isn't much you'll be able to do about that without making drastic alterations to the exterior of your home.
More commonly, it is the case that a porch light fixture will be in the way of a storm door opening, and this is easily resolved by installing a different light fitting to the side of the doorway.
Mounting
A standard storm door will require a mounting surface, typically a minimum of 1 inch wide and 1 inch deep. This is to allow adequate room for the door to be screwed into place so that the frame does not protrude. When mounting a storm door, there's a good chance you will need shims to create a tighter and more secure fit.
Standard storm doors do not ordinarily come provided with shims, but you can use small bits of wood you probably have lying around in the shed or garage as shims. Old wooden ice lolly sticks or paint mixers are great for using as shims, as well as offcuts from old wood projects.
Custom Sizing
If the opening for your storm door does not fit into any of the standard required measurement brackets, then you will need to get a custom storm door made especially to fit your home. There are many companies that will make custom-sized storm doors, but unfortunately, you can expect to pay a higher price for this compared to standard-size storm doors.
To cut costs, measure your door opening yourself and order the door based on this, rather than having a door specialist come out to take their own measurements.