Log style homes have been around for as far back as the Roman times. The first log cabins were built in Nordic countries (Britannica), and it was the settlers of those Scandinavian countries that first introduced these homes to America. In New England, for example, the main purpose of log cabins was functional rather than to look aesthetically pleasing. These types of homes can be found mostly in the Midwestern and Western parts of the US in the rural areas. The modern versions of log homes have changed considerably, with limited styles but larger in size and the same materials as the older counterparts. But there isn't just one style of log cabin. There are some structural differences between traditional and modern log homes, which I will go into more detail below.
To make it easier for you to understand the big distinctions between different types of log homes, I'll be discussing the main characteristics of these homes as well as the most common styles and materials they are made from.   
What are the Main Characteristics of a Log Style Home?
– The most obvious architectural feature of a log home is that it's made from logs. However, the specific type of wood used is a matter of personal taste and its availability.
– All log homes have a fireplace to keep the house warm. This is an essential characteristic of a log style home. Aside from heating the home, the fireplace also serves as a guest or family gathering. The material is often made from bricks or stone and the position of the fireplace is always at the center of the living room in order to maximize air flow.
– To prevent running out of wood in winter, most modern log homes have a glass door close to the fireplace that leads to a logs storage area.
– The walls are made from natural wood instead of prefabricated materials.
– Most log homes are small in size with lots of empty space.
– The sound echoing around the room gets absorbed quietly thanks to the natural wooden structure. This is one of the best features of a log home since it offers a tranquil and less stressful living environment to the occupants.
– Another distinctive feature of a log style home is that it's only one story. Although the modern designs tend to be more than one story high with the staircase leading to an attic, an original log home has all its rooms on one floor.
– The main concept behind a log home was to make it become part of the natural surroundings. While the modern versions have also followed this tradition, they have also added an aesthetic appeal to these homes. To blend in with nature, most log homes are located close to a river to enhance their exterior beauty.
While every log style house has its own benefits and drawbacks, it comes down to personal preference and budget, so you'll want to choose the one that suits you best. Now that you've gained an insight into the main characteristics of a log home, here are the most common log style houses found in the US with a brief list of their materials at the end of the article:
Full Scribe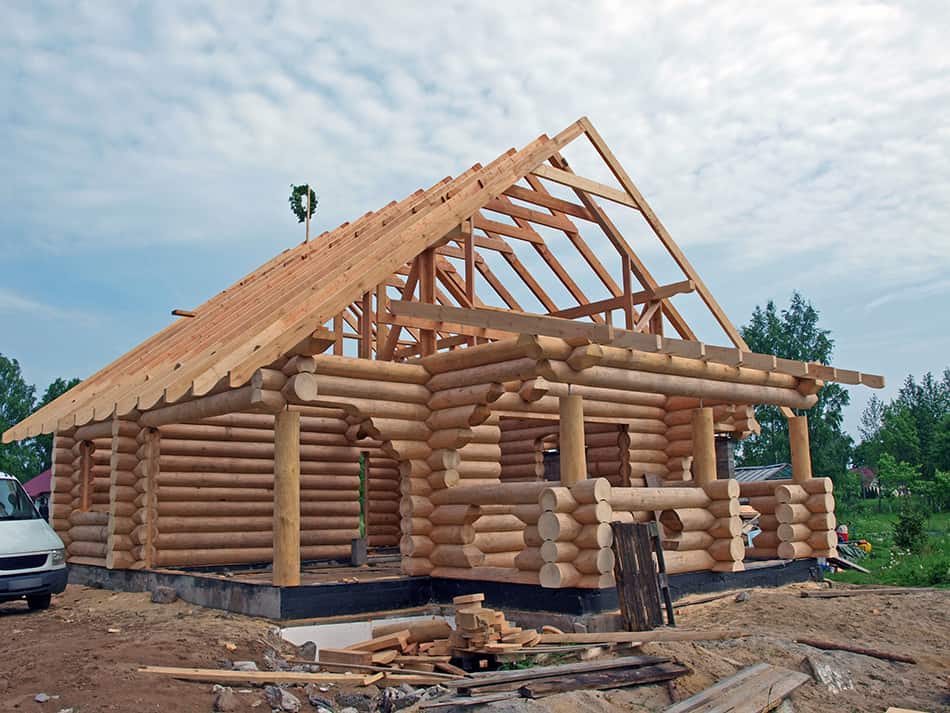 The Full scribe log homes were the very first building methods of a log cabin. This traditional style home is still built the same way today and involves stacked up logs on top of one another in a horizontal position to form a wall. The logs are hand cut and placed tightly against each other without gaps. The groove part of the cut logs is fitted and secured to the log below. 
A full scribe home has little to no wooden framing so the logs are visible from both inside and outside of the house. Over the first couple of years after the log home has been built, the logs will shrink a little so further adjustments may be required to keep the joints as tight as possible.
There is no insulation used in a full scribe log home, thus it is important to ensure the logs are kept tightly secured to prevent air gaps. Full scribe homes are incredibly energy efficient but they are more expensive to build than other log style homes because of the number of logs necessary and the added labor.
Chink Style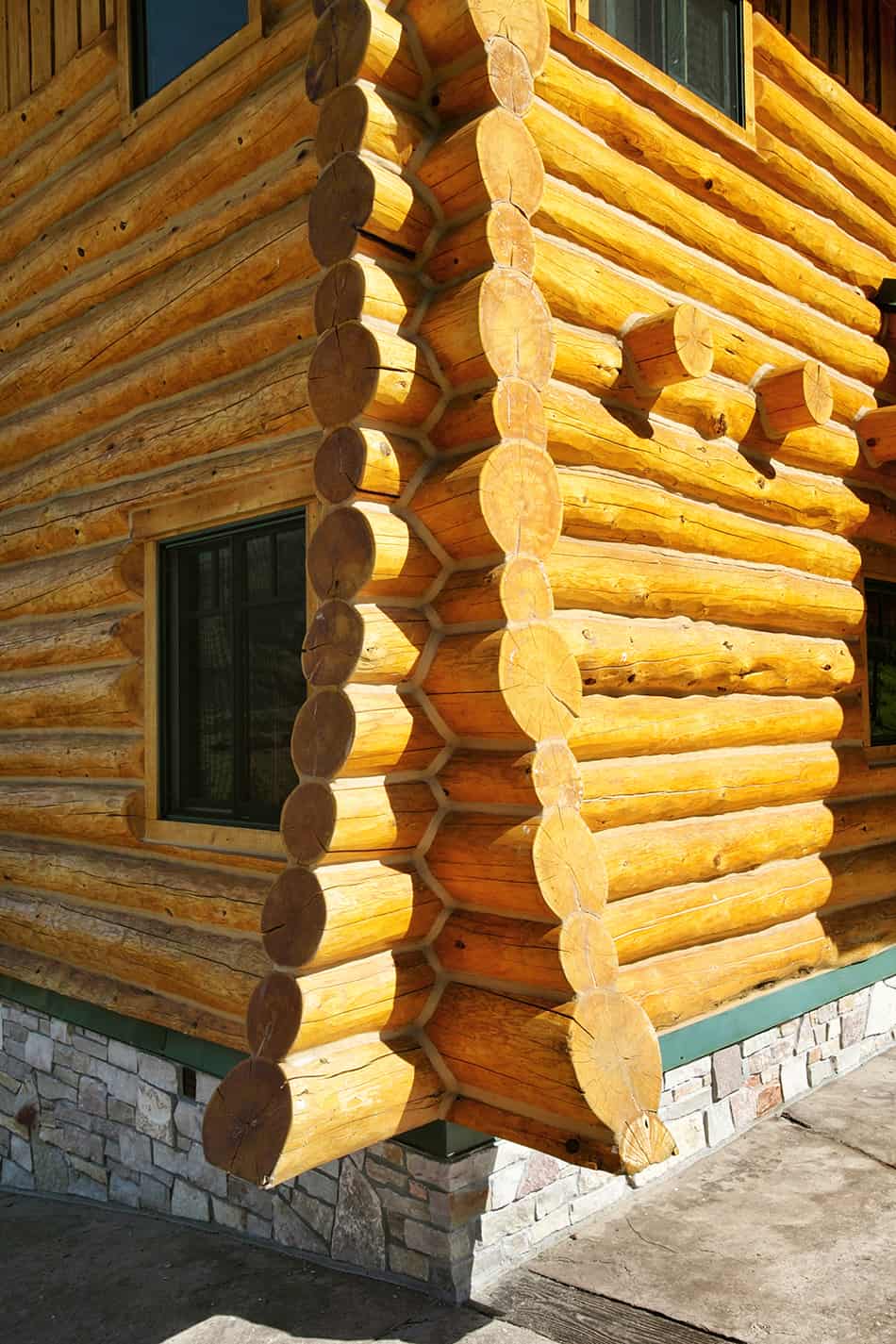 Chink style log homes have come a long way since they were first built. Just like the full scribe log homes, the chink style is another old method of log home construction, with the main differnce being that the logs for the chink style are not joined or fitted together even though they are stacked on top of each other like the full scribe method. Instead, the gaps between the logs are filled with chink – a type of mortar that's similar to filling gaps between bricks.
After the first few years, a reapplication of chink mortar will be required once the house has settled. This should be done in order to keep the house water and airtight as well as energy efficient.
A chink style log home is slightly simpler to build than full scribe since there is no need to scribe the logs on top of one another beforehand. The corners of the logs are joined together using notches. This gives the logs a more precise fit than a full scribe style home.
Post and Beam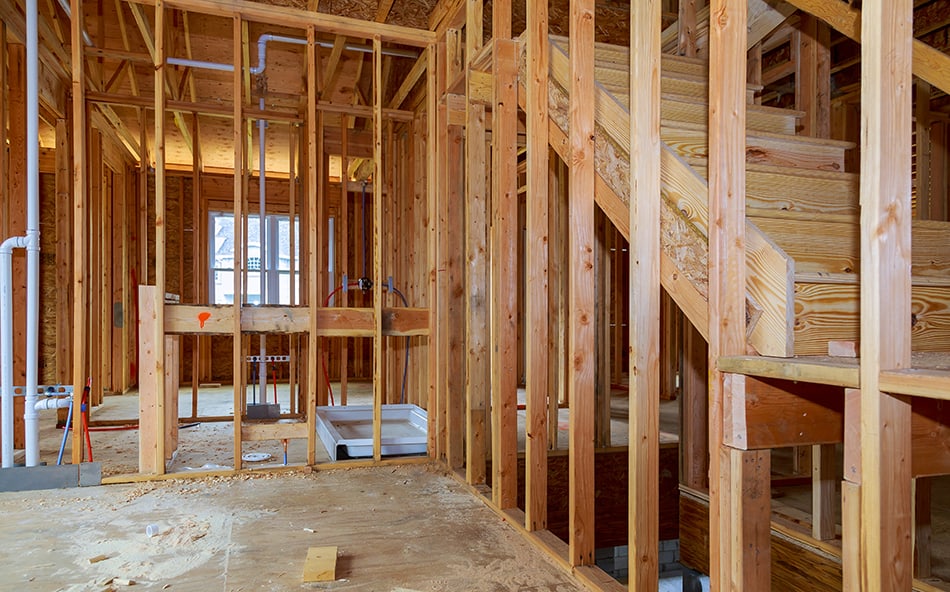 The highly popular post and beam log homes use full-size logs to support the structure. The natural log surface can be seen from both inside and outside the house. Compared to a full scribe log home, fewer logs are needed for post and beam homes, which makes them a cheaper alternative.
A series of vertical log posts are used to hold large horizontal logs placed on top of the vertical ones. The gaps between the logs are then filled with straw bales, cinder blocks, or framed walls. The post and beam style log home typically uses larger logs than the previous style homes mentioned above. This makes the post and beam log homes highly energy efficient.
The construction and design process of post and beam style log homes tend to be more flexible. But the location of the home is the determining factor when it comes to designing such homes. For example, if the home is going to be built in a damp environment, it will be prone to termites and other wood-boring insects, so it's best to use cedar logs for the construction of this style home.
Timber Frame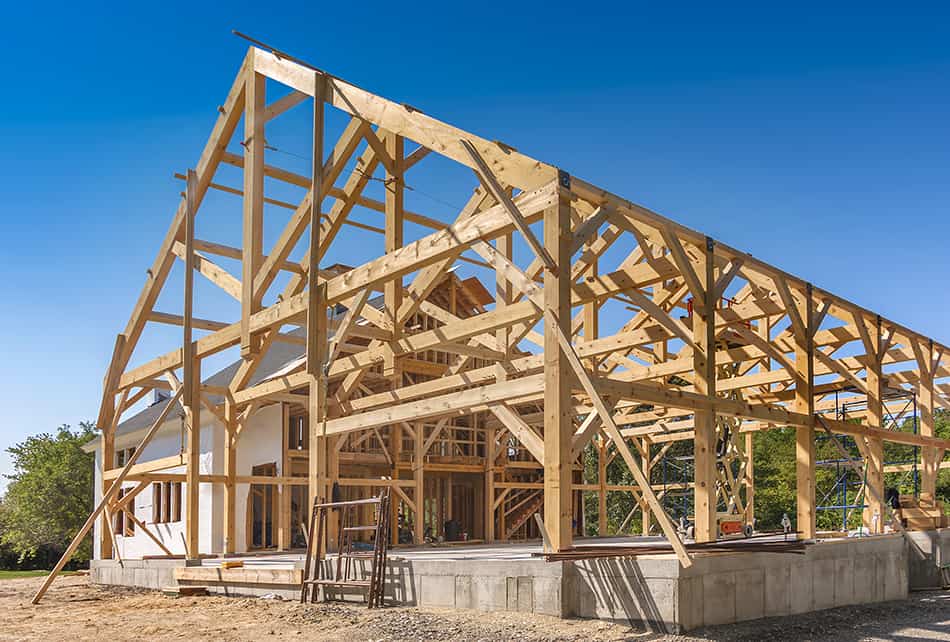 Timber frame log homes are very much similar to post and beam style as the main horizontal structure is supported by the timber posts. The one difference between the two is the precisely cut posts that are square shaped rather than consisting of a round profile like the post and beam style. 
In a timber frame style log home, the timbers can be seen from the inside of the house. On the outside, the traditional siding hides the logs. The timbers are squared off so there are no settling issues after a few years. What's more, any type of timber siding can be used on the exterior part of the property. For example, you can use half timbers in conjunction with a different type of siding, such as Dutch lap or shiplap to achieve the look of a log cabin.
The cost of building a timber frame log home depends on the style you choose, but when compared to post and beam and full scribe, you'll pay slightly less.
Hybrid
Hybrid log homes are the modern types of timber properties that use quarter or half logs. The siding of these homes have a log-like look, and timber frame methods are used to give the exterior a finished appearance, just like a full scribe log home.
Hybrid log homes are made to look like a log house but there are many different types of materials that can be used in such homes. In fact, the contemporary hybrid style houses are constructed in a way that look like a charming log cabin, however, not all hybrids consist of traditional timber materials. 
Square Log Cabins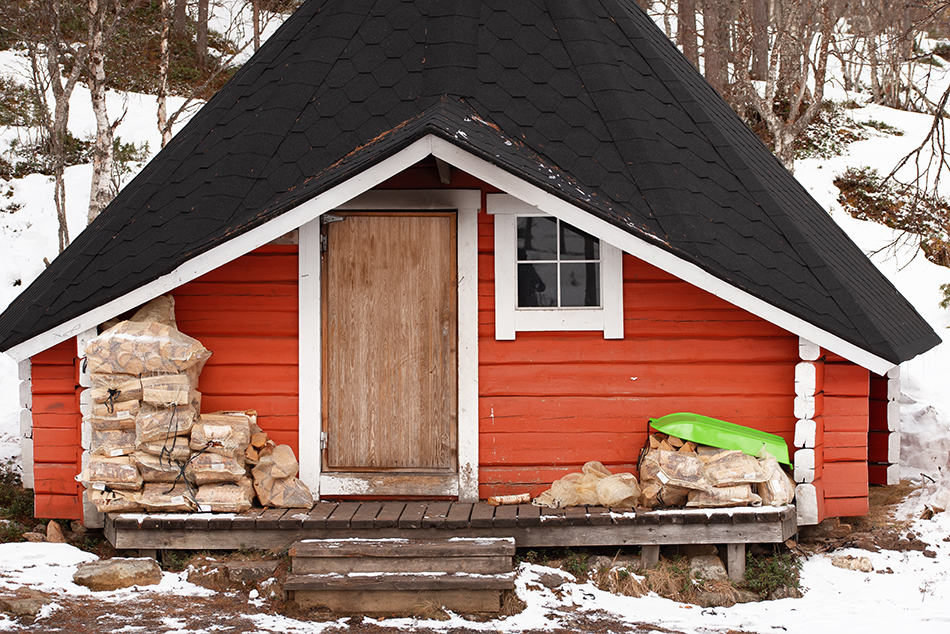 Square log cabins were once constructed for the primary reason of keeping the occupants warm thanks to their superior insulation properties. The most common type of square log cabin is a D-style log home that consists of hewn timbers on all sides except the exterior wall as this part is left in a round shape to look more traditional.
Square log homes are built in a way that the flat-facing timbers between each layer are properly sealed to prevent cold air from entering the property as well as to seal in more heat. Another construction method of square log cabins is square rods  that lock the timbers together tightly for additional insulation.
The construction may also include notches that are cut into the top and bottom parts of the logs to ease locking without a separate key. It is common to see modern square log cabins pinned together or spiked in order to keep it as watertight as possible. Chinking is a popular method of filling in the gaps between these timbers just like the chink style log homes.
Good to Know
When building a log home, regardless of whether you choose a full scribe, chink style, or post and beam, you need to think about how you want the corners of your log house to look like from outside. A corner post comes with log dovetailing features that you won't typically see on conventional log homes. On a corner post log home, full-size logs are used to create frames and walls in either chink or full scribe style. The squared off posts provide edge framing and give the logs a more natural appearance at the corner ends. These logs are fixed to the post corners and provide an aesthetically pleasing and clean edge finish.  
The Trees Used for Building Log Homes   
Wood is obviously the material used to build these homes, but the types of trees chosen differ in both quality and price. Here are the most common trees that are used for constructing log style homes:
Cypress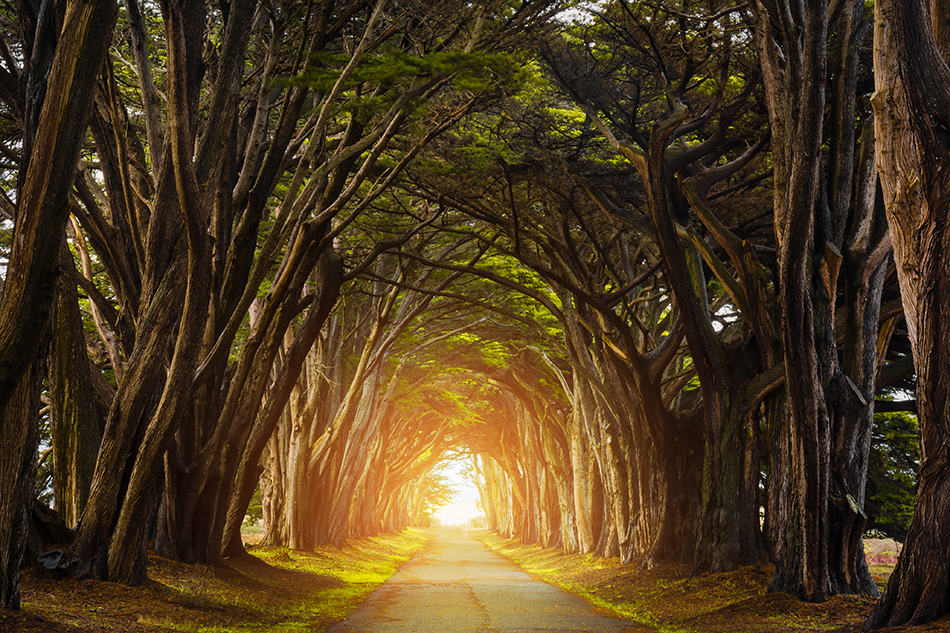 Cypress is a hardy tree that has rot-resistance properties. This makes the tree perfect for building log homes. It is important to choose the most resilient cypress wood. If the sapwood is almost white in color, and the heartwood is a yellowish or dark reddish shade of brown, this makes the cypress wood the ideal choice.
Pros
Hardy wood that lasts a lifetime

Aesthetically pleasing
Cons
Cypress is not always available, thus making it pricey

Cypress log homes aren't very common because of the scarcity of these trees
Pine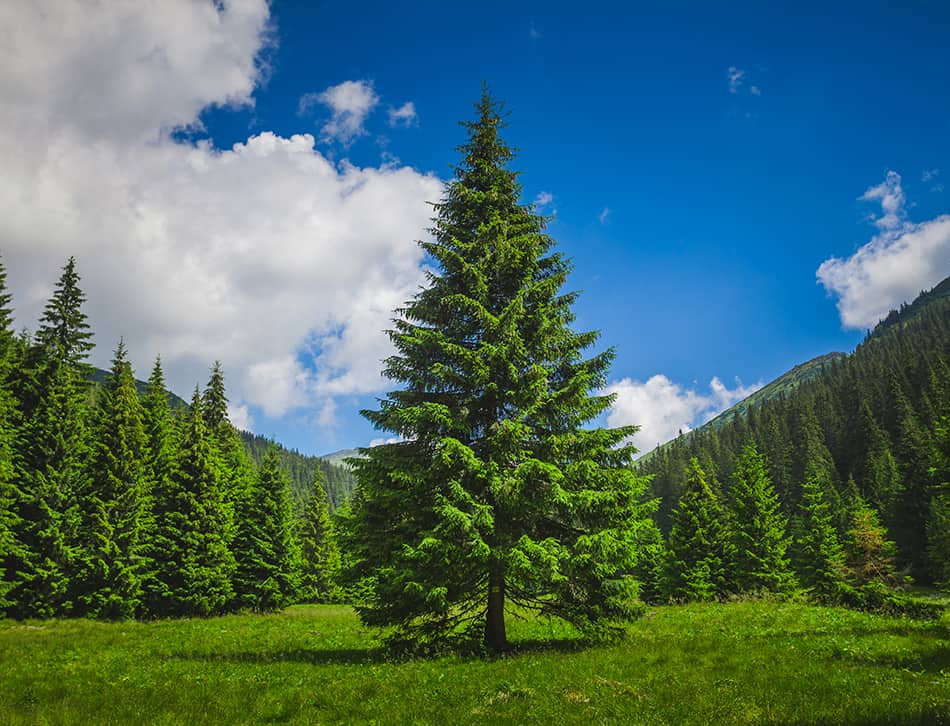 Pine is an extremely popular choice not just for building log homes but also for furniture and flooring. It is easily available, rot resistant just like cypress, and not prone to wear and tear. Pine is also quite inexpensive so you can find this material in almost all modern log homes.
Pros
Easily available as it's one of the fastest and most common growing trees

Yellow pine withstands stains better than white pine

Yellow pine does not warp or shrink

Not susceptible to wear and tear

Easy to work with
 Cons
White pine stains easily 

Not as durable as other tree types 
Oak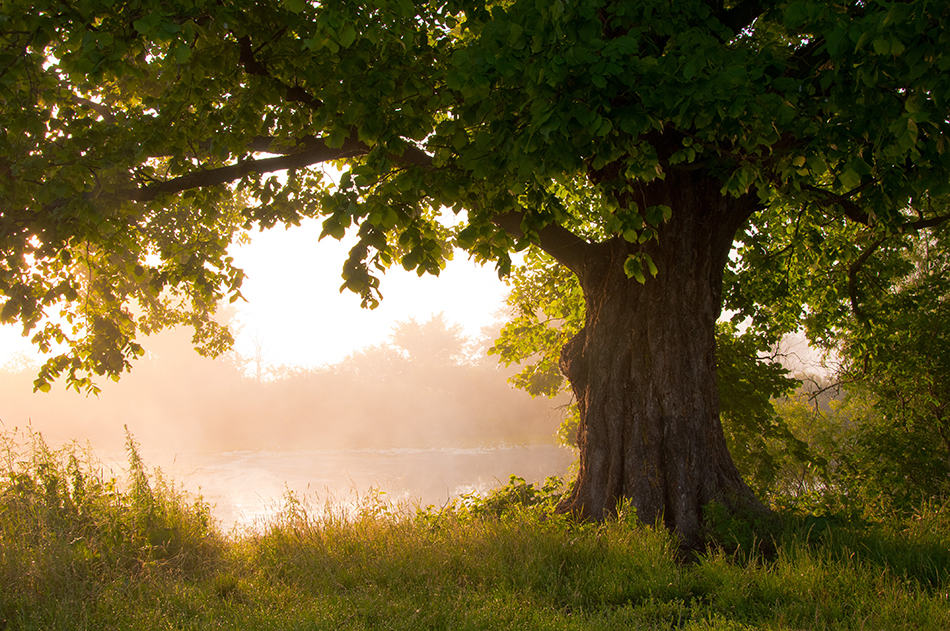 An oak log home is easy to build and made to last a lifetime. Oak is very grainy so it's less likely to distort under direct sunlight.
Pros
Extremely durable and strong

Warp resistant

Water resistant

Offers excellent heat insulation
Cons
Not cost-effective as a base for log cabins
Cedar
Cedar is one of the most durable timber materials that's naturally resistant to decay, rot, and insect attacks.
Pros
Highly resistant against rot and wood-boring insects

Especially ideal for damp climates

Most commonly used for railings

Fade resistant

No need to seal or stain
Cons
High possibility of woodpeckers attacking the timber

Can be expensive