Hardwood flooring is a popular choice for a modern or traditional home thanks to the warmth it brings to bedrooms, living rooms, and dining rooms. Hardwood flooring is a healthier alternative to tiles as it doesn't trap dust or dirt. There is no denying the aesthetic beauty, durability, and functionality of hardwood flooring. If you've opted for this type of flooring, it means you've preferred comfort and sustainability over tiles or marble.
However, with all the benefits of hardwood floors, one must also pay attention to matching the wall color to the flooring color. When you're trying to find the best hardwood floor and wall color combinations, you need to take into account the overall effect it brings to your room. In this article, we'll take a look at the best hardwood flooring and wall color combinations to give you a better idea:
Wall Colors that Work with Light Hardwood Floor
Light hardwood floors are typically a good match with pale wall colors. For example, if you have white maple, light brown oak, or ash brown flooring, you can pair it with cool wall shades like pale blue or grey, while walnut or beech hardwood floors are best combined with warm wall colors such as pale yellow or beige. For a perfect combination of wall colors with light hardwood flooring, use the following ideas:
White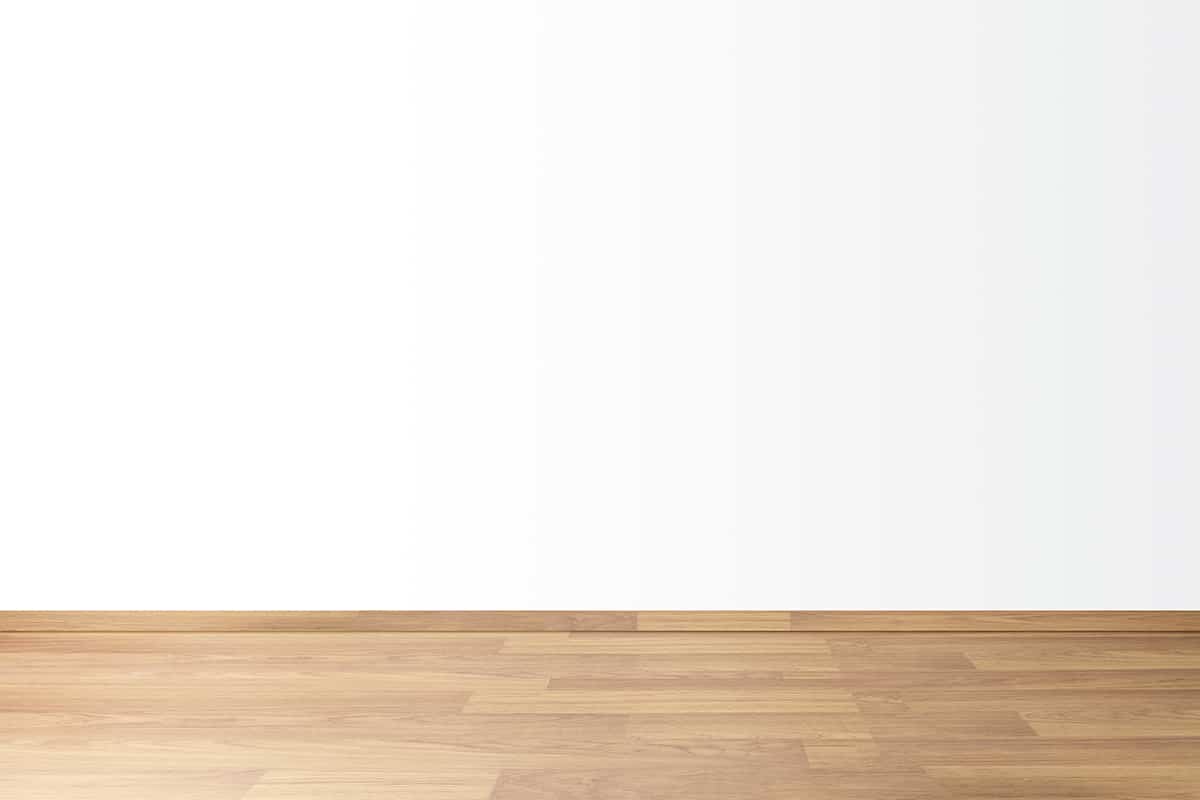 White walls look clean and orderly when paired with light hardwood flooring or any other floor type. Since white can look a little too stark, you can tone it down by adding colorful decor to your bare wall. All in all, there is no denying the popularity of white walls as a modern backdrop to light hardwood flooring.
Gray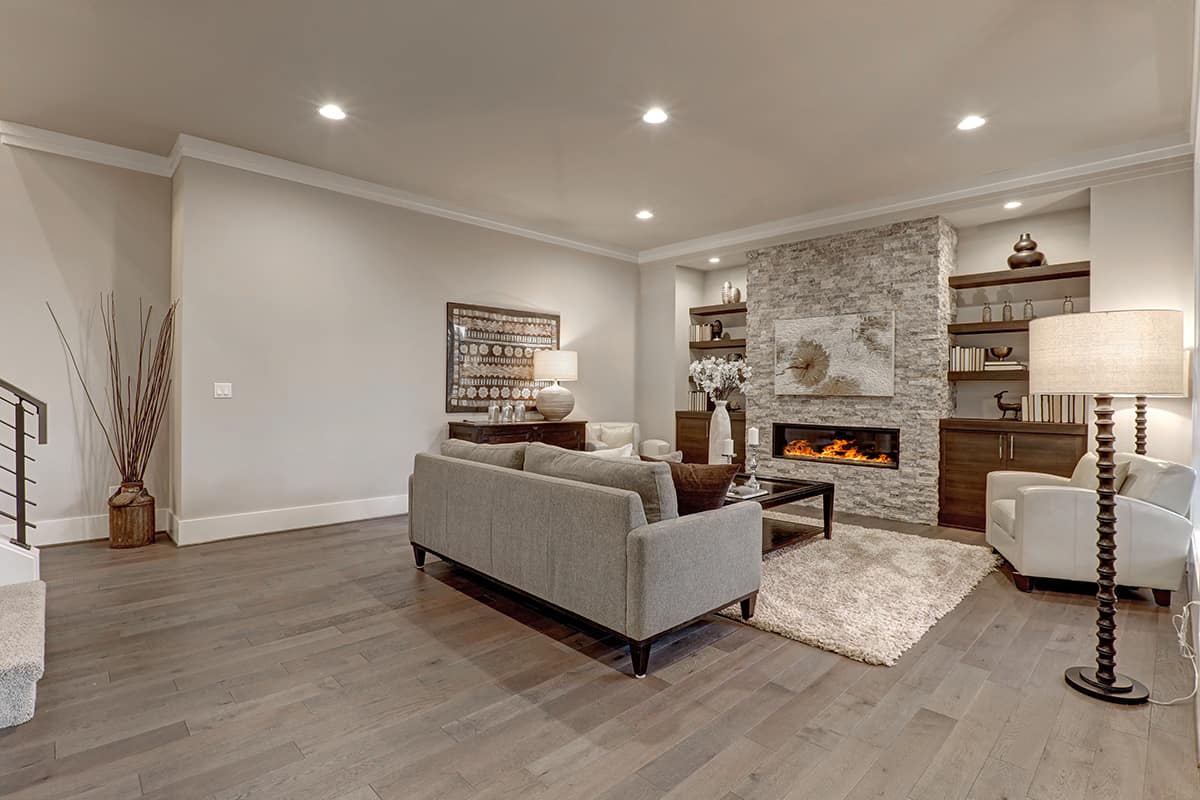 If white is too bright for your taste, opt for grey as a toned-down alternative. You may go with either dark or light grey to pair with your light brown hardwood floors. There are some greys with blue or green undertones, which will create a calming vibe in living rooms and bedrooms.
Greys with warm beige undertones can also work with light hardwood floors to create an inviting space as shown in this example of a modern grey living room with light grey hardwood floors.
Dark Brown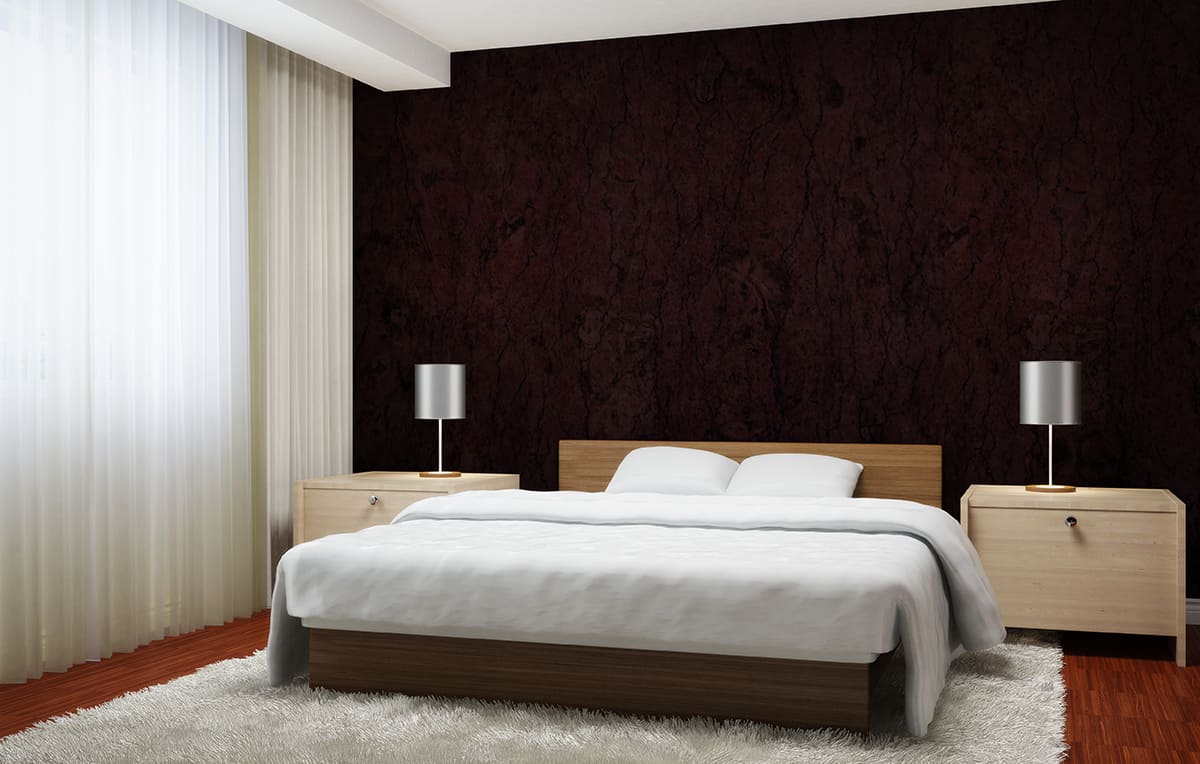 A deep shade of brown used with light hardwood floors will work especially well in bedrooms. To keep your interior visually interesting, create an accent wall in dark brown so it stands out next to your light hardwood floors. Add other light and dark brown tones to the bedroom furniture to keep the design cohesive with your wall and floor.
Beige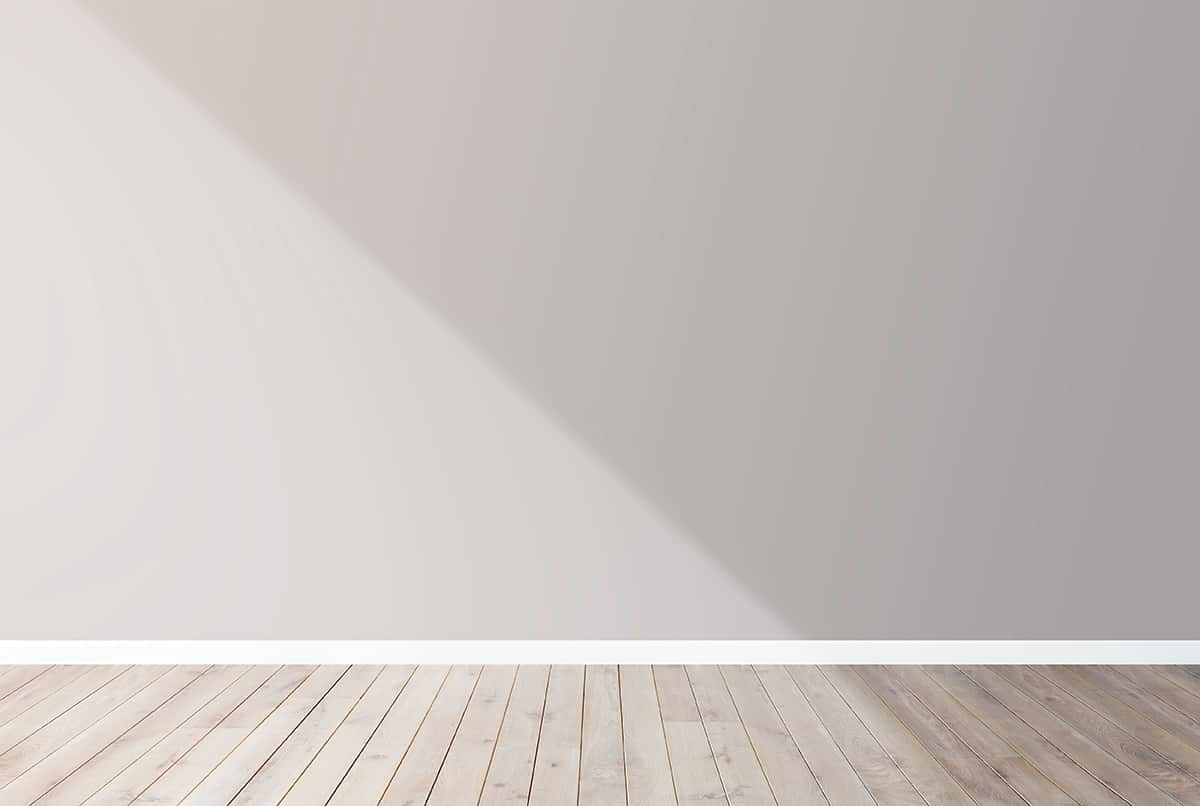 Light beige can emit a comforting and warm feel in a room with light wooden flooring. And since beige is a neutral shade, it can be combined with any furniture or textile color to go with your white or light brown hardwood flooring.
Warm Shades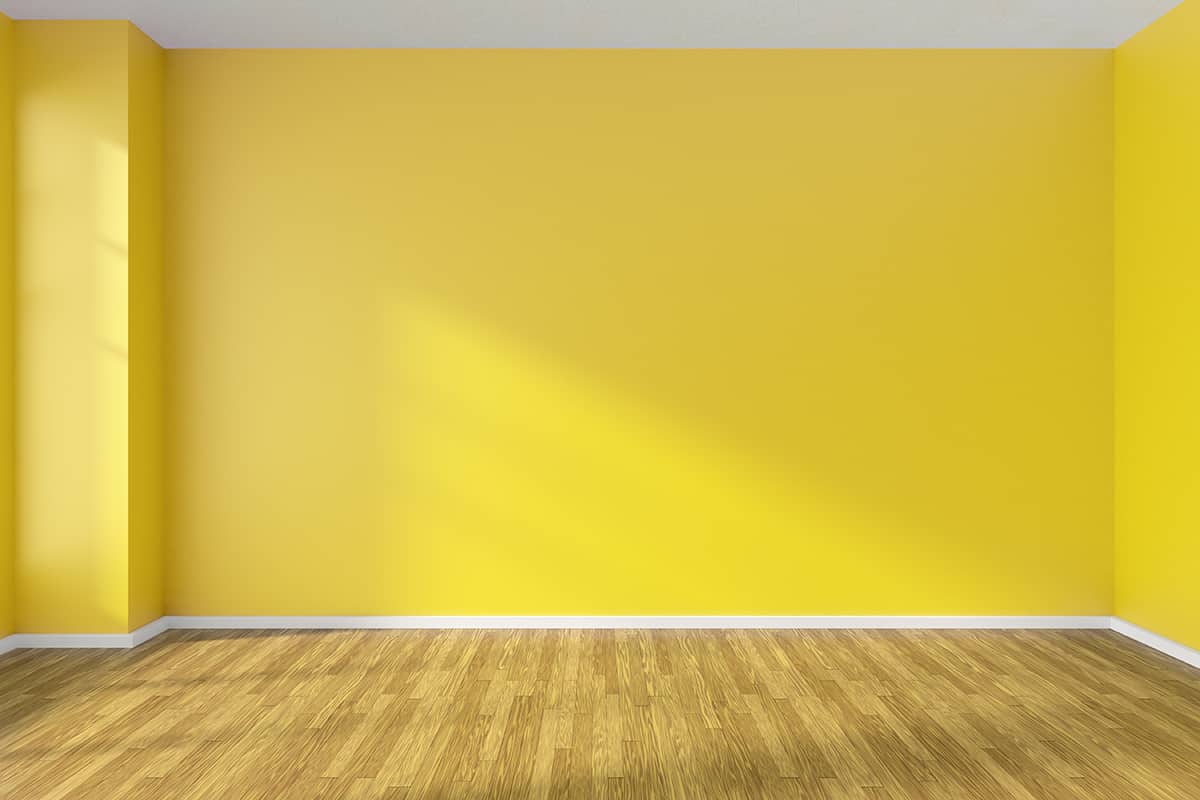 Aside from beige paint color for walls, other warm shades that work with light hardwood floors include orange, red or yellow. The latter is most often used in living rooms or dining rooms with beech or light oak wooden flooring. A sunny shade of yellow with light brown or grey wooden flooring is the perfect combination thanks to their pronounced warm tones.
Wall Colors that Work with Cherry Hardwood Floor
Cherry hardwood flooring is gaining popularity for kitchens and living rooms. This type of hardwood floor is an intermediate between light and dark wooden floors, but with an intensely reddish shade and even pattern. So as a mid-toned hardwood flooring, we thought it's a good idea to include in our list of wall and floor color combo. The following wall colors work best with the cherry floor:
White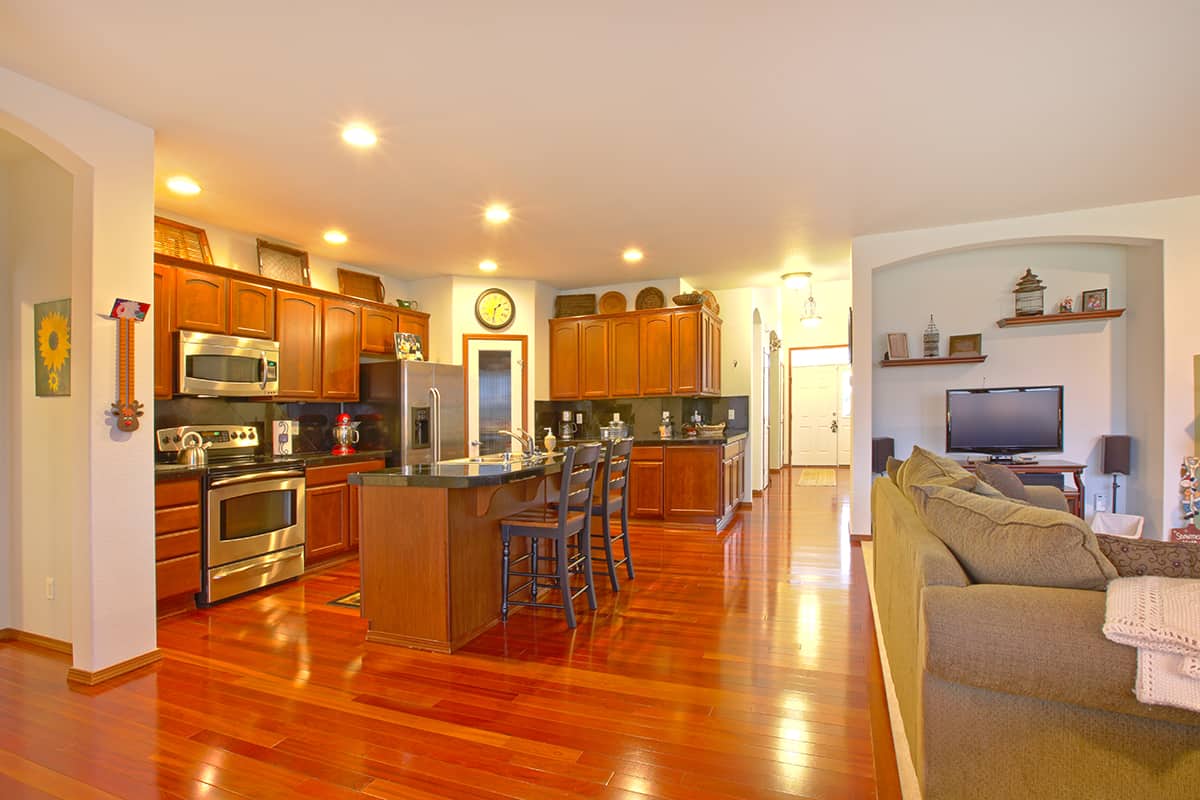 Pure white walls can look a little boring if they're not blended with a dramatic color. Consider pairing them with cherry hardwood floors to add interest to your interior.
In fact, any shade of white like ivory or cream will go well with cherry flooring. Just like you can see in this stunning kitchen, the warmth of the golden cherry floors stands out against the pure white background. The designer has matched the flooring to the cabinets for a monochromatic design, which works very well to make a dramatic effect.
Green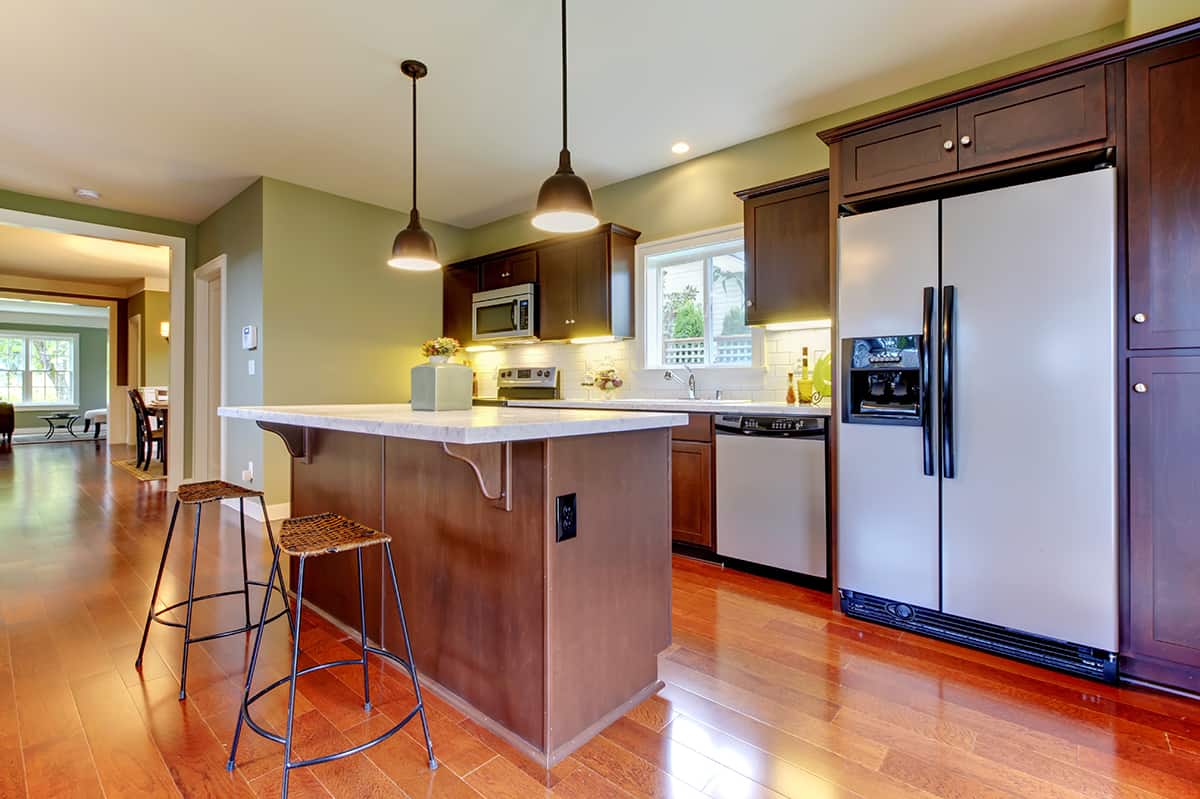 As a contrasting color to cherry red floors, green is a natural choice for the walls. The rich tone of the cherry hardwood flooring goes very well with a soft shade of green like sage or olive. If you want to make your cherry hardwood flooring the focal point of the room, pale green paint color for the walls is a natural choice that makes the floor shine. Be careful when it comes to picking the right shade of green as a darker tone will steal the vibrance of the hardwood flooring.
In this modern kitchen, the cherry floor makes the most impact, with the soft green walls as the traditional, natural backdrop to the wooden cabinets and flooring.
Cool Blue
For a nautical-themed kitchen or bedroom, a beautiful wall color to pair with cherry hardwood floor is blue. Light blue complements cherry hardwood as the two create an inviting and peaceful space. Since light colors contrast cherry, you can make a statement by combining them in your kitchen, bedroom, or even dining room.
Red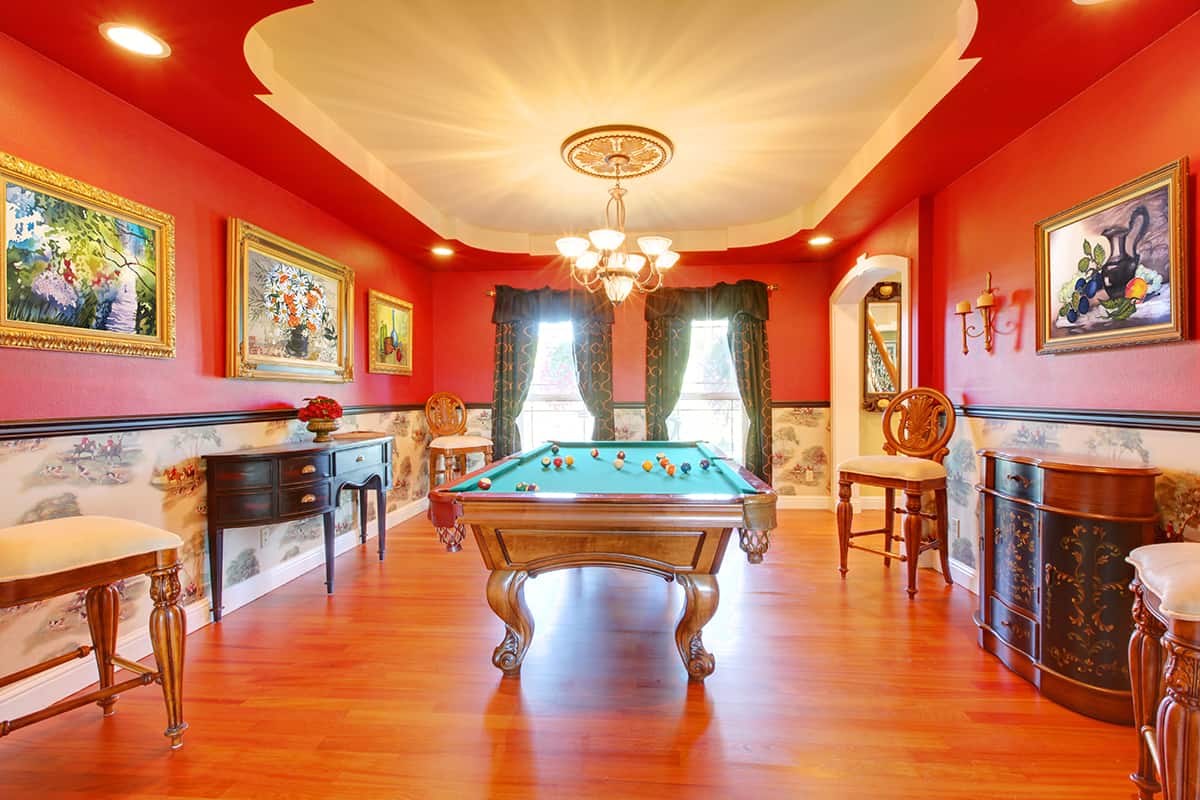 You can make an even bigger statement by painting your walls red! Red walls with cherry wood flooring work nicely as a monochromatic design. A deep shade of red like burgundy or terra cotta isn't too intense next to light cherry wood flooring. When used as an accent color, the red walls will contrast the light cherry hardwood floor. This color combo is ideal in formal living rooms or playrooms as shown in this example.
Wall Colors that Work with Dark Hardwood Floor
Dark hardwood floor colors include wenge, dark oak, hickory, and rosewood. These are beautiful shades of wood that look attractive in any room. But care must be taken when picking the right wall color in order to avoid making the room look too dark or gloomy. Here are the best wall paint colors that work with dark hardwood floors:
Off-White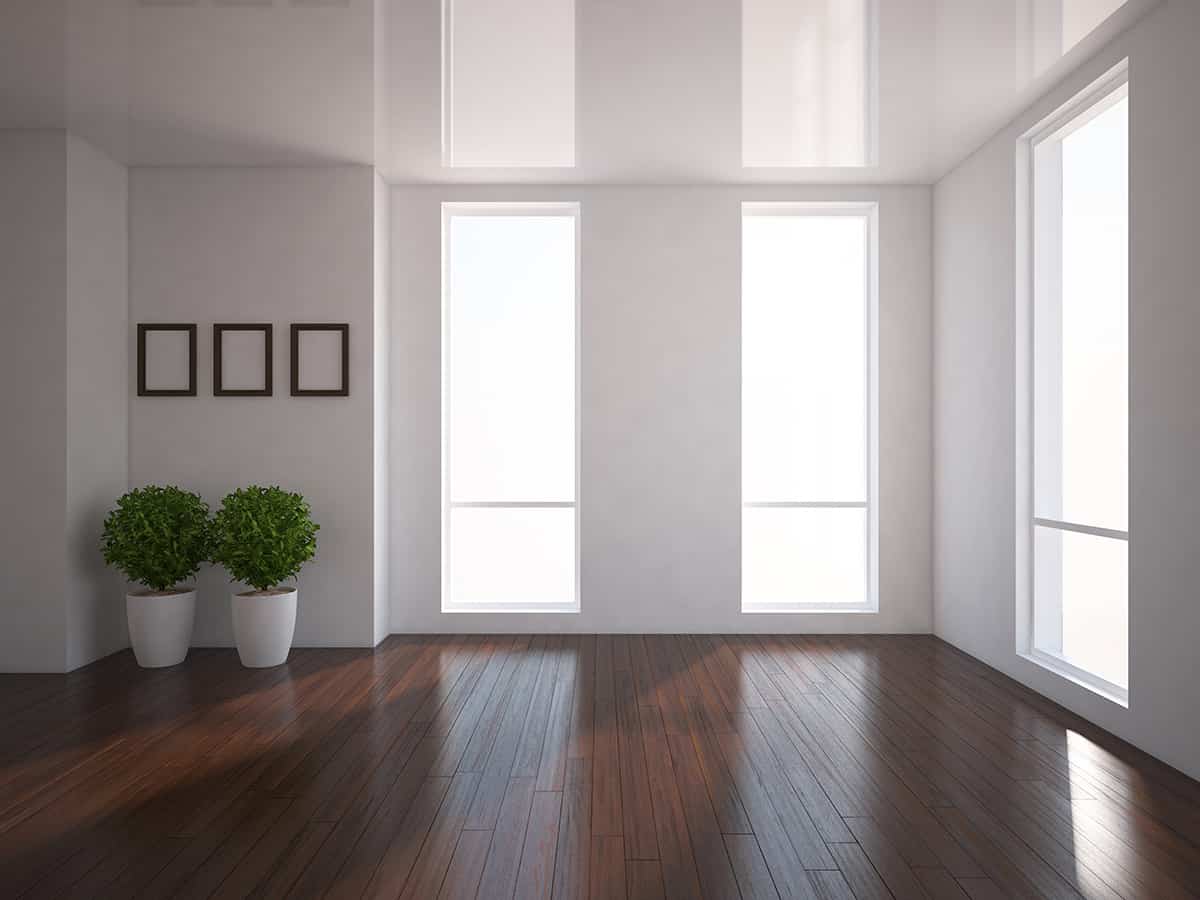 Off-white is a muted version of white that works well with dark brown hardwood flooring. You can go as light as you like with your neutral wall, even a light cream will look sophisticated in a bedroom or living room. In general, white or off-white walls are classy next to dark floors, plus they brighten up the room.
You may paint the crown molding or ceiling trim bright white for a crisp finish.
Grey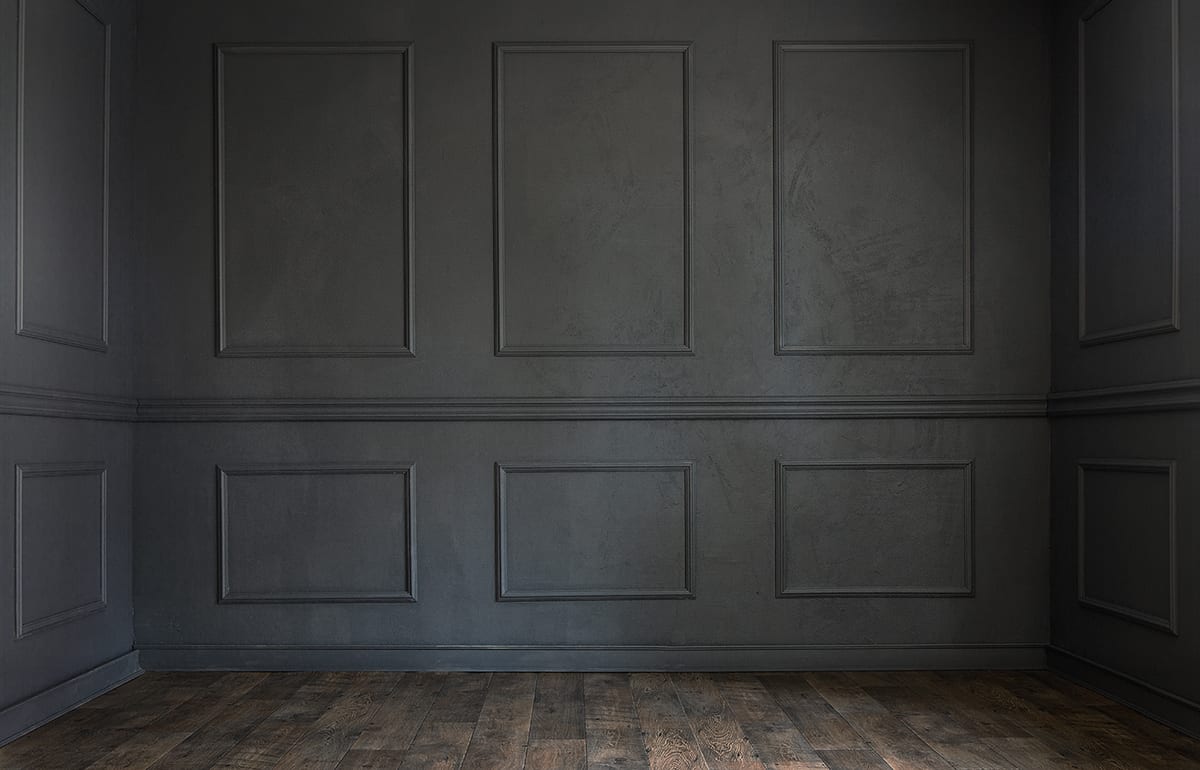 Now if you want to introduce a different undertone to your living room or bedroom, then consider dark grey. Although this may not be the first neutral shade that comes to mind, it can look beautiful with dark hardwood floors as part of a formal interior design.
You may select a grey paint color with a blue or green undertone. Alternatively, you can paint the entire walls in a true grey color to make a dramatic statement as seen in this example. While the room may appear darker than some people like, the color combination should still be considered in a room with ample natural lighting.
Greige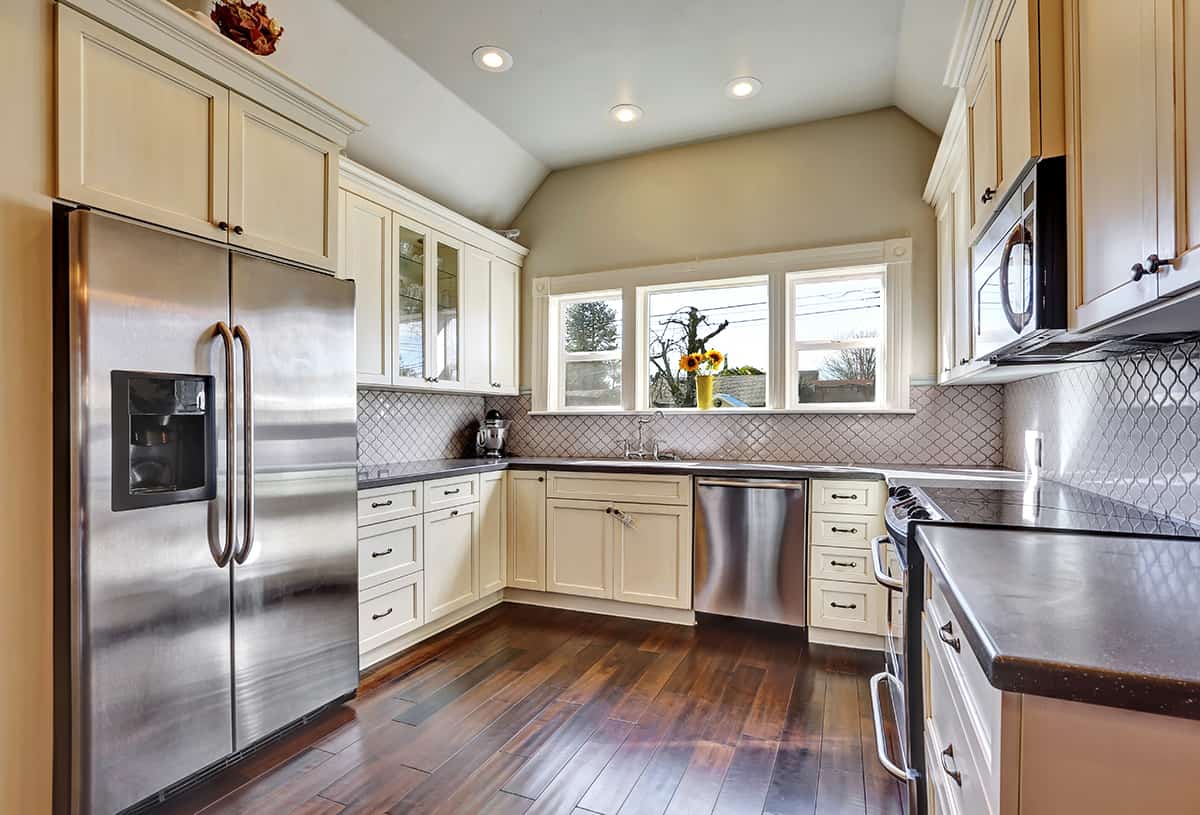 Greige is a blend of grey and beige, which works nicely alongside dark hardwood floors. Greige walls can be used in any room, including the kitchen. This color is the perfect backdrop to a dark-toned hardwood floor such as oak. In fact, greige is the best neutral color that ties everything together in any room.
We love the color combinations in this kitchen. It features soft beige cabinets with stainless steel appliances, greige walls, and dark brown hardwood floors.
Blue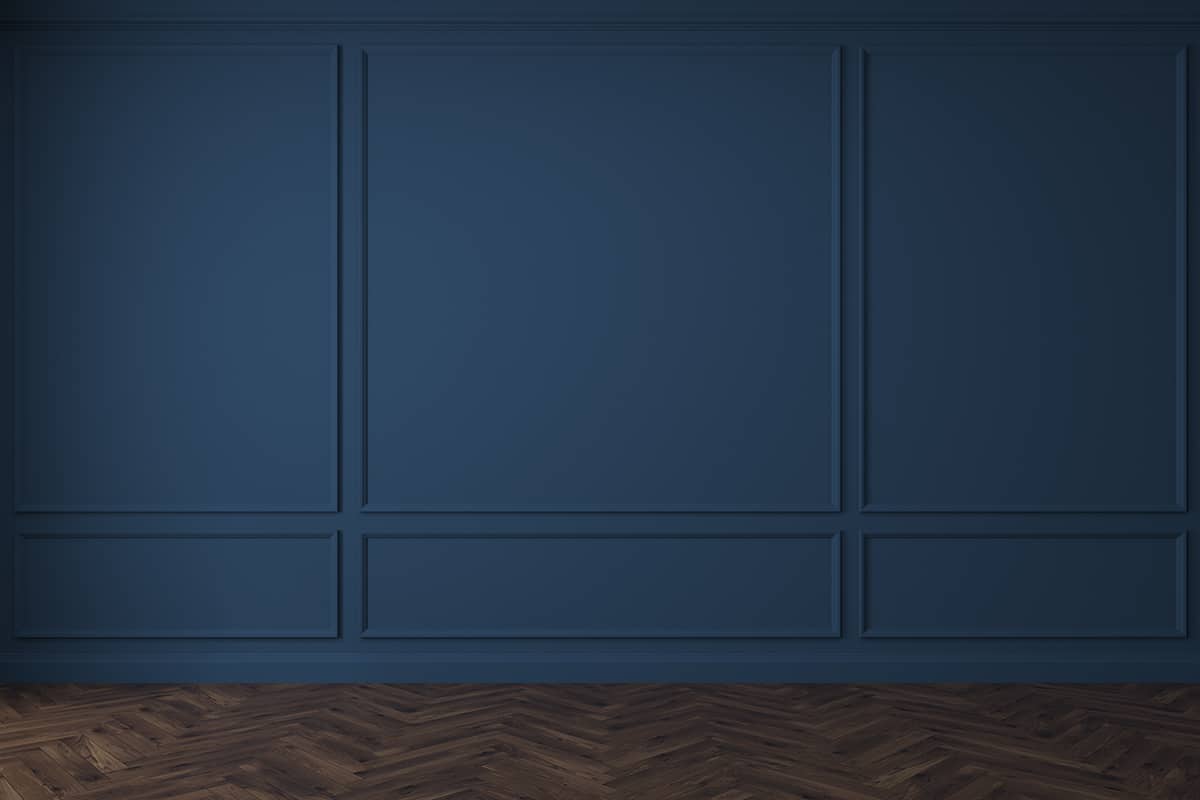 If you recall, we mentioned how beautiful light blue walls can look with cherry hardwood floors. But with dark hardwood floors, you may opt for a darker shade of blue as a nice contrast. A bold, crisp blue shade will pop next to brown hardwood flooring as both design elements provide a contrast in formal living rooms or modern bedrooms.
See how calming and soothing this room's dark blue wall with dark brown hardwood floor feels. It is an ideal wall and floor color combination that emits an air of luxury.
Subtle Green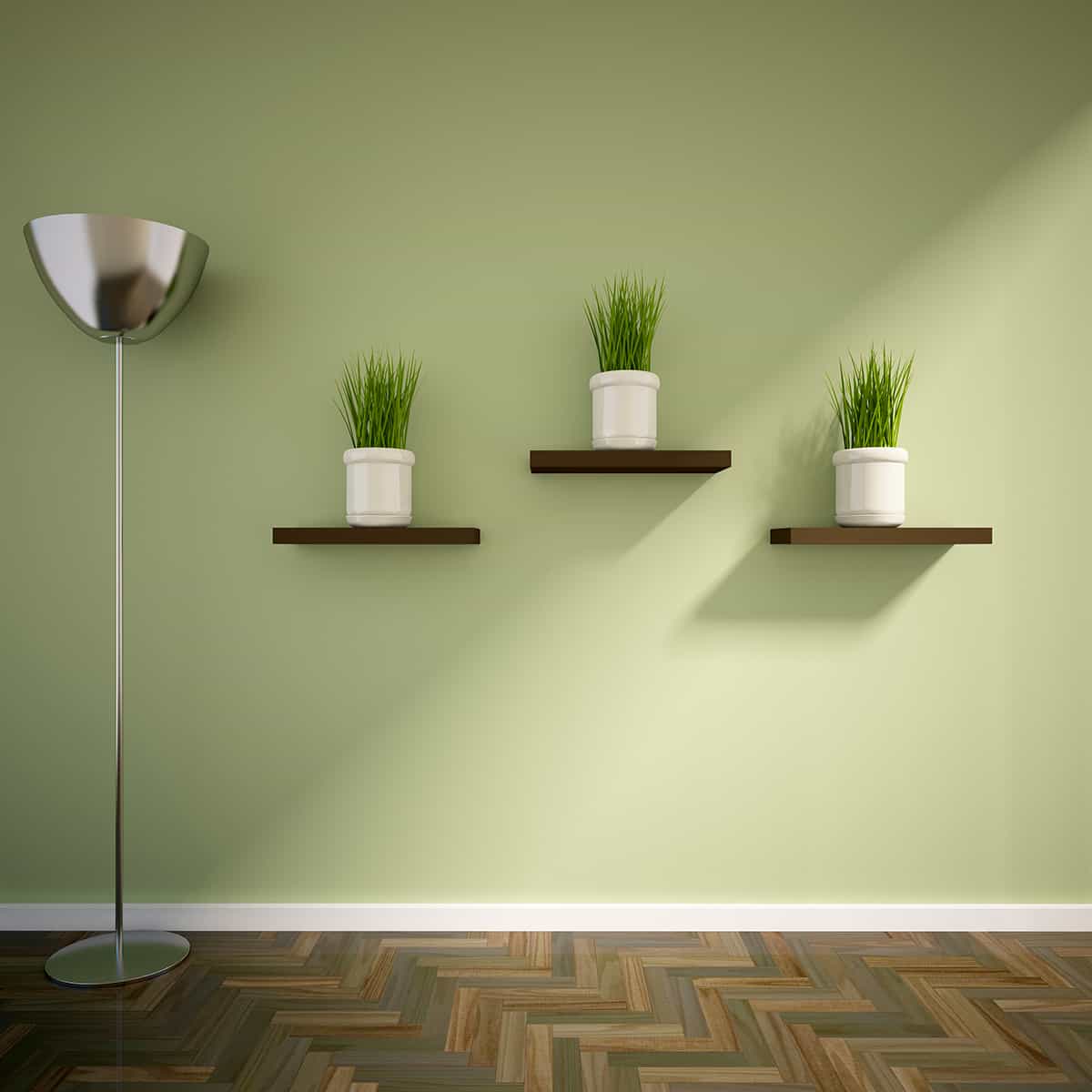 Dark hardwood floors can look gorgeous with soft green walls. This combination creates an ideal balance between the warm dark color of the flooring and the soft light color of the wall. Whether you prefer green walls for your living room, kitchen or bedroom, your dark hardwood floors can stand out with this soothing paint color.