Black furniture is a bold and elegant option in any interior space. But it can sometimes come across as too intimidating. Since black is a neutral yet dramatic color, pairing it with other bright hues can appear overwhelming.
When it comes to deciding what color rug goes with black furniture, many homeowners find it challenging to pair black with other colors. The following are the best rug colors that go with black furniture:
Contrasting, neutral light-colored rugs
Bold colors
Patterned rugs
All gray shades
So if you have black furniture in the bedroom that you wish to coordinate with the right rug color, or your living room has a black table or sofa that needs a suitable rug color pairing, here are some ideas with pictures to inspire you:
Best Rug Colors that Go with Black Furniture
White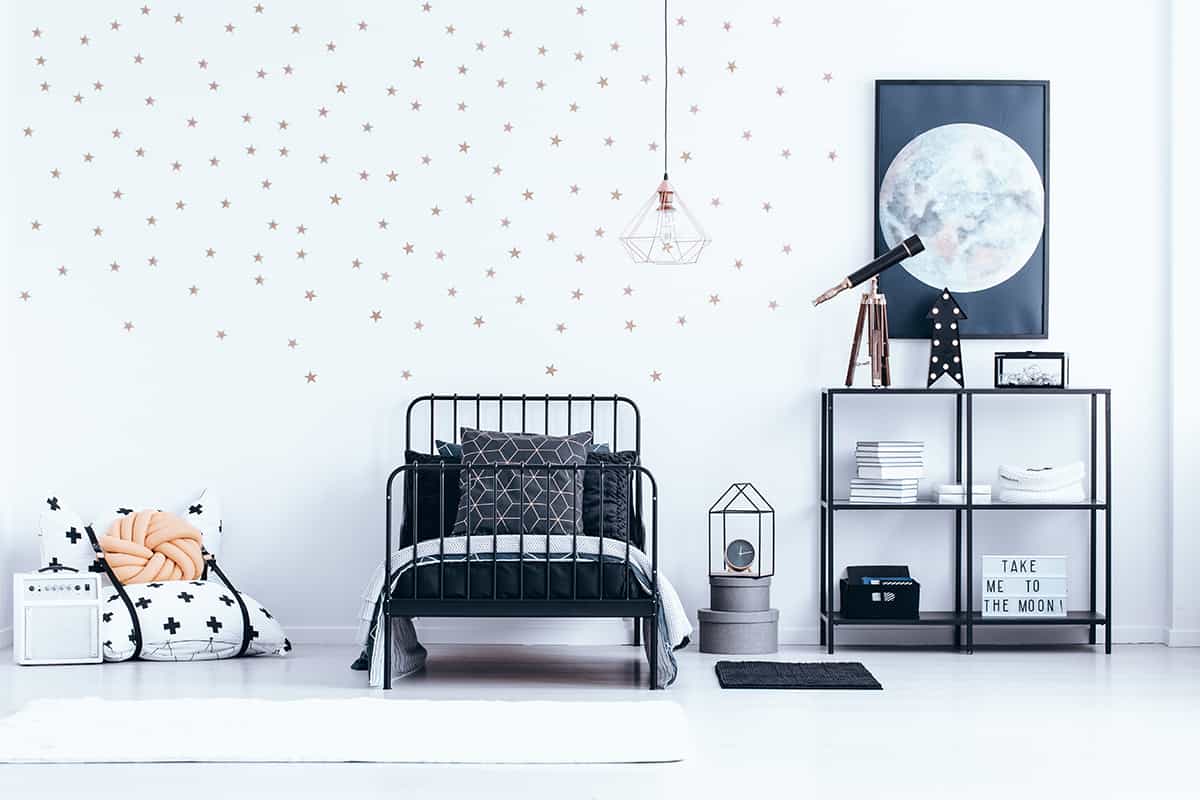 White rugs combined with black bedrooms have always been an elegant color pairing. This timeless color combination is highly contrasting, but we all know how perfect black and white look together.
A white rug in the bedroom, for example, with a black metal bed frame and matching furniture can give your room a bold and stylish look. This color pairing produces high contrast effects so it makes sense to add a white rug to your black bedroom furniture.
The black and white combination also works great for minimalist interiors. White rugs soften the black furniture while making it stand out more.
Taupe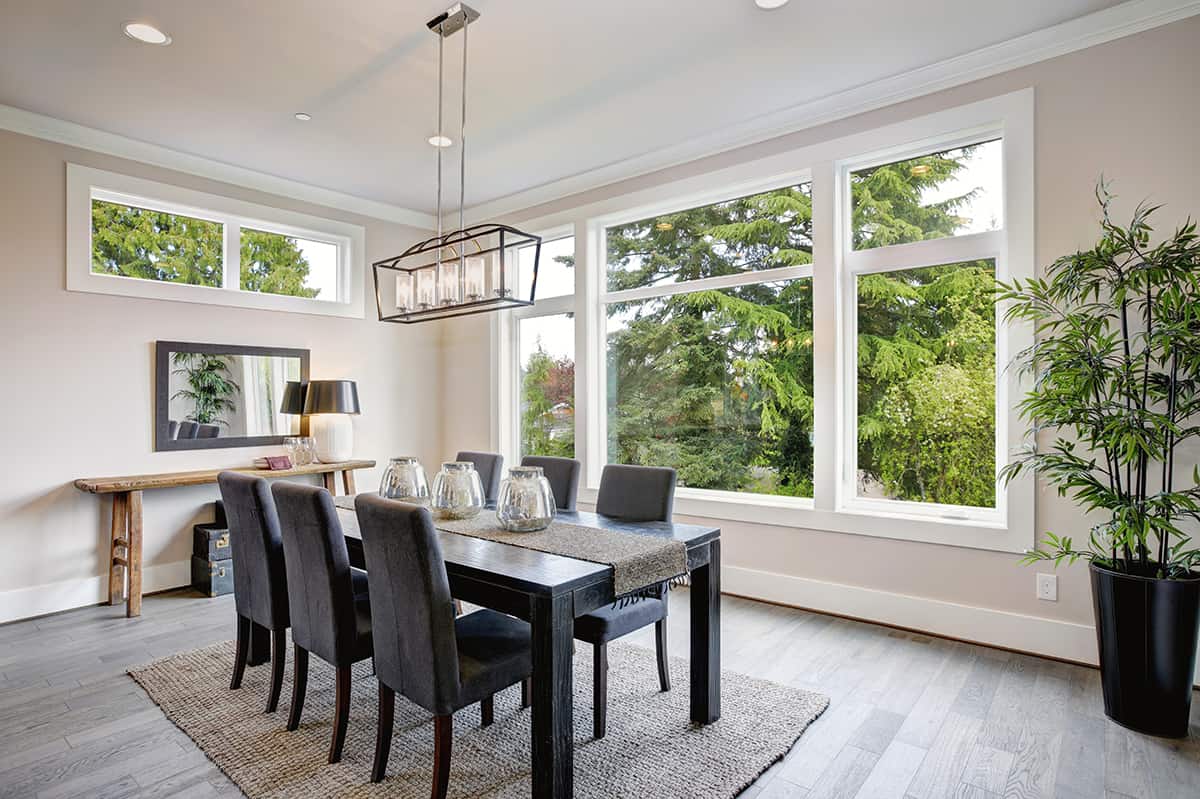 Other neutral rug colors like taupe or beige also work in contemporary homes with black furniture. Taupe rugs work well as a contrasting hue with bold black, so this pairing is a safe bet in modern homes.
In a modern dining room, for example, you can get creative by adding a taupe or beige rug under the black dining table and chairs. This color combo adds texture and breaks the monotony of the neutral decor. The classic duo can be seen in this photo of a luxurious modern dining room, with a taupe rug making the black dining table stand out in a neutral setting.
Dark Red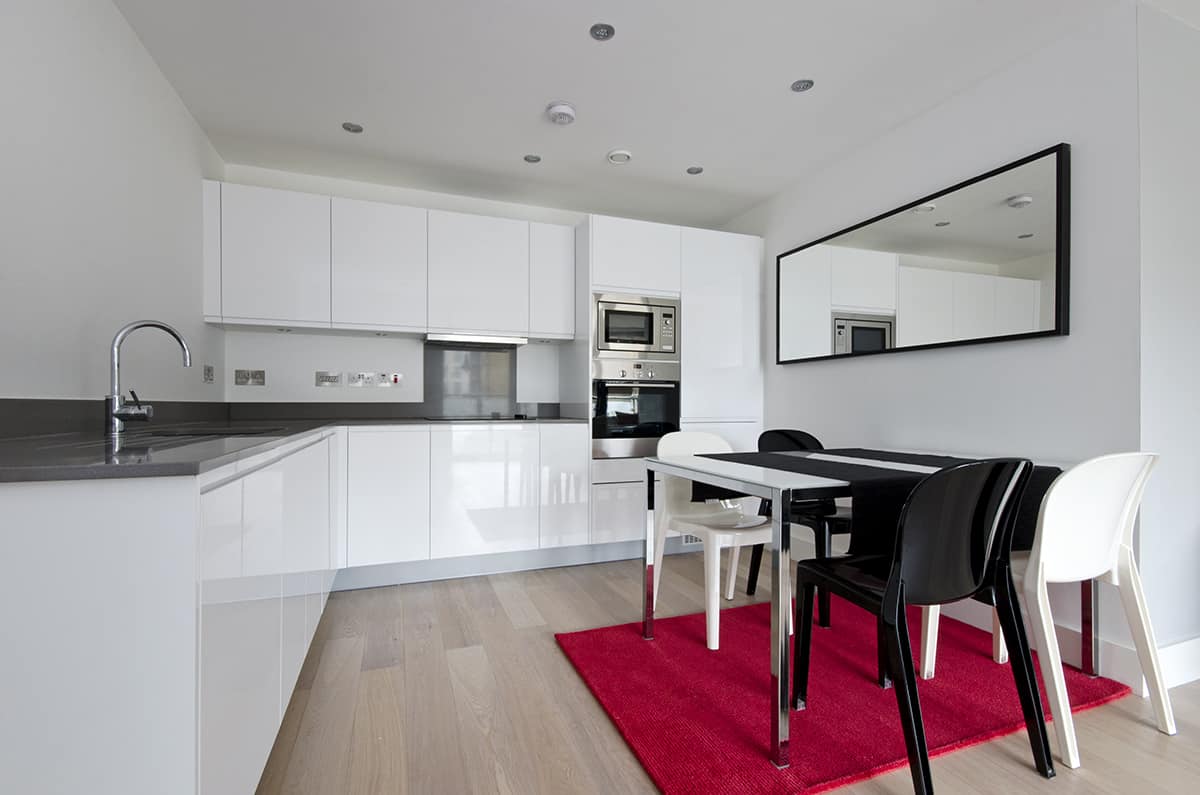 For a more vibrant and bold rug color option, opt for dark red. This rug color will attract a lot of attention when added to black furniture and helps make your room appear more luxurious. Black and red are both intensely bold colors, so it's ideal for anyone who wants to make a dramatic statement in their interiors.
In this example of a contemporary kitchen, the dark red rug has created a balanced vibe without overpowering the black and white furniture.
Pink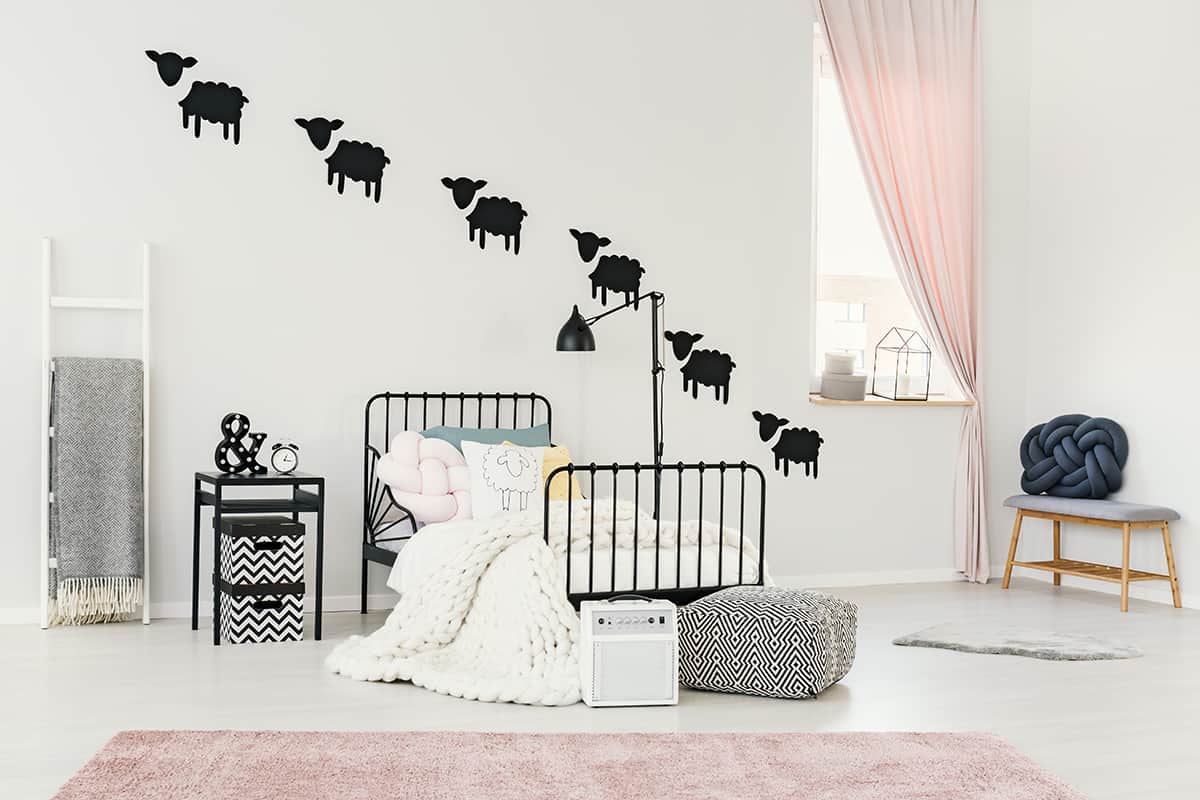 A soft pink rug is another perfect color pairing with black furniture. Thanks to the bold black hue, the sweetness of pale pink will offset the dramatic black effect. This makes pink and black an ideal combination for children's bedrooms as they make the space appear friendly and cute.
As you can see in this child's bedroom, the black furniture with the pale pink rug completes the look by softening the black bed and other furnishings.
Orange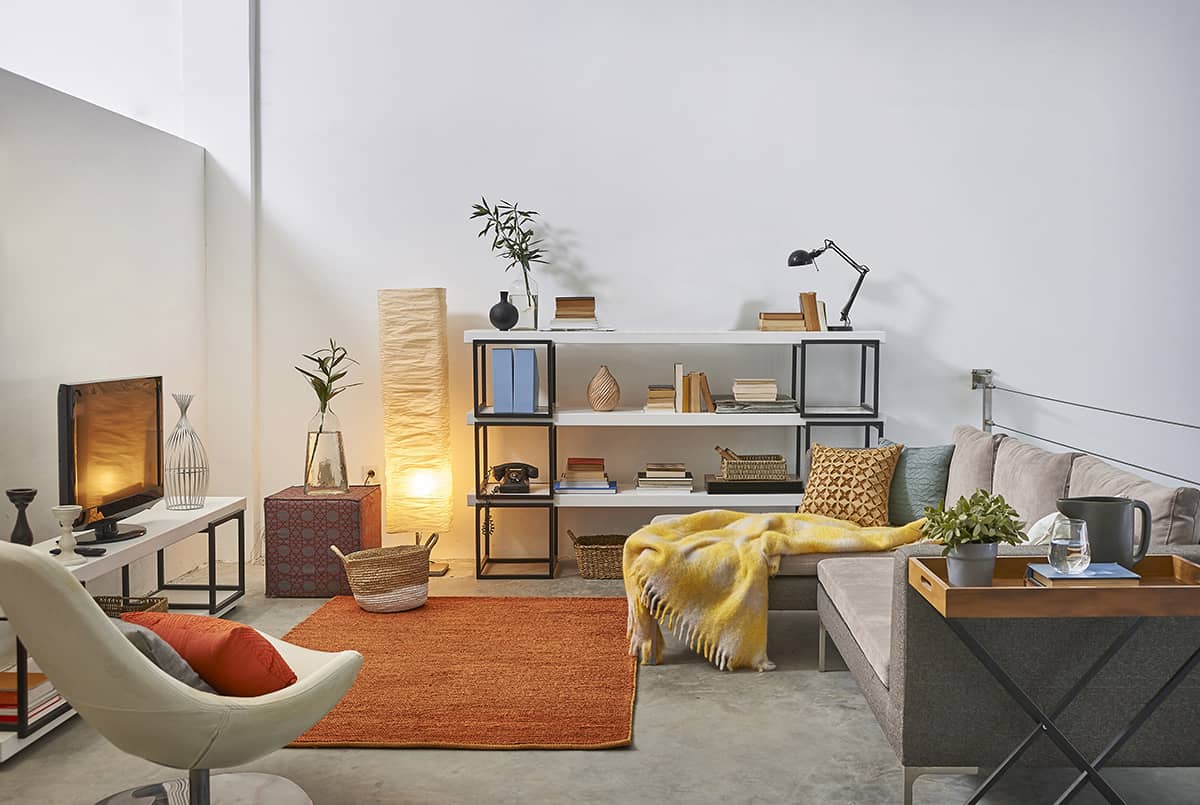 In a large living room, black furniture with a bright orange rug can be the perfect pairing. Any shade of orange works as it stands out next to a black table or couch. In modern, industrial or traditional interiors, an orange rug is the centerpiece of the room with black furniture. Orange rugs are especially great for large living rooms as they bring a warm, inviting vibe to the space. These rug colors are also popular in Scandinavian style interiors.
You can opt for a burnt or pumpkin orange shade to soften the look, or an energizing shade of orange to add a vibrant and fiery ambiance. Orange rugs paired with black furniture help bring an inviting and friendly vibe to the living room as shown here.
Light Purple
Another vibrant and exciting rug color that goes with black furniture in living rooms and bedrooms is light purple. This unique and attractive rug color works with a combination of black, pink and orange decor. If you want to create a captivating interior, consider lavender, violet or lilac shades.
These hues go perfectly with black furniture as they add a more exciting and fun vibe to a modern space.
Black and White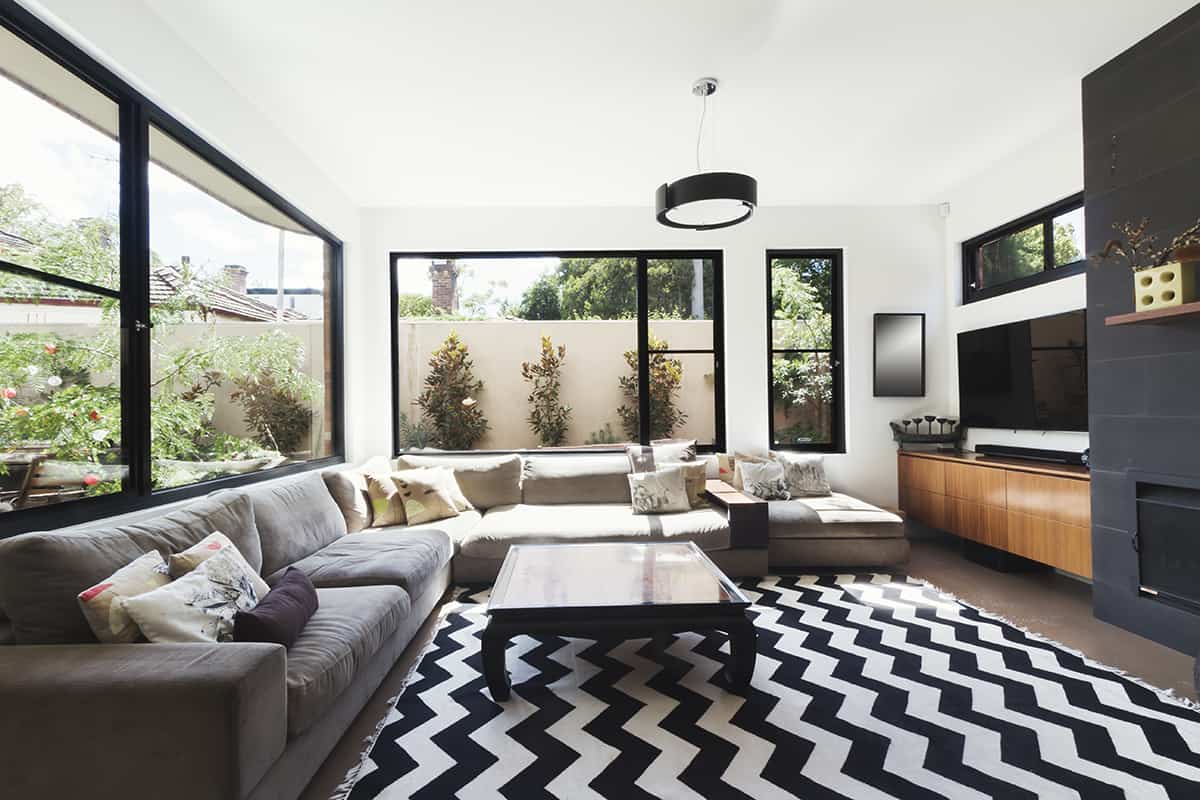 The rug color you choose doesn't have to be limited to one single color. A black and white rug with an interesting pattern like chevron is one of the best color combinations with black furniture. The interesting effect of black and white duos make your modern living room look flawless.
In addition, this combination blends perfectly with any other accessory color. The crisp black and white rug helps bring a little contrast to the neutral surrounding as shown in this example of a black and white scheme living room.
Green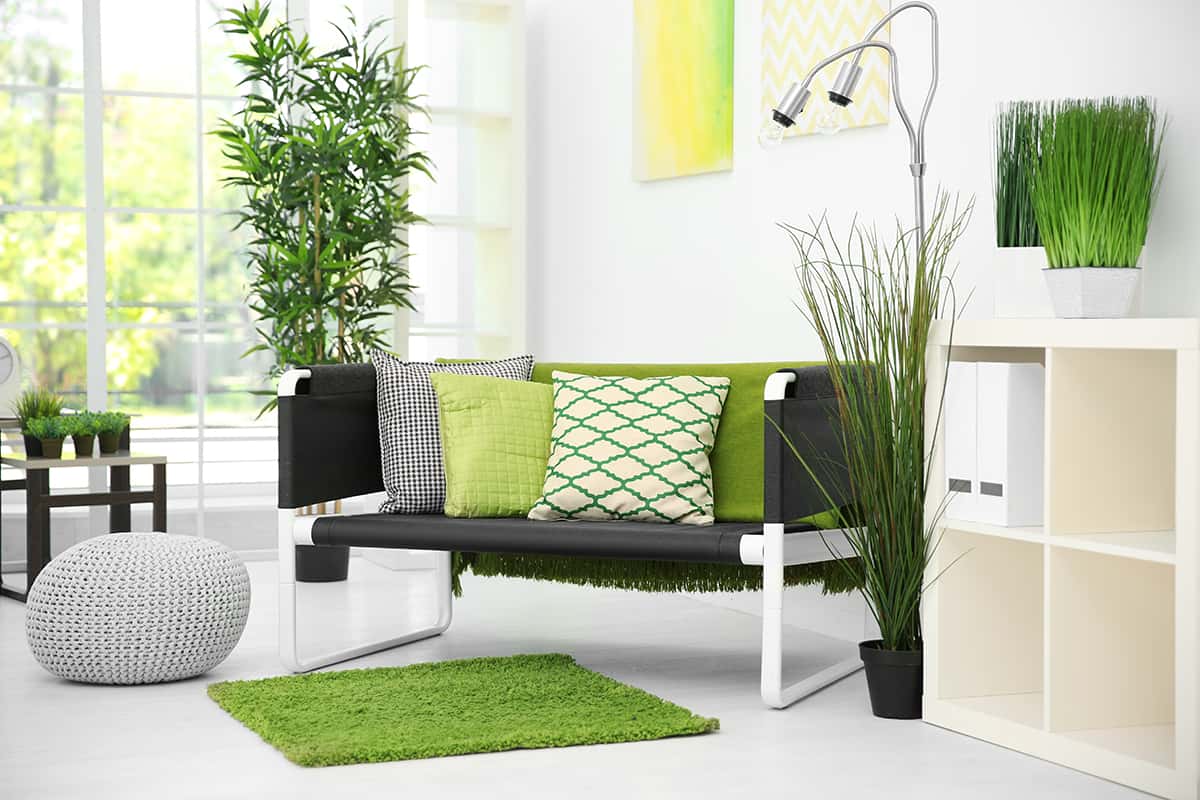 A vibrant, earthy rug color that can be combined with sleek black furniture is a bright green shade. You can use other accent features alongside a bright green shade for a nature-inspired interior. For example, you may use a grass green rug paired with indoor plants and wall decor to brighten up your black furniture. Decorative pillows in green will also complement the color scheme.
Nature-inspired interiors are the perfect backdrop to black furniture in the living room. Grass green is an excellent match for a bold black table or sofa. This color duo will make your living room appear sleek and fresh.
An area rug in green is highly recommended in neutral spaces as it adds a wow factor to the room. To enhance the aesthetics, try adding indoor exotic plants in the same color as your rug.
Light Blue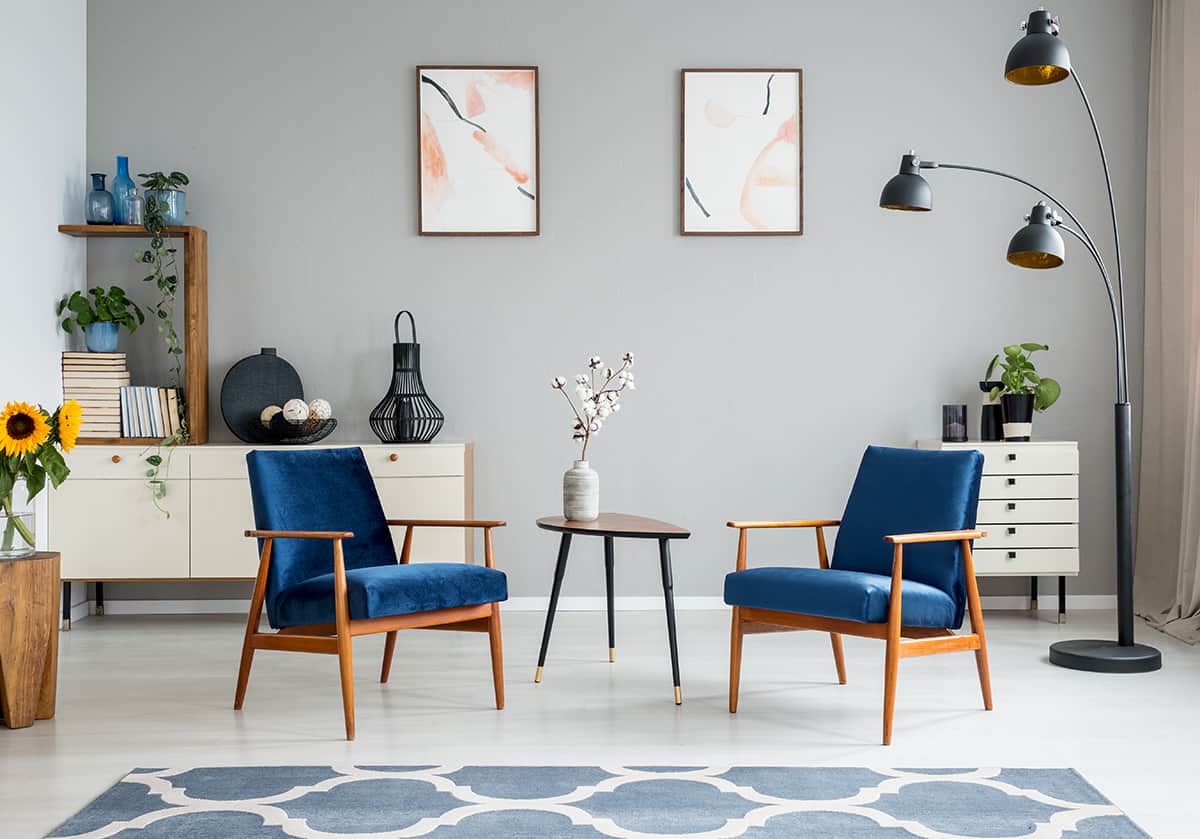 Aside from green, another accent color for a rug is a light shade of blue. Dusty blue, for example, is a beautiful shade for a rug. When paired with black furniture, this cool hue adds the much needed vibrance into a modern space. Soft blue rugs generally blend well with most furniture items in black.
Here, the light blue rug is combined with dark blue chairs and black furnishings as a complementary color. This living room feels inviting and modern thanks to the combination of blues and black.
Grays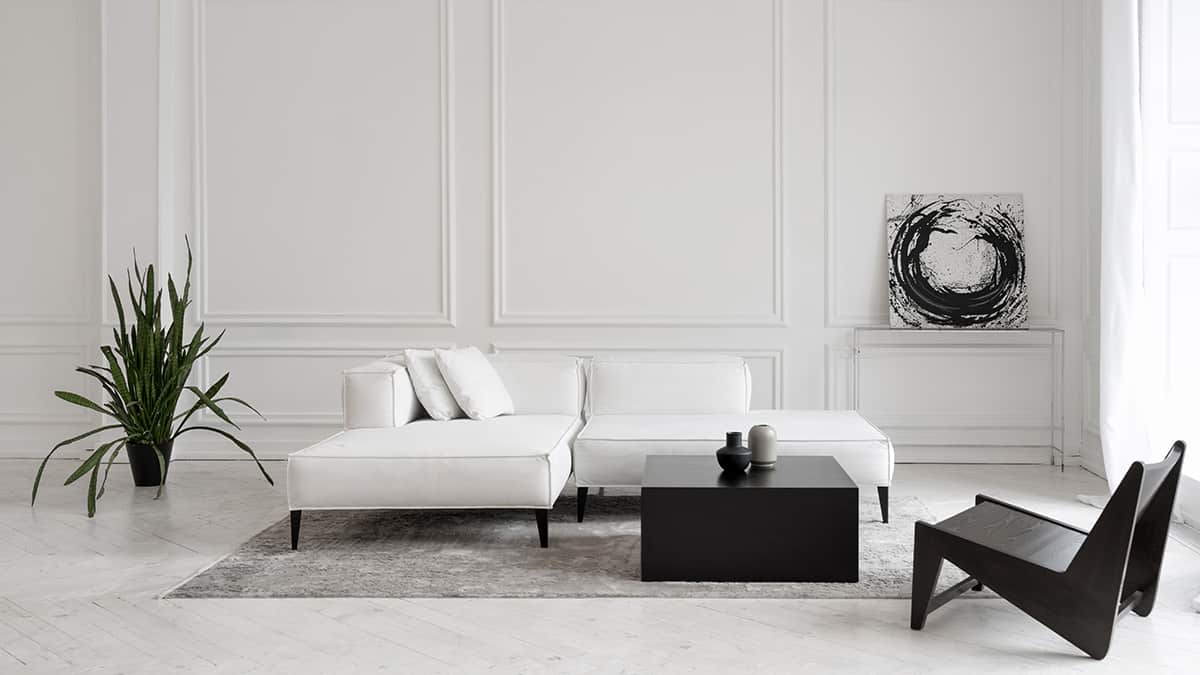 For those who wish to keep their modern living rooms with black furniture simple and neutral, a gray rug is the right neutral pairing. You can use any shade of gray for the floor covering, but to keep it bright, we recommend a light shade. This will avoid darkening the space, especially if you've used a lot of black furniture.
Plain gray rugs may make your living room a little boring, so why not add a shaggy or patterned rug that comes in two gray shades. This helps break the monotony in a neutral space.
Yellow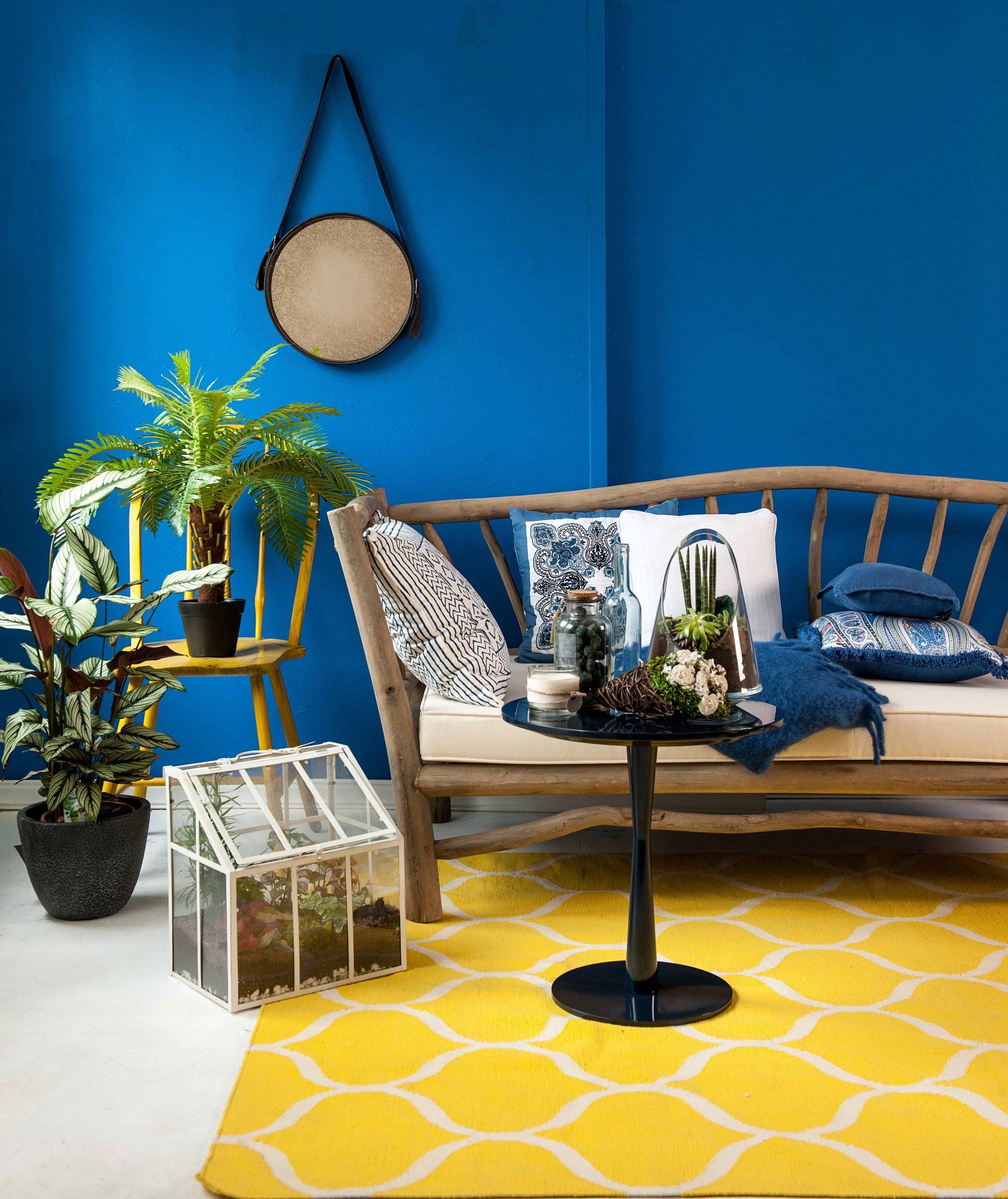 Black furniture combined with a bright yellow rug has always been a glamorous and flashy infusion. Even if you have used other bright colors in your living room, you can never go wrong with a yellow rug to bring a fun and vibrant vibe to your space.
In eclectic interior design, a bold yellow rug with black furniture and blue walls are the perfect mix of a summery atmosphere. We love the interestingly patterned yellow rug shown in this photo as it looks stunning beneath the black table. This color pairing brings a joyful flair to any boho or eclectic style interior.
Patterned Rug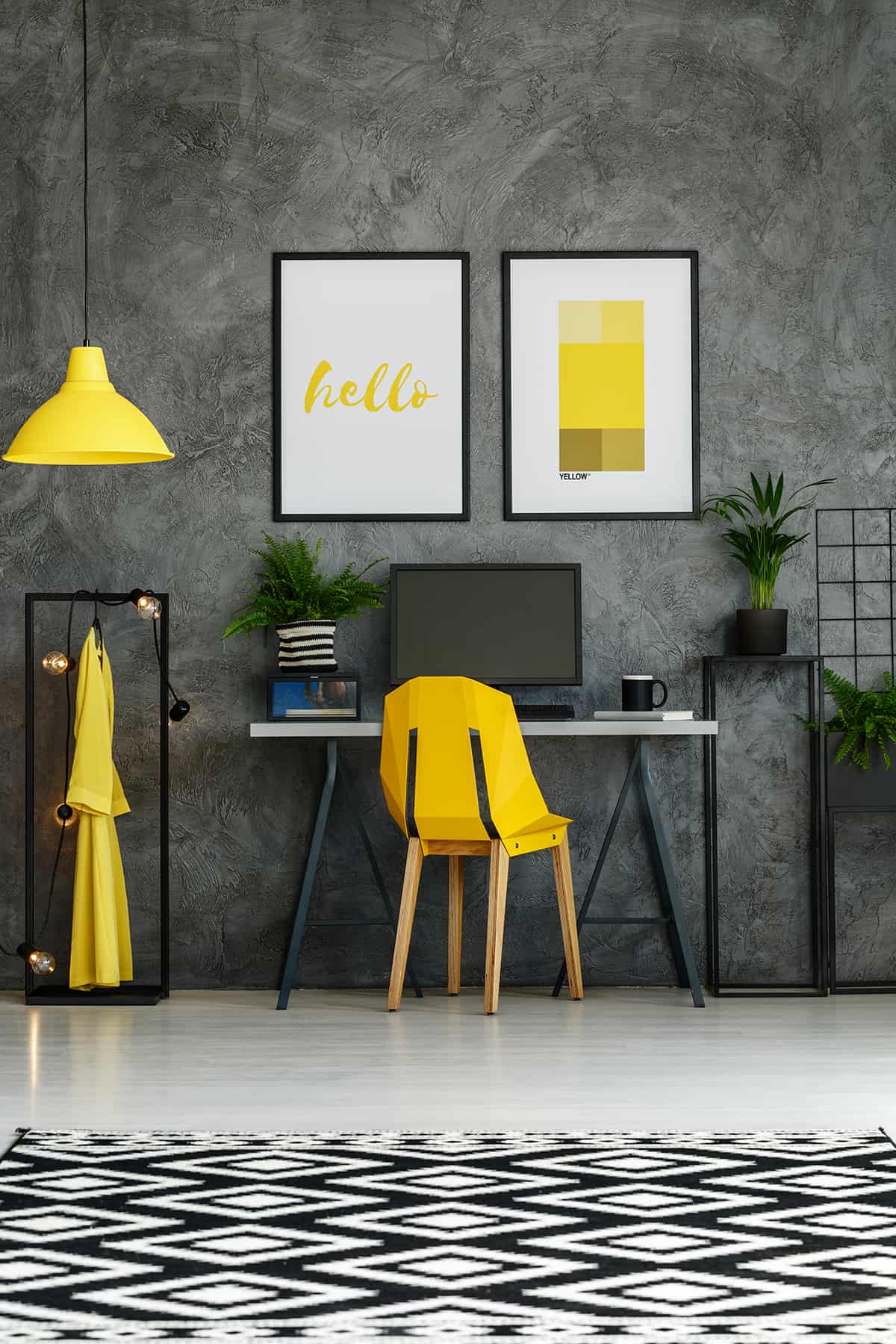 We've previously mentioned patterned rugs in blue, yellow and black and white, which go perfectly with black furniture. It doesn't actually matter what color rug you choose when it comes to pairing a patterned rug with your black furniture.
Geometric or chevron patterns work beautifully as a simple palette design. These rugs add texture to make the black furniture stand out. But you can also inject a pop of color like yellow to take advantage of this design concept. As you can see here, the black furniture together with yellow are a stunning pairing with the patterned rug.
Summary
As you may know by now, there are quite a few rug color options that work with black furniture. For those looking for a more vibrant and dramatic pairing, opt for blue, red, orange or green rugs. These colors work in both living rooms and bedrooms.
A livelier rug color option is yellow or light purple, and for a more subtle pairing, go for white, tan or gray. Soft pink rugs are also excellent options to pair with black furniture as they create balance between the bold and subtle as well as soften the dramatic black hue.