Color coordinating a living room's furniture can often be a challenging task as it takes a long time to plan and search for the best combinations. But when it comes to deciding what color ottomans go with a gray couch, the options are endless. This is because gray is such a versatile neutral that it can blend with almost any other shade to stand out.
Whether your couch is light or dark gray, this stylish furniture color gives any living room design a modern vibe. Plus, gray goes with any surrounding decor, so your task of matching it with an ottoman color isn't as difficult as you might think.
If you're looking for ideas on ottoman colors to complement your gray couch, you've come to the right article. Let's get started by diving into our examples right now!
Ottoman Colors that Go with a Gray Couch
Monochrome Gray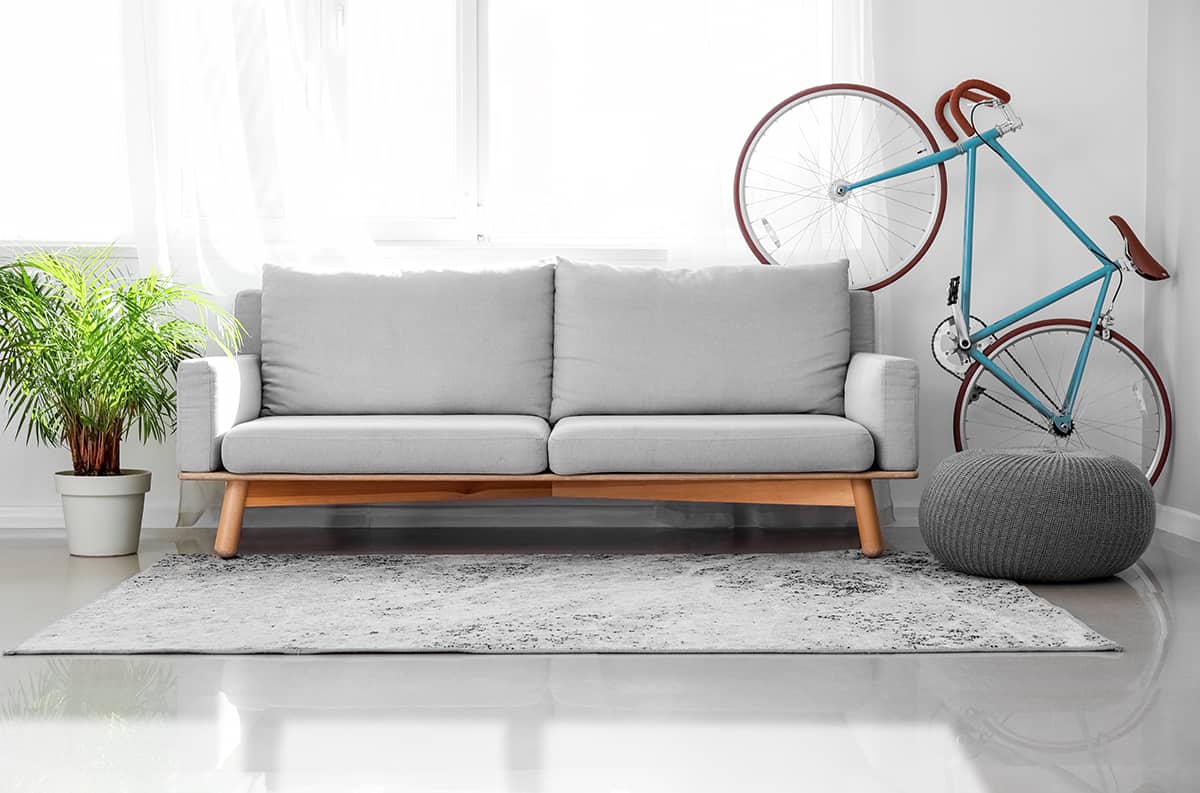 Let's start with a simple monochrome color scheme: gray on gray. This is a classy, clean idea that works in any living room style. So whether your couch is a charcoal gray or a muted light hue, adding a matching gray ottoman will keep your living space neutral and simple.
If you wish, you can introduce accents and elements in bold colors to make your gray furniture stand out.
Yellow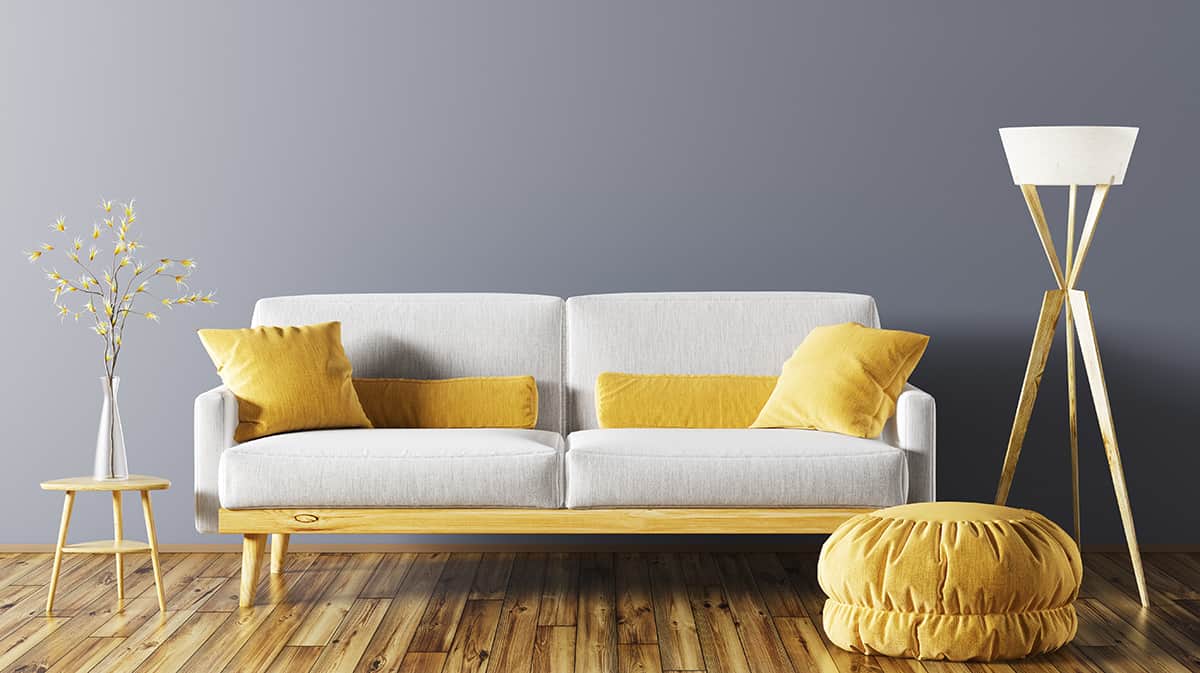 A gray couch is always perfect with bright colors. Consider a contrasting color like yellow to create an exciting vibe. While yellow and gray look very different, they can be a beautiful combination in a modern living room.
Just like in this example, the gray couch with pine wooden legs is adorned with bright yellow throw pillows and a matching ottoman for a cohesive color scheme. This color combination goes well with other elements, like the Scandinavian-style lighting in a minimalist interior. The bright yellow ottoman emits a positive and fresh vibe that livens up the living room.
Organic, Earthy Tones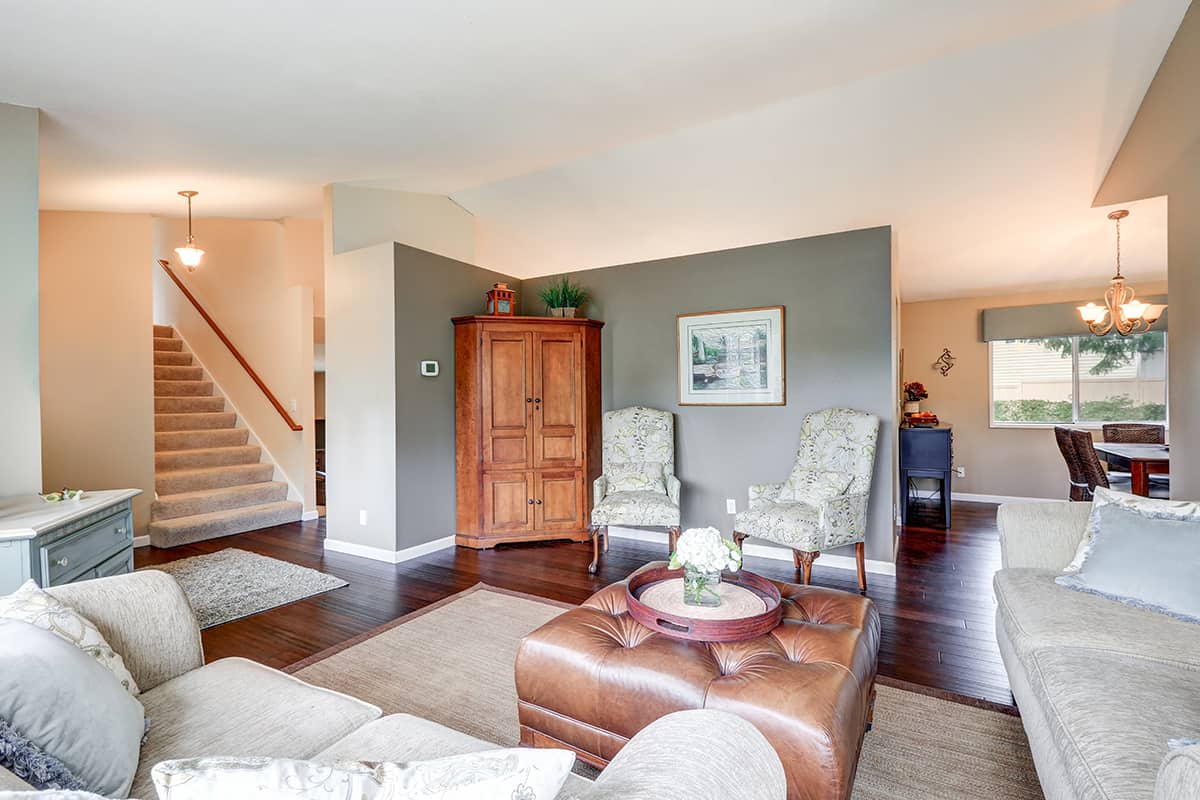 Pairing your gray couch with neutral, earthy hues is one of the best color combinations you can choose. This is because organic colors bring a stylish vibe to a neutral room, and design-wise, they go with any shade of gray.
For example, a brown leather ottoman paired with a gray couch adds a fresh, natural feel to the living space. The ottoman can be the focal point of the room, as you can see here. This cozy family room features gray walls and matching sofas with a leather brown ottoman as the center of attention.
Blue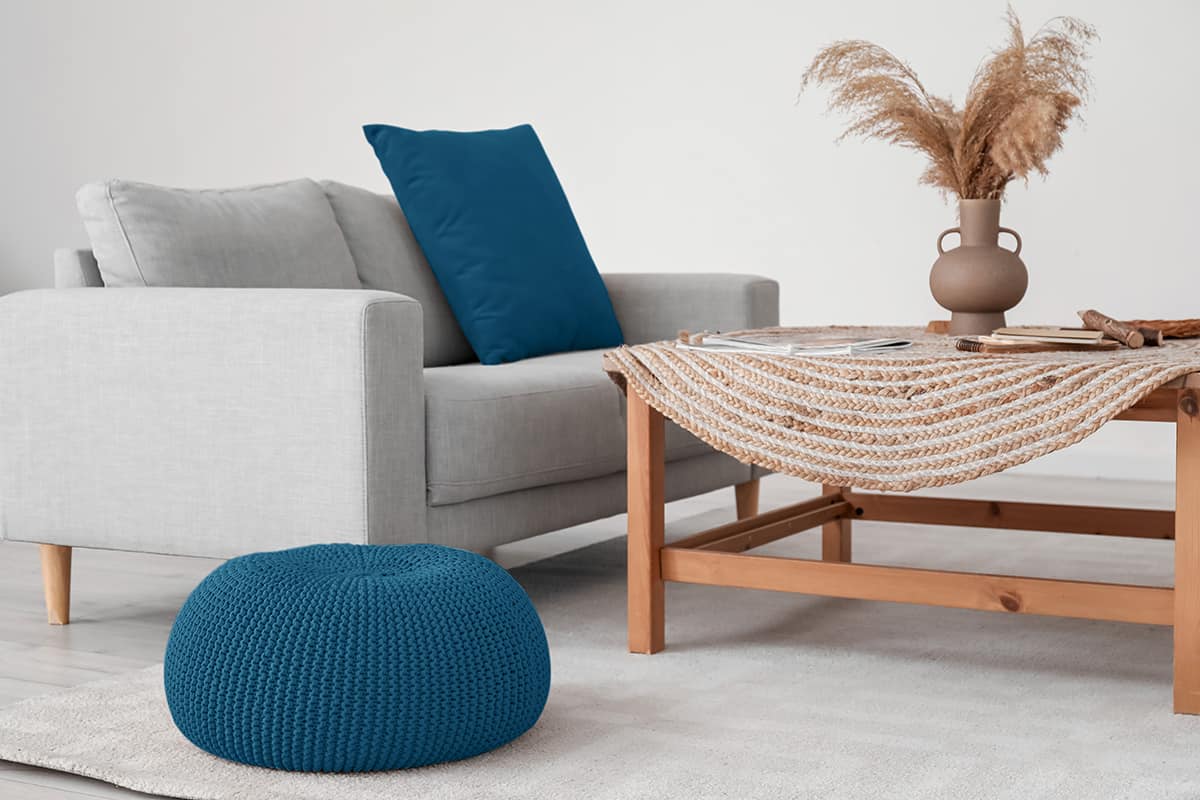 There are some gray shades that have a blue undertone, so why not pair the two colors together for a fun mix? A dark turquoise ottoman can be a fresh and calming addition to a room with a gray couch.
Choosing this timeless color combination for a minimalist style interior is ideal for any season. Include a matching blue throw blanket or pillow to complete the look.
White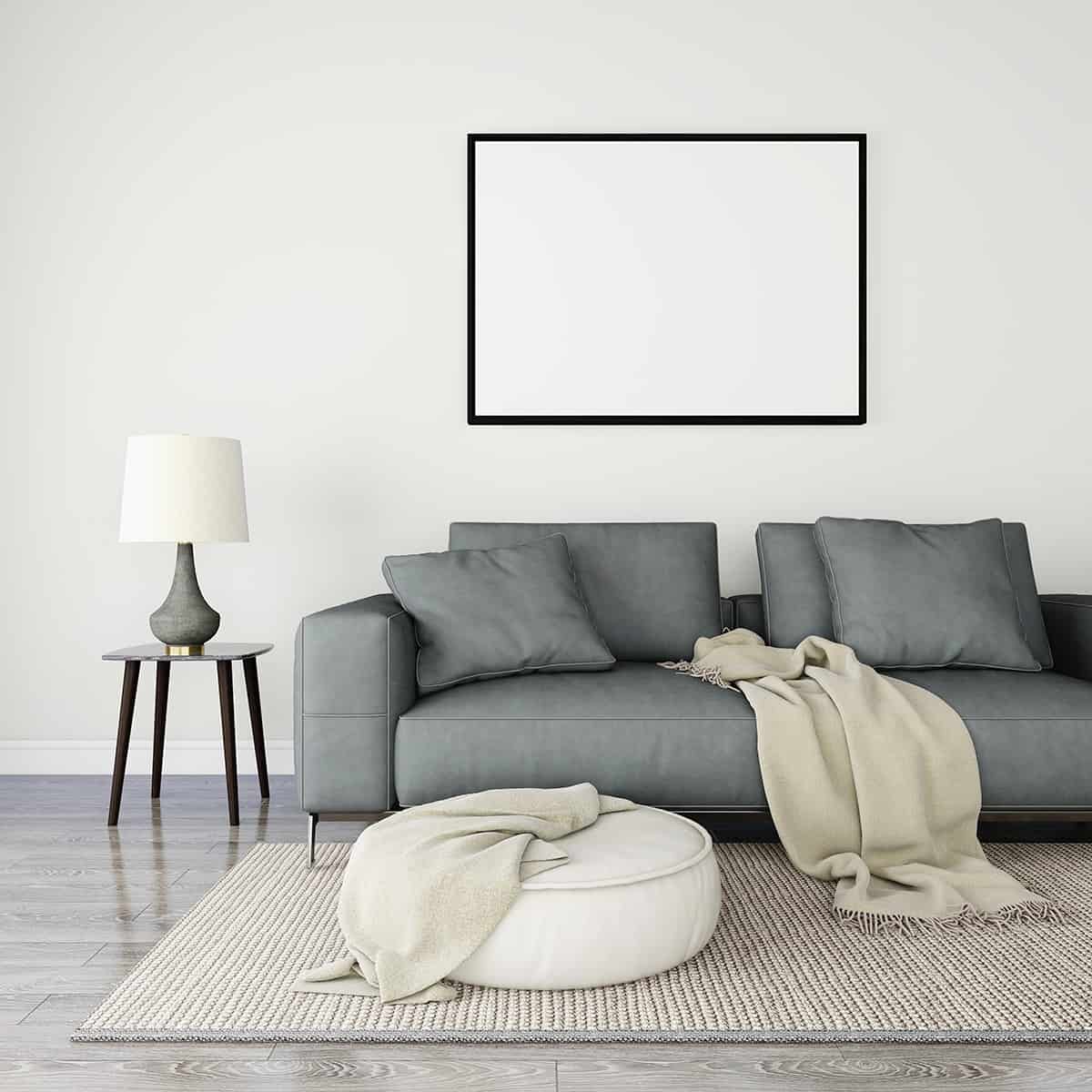 A white ottoman is the perfect color companion for a dark gray couch. Since these two colors directly contrast each other, they bring a nice balance to a living room. A bright white ottoman is not only visually stimulating in a neutral room, but it also allows the homeowner to introduce fun designs and patterns to their gray couch.
Here, the white ottoman and dark gray couch are highlighted by the warm-toned cream throw blanket and the matching lamp. You can add any bright or bold color to this mix to enhance the neutral tone of the design.
Black and White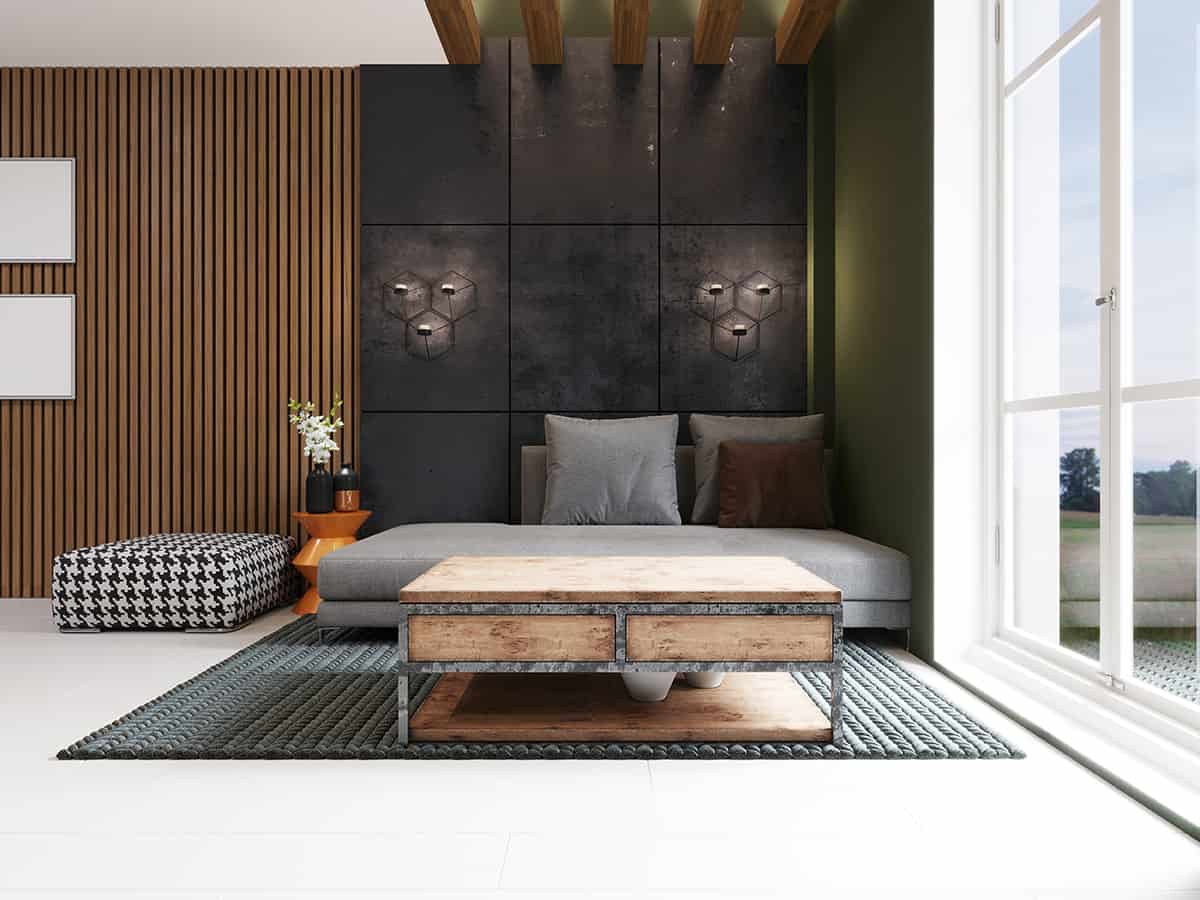 To balance your gray sofa's neutral undertone, pair it with a black and white ottoman. This striking yet simple color pairing can give a nice touch to a modern living room.
Just look at this classy picture of a black and white printed ottoman paired with a light gray couch. Everything goes well together thanks to the strength of these neutral colors.
Gray and Black
Another neutral color mix for an ottoman is a gray and black combination. When paired with a gray couch, both colors can emit strong vibes that exude elegance. You can incorporate bold accent colors into this mix like red or brown for visual impact.
Velvety Red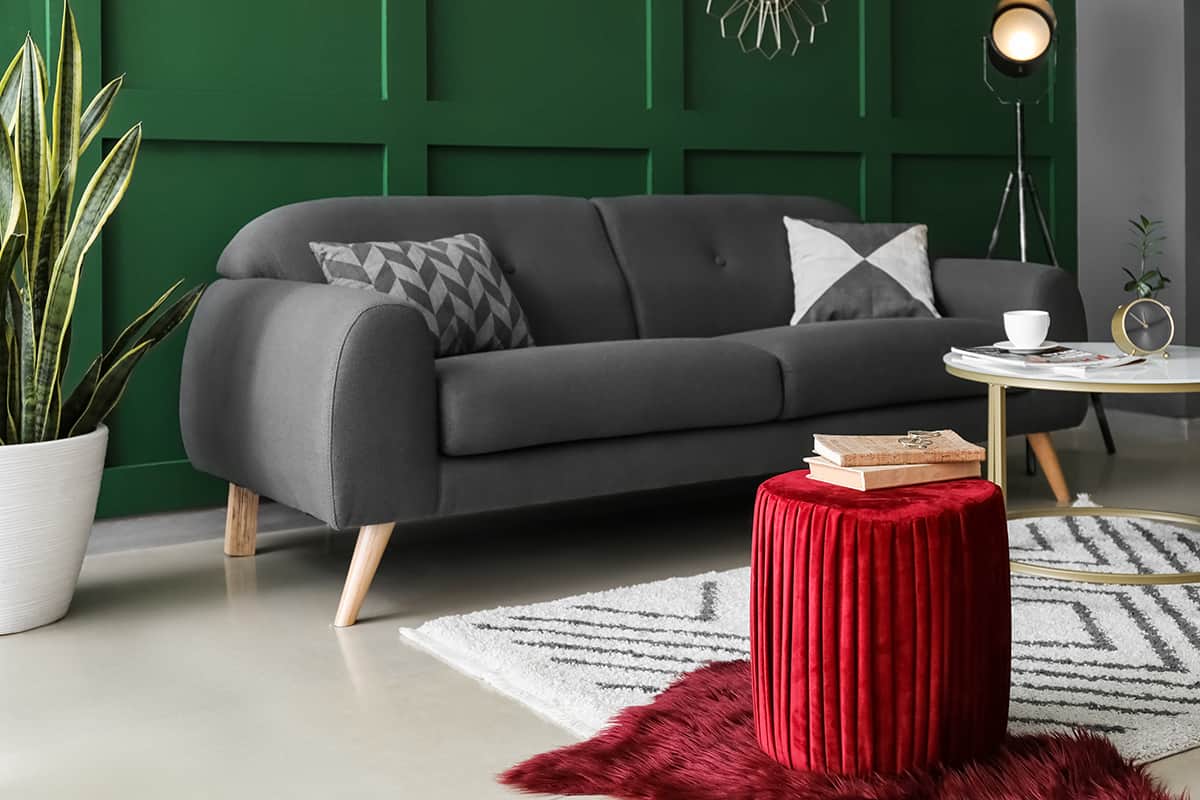 Bright and vibrant colors have always been a popular choice for furniture. While darker colors can make a powerful statement, a sexy, bold red can add class next to dark gray.
A beautiful shade of red like maroon or burgundy for your ottoman can be the perfect companion next to a dark gray couch. To make an even bigger statement with your living room's color scheme, introduce other warm-toned paint colors to the mix.
Just like in this example, the rich red velvet ottoman is accompanied by a dark gray couch, white rug and a deep green feature wall. This living room oozes coziness and warmth thanks to the combination of both warm and cool-toned colors.
Purple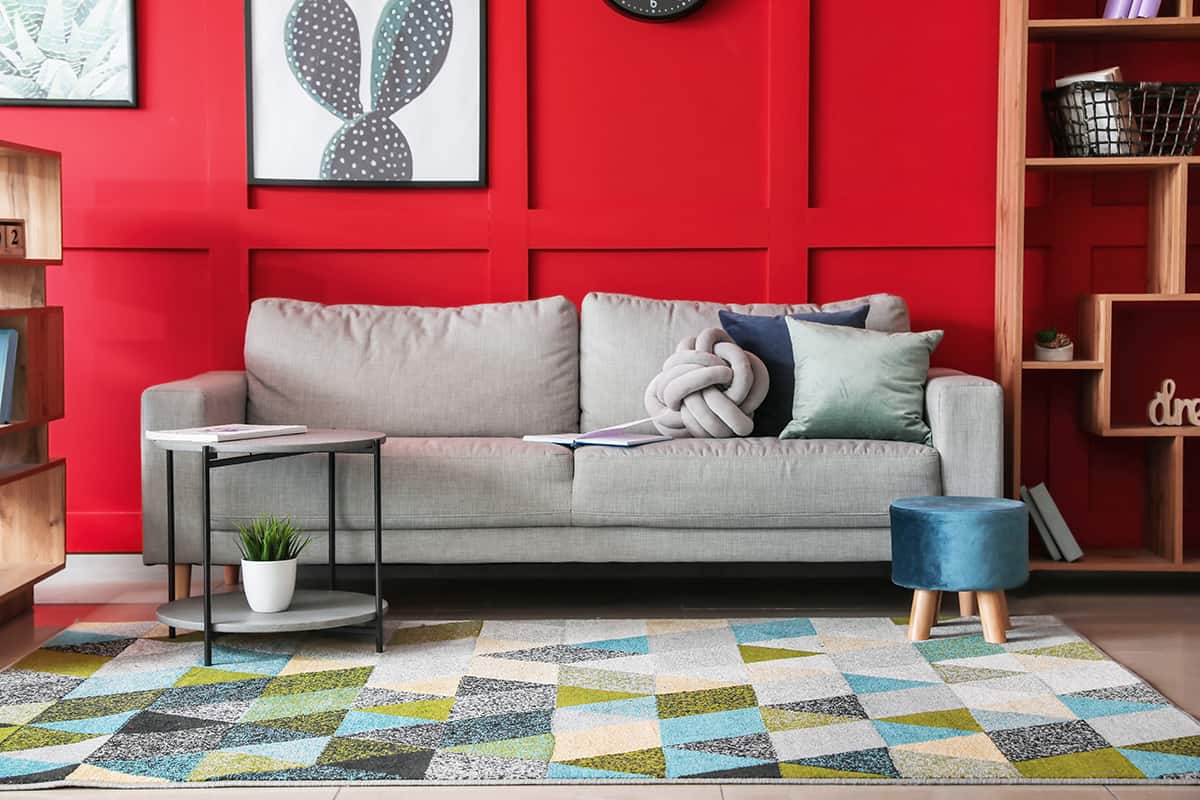 A light gray couch paired with a violet purple ottoman can be a stylish combination. The two colors not only add a contemporary look to the living room, but they also work in harmony with other bright colors.
When choosing a purple ottoman, consider incorporating other bold colors into the mix, just like in the example shown here. This image shows a red wall with a light gray couch and a bluish-purple ottoman. The patterned rug in several colors, together with the feature wall behind the couch, has created a dramatic and chic flair.
Pink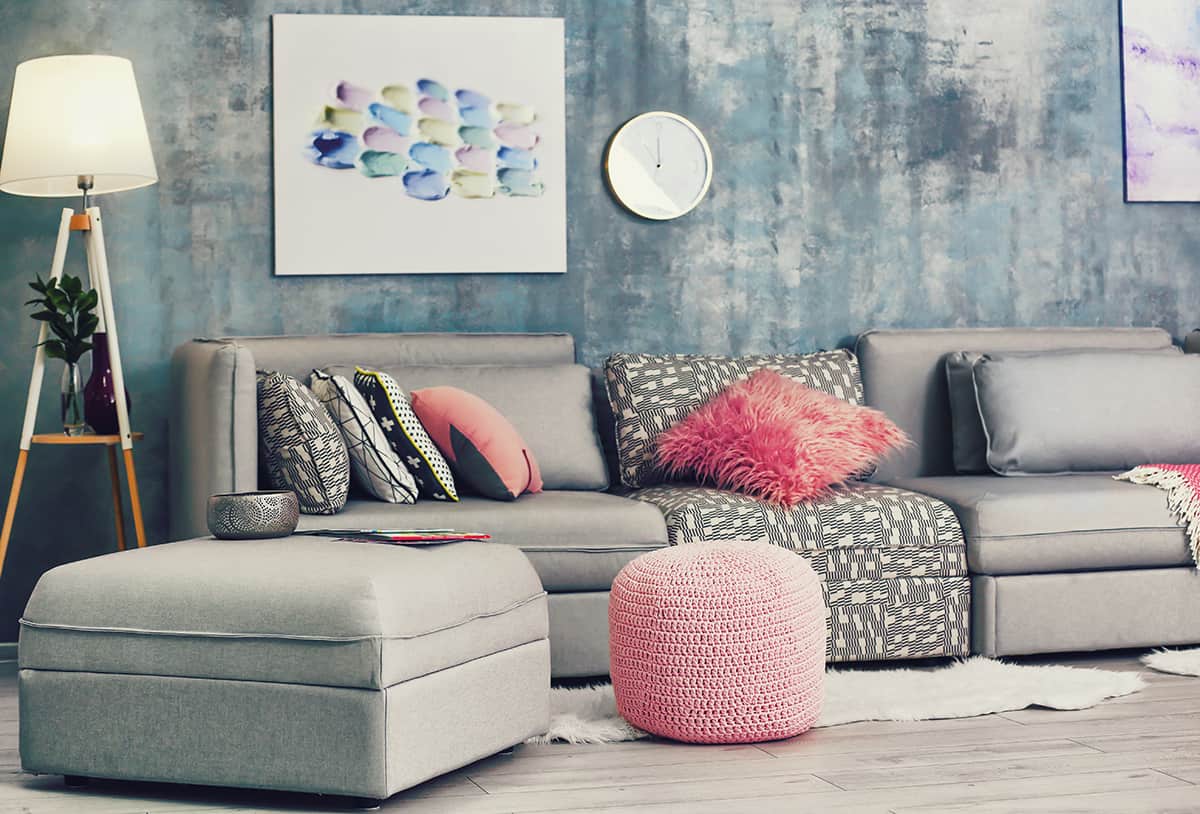 For a medium-toned gray couch, incorporating softer colors can be a great idea. A pink ottoman can inject liveliness into the room's features whilst maintaining its soft, pastel appearance. The soft pink ottoman can be accompanied with matching throw pillows without overpowering.
This color combination works best for feminine interiors into which the homeowner wants to inject a stylish, calm vibe. It is also a great way of breaking the monotony of gray, especially in all-gray living rooms.
Here, the example we've picked shows a modern living room design with bluish-gray walls and matching furniture. The addition of pink pillows and ottoman bring the much-needed splash of color to this space.
Green
If you are a fan of bright living rooms with light gray furniture but don't want a feminine style interior, then consider adding a rich green ottoman to accompany your neutral couch. The deep green ottoman pops out and draws attention without appearing too loud as shown here.
Add houseplants and other green decorative elements to integrate with your green ottoman, including a curtain and throw pillows in a different shade to your green ottoman. This helps keep the colors of the room consistent, with the green and gray dominating the space.
Should My Ottoman Match Couch Color?
An ottoman should ideally match the furniture color it is frequently paired with. However, if you want to create contrast, you can use a different ottoman color for your furniture. For example, if you have an armchair and a couch, match the ottoman color with the piece that's located closest to it. Although your ottoman doesn't have to be the exact same color as the couch or armchair, it should at least complement it and not clash with it.
If you don't want your ottoman to be the same color as your seating furniture, opt for a contrasting color instead. For example, if your couch is a neutral gray, pair it with a yellow ottoman for an eye-catching contrast.
But it's not just the color that you should think about when choosing an ottoman. The material you choose should also contrast your furniture. For example, if your sofa is made of leather, the ottoman can either be made out of fabric or velvet in order to stand out in the room.
When an ottoman is to be of the same color or pattern as the chairs rather than the sofa, it is imperative to select complementary colors. Keep in mind the basic color theory rules for your living space before choosing your furniture colors.
For example, going for a green ottoman to pair with a brown couch will not make the right statement, whereas if you have a black armchair, your ottoman can be in the same or contrasting color like white, tan, or cream. For best results, play with shades of the same color that work well together in order to create harmony.