The classic brown leather sofa is the focal point of every living room. When you choose the right decorating colors that go with a brown leather sofa, this furniture item can truly stand out.
Since brown is a warm, earthy color, it can be paired with many color schemes to enhance the visual interest of your living space.
Check out our best color ideas to coordinate with your brown leather sofa by reading the rest of this article.
Best Color Pairings with Brown Leather Sofa
Gold Accessories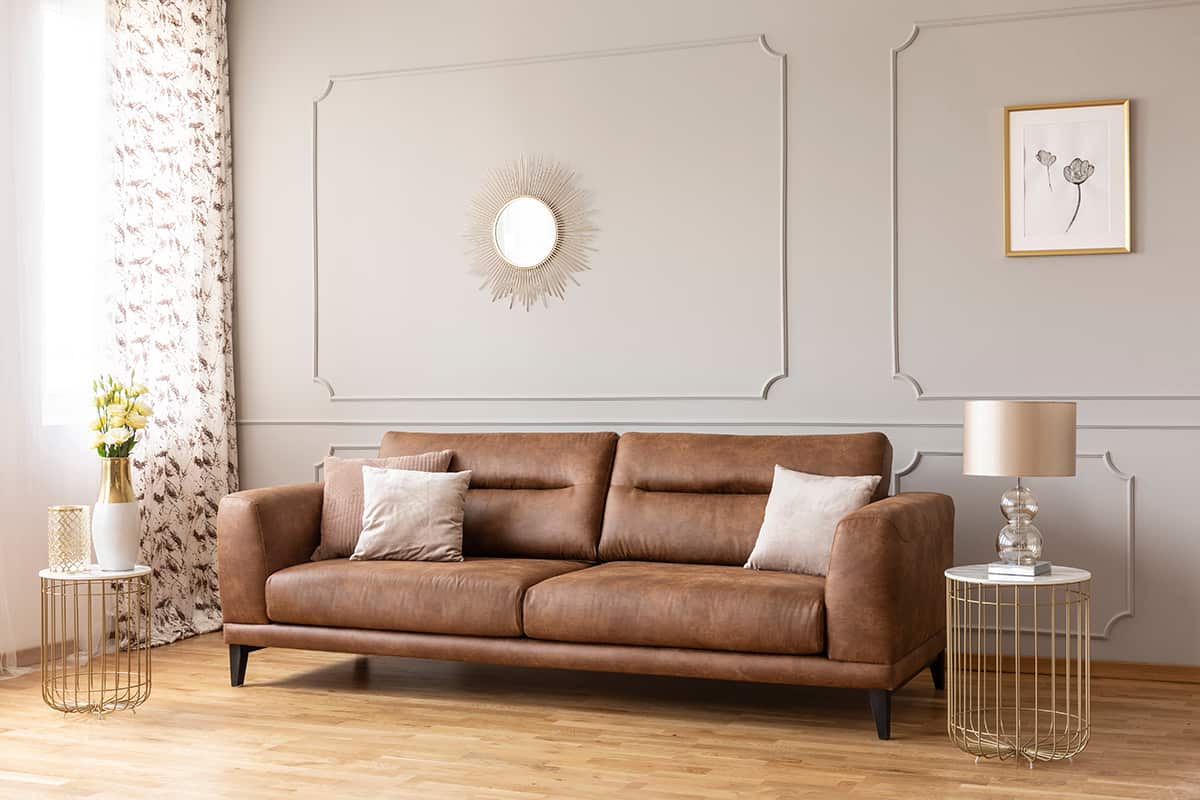 Gold is a close relative of brown. It works particularly well in boho-inspired or traditional living rooms with a brown leather sofa. When well designed, gold can be very elegant and soothing next to light or dark brown. With a hint of white and plenty of natural light, this color scheme can look glamorous in any space.
In this example, all the minimalist style furnishings and wall decor are in gold, which makes the light brown leather sofa stand out in the bright and airy living room.
Notice how subtle the gold pairing is done in this room so don't go overboard with your gold accessories or furniture as the idea is to keep the brown leather sofa the center of attention.
Curtains with Red Tones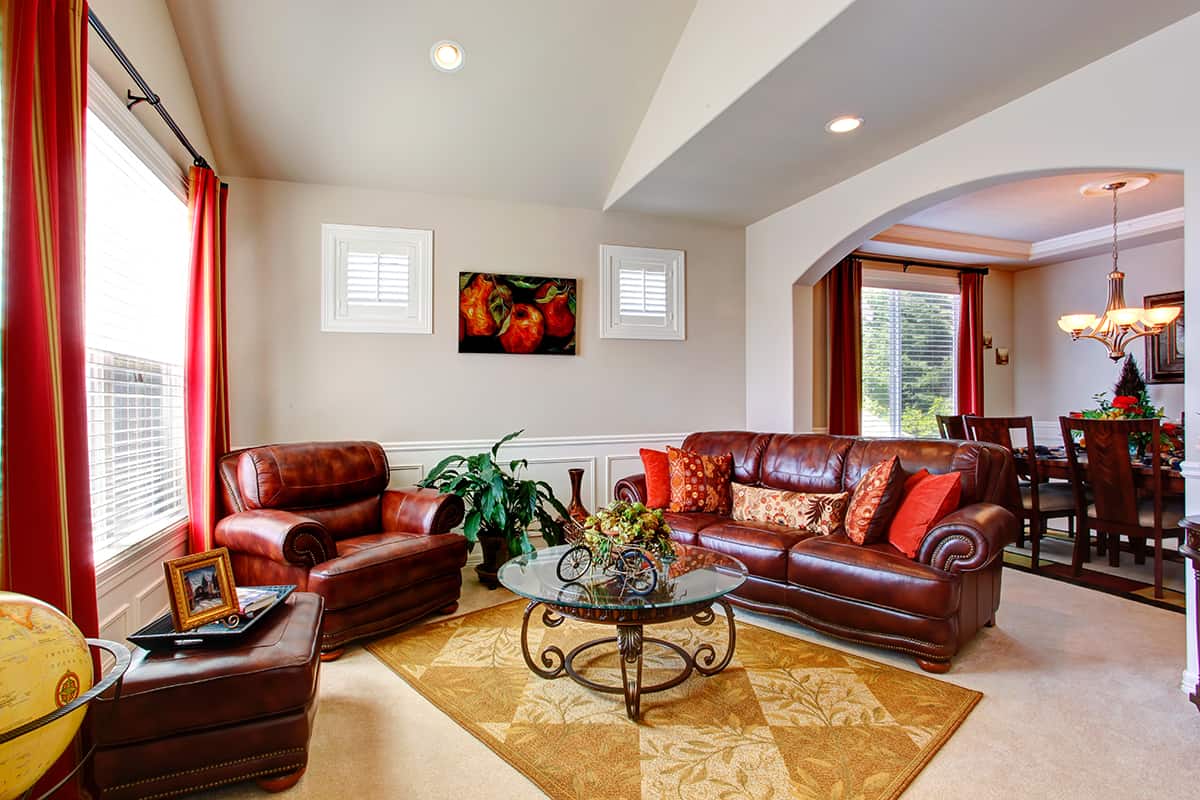 Some brown leather sofas have a red undertone, which can really shine when paired with other red decoration items. When coordinating colors, consider using darker shades of red to pair with your brown leather sofa. This will increase the visual impact in a modern or traditional living room.
Dark shades of red with brown are excellent for creating an inviting and friendly atmosphere. Just like you can see in this example, the bright and airy living room boasts reddish-brown leather sofas paired with dark red curtains, wall decor, and throw pillows.
This elegant design looks amazing in both modern and farmhouse-style living rooms.
Black and White Furnishings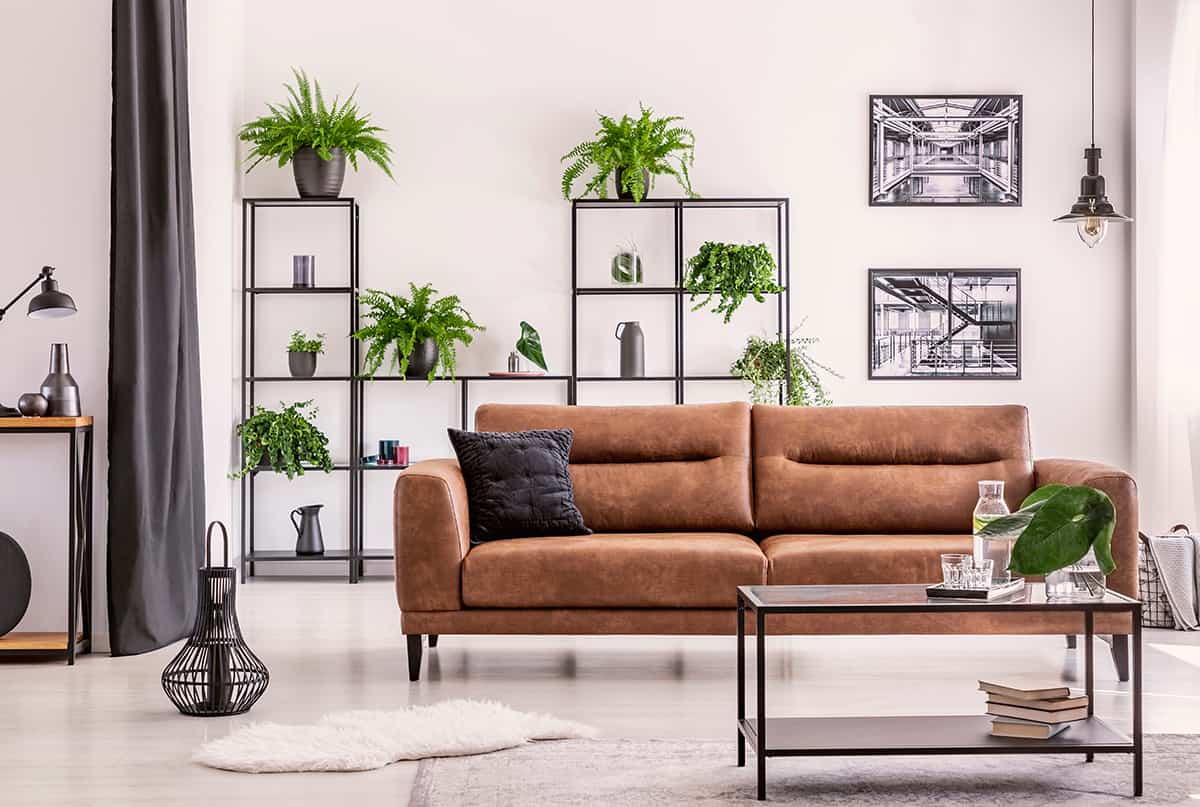 The classic arrangement of black and white with brown never goes out of fashion. This elegant and striking design works particularly well in brightly lit living rooms.
But in order for this color scheme to work, focus on adding some cactus plants or other succulents to your black and white living room. This will make your brown leather sofa the center of attention thanks to the nature-inspired, earthy tones of the green plants. Add a white rug and black metal furnishings, as shown here, to showcase the sofa.
Charcoal Grey Walls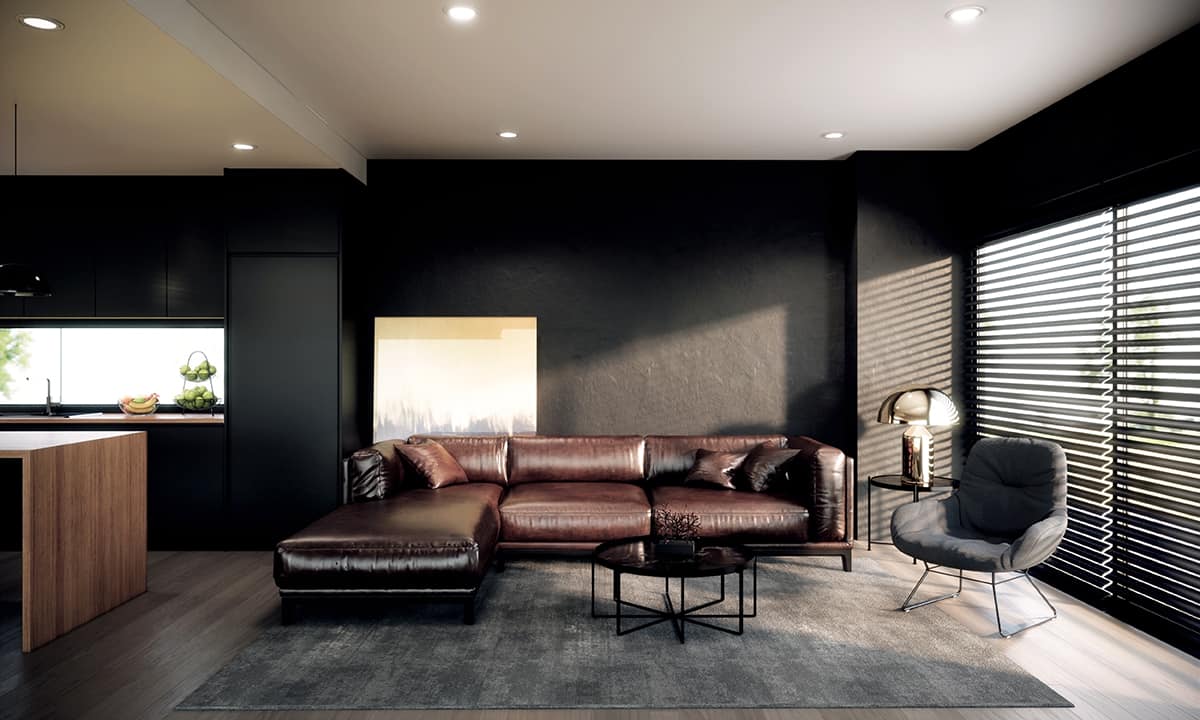 Another neutral color scheme that works very well with a brown leather sofa is grey. This is a perfect color pairing to give a bold look to your modern living room. But even in traditional spaces, grey and brown add a classic touch to the overall design. Any shade of grey is worth considering.
That said, if your brown leather sofa has a darker tone, pick charcoal grey. This rich, medium to a dark shade of grey reflects the brown and keeps the focus on the furniture.
When charcoal grey is used for the walls and floor covering, the living room may appear a little too dark, however, you can always allow plenty of natural light through the window by adding sheer white curtains.
For the flooring, opt for a light shade of grey or brown to highlight the furniture and prevent the entire room from appearing dingy.
See more grey walls and brown leather couch in our post ' 8 Grey Walls with Brown Furniture Ideas to Liven Up Your Space '
Green Wall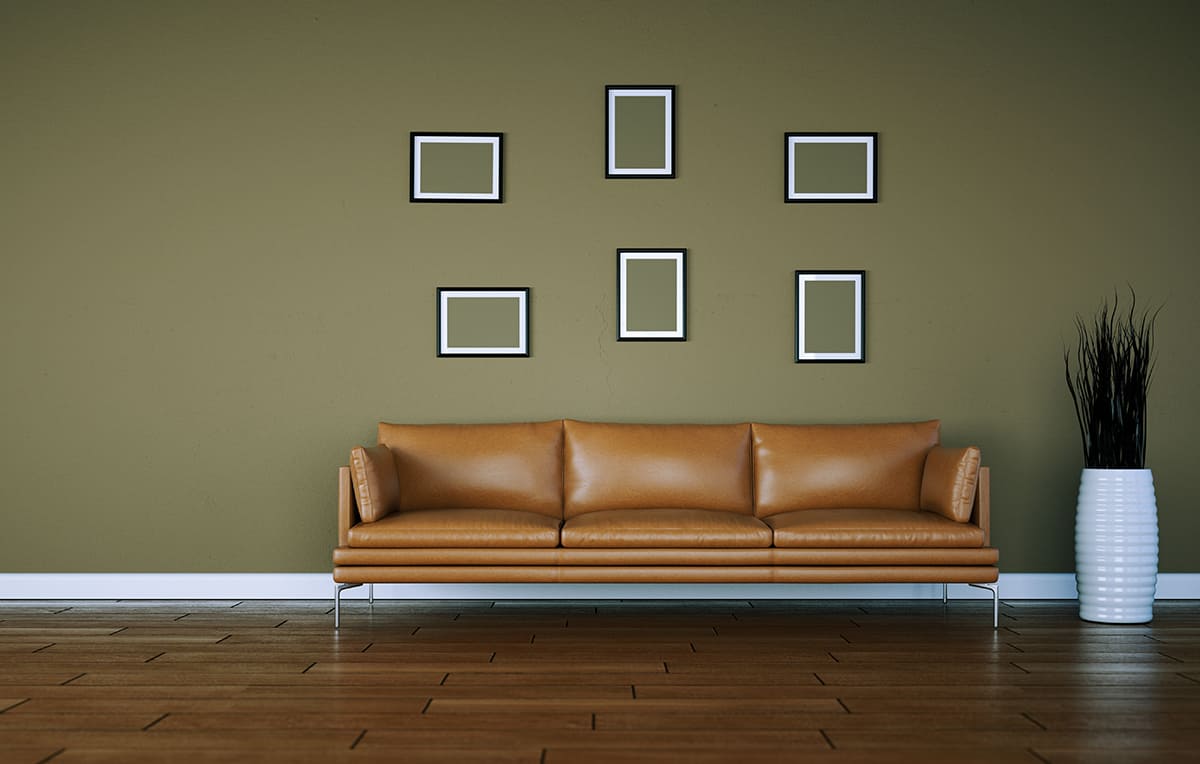 Previously we mentioned how green plants could increase the visual impact of a room with a brown leather sofa. Now, how about painting the wall behind the sofa a beautiful shade of green to further enhance the inviting ambiance?
A soft green color reduces visual weight, and when combined with matching wall decor and a light brown leather sofa, it will provide the needed appeal you want. Add dark brown wood flooring to create an inviting vibe as per the image shown here.
See more green wall inspirations with carpets in our post on what color carpet goes with green walls.
Purple and Pink Textures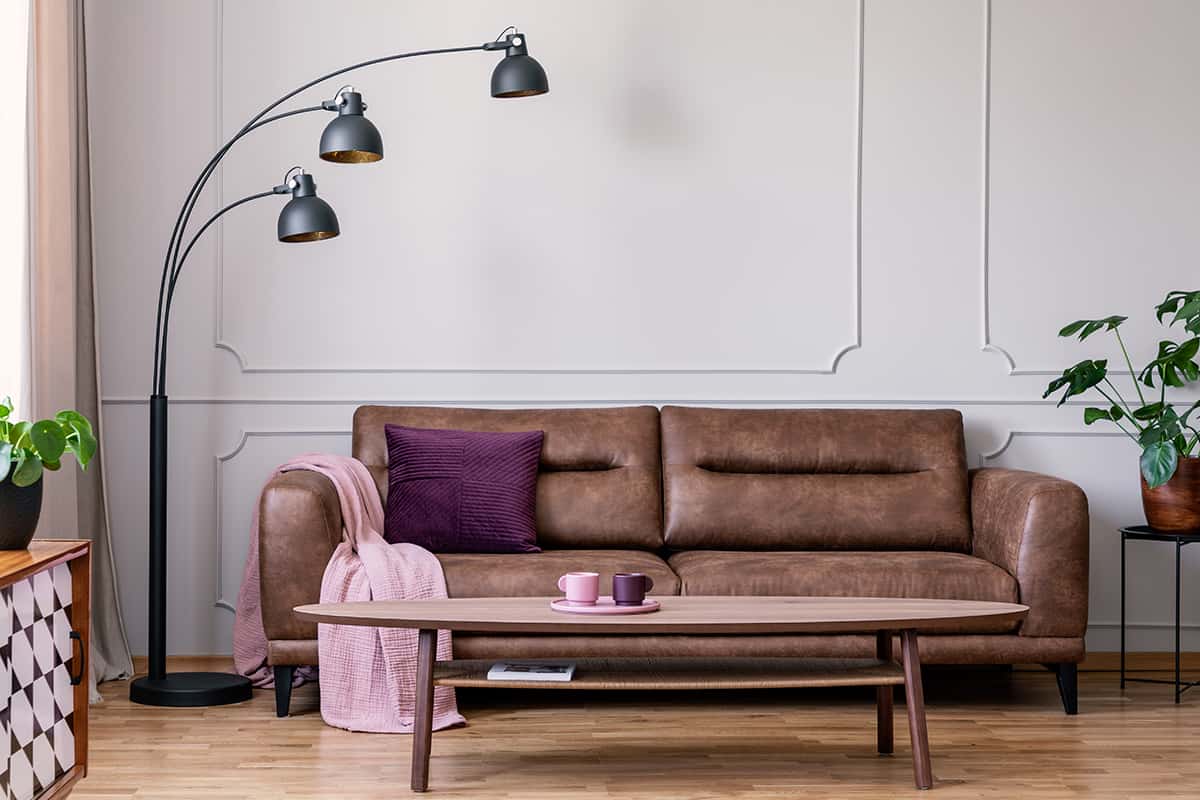 For a perfect blend of pastel colors, pair your brown leather sofa with purple and pink. This creates a warm atmosphere with a pop of color that's not too overwhelming. For example, a throw pillow in dark purple and a blanket in pink will transform your brown leather sofa.
Pastel colors work well with chocolate brown. You may use purple and pink sporadically and balance them out by adding neutral hues in order to avoid an overwhelming look.
In this image, the very cheerful nature of pink and purple is softened with brown leather. The textures and colors in this living room are anything but dark or overwhelming, thanks to the small hints of bright pink and purple.
Without pushing these colors to extreme measures, your living room with a brown leather sofa can look elegant and airy.
Cool Blue Walls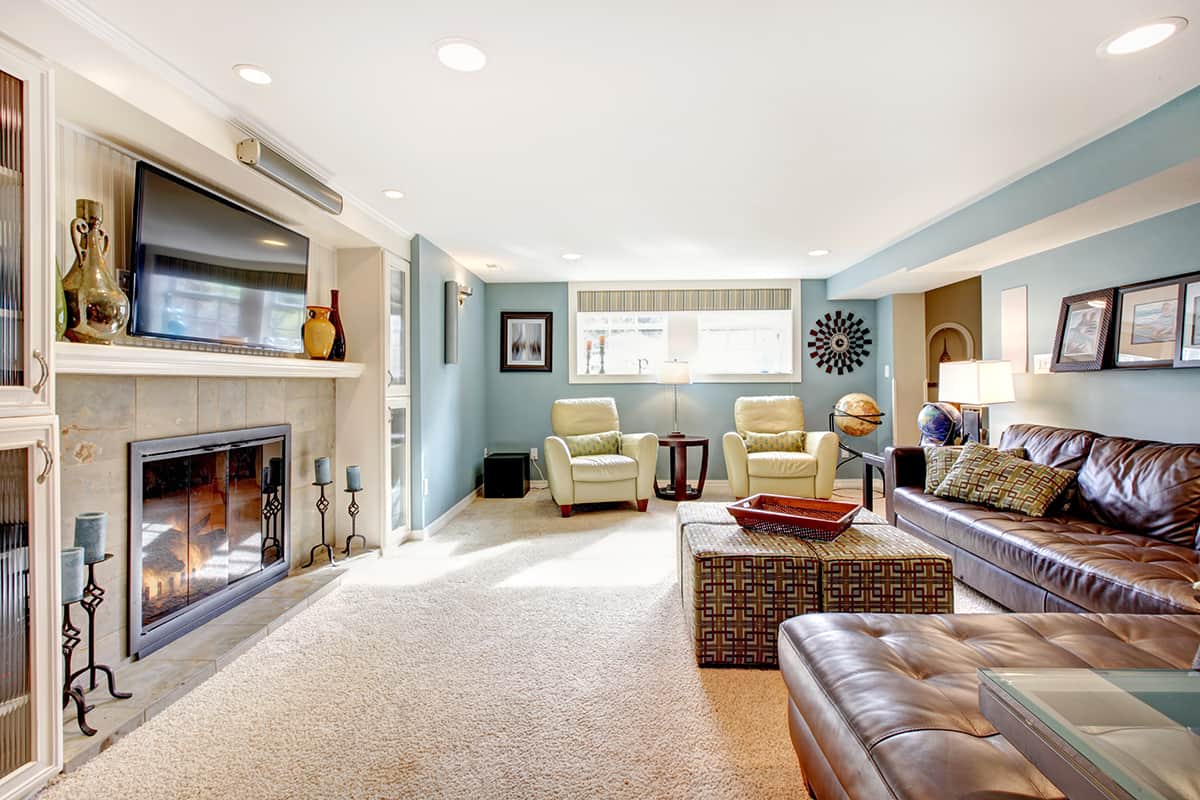 Another attractive color to pair with your brown leather sofa is a cool blue hue. This color will create a light and refreshing look, whether you use it as an accent wall or as an accessory.
In case you want to play with textures and patterns in blue, blend some white and beige into the overall design in order to add an interesting appearance.
Since most brown shades have warm undertones, you can contrast them nicely with a cool shade of blue. Blue pillows, decoration items, window treatments, or even as wall color, it can bring out the richness of your brown leather upholstery.
In this inviting living room, the walls are painted in a beautiful shade of blue with a variety of plush textures in neutral shades. We love the cozy feel of this living room with dark brown leather sofas.
The blue walls complement the seating furniture without overwhelming it. The only additions missing here are some throw pillows in blue and brown to complete the look.
White Flooring and Walls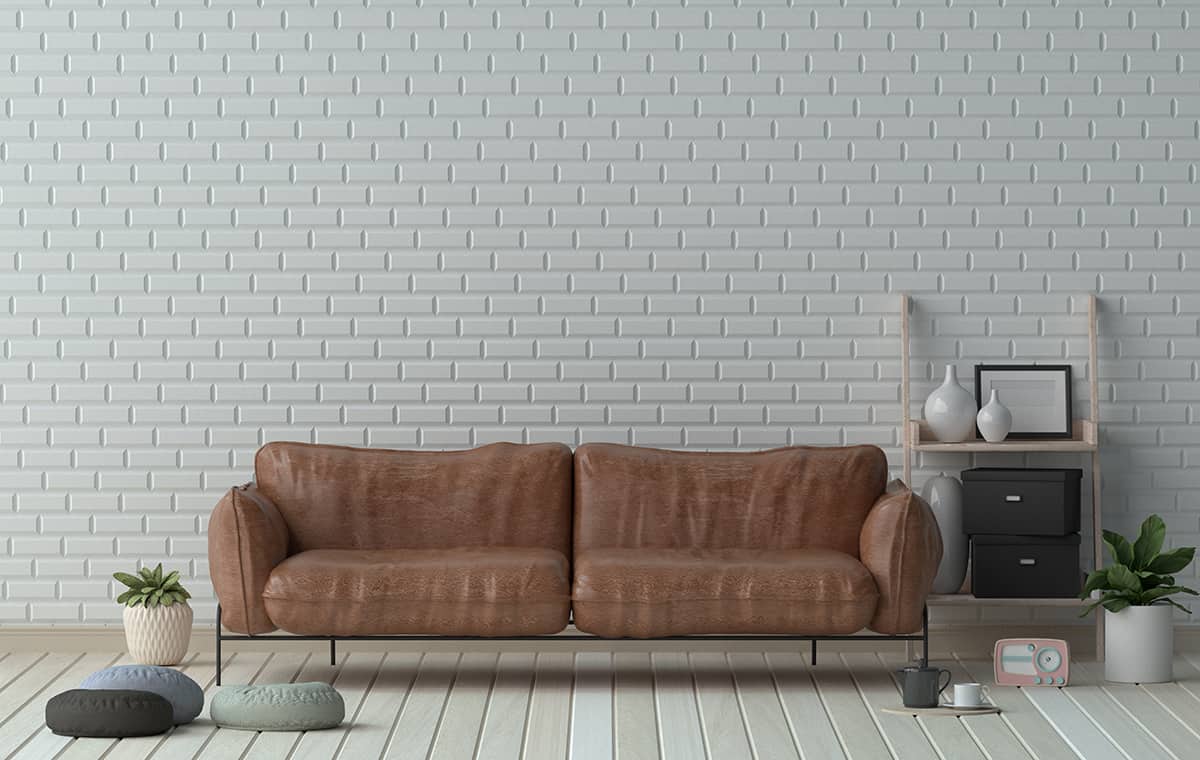 For a simple yet sophisticated design, consider white as this is the easiest color pairing with a brown leather sofa. For example, you can coordinate your brown leather sofa with a white wall and flooring, as shown here. The crisp white color is all that's needed to keep the focus on the sofa.
This is the most recommended color to complement your brown seating furniture and brighten up the entire living room. And to enhance the visual impact, throw in a few neutral decor items around your brown leather sofa.
This neutral living room would have appeared quite uninviting, or color had it not been for the comfy brown leather sofa to warm up the interior.
A mix of greys, white, black, and of course, indoor plants is all that's needed to inject small pops of color. We love the white brick wall and white wooden flooring, which crisply contrast the sofa's light brown color.
Desert Colors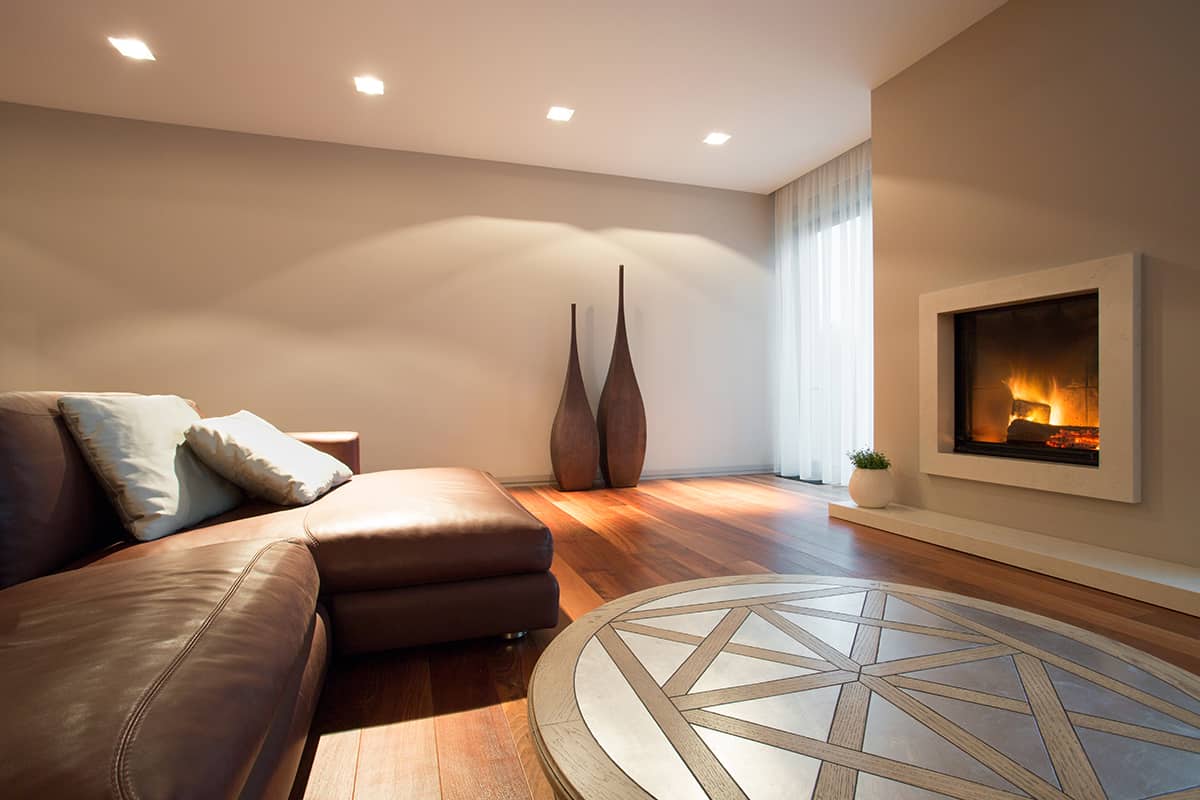 When you think of desert colors, what comes to mind? Sandy beige? Tan? For a comforting look, balance out the brown leather sofa with some pale beige and cream.
This color combo can give your interior an inviting feel since desert colors are highly favorable in a living room with brown leather seating furniture.
In this cozy living room, we're immediately drawn to the fireplace and the brown leather sectional sofa. The neutral colors have created a natural feel with an interestingly patterned table that goes perfectly with the rest of the room's desert colors.
This modern coffee table helps the eye travel around the modern details of the living room, with the focal features being the fireplace and the sofa.
Yellow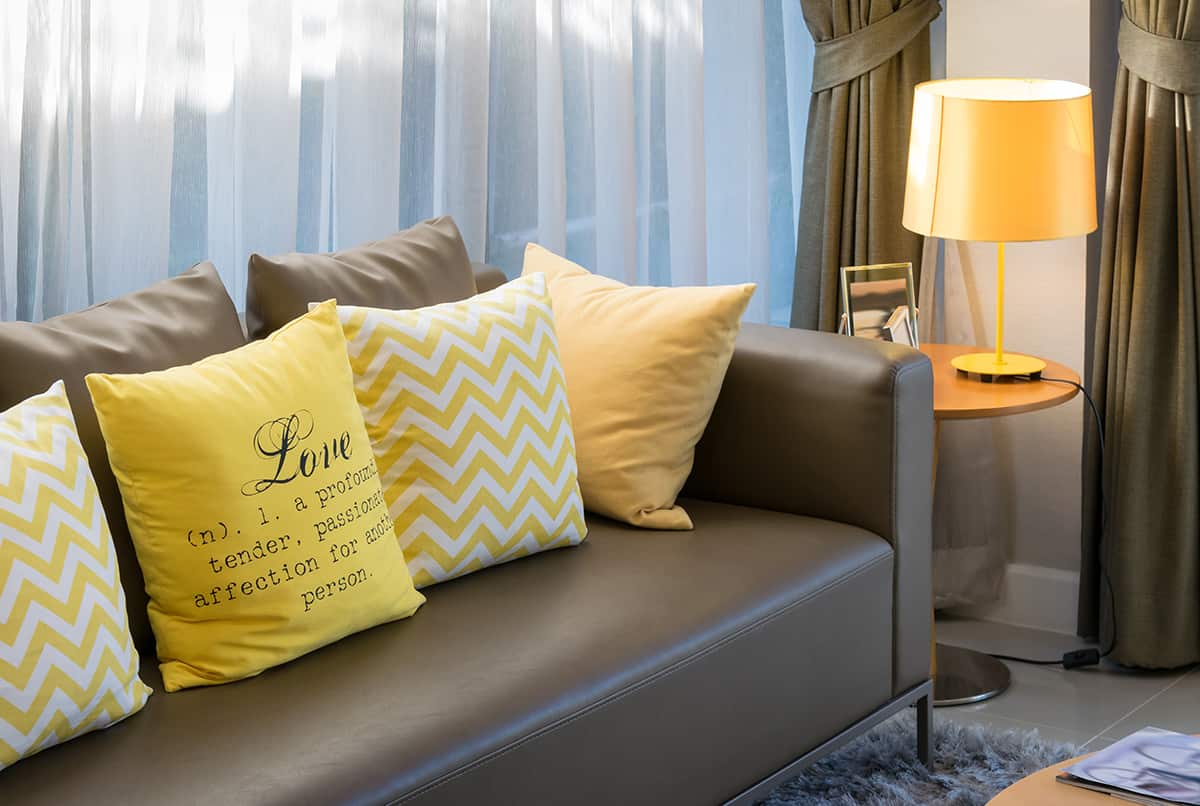 Yellow and brown are the most favorable color pairing as they belong to the same color category. Both are warm and the ideal colors for a modern look. A dark brown leather sofa decorated with yellow throw pillows and a yellow table lamp gives an elegant appearance.
If you want to take this color pairing one step further, consider picking patterned yellow pillows as shown in this example. This is the most stylish way of decorating your brown leather sofa and giving it a vibrant look.
The combination of yellow and brown ensures your living room has the perfect contrast. If you want to create the right balance between the two colors, add other warm colors to the mix, or introduce plenty of textures such as a fluffy grey rug and brown curtains.
In Closing
When it comes to decorating around your brown leather sofa and deciding on the best colors that go with this seating furniture, there are many warm and cool color schemes that will highlight your brown leather sofa beautifully. Any of our above ideas will work with light or brown leather sofas.
We hope you've been inspired by each example and can implement them in your own home.