Green is a very on-trend color in interior design right now, and it can be used in so many ways and in various styles. Soft sage greens can be used in casual or contemporary decor, while deep emerald greens are great for achieving a more luxurious style.
There are so many shades of green that work beautifully as wall paint that there is no carpet color that will work best. Instead, there is a range of carpet colors that you can consider to go with green walls while bearing in mind the final look you are trying to create.
Beige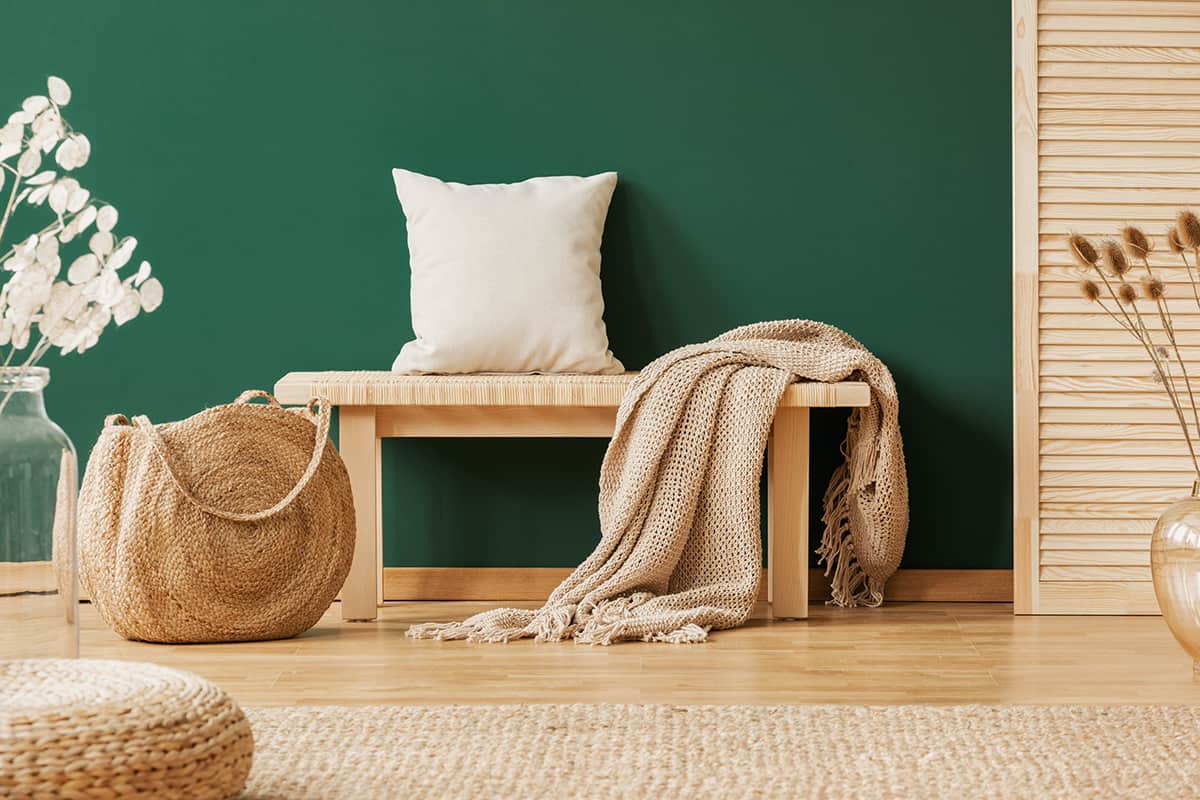 Green is an earthy color that in some instances, can appear to be almost neutral because it is so in tune with nature and the natural world. Shades of green that encourage a more earthy vibe are olive green, crocodile green, and sage green.
To further highlight the link between green and our natural environment, beige is the perfect color to choose for your carpet. Beige is considered to be a neutral shade, though most commonly, it will have yellow, orange, or brown undertones, which make it a warm color. Warm colors are generally also linked to nature as they represent sand, soil, and clay.
If you want to promote an earthy look in your green room, then use a beige carpet and add rich brown wooden furniture and houseplants as decor accessories.
A carpet with a rough texture such as jute will further highlight the connection between your interior and the natural environment, as it is a natural fiber.
Shades of beige that would work nicely with green walls include oatmeal, khaki, tan, camel, stone, taupe, and fawn.
One disadvantage of beige carpets is that they can show stains more obviously and be easier to keep clean, but this can be avoided by using darker shades of beige or a textured carpet such as Berber with different colored flecks in it, which can help to hide dirt or marks.
Besides green walls, a beige carpet can pair with many wall colors for various decorating styles.
Brown
Brown carpets work well with green walls for the same reason that beige carpets do. Brown is a warm neutral shade that is heavily linked with nature and the outdoor environment. Brown and green are frequently seen together in nature, which tells us that these are two colors that work together well. Examples of this include trees and plants.
As brown is a darker color, you could use it with lighter shades of green on the walls to create a contrast or select a dark shade of green such as forest green or mossy green to go with a dark brown carpet to create a more moody and intense atmosphere in a room.
One great feature of brown carpets is that they don't show stains or dirt very easily, and therefore can be a very sensible choice if you have pets or have members of the family who are prone to spilling drinks or forgetting to take their shoes off inside the home.
White or Off-White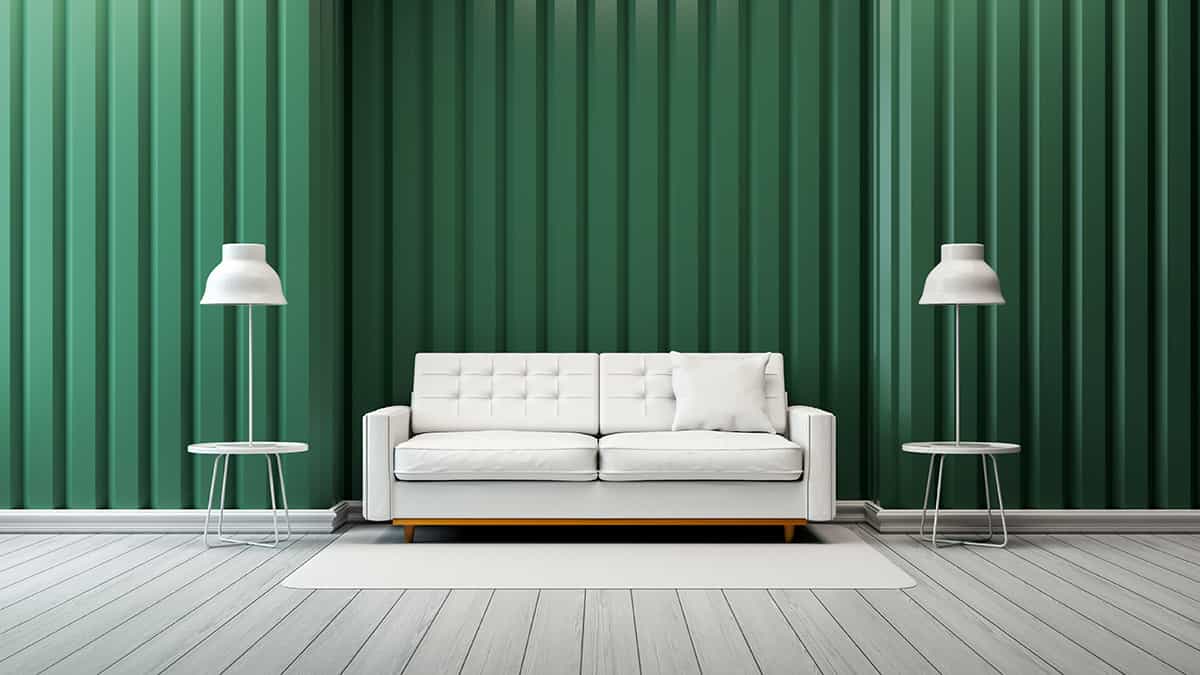 Green can be a refreshing color, and this is maximized when it is paired with white which allows its vibrancy to shine. As a pure neutral, white carpets will go with any shade of green wall paint. To create a bright, airy, and contemporary decor, use white carpets with very pale shades of green.
Pure white might be seen as too stark in some rooms, so for a softer atmosphere, use a shade of off-white for your carpet, such as cream of ivory.
Gray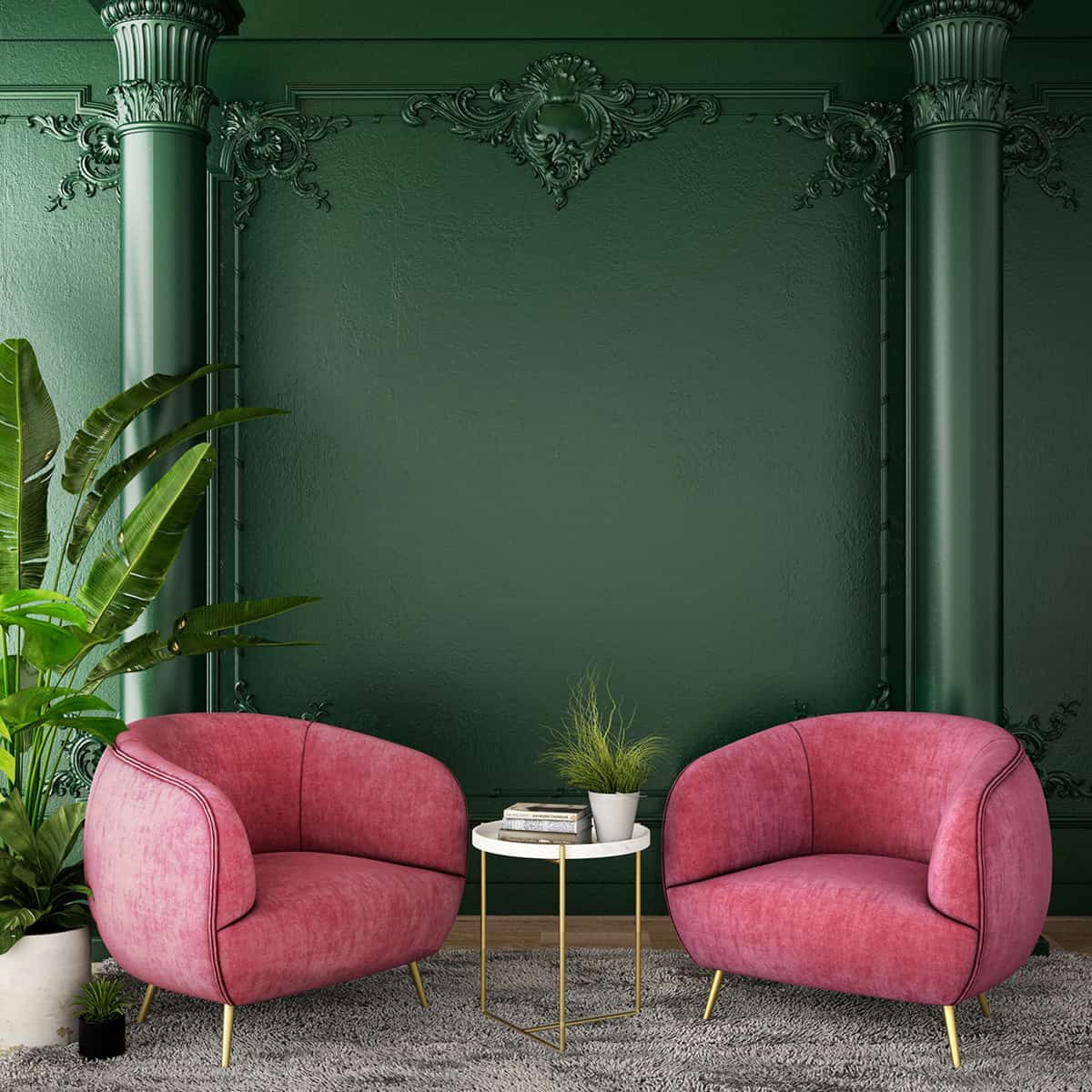 Gray carpets are a popular choice in modern home decor, and they work really well with green walls. Any shade of green can be paired with gray because gray is a neutral, but shades that look particularly good with gray are sage green, mint green, and blue-green teal shades.
A gray flooring surface will instantly transform a room and create a contemporary style, so choose gray for your carpets if this is the look you are going for. Gray carpets can range in color from the palest almost-white grays right through to dark almost-black grays.
The shade you choose should reflect the atmosphere you aim to achieve in the room, with pale grays offering a brighter and breezier feel and darker shades of gray offering a more dramatic look. Medium gray shades can offer a good balance of the two and also provide a flooring surface that is easier to keep clean compared with light gray.
Blue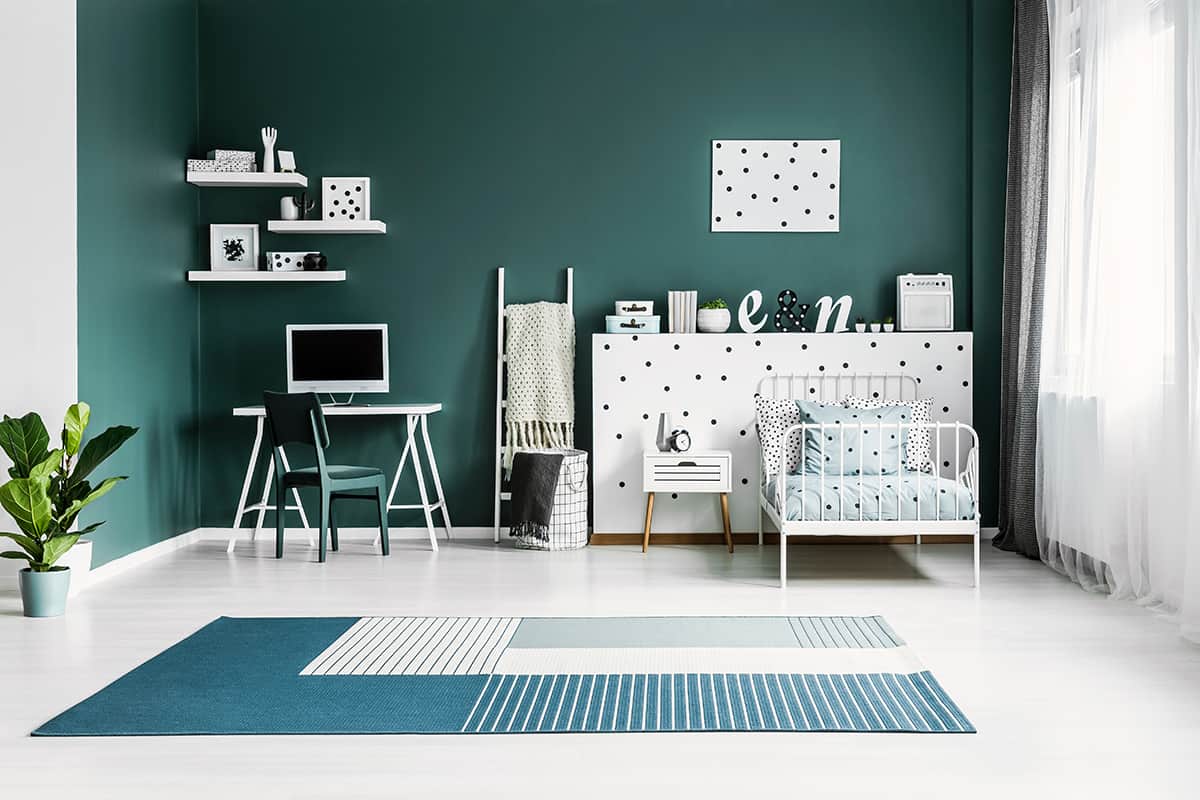 Blue carpets can look great with green walls as long as you choose your shades and tones carefully. You don't want to overwhelm a space with intense color and cause it to feel overstimulating, so choose either your wall color or carpet color to be a bolder or brighter shade, leaving the other surface to have a more neutral effect.
An example of this would be to have a vibrant shade of blue on your carpet, such as sapphire blue, and use a more muted shade of green on the walls, such as light olive green.
Alternatively, choose a more vivid wall color such as basil green and a subtle shade of blue for the carpet, like pale blue-gray slate. Dark shades of blue can also work well as a near-neutral, such as navy blue or dark steel blue.
Green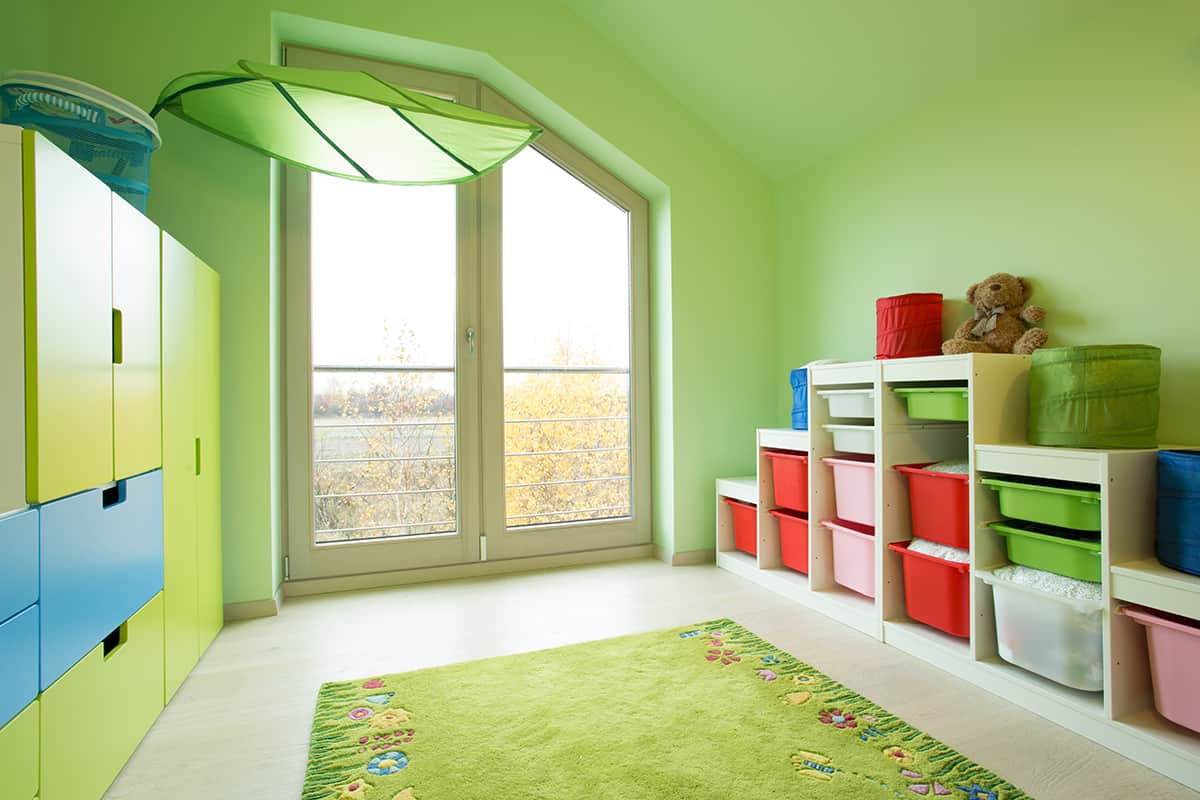 A room can look really sophisticated and well-styled if you decorate various surfaces using different shades of the same color. If you have dark olive green walls, then consider a carpet in a very pale shade of olive green.
The important factor when using the same color for both walls and carpets is that you choose shades that are very obviously different in order to achieve a definition between the two surfaces.
If you were to choose two shades of green that were too similar, then the room would look flat and lifeless. Instead, ensure the two shades of green you use to provide some contrast by selecting two colors at opposite ends of the shade spectrum.
Red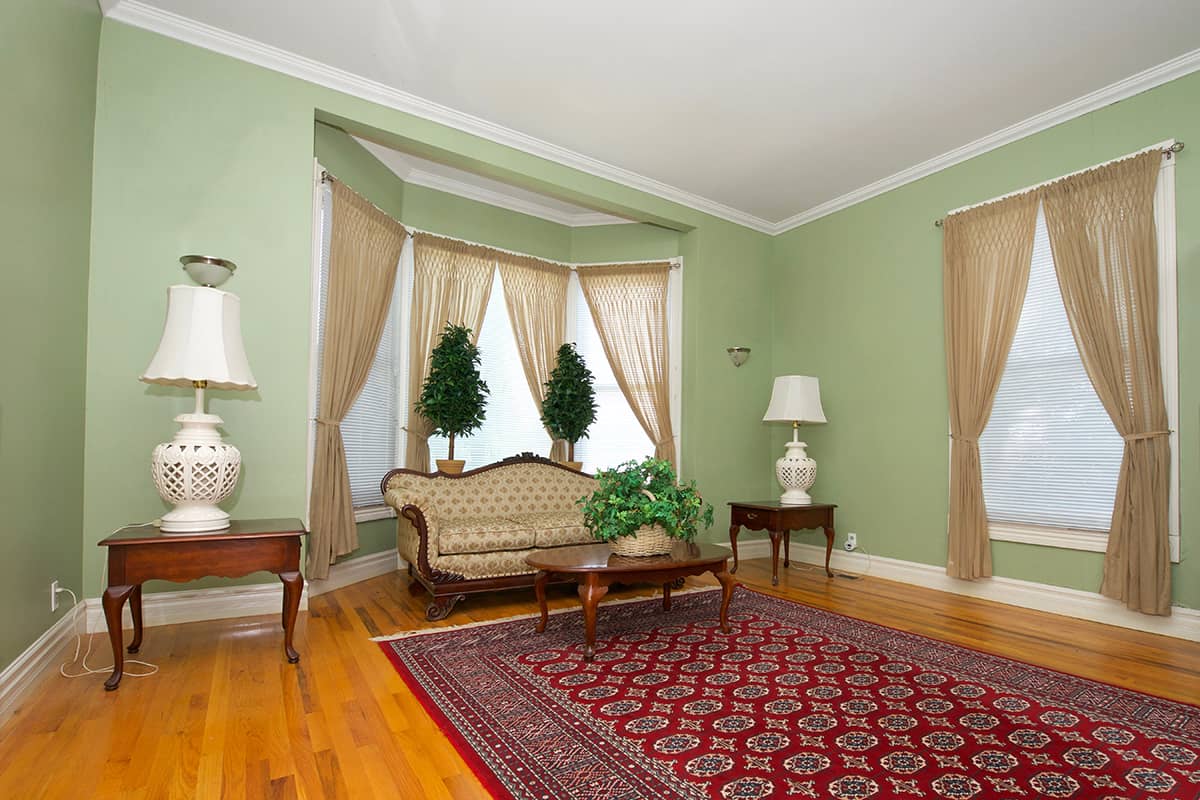 Red might seem like a bold and unusual color choice for carpet, but it can look really eclectic when used in the right way. If you want a solid colored carpet, then opt for a muted shade of red such as dusky terracotta rather than an intense shade such as cherry red.
Your aim with a carpet is to choose a color that complements your green walls rather than steals the show, which a red carpet that was too vibrant would do.
Patterned red carpets can also make for a lovely choice alongside green walls. Use an Aztec print to achieve a Moroccan style or floral red carpets for a traditional look. Red patterned carpets are also great for creating a boho or quirky look; consider plant motifs or geometric designs.
Red and green are contrasting and complementary colors that allow the opposing color to shine. You should look for muted or subtle tones in both shades to avoid the room from having an overwhelming atmosphere.
Black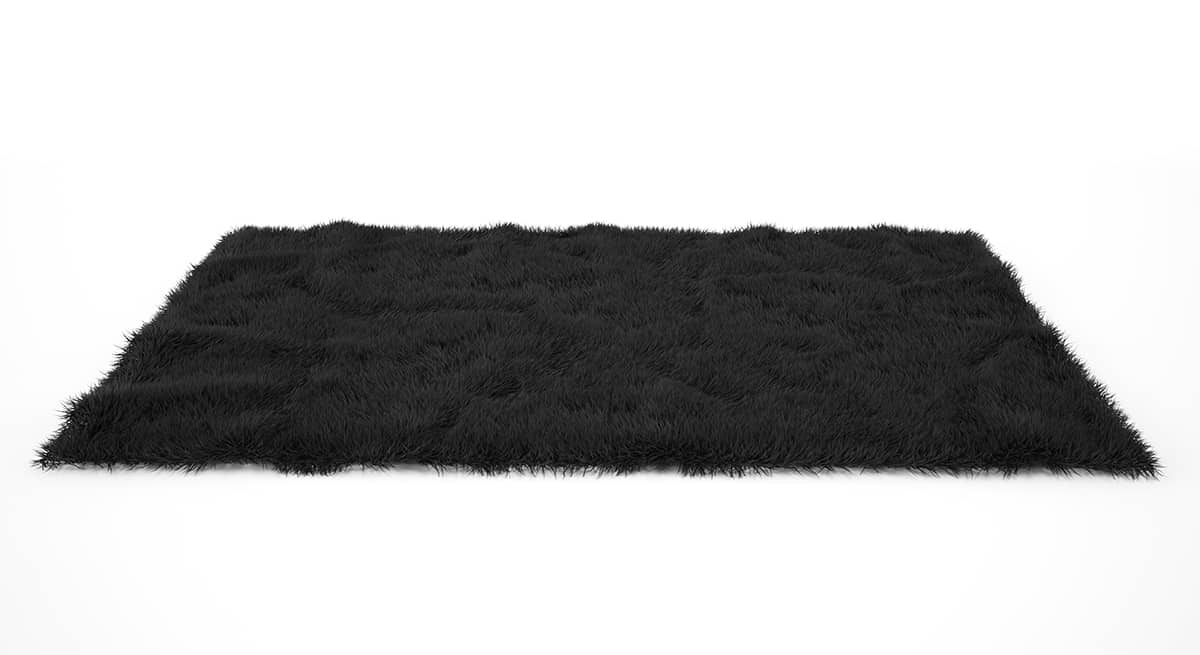 Black carpets work really well in rooms that you want to define as moody, dramatic, or intimate. This would typically be in a snug, a bedroom, a formal dining room, a home bar, or a theatre room. To create this type of atmosphere, use a medium to deep shade of green on the walls, such as forest green or pine tree green, which will result in a darker and emotionally-charged space.
To ensure a dark room like this doesn't feel dingy or depressing, use metallic accents and gloss finishes such as gold picture frames, copper light fittings, or high-shine wooden furniture.
The added benefit of black carpets is that they are great for hiding stains or spills, which make them especially practical in a dining room or cinema room where food and drink are frequently consumed, and accidents may occur.
Patterns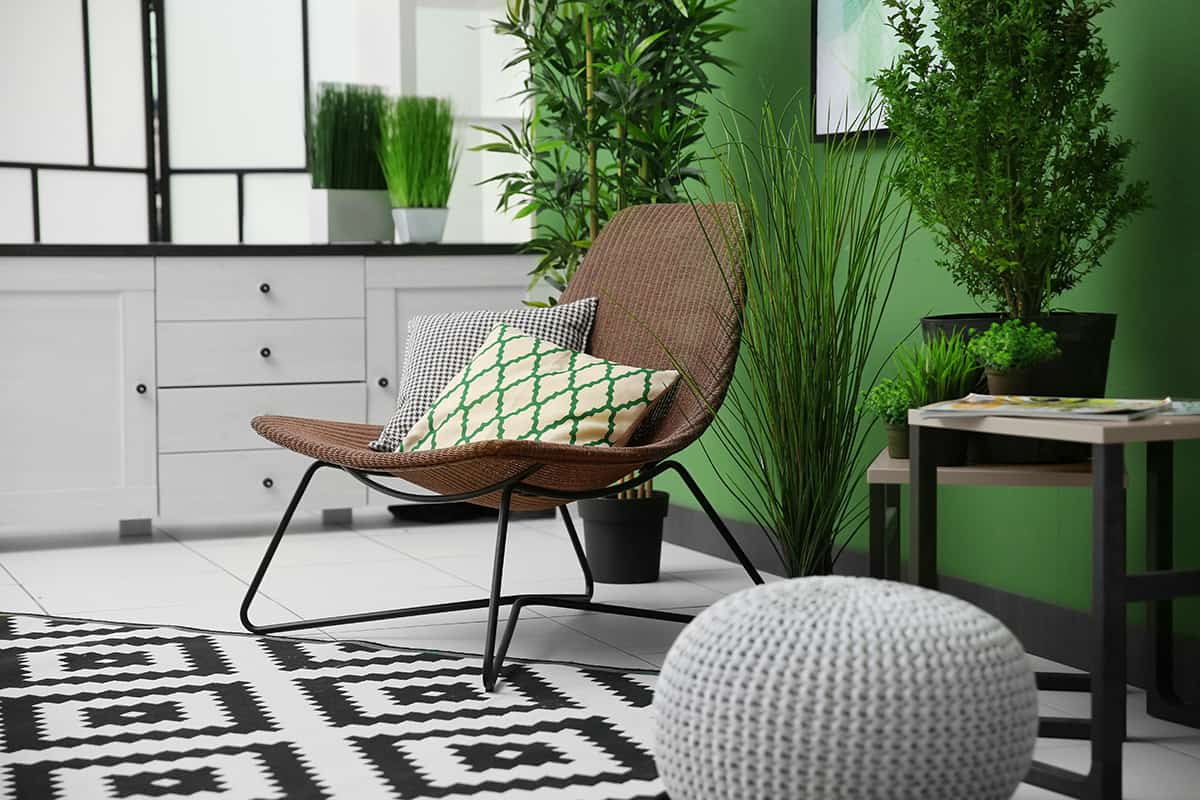 Patterned carpets, up until very recently, were thought of as dated and old-fashioned. Most people remember seeing complex patterned carpets growing up in their grandparent's or older neighbors' homes and still associate patterned carpets with outdated styles.
However, patterned carpets can be a fun way to introduce other colors into the space, and you can pick out other shades within the carpet to accent the room. For example, in your green room, you may choose a gray carpet with blue stripes, and you could then find cushions or curtains in the same shade of blue to help tie the carpet into the color scheme.
If you feel cautious around patterned carpets and want to ensure they do not look old-fashioned or too traditional, then choose a distinctly modern pattern such as a geometric carpet.
Floral carpets, depending on their design, can be used to create a modern take on a country cottage style or can be combined with simple, utilitarian furniture for a fun twist on Scandinavian design. Floral carpets tend to work particularly well with green walls because the majority of floral patterns feature green for the flower's leaves.
If you have white walls and don't know what colors to use for your carpet, follow our guide here ' 8 Popular Carpet Colors for White Walls '.