When you think of the colors brown and grey, you might immediately picture the outdoors. But did you know the combination of grey and brown for indoor spaces evokes a cozy and welcoming vibe.
Grey walls accompanied by brown furniture complement one another and add a sense of sophistication. Depending on your personal style and preference, you may opt for dark or light shades of grey for the walls as this is an incredibly versatile color scheme.
Looking for some inspiration to coordinate your grey walls with brown furniture? By incorporating other colors and textures, you can create the most elegant and attractive interior spaces. Check out the following ideas with images right here:
Grey Walls with Brown Furniture Ideas
Add Blue for Contrast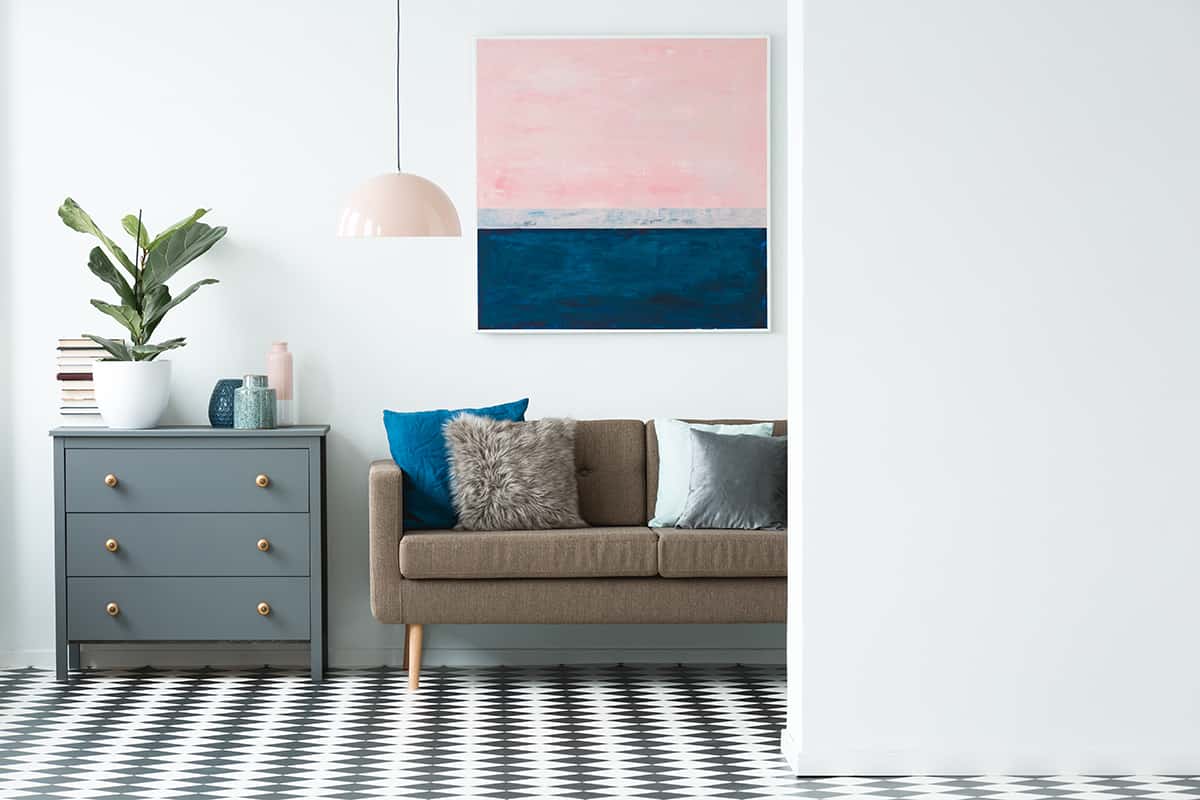 Our first attractive idea is to combine your brown sofa and grey wall with a primary color such as deep shades of blue in order to create a comfy atmosphere in the living room. Blue is a beautiful color to add to a grey and brown living room as it boasts many different shades and just like brown, it is also associated with nature.
The example you see here features four shades of blue for the pillow, wall painting, accessories and the cabinet. The mix of blues allows the living room to remain bright and airy without appearing monotonous. The grey wall and brown sofa look in sync here with the rest of the room's decor.
Grey and Brown Go with Green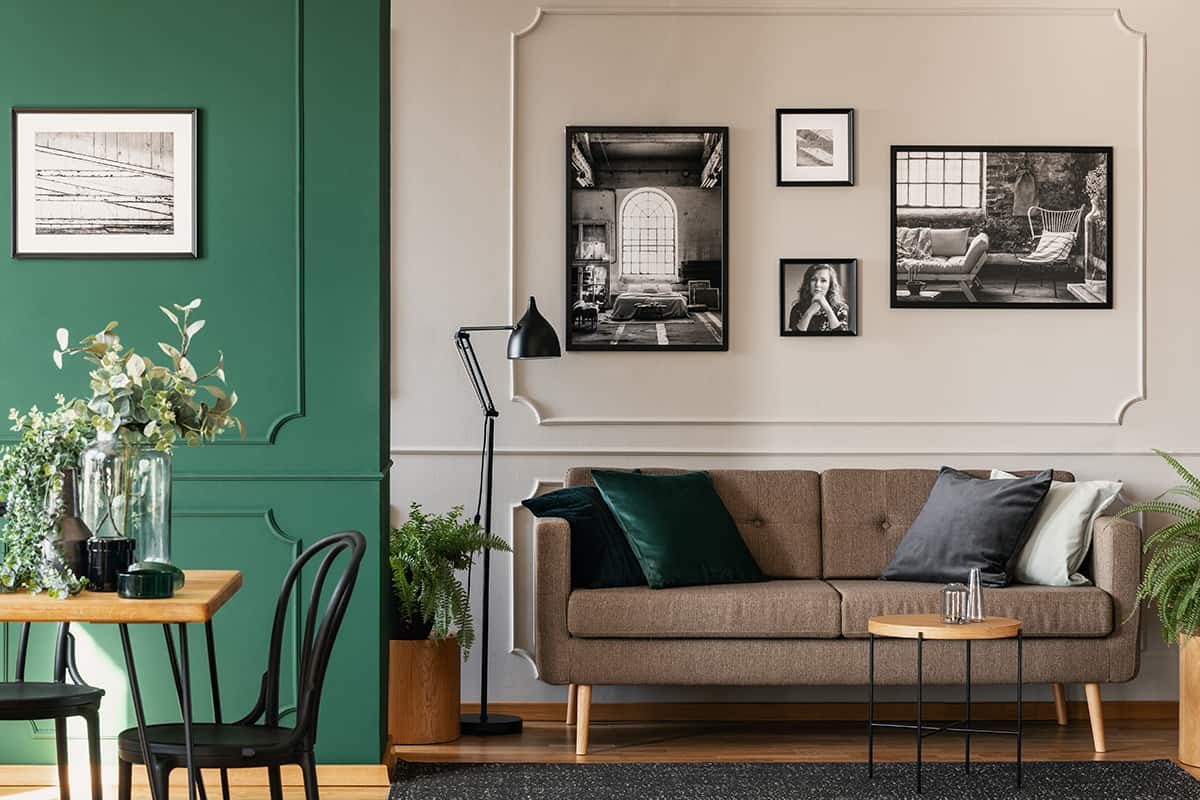 Brown is an earthy color, which goes very well with a nature-inspired color like green. This idea is the easiest way to make your grey and brown living room even more appealing and homely. If we go by the example here, one wall is painted in green next to the grey wall, and some dark green throw pillows are added to the brown sofa next to neutral pillows.
The use of green, velvet pillows rather than patterned ones, which can darken the room, has enhanced the beauty of the space. Dark green is a color that provides a refreshing touch to your brown and grey living area. You may also add some leafy green plants to complete the look.
Create a Focal Point with Wooden Wall Paneling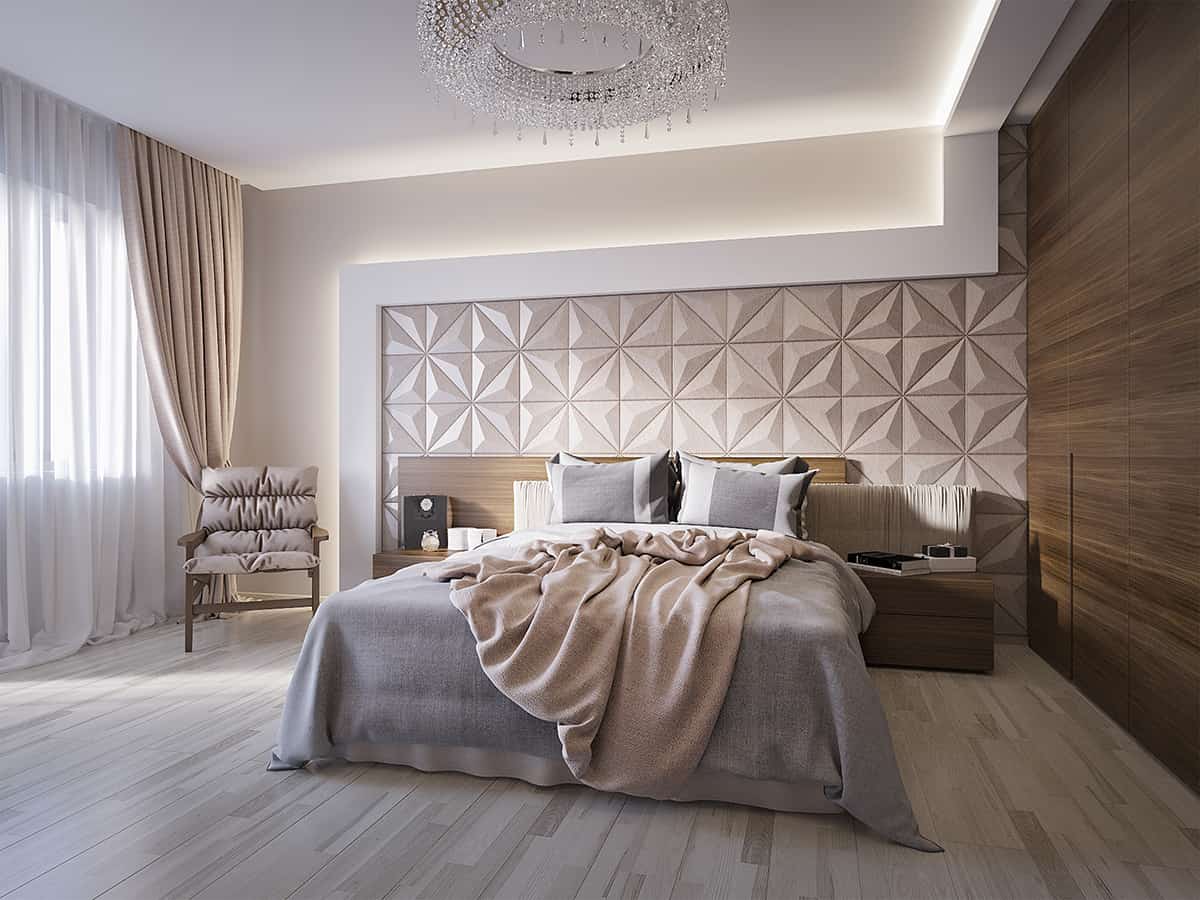 Adding wall paneling to your grey and brown living room is another excellent idea to boost interest. Wooden wall paneling is fast becoming a modern interior design option so why not include it in your bedroom or living room.
If your bedroom, for example, has brown furniture and grey walls, you can create a wooden element that goes with the brown by making one of the walls the focal point of the room.
Here you can see how beautiful the sidewall paneling looks next to the light brown headboard, side table, chair, and curtain. The textured grey wall is another focal point of this bedroom together with the wall paneling.
Opt for Light Wooden Flooring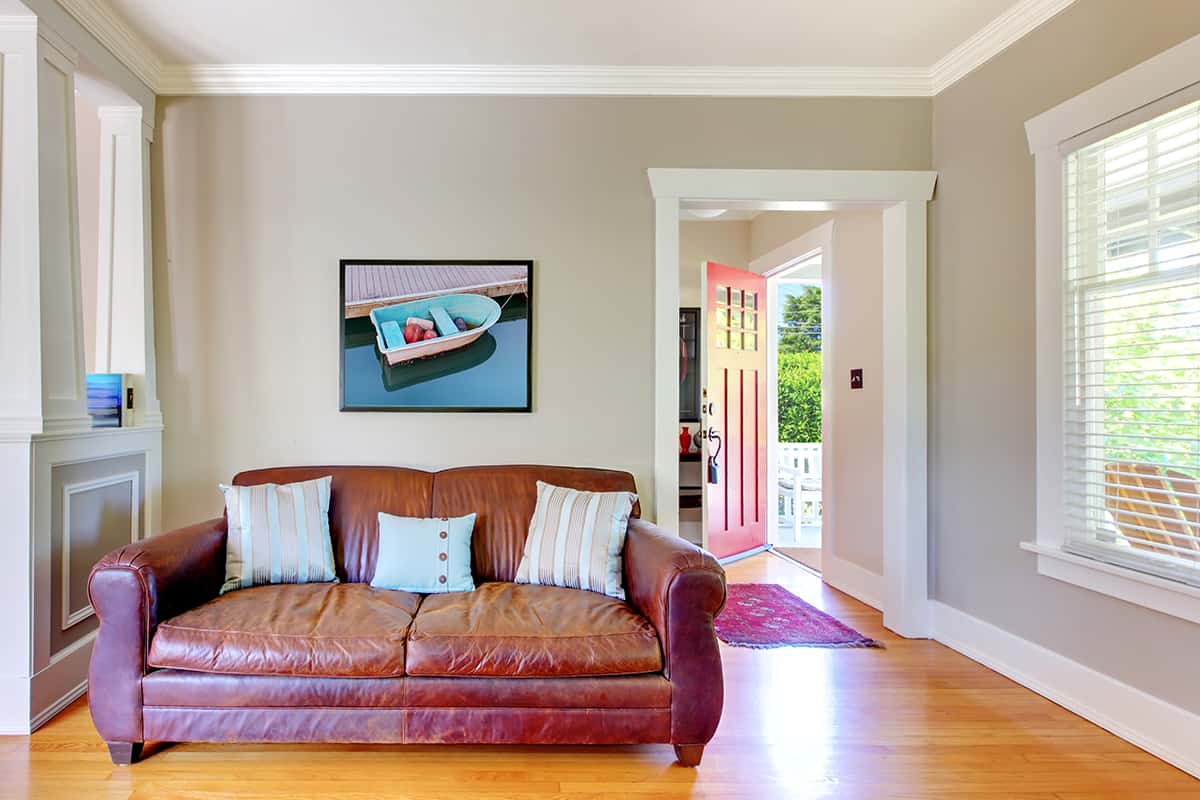 Hardwood flooring is a classic option that goes naturally with a grey and brown living room. If your furniture is dark brown, opt for light brown wooden floors so as not to make the room feel dark or closed in.
Just look at this bright and cozy living room with its light wooden flooring and brown sofa. The smart-looking grey walls with their white trims have enhanced the beauty of this room. The words brightness, warmth, and sophistication pop to mind perhaps?
Try Dark Brown Leather Sofa for a Modern Touch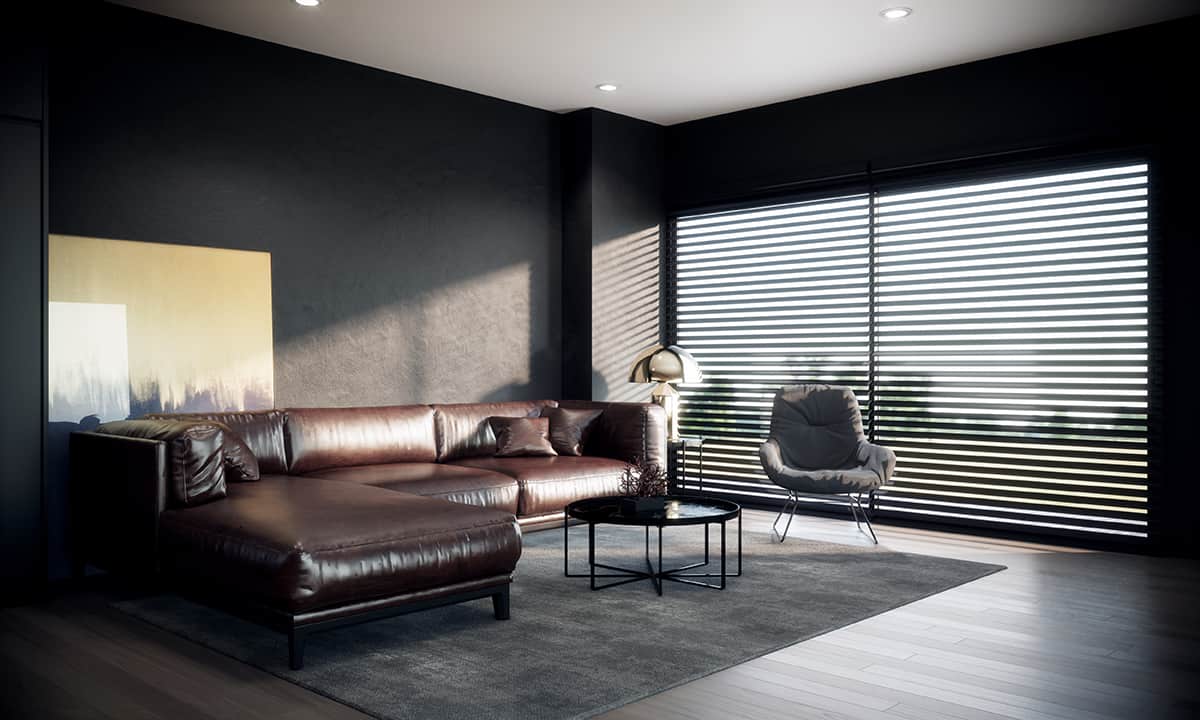 If you're more into a modern decorating style, then you will love this example of a brown leather sectional sofa with dark grey walls.
Of course, the combination of dark grey and brown only works in large living spaces. Add a grey rug and a chair to complete the color combo. The coffee table in the center can be in industrial style black metal just like the one shown here.
Choose Cozy Lighting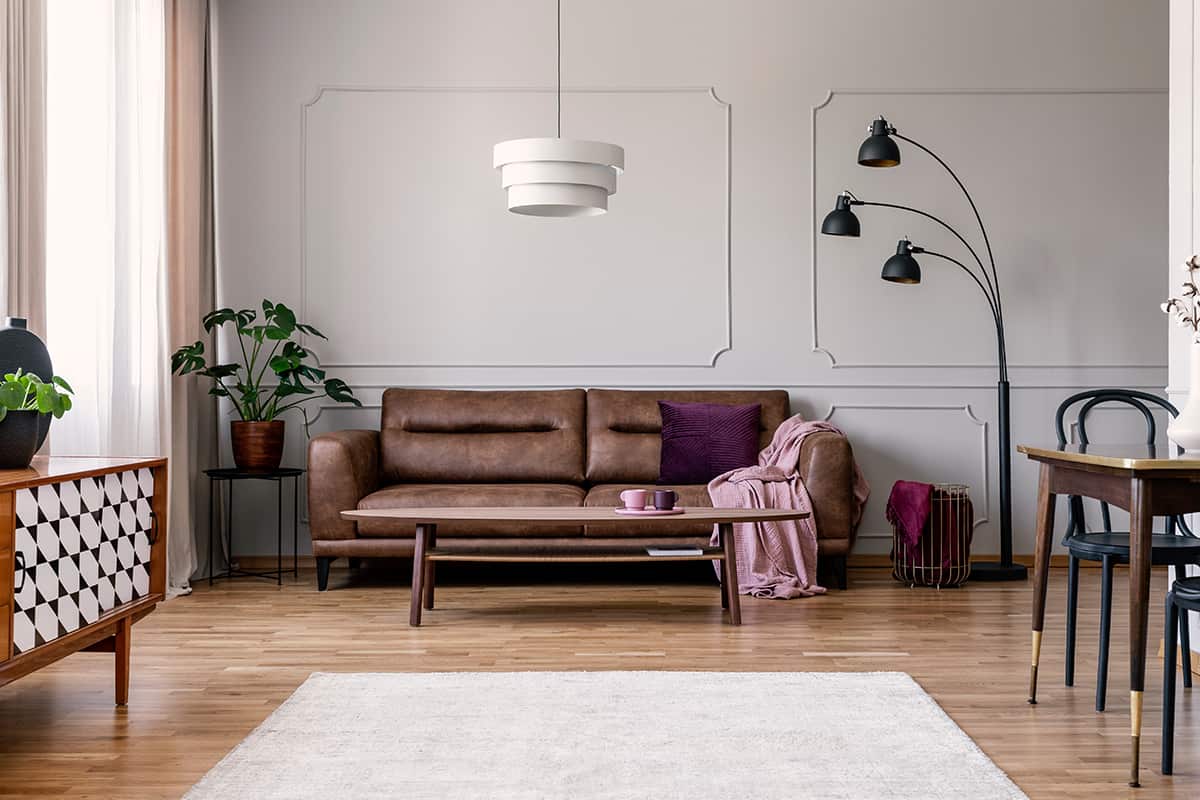 Do you want to spice up your light and airy grey and brown living room without using too many bright colors? Then how about some unique lighting to spruce up your living space!
For example, an industrial-style floor lamp and a unique hanging light like the ones shown here will give your grey and brown an interesting feel. By blending the lighting with your brown furniture, you can create a cozy atmosphere.
Go for Geometric Floor Covering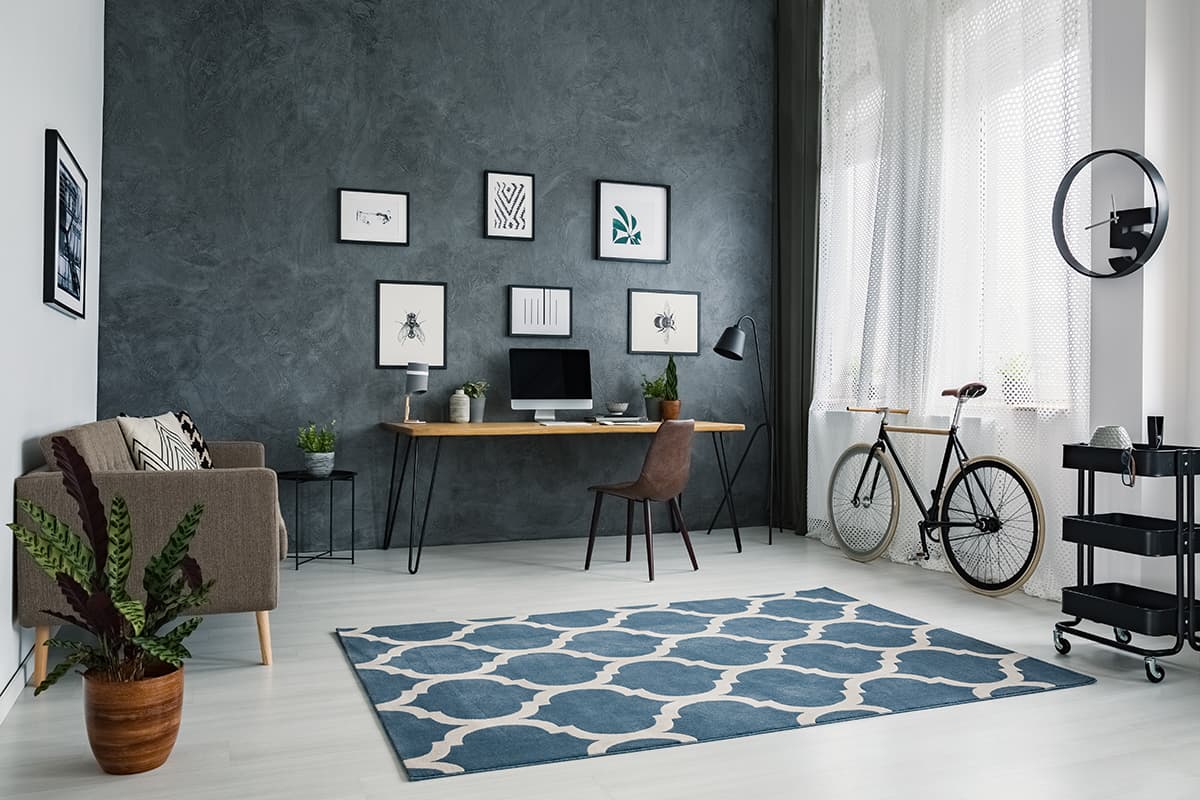 When your walls are very dark grey and your furniture is light brown, choosing a textured or geometric rug in blue and white can add visual interest to your living room. You can combine the rug with a few wall art and paintings as a perfect combination to go with your grey and brown living room just like the example here.
The secret is to add some subtle hints of brown and grey in the midst of textured accessories to make the living room more dynamic.
Because brown and grey are both nature-inspired colors, they can be paired with other nature-themed hues to bring the interior together. Even if your walls were dark grey, your living room can still feel warm and comfortable with the addition of light brown furniture and patterned floor covering.
Keep it Light and Neutral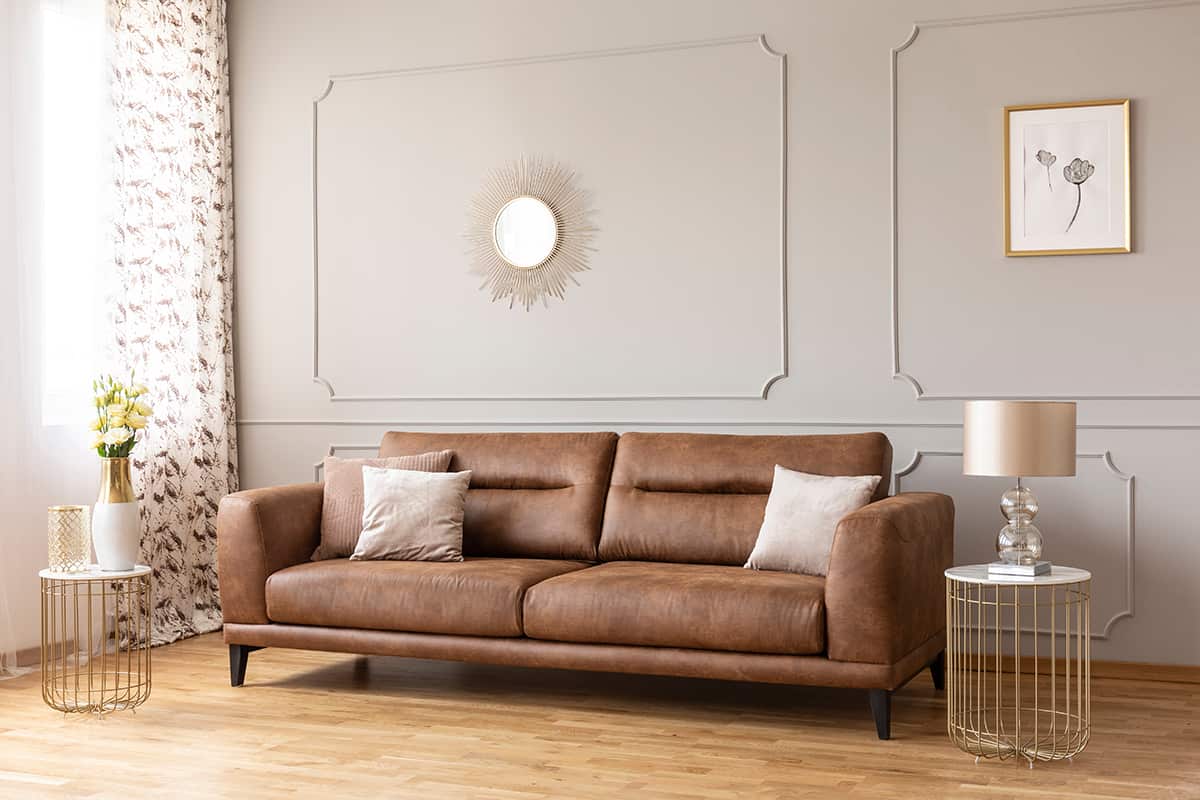 A brown sofa is enough to bring softness to a living room with cool grey walls. Brown is an earthy tone that feels warm and comforting.
But if you want to enhance the coziness of your living space, choose your accessory colors carefully. You'll want to keep your grey and brown living room as bright and airy as possible without using too many bright colors.
In an already light living room that boasts ample natural lighting, you can opt for beige or gold decoration as shown in this example. The light grey walls and brown sofa work in harmony with the gold lamp, mirror, and side table.
Does Grey Go with Brown Furniture?
Since grey and brown are both neutral colors, they go together perfectly. Although some people may find this color combination a little monotonous, mixing different shades of each color will prevent the interior space from appearing bland. It is, therefore, important to balance the right shades of grey and brown with the surrounding decorations.
Brown and grey might be practical colors, but they are a little tricky to work with. If your furniture is entirely in brown, you can incorporate a few shades of grey for the walls as well as including some grey decorations. Grey walls can serve as a neutral backdrop to dark brown furniture. But if you want your wall color to dominate the room, then opt for light brown furniture instead.
So the answer to the question does grey go with brown furniture is an absolute yes as the combination of grey and brown is often seen as a visual source of warmth. An earthy brown sofa next to a sleek grey wall can balance the furniture thanks to the blend of warm and cool colors. Just be sure to avoid rich, dark grey shades as this may prove to be overwhelming next to dark brown furniture. Instead, go for lighter shades of grey like for the walls to make the room more appealing.
Is Grey an Outdated Color?
Every modern living room needs a neutral color palette as part of its signature design. Grey is a must-have color to create a timeless look. This versatile color is in fact one of the most popular interior decorating options for creating a modern vibe.
After all, grey emphasizes on nature and minimalism so no wonder we see this color as a top choice in contemporary homes. The neutral tone ensures the room feels uncluttered and clean, while at the same time allowing other features to pop. Grey is not only a classic color, but it is here to stay in the world of interior design.
How Can I Lighten Up My Grey Living Room with Brown Furniture?
If your living room feels a little too dark with your brown furniture and grey walls, consider breaking the colors up by adding some bright-colored throw pillows and cushions. Select your accessories in creamy beige as a lighter contrast to the grey and brown, and throw in some vibrant yellow curtains to give the space an uplift.
Remember to keep your walls in light grey to help balance the dark brown furniture and make the room feel lighter. By choosing neutral and bright-colored accessories, your grey and brown living room will not only look cozy but light and airy.