Brown leather furniture is the signature piece of any living room. In fact, it is safe to say the stunning patina of leather oozes comfort and coziness.
But if you're not sure what color schemes work with brown leather undertones, you've come to the right place. With brown leather furniture, you run the risk of making your living room dark or heavy. This is why it's important to use the right color combinations in order to balance the warmth of brown leather.
In this post, we'll cover some ideas on the best living room color schemes to pair with brown leather furniture:
Living Room Color Schemes that Work with Brown Leather Furniture
Go for a Soft Blue Shade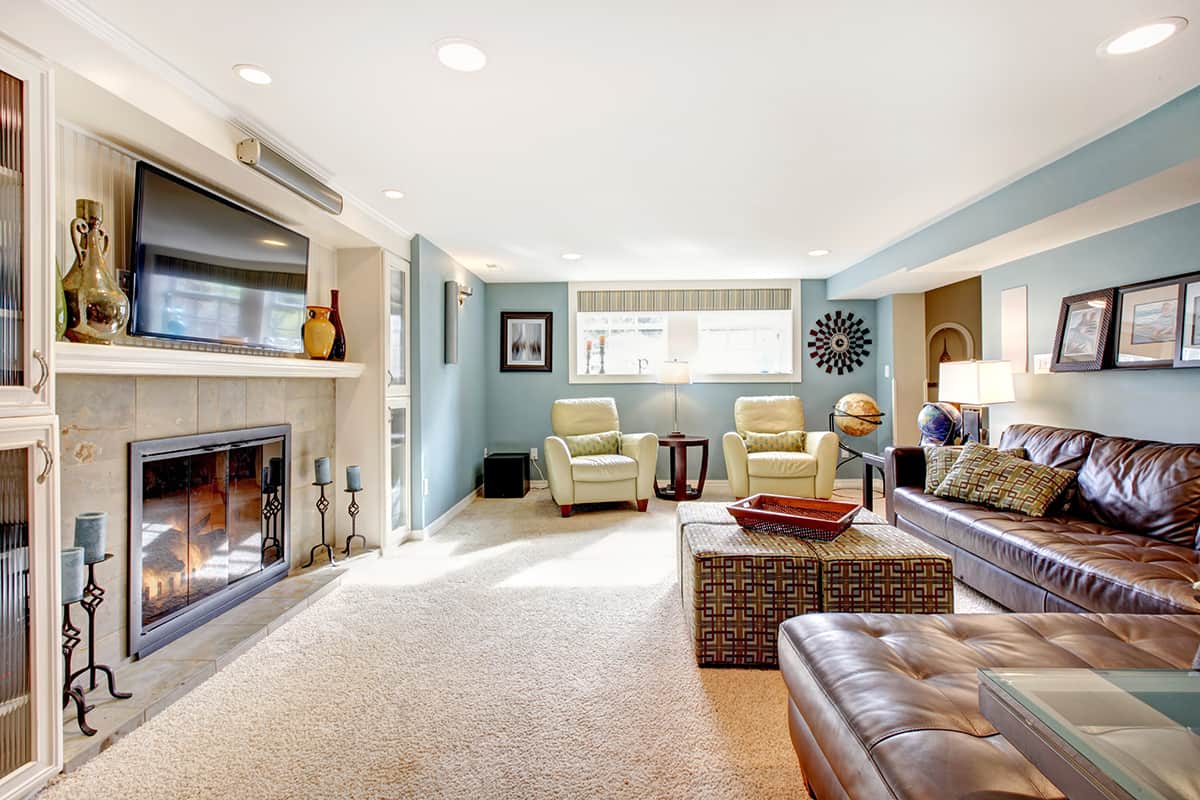 Blue is one of those cool-toned colors that won't darken your living room with brown leather furniture. When paired with metallic accessories and an oriental rug, it'll likely add pops of color as well as visual interest to your space.
A soft blue shade like azure or maya will bring a soothing feel to a living room with warm, earthy colors. For drama, gold-framed mirrors or wall art will create a focal point just like in the photo here. The sophisticated tone of this living room is enhanced by the soft blue walls and dark brown leather furniture.
Create an Inviting Feel with Rich Green and Stone Walls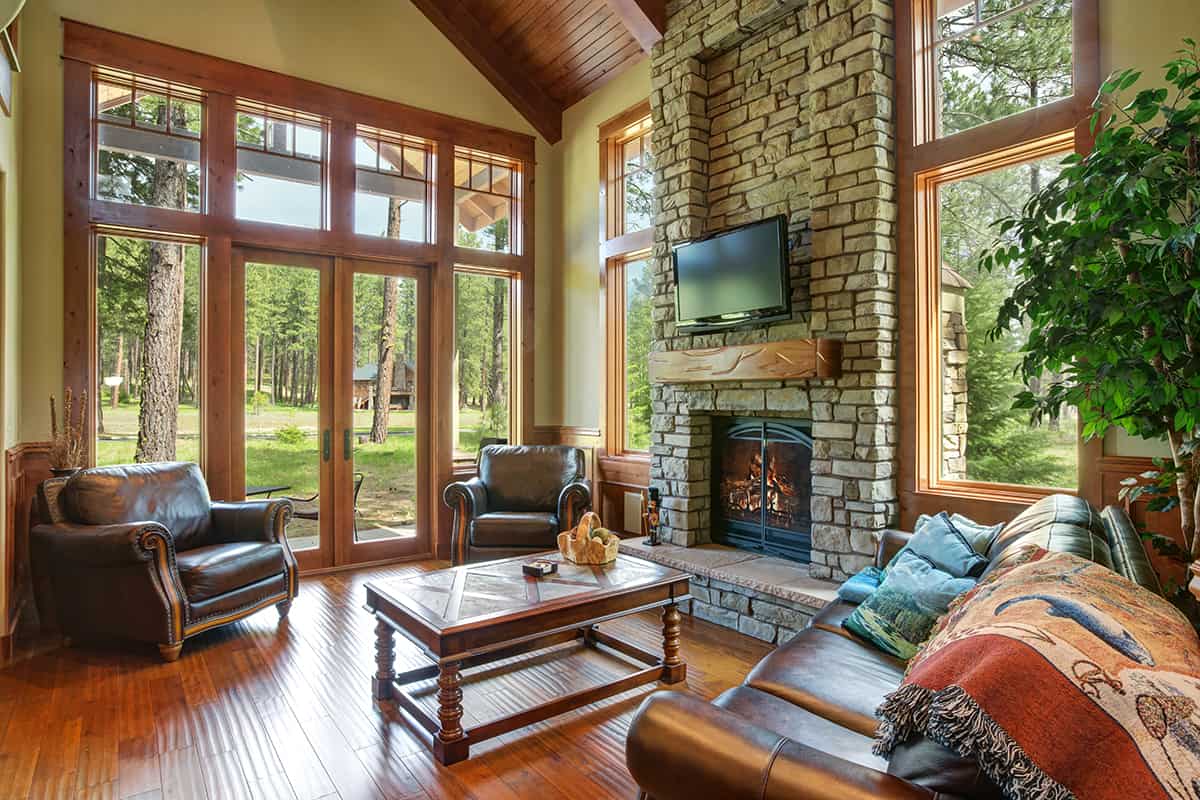 Another timeless color scheme to try with your brown leather furniture is a blend of rich green shades together with natural elements. When you add natural elements like stone walls and wood trim, it helps keep the living room space bright and cozy.
This organic-themed design can be seen in this living room has gorgeous green walls with a feature stone wall as a focus point.
The light brown wood trim highlights the brown leather furniture, and the icing on the cake is the hardwood flooring. All these natural elements including the leather sofas evoke a sense of connection with nature.
Layer the Room with Shades of Brown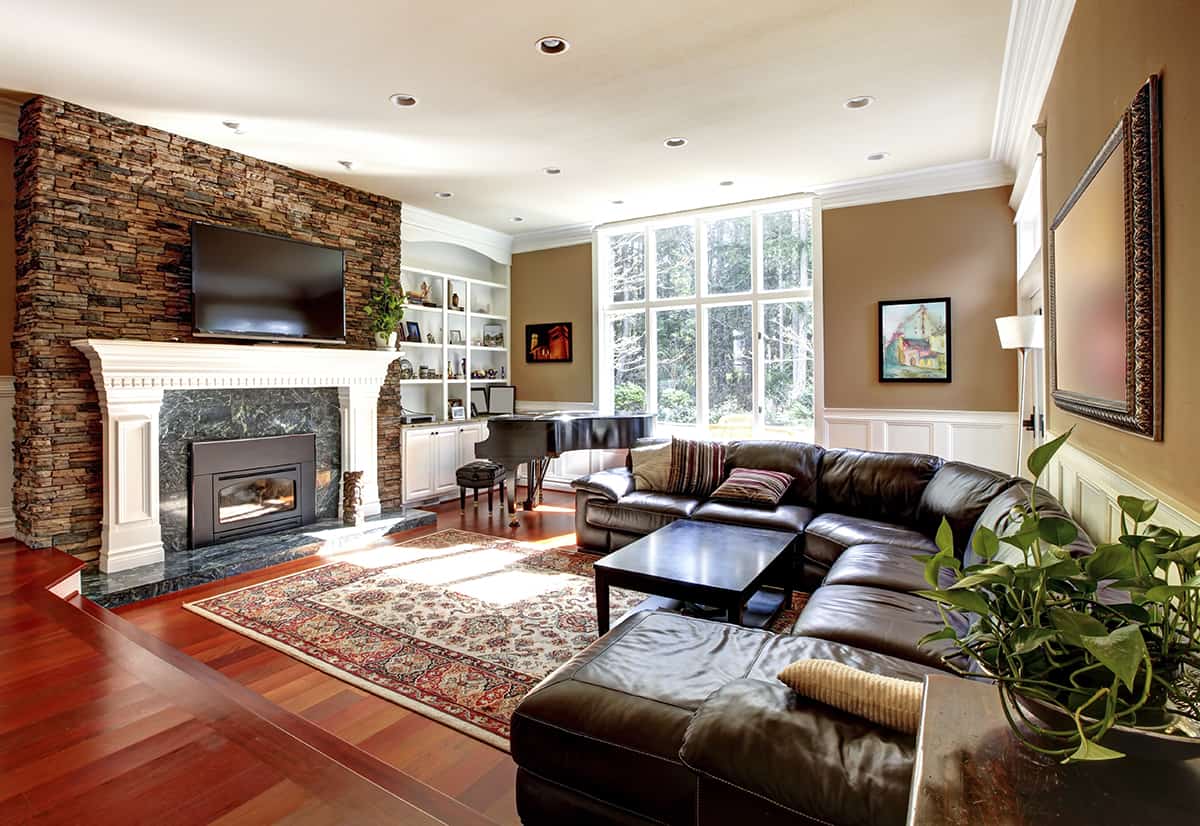 A monochrome color scheme is one of the best ways to decorate your brown leather furniture. Different shades of brown can be incorporated into the walls, curtains, flooring, and even the throw pillows in order to complement your brown leather furniture.
See the layered design of this luxury living room, consisting of brown walls, cherry wood floors, and dark brown leather furniture. The Persian rug and feature stone wall complete the look in this inviting living room.
Make the Brown Leather Pop with Neutrals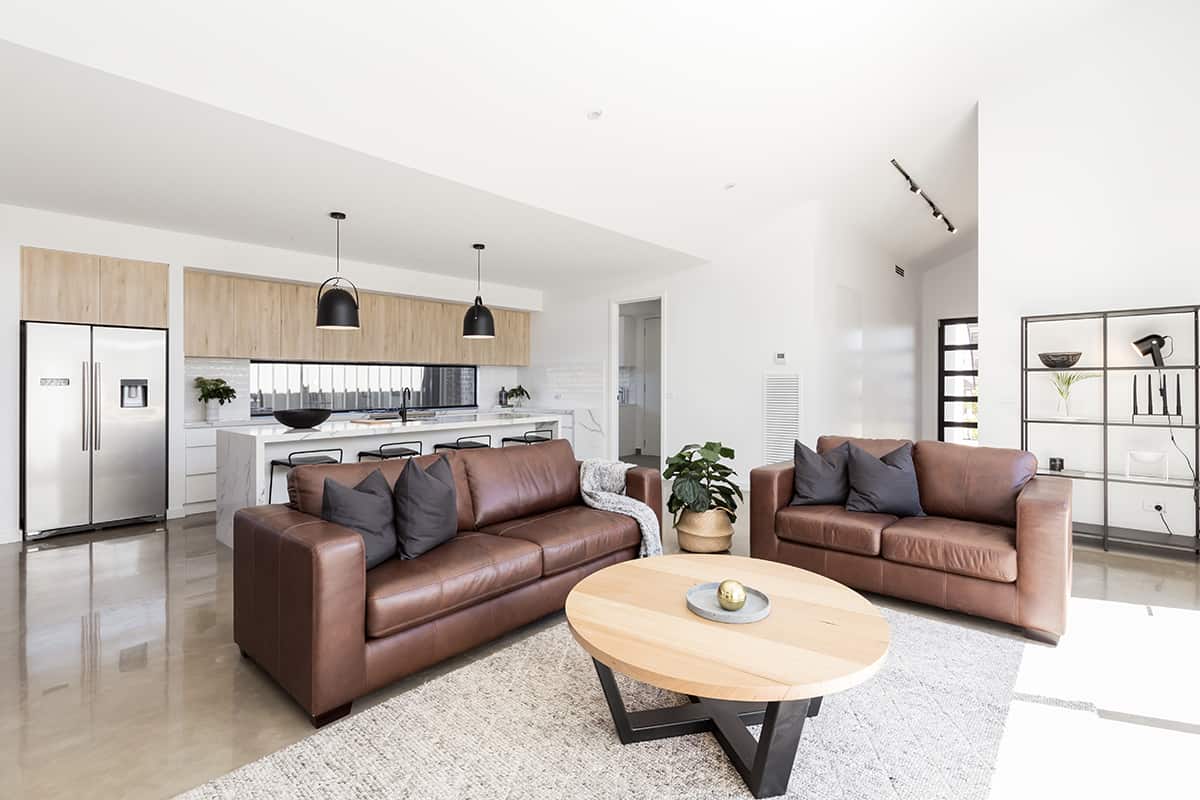 To make your brown leather furniture pop and take center stage, play around with neutral tones. This can be done by adding throw pillows in beige, black, gray, or white, and painting the walls off-white or cream. And as for the flooring color, a light tone will keep the space bright and airy.
This Scandinavian-style living room plays with contrast nicely by featuring natural wood, white and gray color schemes in a minimalist decor.
Play with Red Tones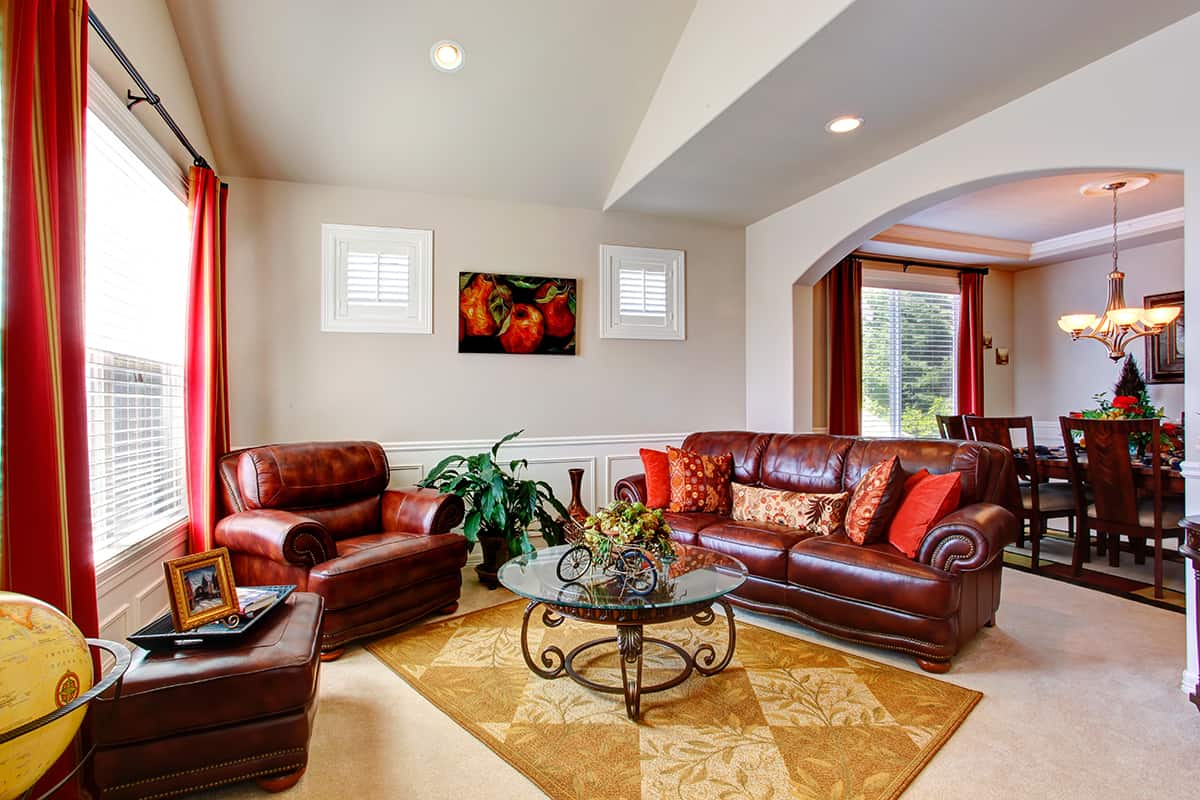 Some brown leather furniture pieces often have a red undertone, so it makes sense to include some rich red accents in your living room. When you pick a bold red like ruby or wine, it will shine through the dark brown leather.
This living room has reddish-brown leather seating with red curtains, a matching painting on the wall, and throw pillows. The rest of the room is decorated in neutral tones in order to keep the focus on the furniture and red accents.
Add Charcoal Gray Accents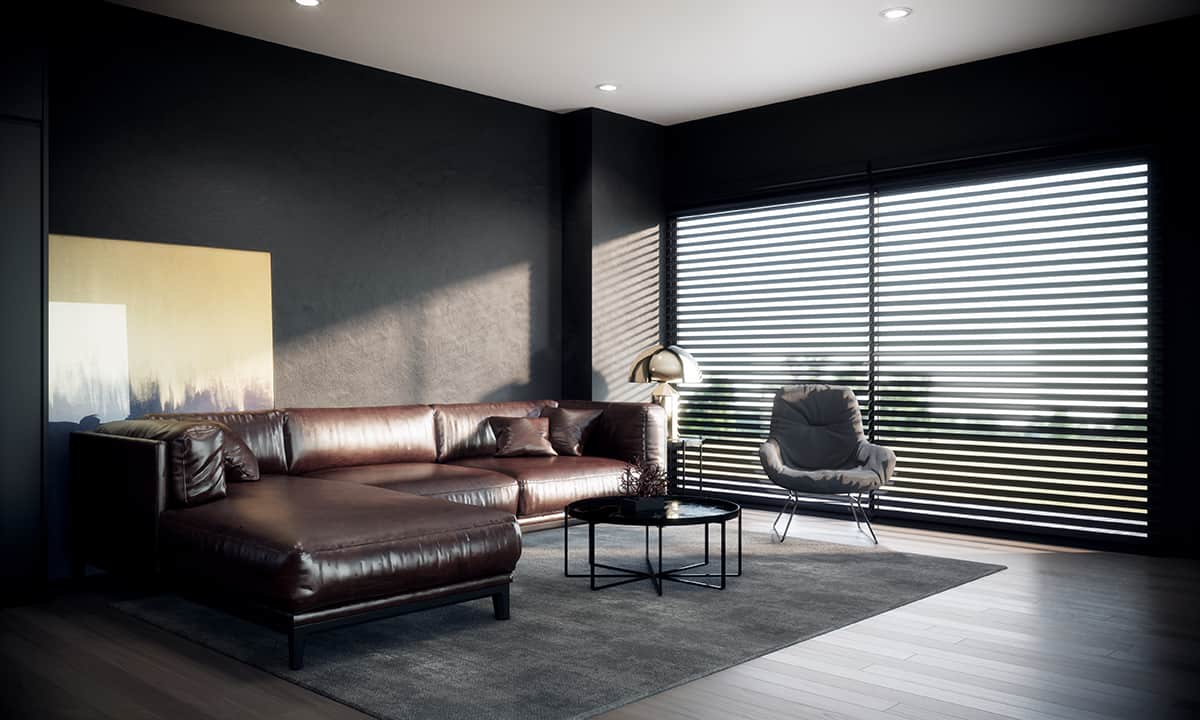 Another prominent color you shouldn't miss combining with your brown leather furniture is charcoal gray. This trendy yet classic shade of gray can be matched with either the flooring, the throw pillow, or the wall color.
Charcoal gray is the perfect accent color to pair with brown leather as you can see in this example. The all-gray living room in this modern space has an air of mystery to it. In fact, we think the dark gray would have made the room look cold if it weren't for the warm-toned brown leather seating.
Color Palettes for a Dark Brown Leather Sofa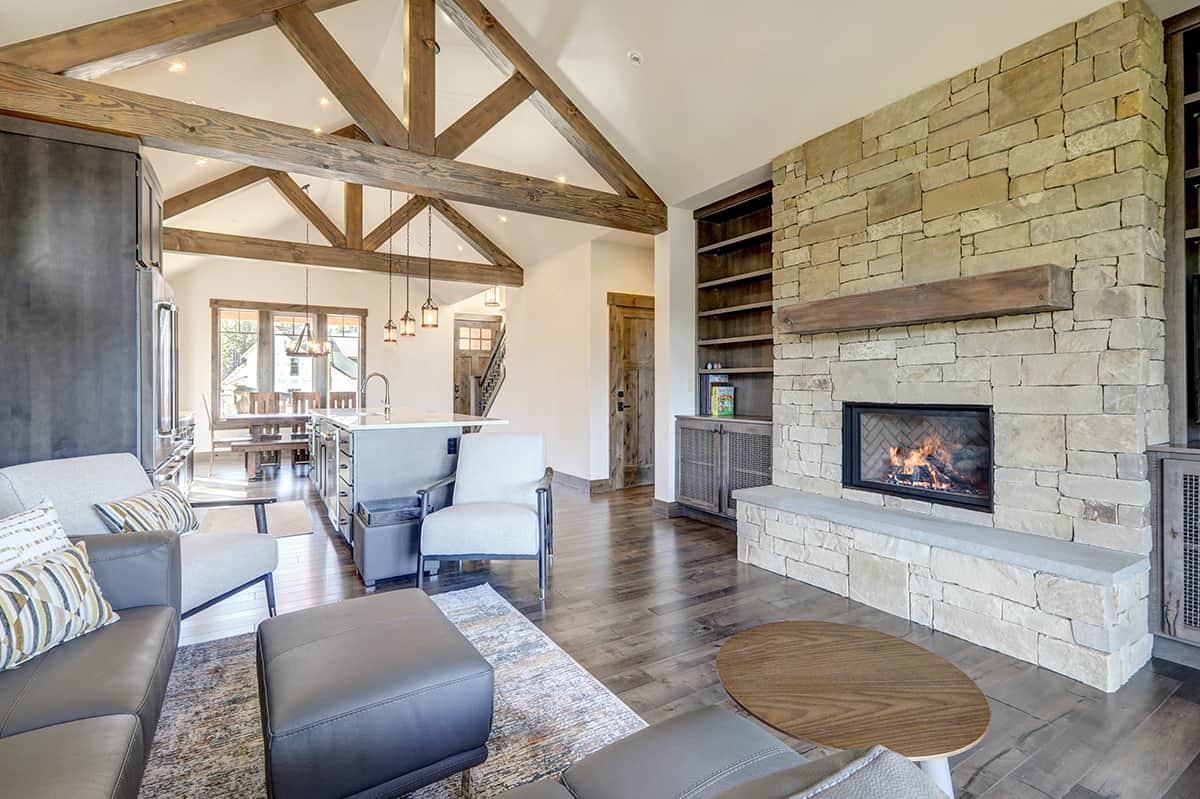 When you have dark brown leather furniture in your living room, the best bet is to add brighter color schemes. This ensures your space won't feel heavy or dark. The idea is to keep the focus purely on the dark brown leather furniture by letting it shine in a neutral setting.
White or gray are the best color palettes as they lighten up the room without taking the attention away from your beautiful furniture.
Add natural elements like a stone feature wall for a character as shown in this example. Remember the idea is to keep the surroundings of your dark brown leather furniture neutral as you want your furnishings to be the focal point of the room.
Color Palettes for a Light Brown Leather Sofa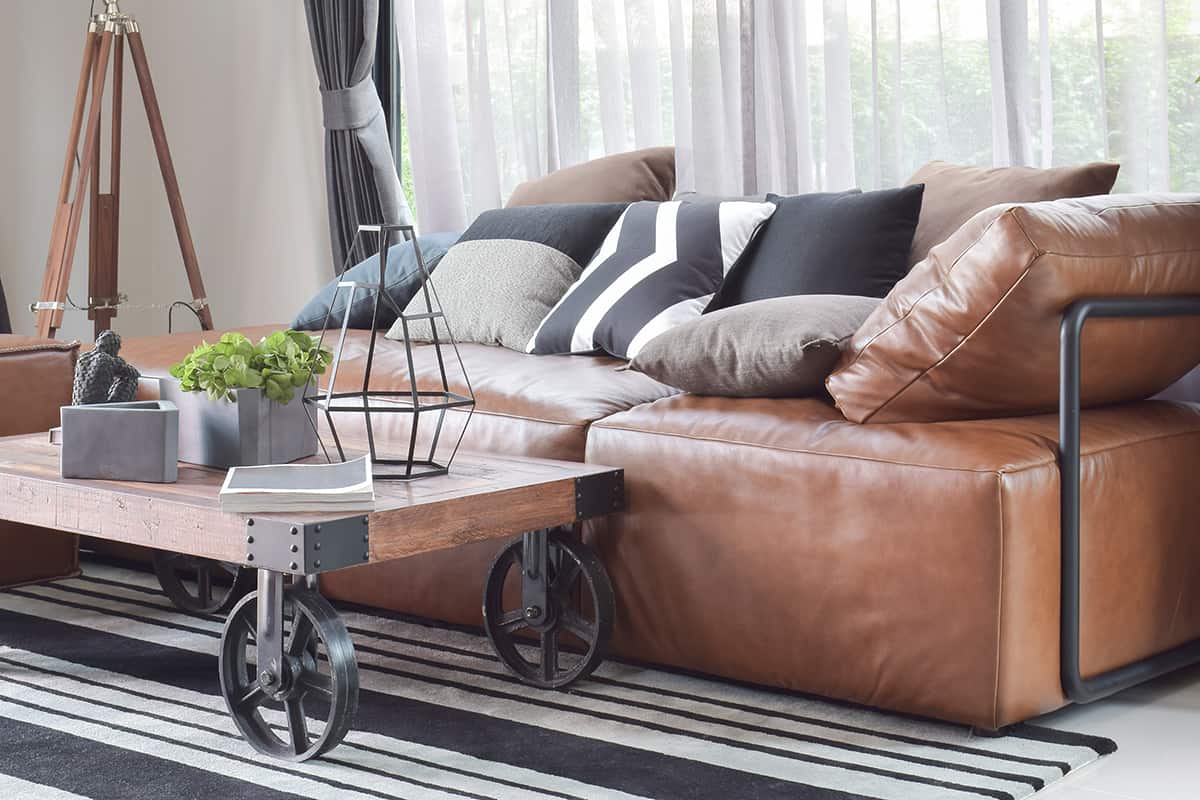 If, on the other hand, your leather furniture is light brown, you have more options in terms of the color schemes available to you. Some examples of color palettes to use with light brown furniture include deep blues, bright yellows, and pastel greens.
You could also experiment with bluish-gray tones or purple shades, especially if your light brown leather couch has a caramel, espresso, or honey undertone to it.
All these color palettes are sure to complement the warm, earthy tones of the light brown couch and bring flair to the living space. That said, you don't have to go as far as painting the walls or changing the curtains to achieve this look. Simply add some throw pillows in any of the mentioned colors as shown in the picture.
What's the Perfect Color Match with Brown Leather Furniture?
Blue and White
For a beachy feel, combining blue and white with your brown leather furniture adds a casual look to the living room. This can be done by painting the walls white and adding lots of natural elements like wicker baskets and indoor plants.
For a hint of brightness, that's where the blue color comes in. Turquoise or navy will prevent your living room from looking too flat. This relaxing color can be used for the throw pillows of your brown leather sofa and accent chairs.
Black, Light Brown, and Cream
The classic combination of black and cream with light brown will never go out of fashion. This elegant color scheme works particularly well in bright and airy living rooms. But even if your room has a lack of windows or natural lighting, you can always add additional lighting or a large mirror to brighten up the space.
For this color combination, focus on including patterns or textures, such as black and white throw pillows or light brown and cream textured wallpaper. But don't forget to incorporate plenty of blacks as this striking color goes very well with brown leather.
Gray and Teal
Gray and teal are a smart color scheme for pairing with brown leather furniture. The warm undertone of teal will keep the room balanced, while a warm gray tone brightens up the space.
Incorporate gray into rich, soft fabrics like velvet, and for a contemporary touch, use teal as an accent color. In brightly lit living rooms, a combination of warm gray and teal works beautifully with both light and dark brown leather furniture.
Orange, Light Brown, and White
This color scheme goes well with brown leather furniture. But it is important to use muted shades of orange to balance out the white and light brown color combination.
This ensures your living room won't look overwhelmed with too many brown tones. For example, you can incorporate orange tones into velvet curtains and throw pillows, with light brown textures for the floor covering and white for the walls. This color scheme provides a harmonious and balanced feel without making your living room appear too heavy or dark.
Conclusion
Brown leather furnishings are without a doubt timeless and comfortable in any living room style. Whether your interior taste is eclectic, contemporary, or rustic, adding brown leather seating furniture can bring a sophisticated touch to the room.
But when it comes to deciding what color schemes work with leather brown undertones, you can't go wrong with light shades of blues, greens, and warm shades of orange and yellow.
These color schemes create a relaxing vibe when paired with brown leather. With a little planning, and with the help of our color scheme examples, you'll be able to come up with a great interior design for your living room!