Red is a dominating paint color that most often requires toning down or pairing with less vibrant colors. But despite red being a bold color for a wall, it can actually make quite an elegant statement. When paired with a suitable curtain color, it will definitely set the mood.
Neutral curtain colors are the most preferred choice that brings out the vibrance of red walls. But bold curtain colors can work just as well for a red-walled room.
If you want to know what curtain colors go with red walls, we will gladly take you through some great color examples that make a bright and bold statement. So let's get started!
Best Curtain Colors that Work with Red Walls
Grey
Grey curtains in a red-walled room create a calming and balanced look. Since red is a bold color, the grey color helps tone down the intensity of the hue, so pairing your red walls with a soothing curtain color like grey is a sure way to bring harmony to the room.
Just make sure you choose a warm grey tone as red is also a warm hue. For example, charcoal grey is the perfect shade to create elegance in a red-walled room.
Beige
Red and beige perfectly complement each other without competing for attention. In a red-walled room, a neutral curtain color like sandy beige adds a warm feel to the room and makes it more inviting.
To add more privacy, go for blackout curtains in beige color to add to the sophisticated effect. This can be done by adding a sheer white layer to the beige drapes to enable privacy.
White
To maintain a trendy yet colorful look in your living room, add crips white curtains to soften the brightness of your bold red walls. White is such a versatile color that can be paired with any color.
It will always maintain its classy look, so why not pair it with your red walls? This way, the focus will remain on the red walls and increase excitement. To enhance the look, go for a detailed patterned curtain in white made from microfiber.
Green
An earthy curtain color that is sure to draw attention away from your bold red walls is green. An attractive, warm shade of green like sage or mint will help accomplish this.
Green is a color that never goes unnoticed, so when paired with red walls, it can work wonders. Pick a lightweight fabric to complement your light red walls in the living room or dining room.
Purple
If you have painted your walls red, then you are probably a big fan of bold, intense colors. Why not combine your red walls with a beautiful shade of purple curtains like lavender or mauve to tie the whole look together? The combination of red and purple make a big statement in any room, especially in formal living rooms
. Purple is such an intense hue that it doesn't easily go with other contrasting colors. But that's not the case with red. This color pairing brings out the well-defined look of your walls without making the room appear darker. Although red and purple are both strong colors, they are best used in large, airy rooms since both colors are dark and intense. This will help avoid making your room look and feel darker or closed in.
In Which Rooms Should I Paint My Walls Red?
While red is a stylish color that can be used in most rooms, you must be careful not to overdo it. Wall paint colors play a big role in affecting the emotions of a person.
Although a bold color like red won't help you feel calm or relaxed, this warm and intense color can make you feel energized, thus being the best option for the following rooms:
Living Room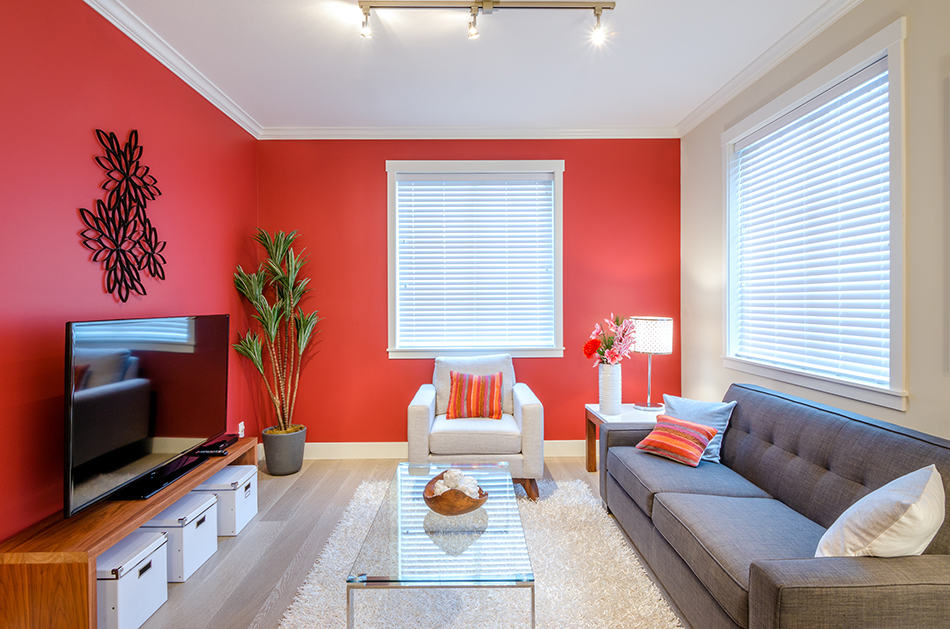 In a formal living room or dining room, red walls feel warm and inviting. In these rooms, you can use contrasting colors like white or pink to brighten up the room further. Pairing your living room walls with golden colors can also work to enhance the exciting feel of this social space.
Small Apartment Rooms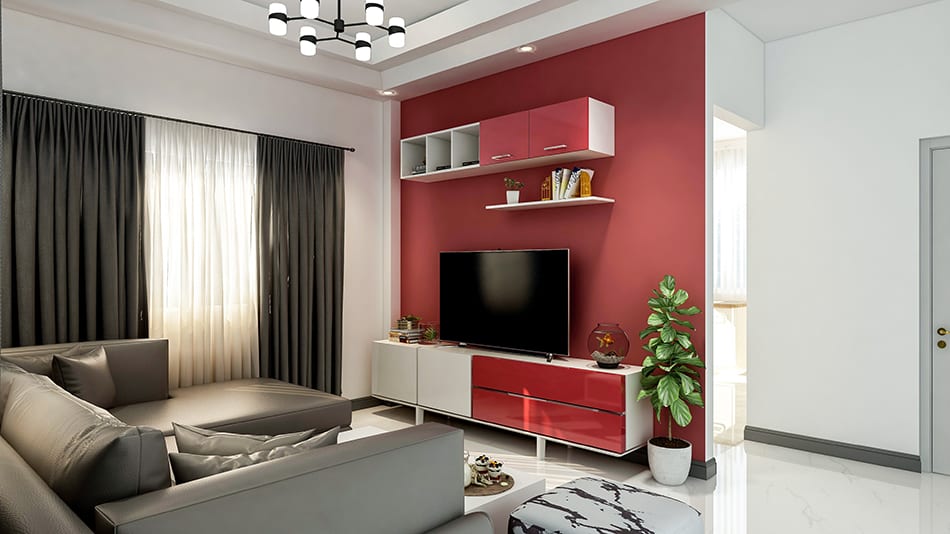 Rather than making a small room feel closed in, red walls in small apartments can act as a beautiful backdrop to wall art. In such rooms, your red walls will draw the eye to the gallery wall feature. But instead of painting all your walls red, you can just make one wall a stand-out focal point.
Study Area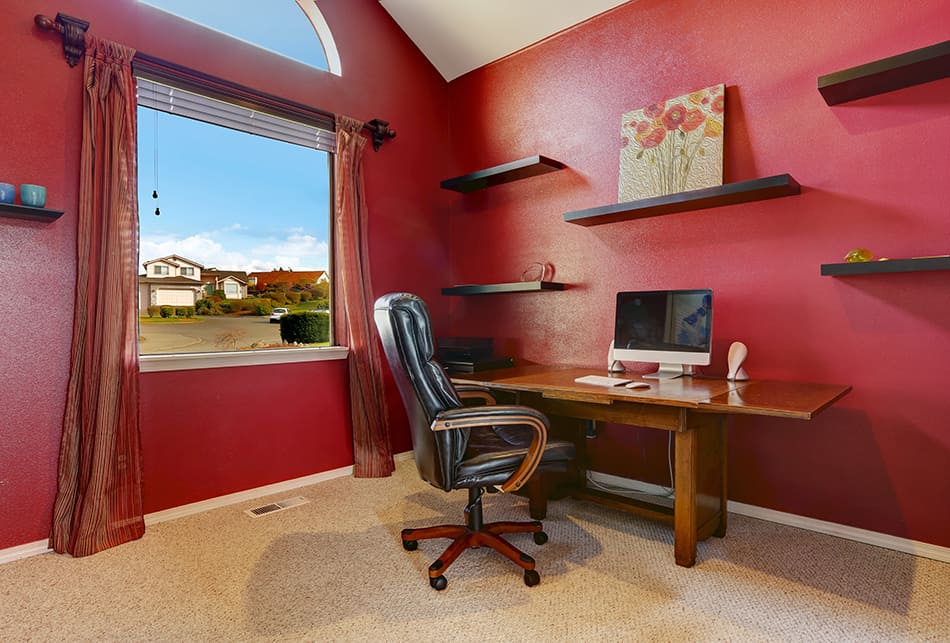 The study area is another room that should give the individual motivation and energy. Red is the perfect color for this room. When accentuated with other bright and bold colors, it can prevent monotony.
The vibrant nature of red wards off boredom and actually encourages productivity. This exciting color is, therefore, ideal for home offices and study rooms.
Which Rooms Should Not Be Painted in Red?
Master Bedroom
Most people may not think of red as a color for their bedroom walls, and quite rightly so! A bedroom is a place for peace and relaxation, so you wouldn't want to paint your walls in a loud, vibrant color like red. After all, this color is an extra energy source rather than a silent hue, thus not suitable for a bedroom.
Children's Bedroom
If possible, avoid red walls in children's bedrooms as it may lead to an extremely hyper child. The last thing any parent wants is an uncontrollable kid jumping up and down on their bed. Red is associated with aggression so it's best avoided in kids' rooms. This color is known to disrupt a child's sleep patterns or even cause anxiety.
Bathroom
Just like the bedroom, a bathroom is also associated with a relaxation where you forget all your troubles for a day. This is the reason why red isn't a suitable color for the bathroom due to its vibrance.
Instead, choose neutral or relaxing colors like blue or green. Red will make the room appear smaller and is the direct opposite of a relaxing feel in the bathroom. However, there are some ways to counter this. Use red as the secondary or accent colors; or you can pair red with other colors like neutral tones. See some inspirations from our page on grey and red bathroom ideas.
Light Curtains Vs. Dark Curtains for A Red-Walled Room
Deciding between light and dark curtain colors can be a challenge for red-walled rooms. And curtain colors can be lighter or darker than the walls – both are still fine.
– Light curtain colors are elegant, especially if they are heavy fabrics. These window treatments make small rooms appear larger. However, the only downside to light curtain colors is that they easily attract dust and dirt. This is why it's best not to go for light-colored curtains in busy rooms like kids' bedrooms.
If your living or dining room benefits from ample natural lighting, your red walls should be paired with light curtain colors like beige or white. These colors are ideal for small, less busy rooms.
– Dark color curtains create a sense of luxury and sophistication in red-walled rooms. These luxurious curtain colors are ideal for larger rooms and are mostly used with bright furniture and light red walls to create a visual balance.
Since dark color curtains don't show dirt or stain as easily as light curtains, they are the preferred option for coordinating with red walls. However, they can lose their color when exposed to sunlight.
– When red walls are combined with textured curtains, they can provide a dramatic look to any room. For example, long, floral curtains next to red walls can make your space look theatrical. Just make sure you use plenty of light color furniture to balance the textures.
What to Consider When Selecting Curtain Colors for A Red-Walled Room
To achieve the elegance that your room deserves, take note of the following factors, which are worth considering when picking curtain colors for your red-walled room:
The Size Of The Room
With dark color curtains next to red walls, large rooms can appear smaller, while in small rooms, light color curtains can make the space feel larger. So when deciding on a certain curtain color, take into account the size of your room.
The Desired Look
When you want to paint your walls red, you obviously have the desired look in mind. With the addition of curtains, you can maintain the desired look by matching the dark color of your curtain with the sophisticated red walls. For example, purple curtains can make the red-walled living room look classy and luxurious.
Conclusion
There is no denying the elegance of red walls in formal living rooms and dining rooms. Depending on your desired look and the size of your room, you can easily coordinate your red walls with dark or light curtain colors, as shown in our examples.
To create a classy look, go for velvety purple or grey curtains in full length. To tone down the boldness of red, choose green or beige curtains as contrasting colors. Hopefully, our above tips and ideas will have inspired you to choose the best curtain colors for your red walls.