As a bright, vibrant, and energetic color, red will give even the dullest spaces a beautiful and bold makeover. When combined with a neutral tone like grey, this color combo for the bathroom has once again gained momentum.
To transform your bathroom into a modern and stylish space, consider combining grey and red as a stunning pairing. Want to know how?
Here we have compiled 12 beautiful examples of grey and red bathroom ideas to convince you about this color combination, including different shades of reds and greys that go perfectly together.
Grey and Red Bathroom Examples
Red and Grey for Sophistication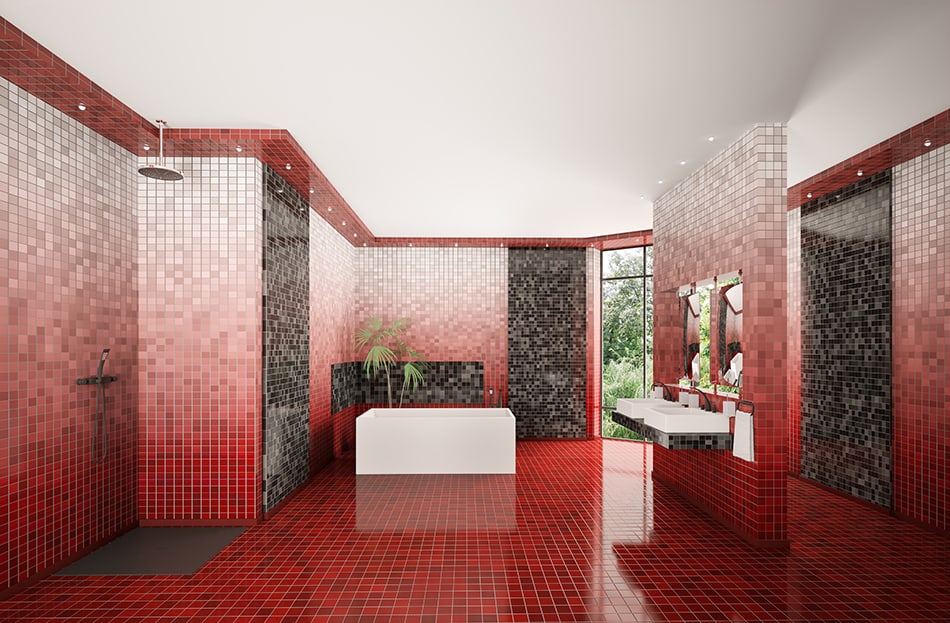 While red isn't the most commonly used color for the bathroom, when it's combined with gray, it can look very elegant. Red is an ideal color for modern and luxurious bathrooms where you want to add an exotic touch.
Here, the majority of the bathroom is red with some gray to soften the look. This glamorous bathroom design has a sophisticated appeal with an elegant contrast of white and gray. The white accessories have enhanced the red mosaics.
Cherry Red and Dark Grey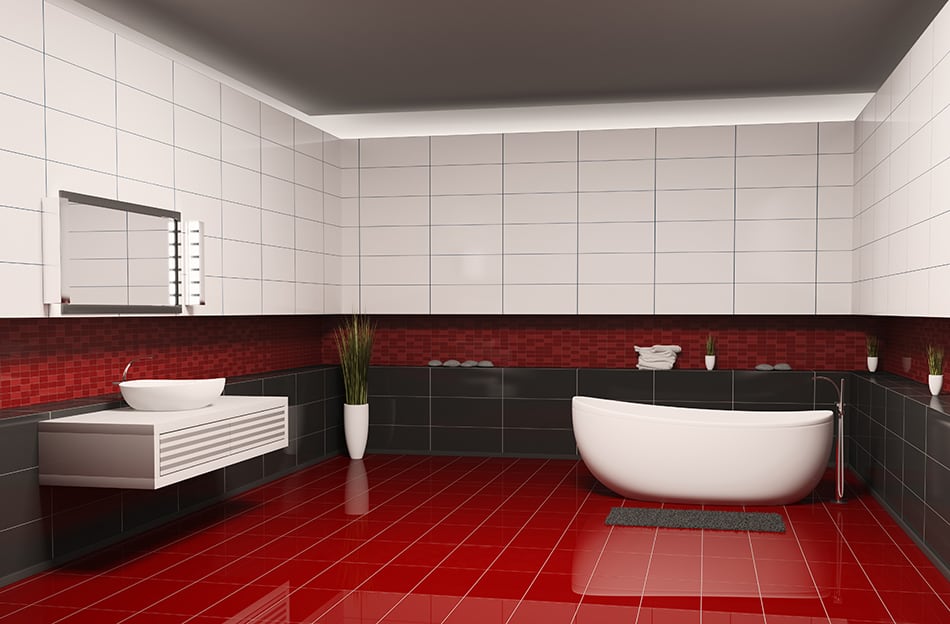 Now for an even smarter bathroom design, consider dark gray with cherry red as the perfect way to add boldness to your modern bathroom. The cherry red tiles here are appealing next to the white and gray walls.
This color scheme emits a sparkling feel to anyone entering this bathroom. We love how cleverly this bathroom has used such color combos to bring a stylish look to the space.
Glossy Red Tiles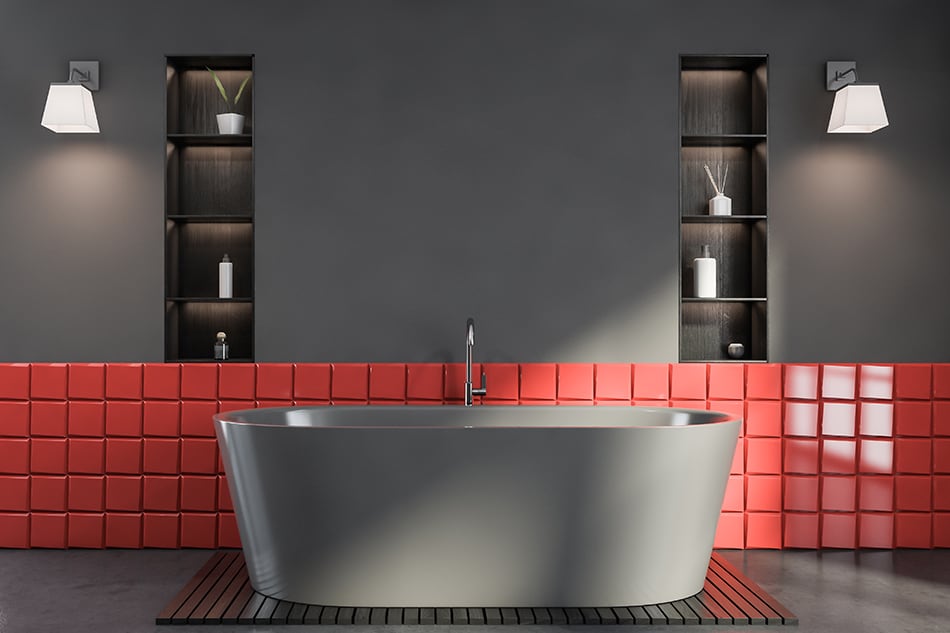 If you already have a glamorous red bathroom, adding gray to this space makes plenty of sense. Since red is a dominant color, it is not difficult to pull off when paired with gray. For red tiles, a few shades of grays will work beautifully and complete your exquisite red bathroom.
As shown here, the vibrant red tiles, gray walls, and floor eliminate any dull corners. This color combo works especially well in large bathrooms with glittery red tiles. We love the chic blend of ambient lighting and dark wooden shelves that make this space even more glamorous.
Red and Grey Walls for Styles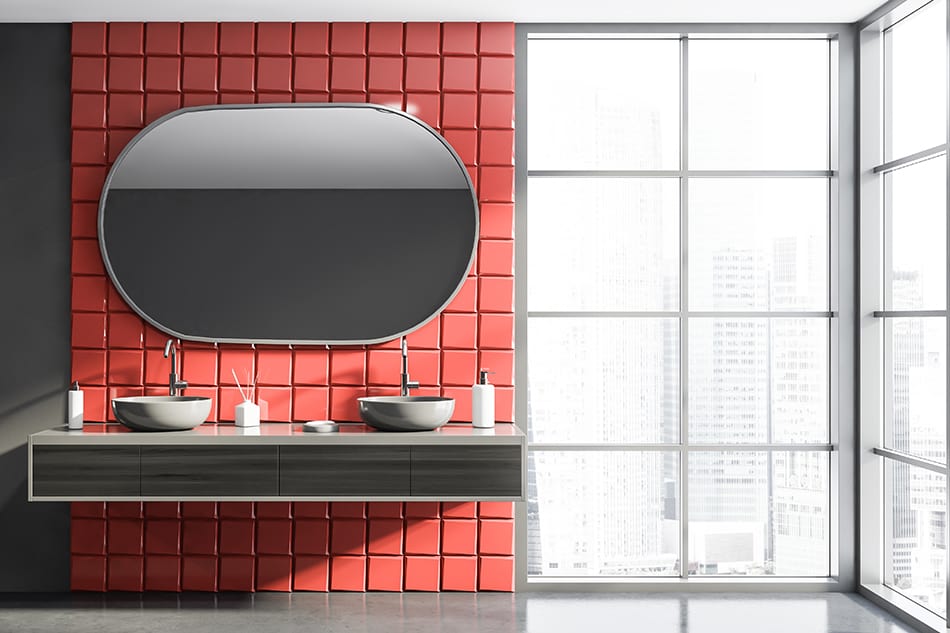 Whether it's a retro or contemporary bathroom design you're after, red and grey bathrooms are versatile enough to fit almost any style of your choice. The biggest player is the red finish as glossy tiles often lend themselves to minimal and contemporary bathroom styles, while matte red finishes are best suited for traditional or rustic settings.
For those looking to go beyond the walls and tiles, it may be worth painting the ceiling in either grey or red to give your bathroom a daring makeover.
In this stylish interior bathroom, the combination of grey and red tile walls provides a comfortable setting in the bright and airy bathroom. The oval mirror makes the space feel even bigger as it stands out against the red wall.
Add Red Accents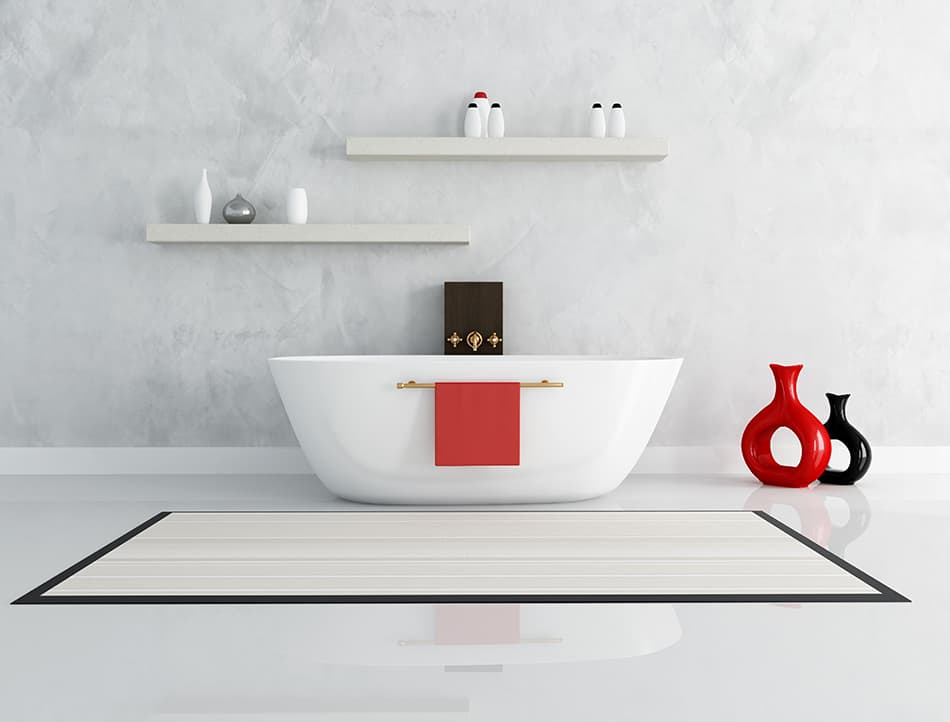 Introducing red accents to a grey bathroom is an easy and inexpensive way of bringing this bold color to your space. Some red towels, a red floor covering, or decorative red accents will give the perfect opportunity to add some color to your gray bathroom.
Red accents as a permanent feature are ideal for small tinges of this bright color. Perhaps all you need is a red bathroom countertop to complete your dream grey and red bathroom design. Or in this case, the red towel and vase are enough to create impact in the light gray bathroom.
Go for Soft Grey and Bright Red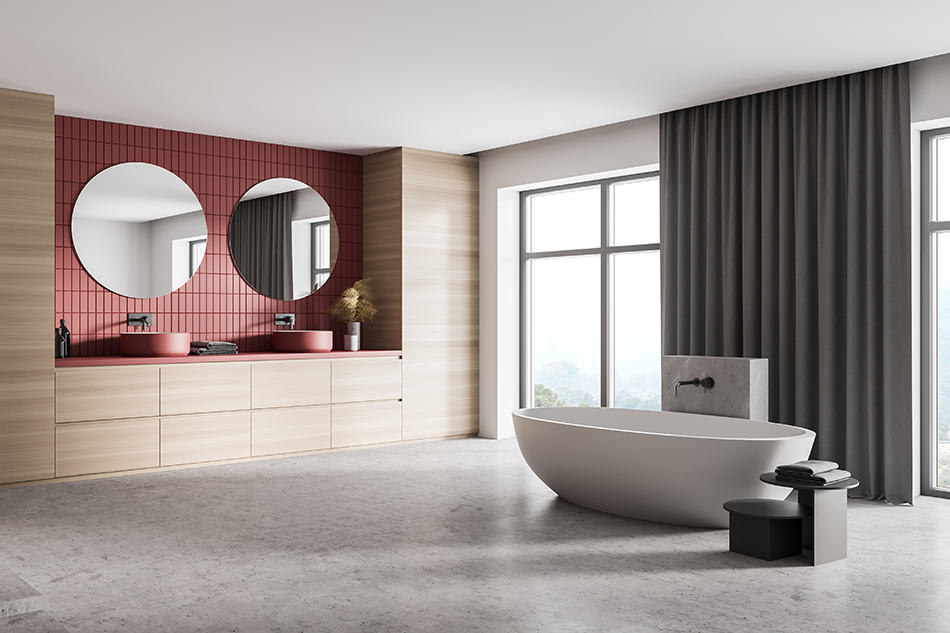 Grey doesn't have to appear on your bathroom walls or floors. Grey curtains are sometimes all that's needed to keep things neutral and add some edge to your red bathroom. Grey is after all, a soothing color that balances out the brighter tones.
Try mixing in some wooden elements as shown here to warm the space. This minimalist design bathroom looks classic thanks to its neutral accents and the red wall as its main feature.
To brighten up the bathroom even more, you can bring other pops of color in the form of patterned shower curtains, towels, and wall decor. Since soft grey goes with pretty much any other color, feel free to introduce some orange or pink to your red and grey bathroom.
Charcoal Grey with Rose Red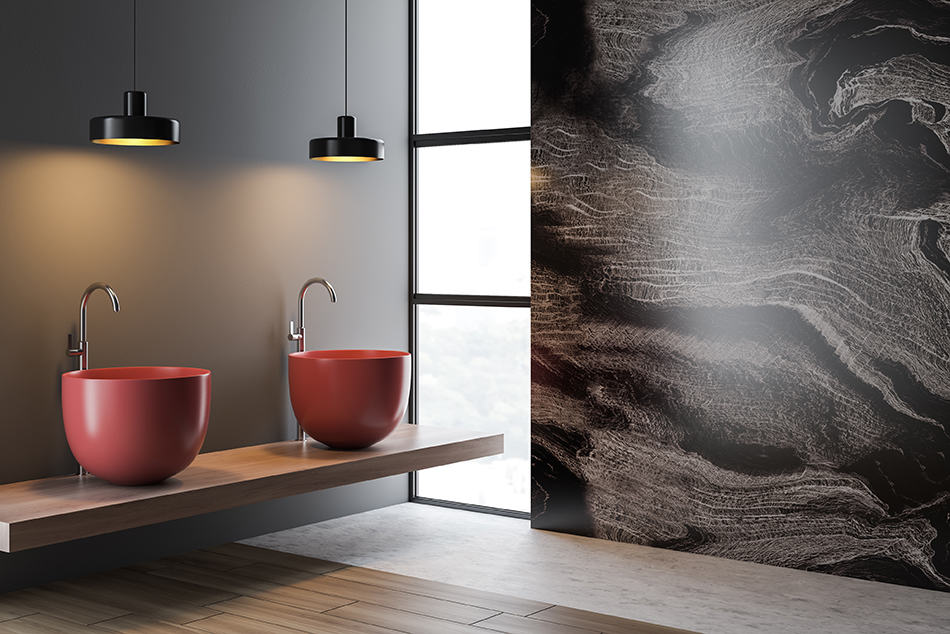 For a more dramatic bathroom design, opt for charcoal grey paired with rose red. This color combo is ideal for romantic schemes for couples. The dark tone of grey is stunning next to matte red as shown here.
This sophisticated master bathroom for couples is a little on the dark side, with warm elements (brown flooring) that make it versatile. This bathroom feels cozy with a contemporary edge that oozes from its walls and floor. The charcoal grey pairs well with wood tones to create a chic yet relaxing feel.
Combine Red, Grey, and Black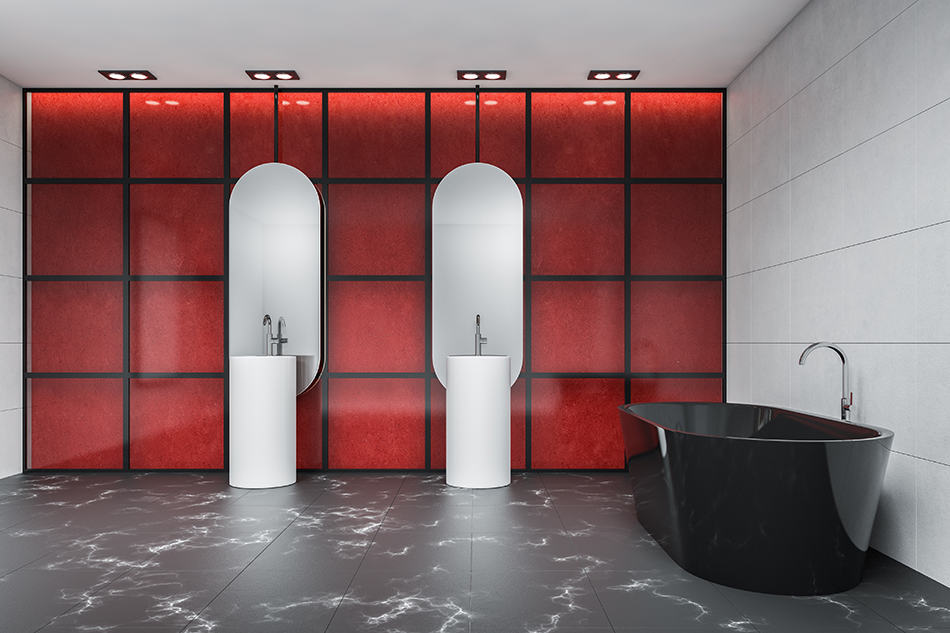 Those who love to add statements in their bathroom design should go with darker and bolder colors. A combination of black, red, and gray are recommended for modern bathrooms.
In this luxury bathroom example, black is used for the tub and the floor, while red and gray are seen on the walls. These striking fittings go hand in hand as the preferred color combos. The overall design of this bathroom is chic and luxurious thanks to the pairings of red, black and gray.
Ash Grey and Scarlet Red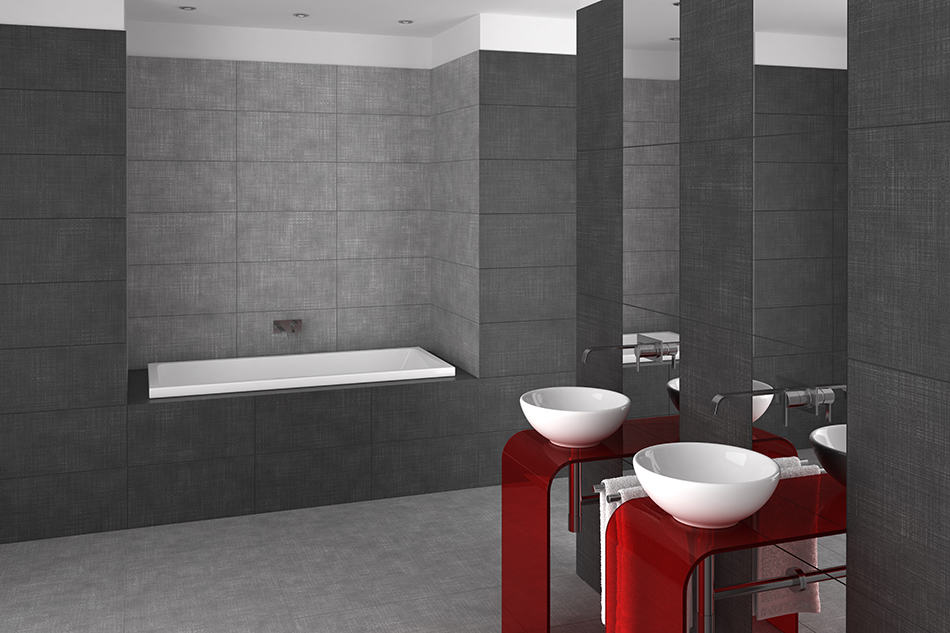 Ash grey is a neutral shade that gives any bathroom a soothing sentiment. By pairing your all-gray walls and floor with red and white basins, it will offer a welcoming contrast. To bring a luxurious touch to your grey and red bathroom, consider installing a bathtub with a separate shower to complete the stylish look.
In this master bathroom, the two scarlet red and white basins offer a welcomed contrast to the all-grey bathroom.
Candy Red, Grey and Purple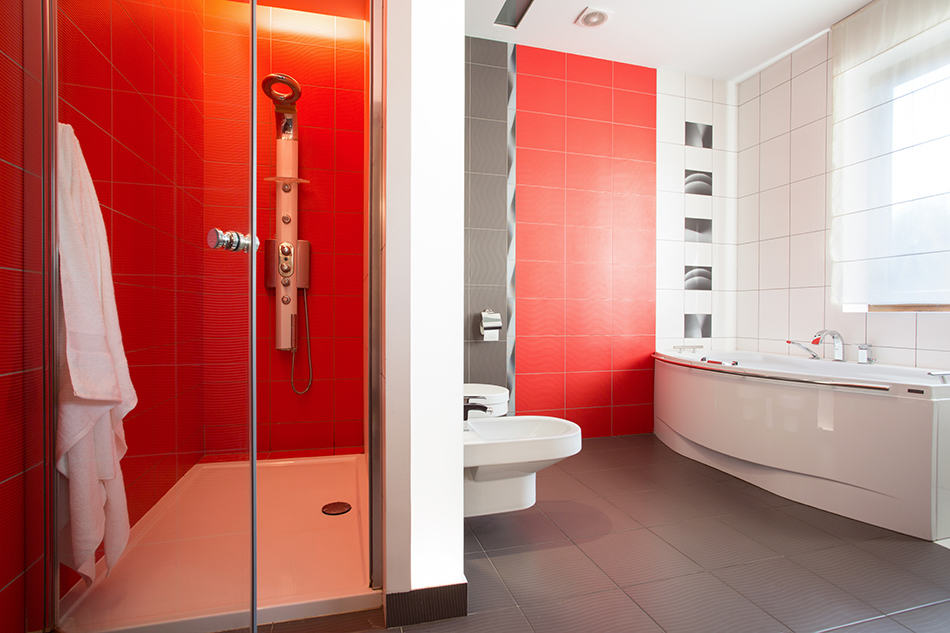 With a cheery color palette like candy red, your days can start with a little oomph in the shower. Use white tones for the tub and sink with bright red walls to add depth to the bathroom.
Mix in some grey to create extra personality as shown here. The hints of grey are seen on the floor and the wall, while the rest of the walls are in candy red.
Only the fixtures and fittings are in white here. This example lacks some accent colors, creating something missing here. You can add some accessories and items like a purple bathroom stool or a purple sponge to add some balance to the atmosphere.
See some purple bedroom inspirations in our post on purple bedroom ideas.
Gray and Red Tile Combo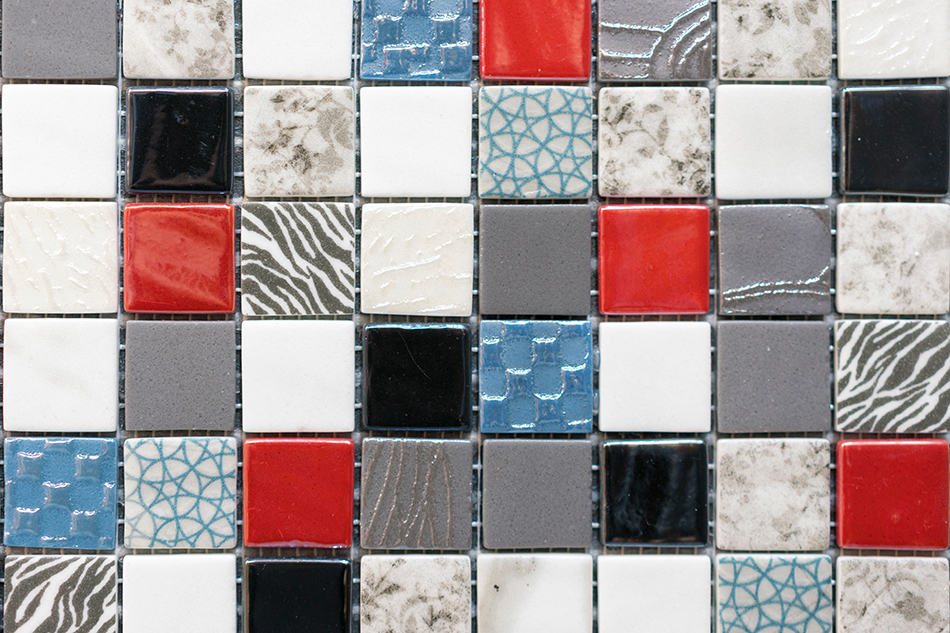 If you want the same tiles throughout your bathroom, mix in grey and red with other bright colors. There are many different ways you can experiment with tile colors. Bright reds with grey, black, blue and white work perfectly well as a beautiful tile color combination.
Whether you choose glossy mosaic tiles in those mentioned colors or matte ones, they will work well with a grey floor, red countertop, white toilet, and sink. The unique blend of reds, whites and grey tiles provide a stunning backdrop in colorful bathrooms. Feel free to play with different tile colors to match your taste and preferences.
A Hint of Red with Lots of Gray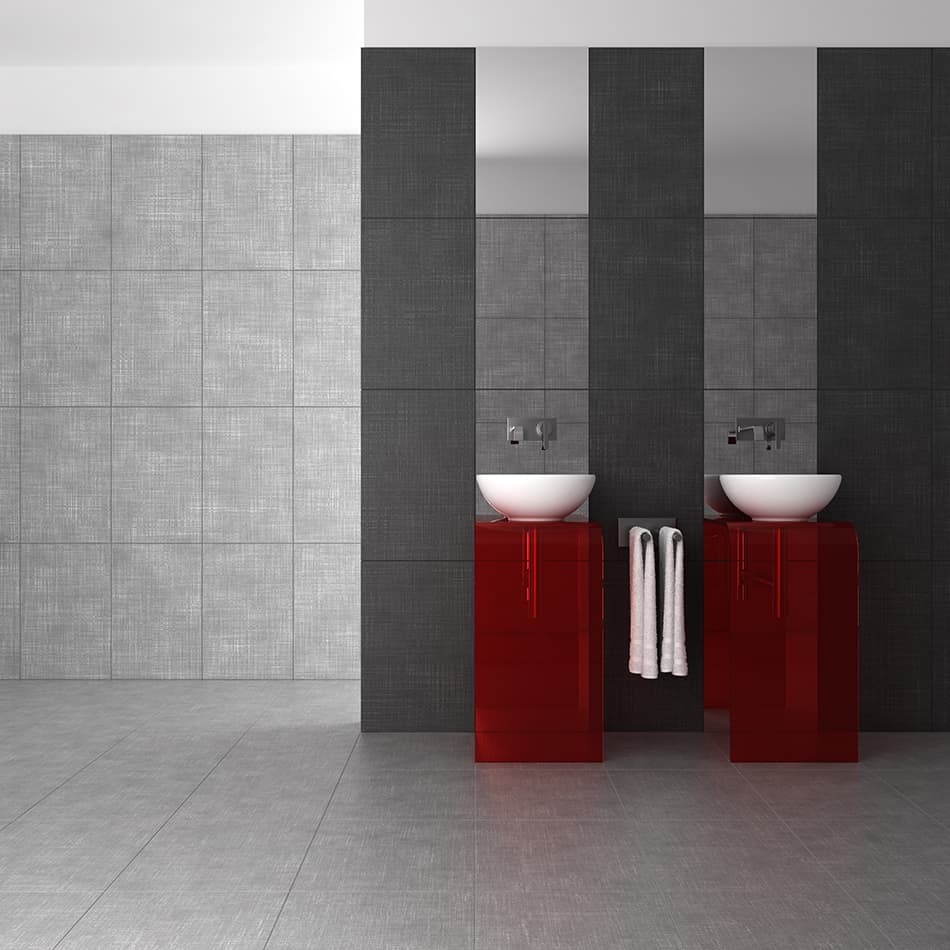 You don't need to go all out on bold colors like red. Just a small touch of this color paired with plenty of greys will work great to soften the look. This eclectic-style bathroom is the perfect example of how small hints of red can bring together an all-grey bathroom.
The whole design element of this minimalist-style bathroom comes together beautifully. Although grey is often associated with dullness, it is far from being bland when it's paired with such a vibrant and bright color like red. Remember, the darker shade of red you choose, the more impact it will make in your grey bathroom.
How Do I Decorate My Grey and Red Bathroom?
When decorating your grey and red bathroom space, make sure you don't go overboard with the decoration as this would make the space look smaller. Bold colors have a tendency to shrink the space, and with red, it's easy to do so.
Introduce cream, white and tan to refresh your bathroom space and to tone down the red. Keep your accessories in neutral shades like grey and white, but no need to go all out on grey for the rest of the bathroom's decor.
Grey and red are the perfect colors for a modern bathroom, even though they are not the most commonly paired colors for this space. By pairing these colors the way we've shown you in this article, you too can create a chic and stylish bathroom.