Ceiling fans are a good addition to a room all year round; they help to circulate warm air in winter to reduce heating costs and also push cool air downwards in high temperatures to help keep the room from feeling too hot and stuffy.
As well as being a functional appliance, they also present an opportunity to add a touch of personality to a space or define an interior style.
Here we look at different ceiling fan colors and styles and how these can be best incorporated into rooms in the home.
Should Your Ceiling Fan Match Your Ceiling?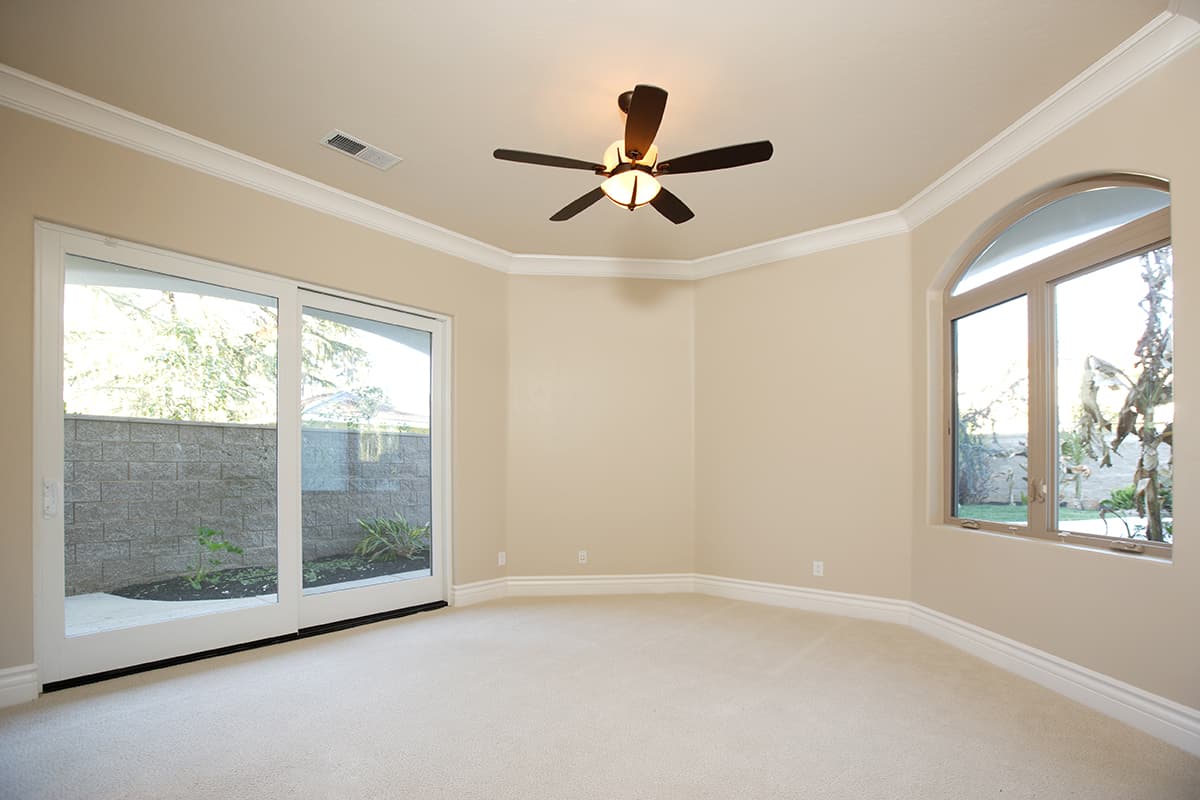 The answer to this question entirely comes down to your own personal style and the look you want to achieve in a room. If you want the room to feel spacious and free from clutter, then you can minimize the visual impact of a ceiling fan by choosing one which is the same color as your ceiling.
This will help the fan to blend more seamlessly into the room and mean that the eye is not drawn to it.
By matching your ceiling color with your ceiling fan color, the fan becomes almost invisible, and you may forget it is even there. However, if you are going for a more industrial vibe or you might want to make a feature out of the fan, or you could use it to accent your color scheme in the room.
To draw attention to the fan, choose a color that contrasts the paint color on the ceiling. For example, if your ceiling is white, you could choose a dark gray or black ceiling fan and then coordinate this with other gray and black accessories in the room.
For a softer contrast, choose a ceiling fan with wooden paddles as this will bring a more natural and neutral vibe to the space, and it can work well with both dark or light ceilings.
Ceiling Fan Styles
To achieve a harmonious atmosphere in your space, choose a style of a ceiling fan that reflects the style of your home.
Modern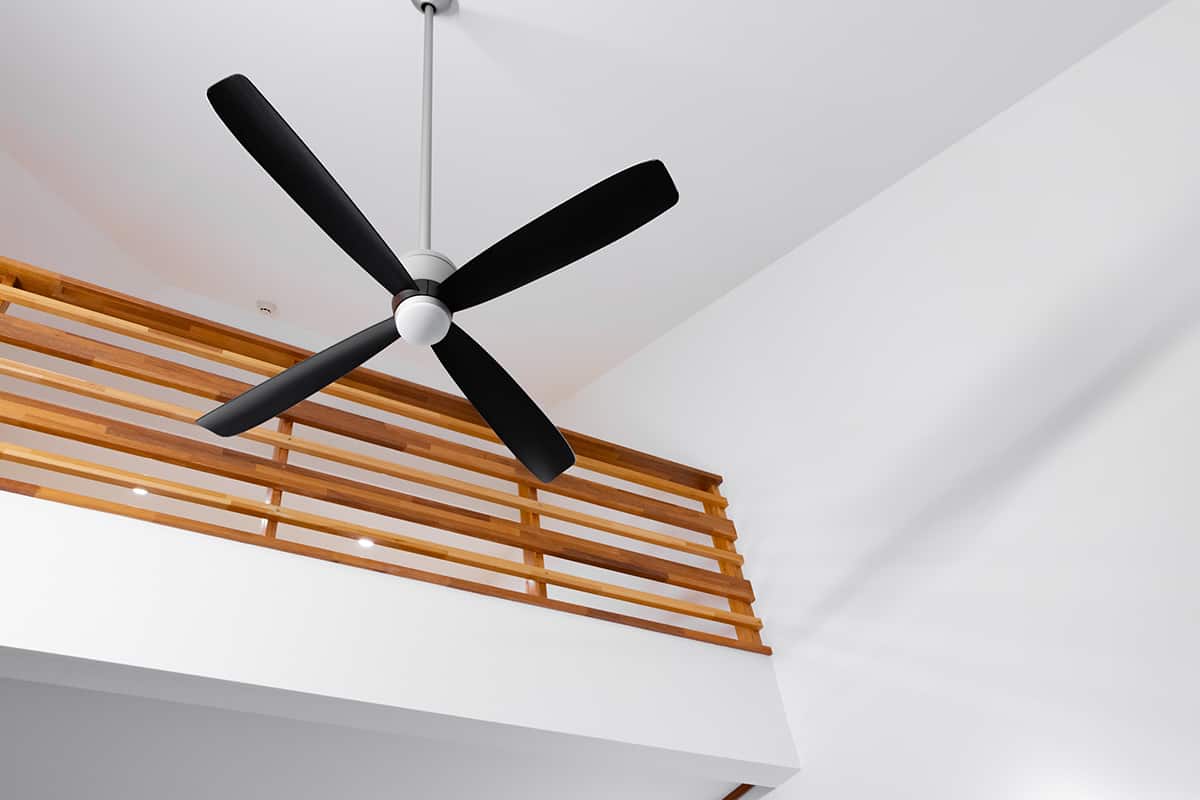 Modern ceiling fans will typically take a more streamlined shape and be free from decorative touches.
This style of fan works well in a minimalist or contemporary space and can come in any color.
Traditional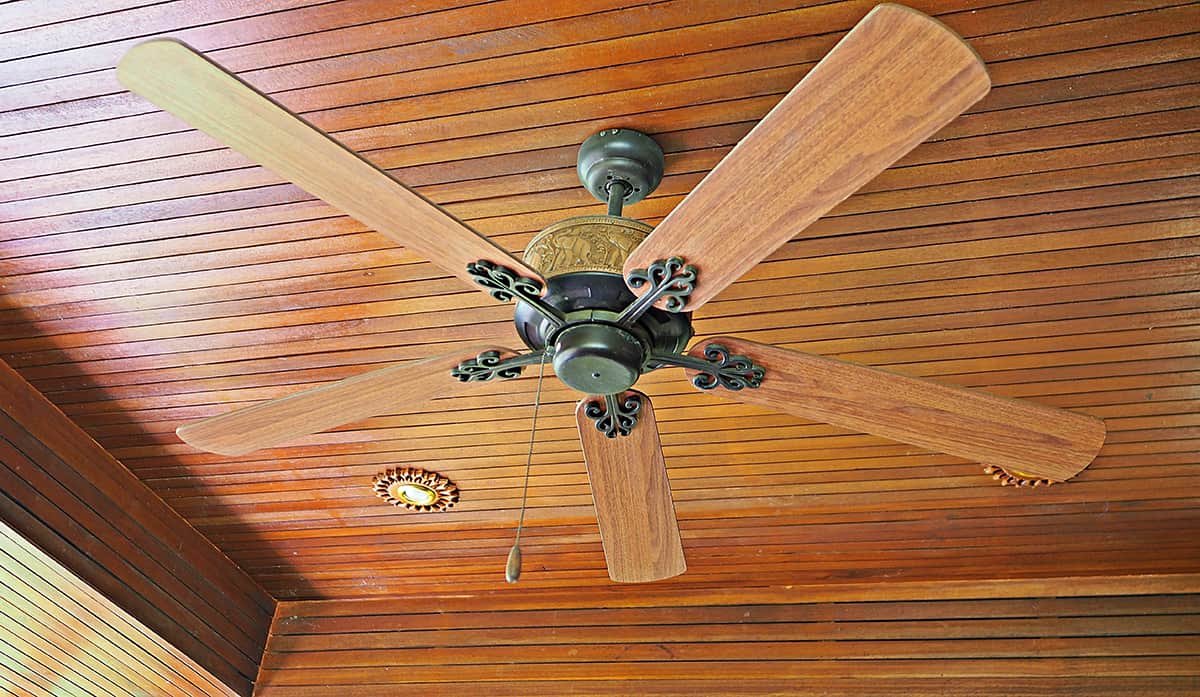 Traditional ceiling fans tend to have decorative details and are available in neutral tones, such as wood or gold finishes.
Industrial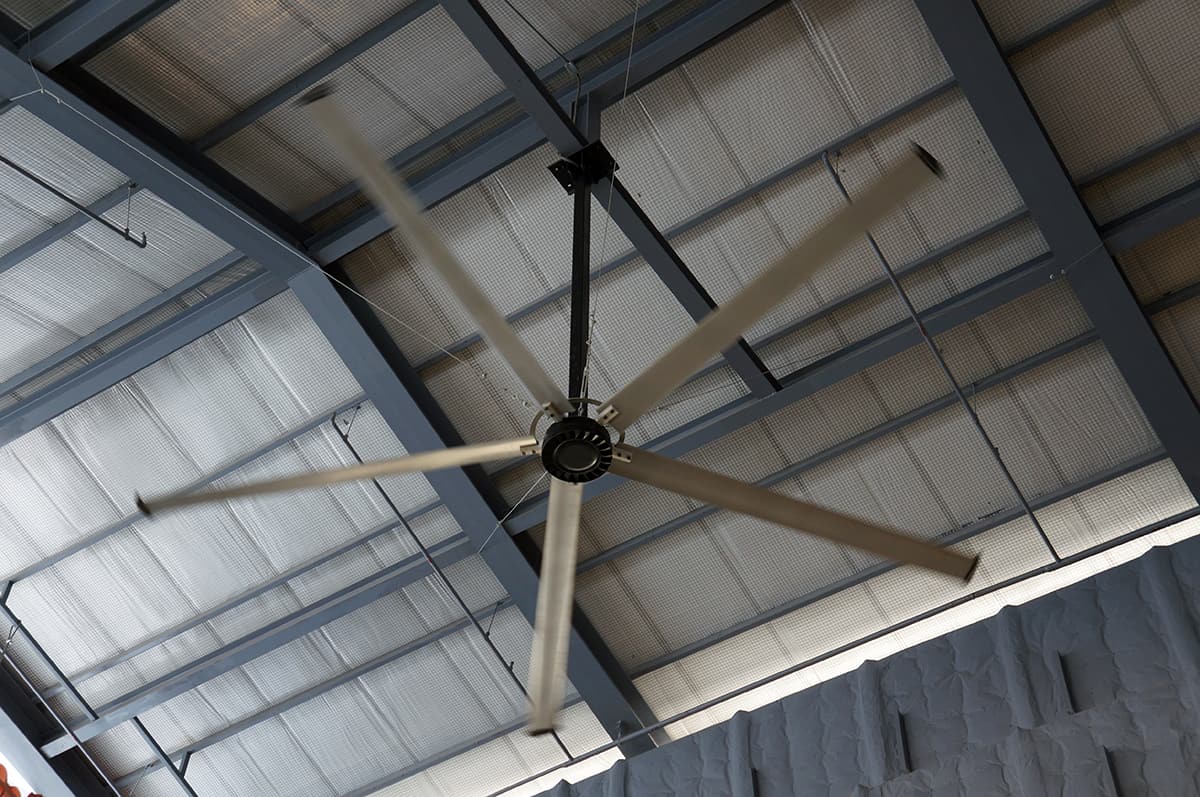 Industrial-style ceiling fans are those which would look most at home in a factory or warehouse. They will typically be black or silver and have a boxy or utilitarian shape.
Antique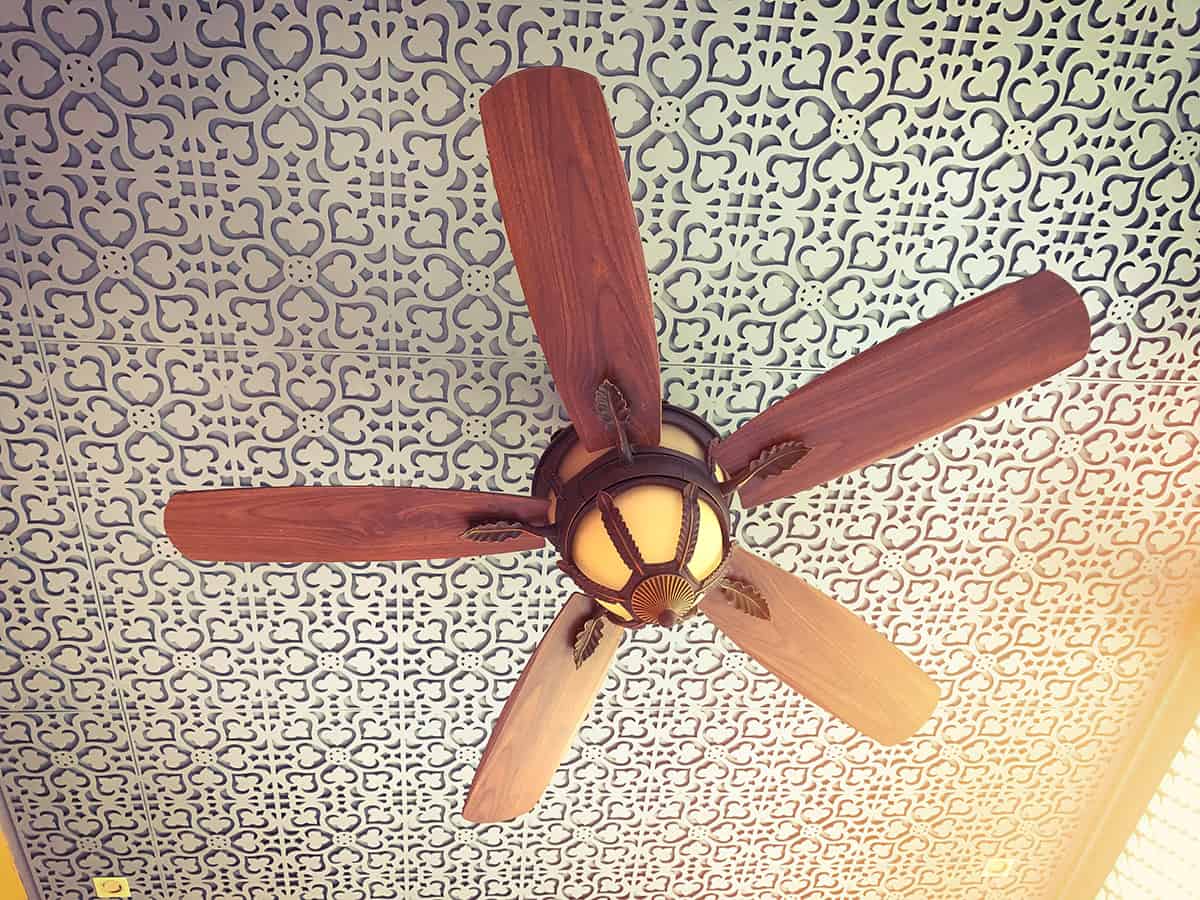 Antique-style ceiling fans might be entirely metal or feature wooden paddles. These can look great in shabby chic style decors or opulent spaces.
Coastal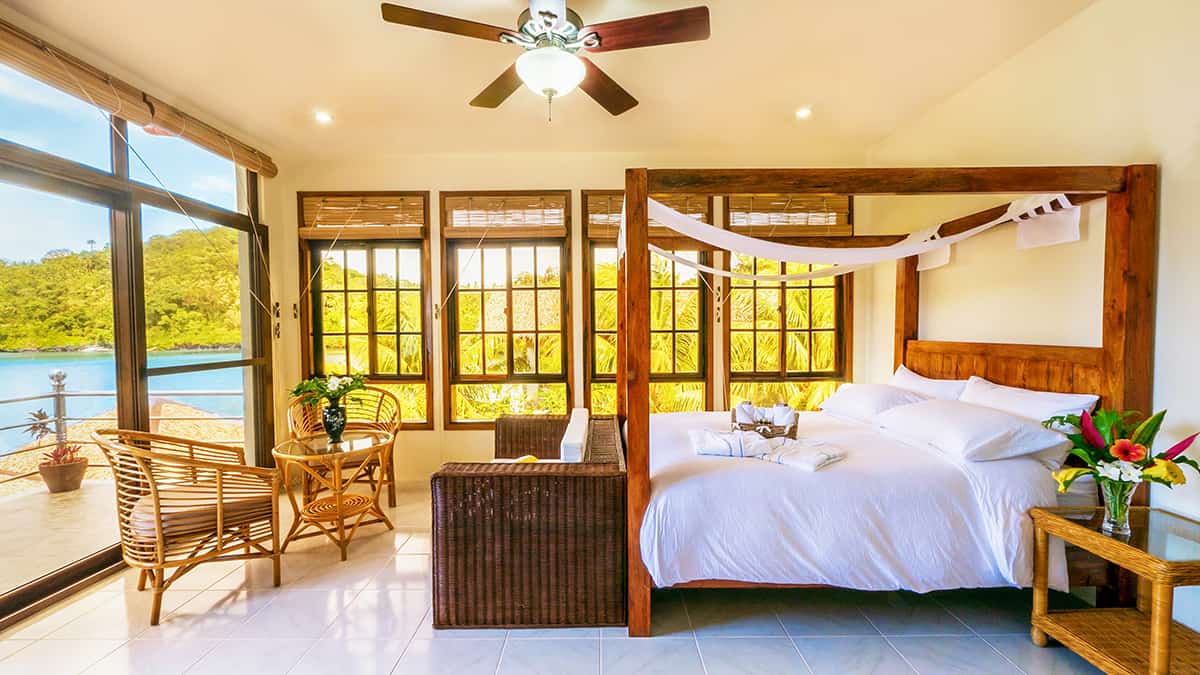 Coastal-style ceiling fans may have whitewashed paddles or feature wooden details in warm colors. They might also incorporate common coastal or nautical elements such as rope or seashells. They can help to define a coastal or beach-style interior decor theme.
Rustic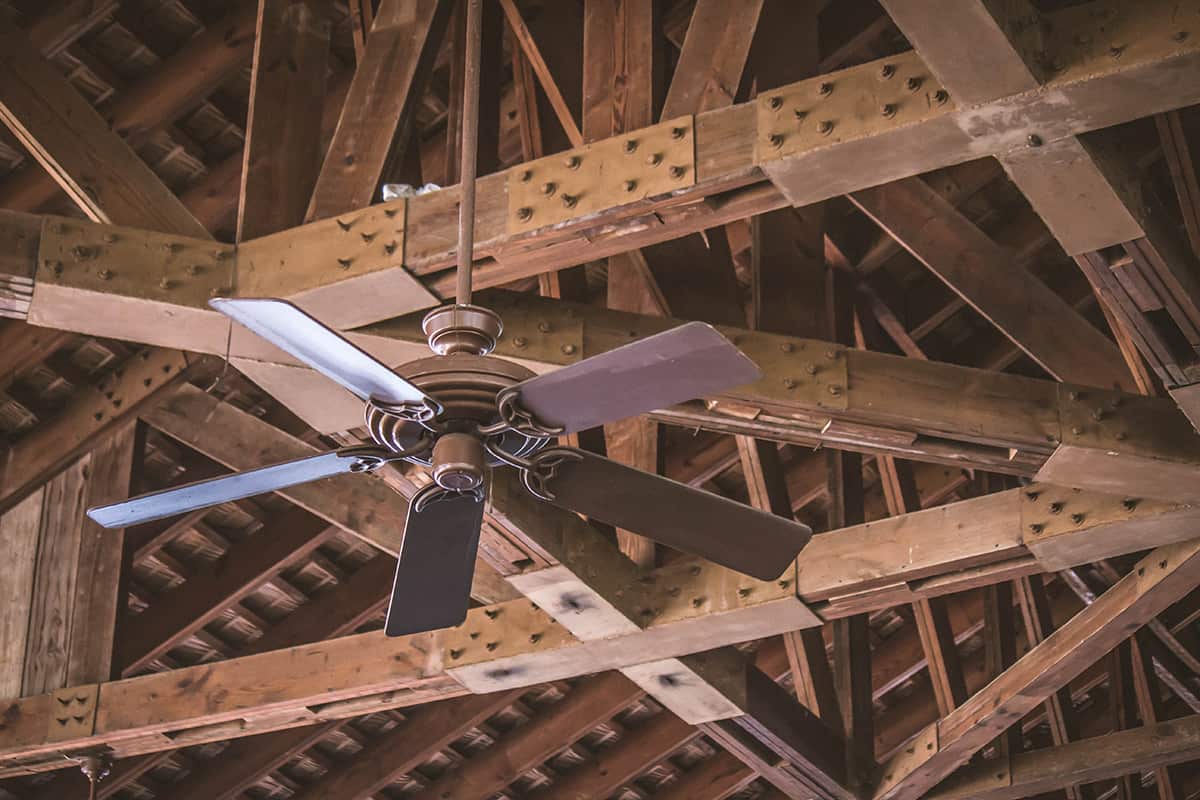 Rustic-style ceiling fans will typically utilize dark and worn-looking wood or black matte metal for the paddles and fittings. Use this type of fan to highlight a rustic theme.
Ceiling Fan Colors
If you are ceiling fan shopping in a big box store or your local hardware store, then you are likely to encounter the most common colors of ceiling fans, which typically are taken from a neutral palette.
However, if you are happy to take your ceiling fan search online, then you'll have many more options when it comes to the color of your ceiling fan, with some websites even offering to color match their ceiling fans to your chosen shade.
Black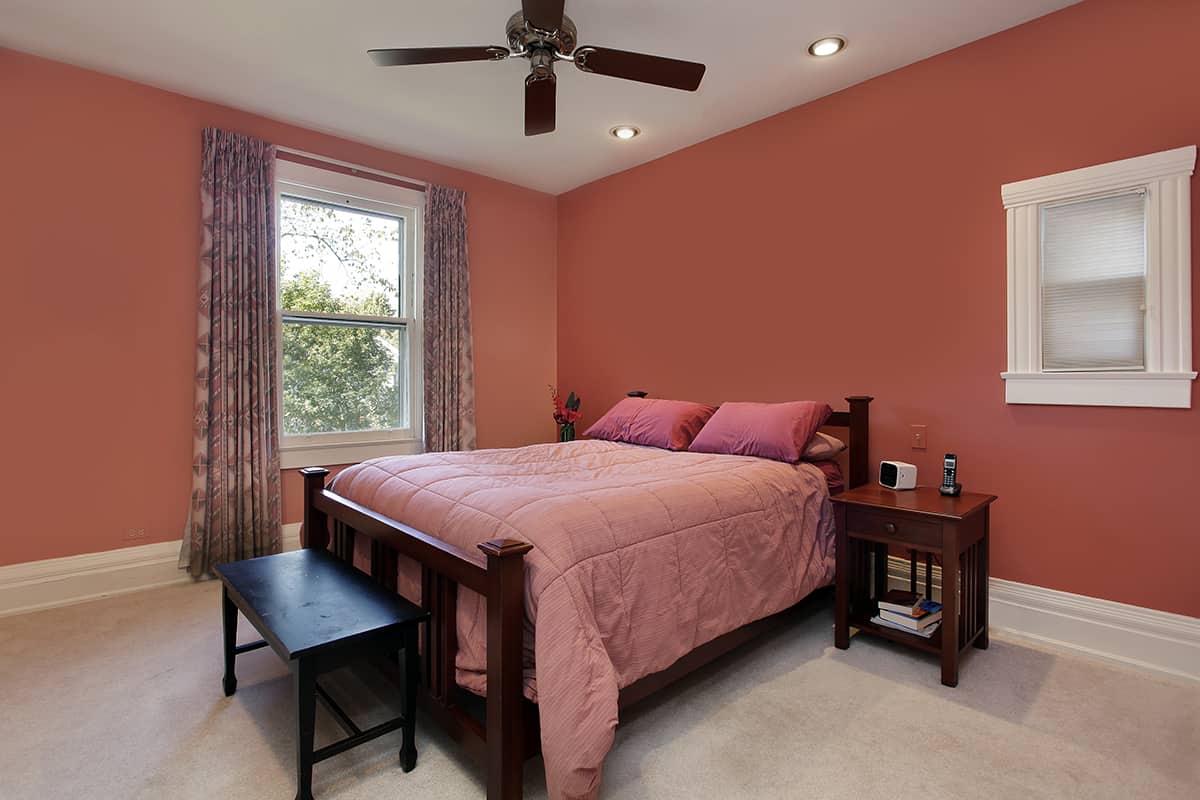 Black ceiling fans work well in contemporary style or modern spaces. They can make a bold impact when set against a white or pale-colored ceiling, or they can look smart and effortless on a black or darker ceiling.
In a monochromatic color scheme, a black ceiling fan will look very chic and intentional and help to pick out other black accents in the space. For an ultra-luxe vibe, choose a black ceiling fan in a high gloss finish, or tone it down for a more subtle modern edge with a black woodgrain ceiling fan.
White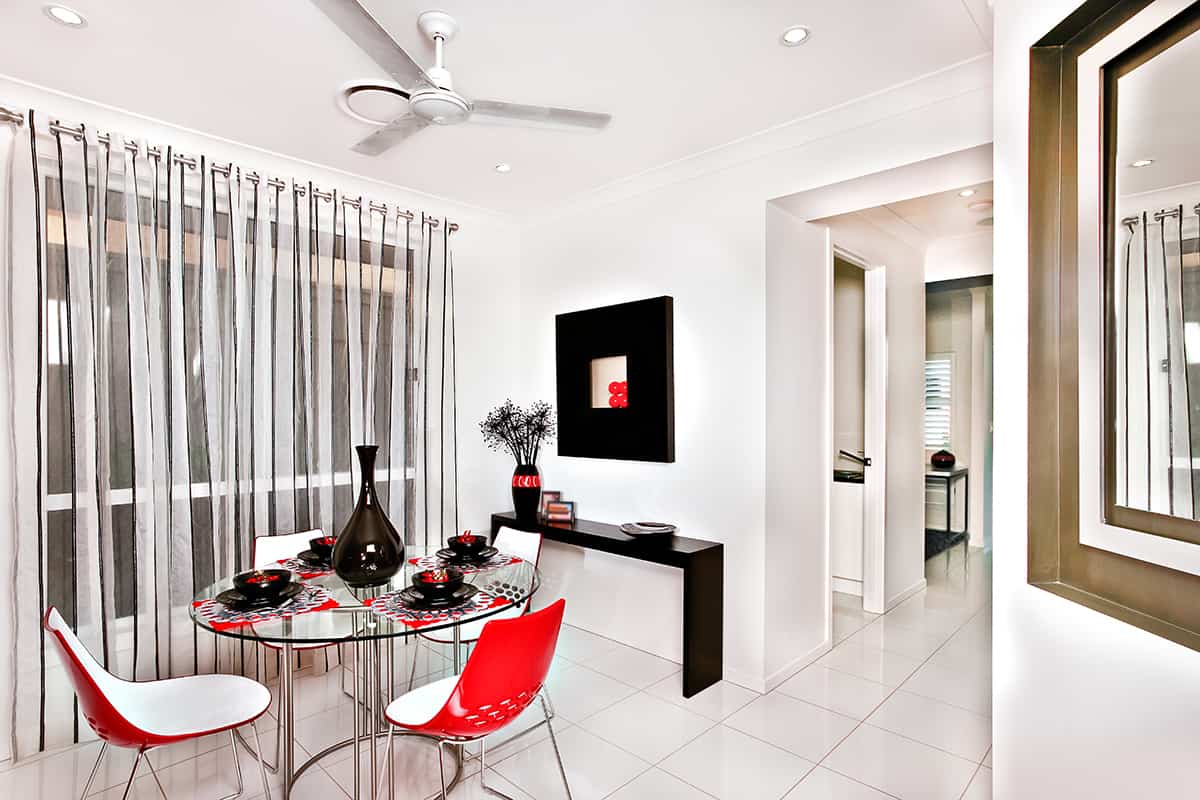 White ceiling fans tend to be among the most inexpensive to purchase as they are seen as basic; however, this color of a ceiling fan will look classic in any setting. On a white ceiling, a white ceiling fan will blend in, while on a wood-paneled ceiling, a white ceiling fan will look casual and neutral.
The only time you should consider avoiding a white ceiling fan is if your painted white ceiling is looking a little drab or murky.
This is because the bright white of a new ceiling fan in comparison to the faded ceiling will make the ceiling look stained or dirty like it needs to be repainted.
Also, bear in mind that white ceiling fans may require more maintenance than darker-colored fans because they will show up dust more easily and therefore need cleaning more regularly.
Silver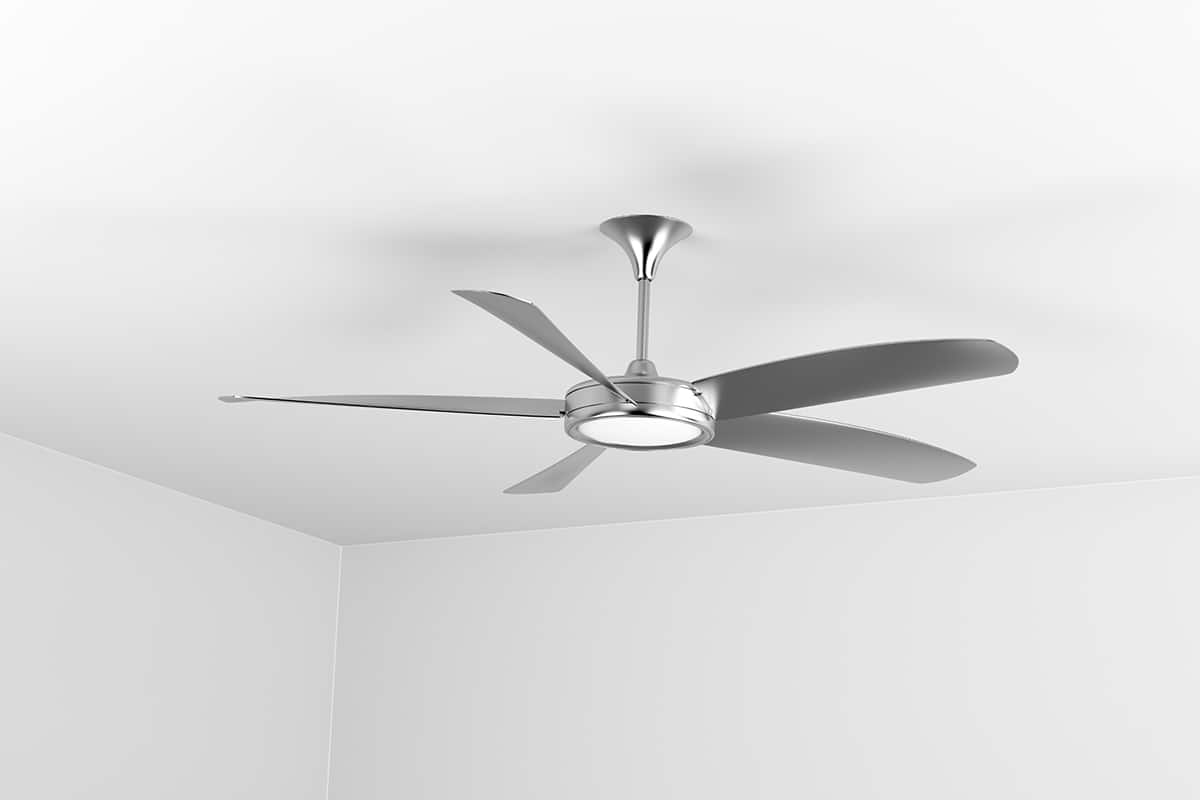 Silver ceiling fans will have metal paddles, often in nickel or stainless steel finishes. These types of fans can work with numerous styles of interior decor. A silver ceiling fan with angular paddles can look very modern, while one with a more classic shape can look sophisticated in a more traditional setting.
Industrial-style ceiling fans will often come in a silver finish, and this helps to define the theme in the room.
If you select a silver ceiling fan, try to choose other silver metal finishes in that room to create cohesion and avoid clashes. For example, if you also have metal table lamps in the room, these should be silver, along with metal chair legs and other metal accessories.
Gold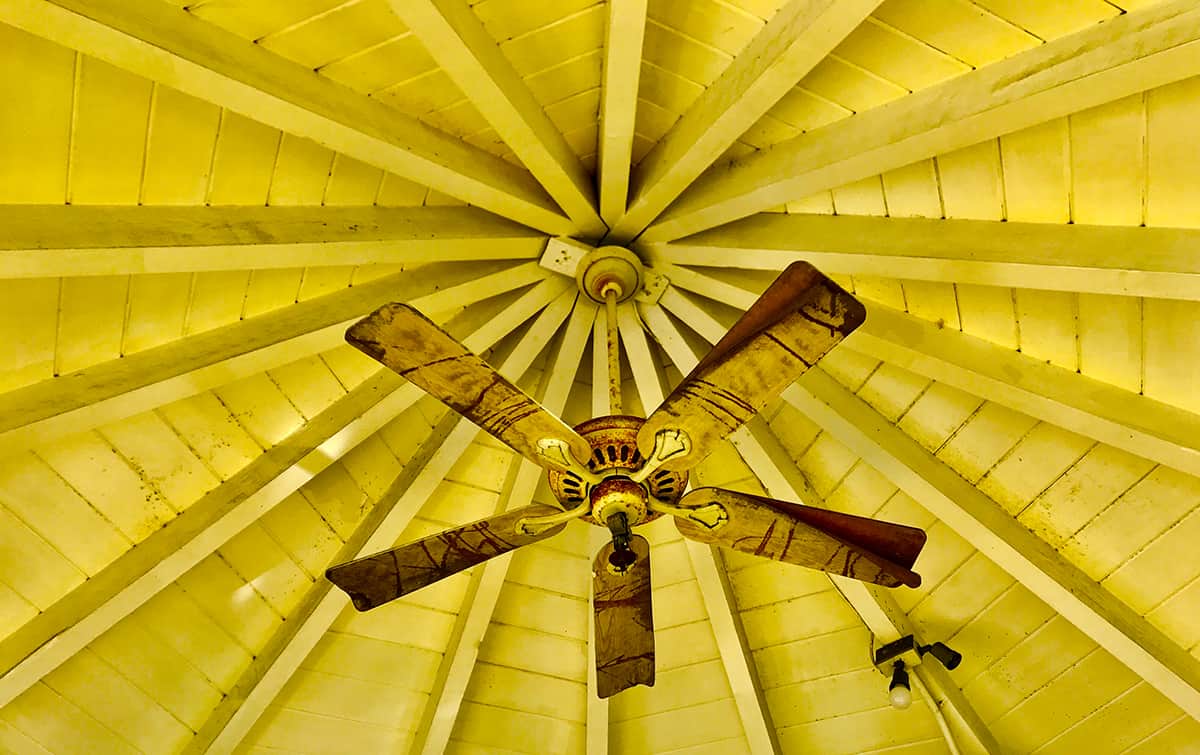 Gold ceiling fans are a great choice for luxurious-style rooms. Think rich shades of emerald green or navy blue velvet with shiny gold candle holders and a ceiling fan with gold paddles.
This would look particularly elegant in an intimate dining room with dark walls and a dark ceiling. You could also opt for a more antique-style ceiling fan with a brushed gold finish, which would work in both light and dark spaces.
Wood
Many traditional-style ceiling fans have wooden paddles, and this is still a popular choice today because wooden accents make a space feel natural and calming.
If you have other wooden features in a room, such as a wooden floor or a wooden dining table, you could choose a matching wood ceiling fan to help coordinate the colors in the space.
Of course, wooden finishes can come in a range of colors, including golden oak, red cherry, and white pine. The wood finish you choose for your ceiling fan should be a reflection of the style you are trying to create in the room.
For example, a rustic style decor would be suited to a dark wood fan, whereas for a coastal style interior, a pale wood ceiling fan would be more appropriate.
Gray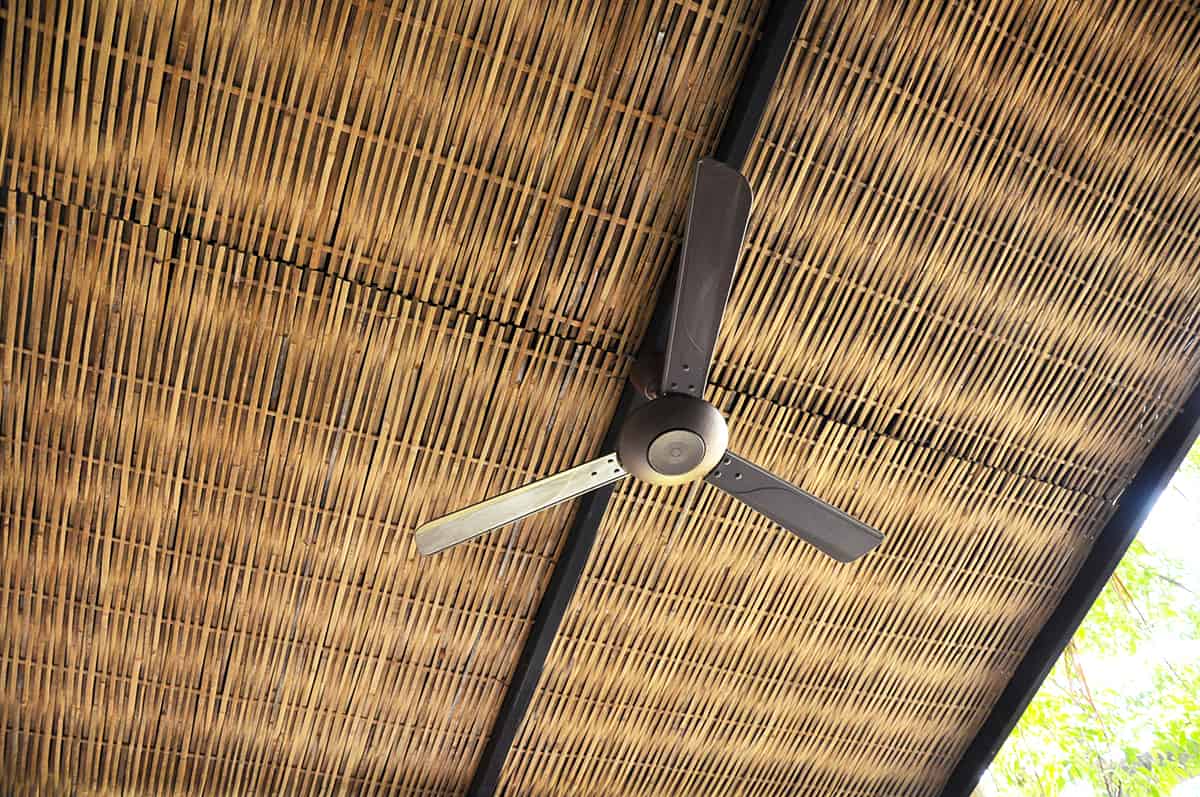 Gray has exploded in terms of popularity as a color in interior design, and this also extends to ceiling fans. If you have a gray color scheme in your room, then choosing a gray ceiling fan will encourage cohesion and make it feel intentional in the space.
If you don't want your fan to stand out too much against a white ceiling, then opt for a pale gray ceiling fan, while a dark slate gray fan will make for a bold, designer-inspired look.
Cream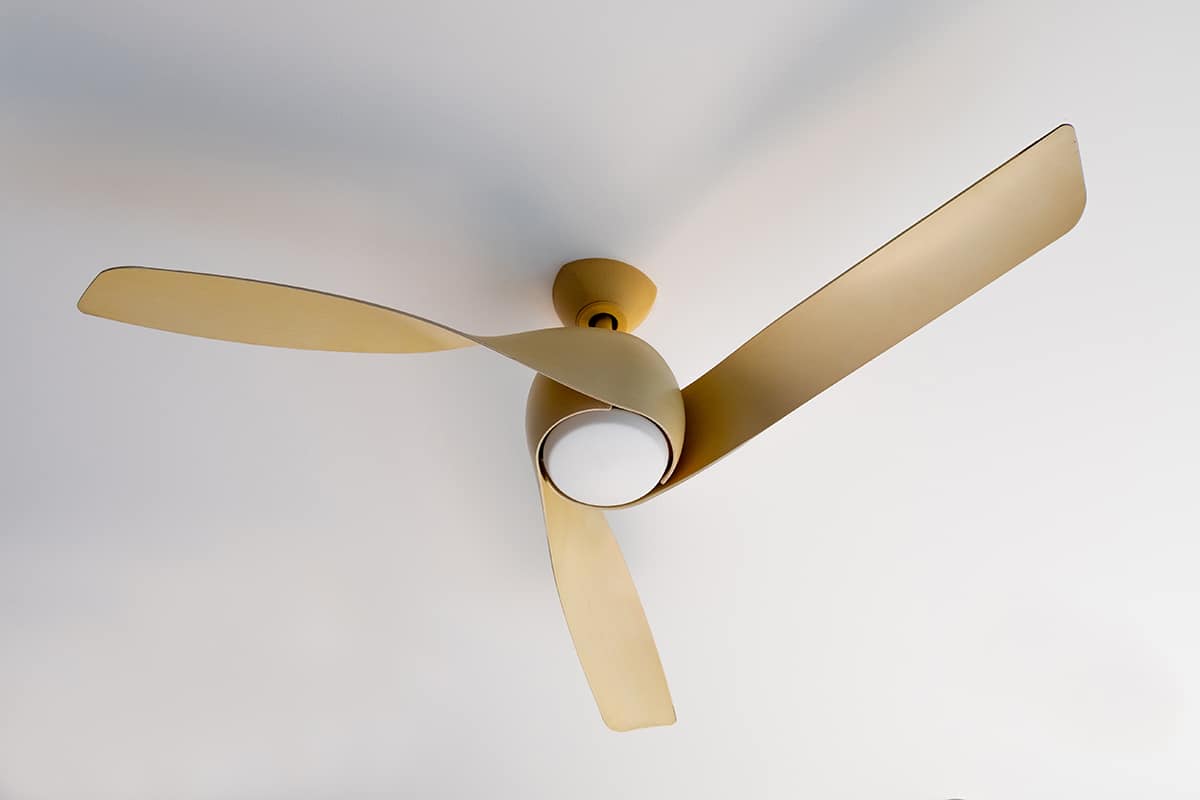 Cream-colored fans are a good choice in rooms where you want the vibe to be light and airy. Sometimes the starkness of a pure white fan can be too startling, so a cream ceiling fan is a good way to achieve a casual air without the jarring effect of a harsh white fan.
A ceiling fan with cream paddles will have a softer effect than one with white paddles while still maintaining a relaxing and light atmosphere.
Colorful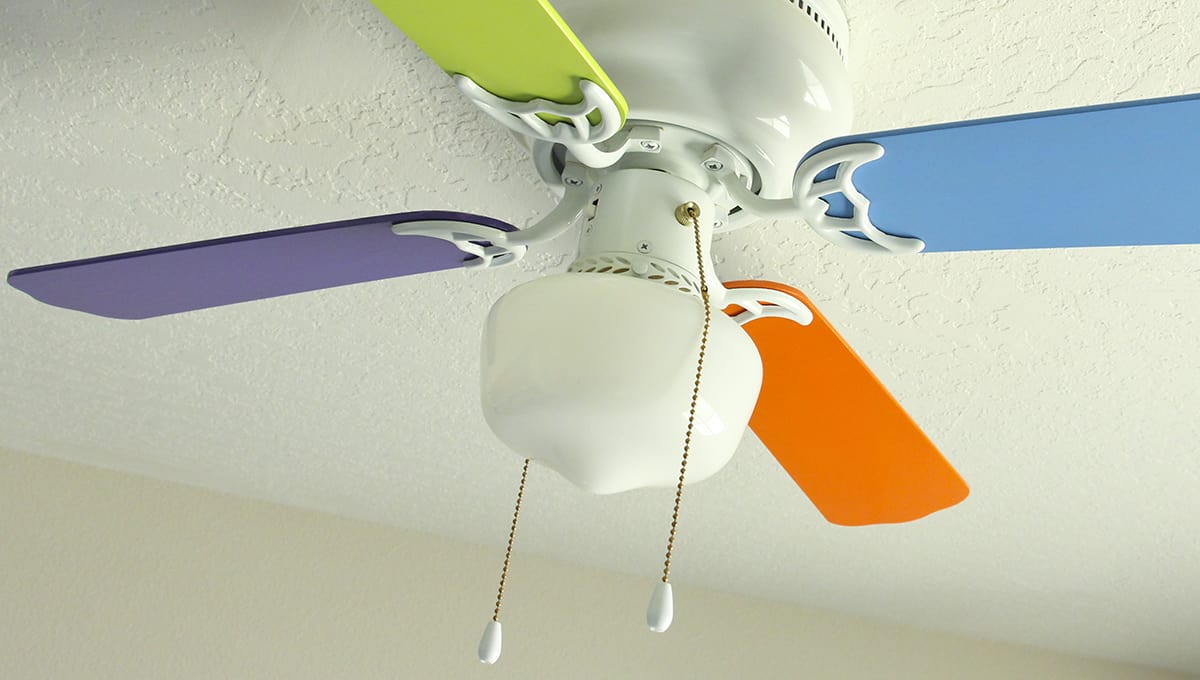 Though brightly colored ceiling fans are not considered to be the norm, they are available in specialist stores if you want to introduce some bold splashes of color to your ceiling.
Some popular types of brightly colored ceiling fans include models with glossy red paddles, which would look stunning in a retro-style kitchen or a classic diner.
Yellow ceiling fans are also available and work well in Scandinavian-style spaces or children's bedrooms. Pale pink ceiling fans look great in bedrooms and help to achieve a soft and romantic look while still offering functionality.
If you want to really make a statement, you can even find rainbow ceiling fans that display a different color on each paddle.
Ceiling fans with patterned paddles are also available, though these are much less common; it's worth remembering that the pattern won't be seen when the fan is switched on and could be the cause of a headache!