White cabinets are a popular choice in kitchens because they look sleek, clean, and modern, but they can also work well in more traditional styles, making them incredibly versatile. They also tend to be less expensive than kitchen cabinets in other colors.
If you're thinking about which type of flooring you should have in your kitchen, use this guide as inspiration for which color floor goes with white cabinets.
Tile or Vinyl
Tile and vinyl floors are a good solution in a kitchen because they are hard-wearing and long-lasting. These floor coverings tend to lack the feeling of warmth offered by wooden floors, but they make up for this with their huge variety of colors.
Though you may find most tiles and vinyl floorings are available in neutral colors, as these are the most commonly purchased, you can find floor tiles and vinyl flooring in any color you want, unlike wooden floors, which obviously are available in natural wood shades.
The benefit of having white kitchen cabinets is that they can work with absolutely any other color you like, so if you are keen on having a bright and colorful or patterned floor, then you can achieve this with tiles or vinyl.
Black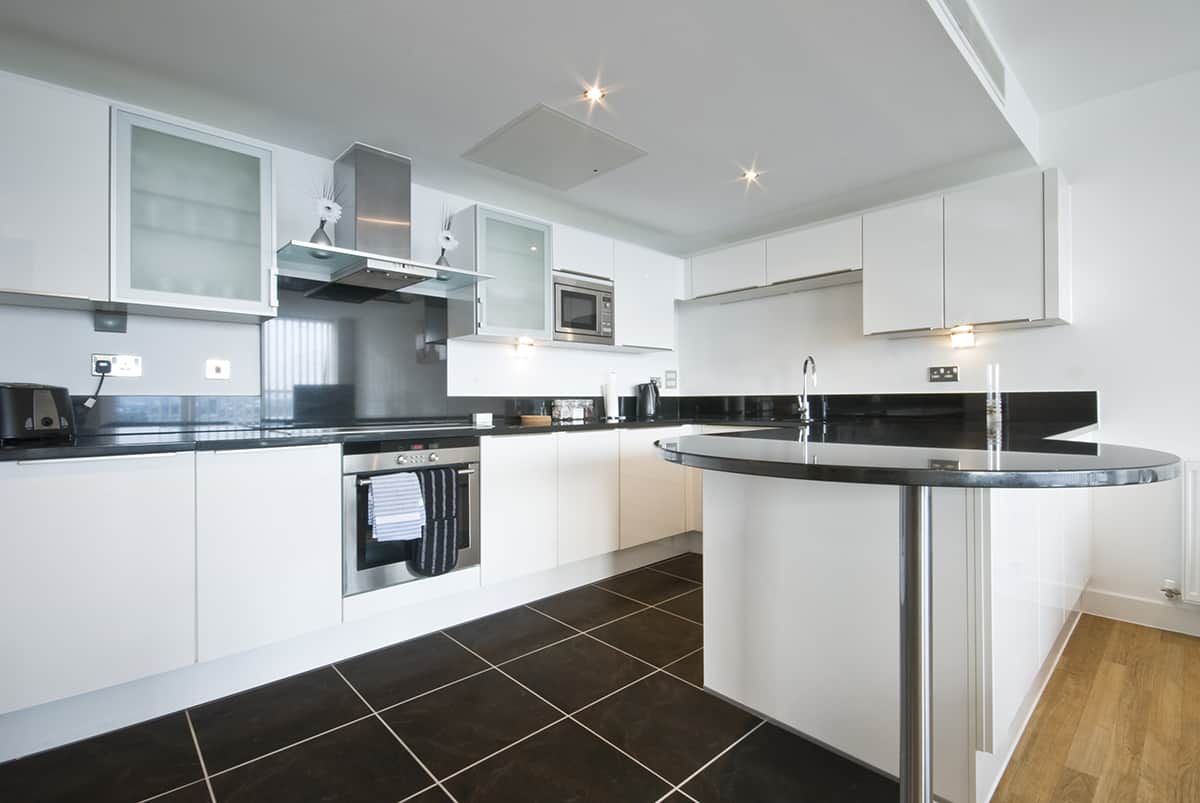 If you have white kitchen cabinets, then a black tile or vinyl floor will look very striking. As polar opposites to each other, black and white create a stark contrast that can look sophisticated and trendy when styled right.
For a retro feel, you could choose a black floor with white kitchen cabinets and then add splashes of bright red or bubblegum blue, such as a red tile backsplash or blue coffee cups on display. This, paired with some vintage items such as an old-fashioned blender or retro coffee machine, will create a diner vibe.
If you are going for a more sleek, high-end monochromatic look, match your white cabinets and black flooring with white walls and black countertops. Avoid using any other colors except for the occasional touch of gray to keep this theme strong and defined.
Choosing a black floor surface is a good way to ground a room, especially one which has white cabinets. The white cabinets will serve the purpose of making the room feel open and airy, while the black flooring creates a feeling of stability.
Gray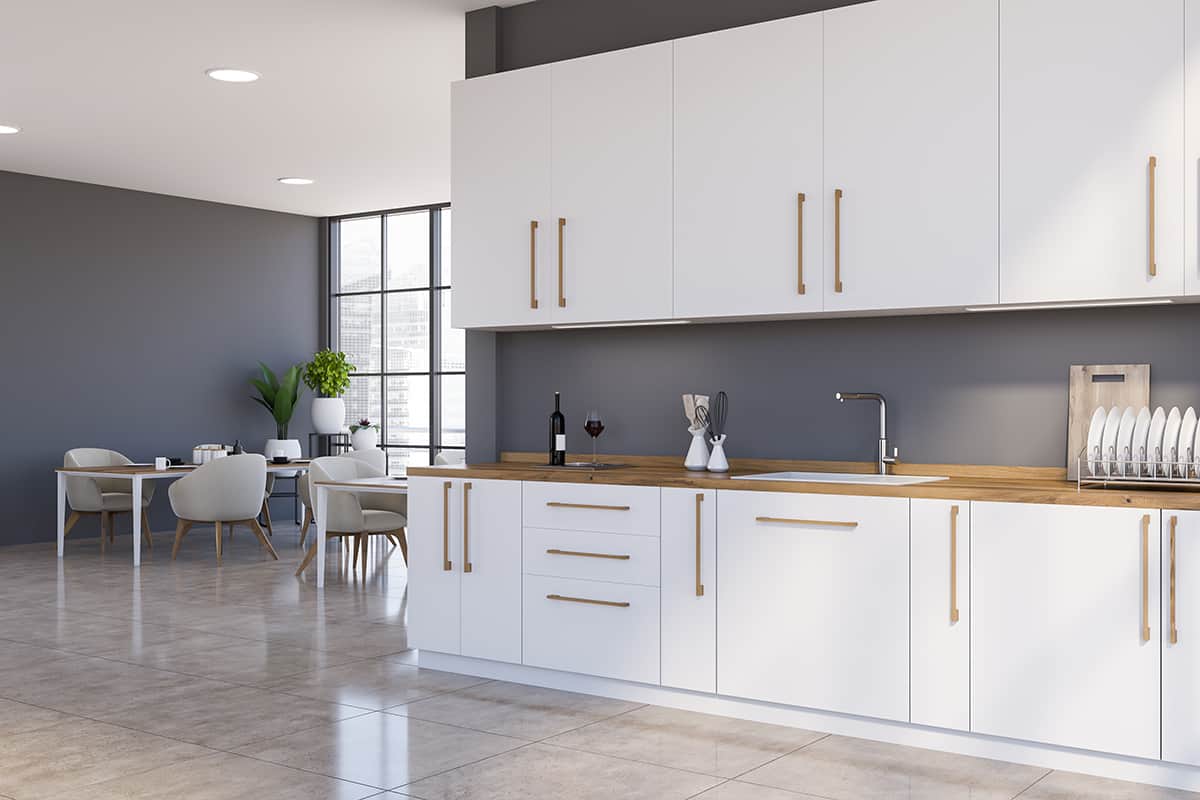 Gray floors are very on-trend right now, and as a result, there is a huge variety available of different styles and shades of gray as manufacturers have responded to the massive wave of popularity. For a high-end, polished style in your kitchen, pair your white cabinets with gray marble floor tiles.
You could choose dark gray marble for a strong contrast or a paler gray marble for a sleeker look. If marble tiles aren't in your budget, get a high-quality vinyl floor covering with a gray marble print to achieve a similar look.
Gray is a neutral color, so you can use it with white as a good neutral base for other colors in the room, for example, if you want to paint the walls in a bright color or incorporate another color for the backsplash.
You can also use white and gray to create a tonal style in the kitchen. Do this by choosing a very pale shade of gray for the floor tiles, and then add varying other shades of gray in the kitchen, for example, a pale gray worktop with medium gray walls and dark gray accessories. This will make for a layered effect which is a very stylish and contemporary look.
White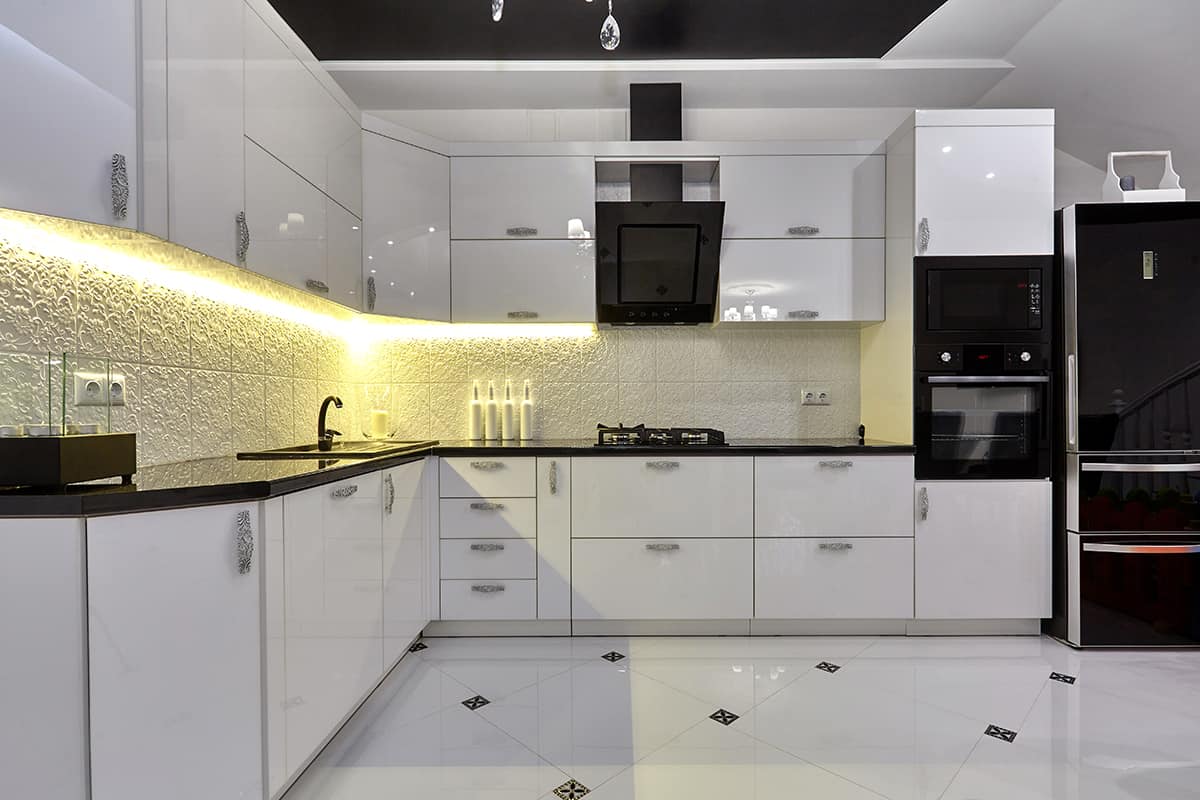 If you love white interiors, there is no reason why you can't have a white cabinet color along with any floor colors, including white. An all-white look is a very modern style that has gained traction recently in the world of interior design.
It works especially well in smaller kitchens because it creates the impression of a much larger space. It can be done in bigger rooms, but you will have to work hard to incorporate soft textures to avoid creating a stark and clinical feel.
White floor tiles are typically fairly inexpensive as they are considered basic, but they will look anything but basic when paired with an entirely white kitchen.
Use white grout in between the floor tiles for a seamless look, or choose gray or black grout for a modern industrial look. White floors can be tricky to keep in good condition as they will show damage or dirt more easily, but they make a kitchen look sparkling and neat when they are clean.
Beige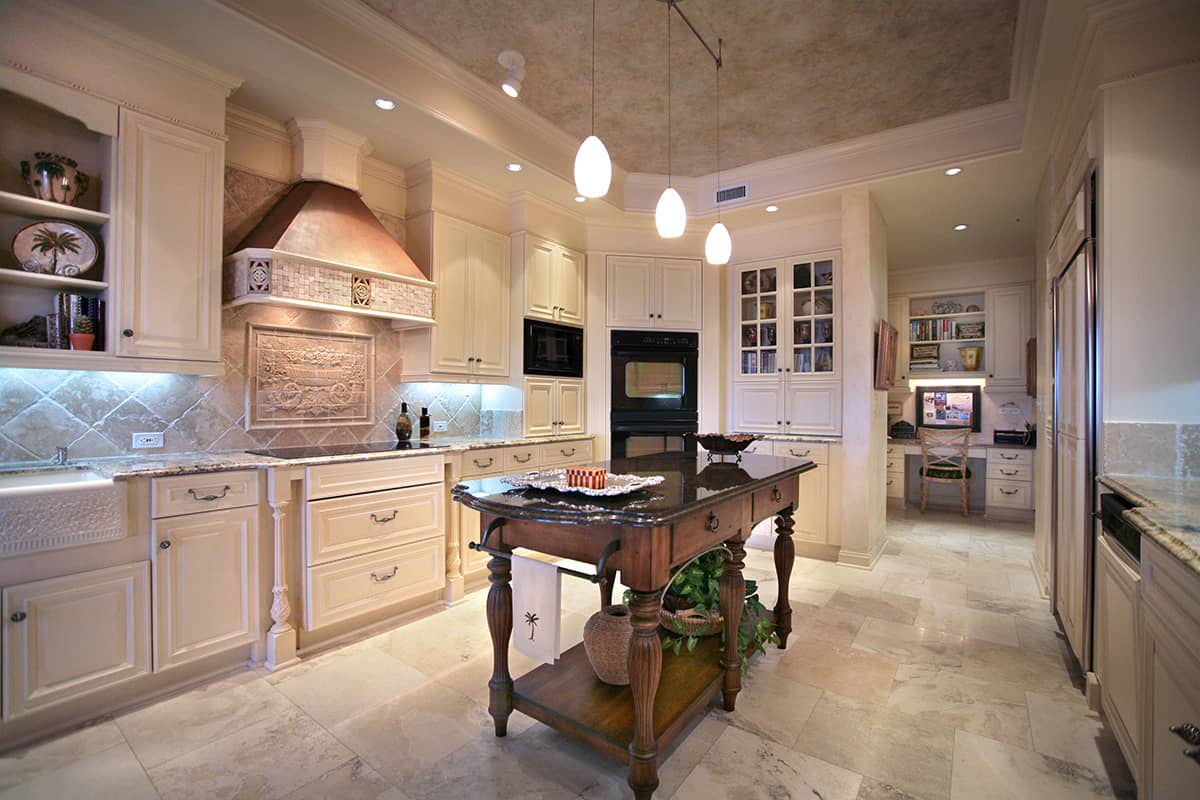 A beige floor is a nice neutral option if you don't want to make too much of a feature out of the floor. Beige has warm tones, so it can create a more cozy and welcoming atmosphere if you are concerned that your white cabinets make the kitchen feel cold and uninviting.
There are various shades of beige you can choose to compliment your white cabinets, depending on the style you want to achieve. A soft sand-colored beige will make for an easy background if you want to paint color on the walls. A darker tan beige will make more of a style impact and could be used to create a rustic or farmhouse feel.
If you want to use beige floor tiles in your kitchen, consider natural stone tiles, as these will add not just a color but also an interesting texture.
Patterned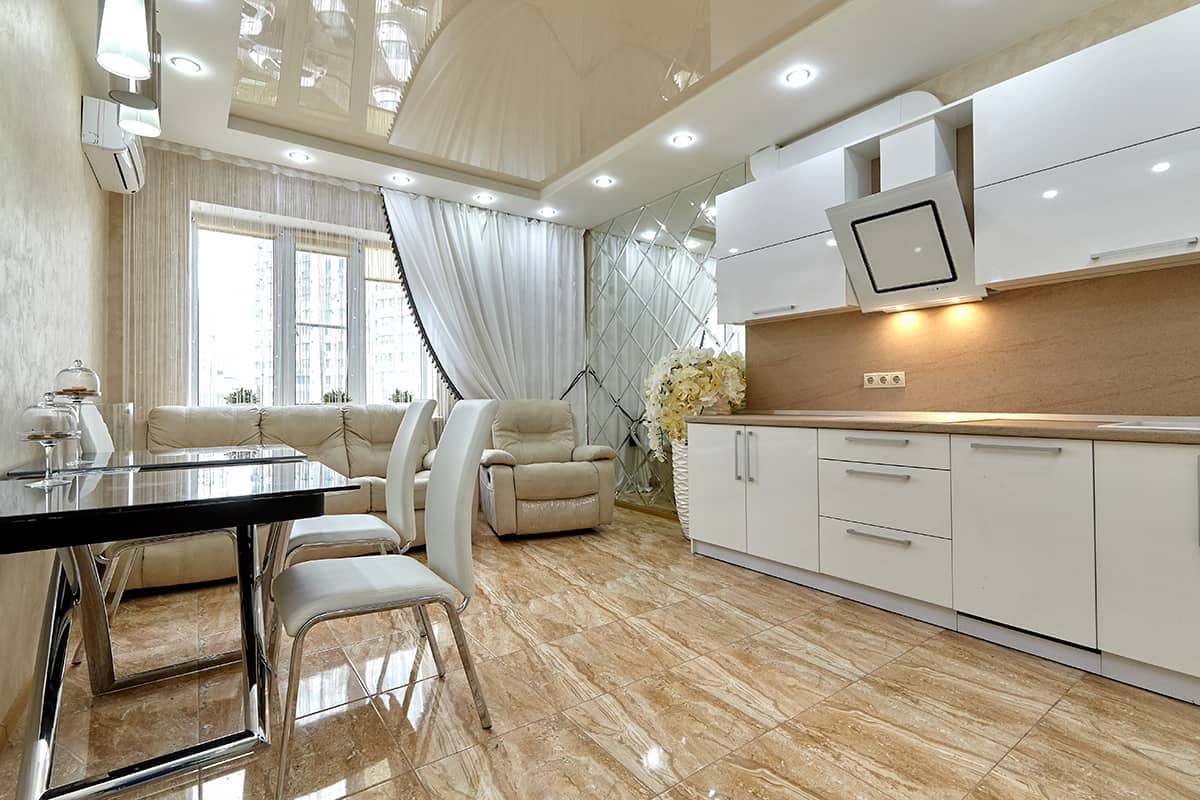 If the rest of the kitchen is going to be fairly plain, then you can afford to add some interest to your floor surface and make a feature out of it. Patterned floor tiles are widely available, with vinyl flooring offering even more in the way of prints and patterns.
As white is a neutral color that will work with any other shade, you can choose a pattern featuring any colors you like, with a look that is bold or subtle, depending on your tastes.
What you'll need to keep in mind when choosing a patterned floor surface is how it will work with the rest of the room, not just the cabinets. You should choose a pattern in a color scheme that will work with your wall paint, countertops, and backsplash. Pick out colors from the flooring and choose accessories in similar shades to tie the floor in with the rest of the space.
Hardwood or Laminate
Wood flooring, especially hardwood, is a sought-after feature in a home and can add value to the property. The available colors are fewer compared with tiles and vinyl, but wood flooring is loved for the natural feeling it brings to homes and the character found in wood grain.
As white is a pure natural shade, you could choose any wood flooring you like to go with white cabinets and have confidence that it would work. Here we look at the impact different shades of wood will make with white cabinets.
Dark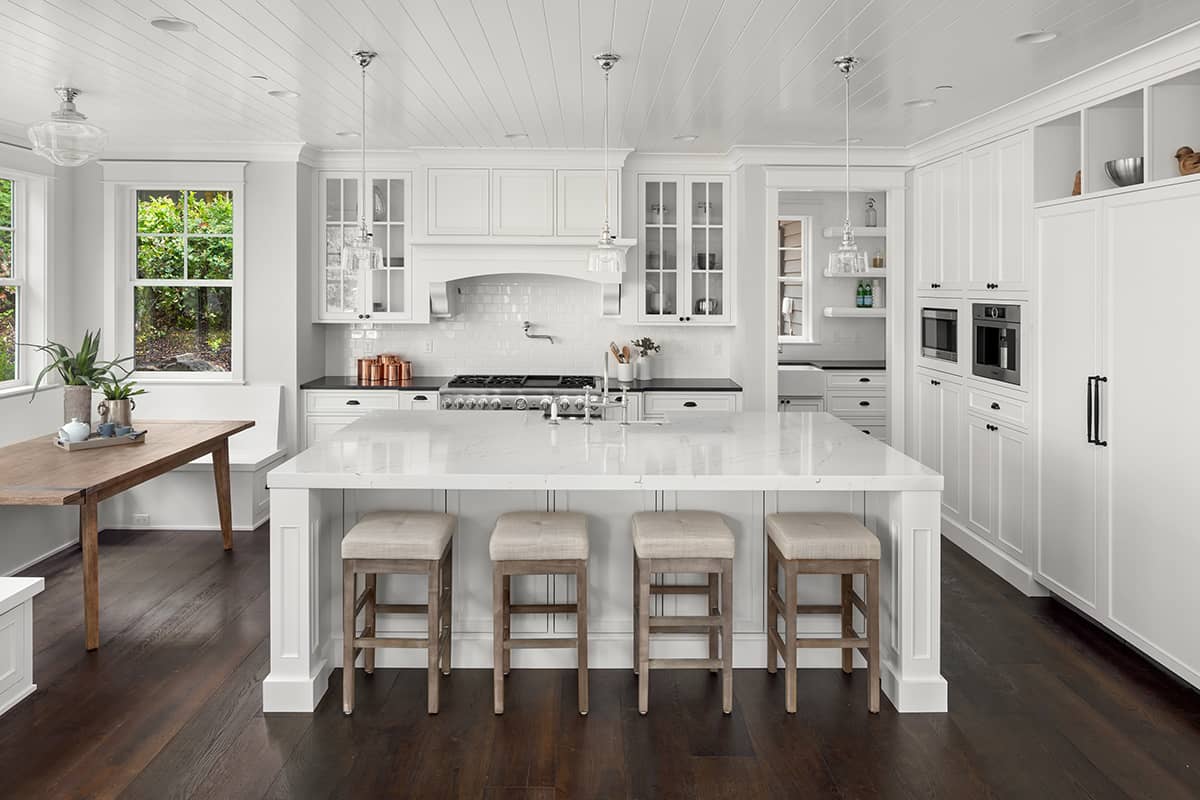 A dark hardwood or laminate floor will contrast against the white cabinets, but if you opt for a warm-toned dark wood, then it will also bring richness and comfort to the room rather than offering a harsh, cold contrast. Wood which has visible grain, adds character and texture to a room, which can help to balance out the starkness of white cabinets.
Dark wood flooring can ground the room as well as adding interest to the space. You can choose a naturally dark wood such as dark walnut or opt for hardwood such as oak which has been treated with a deep stain such as espresso.
Wood flooring with red tones can work with white cabinets, but be careful to avoid making the kitchen look old-fashioned. Consider a complimentary color to balance out the warmth in redwood flooring, for instance, olive green wall paint.
Medium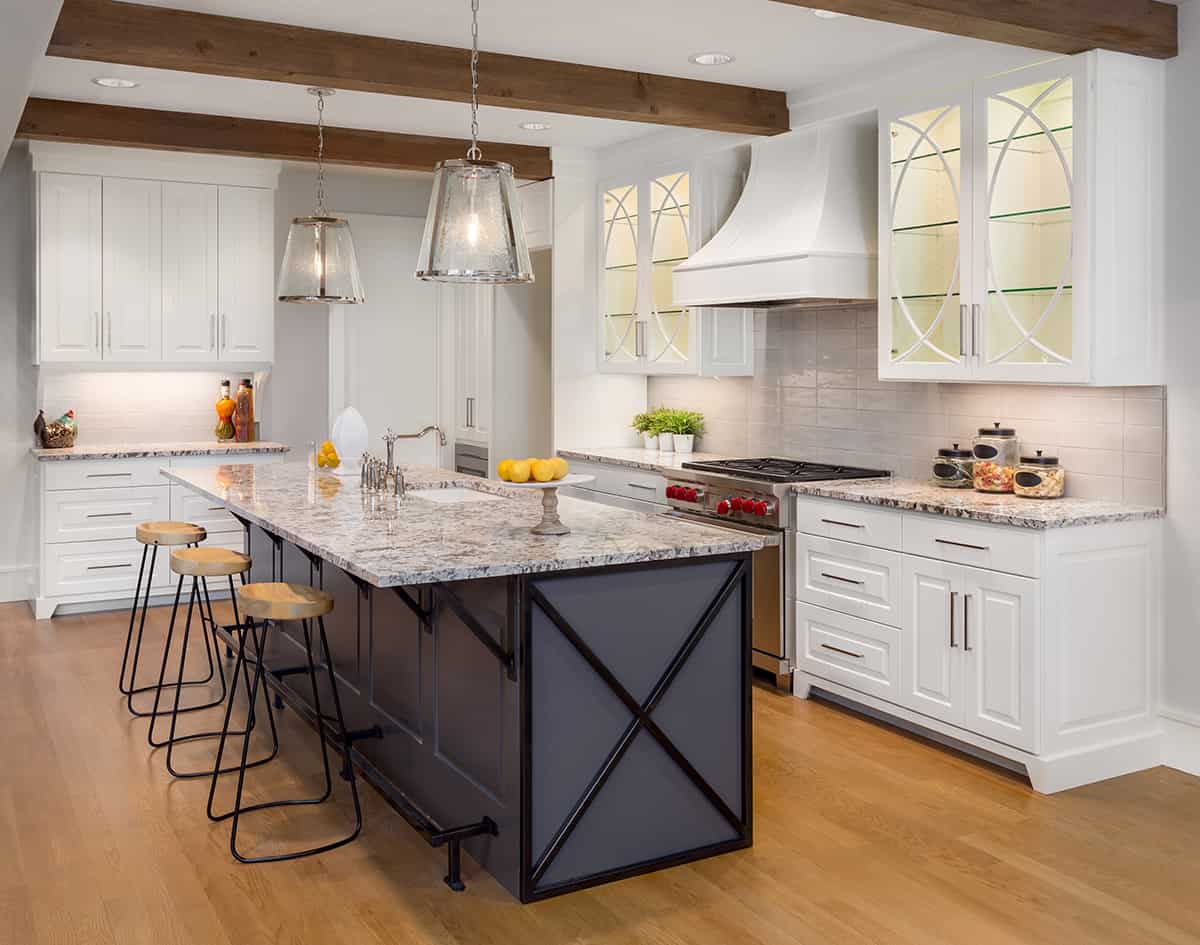 A medium shade wood flooring is a popular choice because it provides a nice balance. It is neither too dark and demanding attention nor too light and fading into the background. Medium shades of wood can include light brown woods or woods with orange or yellow undertones. These add warmth and personality to a kitchen and bring a touch of nature to the space.
Medium shade wood floors also offer the benefit of not showing dirt or marks as obviously as on dark or light wood floors.
Light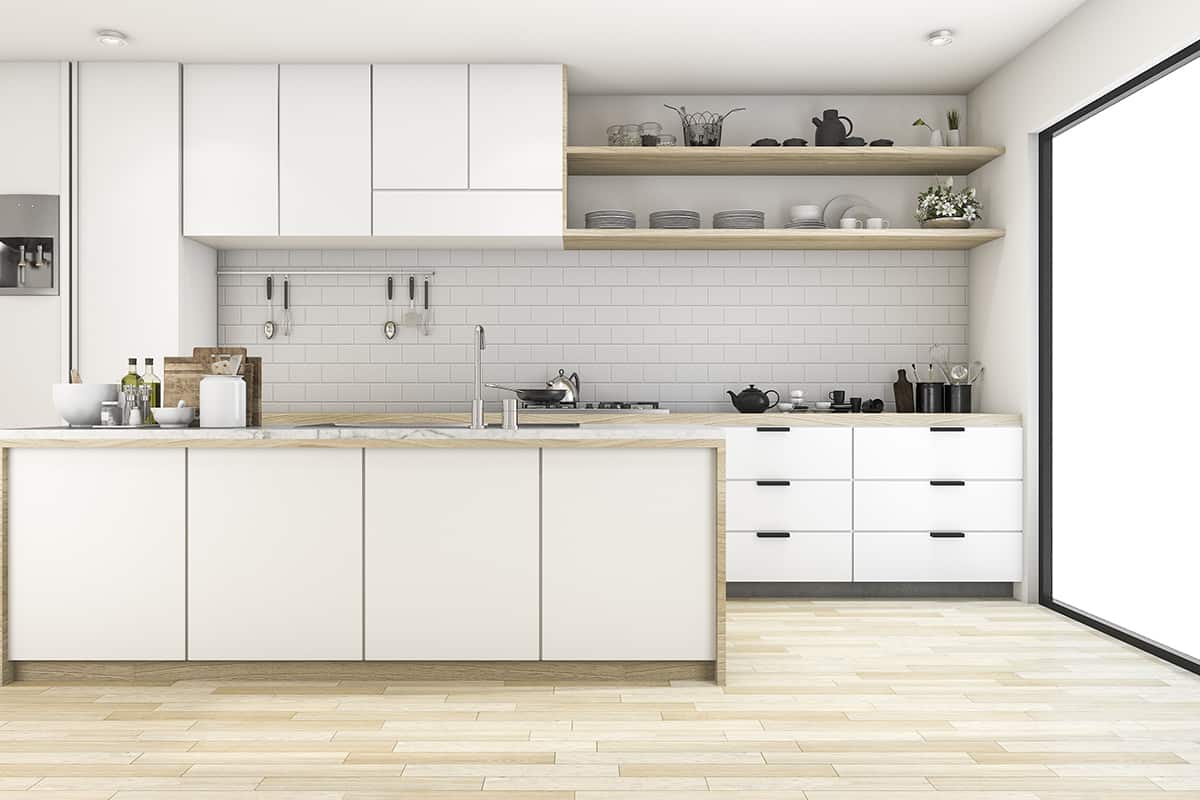 A light shade of wood or laminate flooring can look very airy and modern in a kitchen with white cabinets. This look will work especially well in beach houses or coastal homes where you want to achieve a relaxed and casual vibe. Pale shades of wood floor coverings can include ash, beech, or whitewashed laminate.
Like using white or beige floor surfaces, light wood floors work with white cabinets to reflect light and create the illusion of more space in the room. They also make a room feel more open and breezy compared with darker floor surfaces which can pull the eyeline downwards.