It makes sense that not all pillows are the same size because not all mattresses are the same size. If you want your pillows to look in proportion with the size of your bed, then you'll need to buy appropriately sized pillows and pillowcases.
A king bed should have king pillows because smaller pillows will leave gaps at the head of the bed and result in an unfinished look. Here we look at king-size pillow dimensions and their alternatives.
King Size Pillow Dimensions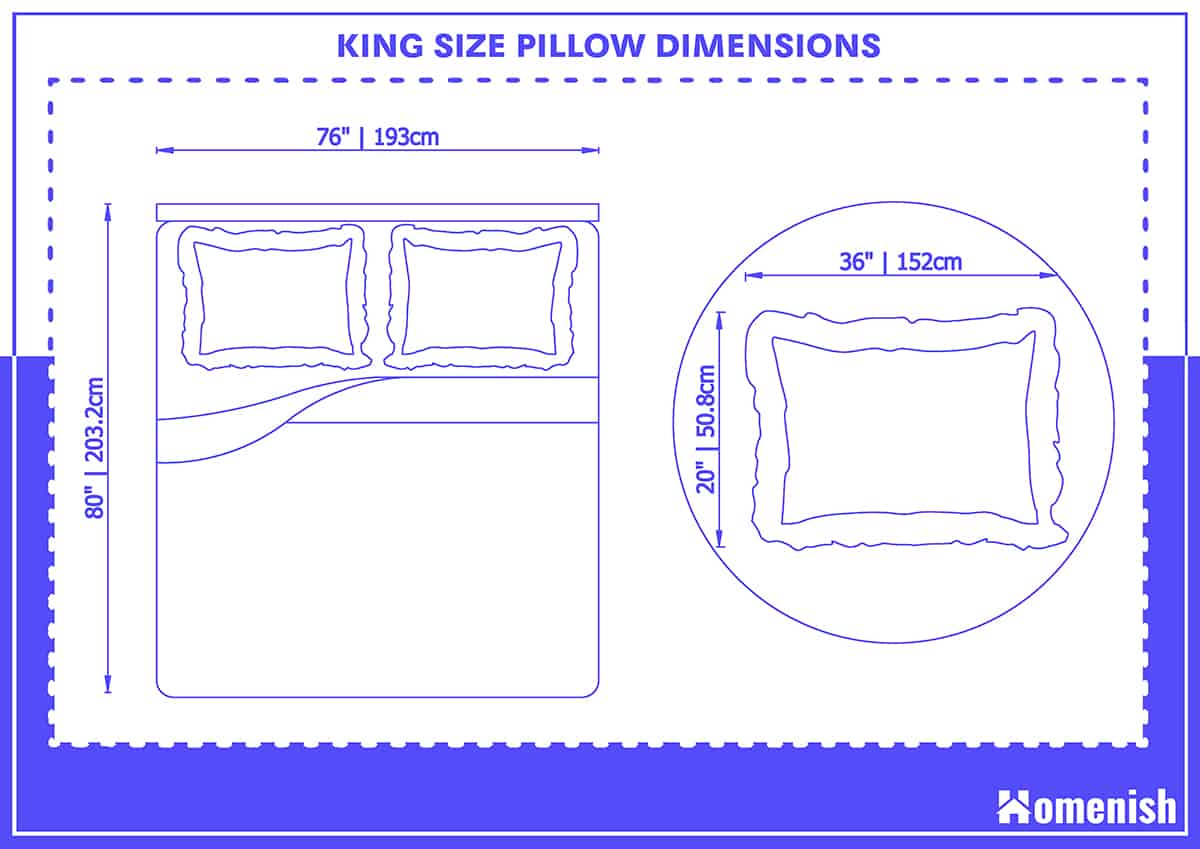 King size pillows have a width measurement of 20 inches and a length measurement of 36 inches. The depth measurement will vary between pillows depending on the type of filling and whether it is intended for side, back, or front sleeping.
If you have a king-sized bed, it makes sense to have king-sized pillows, as these are specifically intended to fit two pillows side by side at the head of the bed. If you want to create a plush luxury-hotel style in your bedroom, you can layer up pillows of different sizes, starting with king-sized pillows at the base. You could then add queen-sized pillows in front, or standard-size pillows, to add a multi-dimensional look that is sumptuous and inviting.
Other Common Pillow Alternatives
Queen Size Pillow Dimensions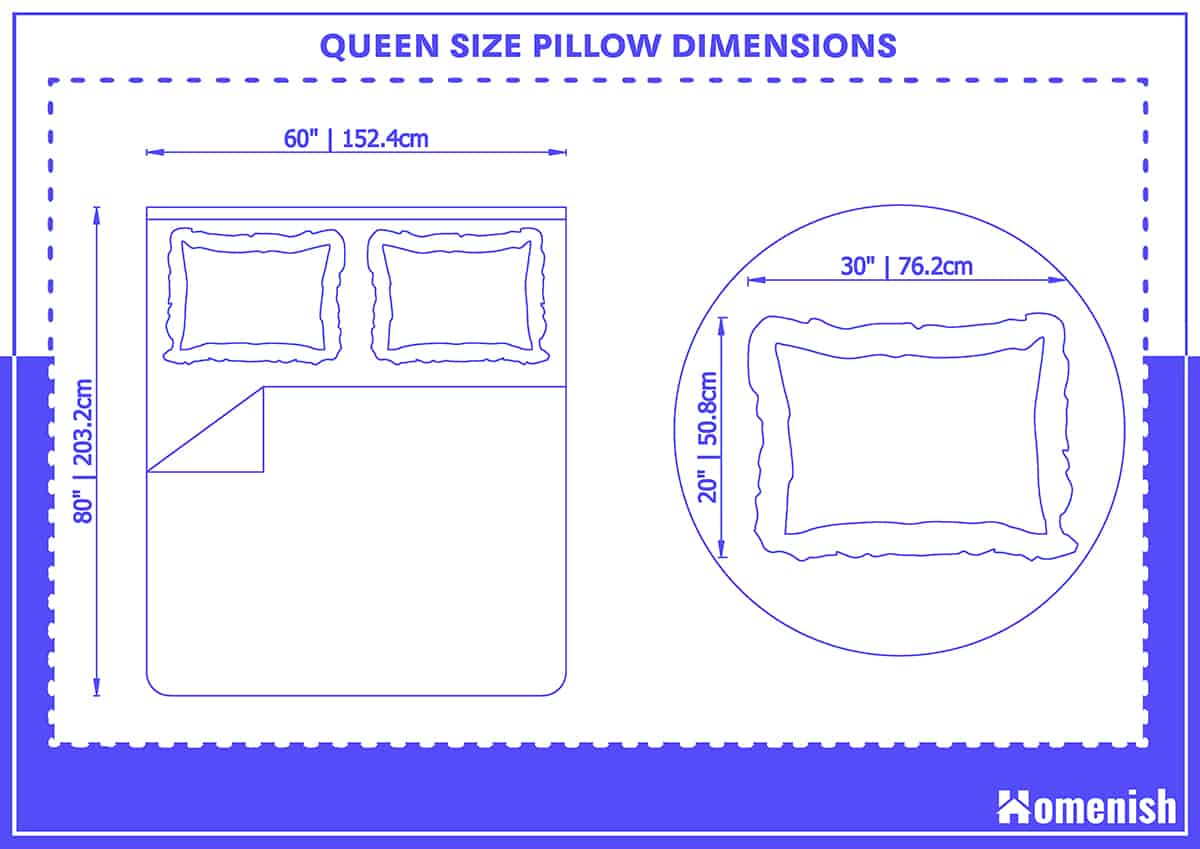 Queen-size pillows measure 20 inches wide by 30 inches in length. These pillows should be used on a queen-sized bed because they would look too sparse on a king-sized bed and would hang over the edge on a standard-sized bed. You can use other smaller-sized pillows alongside the queen-size pillows for decoration.
Standard Size Pillow Dimensions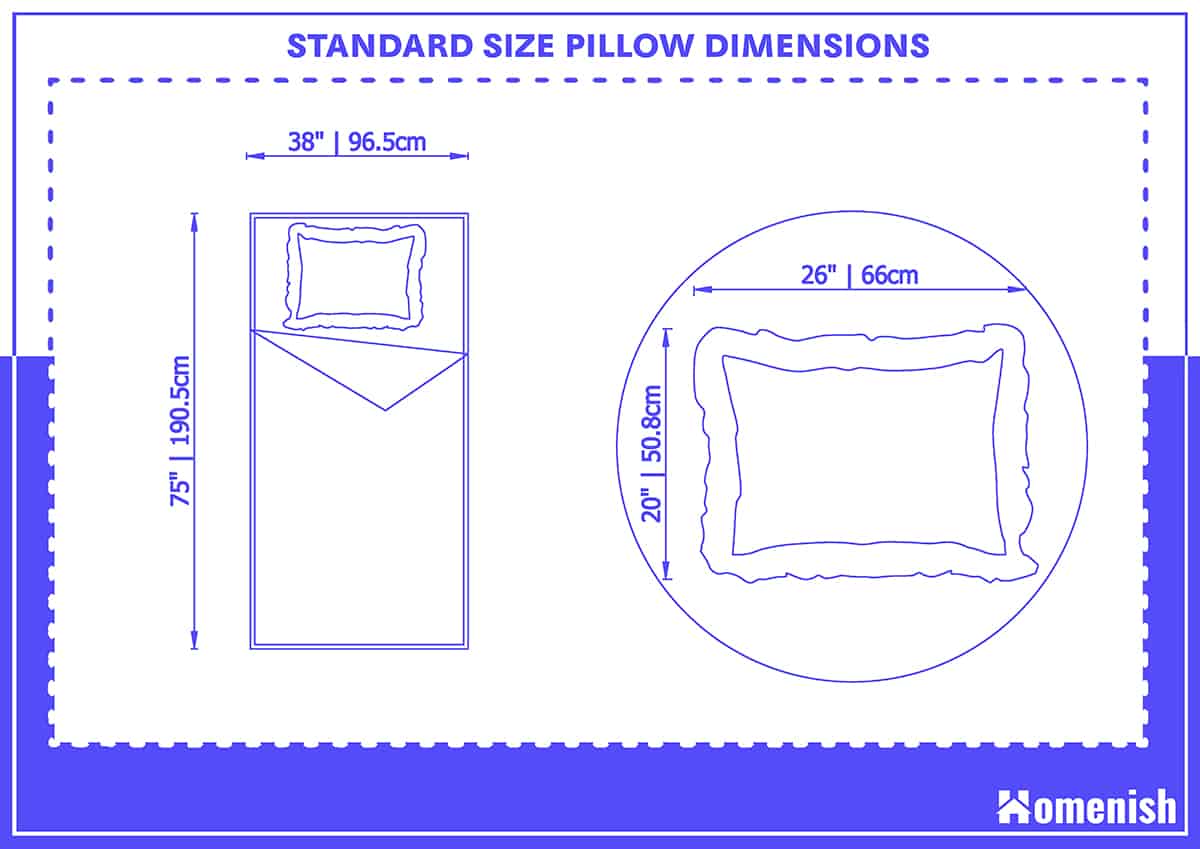 Standard size pillows which are intended for use on twin beds have a measurement of 20 inches wide by 26 inches in length. These are the smallest standard size of pillow you will find for beds, though throw pillows and decorative pillows will be smaller. Even toddler beds will fit standard size pillows, and toddler bed linen sets usually come with a pillowcase to fit standard size pillows.
Pillowcases
Pillowcases should be used to protect your pillows and also to give your pillow a more aesthetically pleasing look. You could also use pillow protector cases as an additional layer between pillowcases and the pillows to keep your pillows in the best condition, protecting them from moisture. When shopping for pillowcases, remember not to get carried away looking at the style and design of them, and be sure to choose one that will fit the pillows on your bed.
Pillowcase Dimensions
Pillow cases come in standard dimensions to work with standard pillow sizes. If you have a king-size pillow, you will need a king-size pillowcase, and so on. Typically pillow cases have two inches extra in length to accommodate pillows so that it isn't too much of a squeeze to get the pillow in. For this reason, some people find that queen pillows can fit into standard-sized pillow cases.
This can work in a pinch if you don't have the right pillowcases available, or you might intentionally put queen pillows into a standard pillowcase to achieve a fuller, plusher look.
Pillowcase Materials
Cotton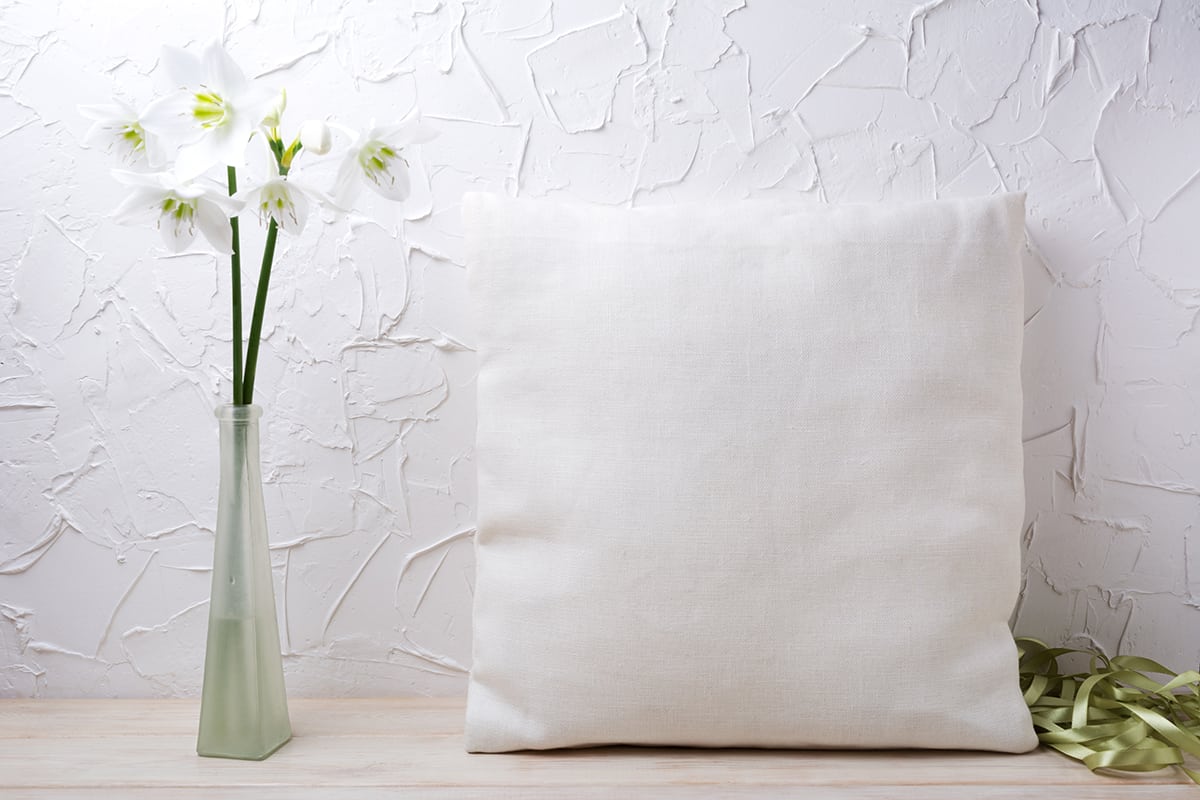 Cotton is a popular choice for pillowcases because it feels soft and cool against your skin. It's an especially good option for the summer months because it does not retain heat and is able to absorb sweat.
Cotton comes in various thread counts, so it can suit any type of budget. The higher thread count will typically be more expensive and have a more luxurious feel that lasts longer. One drawback of cotton pillowcases is that they tend to crease under your skin which can leave temporary lines on your face.
Silk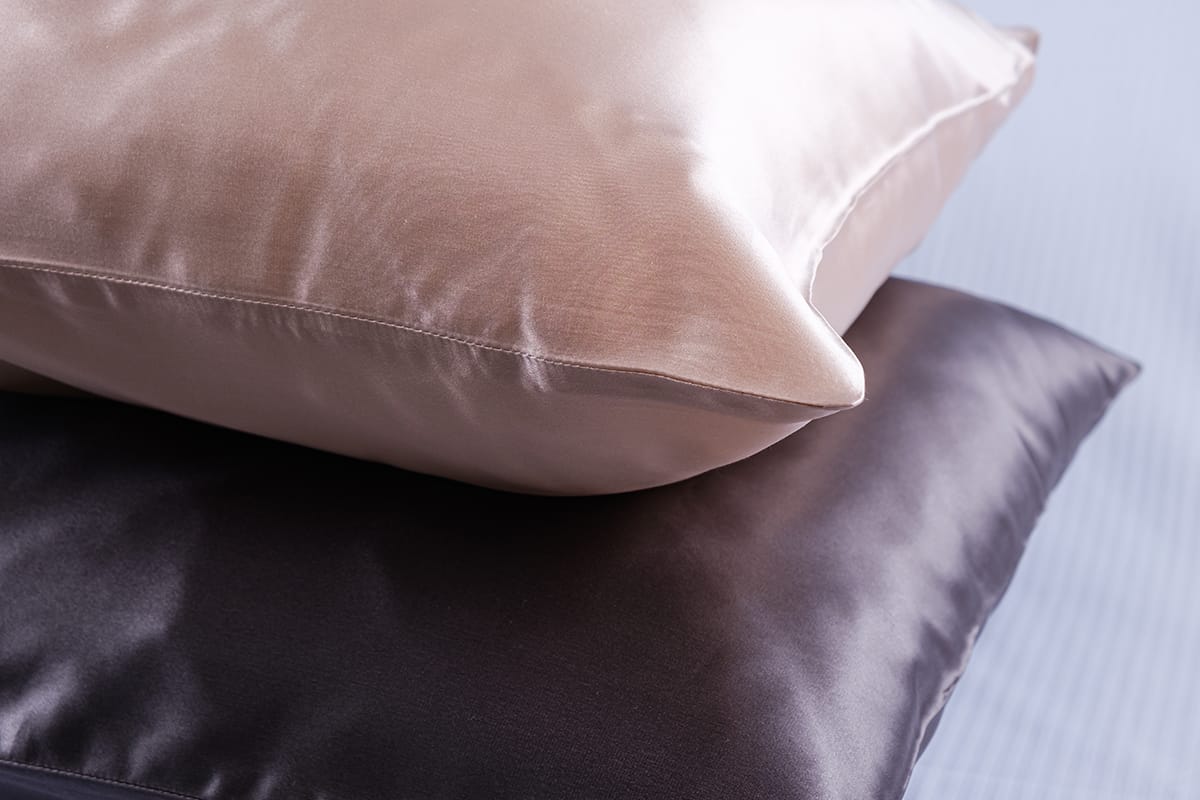 Silk is a luxurious fabric that is expensive to buy and can be inconvenient to wash because it cannot go in a washing machine. It offers beauty benefits. For example, it is known to be gentle against skin and hair to prevent wrinkles and maintain glossy tresses.
Satin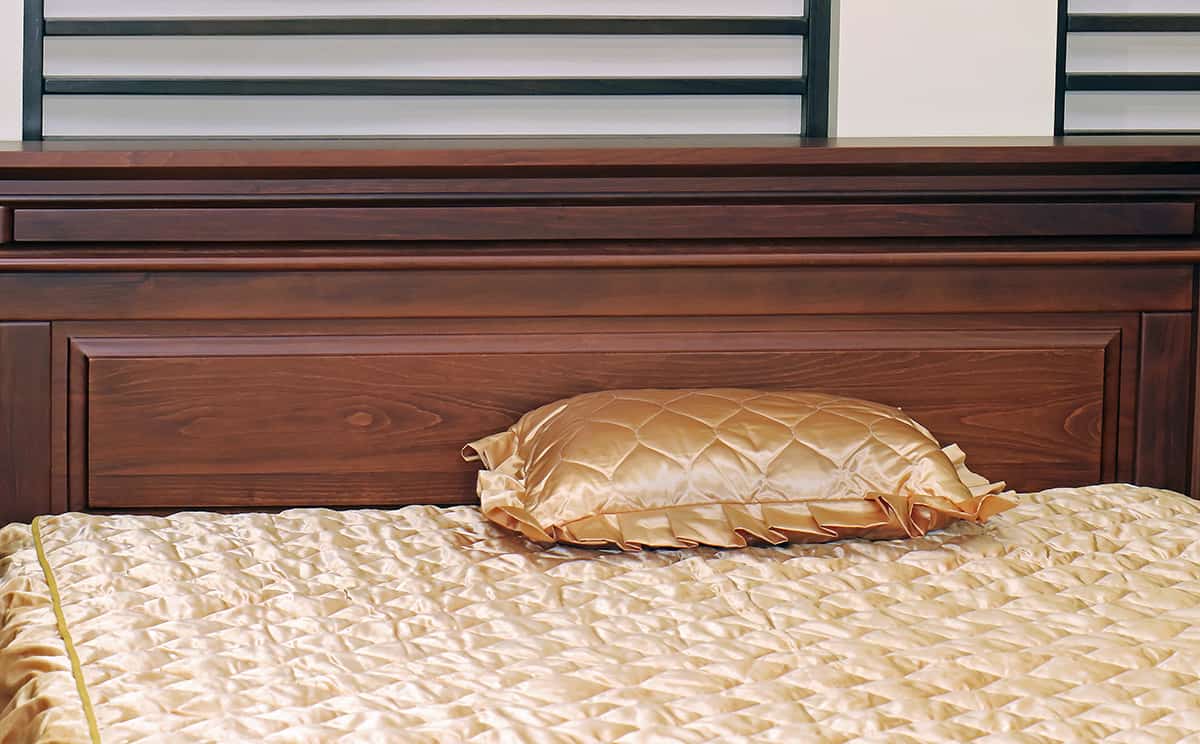 Satin has a similar feel to silk and is equally beneficial to your beauty regimen. It is more cost-effective than silk, though still on the pricey side compared to most pillowcases.
Nylon
Nylon is a synthetic fabric that is produced to look and feel like silk or satin. It is gentle against the skin and can be laundered in the washing machine. It also has the benefit of drying very quickly. This type of pillowcase is best avoided in hot summer months or by people who tend to sweat in their sleep because it will exacerbate these issues and result in damp bedding.
Linen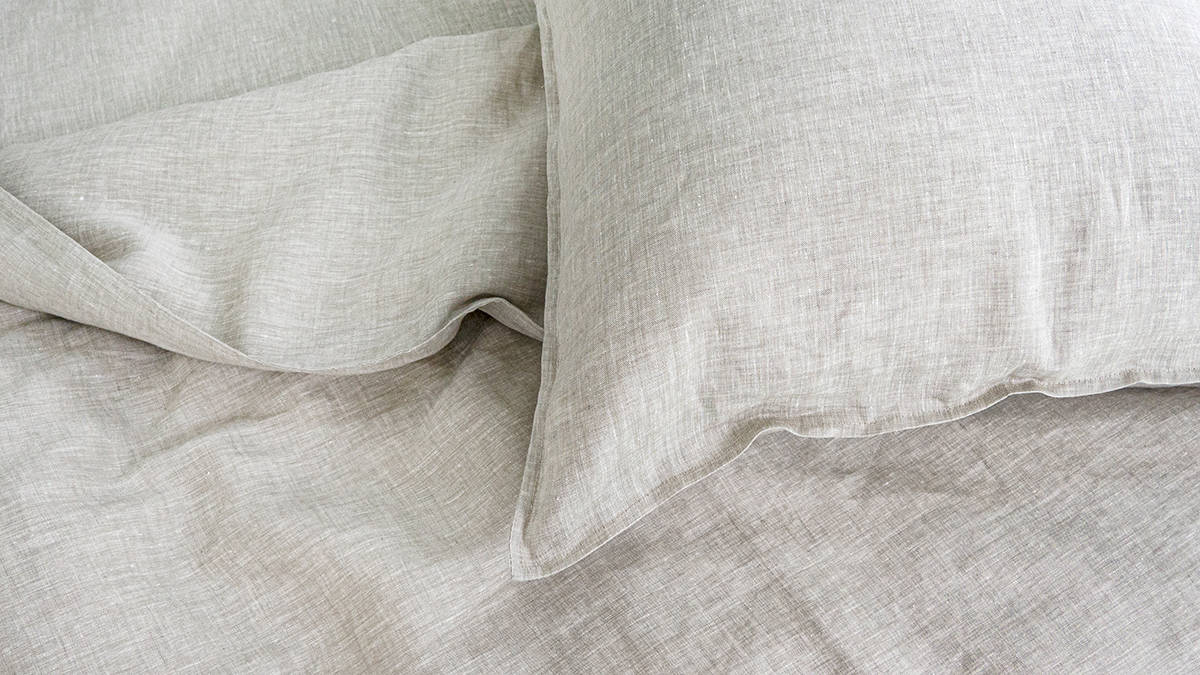 This is a natural fabric that is an excellent choice of the pillowcase in hot climates because it stays cool, is breathable, and lightweight. Linen can be expensive to buy, but it is an investment because when cared for properly, it lasts for many years. Linen does tend to crease easily and will need to be ironed after washing.
Pillow Filling Materials
Man-Made Fibre
Man-made fibers for pillow fillings are a good choice for anyone allergic to natural fillings. Generally, there are two options of man-made fibers; hollow fiber and polyester. Hollowfibre tends to clump together in the washing machine and can result in lumpy pillows, while polyester washes better without gathering into bunches. Man-made fillings hold onto the heat to keep you cozy, but they deteriorate over time and need to be replaced more often than naturally filled pillows.
Feather and Down
This is the most affordable type of naturally filled pillow. Generally, these will have around 80 to 85% feather filling, with the remainder being high-quality down filling. The feathers have spines which can be annoying when they poke out from the pillow.
Goose Down
This is a luxury-filled pillow, which will contain between 80 and 100% down feathers. These are the softest feathers with no spines, which work as the best insulator because they efficiently trap warm air.