There is something truly authentic about stone houses that most of us love so much. So what better way to create the same look than by adding a beautiful stone effect to your exterior house siding?
The innovation in both natural and faux stone has come a long way to transform a home's exterior from the ordinary into the extraordinary.
Here are all the distinct advantages of stone siding, a comparison of natural stone with manufactured stone, and 5 types to choose from with pros and cons.
Still undecided about which type of stone siding to choose for your home exterior? Let me help you by pinpointing the pros and cons of the following 5 stone sidings:
1. Natural Solid Stone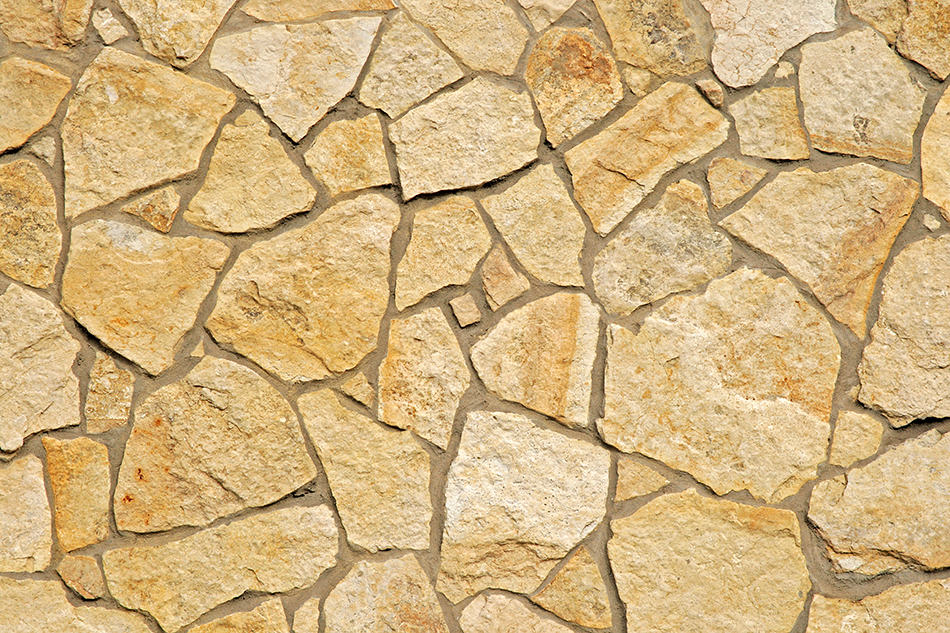 Solid stone has been a popular construction material for many centuries now. In fact, natural stone is not a new concept in home exterior remodeling. It has long been favored for its highly durable and classic-looking appearance.
But what's changed over the last few decades is the improvements in the way natural stone is quarried, thus giving homeowners better style options. While most stones are very heavy, the exterior styles have undergone improvements as far as weight is considered.
Today, they are easier to transport anywhere and can easily be installed by experts. You can choose individual stones in cubic meter quantities in a number of different textures cut to thickness.
Natural stone pieces are a popular way to decorate the siding of any home thanks to their high durability and aesthetic appeal. Unlike vinyl siding, real stone siding can be sourced sustainably.
This is why it is considered a sustainable building material that's abundant on earth. Furthermore, should you decide to move from your current home, it is possible to reuse the solid stone siding on your new home's exterior. Real stone is one of the few materials that can be reused or recycled in modern homes.
Pros
Real stone looks authentic and increases curb appeal
No maintenance
Direct sunlight won't damage or peel the stone's surface
Natural stone doesn't lose its color
Strong enough to protect the exterior of the house from natural elements
Highly durable and long-lasting
Fire resistant
Increases the home's value
Cons
Natural stone siding is one of the most expensive options
If the stone is not installed properly, it can crack, which results in moisture seeping into the cracks and ruining your home's structure
Natural stone is very hard to repair
2. Natural Stone Cladding
Stone cladding isn't as large as exterior slabs that are normally used for a driveway or patio floors. The cladding is cut to specific sizes based on the homeowner's requirements. This type of natural stone is made from granite, which is crack resistant and relatively hard-wearing against moisture penetration. Natural stone cladding is typically installed over a substrate rather than directly on the exterior wall.
This type of natural stone siding comes in a variety of sizes and colors. Granite slabs are very dense and make the ideal siding for traditional homes. Since granite is crack resistant, it helps keep moisture from penetrating into the property's structure.
If you live in a cold climate, this type of stone siding is ideal for freezing temperatures as it won't get damaged in ice or snow. The irregular contours of the cladding make the siding look more traditional and authentic, but it works just as well on modern home exteriors.
Pros
Authentic and natural-looking
Extremely durable
Many colors and formats to choose from
Complements timber, concrete, and colorful brick exteriors.
Can be used in a variety of applications and projects
Weather and fire-resistant
Can increase the home's value
Provides excellent insulation that keeps heating and cooling costs down
Abrasion and scratch-resistant
Easy to care for
Cons
Requires a structural layer for the cladding to be installed on, which can add to costs
Labor-intensive and time-consuming to install
More expensive than faux stone
Must be properly sealed for preventing moisture to seep through
Poorly installed cladding can trap moisture behind the substrate
Strong cleaning products can damage the cladding's surface
Should be installed by a professional
3. Natural Stone Veneer Panel Siding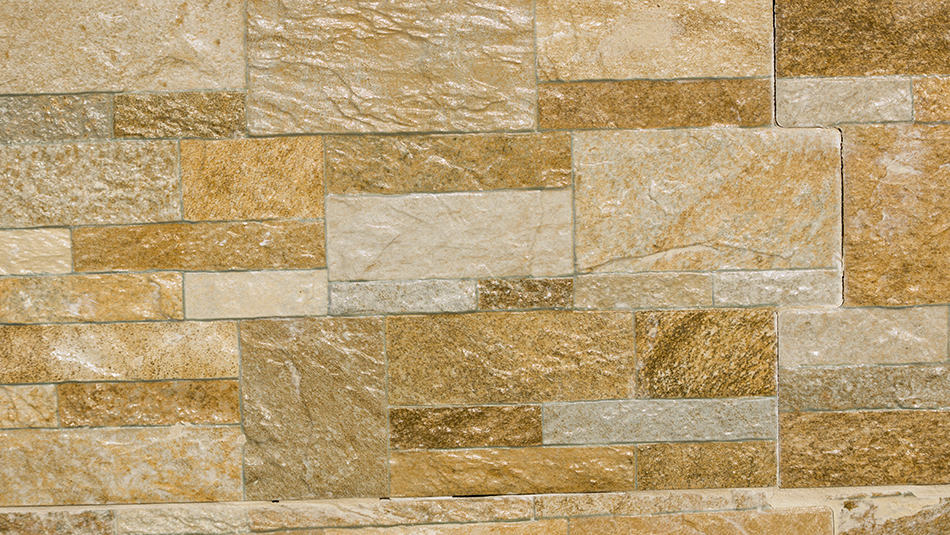 A natural stone veneer panel consists of all the above two options as a 2-in-1 siding combination. The veneered panel is developed using natural stone in various formats using a panel system. The result is a seamless puzzle-like siding that provides homeowners with real stone options with the same advantages of durability and visual appeal.
The installation process of natural stone veneer panels is quick and straightforward thanks to the simple panel system technology.
This type of stone siding comes in a multi-dimensional texture that looks and feels like real stone – and that's because it is real stone! The only drawback to stone panel veneers is their excessive weight, which can prove to be unsuitable for some exteriors.
Pros
Looks beautiful on any exterior
A wide variety of colors and sizes to choose from
The panel's lightweight design makes DIY installation easier
High durability of up to 40 years
Does not require much maintenance
Cons
Incorrect installation can result in chipping or breaking
Strong cleaning products will damage the panel's surface and fade its color
Not all varieties of stone veneers are suitable for outdoor surfaces
4. Faux Stone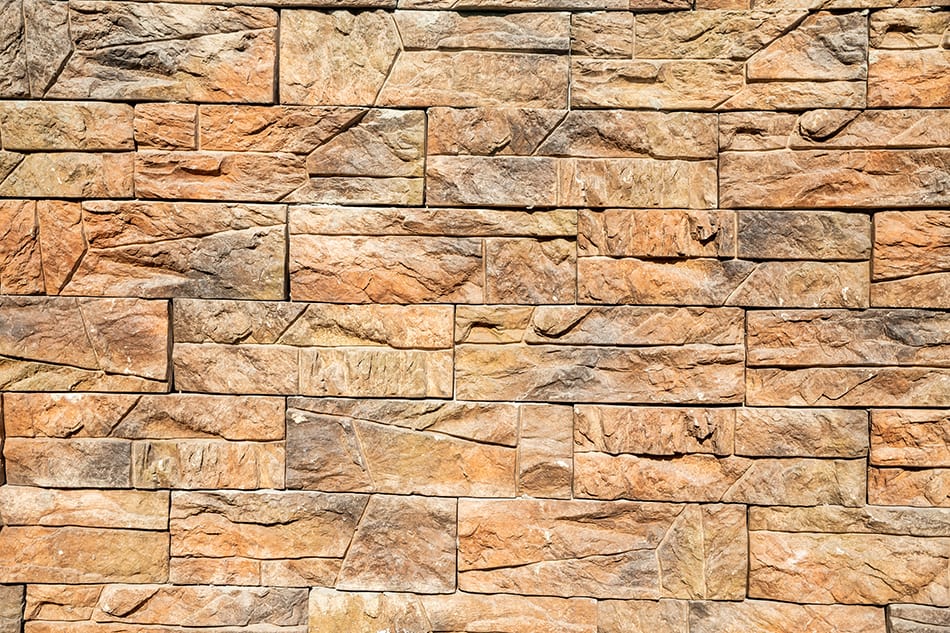 Faux stone is an artificial type of stone made from concrete pigments. This manufactured stone siding is normally installed one piece at a time using mortar.
The modern designs of faux stone look just like natural stone, with the main difference being the price. Faux stone is significantly cheaper than real stone, which is why many homeowners opt for this type of siding as a natural stone alternative.
Manufactured stone is not just inexpensive to buy, but it's also more affordable in terms of labor costs. This is because the installation isn't as labor-intensive and time-consuming as natural stone siding plus all the rough edges of the veneered stone have been removed during the manufacturing process.
While faux stone may be a cheaper solution than real stone, it must be said that this type of artificial stone doesn't benefit from the same aesthetic appeal as natural stone.
Pros
Long-lasting and durable
Much lighter than natural stone
Very easy to install
Cons
If it's not watertight, moisture can build up behind the veneer and damage the structure
5. Polyurethane Foam Panel Stone Siding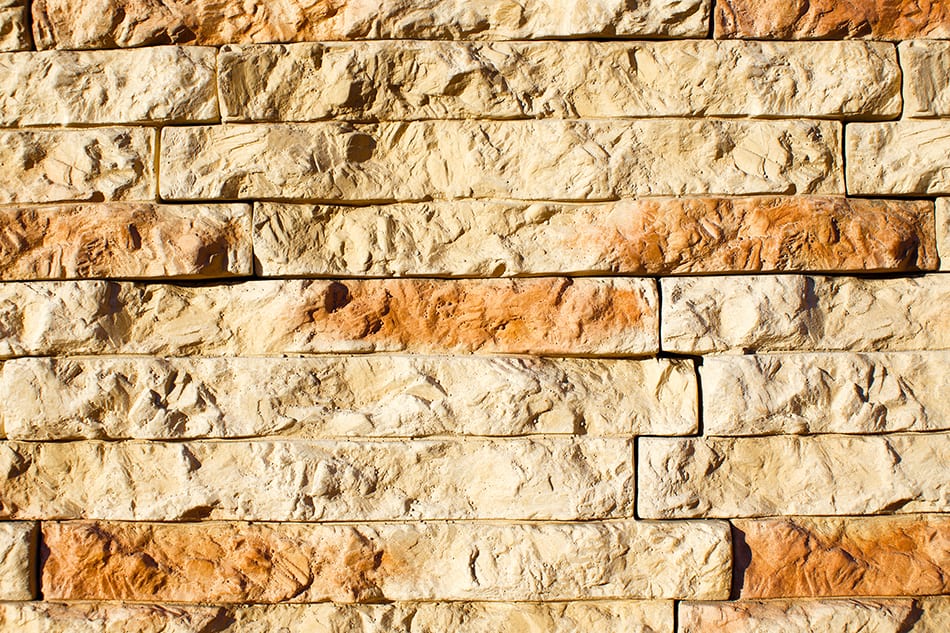 Another natural stone alternative that's even lighter in weight than faux stone is the polyurethane foam panel stone. This type of artificial stone siding isn't made from concrete; It's a foam-like material composed of UV inhibitors, fire retardants, and polyurethane.
One huge benefit of foam panel stone siding is its variety. You can choose from a wide range of colors, patterns, and textures to complement your home exterior. Additionally, the foam-like panel can be cut the same size or shape as real stone. The only difference is the installation as this type of siding is installed using panels not one stone at a time.
When it comes to appearance, the foam panel stone siding looks just like natural stone, but without the same longevity. In fact, foam panel stone siding has a shorter lifespan than faux stone as it's cheaper and made from lighter materials. You only have to touch the foam panel to realize that it's not real stone.
Pros
Foam panels weigh as little as 1 pound per square foot so you can easily cut the panels yourself and save on labor costs
The polyurethane composition of this stone siding offers excellent insulation value that no other type of stone siding is capable of. This helps your home retain heat in winter and keep cool in summer, which will reduce your energy bills
A much cheaper alternative to real stone siding
Many decorative panels to choose from
Cons
Poor durability
Can get damaged against impact
Cheaper panels can look fake. Our advice? Obtain free samples to test the material's quality and texture to see if it's right for your home
Vibrations or tremors can cause the panels to crack
Can fade over time
Why Choose Stone Siding for Your Home Exterior
Stone siding for home exteriors has become highly popular among homeowners who want an authentic look for their homes. After all, it's only stone that can give a home a truly unique and elegant appearance.
Stone comes in a wide variety of textures, colors, shapes, and styles. This gives homeowners the freedom to select any design they want to suit their home exterior. The exterior of Georgian-style homes, for example, is best suited for granite-block stone, while limestone goes perfectly with Colonial and Prairie homes.
Since natural stone has a long life span, it reduces the need for replacement or disposal in landfills.
When the stone is sourced locally, it helps the environment and reduces the need for transport. In the Midwest and Northeast of the US, granite is the most typical stone available, while in the West there is an abundance of sandstone.
Stone siding is much more durable than wood siding plus it won't rot over time.
Stone does not decompose when exposed to rain and other harsh elements.
Natural Stone vs. Manufactured Stone Veneer
While natural stone may feature imperfections and variations that have formed over a few centuries, it comes with textures that make it so authentic looking.
Faux or manufactured stone, which is a man-made product, is designed to look identical to real stone – but at a lower cost. A high-quality faux stone can look exactly like the real thing, and with so many varieties out there, you'll be spoiled for choice.
If you're trying to decide between natural quarried stone or faux stone veneer, you should take into account your budget, your home's location, and personal taste. Natural stone is expensive to quarry and it can get damaged through transport.
Faux stone, on the other hand, is cheaper to manufacture and lighter to ship. For homeowners who are on a tight budget, manufactured faux veneer is a much more cost-effective solution.
Having said that, those who love the rustic and rough look of real stone will be better off opting for individual stone pieces for their home's exteriors. This option gives you more freedom to choose the color, style, grout, and stone type. In fact, you'll find everything from rounded river rocks to flat-faced stones. The possibilities are practically endless!
On the other hand, if you wish to cover large surfaces of your home's exterior, stone panels will be especially helpful. These types of stone sidings have interlocking and uneven edges for a natural appearance. You can put together your own siding using different panel veneers. And there won't be much grouting to do unlike with natural stone.
The Verdict
As you can see, there are pros and cons to both natural stone and faux stone. It all depends on your personal taste and budget. Manufactured stone has the advantage of being easier to install, lighter in weight, and flexible enough to be fixed on all kinds of substrates.
There is also a vast variety of siding colors, styles, and patterns at your disposal. You can't even tell the difference between real stone and manufactured stone when you look at it from a distance. Perhaps the only downfall is that manufactured stone is susceptible to fading over time.
There is also the authentic nature of stone cladding that you just won't find anywhere else. No matter how innovative stone manufacturing becomes, it can't compete with the real thing.
As long as it's properly installed, you will never need to replace or repair the individual stones or cladding. Having said that, real stone siding is the most expensive option for a home exterior so you need to consider your options carefully.