If you've just taken on a flooring type, and a tiling project in your home, you'll be surprised by the many different flooring tiles that are available out there. Floor tiles come in a diverse range of textures, designs, and colors. Unlike wood that requires ongoing maintenance and is prone to rot, tiles, on the other hand, make a better choice for homeowners. Made from a variety of materials, such as stone and clay, each type of tile flooring has its own unique characteristics.
In this article, I have compiled the most popular types of floor tiles including their pros and cons. Let's get straight to it now.
6 Man-Made Floor Tiles 
1. Ceramic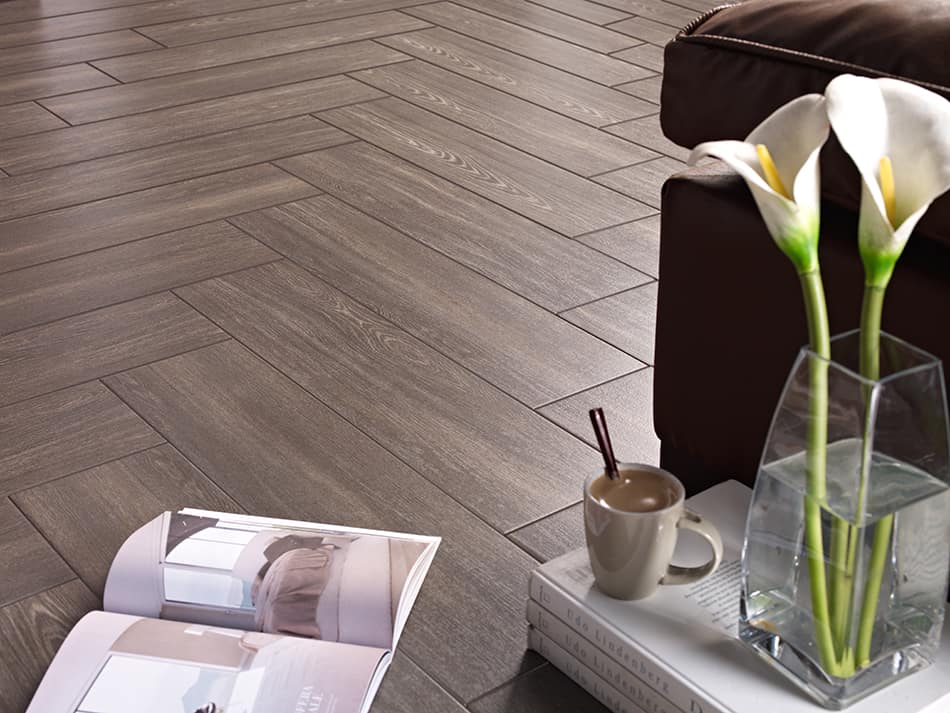 Ceramic tiles are made from clay materials that are quarried and turned into a mold. Different manufacturing methods of ceramic tile include dry pressing, extruding, and slush mold. The tile is formed when the slightly wet mixture is extruded and poured into a specified shape before getting hardened in a kiln at very high temperatures.
This flooring tile is one of the most common types found in homes as it's suitable for many different applications. The popularity of ceramic is thanks to its increased durability, which makes it perfect for any room of the house. Additionally, you can choose between glazed and unglazed ceramic for a rustic finish or longer-lasting protection.
Best for: any room of the house 
Pros
Scratch-resistant

Stain-resistant 

Water-resistant 

Durable, especially the glazed option
Cons
May crack if you drop heavy items

Not suitable for outdoor areas
2. Porcelain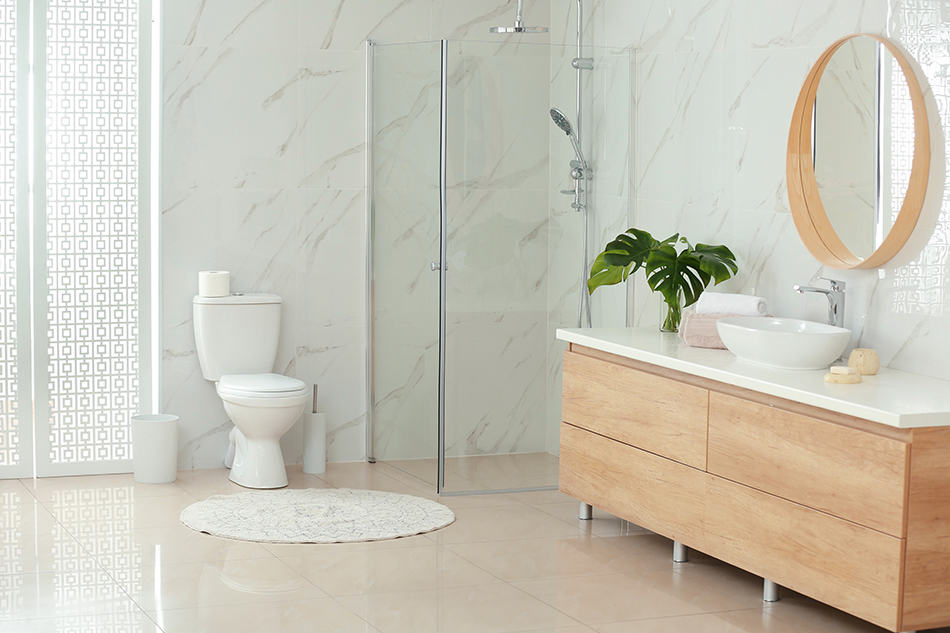 Another common type of flooring tile is porcelain. The appeal of this synthetic material comes from the fact that it is manufactured to mimic the look of natural stone or wood – but without any of the maintenance.
Porcelain tiles give you the same elegant finish without the upkeep, which makes them an all-purpose tile. This material comes in a variety of colors, styles, and designs that make the tile a versatile option for flooring. Unlike ceramic that won't withstand extreme outdoor temperatures, porcelain tiles are a better choice for outdoors in porches or patios, for example as they won't fade or crack. 
Best for: any room of the house plus porch and other outdoor spaces
Pros
Crack and fade resistant 

Stain and scratch-resistant 

Versatile designs

Mimics the look of stone or wood
Cons 
3. Glass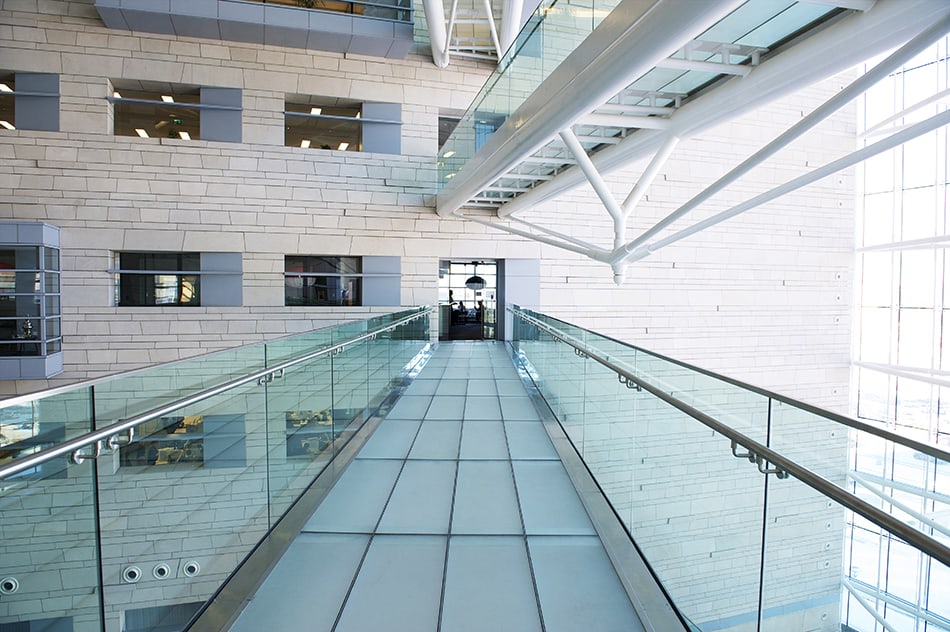 Glass tiles have excellent stain-resistant qualities that make them stand out. For example, if you spill red wine or coffee on the tiles, they can easily get wiped up using lemon and vinegar. These tiles come in almost every size imaginable with many different shapes, such as rectangles and squares. You will even find glass mosaic tiles or a combination of glass and metal tiles in a variety of forms.
Just as you would expect to find with glass tile flooring, the material can easily chip or break, so it's only recommended for small areas of the house that receive low foot traffic.  
Best for: study rooms and other low-traffic areas
Pros
Aesthetically appealing

Stain-resistant
Cons
Will easily chip 

Can get scratched

Not suitable in high-traffic areas
4. Vitrified
Vitrified tiles have similar properties to ceramic with very low porosity. These flooring tiles are a cheaper alternative to granite or marble and often used outdoors due to their high frost and water resistance. 
Vitrified tiles are made from a mixture of clay, silica and quartz. The surface of the vitrified tile consists of a single mass that gives it low porosity. During the vitrification process, the clay and silica are melted and blended together to form a transparent-like material inside the tile. This is why vitrified tiles often retain their original shine even after several years of wear and tear. 
When compared to ceramic, marble and granite, vitrified tiles are just as durable and may even last longer. Where they excel over their counterparts is the ease of cleaning. You won't have to spend many hours wiping these tiles to keep them shiny and clean! 
Another great advantage of vitrified tiles is their shimmering look, which makes your entire home look much brighter than matte tiles. However, since the manufacturing process of these tiles takes a huge expenditure of energy and carbon dioxide, they are not an environmentally friendly flooring option. In addition, the installation of these tiles requires the assistance of expert tilers, which can be costly. 
Best for: both indoor and outdoor
Pros
Stain proof 

Durable

Water and frost resistant

Easy to clean
Cons
Can be slippery when wet 

Not environmentally friendly

Expensive installation 
5. Mosaic 
Mosaic tiles are decorative art forms that are assembled using small pieces of tiles. These square, flat tiles are ideal for small floor areas that require an appealing image or visual flair. Mosaic tiles can be used in any room of the house, and when combined with bright lighting, they serve as a unique feature.
Mosaic tiles are available in various designs that mimic natural stone or shimmering glass. The main purpose of these tiles is to brighten up the interior, but they are generally intended for small areas with low foot traffic. 
Best for: low foot traffic areas
Pros
Durable

Easy to clean and maintain

Versatile and flexible in design

Environmentally sustainable

Cheaper to install than marble
Cons
The small size makes the tiles fragile

Can get slippery when wet
6. Vinyl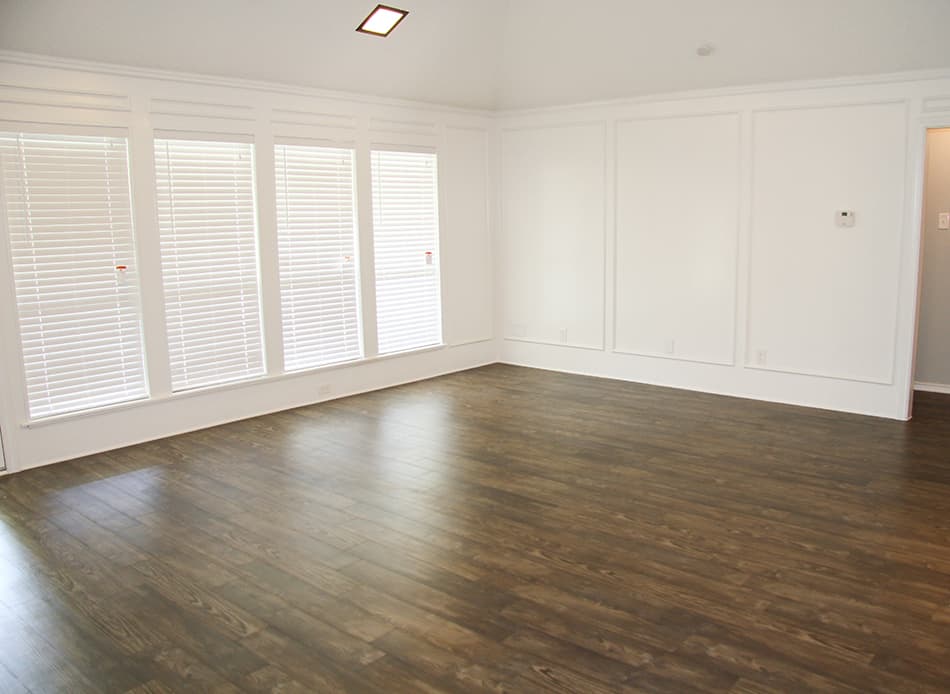 Vinyl has long been a popular flooring option for homeowners. This synthetic material is water and stain-resistant, highly versatile, and provides great durability for a fraction of the cost of natural stone. Today's vinyl tiles are affordable, attractive, and made of higher quality layers that have added to their durability.
The most common vinyl tile thickness is 9 inches by 9 inches or 12 inches by 12 inches. These tiles are much easier to install than most other synthetic tiles, plus they replicate the look of ceramic or wood. Because of their water-resistant properties, many homeowners prefer vinyl tiles instead of ceramic or wood.
The characteristics of vinyl tile floor consist of multiple layers that go all the way through to the material's backing. So even if the first or second layers wear away, the rest of the tile will remain intact. 
Best for: high traffic areas including entryways, kitchen, living room, dining room, and bedroom
Pros
Highly durable

Water and stain-resistant

Less expensive than other flooring tiles 
Cons
Noisy to walk on

Can get damaged with heavy loads
7 Natural Stone Floor Tiles
1. Onyx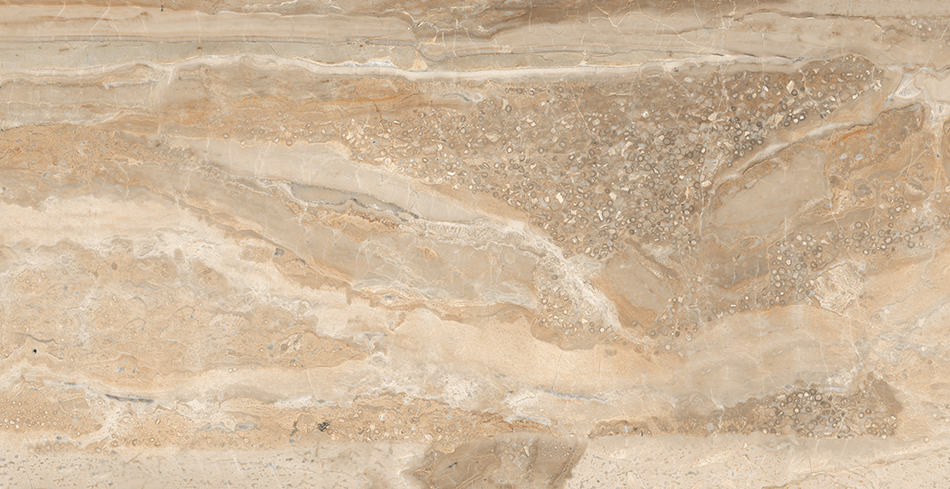 Onyx is a soft stone that's formed from limestone. There are many color variations with strikingly luminescent results ranging from black and white to every other color imaginable. 
Onyx flooring tiles are very lightweight when compared to marble and granite. This means you can easily install this gemstone in the kitchen or bathroom.  But you will need to keep this flooring clean so it can maintain its original look. 
Onyx tiles are porous by nature, which means they are susceptible to damage and stains. When installing this type of flooring in your kitchen or bathroom, you'll need to take extra care so as not to stain the tiles. 
Those who are looking for luxury and elegance can turn to onyx tiles as these gemstones offer incredible beauty and boost resale value. Even though onyx tiles are very soft and delicate, many homeowners still opt for these natural stone materials because of their amazing value and aesthetic appeal.  
Best for: kitchen and bathroom
Pros
Wide variety of colors and patterns

Attractive designs

Adds resale value

Aesthetically appealing
Cons
Expensive

High maintenance 

Prone to damage and stains
2. Granite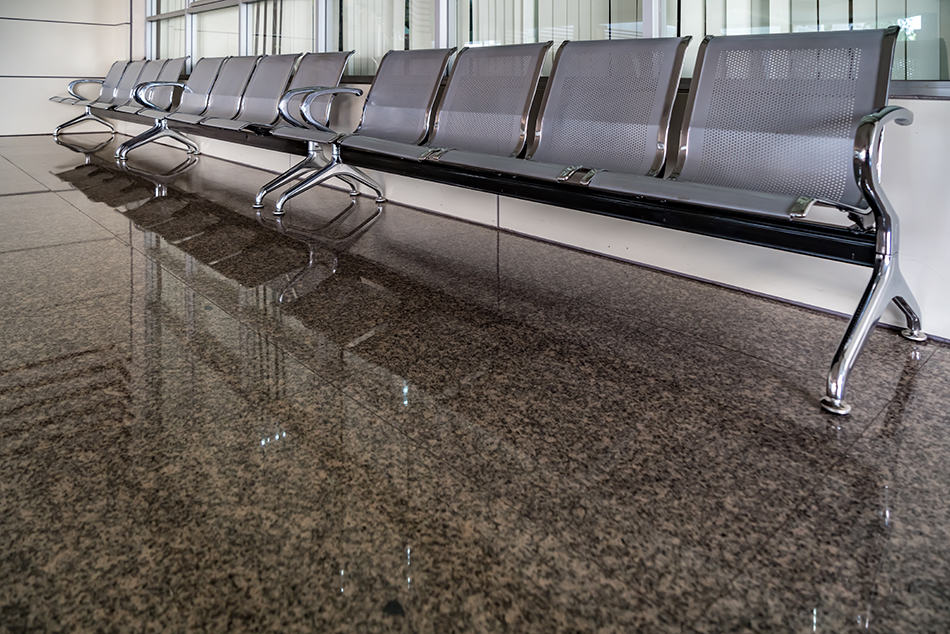 Granite is a type of igneous rock that's highly dense. The distinctive appearance of this natural stone is because of the minerals found within the rock. These veined minerals consist of many different colors and add a unique appeal to the tile. Once polished, granite becomes almost impervious and scratch-resistant, which makes it an excellent choice for kitchen floors and other high traffic areas.
If you're looking for a tile flooring that's highly durable and beautiful, granite is the best option. This type of tile is an excellent investment that adds resale value.
The downside of granite is its tricky and time-consuming installation process, which can be expensive. It, therefore, isn't recommended for cheap, DIY projects.
Another disadvantage to granite flooring is the risk of slipping when it's polished. Furthermore, this tile flooring can feel very cold when walked on, so it may not be a great idea in colder climates.
Best for: kitchen and other high traffic areas
Pros
Extremely durable 

Very resistant to moisture

Naturally beautiful 

Low maintenance

Increases resale value 
Cons
High price tag

Cold underfoot

 
3. Marble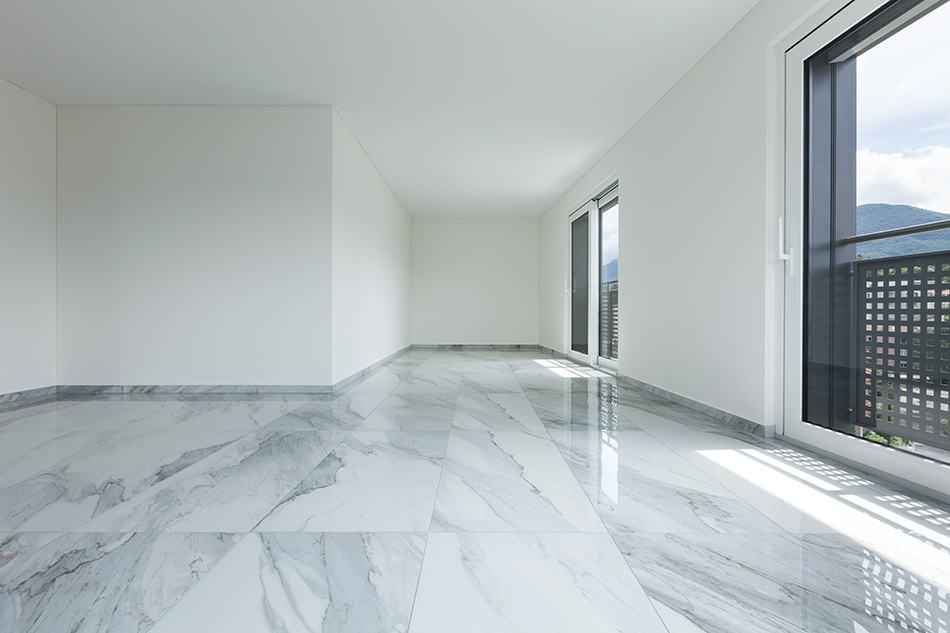 Marble is a type of metamorphic rock that contains rich veins in many different colors. When compared to granite, marble is more porous and is, therefore, not recommended for high traffic areas like kitchens.
While marble is a costly material, it does add instant elegance to any space. So if you're looking to add luxury to your bathroom or bedroom, consider marble flooring to upgrade your space. Marble is prized for its style, beauty, and elegance, which was originally used in the palaces of kings and queens before it found its way to homeowner's interiors.
As a flooring material, marble requires more maintenance and is more prone to damage than porcelain or ceramic. 
Best for: bathrooms, laundry rooms, and other low-traffic areas
Pros
Elegant appearance

Adds resale value

Natural material
Cons
Expensive to install

Requires a lot of upkeep

Prone to scratches and stains 
4. Limestone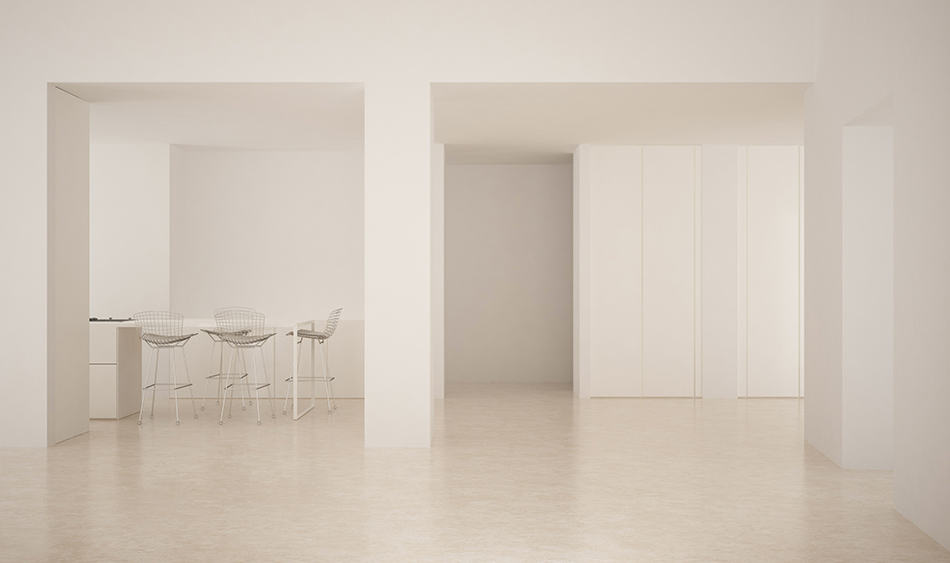 Limestone tile flooring comes as either textured or smooth finish. This natural stone tile is less dense than marble and granite, which only makes it suitable for low foot traffic areas. It's not recommended for kitchens and living rooms as it's prone to scratching.
Since limestone tile is a porous rock, it doesn't last as long as other natural stones. It must, therefore, be sealed properly. Otherwise, it will crack easily.
It is worth bearing in mind that limestone tile is difficult to clean so in order to retain the look of this stone, homeowners must avoid using vinegar and lemon-based cleaning products. Opt or a neutral pH cleaning agent to clean your limestone tile flooring.
One of the reasons why limestone tile is such a popular flooring option is because of its soft and light texture that provides an earthy tone. This makes the tile ideal for outdoor spaces and other low traffic areas, if you want a natural stone to brighten up your spaces. In addition, since this natural stone is not manufactured, every cut tile retains its natural and unique appearance. When it comes to limestone tile, you can enjoy choosing from a wide variety of colors and patterns.   
Best for: low traffic areas and outdoor spaces
Pros
More affordable than other natural stone tiles

Attractive design
Cons
Difficult to install 

High maintenance 

Prone to scratches 

Not as durable as other stone tile floors
5. Travertine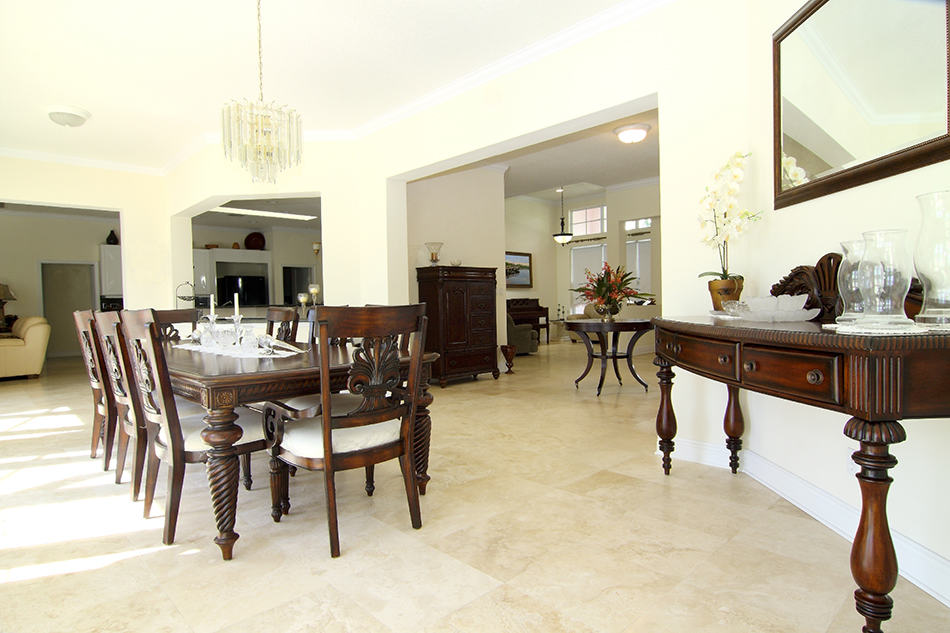 Travertine is a type of limestone that forms around spring deposits. It has a unique, earthy appearance. This soft, porous stone has a pitting or divot surface that's not recommended for high traffic areas, such as kitchen floors. This is because travertine tile can easily be stained and scratched so special care must be taken when installing this type of flooring.
Historically, travertine tiles were used in architectural buildings that came from Italy, but today, most of these natural stone tiles come from Iran, Mexico, Peru and Turkey. 
Just like other natural stone tiles, travertine is also prone to water and stain damage, thus requiring extra maintenance and proper sealing. To avoid scratches and stains, many DIYers prefer installing these tiles in dining rooms and study rooms.  
Best for: low traffic areas 
Pros
Easy to cut and shape 

Timeless look
Cons 
Prone to scratches and stains 

Not water resistant 

Highly porous 
6. Natural Slate

Slate tiles are another metamorphic type of rock that are extremely durable and dense. Slate is darker in color and its surface is naturally textured. This natural stone is an excellent choice for high traffic areas like kitchens. Natural slate will bring a powerful beauty to any flooring thanks to its high durability and earthy tone.
Just like any natural stone tile flooring like marble and granite, slate will also boost resale value. While granite tends to be more popular, slate flooring is a more unique option that sets the standard. This type of natural stone flooring is resistant to cracks, scratches and chips. However, you need to ensure your slate flooring is fully sealed against stains and maintained on a regular basis, especially in kitchens.
If properly maintained, slate flooring can last for many decades and retain its original appearance without having to be replaced.   
Best for: heavy traffic areas 
Pros
Very durable 

Adds resale value

Unique and attractive natural material
Cons
Expensive to install and repair 

High maintenance 
7. Sandstone Tiles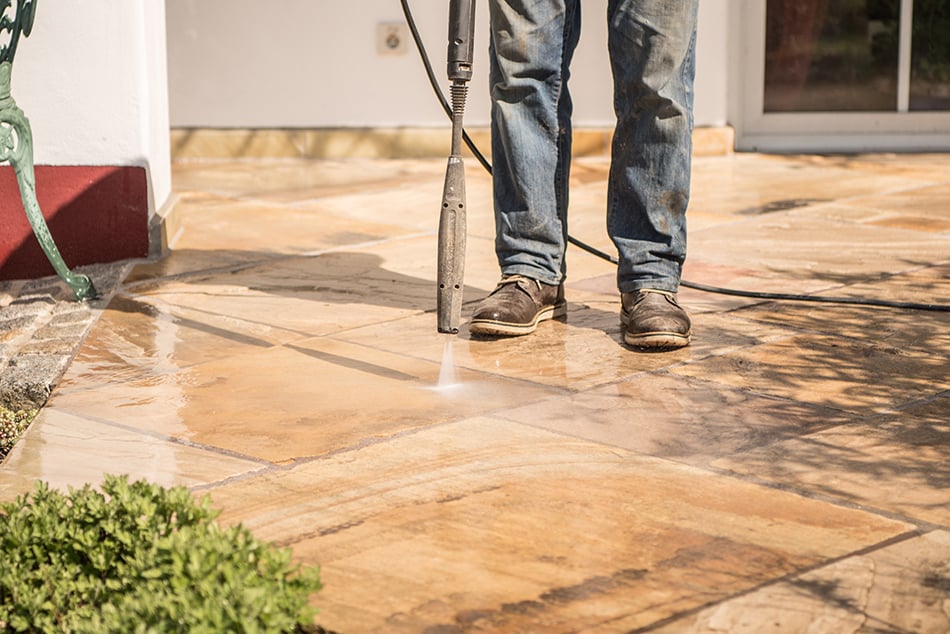 Sandstone is another natural choice when it comes to tile flooring. Just as its name implies, sandstone looks similar to the desert and beach with colors that range from tan to brown and red.
Sandstone tiles are highly durable and ideal for high traffic areas. That said, these tiles are more porous than granite and marble, thus making them more prone to water absorption.
But the good news is, even if your sandstone flooring requires replacement, it can be done with relative ease. All you need to do is save a few tiles and match the damaged ones with the rest of the floor. 
These natural stone tiles are a popular choice for both indoor and outdoor spaces. In fact, sandstone adds warmth to any room, particularly when it is installed in patios and pool surroundings. 
Best for: High traffic areas including kitchens, patios, walkways, and pool surroundings 
Pros
Eco friendly

Attractive 

Durable
Cons 
Absorbs water

Prone to scratches and stains

Rough surface
Tile For Flooring Buying Guide
If you're trying to decide on the best tile flooring for your home, you will first need to take into account your budget, aesthetic preferences, and the areas the tiles will be installed.
Granite and natural slate tiles are the best options for entryways and other high-traffic areas. However, they must be properly sealed to keep them looking shiny and new for longer. A coat of sealant will also prevent dirt from absorbing into the grout lines.
Softer stones, such as travertine and marble work perfectly in bathrooms and other low traffic areas. Since these stones are highly porous, they must also be sealed properly in order to protect them from staining.  
Natural stone is resistant to wear and tear, thus making it more valuable than synthetic tiles. However, its unique properties make these natural tiles more expensive than man-made flooring tiles. It is, therefore, important to consider all the pros and cons of these tiles when making a purchase decision.
Both synthetic and natural stone tiles are beautiful flooring options, but their aesthetic appeal is overshadowed by incorrect installation or in the wrong area.
If you have your heart set on synthetic tile flooring, opt for glazed tiles for ease of cleaning. Glazed tiles are stain-resistant as they are treated with a waterproof sealant, so you won't have to worry about keeping them clean after installation.
Synthetic tiles are less weather-resistant than natural stone so you should only install them indoors. In colder climates, man-made tiles, such as ceramic or porcelain may crack in freezing temperatures, so they shouldn't be installed in areas that experience severe heat or cold. 
FAQs
Which types of floor tiles are the most durable?
Granite and porcelain tiles are known as the most durable flooring materials. They are harder and tougher than ceramic with a low water absorption rate, even after prolonged exposure. This makes the tiles perfect for heavy traffic areas.
How long does tile flooring last?
The average life expectancy of synthetic tile flooring is 75 years, while natural stone flooring, such as granite and marble can last as long as 100 years. That said, poorly installed tiles need to be replaced after 20 years. If properly maintained, any type of flooring tile can last for many decades even after heavy use. 
Which is better, matte or glossy floor tiles?
While matte flooring tiles lack the shiny appeal of glossy tiles, in high traffic areas, matte tiles can perform better, especially in kitchens and bathrooms where they come in frequent contact with humidity and water. What's more, matte tiles have a better non-slip reputation, thus making them the ideal choice in entryways, kitchens, laundry rooms, and bathrooms. 
What's the best flooring tile for the bathroom and kitchen?
Natural stone tiles as well as porcelain and ceramic are all excellent flooring tiles for kitchens and bathrooms. For a low-maintenance option, porcelain is better than stone. Ceramic is harder and won't scratch. It is also more water-resistant than natural stone plus it can easily be cleaned. For kitchens and bathrooms, therefore, ceramic makes a great choice.
Is tile flooring good for bedrooms and living rooms?
Whether your bedroom or living room space is large or small, tile flooring is an exceptional choice as it's more aesthetically appealing than carpet. When compared to traditional wooden floors, tiles are more durable and require much less maintenance. For those who don't like to walk on cold tile floors, a simple rug will take care of this issue. 
Natural Stone Vs. Synthetic Tile Flooring Bottom Line
While synthetic tile flooring is budget-friendly and easy to maintain, natural stone does a slightly better job of boosting your home's resale value. The tricky part with natural stone tiles is the difficulty to clean and maintain them. That said, as long as your tiles are properly sealed and maintained, your synthetic or natural stone flooring will look gorgeous for many years to come.