Since the flooring is the permanent covering layer of your household's floor, you need something that's not only appealing but can also last long. And if you are a builder, you want to choose something that'll satisfy your customers in terms of style and value without compromising your own budget.
When it comes to settling on a specific type of flooring, the area you want to install it on will determine the type you choose. This is because certain types are generally suited to certain areas of the home, for instance, the kitchen, because of their moisture-resistance or ability to withstand heavy foot traffic.
Aside from that, if you are prepping a home for sale, you want to choose something that'll resonate with the taste of potential buyers in the area. Fortunately, there is a wide range of flooring types available, each from different materials so choosing one that'll suit your project shouldn't take a sweat.
Your final decision should be based on the style of flooring, quality, and price. And when you choose properly, it can add to the value of the property while blending naturally with the interior decor of the home.
Popular Flooring Types
1. Vinyl Flooring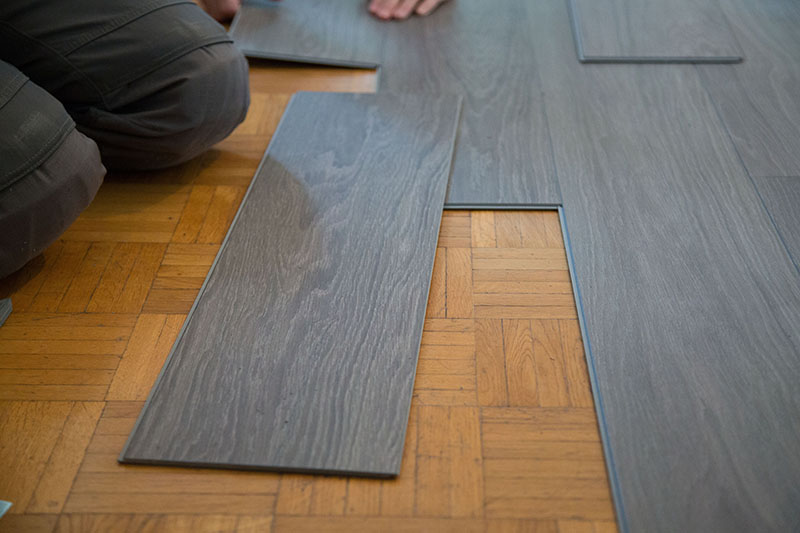 Vinyl Flooring, including standard vinyl and luxury vinyl flooring, is generally installed by gluing. It's available in tiles and rolls and often comes in different profiles and colors to suit different interior decors. This flooring type, like the bamboo floor, can simulate the appearance of other flooring types, giving it the flexibility that is needed for a creative project or remodels.
One of the distinctive features of this flooring type is its resilience. Even though it's not as thick as hardwood, it is sturdy enough to be used in high traffic areas like the kitchen, basement, bathrooms, and dining areas. Most importantly, they are cost-effective, more so than hardwood flooring, which endears them to most remodelers, builders, and homeowners.
Unlike linoleum, vinyl is of plastic nature and offers more style options and quality, and is available in a wide range of prices to suit different budgets. However, it's not as environmentally friendly as linoleum and other types of flooring.
It offers a lot in terms of advantages over others in that it is durable, easy to maintain and clean, can be installed easily, and relatively inexpensive. Aside from that, it can get wet and not buckle so you can use it in kitchens, bathrooms, and other places where water is omnipresence.
It has a scratch-resistant surface and the price is dependent on the thickness of the tiles. In addition, it's important to be on the lookout for the manufacturer's warranty when purchasing this type of flooring.
2. Cork Flooring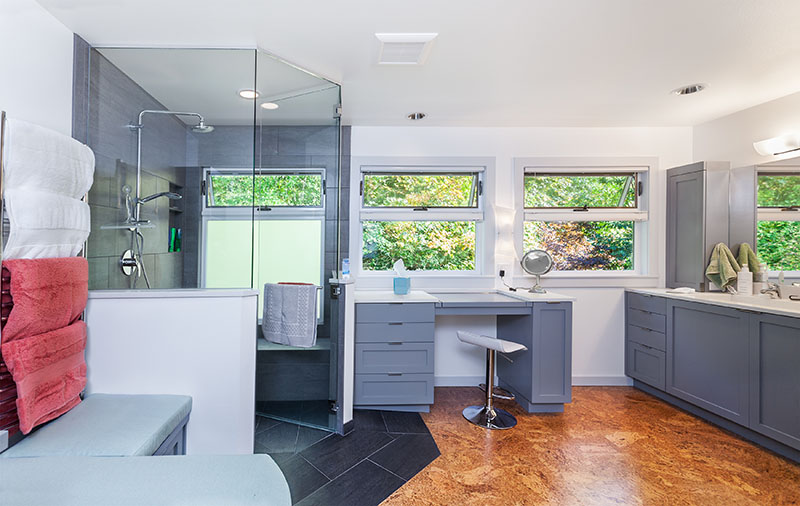 The material used in making Cork flooring is sourced from tree bark which when harvested doesn't affect the tree so production of this doesn't affect the environment. The barks often grow back in about 10 years at which point they can be used again, thus giving the trees enough time to heal.
Cork Flooring has a similar appearance of wood (owing to its root) but often comes with unique patterns that include swirls and flecks throughout. You can purchase it as tiles or planks and the installation of Cork is similar to Laminate as it's glued on a stable core material or clicked together.
This flooring type is warm and often comes pre-finished and you can treat it in every few years to keep them protected from being damaged by moisture. This moisture-prevention treatment also makes them suitable for use in bathrooms and basements. Most importantly, you want to keep sharp objects far away as this flooring can be easily damaged with that.
3. Hardwood Flooring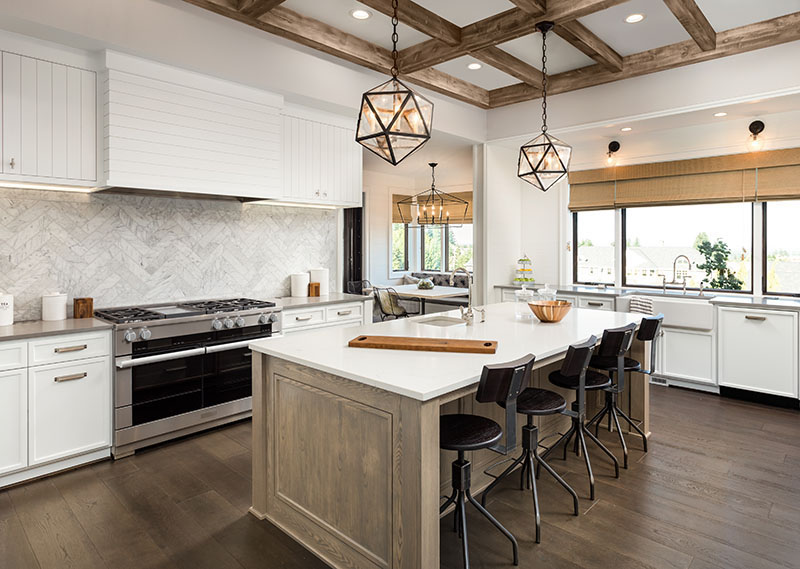 Hardwood Flooring is made from a single source of hardwood – it can be from a tree, walnut, cherry, oak, and teak. They are the most aesthetic type of flooring and they are mostly installed in the kitchen and dining room and less frequently in moisture-prone areas. This is because hardwood flooring is an enemy to water, so installing it in the bathroom or laundry can spoil it quickly. However, they can be used in medium trafficked areas.
Hardwood flooring has a standard width of 3 to 5 inches known as medium planks as well wider planks which starts from 5 up to 10 inches. It comes pre-finished or unfinished, with the first one having all the finishes done while the other requires finishing to be done before installing. Moreover, they can be installed either by the glue-down or nail-down method. 
In addition, this type is one of the hardest floorings although, the hardness is determined by the material used in making it. Thus, the hardest are suitable for areas where there is higher foot traffic as it can withstand the abuse and resist wear and tear longer. If there is medium traffic, you don't need the thickest, although there isn't any disadvantage if you use one. You can also consider looking at the different wood species and consider their rating and how they suit different areas of the home.
This type of flooring is priced according to the material and thickness but are generally priced by the square foot, which costs less than $10 with installation cost going up to as much as $12.
The downside of hardwood flooring is maintenance and cost. Although they are treated with a clear coat to resist moisture, they are prone to scratches and can wear where there is a lot of foot traffic. They are also more suitable for personal use than for rental property because of the high maintenance required. 
4. Bamboo Flooring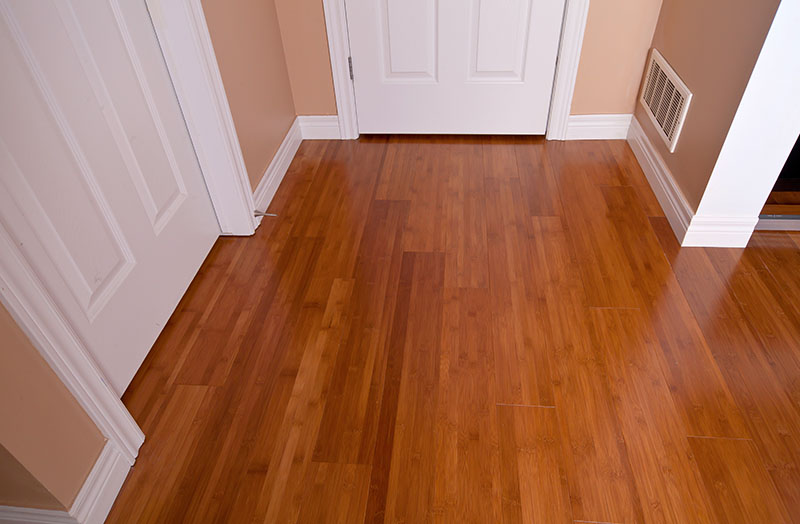 Most classifications will put this under hardwood but there are some subtle differences between them. Bamboo is a sustainable option and offers you an environmental choice is you are a naturalist. Consequently, bamboo flooring isn't made from "wood" per se, instead is produced from a particular tree and modified into floor material.
Nail-down and glue-down are two popular methods used in installing this flooring type. Bamboo flooring is sourced from a tree that matures in 5 years, can grow as tall as 70 ft high, and most importantly are renewable, which qualifies them for the LEED Certification. Since the tree grows very fast, it's easy to replace and the cost of growing them is low. In addition, it is water resistant compared to wood, so you can install them where there is moisture.
The downside is that this type can be scratched just like hardwood and but unlike hardwood are prone to dent.
5. Laminate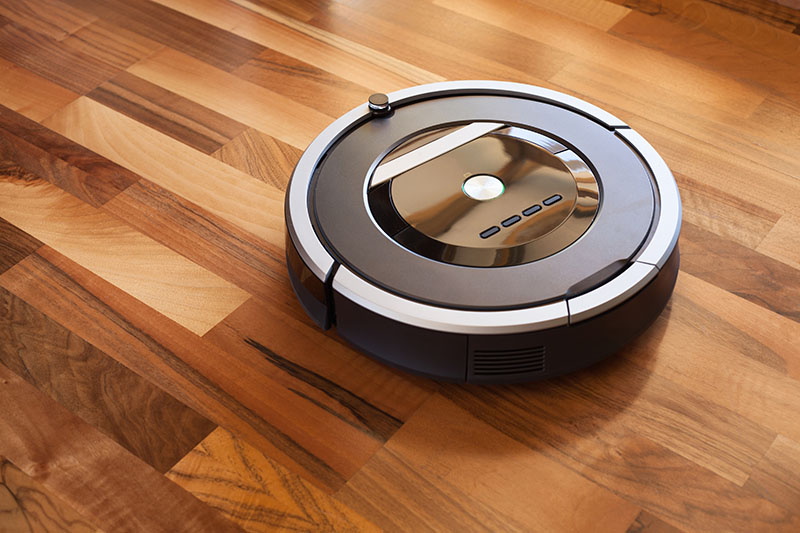 If you are looking for a low-cost alternative to hardwood, laminate is the best option. It's sourced from pulp and resin which makes it look similar to hardwood so that the difference is visible upon a close-up.
In addition, it is a good option for more DIYers because of its ease of installation, low cost, and low maintenance. Moreover, it can be installed in most areas of the home like the bedroom, living room, kitchen, mudrooms, and bathroom. You can install this in rooms where you want the look of natural flooring without the cost and difficulty of installation. It's also a good alternative to bamboo if you want something that's scratch-resistance.
Most manufacturers will include up to 20-year warranty in their package because of the durability of the material. Laminate can withstand everyday wear in the home, which is helped by their layered construction.
The downside is that they are irreparable and you cannot refinish them once the finish wears off. Unlike hardwood, you can't allow moisture to seep under it as the joint between the planks beneath the surface can be soaked, swell, and chip.
6. Carpet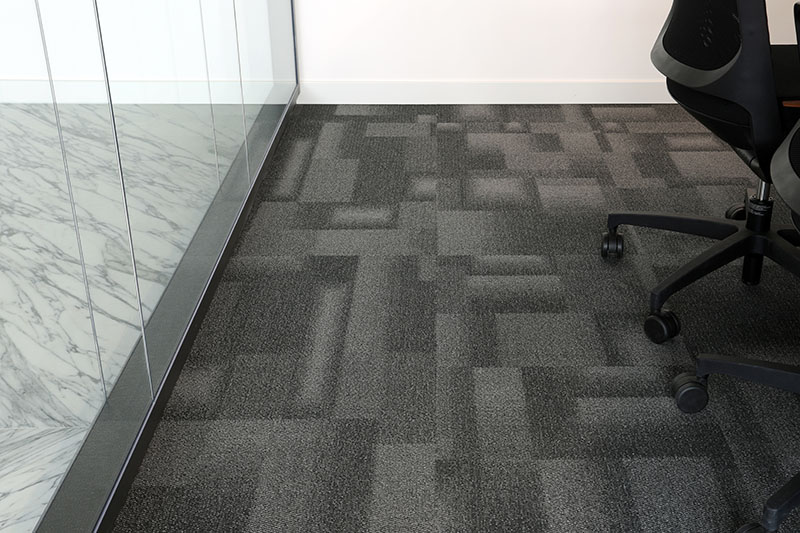 One of the most popular flooring types, the carpet needs not much introduction. Most people have seen it at least once in their lifetime. It's an attractive option for many homeowners because of the ease of installation, gorgeous look when it's brand new, availability in different colors and styles. It is also a very affordable option in relation to all other types of flooring. They are also produced from different materials including wool, nylon, acrylic, polyester, and polypropylene.
Many builders and homeowners choose it for the bedroom because of the insulation power of trapping heat and sound for a warm and quiet atmosphere. They are a good option for rental property as you can easily clean them to look nice and shiny when they still new or change them without incurring too much cost when they are fading out.
Generally, carpet is durable and easy to maintain and is available in different varieties and textures. Consider looking at the fiber density count of the carpet before buying and choose the higher per square inch so it's more sturdy and long-lasting.
The downside to this is that you can't use it in the bathroom, where there is constant contact with moisture. Not only does it not look nice and very slippery, but water can also damage it very quickly. Moreover, frequent spilling keeps it unhygienic and since the remnants stay under the carpet, it can result in bad odor.
7. Ceramic or Porcelain Tile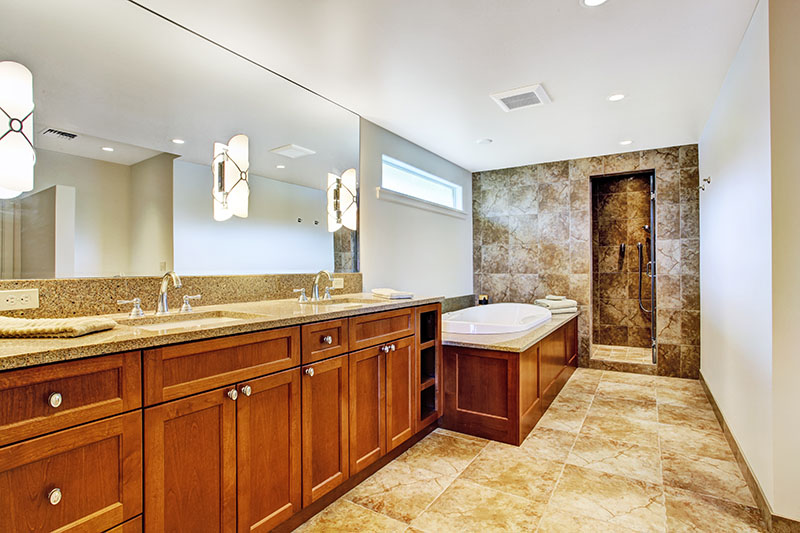 If you are looking for the best flooring type for your bathroom, choose tiles, which for decades has been the dominant figure there. This doesn't, however, mean you can't use it for your bedroom, living room, and kitchen.
Tile is a very versatile flooring type, with colorful hues and varied style that can suit different housing areas. In fact, it is one of the few that's available in a lot of material types and shapes. There are many other options with glazed ceramic and porcelain being the most popular and durable.
Installation of tile is labor-intensive and is probably the only type that's not DIY and newbie-friendly and best left to a professional installer. The upside is they are not prone to dent and are scratch-resistant.
Another advantage of using tiles is that most come as non-slip, which reduces safety concerns and hazards when it's installed in areas like the bathroom, laundry room, and mudrooms where it is in continuous contact with water. Even with that, they are still the most suited for a wet environment. Finally, there should be proper support underneath the tiles to prevent breakable.
What to Consider When Choosing a Floor
There are a couple of things you have to consider when choosing a flooring type. Firstly, you have to decide on what type of flooring you want for your room. Secondly, you need to know if it's the right fit.
In this section, you'll learn more about different types of flooring options and how they fit into different aspects of your home and which one will be most suitable for your project.
Here are the most important:
Choosing Hardwood Flooring
If this is your choice, then where should you install it, and which type is best for you? You can install it in almost any room. There are two types, solid and engineered wood.
Solid wood flooring is made from several wood species and is available in different styles and can be purchased pre-finished or unfinished, depending on your budget and preferences.
One thing most people like about them is that they can be refinished throughout their entire life, which saves you money from having to install new ones when the finish wears off. However, solid wood flooring is not ideal for areas like the bathroom and laundry room where water is always present as they can be damaged by moisture.
Engineered wood flooring, on the other hand, comes pre-finished and it is easy to install than solid wood. It is also available in wider planks that helps you cover more ground. It also has laminated layers, which makes it more stable than the solid wood floor and more resistant to moisture.
It can be installed below the ground without fear of water damage. Moreover, it has a thin profile so you can install it on your old floor. Whether you choose solid or engineered wood flooring depends on your tastes and styles.
Choosing Carpet Flooring
Carpets are categorized into four groups:
Texture
Twist
Loop
Pattern
It can be difficult to choose one as all of them work well in different areas of the home. The beauty of carpet is that they come in different styles, suit most room design and easy to achieve a unique look with it. Unlike bamboo, they can be installed in high traffic areas.
Let's go over each one in this group so you can understand the difference and advantages of each one:
Texture carpet is mostly used for conventional decor and the smooth surface provides an open and airy appearance.
Twist carpet, on the other hand, has a contemporary look and is more stylish. So, if you want to get that casual look, you can go for this type. Its nice smooth surface makes it suitable for most living rooms.
Loop carpet is the most durable and as such is more fitting to high traffic areas. It's a great option for a family and home with high foot activity.
Lastly, pattern carpet provides that upscale and refined look that distinguishes any room. Moreover, you can tailor it to your rooms theme, style, and decor.
Choosing Vinyl Flooring
Vinyl Flooring is one of the most durable flooring types you can install for your room. It's a very popular choice for homeowners and builders looking for a cost-effective and water-resistant floor. Along with being resilient, vinyl flooring is one of the easiest to install.
To install this floor type, you'll need a smooth, secure and flat surface. Vinyl flooring comes in different types with some being the most suited to kitchen or bathrooms as they are fully sealed and no water can get beneath it, so they can last long in these areas.
Choosing Laminate Flooring
Laminate is DIY friendly because of its ease of installation. It is suitable for any type of room and also available in different color, styles and textures. It can be glued or clicked together with a tongue or groove system, which enables you to have a quick installation. To choose the right laminate floor, you should consider your personal preferences, the quality of the wood, and manufacturer warranty.
Choosing Tile Flooring
The most commonly used type of tile is ceramic and it is available in different sizes, colors, and designs. It is used for countertops, full walls, living room, and in the bathroom.
Another type is porcelain, which is similar in appearance but more durable and dense and is available in various sizes, colors, and styles. If you are looking for a floor type for high traffic areas in your home, choose this. Tiles are mostly used indoors but are also applicable to outdoor because of their ability to withstand cold temperature.
Conclusion
Now that you have enough to look at, it's important to take a moment and consider each option based on the strengths and weakness. To choose the right one, you need to create your own criteria and then choose the one that suits your priority the most.
For example, you should have a fixed budget, style considerations, and quality standards.
If you are installing a floor for clients, you should put their tastes, existing interior decor, and styles into consideration while ensuring your own budget is at the forefront. Making sure everything is in place is a great way of choosing the right flooring for your projects.