Luxury vinyl is currently one of the fastest-growing flooring choices in the world. This type of flooring is modern, visually appealing, and affordable when compared to other options.
But before you consider installing this type of flooring in your home, you should first weigh its pros and cons. In this in-depth guide, I will explain all about luxury vinyl flooring and provide you with tips on choosing the right type for your home.
What is Luxury Vinyl?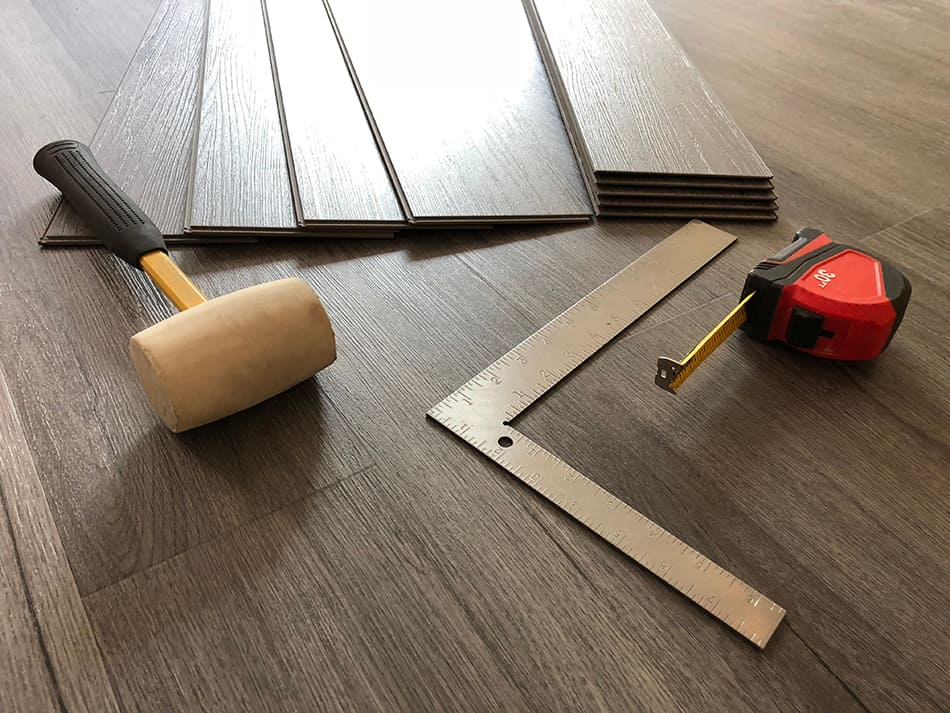 Luxury vinyl looks identical to hardwood flooring, but it's not made from wood. The tiles are made from multiple layers of PVC vinyl mixed with different compounds for maximum hardness.
These multiple layers of PVC sheets are carefully compressed and suspended in a liquid compound before getting dried through heat and air. The top layer of luxury vinyl can feature an embossed finish to add realism and help mimic the look of wood or stone.
Aside from the realistic-looking top layer, luxury vinyl planks also have a urethane and clear vinyl coating in order to further protect the finished product. The compressed top layer is bonded to the surface for added comfort and warmth.
Luxury Vinyl Versus Real Wood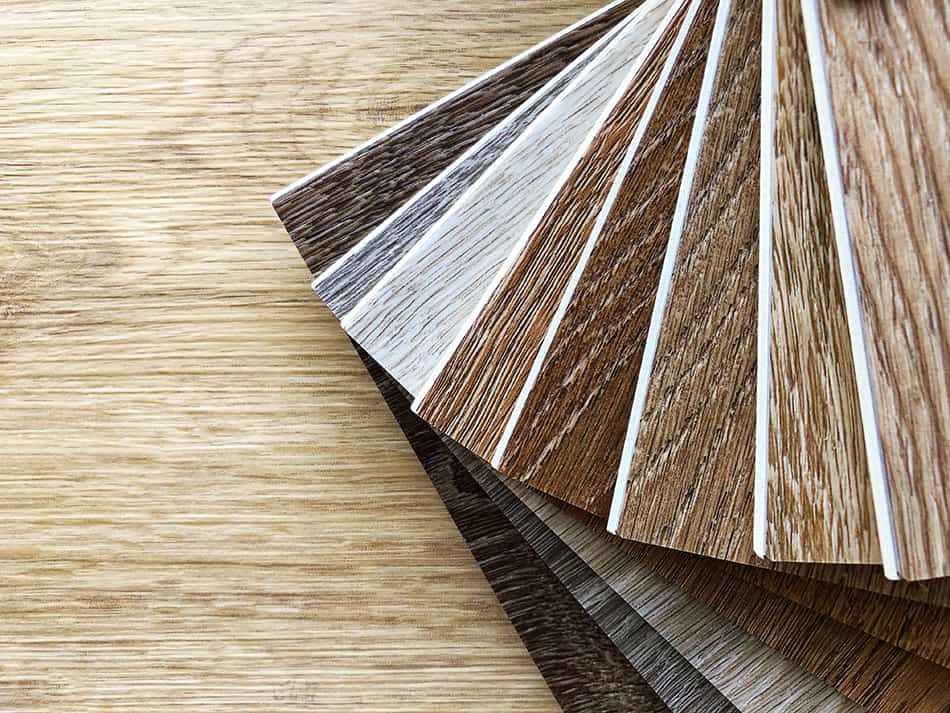 Before I list the advantages and disadvantages of luxury vinyl flooring, it would be helpful to make a quick comparison of this material with wood to see why some people opt for vinyl flooring instead of hardwood.
Unlike wood that can only be installed in specific rooms, luxury vinyl can be installed anywhere: from kitchens, bathrooms, and laundry rooms to converted basements. This is because vinyl is waterproof, so it doesn't warp or split when exposed to moisture.
Hardwood, on the other hand, is porous and doesn't withstand humidity, thus making it less durable than vinyl.
In addition to being more durable, vinyl requires very little maintenance since it contains thicker layers to withstand high traffic areas. Real wood, however, requires regular staining to keep up with the demands of heavy traffic.
An even bigger plus to luxury vinyl is the price. The cheapest vinyl planks range from $0.50 per square foot up to $5 per square foot. Wood, on the other hand, can cost much higher, with good quality hardwood flooring starting from $8 per square foot and up to $25 per square foot.
Pros of Luxury Vinyl
Affordable: as I mentioned before, the biggest advantage of LV is its affordability factor. After all, LV flooring that looks almost like hardwood but without the high cost is a great choice for any home.
Looks and feels like real wood: if you want the same look and feel of hardwood but without the maintenance, then LV flooring is your best option. These engineered planks look so identical to wood that your guests won't be able to tell the difference. This is thanks to the thickness of the planks that makes them feel like real wood.
Waterproof: thanks to the multiple layers of PVC vinyl, LV flooring can withstand moisture, so it's ideal in all rooms, especially in high-traffic areas, such as bathrooms and kitchens.
Can be installed on any flat surface: you can install engineered luxury vinyl on top of tiles, plywood, or concrete. You can even install it on top of radiant heat – as long as the subfloor is flat.
Highly durable: when cared for properly, luxury vinyl floors will retain their looks for many years. To prevent them from damage, use rugs or mats in heavy traffic areas. When moving furniture, use sliders, and put protective tips on the base of your furniture legs to prevent scratches.
Easy to clean: abrasive waxes, detergents, or solvents should never be used to clean vinyl floors. Instead, use a dry mop or vacuum with a soft brush attachment to remove surface dust and dirt. For deep cleaning, mix one cup of white vinegar with a gallon of warm water. Add a few drops of mineral oil for extra shine, if desired. If you use a commercial cleaner, make sure it's specifically for vinyl floors.
Multiple design options: with a wide range of design and color options, luxury vinyl flooring is growing in popularity every day. Whether you are looking for weathered wood design, rustic or modern grey vinyl, there are endless designs to choose from. Some vinyl planks will even have the same texture as wood or stone as the pattern can be embossed into the plank to give it a more realistic feel.
Comfortable to walk on: when compared to laminate flooring, walking on luxury vinyl planks feels much more comfortable. And with the added benefit of both sound and temperature insulation, you won't have to worry about loud footsteps or cold winter floors.
Cons
Lower resale value than wood or tiles: luxury vinyl is certainly a more preferred and longer-lasting option than laminate or cheap vinyl, but it doesn't increase the value of your home in the same way that tile or hardwood does.
Not scratch resistant: LV planks can scratch easily, especially with appliances or heavy objects. However, they are more scratch-resistant than wood, plus you can replace the scratched plank easier – just make sure you buy extras!
Require extensive prep work before installation: whether you install the planks yourself or hire professionals, the subfloor requires a lot of prep work to ensure it's not uneven. Luxury vinyl isn't forgiving on unruly subfloor as it won't line up well. You may have to add a self-leveling mix or choose a glue-down installation.
Difficult to remove: once the adhesive's backing hardens to the floor, the glue becomes very difficult to remove. Having said that, you won't need any special tools or techniques to remove the planks. All that's required is some patience and elbow grease! Tip: if you find it extra hard to remove the flooring, use a hammer and chisel or scraper to chip away at the hardened glue.
Can be slippery when wet: while the smooth look of the luxury vinyl plank is an added benefit, it can also be a drawback because of how slippery the floor is when wet.
Unlike carpet that absorbs moisture, the water will sit on the vinyl planks, which in turn will increase the likelihood of falls. Luxury vinyl tiles, on the other hand, are more slip-resistant than planks, making them a better option on hard surface flooring.
Types of Luxury Vinyl
1. Luxury Vinyl Plank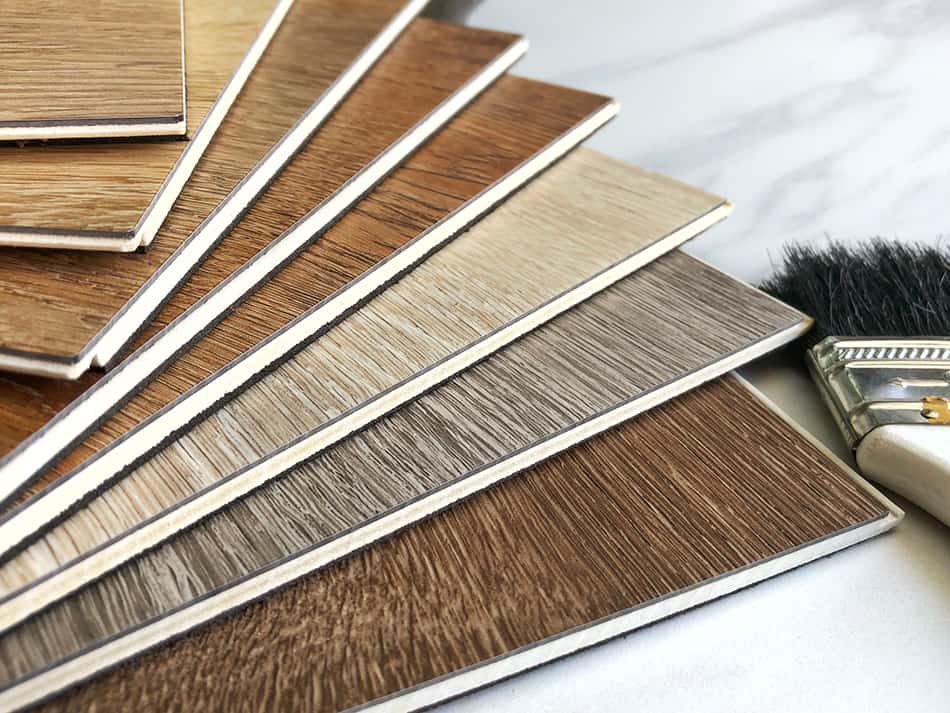 LVP looks like real wood and comes in many different colors and styles. The rigid core planks are the most popular option as they resemble hardwood the most. Cutting-edge technology is used to make these planks as realistic as possible, with a surface texture looking and feeling like wood.
2. Luxury Sheet Vinyl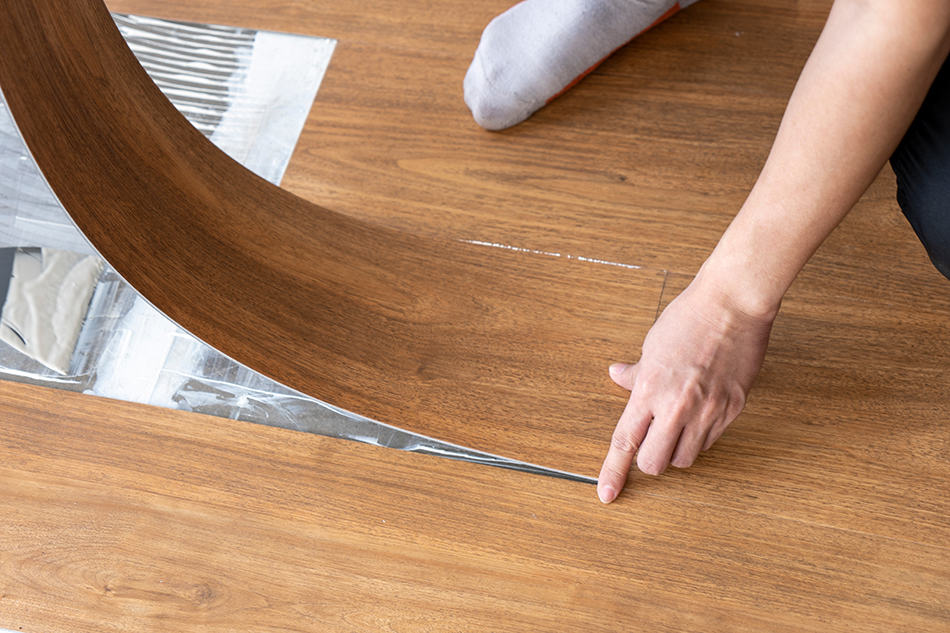 Sheet vinyl is the cheapest flooring option. The fiberglass cushioned sheet flooring is glued directly to the subfloor. Nowadays, sheet vinyl comes in sophisticated designs including wood plank visuals, grouted tile, and stone, which can be installed in any room.
3. Luxury Vinyl Tile

Perhaps the most popular type of luxury vinyl flooring is the tile options that replicate the look of natural wood or stone. These tiles are made up of several layers: the polyurethane coating, the protective layer, the print film layer, the vinyl core, and the tile backing. Just like the planks versions, LVT can be installed in any room of the house as a cheaper and low-maintenance option to hardwood.
Cost of Resale Value of Luxury Vinyl
When we compare the cost of luxury vinyl to laminate, there is no denying the higher cost per square foot for the tiles or planks. However, laminate flooring isn't as high quality as vinyl and it doesn't withstand moisture as well as LVT.
Luxury vinyl flooring has all the curb appeal of hardwood, with the added benefit of durability and lower upkeep. These are the reasons why more home buyers are now seeking LVT as a pet-friendly and family-friendly flooring option.
If we mentioned the words vinyl flooring a few years ago, people may have scoffed at the idea. They often saw this flooring as an outdated option. However, with the technology and manufacturing improvements over the years, luxury vinyl has come a long way to prove its worth.
In fact, most newly built homes nowadays feature luxury vinyl floors as a cost-effective option, which encourages home buyers who aren't keen on maintenance to opt for these floors. In terms of desirability, it is safe to say that luxury vinyl tiles outsmart laminate flooring.
So whether you're flipping houses or just wish to remodel your home, consider the benefits of luxury vinyl as a cost-effective option.
But what about the resale value of your home? When people hear the word vinyl, they automatically picture sheet vinyl as a cheaper type of flooring. However, there is a difference between sheet vinyl and luxury vinyl tiles or planks.
The look, prestige, and durability of luxury vinyl can't be overlooked when buying a home. LVT or LVP meet all these criteria and more – they just need to move away from the negative reputation of sheet vinyl.
So if you're wondering which flooring material will improve the resale value of your home, consider luxury vinyl. Just because the word luxury is included in this flooring, it doesn't mean it isn't affordable. In fact, one of the biggest advantages of LVT or LVP is the affordability factor, with the added benefits of water resistance and versatility. What more could you ask for?
How to Choose Luxury Vinyl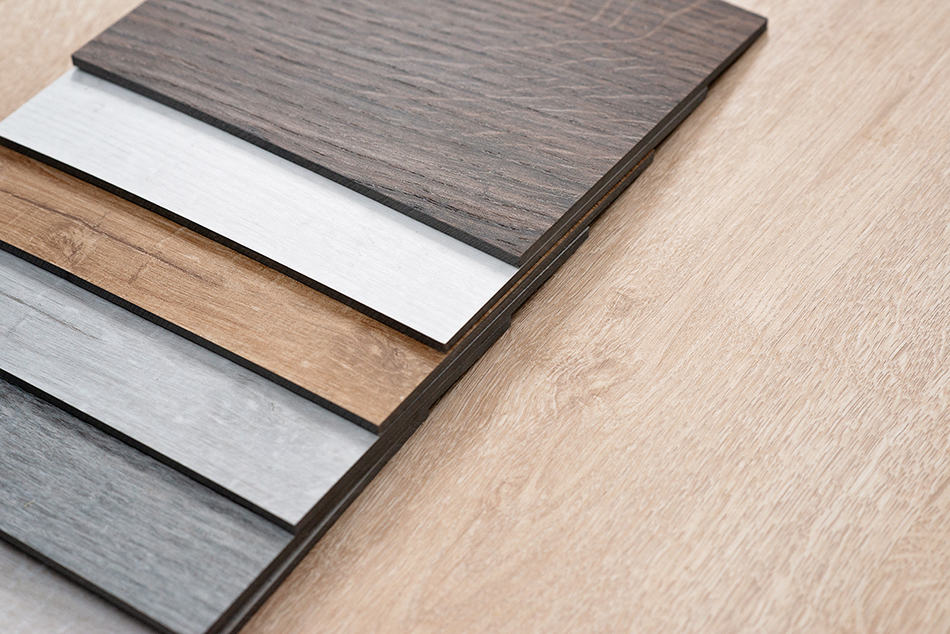 When it comes to picking the best hard surface flooring, luxury vinyl tile offers multiple options, hence the reason for its popularity. The best thing about LVT is that you can customize the design, color, and pattern with a much easier installation and maintenance than hardwood floors.
Luxury vinyl tiles offer a practical and beautiful solution for any room. If you have your heart set on the natural look of hardwood or stone, but don't want to spend more than you need to, consider LVT as a perfect alternative. This versatile floor option mimics the look of marble, stone, wood, or slate with virtually no limit to design options.
With the above in mind, there are some important factors to consider when choosing luxury vinyl flooring for your home. These are:
Consider the purpose of the flooring: knowing about the purpose of your flooring will help you determine whether it will be suitable for high-traffic areas. Thicker wear layers are generally more recommended than thinner planks.
Understand what the core layers are made of: by knowing what the core layers of the flooring are made of, you can get a better understanding of its durability. Since LVT is made from raw PVC vinyl, it reduces the possibility of shrinkage, thus improving its durability. There is also no risk of recycling toxic materials, which are often found on laminate floors. Raw LVT is a high-quality product that is equipped with a durable core layer.
Is the flooring environmentally friendly? While most recycled floors are environmentally friendly, LTV is made from pure raw materials like PVC, which aren't green. Having said that, you can still buy your LVT from suppliers that comply with sustainability standards.
Know that size matters: with luxury vinyl planks, know that size matters. Luckily, these planks come in different sizes so you have a variety of options. The thickness of the planks or tiles also matters. Most thick tiles come with an additional layer of padding that feels more comfortable under your feet.
This resilient type of flooring offers a degree of elasticity, which is why thickness matters. If you are someone who prefers thicker floors with extra padding, LVT or LVP will be the best option for your home. Expect to pay up to $9 per square foot for 8mm thick luxury vinyl.
What are the installation options? As far as installation is concerned, you need to take into account how level your subfloor is. A floating vinyl plank or glue-down application is the best option for unlevel subfloors. Floating planks are ideal for laundry rooms, bathrooms, and even small bedrooms. The glue-down flooring applications, on the other hand, are best for larger areas like living rooms and kitchens as they are more durable.
Both of these options are easy to install but the decision is ultimately yours. Some homeowners may prefer to install floating vinyl planks as the subfloor to hide the imperfections before installing the main floor. The benefit of floating vinyl planks is their ease of installation as all you need is a rubber mallet to attach them in place. The glue-down option is the more permanent solution and oftentimes requires professional installation knowledge.
Other important factors: when searching for luxury vinyl flooring, you will also want to ask yourself the following questions:
<li">What type of room will your flooring be installed in?
<li">What are your interior decor goals and does the flooring meet your needs?
<li">What's the overall feel of the flooring and will it match your personal requirements?
By taking the above factors into consideration, you can make an informed decision. Don't forget to assess the plank or tile size, thickness, edge finishing, aesthetics, warranties, and whether you want floating or glue-down. A checklist will help you narrow down your choices so you can find the perfect fit for your home.
How To Install Luxury Vinyl in 7 Steps

If you are a DIYer, you'll find the installation process of the luxury vinyl floor super easy. Some planning is required before you start, though. The idea is not to end up with a row of too narrow pieces on one side. Follow these steps to successfully install your luxury vinyl flooring:
Step 1. Measure the room and draw a layout of the floor on a piece of paper. A floor plan will help you lay out the planks easily. You will also need to follow the manufacturer's installation instructions before making any cuts.
Step 2. Underlayment is required for luxury vinyl installation. However, the type of tile you choose will determine whether you need a proper underlayment or not. Vinyl floors can either be installed on top of a subfloor or glued down directly onto it. No matter what type of subfloor you have, you will want to ensure that it's in an acceptable condition, i.e. it's clean, moisture-free, smooth, and level.
Most luxury vinyl planks come with a click-lock system and a thickness of 2mm to 8mm or more. If you need to install underlayment, opt for anything over 4mm. You can then lay the thicker planks directly on top of the subfloor. The extra barrier can help click the tiles or planks together. If you've opted for glue-down planks, they need to be glued directly onto the subfloor while the floating vinyl can just be installed on top of the subfloor, without the need for underlayment for either of these flooring types.
Step 3. Now that you've prepared the subfloor, there are additional prep tips to do before installation begins. Leave your vinyl planks in a room for 24 hours so they get adjusted to the temperature. Be sure to remove the baseboards and the quarter round before starting with the installation process the next day.
Step 4. Next comes the installation part. Most people lay the LVT in the same direction as the room's longest wall. It would be best to figure out how you will lay your flooring by measuring the space and ensuring the walls are level. Tip: start by measuring 3 inches out from the wall using a laser or chalk line to connect your markings.
Step 5. Now you must test fit the first row of vinyl tiles or planks down the wall's length. For visual purposes, it would be better to cut the planks at equal lengths at the opposite sidewalls. Because this is a floating vinyl installation, leaving the right amount of gap all the way around the room is important.
Begin with a full-size plank at the center of the room and work your way to the side by cutting the planks at the ends in equal lengths. Make sure you leave a quarter-inch gap at the wall and at the ends by using spacers. The extension gap can then be placed against the walls. Another way to leave a gap is to tape wedge spacers to the wall so the plank can expand and contract in case you need to replace a damaged piece at a later date. To accommodate the click system, always start installing the planks on the left side.
Step 6. Use an electric saw or floor cutter to build a few rows at a time. Snapping or scoring will just leave rough edges and we don't want that! To click those tiles together, angle the tongue into the groove by lowering it into place and giving it a light tap. This will ensure the seams are tightly flush and locked in place. If necessary, make cuts to finish the row and move on to the next row of planks. For a natural look, stagger the planks randomly. Repeat until the entire floor is installed.
Step 7. After installing the flooring, re-attach the trim and baseboards using a nailer. Nailing with a hammer may damage the trim. But if you don't have a brad nailer, you can manually nail using a nail set to recess the nail heads underneath the trim's surface. If the floor level is adequately raised, you can trim the ends of the case moldings to fit the reduced space.
Conclusion
Luxury vinyl has come a long way over the last decades, so it's no wonder this type of flooring has grown in popularity among households. By weighing up the pros and cons of LVP or LVT, you'll be able to make the right choice for your home and even install the flooring yourself!