A mezzanine floor can be a great solution for creating extra floor space if you have tall or vaulted ceilings.
Here we look at the pros and cons of mezzanine floors, along with the types of mezzanine floors commonly available, the ways you might choose to use them, and the typical costs associated with both residential and industrial mezzanine levels.
What is a Mezzanine Floor?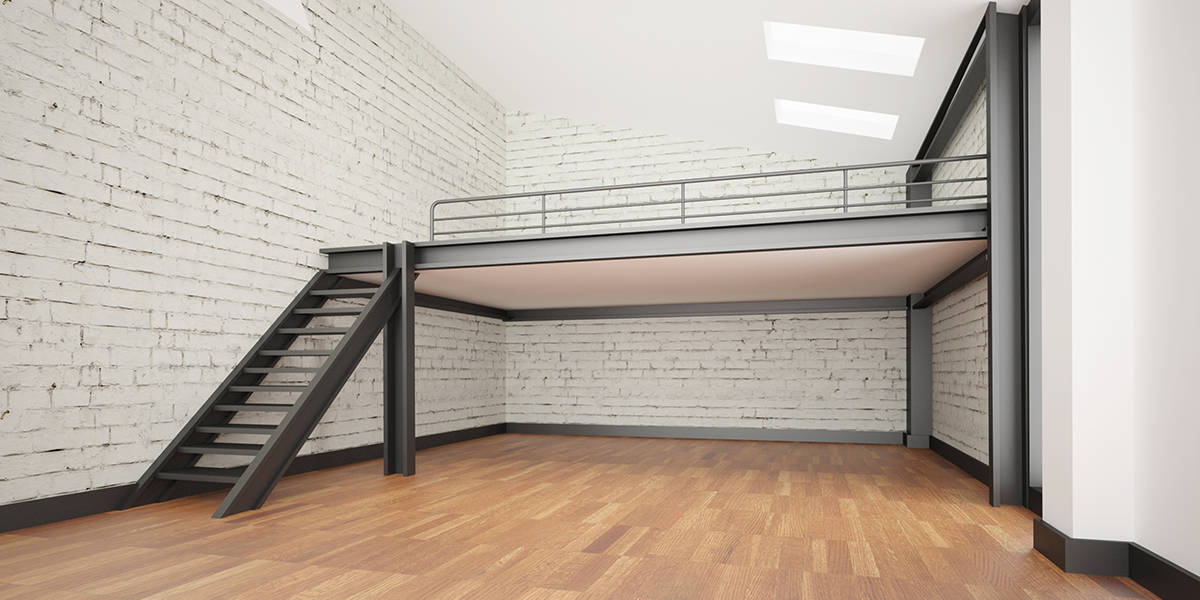 A mezzanine floor is an additional floor that is constructed between the existing floor and ceiling in a room. It creates extra square footage in a space, though it won't count towards the square footage total of a residential property when listed for sale as it is not technically an extra story.
A mezzanine floor is built using vertical beams for support and is usually custom-designed to fit the size of your home. A mezzanine level will usually be accessed by a staircase, and it will have railings or a glass wall along the edge to prevent people from falling down to the floor below.
Some people describe mezzanine floors as large, indoor balcony areas since they have a lot of similarities. Mezzanine floors can be used to create extra storage or extra living space.
They are great for rooms that have high ceilings to make better use of vertical space.
Benefits of a Mezzanine Floor
Added floor space
The main benefit of any mezzanine floor, whether it be in a residential home or a commercial property, is the addition of extra floor space. How you want to use this space is up to you. It could be an extra work area, a storage space, a dressing room, or a private dining space; the possibilities are endless.
If you have tall ceilings, then it can make a lot of sense to add a mezzanine floor to make better use of the vertical space, adding usable square footage to your property at a much lower cost than building an extension.
Separate room
A mezzanine floor works really well at creating a hidden nook that is separate from the rest of the room. This is great in a studio apartment because the mezzanine floor can be used as a bedroom to give you privacy and make you feel further removed from the living space.
Cozy feel
High ceilings can feel grand and opulent, but they can also make a room feel too vacuous and vacant, like an empty village hall. By creating a mezzanine level in a space with high ceilings, you can make smaller and cozier spaces out of a previously large space.
This will eliminate the feeling of excess space, as it will limit the height in the areas where the new mezzanine is. A cozy space with lower ceilings and smaller nooks can feel more comfortable and homely to live with.
Drawbacks of a Mezzanine Floor
Interrupts lower floor
A mezzanine level is supported by vertical beams that will be fitted on the ground floor, and these beams can get in the way of your lower-level room. You will have to plan your furniture layout around the beams, and they can interrupt sight lines which can interfere with open plan living.
Cost
Creating a mezzanine floor is not a DIY project you can complete yourself, and instead, you'll want to pay a specialist to come in and design, as well as build your mezzanine level. It will need to be built to code and follow a particular structure in order for it to be safe and able to deal with the weight of furniture and people that will be using it.
Creating a mezzanine floor is a costly project, which can range in price from $5,000 to $30,000. Mezzanine floors in industrial and commercial settings are less expensive, typically at around $20 to $40 per square foot.
Residential mezzanine levels will usually cost more, at an average cost of $20,000 for a level that measures 250 square feet (approximately 25 feet by 10 feet). This is by no means a small amount of money, but it might be a more cost-effective way to add extra square feet to your home compared with building an extension.
Types of Mezzanine Floors
Industrial Mezzanine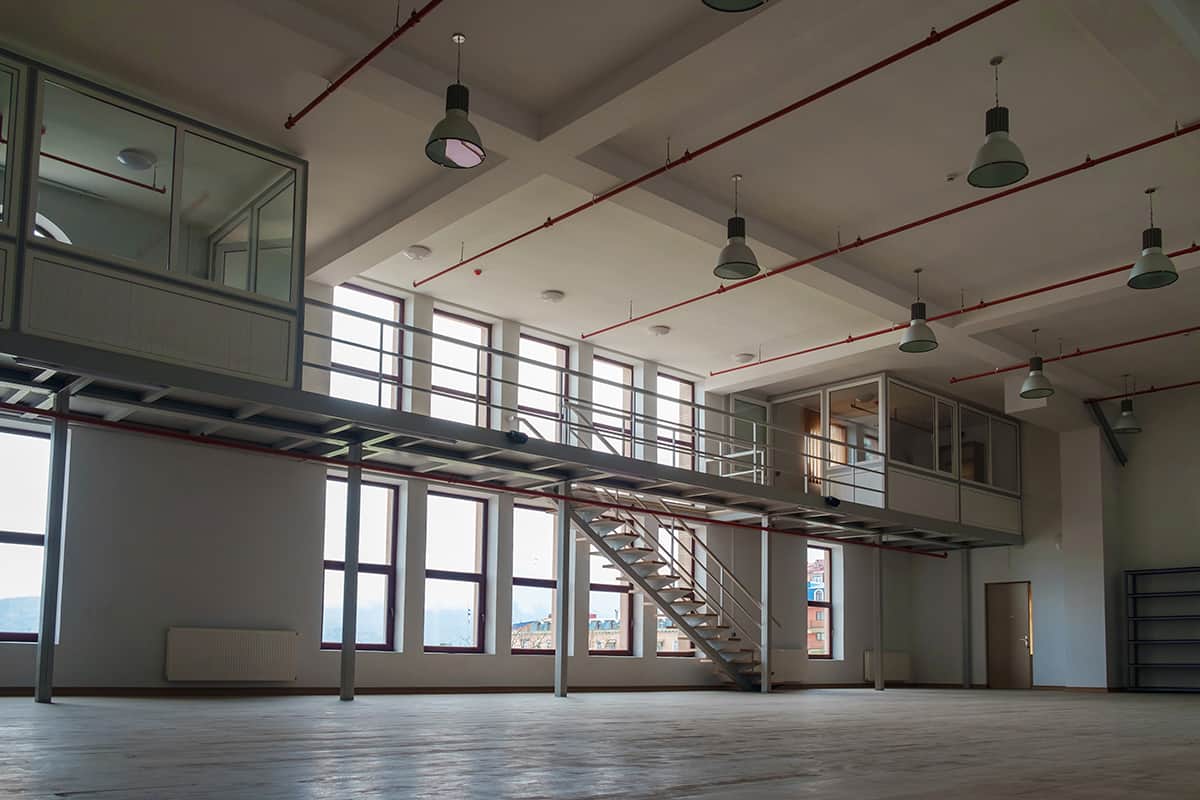 Industrial mezzanine floors are common in commercial buildings such as factories since these types of buildings generally have tall ceilings with plenty of unused vertical space. Industrial mezzanine levels will typically be built from steel and come prefabricated to quickly be constructed on-site.
Steel mezzanine levels are generally the least expensive to buy, and they are ideal in industrial workspaces because they are strong and can withstand constant foot traffic and heavy machinery.
Steel mezzanine floors are very low maintenance, and they will not corrode easily even in the presence of moisture. You can also get mezzanine levels in industrial buildings made from concrete, but these are more common in older structures. Concrete mezzanines are strong and durable, making them well suited to use in commercial settings.
Residential Mezzanine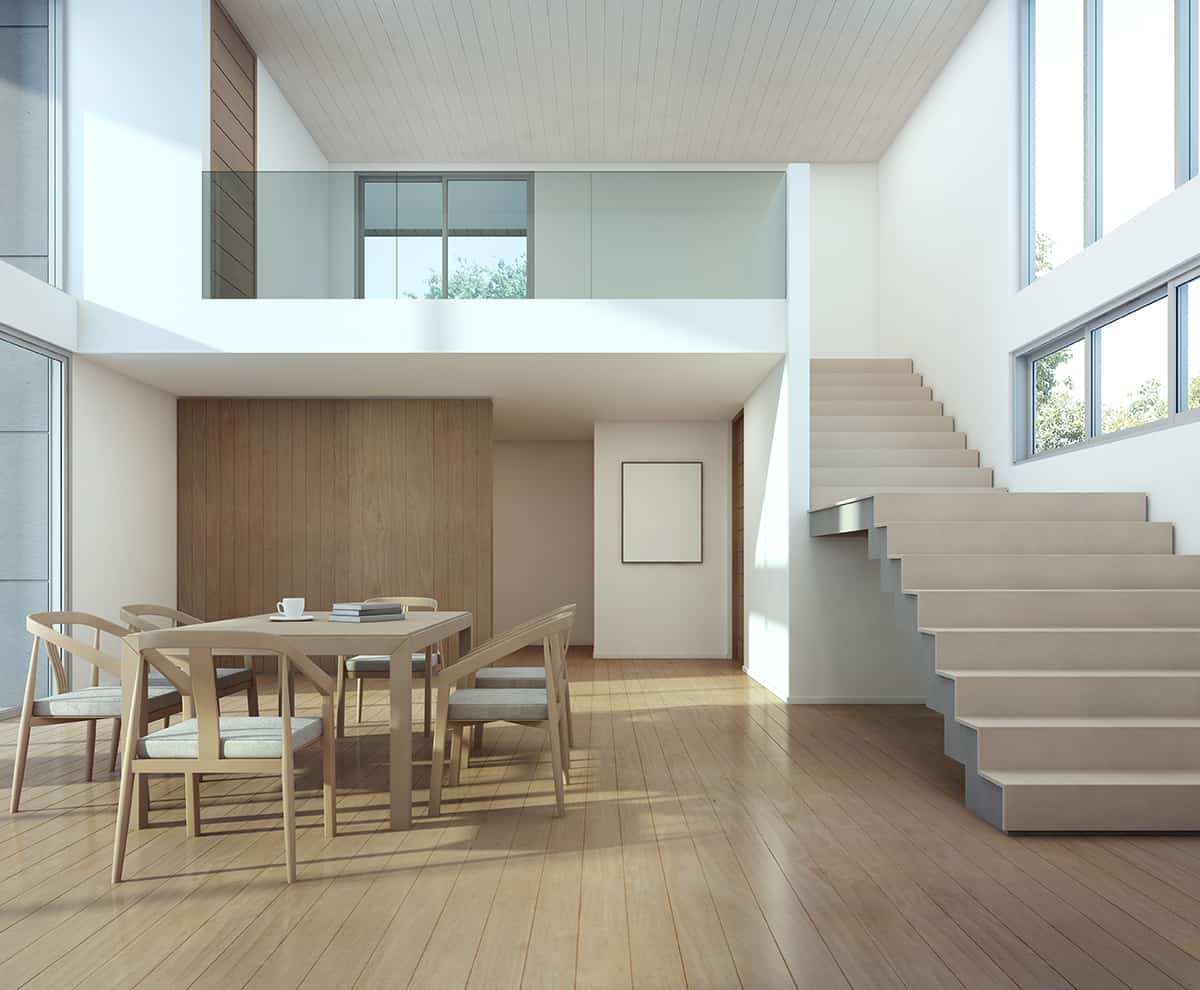 In a residential property, mezzanine levels are typically built from wood, just like the rest of the frame of the home. Wooden vertical beams will be used as support for the mezzanine level, and a wooden framework will be built for the floor of the mezzanine.
The floor frame will usually have plywood sheets nailed to the top of it, which can then be fitted with carpet, hardwood, or another flooring surface of your choice.
Wooden mezzanine levels are easier to install compared with concrete mezzanines, and they bring a natural beauty to the space. Wooden beams and framing can be waxed, stained, or painted to match the rest of the decor, and they are strong and robust.
Residential mezzanines can also be built from steel if you want to achieve a more industrial style.
Uses for Mezzanine Floors
Home office
Over the last few years, we have seen a dramatic rise in the number of people who work from home rather than traveling into the office, and this has meant that many people have needed to create a work area at home where they previously didn't have one.
If you don't have a dedicated home office, then it can be distracting to try to work at the kitchen table or around other members of the household, and a mezzanine floor level is a good option for creating a separate workspace.
If you benefit from a room with high ceilings, you can have a mezzanine floor built to accommodate a desk, desk chair, and some shelving units or file cabinets. This space wouldn't need to be very big to be used as a home office, so it could be relatively low cost to complete and would mean you could keep your work separate from the rest of the home.
Library
A mezzanine level could be used as a library or cozy reading area to retreat to for some peace and quiet. Fit floor-to-ceiling bookcases on the walls of the mezzanine level and surround yourself with books. Some comfy chairs or bean bags can be positioned in the center of the space, with a reading lamp for atmosphere.
Bedroom
Using a mezzanine level as a bedroom is a popular choice in homes with limited space, such as studio apartments, because it allows you to create a separate area so that you feel like your bedroom is further away from the living area and kitchen. Having a mezzanine area as a bedroom will also create more privacy compared with having your bed near to your sofa in a studio or loft apartment.
Storage
If your home lacks storage, then you could use a mezzanine level as a dedicated storage space. This will mean that your stored items will be kept out of sight and out of the way from your daily life in the home.
Mezzanine Floor Cost
The cost to create and install a mezzanine level will be affected by the types of materials you choose and how big the mezzanine floor is going to be. The complexity of the design is also going to affect the cost and the level of custom building that your project will require.
You can buy prefab steel structures to be used for mezzanine floors, and these tend to be the least expensive option, though they will only come in standard sizes. For a residential mezzanine floor which will typically be built from wood, the average cost is around $20,000 for a floor that covers 250 square feet.
The price per square foot for a residential mezzanine floor is, on average, $80; however, this will vary depending on the materials and the quality of materials you are using. For a commercial mezzanine floor of the same size of 250 square feet, you would be looking at a much lower cost of around $5,000 to $8,000, or between £20 and $40 per square foot.