Choosing concrete flooring for your home isn't just a seasonal trend. This type of flooring can be highly advantageous as it's easy to maintain and incredibly long-lasting. In fact, concrete floors can last up to 50 years or more, which makes them more durable than wood or tile flooring.
If you are a fan of industrial or retro-style interiors, then concrete flooring is a great idea as it can easily blend in with most natural elements. However, to ensure your home doesn't look monotonous, you should think carefully about what wall colors go with concrete floors.
Neutral wall colors can blend in with concrete floors, but if you're after something more vibrant, there are some great colors that go with this type of flooring.
The most important element is to make sure your concrete floors are matched flawlessly with the wall color. This is why we've decided to delve into this topic a bit further by giving you some wall color suggestions with images so you can pick the one you like for your concrete floors. Let's get started now!
What Color Walls Go with Concrete Floors
White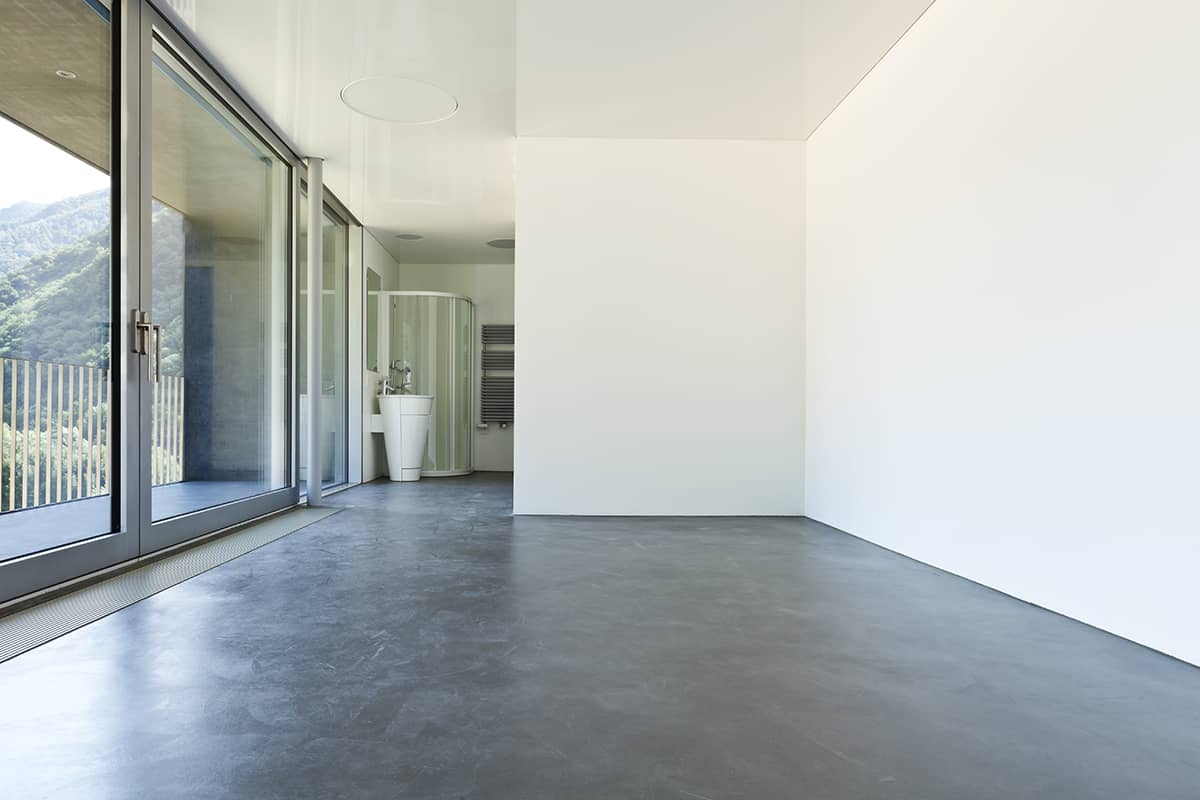 You might think that white walls with concrete floors are a typical neutral pairing, but there is more to it. White paint goes well with gray, while at the same time it makes the gray concrete floors look flawless. In fact, white is among the most common wall colors that go with gray floors.
A bright, crisp white paint for the walls of your bathroom, living room, or even bedroom works beautifully with gray concrete floors. In fact, any finish you choose will have an effective result, including ultra white, matte, or soft white.
This combination can be used in industrial, minimalist, and retro-style interiors as it brings an ultra-contemporary flair to your home. White walls offer a clean, smart look to modern interiors, and they can be even more enhanced by pairing the walls with glossy concrete floors.
This pairing works especially well in rooms that feel a little dark or lack large windows. White walls and shiny concrete floors make any space appear larger and brighter as proven in this modern bathroom with concrete floors example.
Gray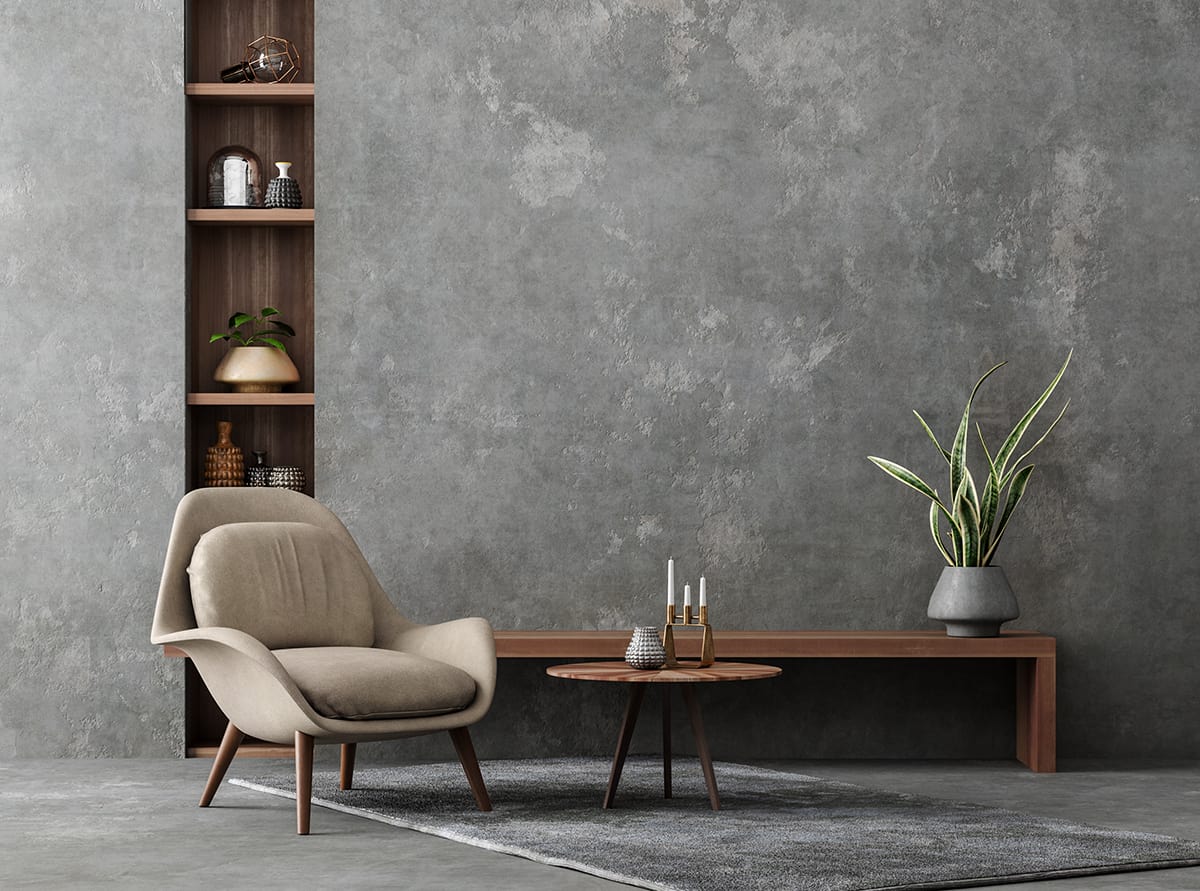 For an even more harmonious look than white, consider painting your walls gray. Gray walls can pair well with many furniture colors and concrete floors as well. That said, we recommend a medium to dark gray tone in order to avoid a bland look.
In industrial-style living rooms with concrete floors, for example, gray walls give the space a light and soft feel. Add black accessories to spice the decor and keep the modern design visually pleasing.
Alternatively, you may add natural wood furniture to soften the industrial look. Light neutrals like wood elements and gray walls tend to give a space a calmer and more serene feel, whilst black accessories bring a more sophisticated appearance to a room.
A medium gray tone for the walls is the perfect monochromatic design that creates harmony with your concrete floors.
Just like in this example, the medium-toned gray walls add a modern touch to the beautiful mix of wood furniture and cement flooring.
Note, we only recommend this combination for rooms that have adequate natural lighting, otherwise gray on gray can look a little dark or gloomy.
Blue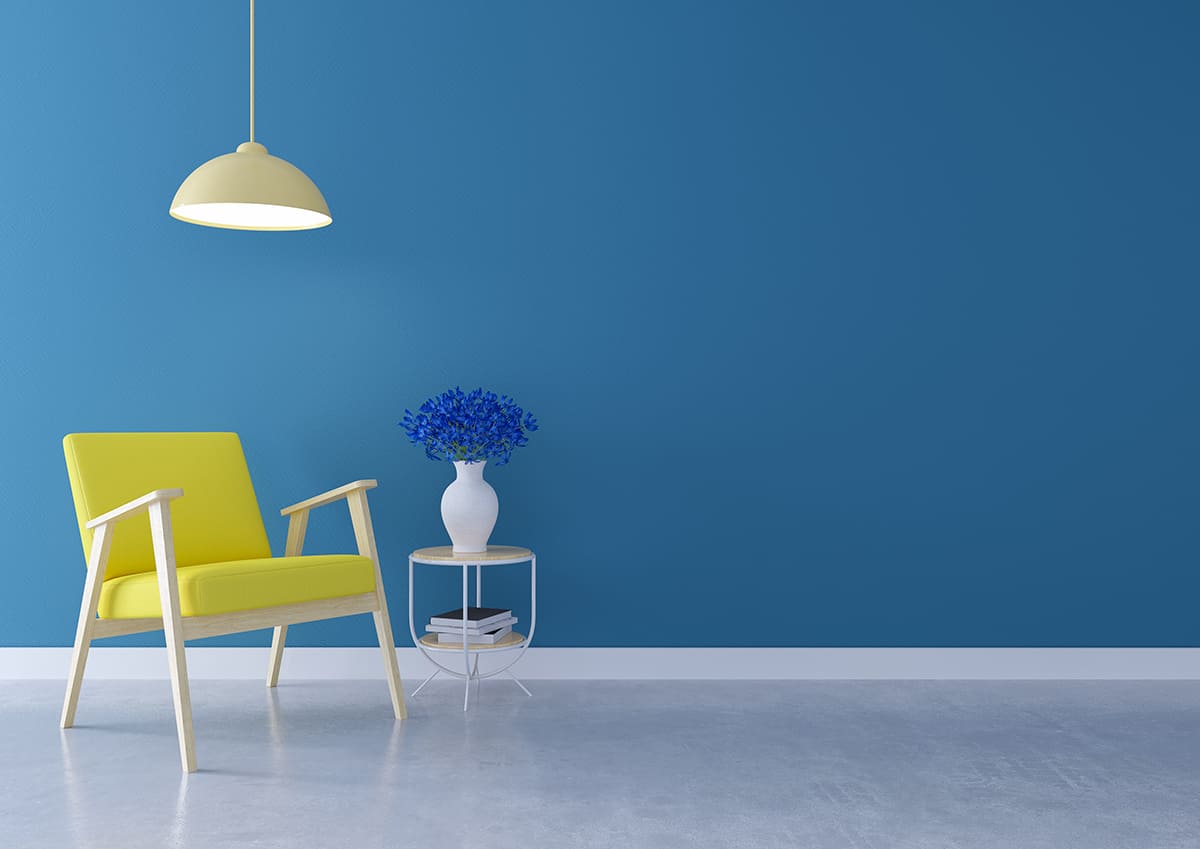 Most shades of blue are the ultimate symbols of peace and tranquility. Our favorite paint colors for the walls are turquoise, aqua and sky blue.
These shades work beautifully with polished concrete floors, and with good reason. Acqua, for example, is a color associated with water so it goes well with nautical-themed interiors. A light-toned concrete floor as the foundation of your room will bring out the open and airy feel of the aqua shade. This pairing can make any space feel more refined.
Like we said before, most shades of blue work with concrete floors, so you can even go with darker hues like cobalt or navy.
In open-plan living rooms and bedrooms, darker blue walls with polished concrete floors bring a layered multi-dimensional feel to the space. You may even incorporate this combination in your kitchen for a pop of color.
Greige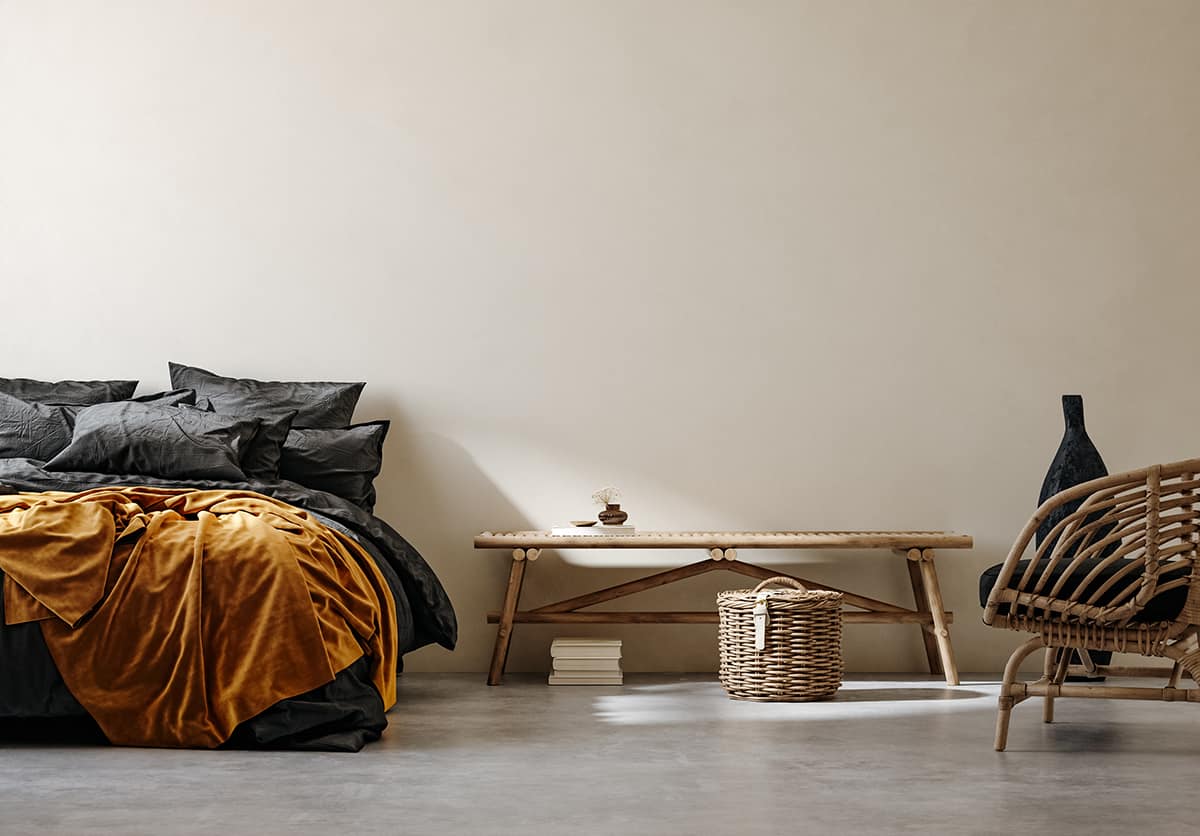 Painting your walls a dark shade of brown wouldn't look quite as good as greige. When you have cool gray concrete floors, using a neutral tone like greige can work wonders in a modern or boho-themed room.
Just like in this ethnic style bedroom, the greige wall works a treat with the concrete floors as it emits a warmer vibe thanks to the mix of natural elements like wood and rattan.
Coral Pink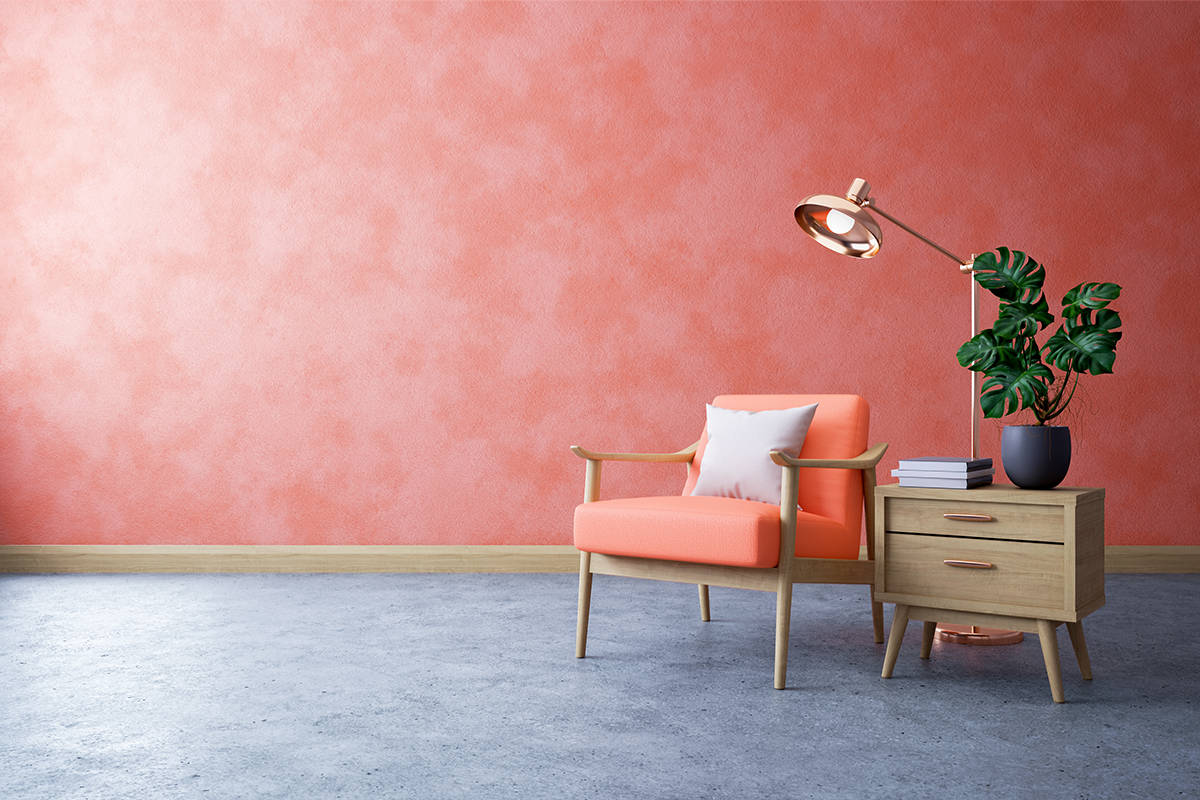 Coral pink is one of those versatile colors that can be paired with any flooring. This vibrant, refreshing shade is more subtle than rosy pink, but it makes a more dramatic statement in a modern interior.
In mid-century modern living rooms, a minimalist interior can look ultra classy with coral pinks walls and concrete floors. The wall color highlights the gray tone of the floor without making your room feel like a baby's nursery or a girls' bedroom.
Brown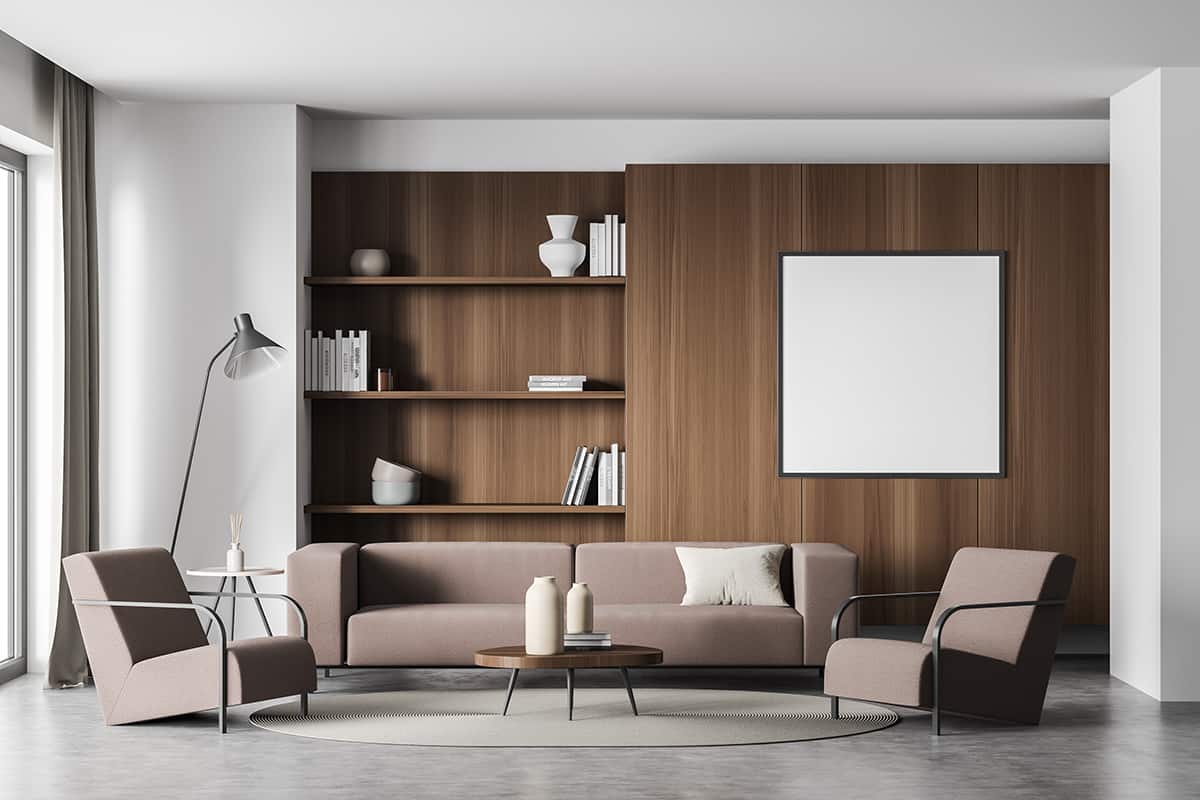 When you want to pair your concrete floors with a warm-toned wall color, brown has to be the ultimate color in the neutral, earthy-toned category.
Brown can help make your living space feel more luxurious whilst bringing a natural feel to the room. This color is even more effective when combined with furniture that has a slightly brown tone for a flawless look.
And if you're worried about this combination producing a gloomy look, consider incorporating it into rooms with natural lighting to avoid this problem.
Here, the brown wall paneling goes well with the gray furniture and concrete floors. The room doesn't feel dark or gloomy thanks to the large window and light gray low-lying sofas.
Warm, Bright Tones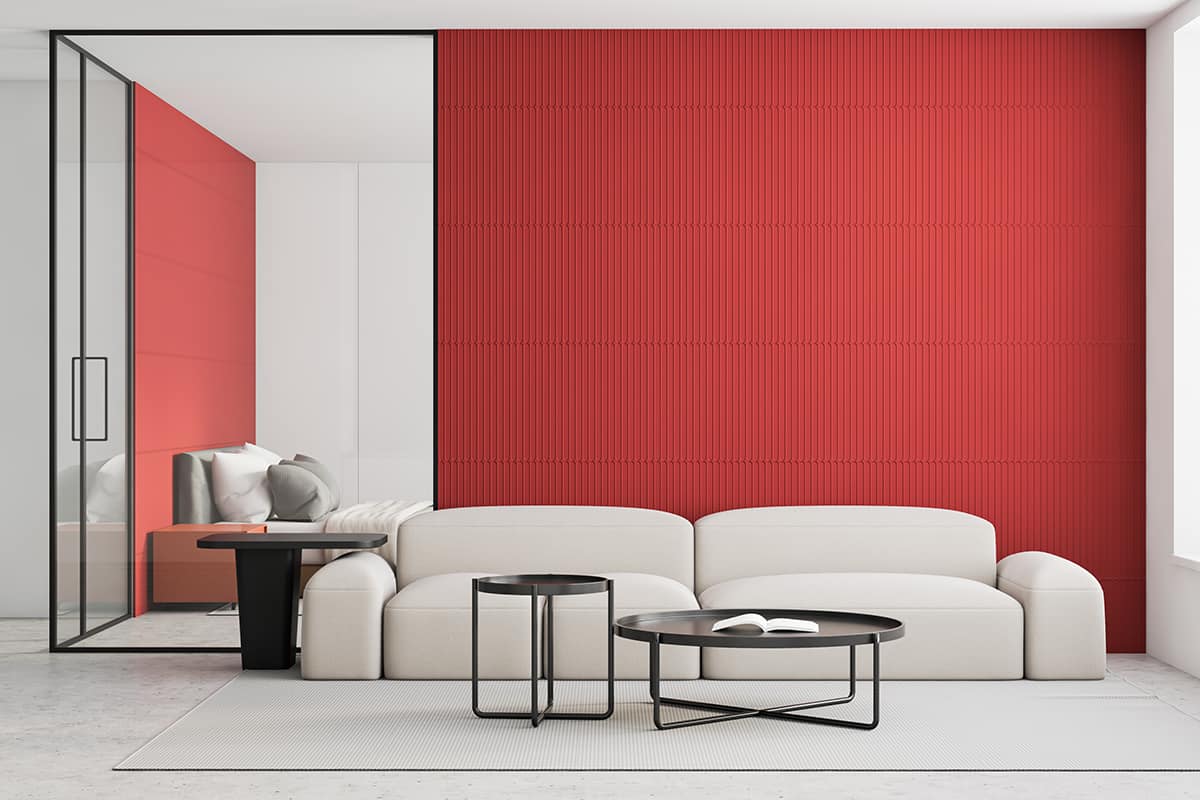 Any warm-toned wall color like yellow, orange, or red can be used with gray concrete floors. This combination produces a deep contrast, which is exactly why we love the idea.
By using cool-toned floors with warm colors, you can create a bright living room just like the one shown in this example.
Orange or red walls paired with gray concrete flooring is one typical example that's commonly seen in modern interiors. You can also add other warm elements like natural wood or bamboo for the furniture and wall decor to give your space a vibrant and cozy feel.
How Do I Make My Concrete Floors Look Attractive?
To make your concrete flooring feel cozier and warmer, there are some simple ways you can spruce it up. Follow these tips to make your concrete flooring look attractive:
Apply Resin to the Flooring
Resin is a great alternative for improving and transforming your concrete flooring. This product is used for both decorative and industrial purposes, with many advantages. Resin increases the durability of concrete floors, which leads to long-term cost savings.
The most common materials that resin can be made of include polyurethane, methyl methacrylate, and epoxy. The biggest benefit of resin is that it's paintable, thus allowing you to achieve a smooth and shiny concrete surface.
Stain and Polish the Concrete
It's not unusual to find polished concrete floors in modern penthouses. This approach offers a visually interesting dynamic by boosting the aesthetic of space with unstained concrete floors.
If you like the idea of shiny, stained concrete floors, you'll need abrasive paper to sand down the surface before polishing it. Note: the floor will be a little slippery during the sanding process so it's advisable not to walk on it until you've completed the staining process.
The polishing equipment can be hired for the day, but if you're not confident in utilizing the abrasive pads, you should perhaps leave the task to the professionals. The end result will be super shiny, stained concrete floors that are especially attractive for kitchens and living rooms.
Dye or Paint the Concrete Flooring
Instead of polishing your concrete floors, how about painting them for a refined look? The paint color you choose depends on the personal taste of the individual, but it should also be compatible with the overall decor of the house.
Water-based colors are the most common agents to use for concrete floors as they give a smooth and rich finish to the entire surface. You may use epoxy treatments to seal and repair your concrete floors before painting them your chosen color.
There are also epoxy treatment products that are available in a wide variety of colors, thus saving you money in buying additional paint finishes.