A newly refinished floor can beautify any room, but the process tends to get a little messy. Sanding hardwood floors is an expensive and arduous job that most of us would like to avoid. Sandless floor refinishing, however, promises to give us a beautifully clean floor without all the sanding mess. But is it really true? In this article, we'll delve into how sandless floor refinishing works, its pros, and cons, as well as instructions on how you can refinish your hardwood floors without sanding.
What is Sandless Floor Refinishing and How Does it Work?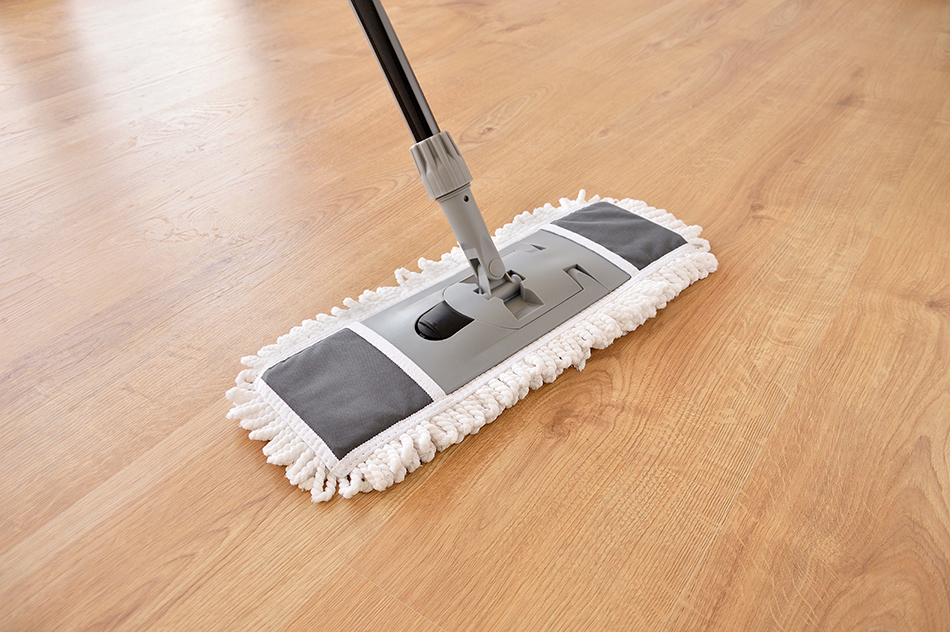 Just as the name implies, sandless refinishing involves no sanding. The technician uses a machine with a liquid solution or abrasive pads instead of a sander to remove the floor's surface debris. During this process, very little, if any, dust is produced as the liquid etches away the floor's debris. 
Since the dust or dirt gets absorbed in the liquid, your furniture will remain clean and dust-free. The last stage is the rinsing and detailing the floor before applying a protective sealer to give the floor its shiny appearance. 
While the sandless process is somewhat similar to full floor sanding, it's actually a touch-up rather than a substitute for complete sanding and refinishing. 
If your worn floor is looking dull, sandless refinishing can remove the old polish or paint in the quickest possible time. However, this method won't remove dents, scratches or stains from the floor. Furthermore, it won't remove the floor's color, which means you can't change the floor's color. 
Sandless floor refinishing is a practical way of sprucing up your floor back to its original condition, as long as it is only slightly worn out. By refinishing your floors, you can keep them looking good for longer and increase their lifespan for up to 5 years. Sandless refinishing is especially useful for people who are sensitive to dust and prefer to delay sanding their floors for as long as possible. 
With time, wooden floors accumulate dents and scratches that some people consider as characterful. If you like to keep those imperfections, then sandless floor refinishing will allow you to bring back the shine to your floor without removing its dents and scratches. 
Now that you have a better idea of how sandless refinishing works, read on to learn more about the differences between this method and the dustless refinishing technique. 
Dustless Vs. Sandless Floor Refinishing
Dustless refinishing is more or less the same process as traditional refinishing. It aims to restore a worn or damaged hardwood flooring and make it look as good as new. The process involves sanding the floor until its surface is completely raw. The sanding process may need to be done up to 3 times until desired results are achieved. The surface can then be stained with the color of your choice. The final step is to apply clear coats of finish to complete the job.
The dustless process is in actual fact a new way of sanding the floor without leaving dust in the air after completion. When sanding the floors, the technician uses a special vacuum suction tube to direct the dust into the machine instead of the room. But while this process is practical, it is not 100% dust-free.  
Sandless refinishing, on the other hand, involves lightly scoffing the floor's surface by applying a special chemical to the floor before refinishing it with clear coats of stain. There is no major sanding involved aside from etching the surface.
When making a comparison, it is important to realize that sandless refinishing won't allow you to change your floor's color. If you want to change the color, opt for dustless sanding instead. 
Cost Differences 
For dustless wood floor refinishing, you can expect to spend an average of $3-$5 per square foot. The price can be even higher depending on the types of finishes and stains you choose. Refinishing reclaimed hardwood will cost much higher.
For sandless refinishing, the price is much lower at just $1 per square foot due to the process being less labor-intensive. 
Advantages and Drawbacks of Sandless Floor Refinishing 
As you may have realized by now, sandless refinishing is half the price as traditional refinishing. In addition to being cheaper, the procedure is clean and almost dust-free.
This refinishing process is a good option for hardwood floors that are in relatively healthy condition and are only just starting to show signs of wear and tear. By opting for sandless refinishing, you can increase the life and looks of your wooden floors by a further 5 years.
Since sandless refinishing doesn't remove any wood from the surface of the floor, it is one of the safest and cleanest ways of treating thin and old floorboards without reducing their lifespan.
But just as with everything else, there are also disadvantages to sandless refinishing. The main drawback is the fumes produced by the chemicals used. This is why sandless refinishing isn't recommended for rooms with poor ventilation. Furthermore, you'll have to wear a mask before carrying out this task.
Keep in mind that the floor can't be stained during the process. It can only be coated with a clear finish.
Another con to sandless refinishing is that if your floor has stains or scratches, it won't be able to remove them. The end results will not be as attractive as the traditional sanding and finishing the floor.
How to Refinish Hardwood Floors Without Sanding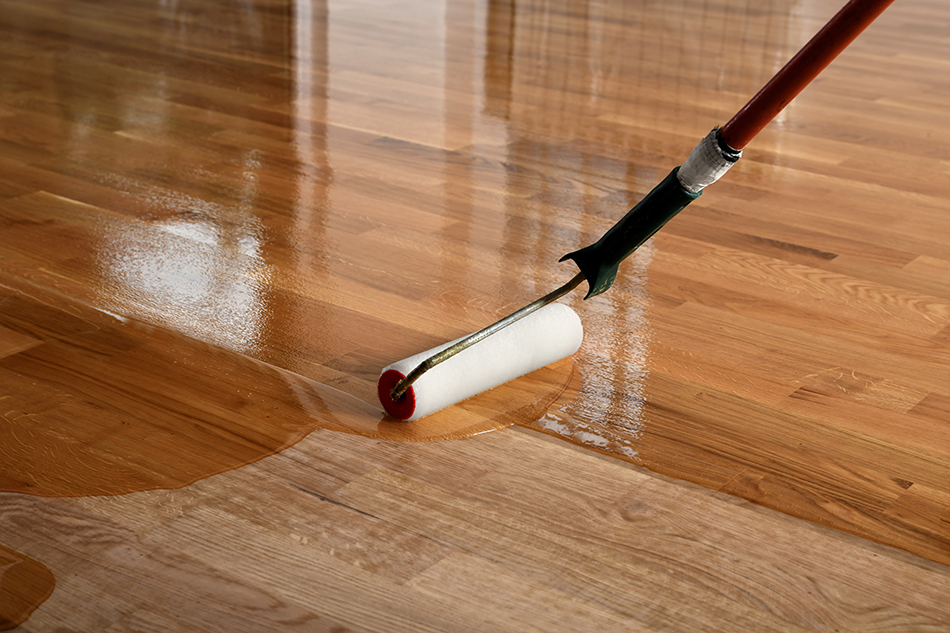 The best and easiest technique to use when refinishing your wooden floors without sanding is to screen and recoat. This procedure involves buffering the floor lightly before applying a refresher coat. This type of buffering is a substitute for chemical etching, which is more environmentally friendly and doesn't produce any fumes.
If you have an old and worn out hardwood floor that still has a few years left in it, and you don't wish to replace it just yet, then sandless refinishing is your only option. While this method won't remove any deep stains or scratches, it will still help revive the floor and darken its color. For those who want to lighten the color of their floor, sandless refinishing won't be suitable.
In case your hardwood floor has been sanded excessively and only has a thin layer, you can just remove the outer surface of the boards. If you can still see the cross-section of the board, you shouldn't attempt to sand it as you will completely destroy the remaining layer of the floorboard.
To refinish your floor without sanding it, start by vacuuming the dust first. The next step is to tack the floor and apply two coats of clear floor finish. This is a great method of staining wooden floors in a darker color without sanding them. In fact, you can apply the stain directly after screening the floor. It must then be covered with a clear finish.
If you choose to apply a water-based finish, it will dry within a matter of hours. This means your sandless refinishing task can be completed within a day.  Keep in mind that the procedure will produce some dust, but it's negligible compared to how much dust sanding the floor will create.
If you opt for a chemical etch to refinish your floor, you can buy the kit from most suppliers. This kit includes a chemical etcher, all the necessary tools, and a clear finish.
When using the chemical etch, remember to apply it to a clean floor. Use the tools that are included in your kit to apply the chemical, or you may use a paint pad instead. The product will make the floor glossy so you can apply a coat of clear finish once the chemical etching compound has thoroughly dried.
Again, you may use a paint pad or the tool in your kit to apply the clear finish. If you wish, you can also use a stain before the etching and the finish in order to give your floor extra shine. 
FAQs
How long does sandless floor refinishing take?
Sandless refinishing is a less labor-intensive process than traditional refinishing of hardwood floors. It can be done within a day, whereas full sanding will usually take around 2-3 days to complete. 
When is the best time of the year to refinish my floor without sanding?
Sandless refinishing can be done at any time as long as the indoor air temperature is consistently between 65-75 degrees Fahrenheit during and after the process. Other than that, it doesn't matter when you choose to refinish your floor without sanding. 
Is the sandless floor refinishing completely dustless?
No, it's not completely dust-free, but it won't leave much dust in your home. This low-cost alternative to sanding is a practical choice for quick touch-ups. 
Wrapping it Up 
If your hardwood floor is in relatively good shape and you just want to give it a quick touch-up, sandless refinishing is your best option. This method of refinishing can be very practical to bring back the shine to your floors. On the other hand, if your flooring is old and worn, you may want to consider sanding it before staining.