Vinyl shower curtains don't just have an unpleasant odor, but they're also a reminder of how toxic PVC is for our health. Most plastic shower curtains give off dangerous VOCs (volatile organic compounds) like xylene as well as many other harmful chemicals and toxins.
According to research carried out by the CHEJ, the Center for Health, Environment, and Justice, on PVC, the Poison Plastic, the chemicals released by plastic materials have been linked to cancer and can damage the liver, kidney, and the central nervous system. The study also found that PVC-containing shower curtains can emit up to 100 chemicals in the air, which can end up in our respiratory system.
But the good news is, there are greener and healthier alternatives that can last just as long – or even longer – than vinyl curtains. I have come up with a list of 10 shower curtain alternatives that will improve the look and feel of your bathroom. They are as follow:
1. Nylon
When vinyl curtains were first introduced, nylon shower curtains became less popular. But there are plus sides to using cloth-based curtains over plastic. Unlike vinyl, which can't be machine washed, nylon can easily be cleaned with less effort and time using a delicate cycle.
The downsides to nylon curtains include their inability to resist mold, hence the need to wash them often. They are more expensive than vinyl.
The main advantages of nylon shower curtains in a nutshell 
Many different designs and colors available
The cloth looks more elegant than vinyl
Nylon curtains are designed to be tied back, which makes them look better
Easier to match bathroom decor with nylon than plastic
2. Hemp
Hemp is a plant that is used for making fabrics, but in a more efficient way than cotton. This is because hemp plants use less water per acre than cotton plants.
The fabric for shower curtains is a healthy alternative to PVC shower curtains. Hemp shower curtains feel softer to the touch and are quite aromatic. Hemp is mildew and bacteria resistant, which makes it ideal as a shower curtain liner. It's not only machine washable, but it also has the ability to prevent water from splashing out of the shower and onto the bathroom floor due to the curtain's heavy weight.
3. Linen
Linen shower curtains offer lots of privacy and have been a favorite among households for a long time now. This type of fabric lets light pass through and has similar properties to hemp and cotton. The linen curtain's panel can easily be machine washed for regular maintenance. It's light in weight, breathable, and dries quickly every time you have a shower.
4. Bamboo
Bamboo is a sustainable and eco-friendly material. It's not only visually appealing, but it can be matched with any interior decor. Tip: make sure you choose a bamboo curtain panel that has been treated against rot, water damage, and bacterial growth. Most bamboo panels are created using the stalk of bamboo tied together for a more authentic look.
Advantages of bamboo shower curtains 
Bamboo is associated with relaxed elegance
It's an eco-friendly choice and abundantly available
The woven fibers block views while allowing some light in
Low maintenance
Versatile
5. Organic cotton
An organic cotton shower curtain is an inexpensive and widely available fabric that repels water. It can easily be custom designed to your liking. Tip: opt for a polished cotton panel to keep the water out of your bathroom floor while showering. There are also heavyweight cotton duck curtains that are easily washable in the washing machine. Organic cotton certainly makes a healthier alternative to plastic shower curtains.
6. Frameless glass enclosures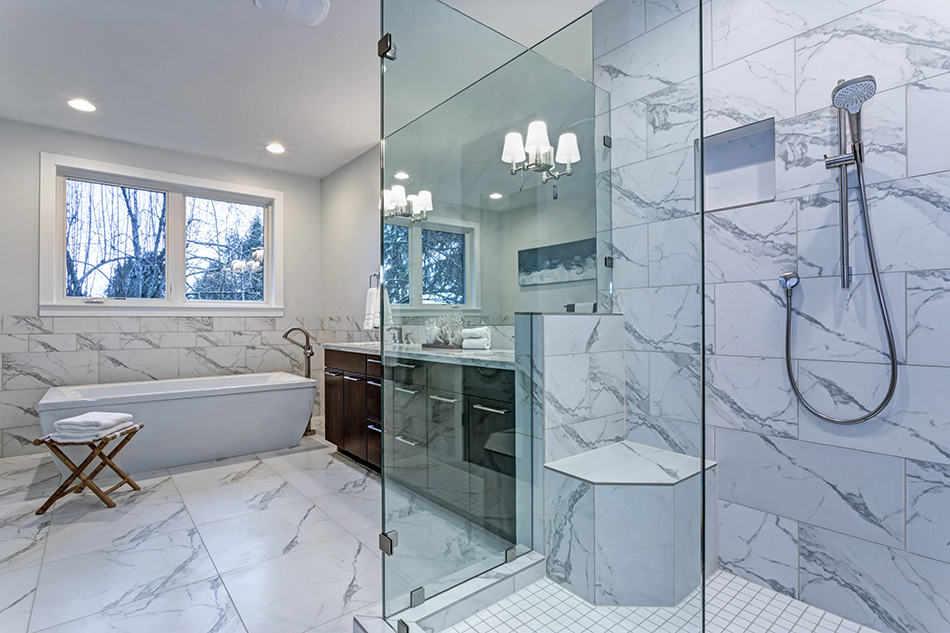 For more flexibility when showering, consider installing a walk-in frameless glass for your shower space. With this option, there is less chance of mold build-up since no water or soap can accumulate. What's more, frameless glass showers are easier to clean than curtains as you won't need to remove them from the panel.
Main advantages of frameless glass shower
Minimizes water collection so less likely for mold growth around the glass
A cleaner option than shower curtains
No seals around the frames so the chances of grime build-up are unlikely
Can be customized and fitted according to your preference. This means you'll have more flexibility with your bathroom decor
Frameless glass showers simply look great, hence the reason they've become the preferred choice over shower curtains. When compared to framed glass, which takes up more space and looks bulky, the style of frameless glass is sleek, open, and ideal for a minimalist bathroom.
7. Hanging plants
To add creativity to your shower space, why not hang plants instead of a curtain? Plants like spider, ferns, peace lily, or ivy will work well for your bathroom. And for a more exotic vibe, use handmade macrame hangers to hang the plants from. This way, your plants will get watered every time you have a shower plus you'll enjoy the experience.  
8. Bathroom window coverings
So you want natural light in your bathroom without losing your privacy. Bathroom window coverings rather than shower curtains make a good choice as they are durable, withstand moisture, and don't restrict you during your showering experience.
The different kinds of bathroom window coverings include:
Sheer curtains allow some light in while offering privacy
Shutters have a homely feel while providing the privacy you want
Roller panel blinds, such as faux wood look like real wood but with the advantage of being moisture resistant. These wood grain blinds are hard wearing, water resistant, and  the perfect alternative to shower curtains. You can easily combine the look of traditional faux wood blinds with your bathroom interior.
Aluminum Venetian blinds are another alternative as they're strong, elegant, and robust. There are highly durable waterproof versions available made from aluminum slats. These Venetian blinds are easy to clean with a simple wipe down and come with a tilt wand mechanism for total light control.
9. PEVA 
PEVA is a non-chlorinated version of vinyl that's less toxic.This material is designed to be safer and more environmentally friendly than vinyl shower curtains. PEVA has become more popular over the years as a shower curtain since people are realizing the harmful effects of PVC.  
There are many advantages to using a PEVA shower curtain. These include:
PEVA curtains are very low in chemicals and toxins, meaning they don't harm the environment
They can get disposed of without giving off any toxic pollution. This is unlike a PVC shower curtain that's not only non-biodegradable, but it also remains in a landfill and emits harmful pollution. So considering the amount of times shower curtains need replacing, it's a good idea to opt for PEVA for a guilt-free and environmentally-friendly disposal  
PEVA curtains are easier to clean with none of the PVC coating properties
PEVA materials are lighter in weight and easier to hang in the shower than vinyl
PEVA  looks better than PVC and feels softer to the touch
No pungent odor from PEVA curtains
Mildew resistant
10. Open wet room
If you're not keen on a shower curtain or glass door, why not follow the European cultures and opt for an open wet room. You can enjoy taking a shower without worrying about cleaning or replacing a glass door or curtain.
Here are some of the main advantages of wet rooms:
Accessibility: an open wet room provides easier access for people with mobility problems. For those who have difficulty getting in and out of their shower, a wet room can be a liberating solution
More room to maneuver: wet rooms don't have restricting shower trays and the floor is slip resistant
Stylish: wet rooms look modern and sleek
Highly practical solutions: wet rooms require little maintenance and are easy to clean
Maximize your bathroom design: when you opt for an open wet room instead of a bathtub, you're maximizing your bathroom space by creating more room. There is no need to install bulky shower enclosures that restrict your space. With an open wet room, you're free to stretch your arms without worrying about hitting the glass or wetting the curtain
Are there downsides to wet rooms?
Just like everything else, there are also some downsides to wet rooms. The fact that the shower isn't in an enclosed area, it's inevitable that the entire bathroom will get wet during use. This can make it more difficult to keep your toilet paper or towels dry. To overcome this challenge, install watertight tissue dispenser to protect the toilet tissue from getting wet. For towels, hang the towel holder as far away from the shower area as possible.  
If you have a small wet room, damp can be a problem. However, this can easily be overcome with an extractor fan. So when upgrading your bathroom and turning it into a wet room, keep in mind that the entire room needs to be waterproofed with adequate ventilation and a drain in the middle of the shower area for the water to pass through.