What look are you going for in your kitchen? You have a lot of choices when it comes to window dressing. Let's run down the different types of curtains you could buy, along with some style considerations.
Kitchen Curtain Cuts and Designs
Valances
A valance covers the top part of the window. You could use them when you don't want your fabric hanging too far down and getting in the way of the sink or the counter space. They're good for adding a spot of decoration around the window and blocking out the light so that it's not shining directly in your face when you're cooking or enjoying a meal.
Swag Valance
A swag valance has a ruffled top and hangs down more on the sides than in the middle. It creates a light, airy feel to your kitchen.
Balloon Valance
A balloon or pouf valance gives a heavier, more formal feel. The material is doubled, so it's also a thicker window dressing, which could be good if you want to block out more of the sunlight. These are cut to hang evenly across the length of the window.
Box Pleat Valance
The box pleat style is just as formal as the balloon valance, though maybe a bit more sophisticated. The pleat pattern is subtle but visually appealing. Depending on your decorating style and lifestyle, this type of curtain may express the mood of your home perfectly. Others will find it far too "stuffy."
Shade Curtains
This design can provide both full protection from the sunlight and added insulation to keep the heat out or in, depending on the season. Unlike a valance, which you don't move, you can draw or roll up shade curtains to open or close them.
Bamboo Shades
Bamboo gives your room a natural feel. It allows some light to enter but filters it so that the sun isn't shining in directly. Bamboo shades can be a pain to clean, though, as you can't simply take them down and throw them in the wash as you would with fabric. Plus, there are a lot of slats and cords. Our best advice is to use a vacuum attachment on them whenever they look dusty.
Sheers Curtains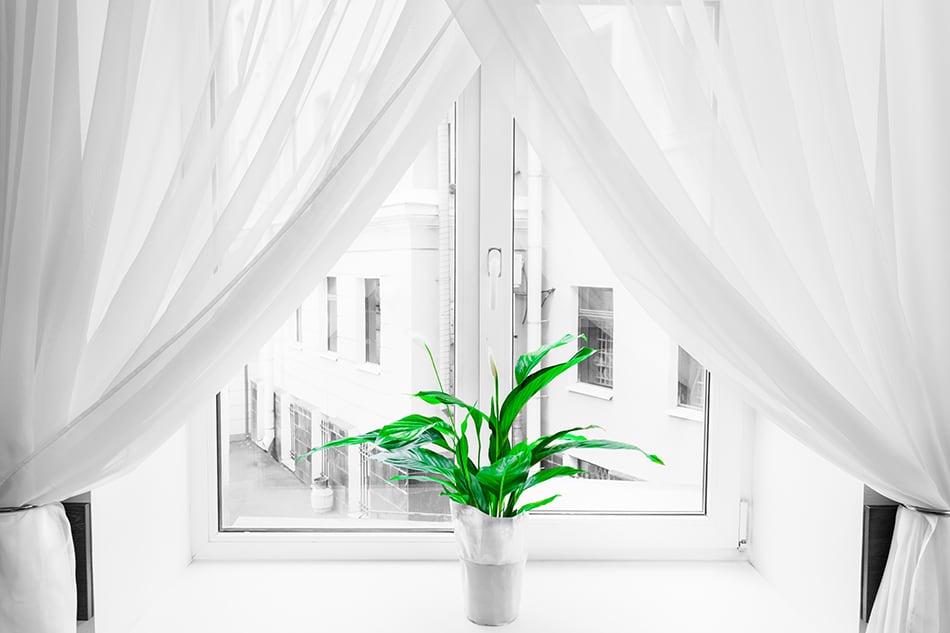 This type of curtain will only add a minimum of insulation and sunblock around your window. But the minimum is what you might want. These will give you some measure of privacy while still allowing the subdued light to come in and giving you an idea of the outside environment.
Roman Shades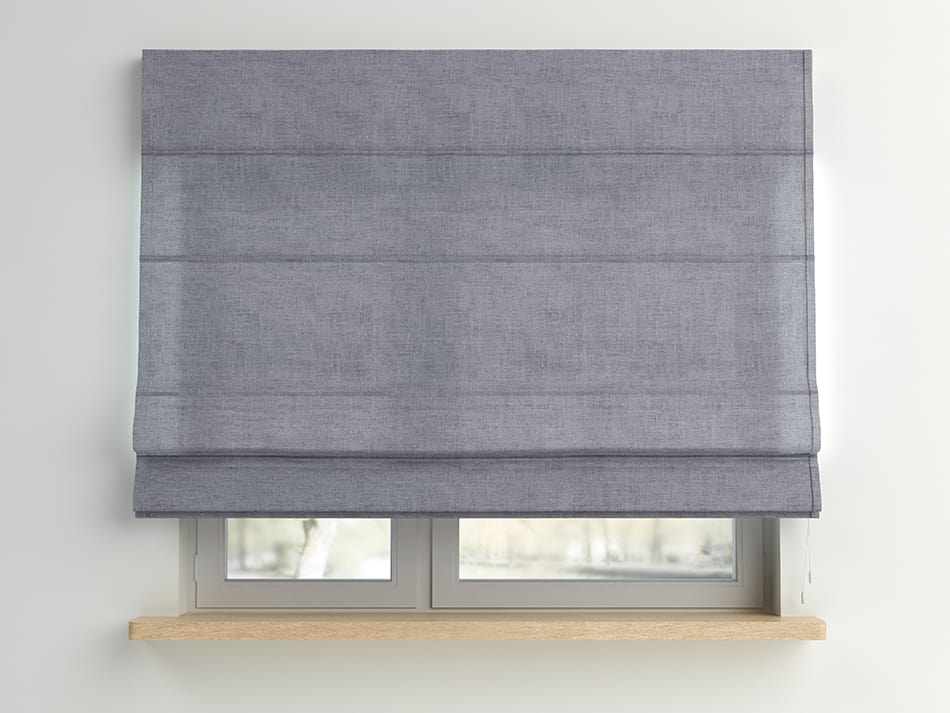 A Roman shade can be a very stylish addition to your kitchen. Depending on the fabric, they can be light and allow some sunshine in, or they can be great insulators and provide a blackout effect. The color of your fabric will determine how formal they look. When lifted, the fabric gathers in pleats, which some people may or may not care for.
Full-Length Curtain Panels
Most people don't have full-length windows in their kitchen, but even if you don't, you can still consider these for adding some style to your windows and walls. Again, the fabric can be light and airy or heavy and insulating. The length ranges from 65 to 145 inches and is meant to cover your entire window. You can draw them open or close side-to-side.
Café Curtains
Named because the style was popular in diners and restaurants in the 80s, this cut is recognized by the panels that spread or bunch when the curtain is open or closed. They have two panels hanging on a rod with rings.
Full-Window Café Curtains
Normally 45 inches in length, these cover all or almost all of your window. You may want to leave a gap at the top of the window for some sunlight to enter through. Typically, this gap doesn't preclude your privacy. Like other curtains, they can be sheerer or more darkening and insulating.
Half-Window Café Curtains
These hang only across the bottom portion of your window. They're good for privacy while still allowing a lot of light to enter the room from the top of the window. If these look too plain by themselves, you can add a valance to the top of the window and still have a large opening for the sunshine to come through.
Kitchen Curtain Cuts
If you want to create a unique design for your kitchen, you're in luck! Besides hanging styles, you have a lot of variety in cuts to choose from.
Tailored
When you get a piece of clothing tailored, it means it fits well and conforms to your body. It's the same with tailored curtains. They're slim-fitting and usually don't have a lot of extra poofiness in the material. This cut is popular in use with any style – valance, full-length, or half-window length.
Scalloped
This style of curtain is cut into swoops at the bottom. They're meant to look airy and billowy at the bottom but have a tight fit at the top. This cut is mostly used for valances where you can appreciate the bottom cut.
Swag
Again, used primarily in valances, this cut hangs down more on the sides than in the middle. It gives a very free-flowing and feminine charm to the room.
Ruffled
You might have ruffles only at the top of the curtain or all the way down its length. They could wide or tight ruffles, depending on the look you prefer. This can be used to style any variety of curtain and can even be used in tandem with other curtain cuts, so you could have a ruffled swag curtain or a ruffled scalloped curtain, for instance.
Tie-Up
These curtains draw up rather than to the side, similar to shades. Normally, they'll look like tailored curtains when down. When drawn up, they take on the look of a scalloped curtain.
Pointed
This design gives you a very unique look, as the ends are cut into a single triangle or series of points. You might hear them called triangle curtains. They might be tailored or ruffled, valance only, or full or half-length. You could also make or buy these as tie-up shades or drawn curtains.
Balloon
This billowy cut is best appreciated as a valance, though you may want to complete the look with full-length balloon curtains on either side. The weight and sheerness of the fabric will determine whether this cut looks formal or airy.
Header Types
This is the area of the curtain or shade where the fabric hangs. While less deterministic than the cut, length, or fabric choice, this will play a part in deciding the overall appeal of your window dressing.
Pinch Pleat
This sewing style leaves a straight edge at the top and pleats along the length of the curtain. It looks most fitting in a more formal style of valance or curtain. Roman shades may do well with this header.
Rod Pocket
Curtains with a rod pocket header generally maintain a more casual style and can be ruffled or scalloped. The ruffles are usually tighter at the top, but this gives the curtain a nice border.
Grommet and Eyelet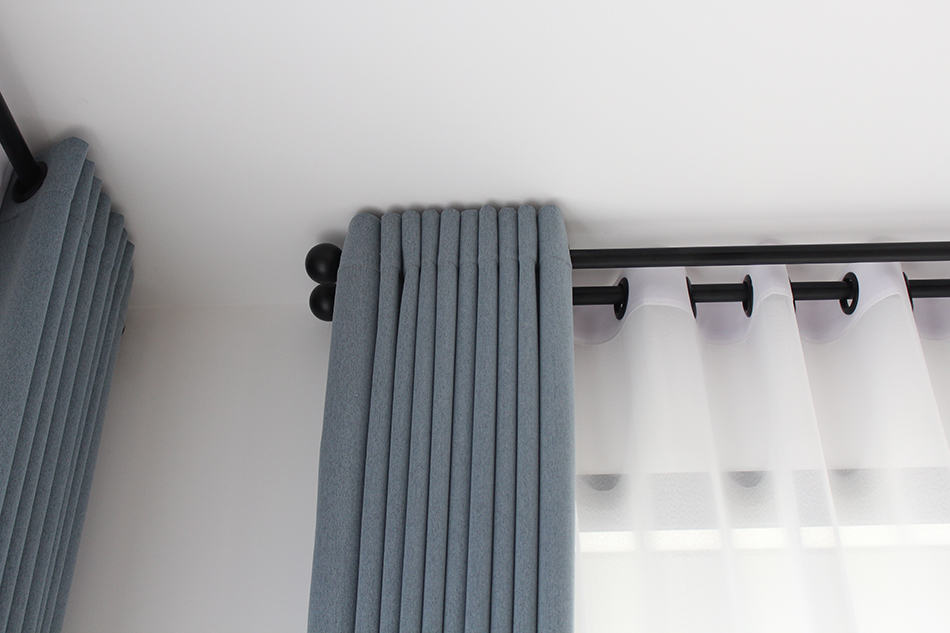 Perfect for use with café curtains, this header has rings through which to slide your curtain rod. The rings are usually metal, but if you don't like the metallic look, you can find or make reinforced fabric rings. You could also cover the metal rings with fabric to match the rest of the curtain.
Tab Top
Another casual style is the tab top. The rod slides through the tabs, and the gaps between the tabs give the curtain a unique look. If you like this feature, you're best using them in half-length curtains.
Kitchen Area Curtain Styles
Design, Cut, and Header type are the basics of choosing which curtain to use in your kitchen. But let's complete the discussion by talking about these stylistic considerations.
Patterned
Should you have a printed pattern on your curtain? It depends on how colorful and textured your wall and countertops are. You might need a pattern to liven up the area. If a print seems too busy for your entire area, consider having one wall feature a printed curtain, with the rest of the curtains being plainer.
Embroidered
If you don't want a printed pattern, you can go more subtle with an embroidered design. You can use a different thread color for the embroidery to make it stand out or go the subtlest of all by embroidering your design in the same color of thread as the rest of the curtain.
Checkered and Striped
A checkered, striped, or plaid pattern is a nice way to add color without adding specific shapes with a print or embroidery. Keep in mind that prints and stripes are more casual, while embroidery can be more formal.
Guide to Choosing Curtains for Your Kitchen
Here, we'll give you some idea of which curtain styles will go best with your décor.
Traditional
If you have a mostly white kitchen or a lot of natural wood finishes for your countertops, you probably want to use white curtains. They could be valanced, full-length, or half-length, depending on how tall your windows are. Choose lighter fabrics and more casual styles with a scalloped edge. Bamboo shades may also be fitting.
Modern
A modern kitchen looks chic with black shades or white and black checkered tab curtains. Roman or pleated shades may also be a good fit for more formal homes.
Country
For a country-style home, try red or plaid tailored curtains.
Mid-Century
When you have a lot of wood color in your kitchen, patterned, embroidered, or pleated curtains go well. You might also choose pleated shades. Just don't use any more brown. Light colors will be your friend.
Scandinavian
For a minimalist kitchen in the Scandinavian style, try bamboo shades or tie-up curtains in light, earthy colors.
Industrial
If you're using a lot of chrome, stainless steel, and black in your kitchen, complete the look with a gray roman shade.
Nautical
If you're using sea and ship décor, you'll either want striped tailored curtains or light, balloon curtains. The color should match the theme – blue, white, or beach sand tan.
Bohemian
With lots of enamel and reclaimed furniture comes retro patterned curtains and shades. They can be formal or casual as long as they look well-loved from another time.
Here are some examples of bohemian (boho) curtains.
City
Brass and bronze furniture, white walls, and plain countertops go well with a roman shade in black, purple, or gold. You might also choose a tailored valance.
Spanish
A Spanish-style kitchen needs lots of reds and patterns. The billowier, the better!
How Long Should Your Kitchen Curtains Last?
You can reasonably expect your window dressings to last 5-10 years, but be sure to perform the necessary maintenance to keep them looking their best. Wash fabric on the preferred setting and vacuum bamboo blinds. Avoid placing curtains where they might blow into the cooking area or get stained from washing dishes.
One consideration is the amount of traffic your kitchen gets. In many homes, the kitchen serves as a point of egress. If this is your case, you probably don't want full-length curtains as window dressings that are closer to the ground are more likely to collect dust being blown around from opening and closing the outside door.
If you use lightweight materials, be aware that they may tear more easily than a fabric that is thicker and more heavy-duty.
Conclusion
The kind of window dressing that you will pick is an in-depth decision. You need to initially understand the kinds of designs and cuts offered and from there pick the best headers that will complement your décor. You may also choose to add patterns in the form of prints, embroidery, checks, or stripes.
At the end of the day, your kitchen curtains will fulfill multiple functions in your cooking area – from providing just the right amount of light filtering and insulation around the windows to adding the finishing touch to your room's ambiance.