Shingle style homes are associated with the wealthy in the US. This cottage-style home spans across coast to coast from New England and beyond with a classic yet informal look. Popular as a beach retreat or country home, the architecture takes its inspiration from contemporary and classic influences.
Read on to discover all about shingle style homes, their history, types, examples, and much more. By the end of this article, you'll see why this type of architecture is still as appealing as it was in 1880.
What are Shingle Style Homes?
Shingle style homes were originally designed to resemble craftsman and colonial homes in New England. Some shingled exteriors are simple in design while others are more complex. These types of home designs boast gambrel shed or gable roofs, and in some instances, the roof elements are combined in order to achieve a more prominent appearance.
The idea of shingle style began in the late 19th century when architects wanted to move away from the elaborate Victorian architecture. After all, the Queen Anne architecture had proved to be very popular in New England so architects decided to plan a simpler and less elaborate home design.
Shingle style took its inspiration mainly from the Queen Anne shape, which was gently wrapped with versatile wooden or brick material, bringing together freely formed spaces.
There is no ornamental feature on shingle style homes, but aside from taking inspiration from the Queen Anne architecture, they also borrow characteristics from Romanesque and colonial revival home design. This is why shingle style is so broad with many different combinations. Its defining traits are shingle-clad roofs and walls, but there are many more characteristics, which we will delve into a little later.
These homes offer a seamless look and are nearly always found in the woods or countryside as complementary surroundings for this design style.
Some shingle styles have stone foundations built through the bedrock while others are completely made of wood to look like a typical American house.
These rustic-style homes are highly popular in the Northeastern regions of the US, where wealthy Americans like to live by the beach or in the countryside.
History of Shingle-Style Architecture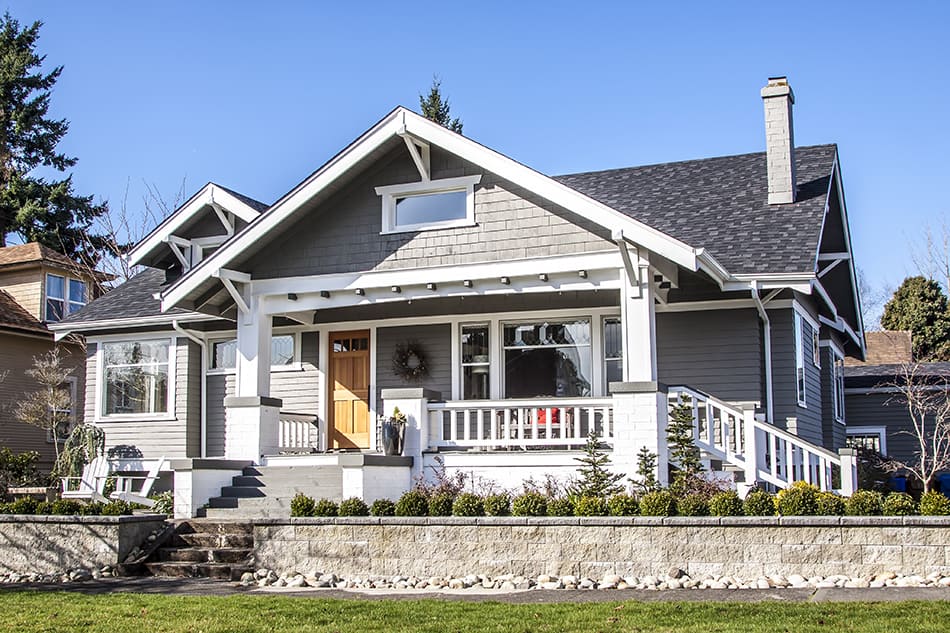 As one of the first uniquely designed American home styles, the shingle began developing in New England from 1880 to 1900 and was made popular from 1831. The architects behind this home style were H. Richardson, F. Wright, and the company McKim, Meade, and White. Shingle style is also referred to as the newer version of the Queen Anne style.
Even though the shingle style takes its inspiration from Victorian-style architecture, which was made popular during the 19th century, it is still distinctly American thanks to the prominent cedar shingles, wide porches, and asymmetrical exterior layout – much like the Queen Anne style. However, what made the shingle stand out is its stone pillars and uniquely designed windows that were inspired by Romanesque style homes.
The rustic appearance of shingle style homes was very much favored by the wealthy and the working class. The wealthy used these homes as holiday retreats while the working class preferred to live all year round in these cottages.
Notable Characteristics of Shingle Style Home Design
Wood shingles: the most prominent feature of a shingle style home is the continued use of wooden shingles on the roof as well as the siding. This feature resembles Arts and Crafts architecture style, with an open interior floor plan and asymmetrical exterior.
Roof shapes: the roof shape of a shingle style varies from one example to another. But without a doubt, it is the roof shapes that dominate the overall impression of the house. You will often see hip, gambrel, shed, and gable roofs on shingle style houses, and in many cases, all these roof shapes are combined on one house. Most shingles come with dormers as their main curb appeal.
Palladian windows: as mentioned before, not all shingle styles look the same. These homes can take on many features, but one such characteristic that remains the same in all of them is palladian windows. These are the focal points that establish the architecture of the house.
Other distinctive features include arches over windows and porches. Much like the Gothic Revival and Tudor styles, shingle houses boast wooden siding in patterns on the wall surfaces. But that's not all. While most shingle styles have consistent architectural details on the exterior, they all have open-plan interior layouts.
Natural materials: for the exterior, wood, stone, or brick are used, with wood shingles for the roof and the walls. The more expensive shingle style homes featured stone pillars. The interiors of these stately homes boasted high, vaulted ceilings with plenty of large windows to let natural light in.
The most identifiable characteristics of shingle style homes include:
Wide porches
Asymmetrical layout
Irregular roof lines
Brick chimneys
Roof overhangs
Overhead gables
Tall turrets or half towers
Steep pitched roofs
Stained cedar shingle siding
Wooden structure
Palladian windows
8 Types of Shingle Style Homes
Since shingle style homes are very different in every design, it is difficult to pinpoint their exact types as there are some features that vary from one house to another. However, taking into account the roof style, overhangs, structural forms, and exterior wall materials, there are 8 types of shingle style house designs for an average shingle home. These are:
Folk
Queen Anne
Territorial
Stick Style
Shingle
American Renaissance
Second Empire
Richardson Romanesque
Most shingle homes are built with different building materials like stone, wood, or even brick for the exterior. The wall cladding and the roof create a seamless look thanks to the stone and wood shingles that are often accompanied by columns and pillars. All the above list of shingle style home designs feature these characteristics no matter which natural material they are made of.
Some Examples of Famous Shingle Style Homes
Horseshoe Courtyard in Rhode Island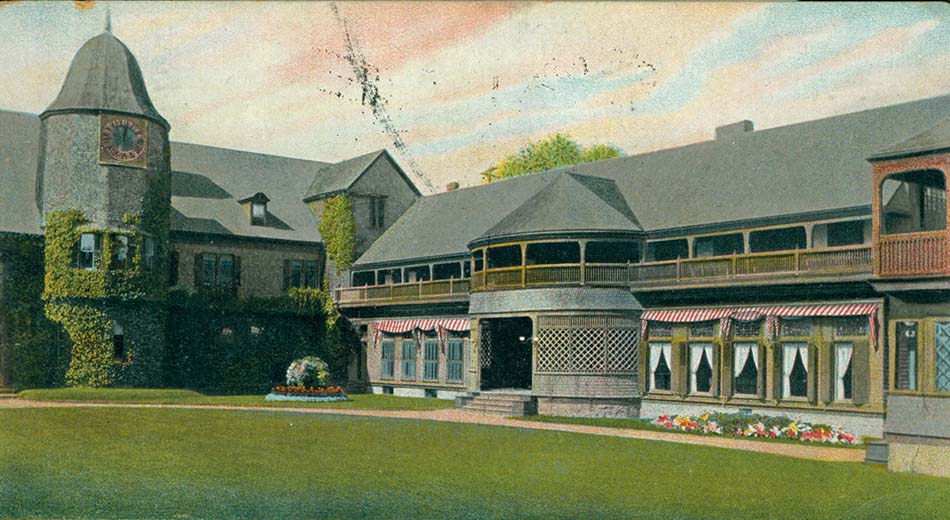 Credit to Maxq32
This is a handsome and majestic shingle style example built around 1879 by the architect firm McKim, Mead and White. It features turrets and gambrel roofs that are typical of the style.
Isaac Bell House in New Port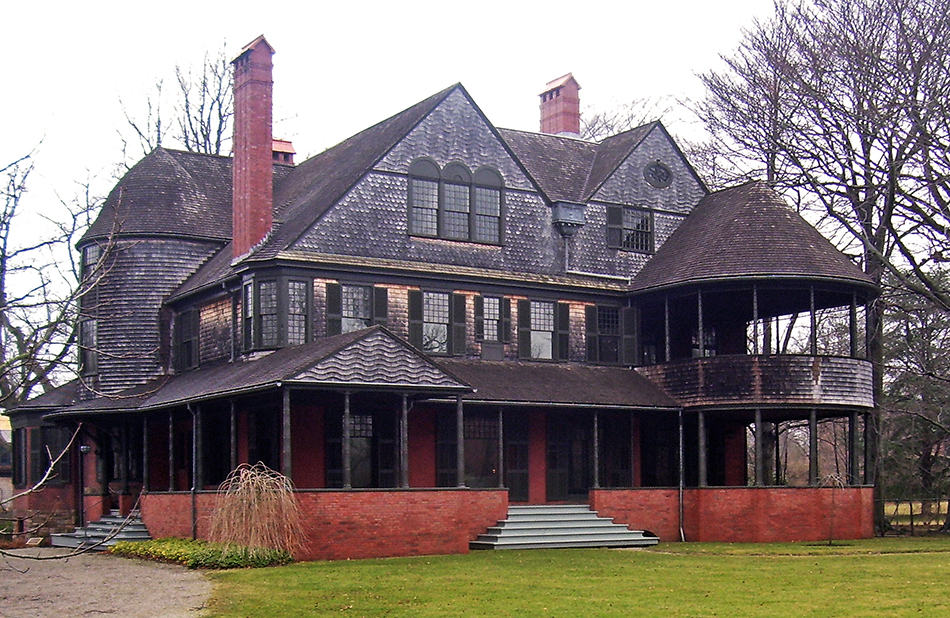 Credit to Daniel Case
Built in 1882, this simple shingle style home is also the works of the McKim, Mead, and White architects. Notice how wide and extensive the porches are with tall, brick chimneys.
William Kent Cottage in New York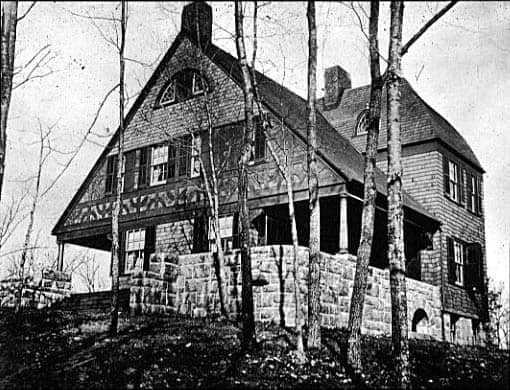 Credit to Unidentified photographer
Bruce Price was the architect behind this former cottage in Tuxedo Park, New York. It was demolished in 1886.
Edward Libbey House in Toledo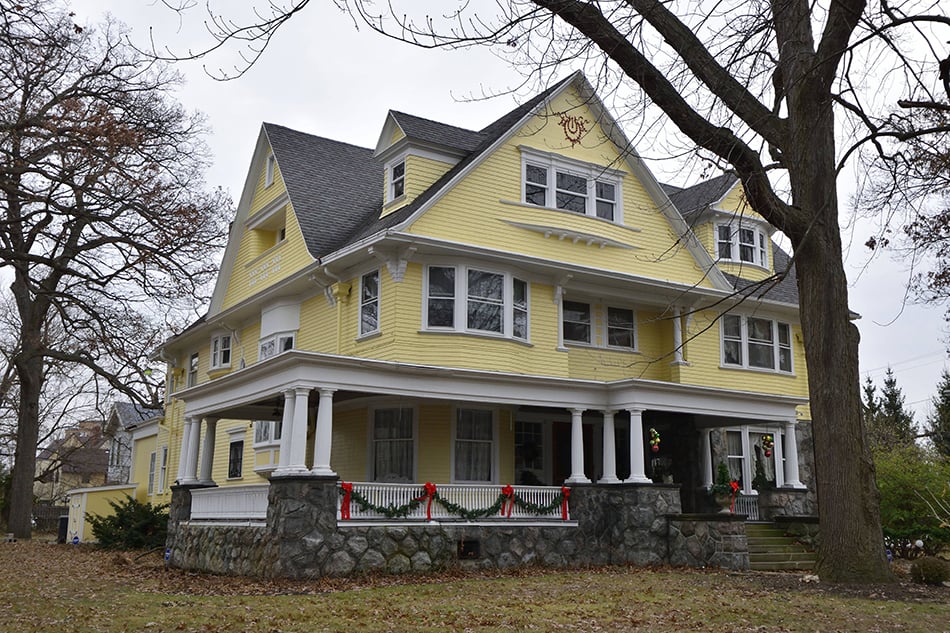 Credit to DPLA bot
Another fine example of a beautiful shingle style home featuring colonial revival elements. It boasts a wrap-around porch and white pillars with stone and wooden shingles for the exterior. The main neutral colors of this house are gray and soft yellow, which complement the style.
The Kragsyde in Boston, Massachusetts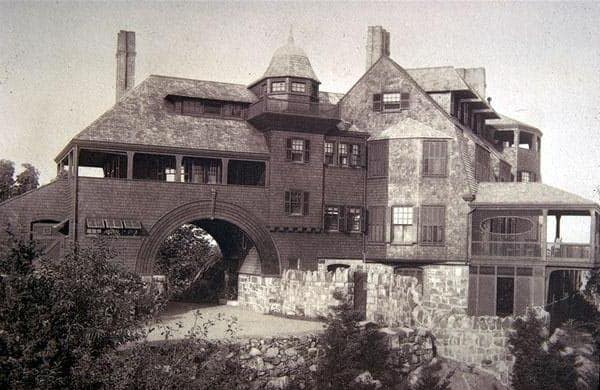 Credit to https://commons.wikimedia.org/wiki/File:Kragsyde.jpg
One of the most famous shingle style homes has to be the Kragsyde in Boston, MA. Built in 1882, this home gave inspiration to the shingle style homes built in Rhode Island and New Jersey. The mansion was designed by the architectural company Peabody & Stearns. Although it's long been demolished, the manor house is still considered as a symbol of American architecture.
Advantages and Disadvantages of Shingle Style Homes
There are advantages and drawbacks to any type of home architectural design. Let's first take a closer look at the plus points of shingle homes:
Simple design: most shingle style homes are built in a simple, no frills manner. They are not ornately designed and lack the elements of a Victorian-style home. The purpose of the simple design was to keep the home functional, not overly elaborate.
Design freedom: shingle style offers a great deal of home design freedom. Homeowners can choose whether they want large or small windows with or without arches. They can also consider the other nooks like vast and wide porches that surround the entire first floor.
Now comes the disadvantages:
High maintenance: since wood is used for the exterior wall cladding, it tends to fall apart if not maintained regularly. Most shingle style homes are made of cedar or shake shingles, which can last up to 25 years as long as they are properly maintained. This means higher costs for regular staining of the shingles, not to mention extensive labor work.
But despite the disadvantages, many American homeowners still feel it is worth living in shingle style homes. These home designs have been around for a few centuries now and aren't just reserved for the wealthy. The inviting porches, neutral exterior colors, and dramatic facades make shingle homes a stunning example of architectural style that's hard to resist.