So it's time to replace your bathroom's sanitary units, and you're super excited to change your old fixtures for more modern ones. You may have already chosen your toilet and bathtub, but what about the sink? Have you ever considered a trough bathroom sink? Do you know what this type of sink is and whether it fits your particular bathroom design?
In this article, we will talk about this unique type of sink, its advantages, drawbacks, installation types, materials, and much more. So let's get started now.
What is a Trough Sink?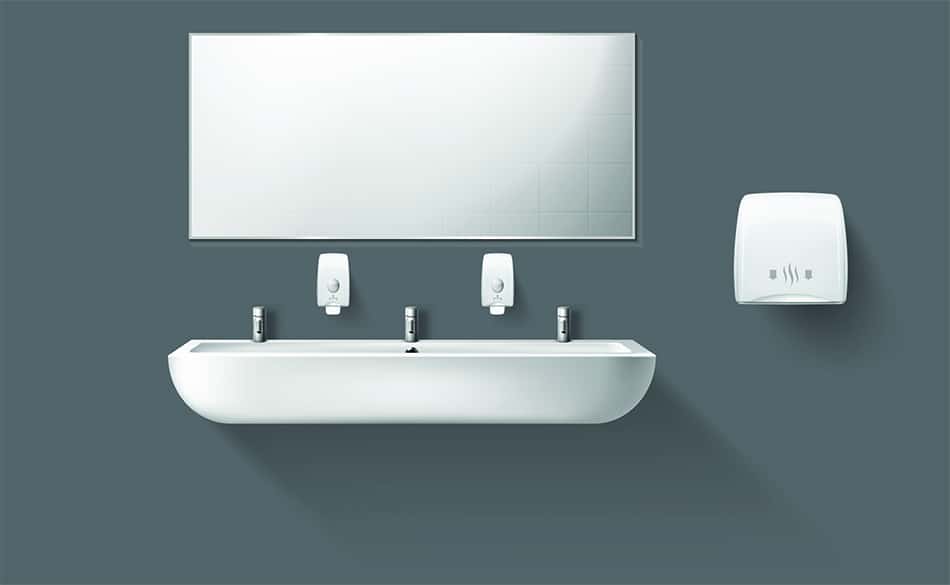 A typical trough sink consists of a rectangular-shaped basin. These types of sinks are designed to be longer than ordinary sinks. The idea for the shape of these sinks came from watering troughs in farms, hence the name trough. Because of the sink's length, it can easily accommodate up to three people at the same time.
This is why trough sinks are ideal for couples or families. But even if you don't have a large family, you can still benefit from a double trough sink as it provides you with plenty of space in the washbasin. These sinks are very useful for washing large objects by hand, especially in bathrooms that don't have a bathtub.
The length of the trough sink allows you to install two faucets instead of one. Most trough sinks are customizable for such plumbing installations, with some featuring up to three faucets to maximize space.
These durable, sophisticated sinks come in a variety of sizes, colors, and materials, which we will go into more detail a little later. But first, let's take a look at the advantages (and drawbacks) of trough bathroom sinks:
Advantages of Trough Bathroom Sinks
These sinks are real space savers
Easy to maintain
Visually appealing with stunning designs
Easily customizable
Deep wash basins prevent splatters
Trough Sinks Help Maximize Space
As a popular alternative to vanities, the trough sink is a real space saver, especially in narrow bathrooms. For those who still prefer two faucets with separate washbasins, the solution lies in a double trough sink. You will save on square footage but still have the luxury of a double sink.
Low Maintenance
Because of the trough sink's sleek, rectangular shape, the maintenance process is simplified, with fewer gaps to wipe down. This is especially true if you opt for a double trough sink instead of two separate sinks and vanities.
Disadvantages of Trough Sinks
More Cleaning
Since these sinks are larger, they require more cleaning, especially when water and dirt can penetrate in between the base of the sink and the countertop.
Require Tall Faucets
The faucets you install must be tall enough to allow water to pour into the bowl without splashing everywhere.
Vanity Height
The height of your vanity should be taken into consideration as you'll want the trough sink to be easy to reach. Standard size vanity units may be too short for the trough sink, thus making it difficult to use.
Not Suitable for Small Bathrooms
Trough sinks are perfect for large bathrooms, where large vanities can be installed for these sinks. However, if you have a small or compact bathroom, you may struggle to fit one of these sinks in your limited space.
Trough Sink Materials
Trough sinks are available in a wide variety of materials, including porcelain, ceramic and natural stone, to name a few. But there are also less common materials such as bronze and glass, which tend to be more expensive than their ceramic counterparts.
Here are the most common trough sink materials with pros and cons to consider:
Ceramic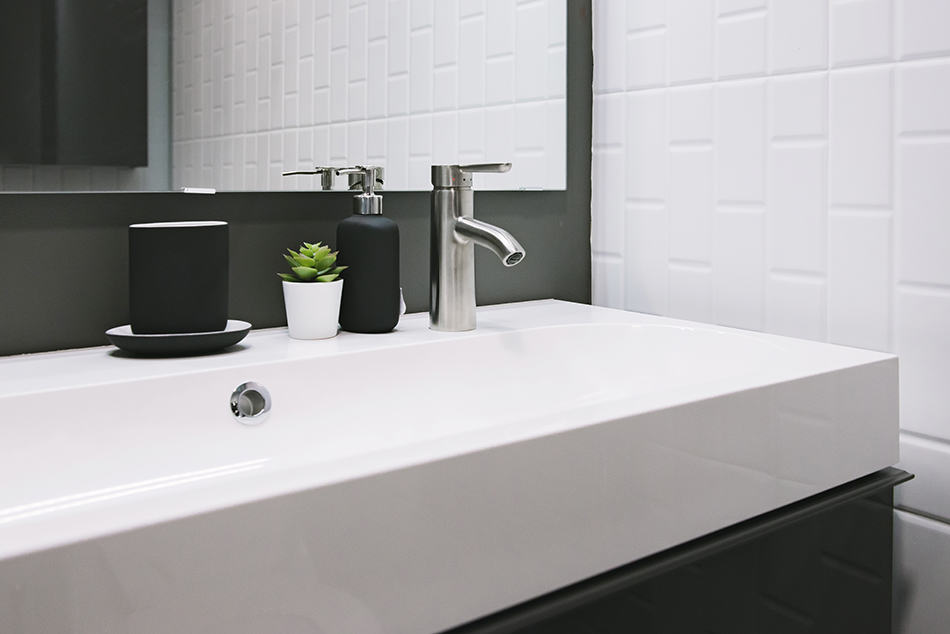 Ceramic trough sinks are made from coarse clay that's mixed with powder and water. The clay mixture is hardened in extreme heat before it's shaped into a trough. This material is chip resistant and scratch-proof, which makes it a highly popular choice.
Pros
Affordable
Easy to clean
Very durable
Easily available
Resistant to scratches, chipping, and discoloration
Cons
Porcelain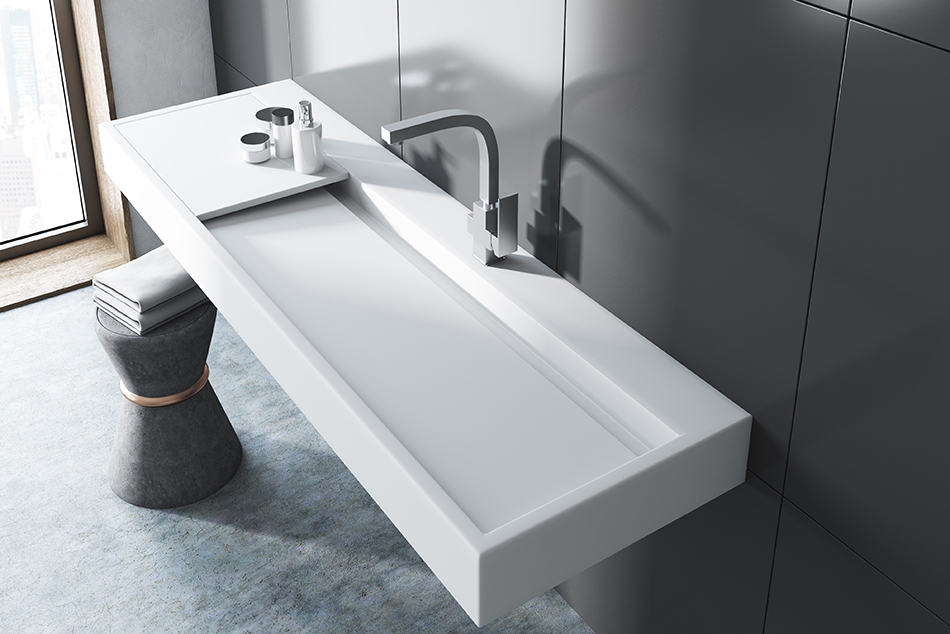 If you prefer a sturdier trough sink than ceramic, consider porcelain. These sinks have been around for hundreds of years and are also made of clay and hardened in extreme heat. What makes them stand out is the surface that's glazed or enamel for better water resistance.
Pros
Easy to maintain
Stain-resistant
Retain heat well
Variety of colors
Cons
More expensive than ceramic
Stainless Steel
Stainless steel trough sinks are extremely easy to maintain. You can easily find these sinks quickly at an affordable price. These sinks are much lighter in weight than other materials, which allows for more stable installation. Multiple finish options are available, including brushed, mirrored, or satin.
Pros
The cheapest option
Easy to maintain
Versatile styles
Cons
Scratches appear over time
Only available in silver color
Fingerprints are more noticeable
Thinner versions won't last long
Composite Granite
For a higher quality option, consider composite granite. This material is a mix of granite stone resin and acrylic pressed into a trough shape.
Since it is incompressible, it is incredibly resistant to heat, stains, and scratches. Composite granite trough sinks are available in a large variety of sizes, colors and shapes. If you are budget conscious but don't want to settle for a low-quality trough sink, then composite granite is the right choice for you.
Pros
Chip and scratch-resistant
Very durable
More expensive than ceramic but cheaper than stone
Cons
Porous material, thus susceptible to water stains
Requires regular maintenance
Copper
If we rank the most preferred material choice for trough sinks, copper stands as number 1 thanks to its classy look. This is due to this material's elegant appearance in both modern and traditional bathroom designs. Trough copper sinks are made by compressing multiple sheets of copper before exposing them to water and air.
These sinks are especially preferred in farmhouse-style homes because of their natural look. In fact, these traditional types of copper trough sinks are designed for two faucets. All you need to bear in mind is that copper won't withstand abrasive cleaners and chemicals. Just a basic soap and water solution is all you need to clean these sinks once a month.
Pros
Classic look
Easy to maintain
Natural antiseptic
Rust resistant
Cons
Not stain resistant
Acidic spills will ruin the surface
Farmhouse trough sinks require a large workspace
Pricey
Wood
A wooden trough sink is eco-friendly. This option comes in many designs and doesn't feel heavy at all. If it's made from high-quality wood and stained properly, it will be water-resistant.
Pros
Only suits farmhouse interiors
Aesthetically appealing
Cons
Can crack over time
Difficult to mount
Common Trough Sink Installation Types
Trough bathroom sinks can be installed in a number of ways. Let's take a look at the most common installation types below:
Vessel Trough Sink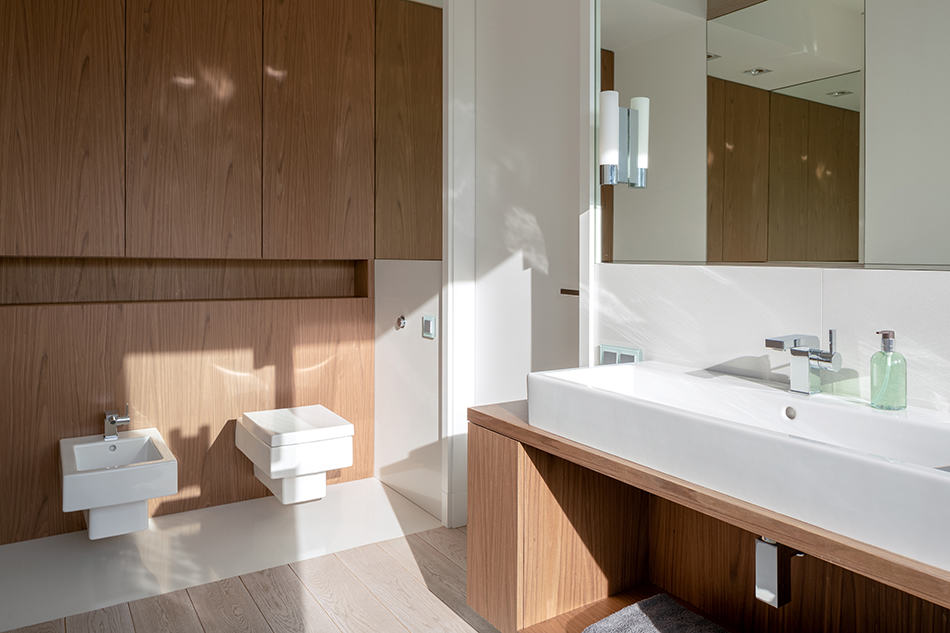 This type of trough sink mounting type is installed on the actual countertop to look similar to a large wash basin sitting on top of a table.
A vessel trough sink is usually deeper and higher than traditional sinks. Since it sits on the countertop, you must make sure the vessel sink isn't too high for you. These types of sink units make the bathroom stand out, but are prone to dirt because of their exposed sides and back. Regular cleaning is necessary to keep them shiny.
Apron Sink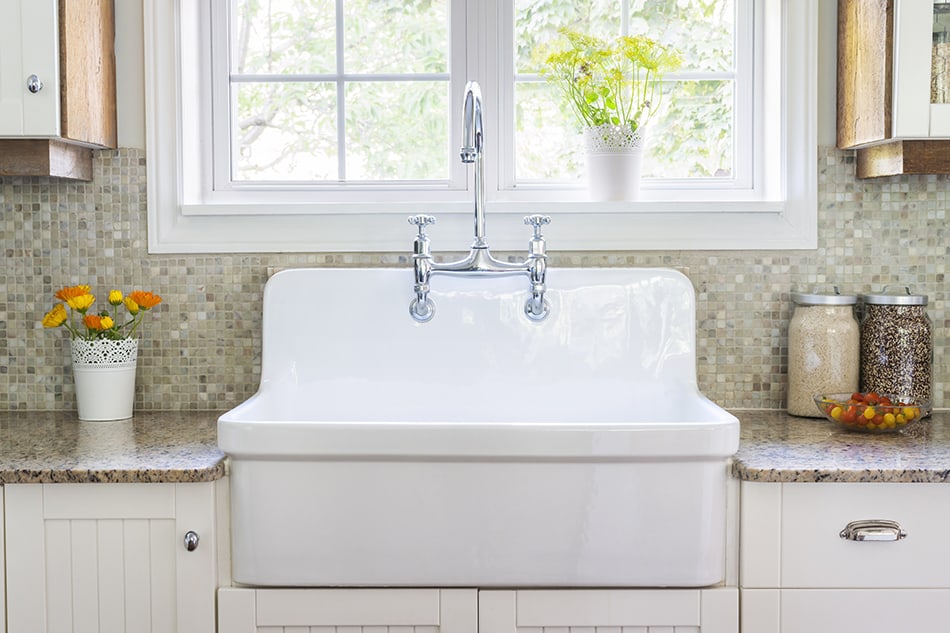 An apron sink is also referred to as a farmhouse trough sink. This type of sink includes a large apron, hence the name, which drops down the front part of the sink.
An apron sink for the bathroom is the most difficult to install and is commonly available in cast iron, copper, and wood materials.
Drop-In Trough Sink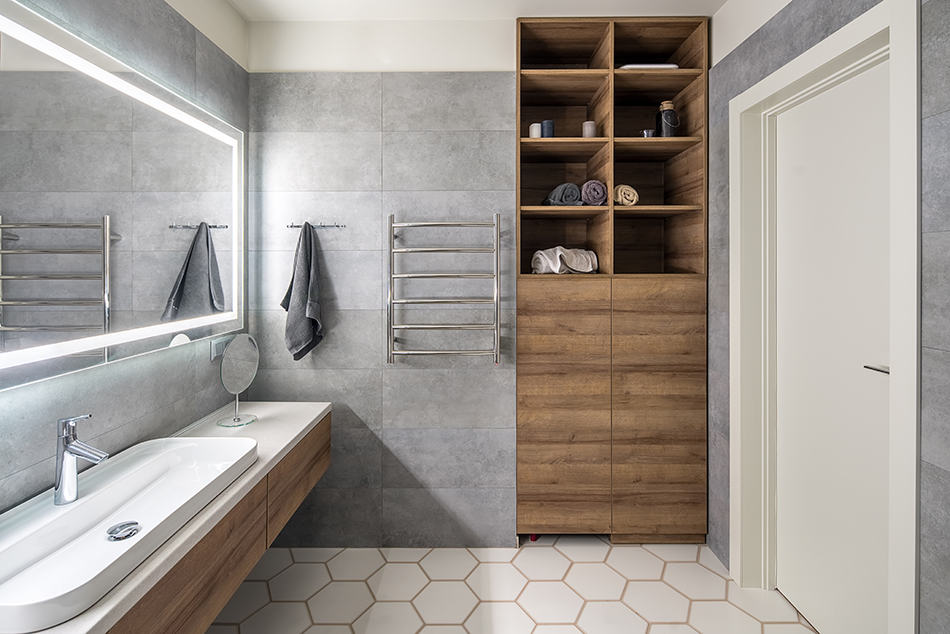 Unlike the vessel sinks that are installed on the countertop, the drop-in trough sinks are dropped into the countertop, with the lower section of the sink hidden while the top is exposed.
The one advantage these sinks have over the vessel types is their ease of cleaning as you only have the rim and the basin's interior to clean. The most common materials used for drop-in trough sinks are stainless steel and copper.
Undermount Sink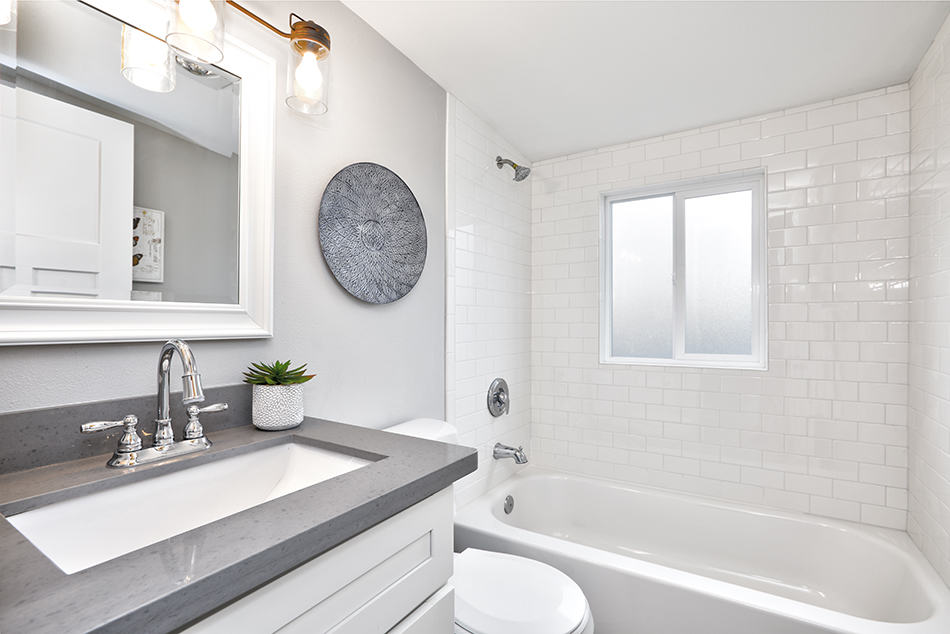 For a cleaner and more seamless look, consider an undermount trough sink installation. This type of sink attaches to the bottom section of the countertop for a flawless appearance.
Unlike the drop-in sink, the undermount sink's rim is not visible. Although this type of sink is easier to clean, it is more difficult to install. Furthermore, your bathroom's countertop must be solid and sturdy enough to hold the weight of these sinks so MDF or laminate wouldn't be ideal in this case.
To install an undermount trough sink in your bathroom, you'll need a high-quality silicone sealant, epoxy, and metal anchors to attach the sink to the countertop.
The most commonly used materials for undermount sinks are stainless steel, copper, and iron.
Integrated Trough Sink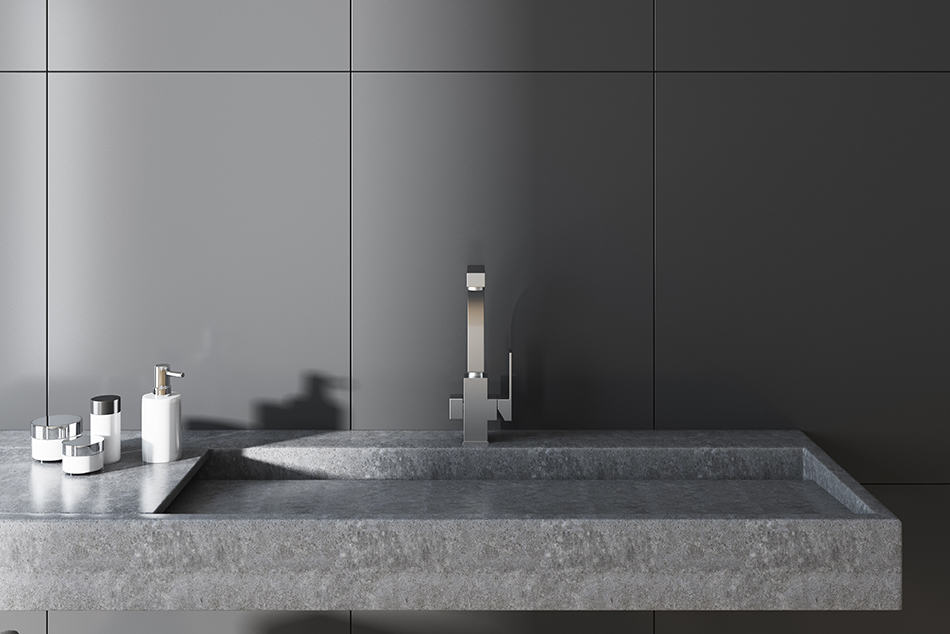 Integrated trough sinks are ideal for small bathrooms as they can be mounted into the vanity. These sinks are great for narrow bathrooms to save on space. You may save money by buying the vanity and sink as one fixture. This will create a seamless look as integrated sinks fit into the vanity countertop as combined units.
You can commonly find integrated sinks in both freestanding and wall-mounted vanities. The size of these bathroom sinks varies depending on your bathroom's design.
The biggest advantage of integrated trough sinks is their beautiful appearance no matter what your overall bathroom design. They are possibly the most affordable option and typically accommodate for one or two faucets.
Wall-Mounted Trough Sink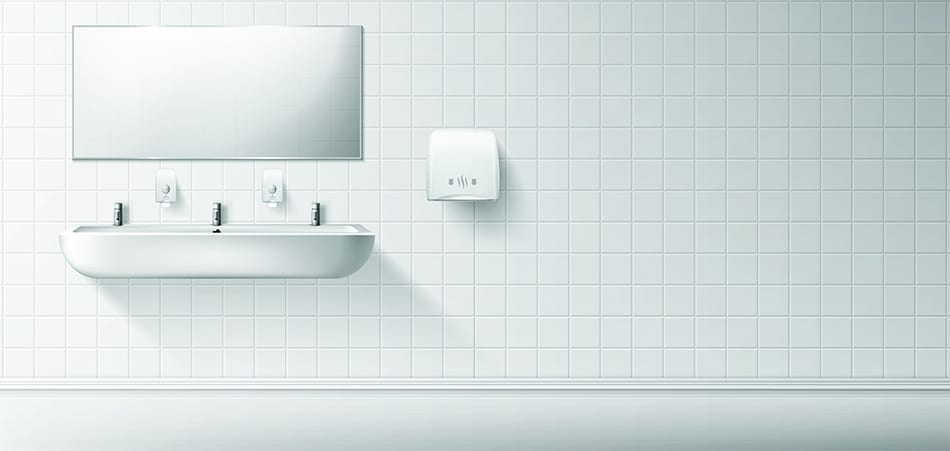 Wall-mounted trough sinks are ideal for narrow bathrooms with limited floor space. Just as the name suggests, these sinks are installed directly on the wall, with an extended countertop as optional.
Since the plumbing is behind the tiled wall, these sinks allow a cleaner look. They are, however, more challenging to install and in most cases require an expert plumber to securely mount them on the wall.
How Many Faucets Can a Trough Bathroom Sink Have?
A trough bathroom sink can have one, two, or more faucets depending on the sizes and styles needs.
– One faucet: this option is good for those who don't have a family living with them or their bathroom space is limited. But even with a single faucet, a trough sink is large enough to cater to your needs.
– Two faucets: a double faucet trough sink is a classic type that's long enough to accommodate two people who want to use the sink at the same time. These sinks don't take up as much space as a double-basin sink, thus making them perfect for average-sized bathrooms.
Two faucets are also useful for small children as they can wash their hands or brush their teeth together or with their parents. A trough sink with two faucets doesn't require an extra countertop or storage space, but it does cost higher than a single-faucet trough sink.
– Three or more faucets: this is commonly seen in commercial places like offices and restaurants rather than residential homes.
The number of faucets you need for your trough bathroom sink depends on how many people live in your home and how many basins the trough sink comes with. If two or more people are using the sink, consider installing a trough sink that comes with two faucets and basins. On the other hand, if only one person is using the sink, a single faucet will suffice.
Faucet Types for Trough Bathroom Sinks
A trough bathroom sink faucet can feature different types of faucets. One common type of faucet for these sinks is the deck-mounted design. Since most trough sinks already come with faucet holes, it makes sense to use a deck-mounted pairing.
If you aren't keen on deck-mounted faucets, go for wall-mounted ones instead. With these types of faucets, you must make sure your trough sink doesn't have faucet holes. A wall-mounted faucet will make the trough sink classy and sleek.