Bathroom rugs and bathroom mats fulfill both functional and aesthetic needs. They come in a huge range of varieties, types, colors, patterns, and sizes, to suit any bathroom. When selecting a new bathroom rug, one of the key things to consider is size.
Standard bathroom rugs measure around 22 inches in width and 34 inches in length, but you can find alternative sizes to fit the floor space in your bathroom.
Here we explore the various available sizes of bathroom rugs and reveal the pros and cons of this common household item.
Standard Bathroom Rug Dimensions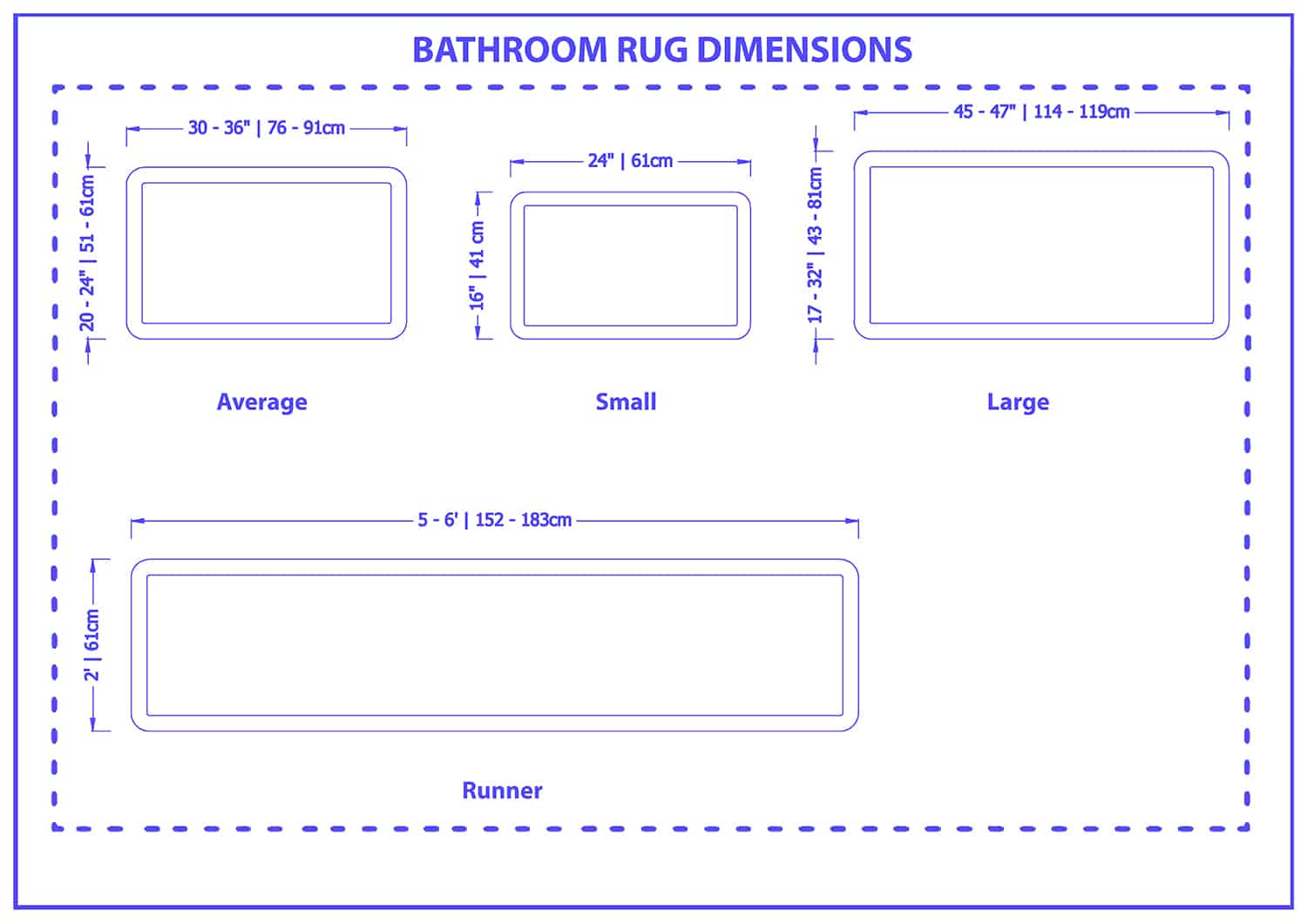 Bathroom rugs are typically rectangular shaped, and they come in a number of dimensions to suit different-sized bathrooms and bathtubs.
Average Bath Mat Size
The standard size for a bathroom rug or bath mat is between 20 and 24 inches in width and 30 to 36 inches in length. This size works well when positioned in front of an average-sized bathtub which will have a length measurement of around 60 inches.
At around 30 inches in length, the bathroom rug will be roughly one-third of the length of the bathtub, so it can be placed at the central point on the floor in front of the tub for a well-balanced look.
Small Bath Mat Size
The typical size of a small bathroom rug will be around 16 inches in width and 24 inches in length. These are ideal for more compact spaces where there isn't enough room to accommodate a full-sized rug.
Large Bath Mat Size
A large bathroom rug will measure from 17 inches by 45 inches to 32 by 47 inches. These work well positioned in front of oversized soaker tubs for a luxury feel.
Bathroom Runner Size
Bathroom runners work well as a rug or extended bath mat in large bathrooms, especially if the floor space you need to fill is long and narrow.
Like runners for hallways, bathroom runners are typically around 2 feet in width and will measure 5 or 6 feet in width, though many more lengths of runners are available to suit different types of bathrooms.
Pros and Cons of Bathroom Rugs
Pros:
Absorbent
Bath rugs have absorbent properties, soaking up the moisture from our feet when we step out of a shower or bath, along with any other splashes that might escape.
By absorbing moisture, bathroom rugs help to maintain a safe space since wet floors can be a slip hazard. Floors that are frequently wet can become a breeding ground for mold and mildew, so bathroom rugs can also help to prevent this issue.
Soft on feet
Bathroom rugs provide a soft and comfortable underfoot experience when getting into the bathtub or when emerging from a shower. Since bathroom floors tend to be made from hard materials such as tiles or laminate, having a soft surface for bare feet to experience can make the process of having a shower or a bath much more enjoyable.
Prevent slips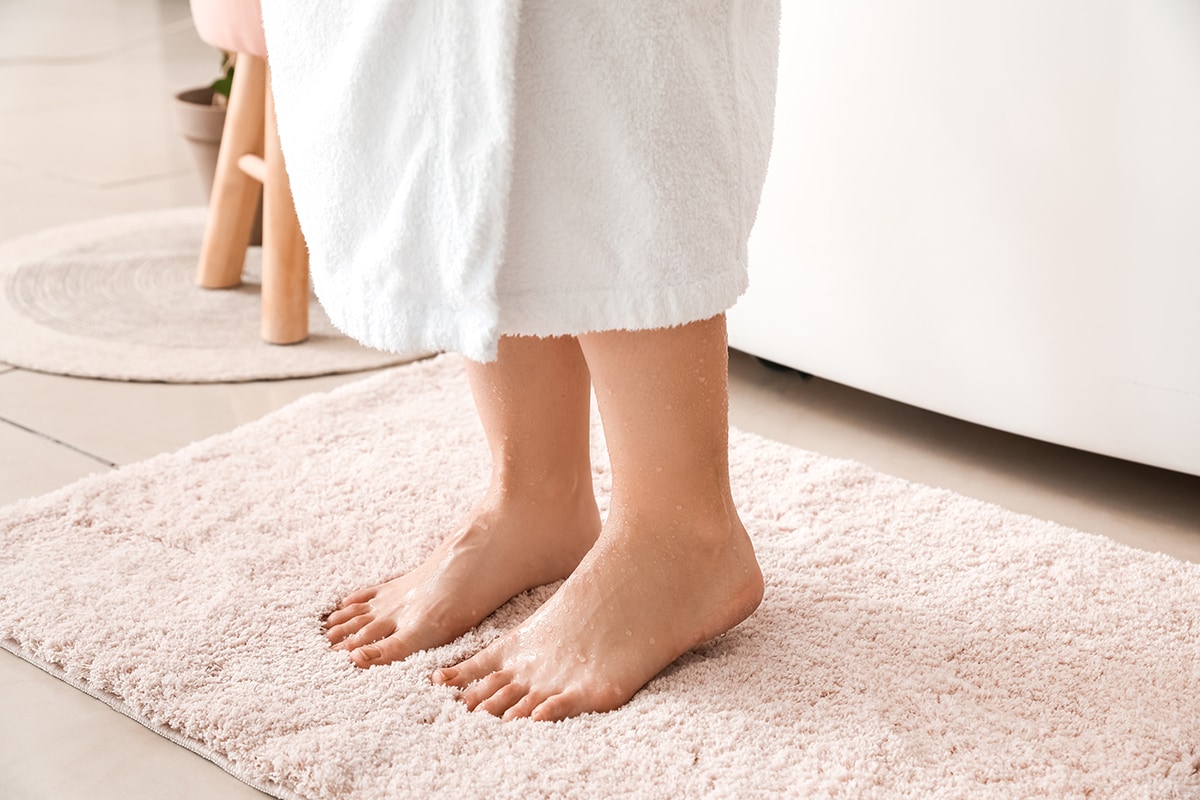 Bath mats, shower mats, and good bathroom rugs will have an anti-slip backing on the underside. This helps the rug grip to the hard floor it is positioned on, therefore reducing the incidence of slips and falls.
Cold barrier
Tiled floors can be really cold, especially in winter. Bathroom rugs can prevent the cold shock against the bare skin on the soles of our feet by acting as a warm barrier over the floor.
Soften aesthetic
Bathroom rugs can create a cozy and more comfortable atmosphere in a bathroom, as they are considered soft furnishing. They can have a similar effect as curtains or throw pillows since they soften the hard edges of a space and make the entire room feel more inviting.
Add color and style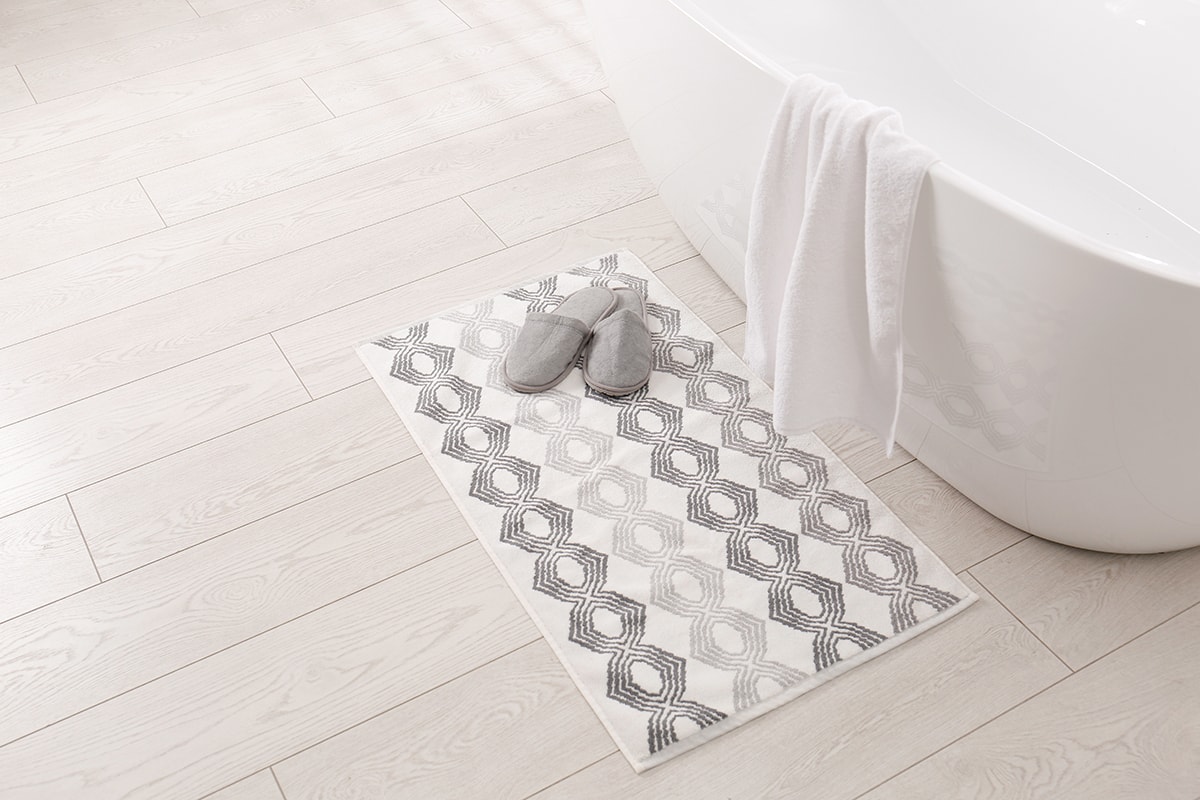 Bathroom rugs and mats come in various colors, patterns, and styles. You can match your bathroom rug to your towels or other bathroom accessories to help create a coordinated and consistent look.
Protect floors
If you have hardwood floors in your bathroom, then it's essential these get protected from excessive moisture. Since bathroom rugs absorb moisture, they can help to protect floors from water damage. Bathroom rugs also protect floors by being a soft place for items to land if they are dropped.
Bathrooms tend to be a place where we store heavy glass items, such as bottles of perfume or aftershave, and if these get dropped on a tile floor they could cause it to crack. However, if they fall onto a bathroom rug, the floor is likely to be protected from sustaining any damage.
Cons:
Take up floor space
Bathroom rugs require a certain amount of floor space, which means the area for vanity units or storage units might be reduced. In a small bathroom, rugs can interfere with the smooth opening of the door if they are positioned directly in front of it, and this can become quite an annoyance.
Can retain moisture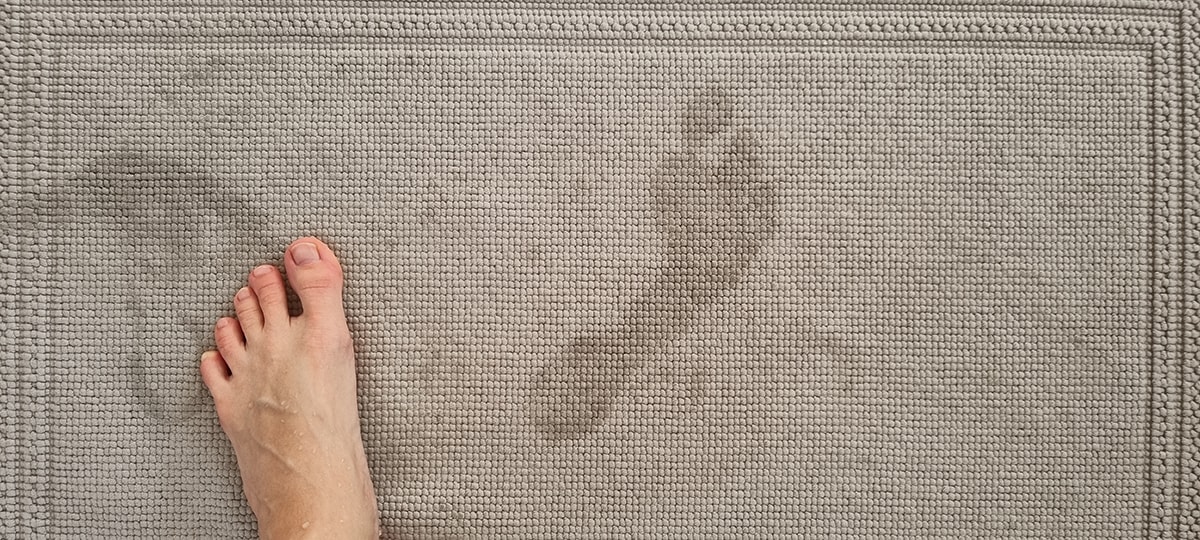 Bathroom rugs and bath mats are intended to absorb moisture. This is helpful in many ways; it can prevent slips and also stop the emergence of mold or mildew on the bathroom floor.
However, the fact that bathroom rugs retain moisture can be a problem, especially if multiple people are using one bathroom, and the rug can become sodden. To avoid this issue, be sure to hang up the bathroom rug over a radiator after each use to allow it to dry out, or in the summer, hang it out on the line to dry between uses.
Potentially unsanitary
Some people consider bathroom rugs and bath mats to be essential, while others regard them as unhygienic. The argument that bathroom rugs are unsanitary is based on the fact that they can harbor dust, hair, dead skin cells, dirt, dust, and bacteria. Even worse, it's possible that bath mats are holding onto fecal spray and drops of urine and then spreading this around the home via the soles of people's feet.
Bathroom rugs that do not adequately dry out between each use can also become a problem since fungus and mold will thrive in damp or moist environments. When passed onto the feet during use, fungus, and yeast can result in foot health problems like toenail infections and athlete's foot.