If you have ever tried to remodel a narrow bathroom, you'll know how tight it can be to fit all the sanitary units and vanities. The challenging part is the decorating and designing, as your restricted space shouldn't look or feel claustrophobic. The trick is to create the illusion of space and airiness through tiles, compact sanitary units, and bright lighting.
Let us show you exactly what we mean by giving you some narrow bathroom ideas to make your small space functional.
Narrow Bathroom Ideas
Maximize Space with a 2-in-1 Unit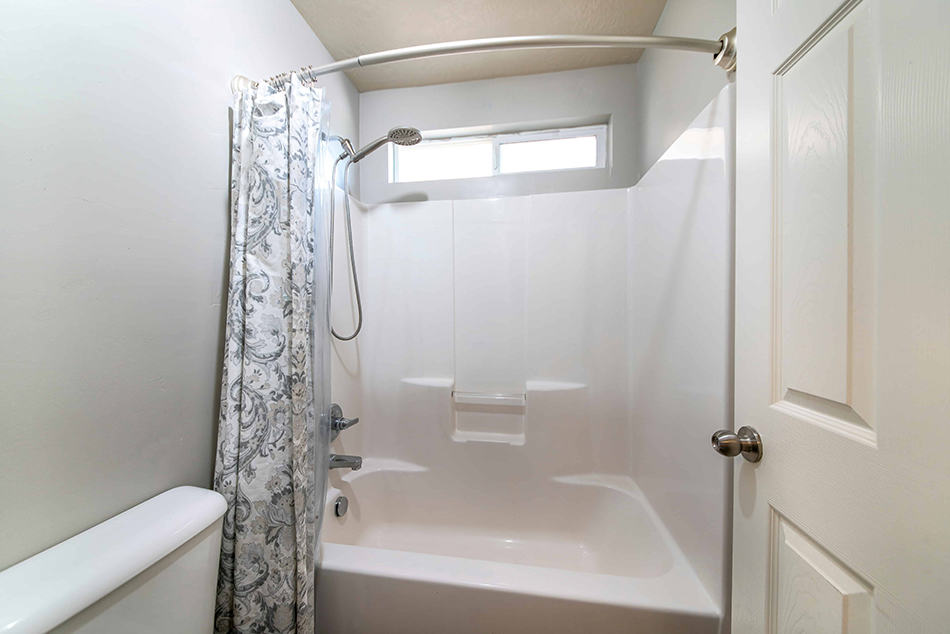 We'll start our first idea by suggesting you optimize your narrow bathroom by combining your bath with a shower.
A large corner bath, for example, can easily accommodate a shower head and tapware. This will save you space in an already compact bathroom.
Adopt a Minimalist Approach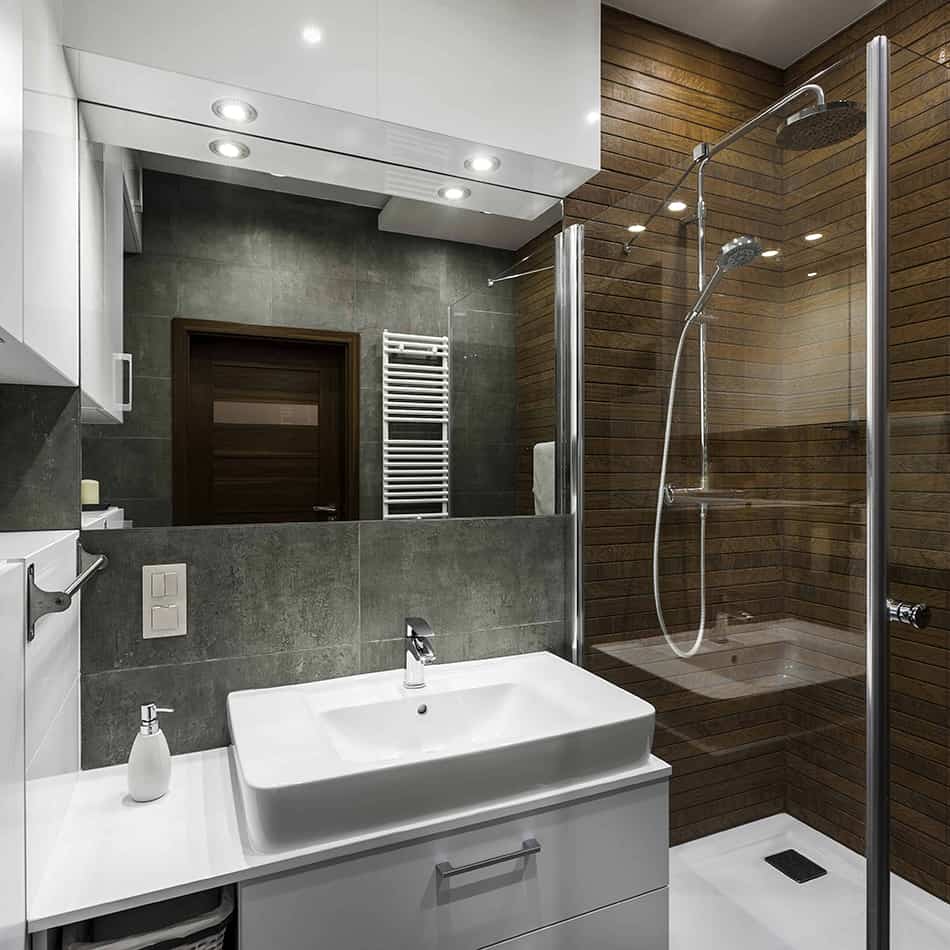 Small, narrow bathrooms will look even more compact when you have too many fixtures and fittings. In such bathroom spaces, the minimal approach is often the best.
Think simple and functional without the decorative add-ons. This bathroom example shows all you need are the necessary sanitary units in clean lines to create a cohesive look.
Save Floor Space with Wall-Mounted Units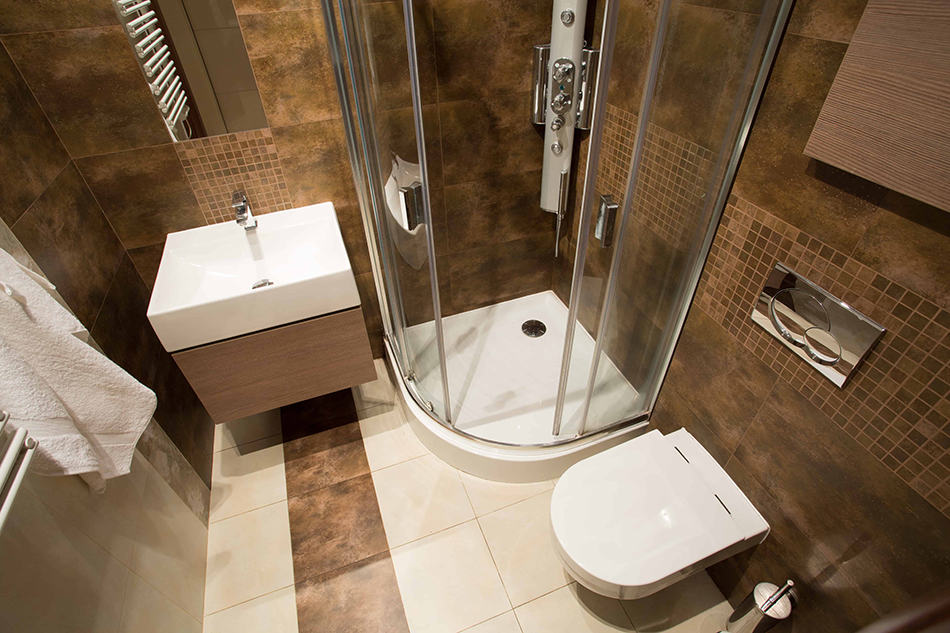 Wall-mounted sanitary units create more visual space on the floor. If you choose compact units, they will lend visual drama to the narrow bathroom. A Wall-mounted toilet, sink, and even shelving or vanities make the small space feel bigger by adding depth. This idea also allows you to add storage space by placing modular furniture at various heights or widths.
See how organized and neat this small, compact bathroom design is thanks to its petite wall-mounted sanitary units. It doesn't look tight or claustrophobic because the floor space remains vacant and clutter-free.
Install Tall Shelving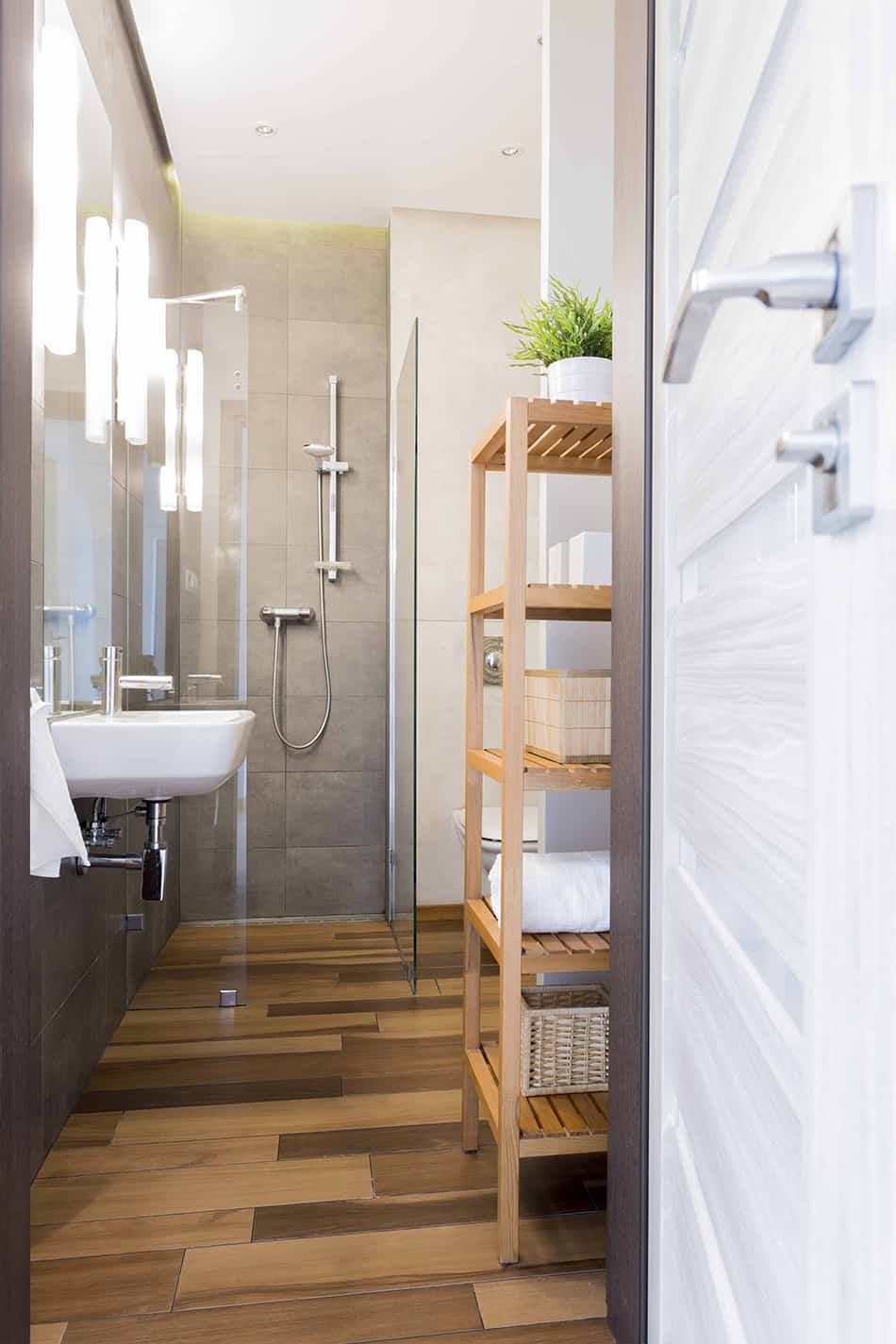 In narrow bathrooms, space comes at a premium. But there is no need to sacrifice storage by installing bulky cupboards on the walls. Make it vertical by mounting tall shelves next to the sink or the shower area.
This idea will effortlessly hide your bathroom items from direct view when you enter the room. And if you are looking for additional storage, there is always under the sink that's a great place for towels or cleaning products.
Continue the Floor Tiles to the Walls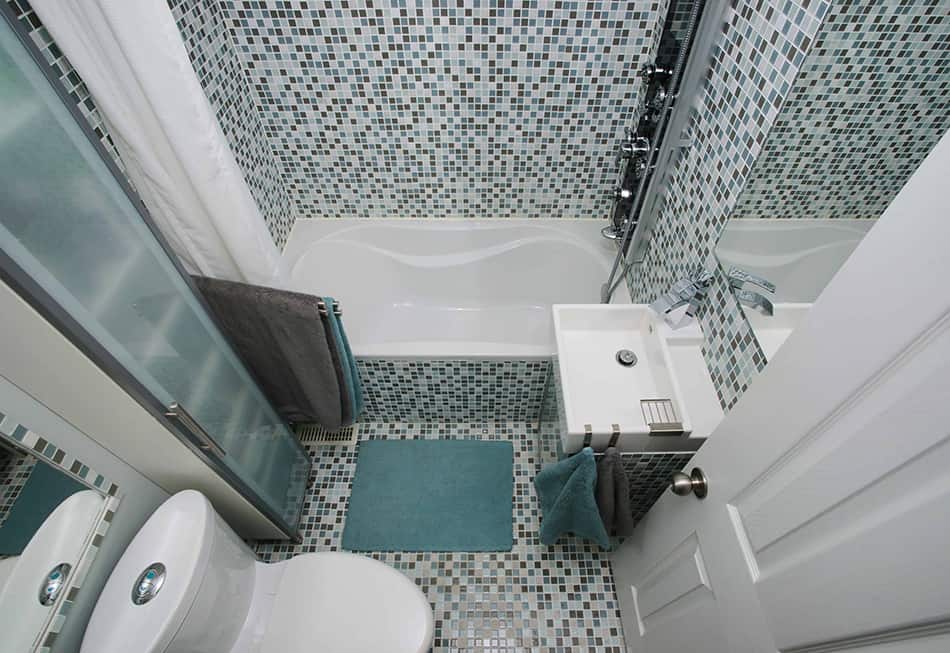 In most bathrooms, floor tiles are often a different size from the wall tiles. However, did you know you can make your narrow bathroom even narrower by installing two different tile sizes or patterns for the floor and walls?
If the floor tile continues into your shower, for example, it will seamlessly blend with the length of your bathroom. Although this trick won't make your bathroom wider, it will still look more comfortable to the eye.
Using the same tiles, like mosaic glass, as shown in this example, for the floor and the walls is a surefire way of creating a seamless look. This tile material adds a spa-like touch to the narrow bathroom and draws the eye to the continuous run of tiles to give a spacious feel.
Here, the well-organized bathroom may appear compact, but you don't even notice its small size thanks to the continuation of mosaic tiles from the floor to the walls throughout the space.
If mosaic tiles are too dramatic for your bathroom, you can always opt for wall paneling that continues to the floor. This is a budget-friendly way of adding personality to your narrow bathroom.
Avoid Bulky Sanitary Ware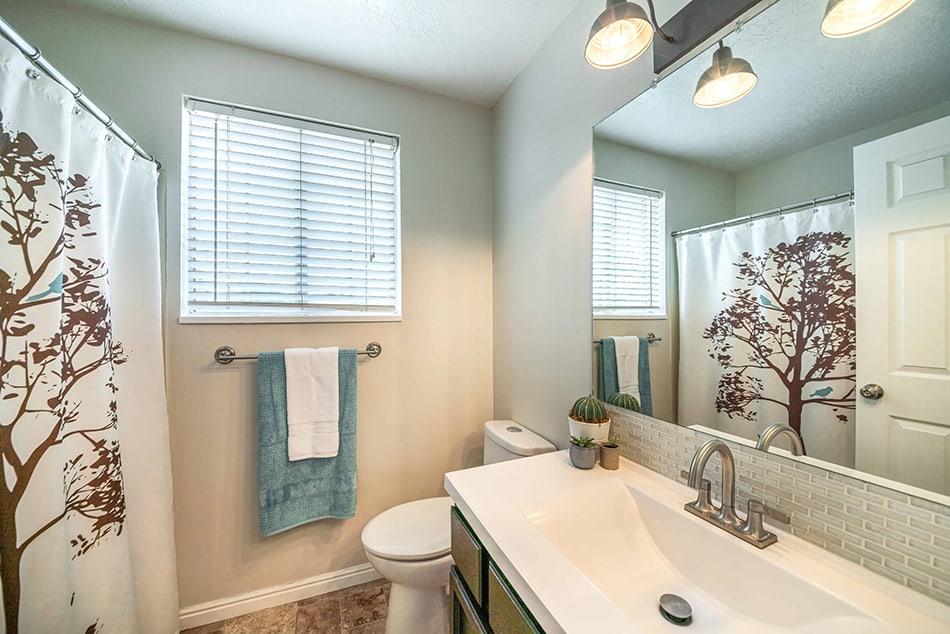 Would you be surprised if we told you how many narrow bathrooms have bulky vanities? Just as a small, compact living room can be over-furnished with large furniture, narrow bathrooms can also feature oversized sanitary units or vanities. But many slimmer products on the market accommodate the small space.
Instead of setting your eyes on a larger-than-average vanity unit because it's chic and trendy, you need to think about how it is going to fit into your narrow bathroom space. After all, you need space to move around the room easily, so the last thing you want is to have a unit that sticks out too much.
Add Lots of Lighting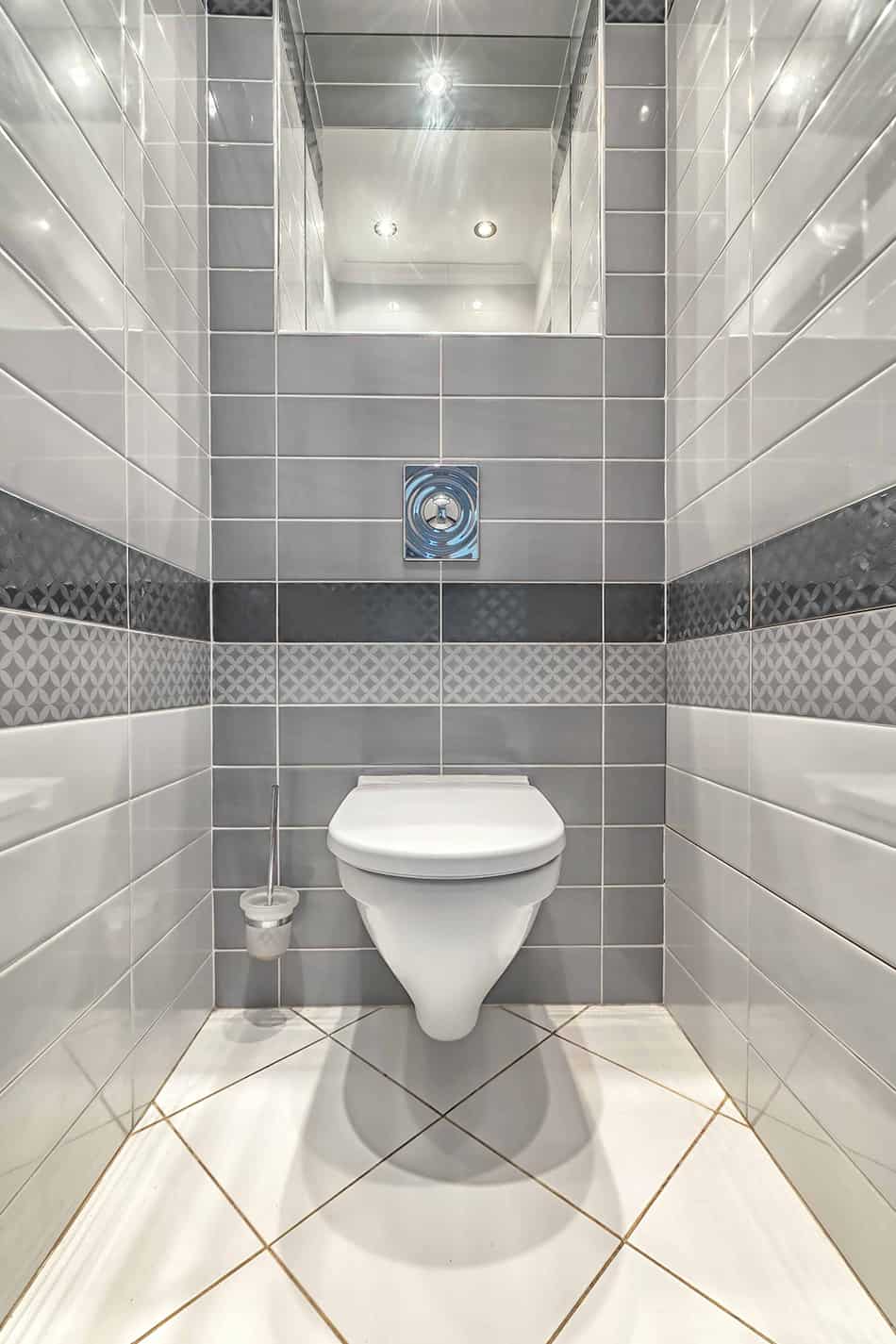 Narrow bathroom spaces will always look brighter and larger with plenty of lighting. Whether the bathroom features a strip of LED lights on the vanity or hanging lights, the more artificial lights you install, the better you can deal with the narrow space.
Don't go with large hanging lights to keep the bathroom feeling spacious and open. Opt for flush mount lights instead to draw the eye to the rest of the space.
Keep Colors Light and Fresh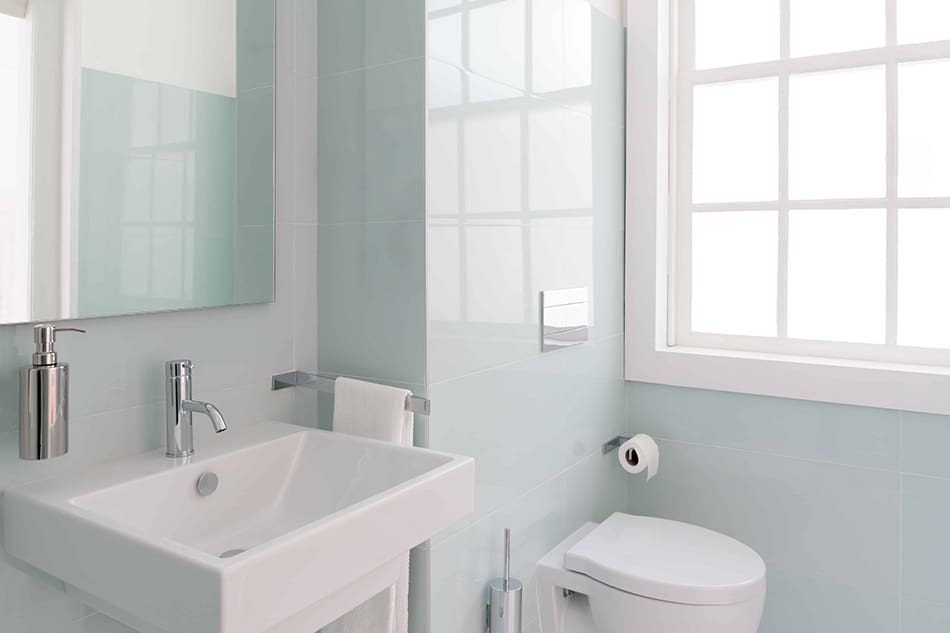 The general rule of thumb for narrow bathroom color schemes is to keep them light and fresh. To make this space appear bigger than it is, choose a light color for the walls. These are among the easiest and safest paint colors for a bathroom with no windows.
Light colors reflect the light and make the narrow bathroom feel open and airy. Light shades of blue work especially well in narrow bathrooms. Combine the blue with white to enjoy a bright and fresh bathroom, as seen in this example.
Choose Frameless Glass for the Shower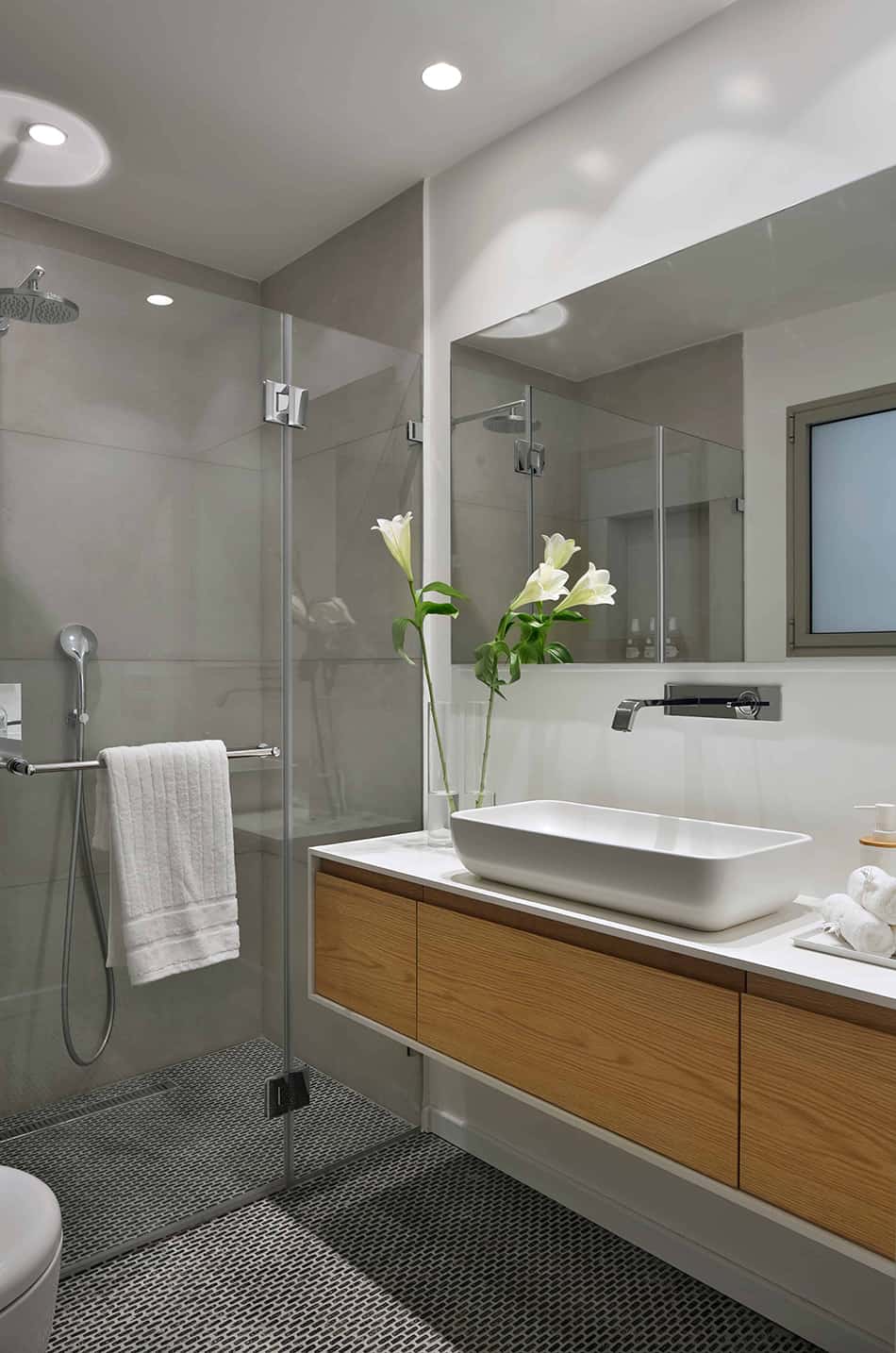 A frameless walk-in shower with glass panels looks barely there in a narrow bathroom. When space is of premium, it makes sense to create the illusion of space by opting for such shower dividers.
Rather than having a shower enclosure that takes up a lot of space in a narrow bathroom, go for a complete glass divider to separate your shower area from the rest of the bathroom, as shown here.
Add Accent Colors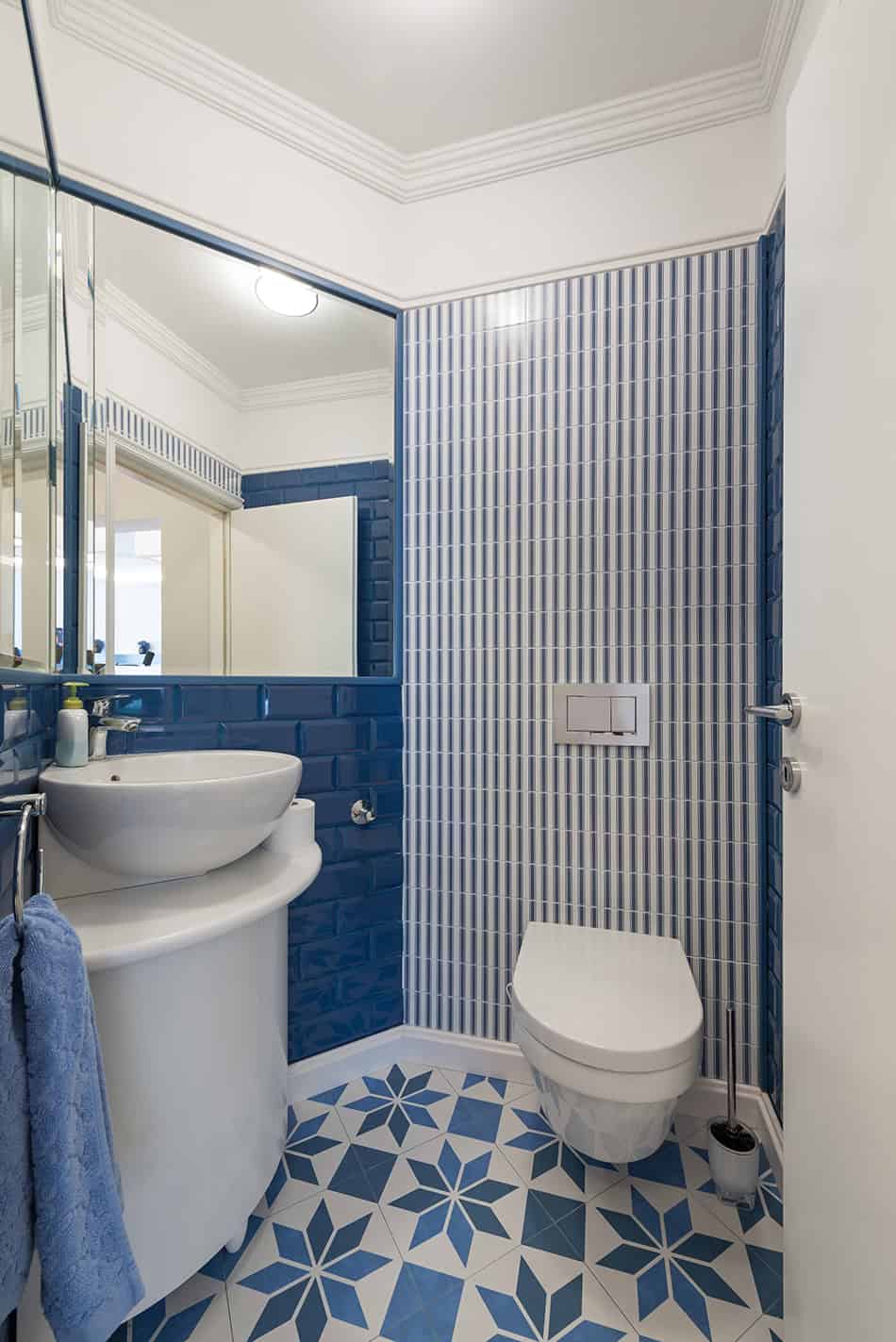 Nothing is more beautiful than patterns and colors in a compact, narrow bathroom. If you want to create a wow factor, don't worry about the small square footage of your bathroom. Pick a bright shade for the tiles on the floor and the walls to inject vibrancy into an otherwise characterless bathroom.
A dark shade of blue combined with white can be a real focal point, especially if the tiles are patterned. This example is proof of how stunning a small bathroom can look with its interesting blue and white patterned flooring tiles and feature walls.
Go for a Freestanding Bathtub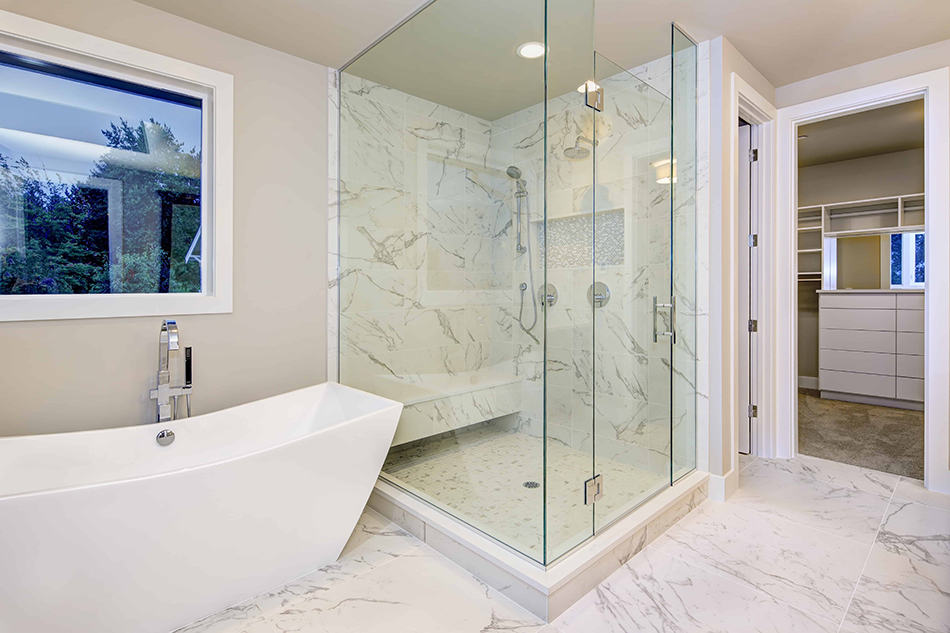 Most narrow bathrooms often feature corner baths, but have you ever considered a freestanding bathtub as a focal point in your narrow bathroom? These tubs aren't as big as you think and will fit a tight space perfectly. They give the illusion of space, thus making them ideal for such bathrooms.
How Do I Visually Widen a Narrow Bathroom?
– Pick your tile size carefully: small tiles have a tendency to break up the floor into a grid because of the grout lines. This in fact can make a narrow bathroom seem even smaller. Instead, use large tiles for both the floor and the walls. This will not only minimize grout lines but can also visually enlarge the space. Try to keep the grout color the same as the tiles or as near to the tile color as possible.
– Direction of tile matters: tiles can be laid in even or straight rows. But when the bathroom space is narrow, straight-laid tiles can further elongate the space, thus making it appear longer than it is.
However, this problem can be resolved by installing your tiles diagonally. This way, the eye is drawn to the corners of the room, which visually widens the bathroom space. It is, therefore, best to go with full-size tiles rather than half-cut ones. Install the half-cut tiles under the vanity unit's edge, where they are least likely to be seen.
– Use large mirrors: in narrow bathrooms, large mirrors work best, especially if they cover most of the wall above the sink. This not only helps the ceiling appear higher, but it also visually expands the wall space. In addition to your large mirror, add sconces in the vanity instead of on the wall in order to bounce the light around the narrow bathroom. Use as many artificial lighting sources as possible.
– Keep the floor space clutter free: a narrow bathroom with a cluttered floor space will only look smaller and feel cramped. A neat space needs to have as many usable areas as possible, so keep the floor space clear by installing your units on the wall. This will make your narrow bathroom a lot more functional and easier on the eye.
If you like these narrow bathroom ideas, check out our 8′ x 8′ bathroom layout plans.