Bathroom sinks come in a wide variety of sizes to suit any size of a bathroom.
They tend to come in common or standard sizes, but if you have an unusual shape or size of bathroom, you shouldn't find it too difficult to find a suitable sink because there are so many different types available.
Bathroom Sink Dimensions
Find below a drawing with specific figures for standard bathroom sink sizes. Notice this is used for rectangular and square bathroom sinks. Average sizes for round bathroom sinks are discussed in another section.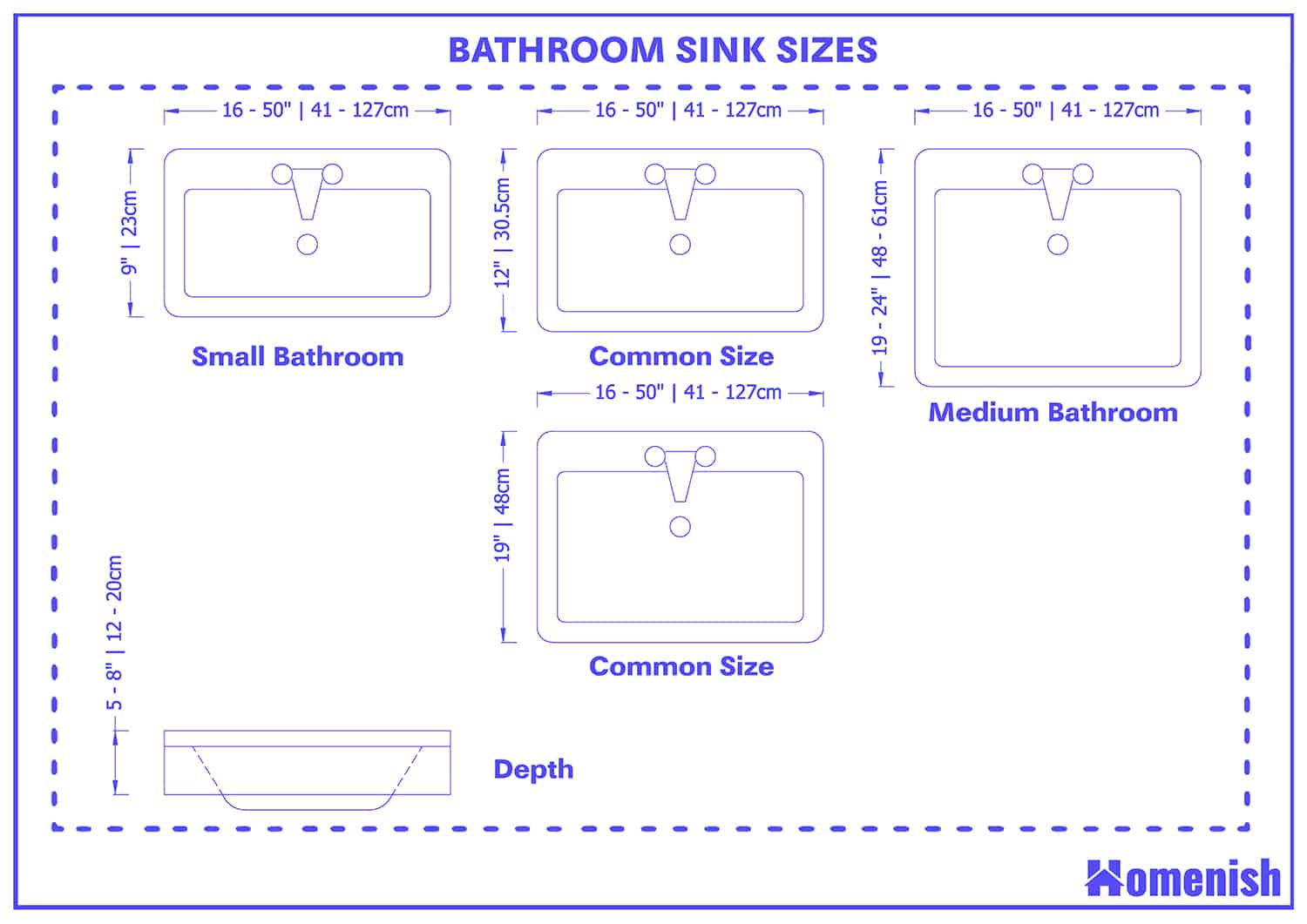 Bathroom Sink Length
The length of a bathroom sink is the measurement from one side of the sink to the other, running parallel to the backsplash or the front doors of the vanity unit. Typically this measurement will be bigger than the width measurement, but this is not always the case, especially in compact bathrooms.
Unlike the width measurement of a sink, the length can be very expansive if you have enough space. For a family bathroom with a very wide vanity unit or a long stretch of the countertop, you can use a trough bathroom sink that can be as long as 50 inches. The smallest length for a bathroom sink that you will commonly find is 16 inches, though you can buy sinks as small as 12 inches wide for very compact spaces if necessary.
Just be aware that when you use sinks that are this small, you are more likely to end up with water splashing outside of the sink, and the sink can fill up very quickly and overflow in seemingly the blink of an eye. Very small sinks will also not be useful for face washing or any task you want to carry out that requires a decent amount of water filled in the sink.
Bathroom Sink Width
The maximum width measurement of a bathroom sink is going to be restricted by the depth measurement of a bathroom countertop or the vanity unit. These, at a maximum, will have a depth of 25 inches, which means that the widest sinks you can buy for bathrooms measure 25 inches. 25-inch width sinks are best suited for pedestal sinks, wall mounting, or fitted directly on top of a vanity unit with no countertop surface.
If you want your sink fitted inside a countertop, then the width measurement will need to be smaller so that the countertop can frame the sink.
Ordinarily, you should have 2 inches of countertop at the very front of your sink and another 2 inches of countertop between the back of the sink and the backsplash. This means that for a sink that is being used in conjunction with a countertop, the maximum width should be 21 inches.
For smaller bathrooms that don't have a deep vanity unit or countertop, sinks with a width measurement as small as 9 inches are available. This is great for compact spaces such as closets that have been converted into bathrooms, as the sink can occupy a small space where it won't dominate the room or prevent you from moving around in the space.
If you are trying to save space, then choose a wall-mounted bathroom sink, as these are specifically designed as a space-saving option.
These are fitted directly onto the wall and don't take up any floor space at all because they don't sit on a vanity unit, and they don't have a stand like a pedestal sink, which means you have more space available for other items you might need, such as a bathroom trash can, or toilet roll storage.
Other common width measurements for bathroom sinks include 12 inches and 19 inches. For a medium-sized bathroom sink, 19 inches to 24 inches in width is considered standard.
Bathroom Sink Depth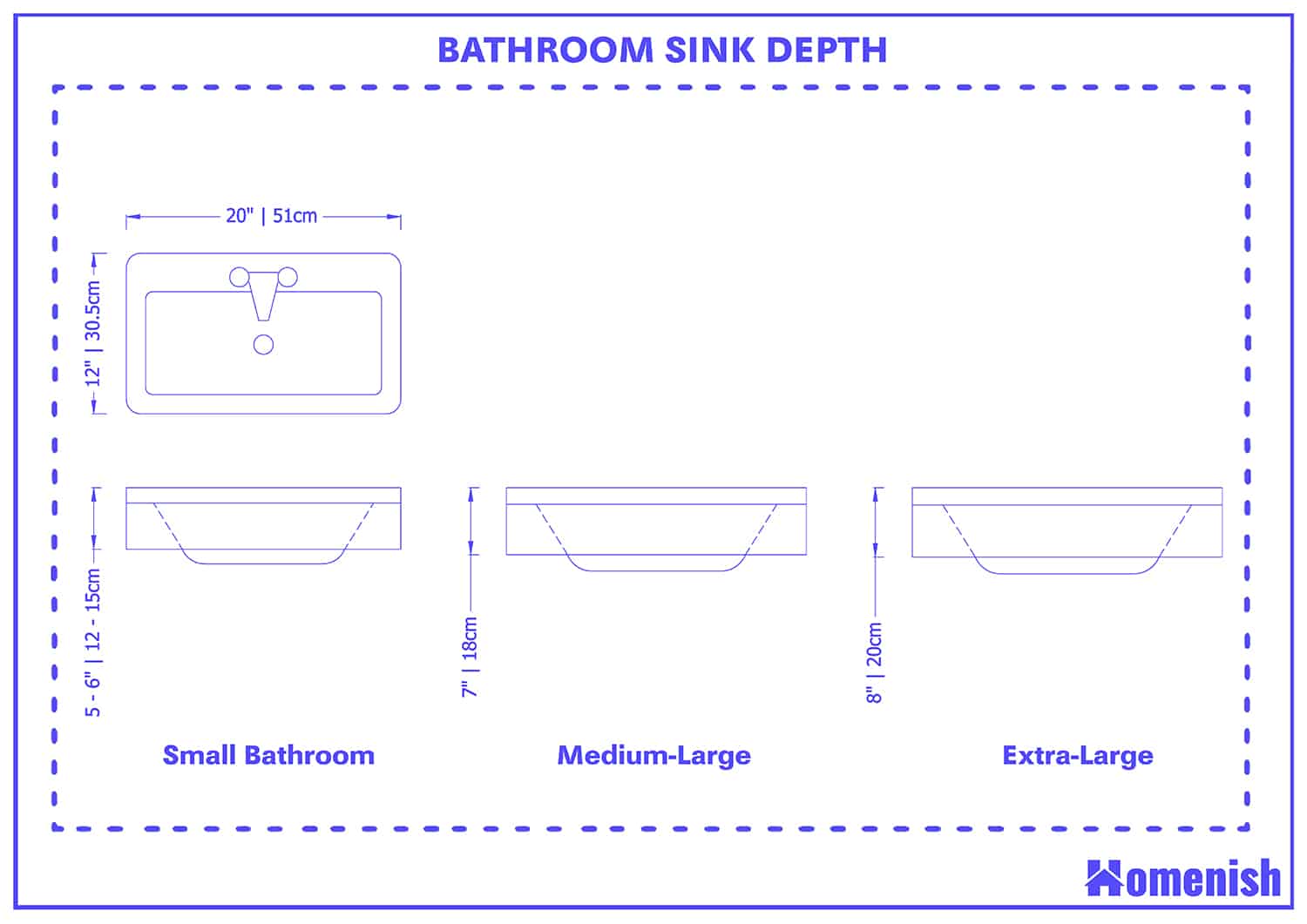 The depth measurement of a sink is usually determined by the dimensions of the length and width. The depth should be in proportion to the other measurements of the sink so that it doesn't look awkward. For example, it makes sense that a small sink would be quite shallow, whereas a very deep small sink would seem odd.
Smaller sinks that measure up to 20 inches in length and up to 12 inches in width will typically have a depth measurement of between 5 and 6 inches.
Any sinks which are bigger than this, and considered to be medium or large, will more likely have a depth of 7 inches. Especially large bathroom sinks can have depth measurements of up to 8 inches, but this is more unusual.
Round Bathroom Sink Sizes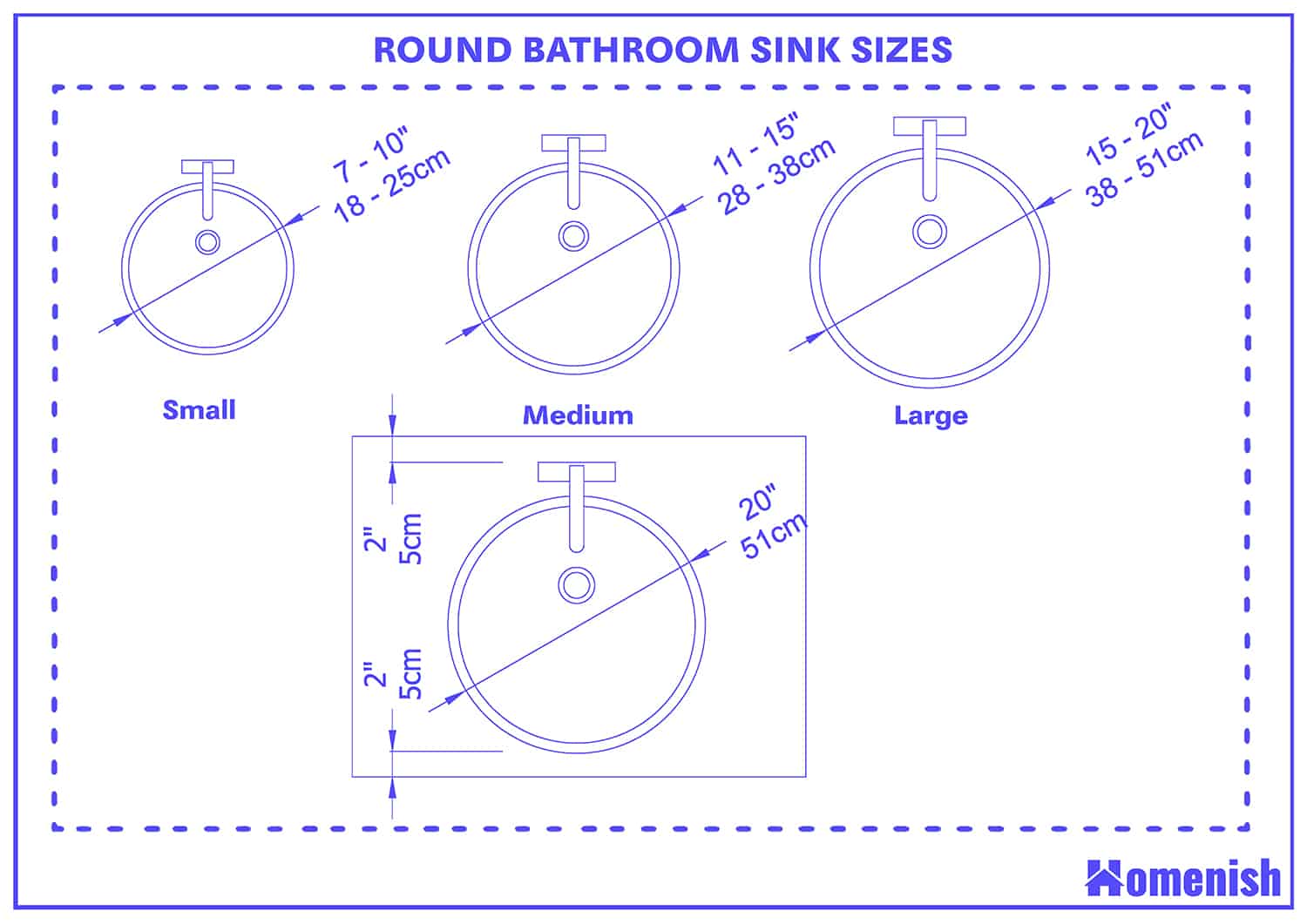 The width and length measurements listed above are for rectangular or oval-shaped sinks, but of course, when it comes to round sinks, you will only have a diameter measurement.
Due to their shape, round sinks can not be wall hung or pedestal designs; instead, they will need to be dropped into a round hole in a countertop on a vanity unit. Round sinks can make a nice design choice that is a little different from your typical bathroom sink, but they do not make the most of space.
A round sink is going to be limited in diameter by the maximum width measurement of a countertop, so the biggest round sink you can buy is going to be 20 inches in diameter. This will allow for around 2 inches of countertop at both the front and back of the sink.
For a small round sink, you would be looking at a diameter measurement of between 7 and 10 inches in diameter, while medium sinks will have a diameter of between 11 and 15 inches. A large round sink is anything over 15 inches in diameter, up to the maximum of 20 inches.
Code Requirements
When choosing a sink, you'll have to find one which fits into your space and which also meets code requirements. These can vary from state to state, but most commonly, you will need to allow 21 inches of clearance between the front of a sink and the wall it is facing.
You will also need to ensure at least 30 inches between the center of the sink to the center of the next closest fixture, such as a toilet or bidet.