Beige is one of the most popular base colors for a bathroom, and it's not hard to see why. Beige bathrooms feel warm and inviting, yet they are neutral enough to be accessorized in any number of ways. Upscale hotel bathrooms and spa bathrooms are often decorated in shades of beige, so this link also helps to make beige home bathrooms feel luxurious.
One benefit of beige bathrooms is that they are easy to accent because, as a soft neutral shade, they work with a wide range of other colors. Trending accent colors for beige bathrooms include black, white, gold, and blue.
Let's explore the top accent colors for beige bathrooms and see how they can be used to create a variety of styles.
Is Beige a Good Color for a Bathroom?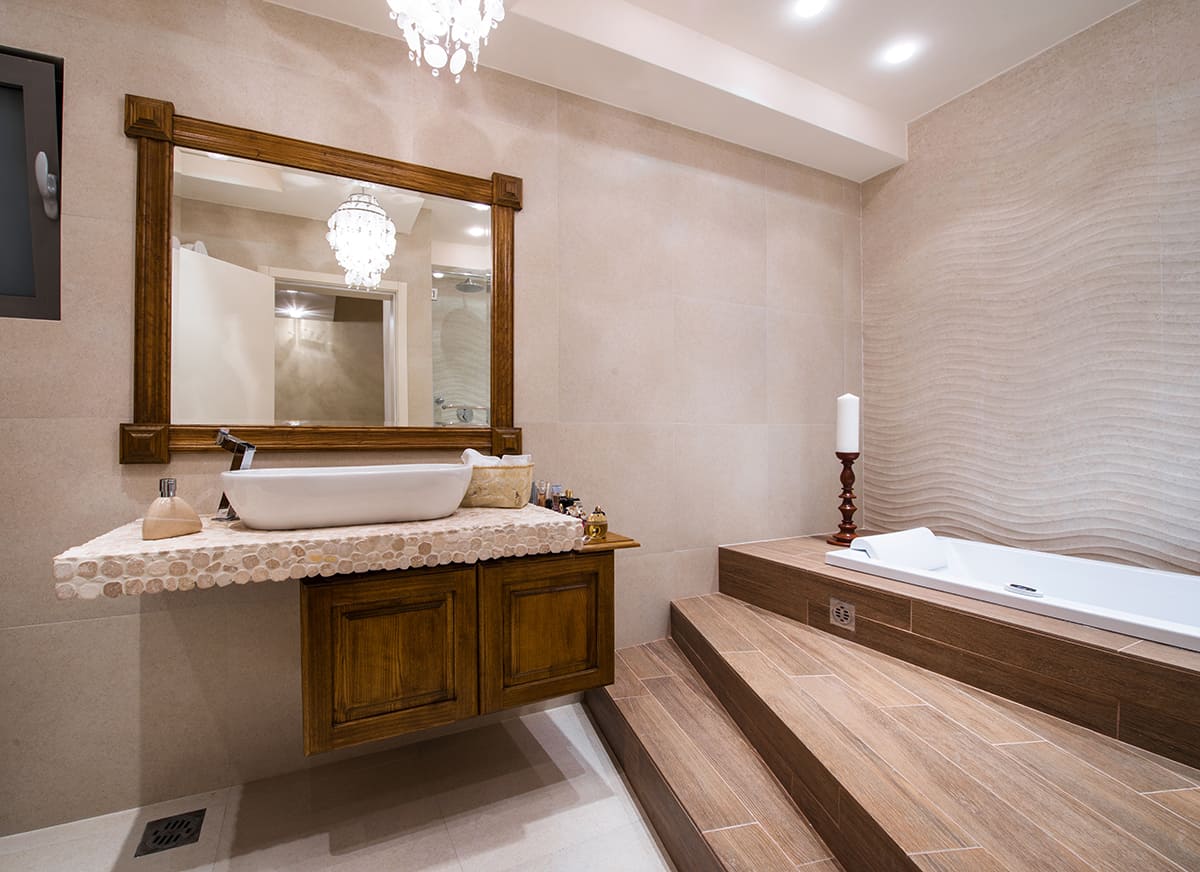 Beige was a desirable color for walls and flooring in home decor throughout the 1990s and into the early 2000s, yet it saw a drop in popularity thanks to the rising use of gray as a neutral in interior design shortly after this period.
Compared to the cool modernity of gray, beige gained a reputation for being somewhat stuffy and old-fashioned; however, things in the world of fashion and home decor have been changing once again, and beige's glory days are returning.
Over the last few years, we've seen a huge surge in the popularity of beige, from pale shades of wheat to tan. Beige is now revered for its earthy, natural tones that link us to the outside world. It is also seen as a comforting color due to its warm temperature.
In a bathroom, beige as the main color in a color scheme makes total sense. Bathrooms should be inviting, relaxing spaces, and beige fulfills this requirement perfectly. The great thing about using beige as a base color is that you can accent it with accessories in various colors because it is neutral enough to work with almost any other color.
Use beige for your wall paint and the tiles around your bath or shower, and then use an accent color for your towels, bath mat, and accessories.
Since beige is a classic color that will stand the test of time, you can rest assured that you won't need to paint the walls or change your tiles to keep up with the trends.
Instead, you can switch out your accessories for a different accent color when you feel like you want a new look in the bathroom. Since beige is so versatile, you can completely alter the look just by changing your accent color.
What Colors for Accessories in Beige Bathrooms?
Using your bathroom accessories to bring a color scheme together is a really smart way to decorate a bathroom because accessories aren't permanent in the same way that fixtures and fittings are.
Although wall paint can, of course, be painted over, this requires time and effort, so if you aren't sure about how long you will keep a color scheme in your bathroom, it makes sense to paint the walls in a neutral shade such as beige, and then accessorize with your accent color.
This gives you the freedom to completely change the color scheme in your bathroom as regularly as you like, simply by swapping out some towels and other bathroom accessories.
Green
Green accessories in a beige bathroom will create a fresh and invigorating look that also has an earthy tone. Green is a color widely seen throughout the natural landscape, so it's closely tied to the outdoors. By using green accessories such as towels and soap dispensers in the bathroom, you bring a touch of the outside inside.
When used with beige, green feels especially natural and earthy because beige is also a color widely seen in nature, for example, on sandy beaches or fields of wheat. The overwhelming result will be a bathroom that feels inspiring and revitalizing while also having an energy that feels freeing.
Blue
Blue is a cool color, so it helps to balance out some of the warmth in beige. Using blue accessories in a beige bathroom will also create a contrast that isn't too intrusive and instead adds interest. You could use blue and beige together in a bathroom to evoke a coastal theme, with beige representing the beach and blue representing the ocean of the clear skies.
Navy blue accessories will give a beige bathroom or a more sophisticated, adult feel, while paler shades of blue will create a more casual, chilled-out space. Blue is associated with relaxation and calm, making it an ideal accent color to pair with beige in a bathroom if you want to enjoy soothing baths and feel pampered.
Black
Black is a classic accent color for beige in any scenario. It creates a bold contrast with paler shades of beige, or a more subtle contrast with darker beige colors such as tan. When black and beige are used in the same space the resulting look is elegant and sophisticated.
This is a color scheme that is widely used in hotel bathrooms since it achieves an effortlessly classy look. To recreate this style at home, opt for sumptuous black towels and bath mats, with glossy black photo frames on the wall, and glossy soap dispensers.
Best Accent Colors for Beige Bathroom
Accent Colors for Relaxation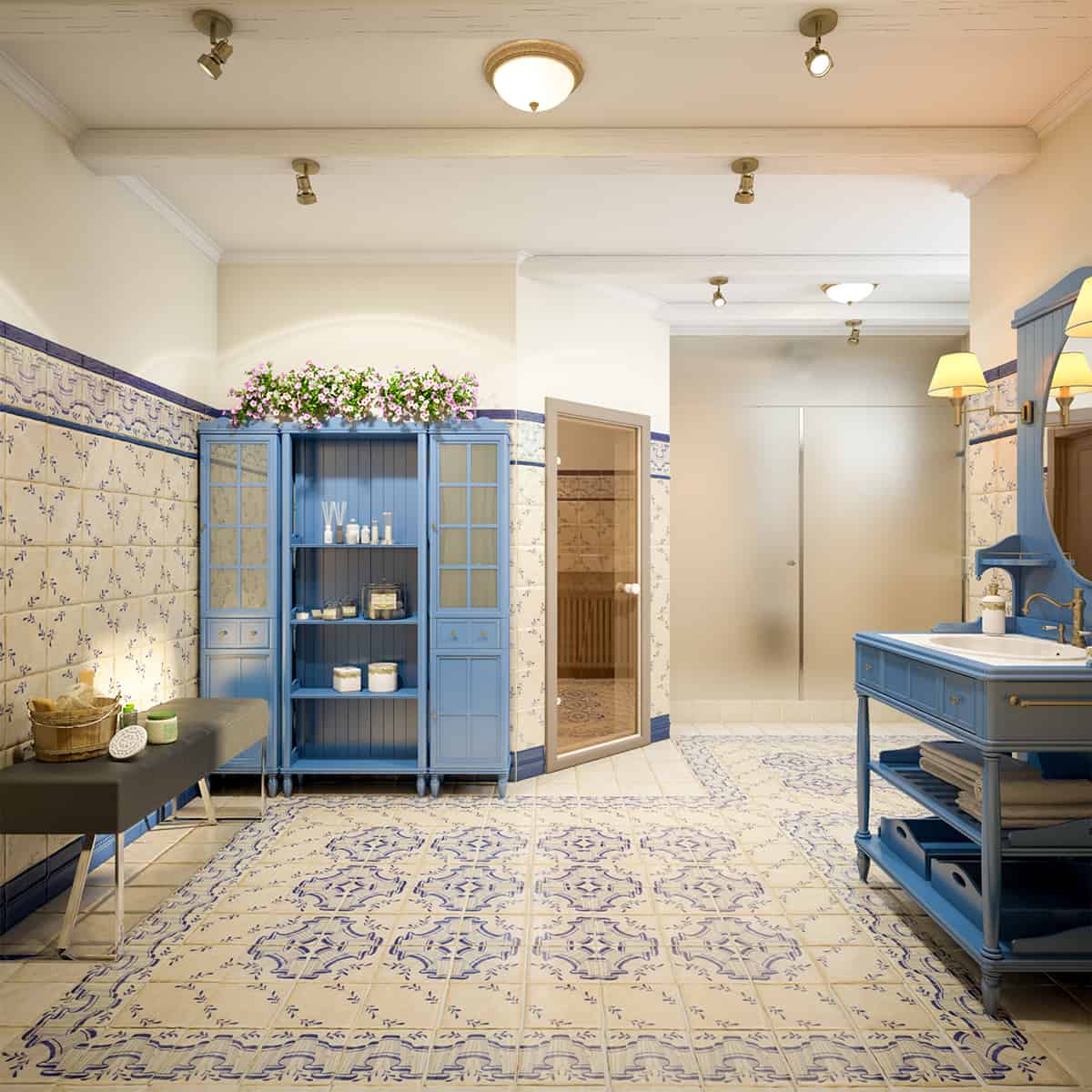 The ultimate color for relaxation in a bathroom is blue, because, psychologically, blue makes people feel calm, at ease, and soothed. Blue is an excellent accent color for beige because it brings a cool touch to beige's warmth, helping to balance out the color temperature for a room that feels even and steady.
The difference in color temperature also creates a visual contrast that helps the blue items stand out. In the bathroom pictured here, the vanity unit and storage cabinet have been painted in turquoise blue, highlighting them as the focal points in the room. The blue furniture is coordinated with blue in the tiles and blue painted trim, ensuring a sense of consistency.
Any shade of blue will work with beige, such as light gray-blue or deep emerald blue. For a relaxing haven, use blue glass subway tiles behind the sink and around the bath, set against beige-painted walls and light beige marble floor tiles.
Accent Colors for Luxury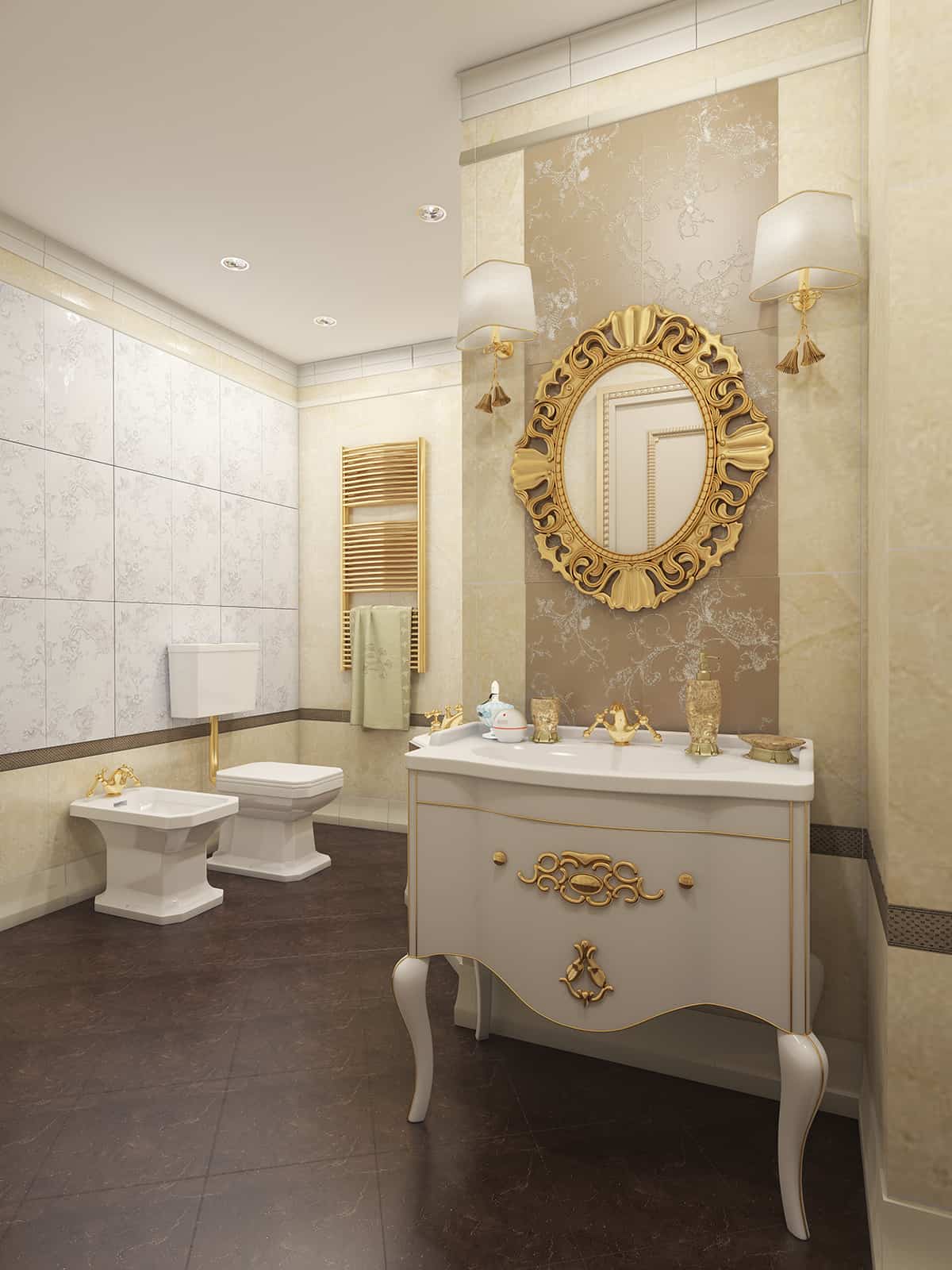 Beige may not be a color that screams luxury, but it certainly can when paired with the right accent shades. Beige by itself is simple, yet classy and timeless, and when gold is added the beige becomes glamorous and opulent. In the bathrooms pictured here, gold and beige have been used with black or white as an additional color to help the gold stand out and create more contrast.
In the bathroom with a black tub and black vanity unit, the gold details are able to appear prominent due to the difference in shade, and this helps to make the luxurious vibe seem more dramatic. In a gold, white and beige bathroom, the gold details are less pronounced, so this color scheme lends itself to a more subtle luxury.
Despite being quite neutral and simplistic color palettes, using gold, white or black accents with beige completely transforms the energy in the bathroom, depicting how powerful accent colors can be when used effectively.
Accent Colors for Minimalism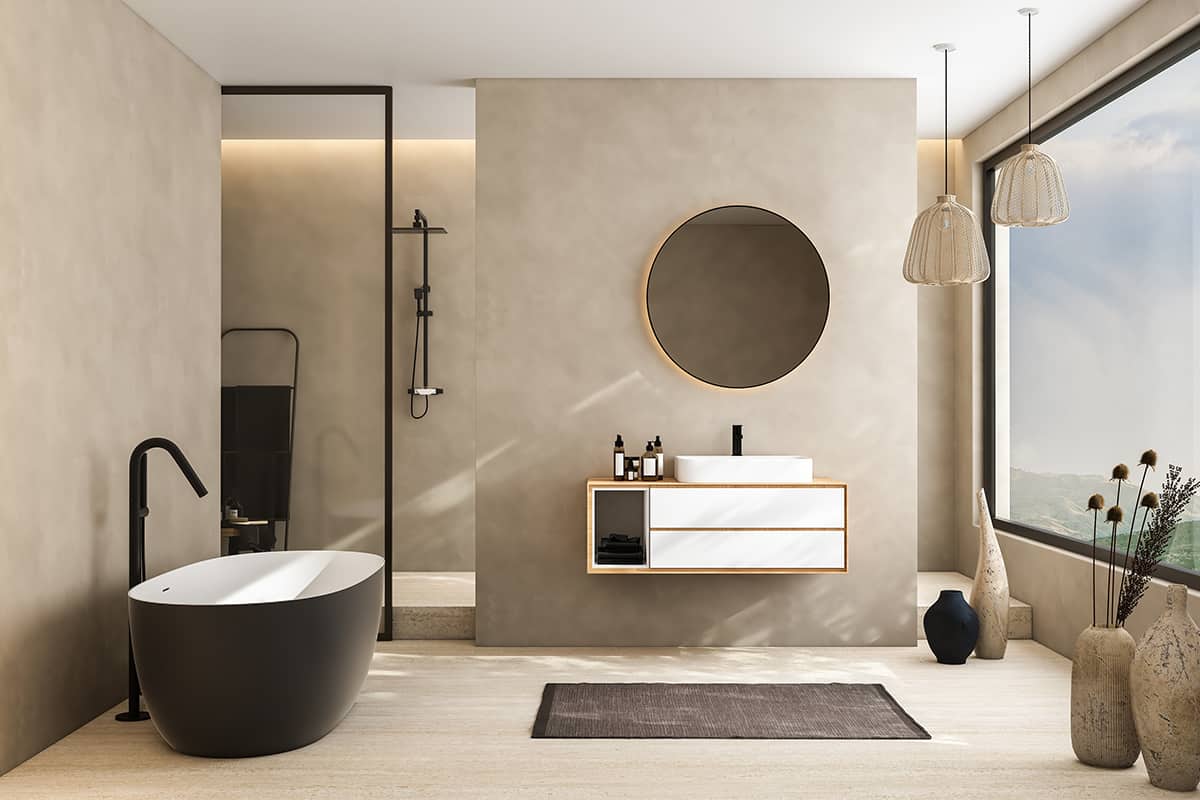 Not everyone wants their bathroom to feel decadent or luxurious, and in this case, a minimalist theme could be a good alternative. Bathrooms are a great place to start when designing minimalist rooms because you don't need a lot of furniture or accessories in a bathroom to make it functional, which means the minimalist style is easier to achieve.
For many styles and themes, using three colors together works best; however, for minimalist styles, using just two colors can make more of an impact. In the bathroom shown here, beige and black is the color scheme used to achieve a minimalist style. The black accessories have a matte finish, which lends itself well to a minimalist style, and there are a limited number of items on display.
The shade of beige used here is very light and neutral, ensuring that the contrast between the beige and black is quite heavy. This intense contrast establishes focal points in the bathroom to stop it from reading as flat. The other bathroom seen here shows us that minimalist styles can be achieved using more bright or bold accent colors with beige.
Here, purple is the chosen color, which accents dark beige wooden features. Small touches of purple, such as the stack of towels and the vase, coordinate with the more prominent purple pieces, such as the bath, creating cohesion and bringing the whole look together. The use of medium-dark purple with dark beige means there is no shade contrast, helping the whole room to appear seamless and in tune.