Creating the perfect home theater layout and decor requires careful planning. After all, there is the electrical equipment, the seating, the furniture, and so many other aspects to achieve the most enjoyable cinematic experience.
Having a separate theater room in your home without disturbing the rest of the space in the house or integrating the entertainment room with your living or sleeping space all have their own advantages.
To help you create a super functional and comfortable entertainment room without blowing your budget on high-tech acoustics and expensive furniture, take a look at my selection of 16 theater room decor ideas:
1. Find a Suitable Room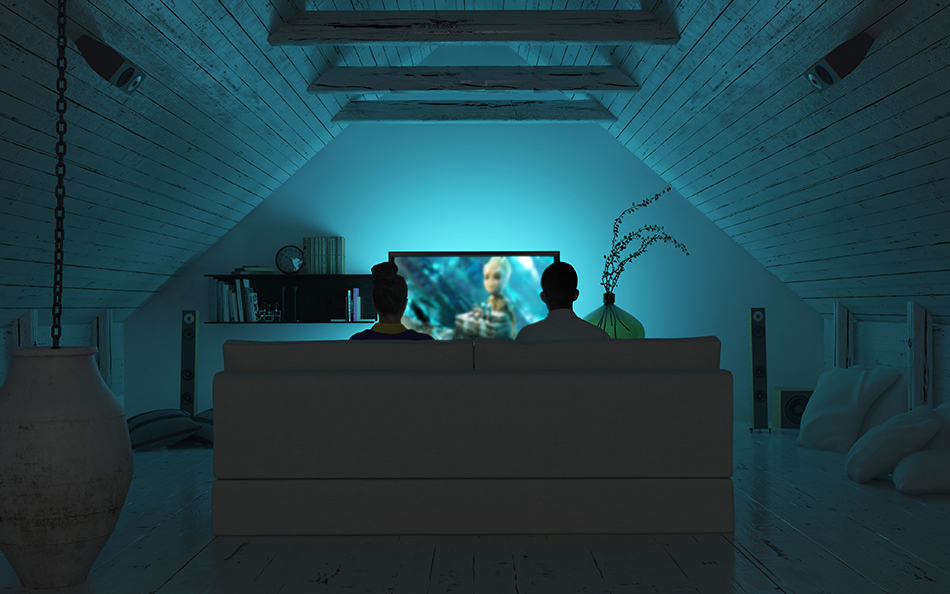 Passionate movie fans normally prefer their theater in their living room or basement. But if you have a loft that's big enough for you and your loved ones, consider turning it into a comfortable cinema room to watch your favorite movies.
All you need is a cozy sofa, dimmable lighting, a surround system, and a TV.
2. Choose a Rectangular Room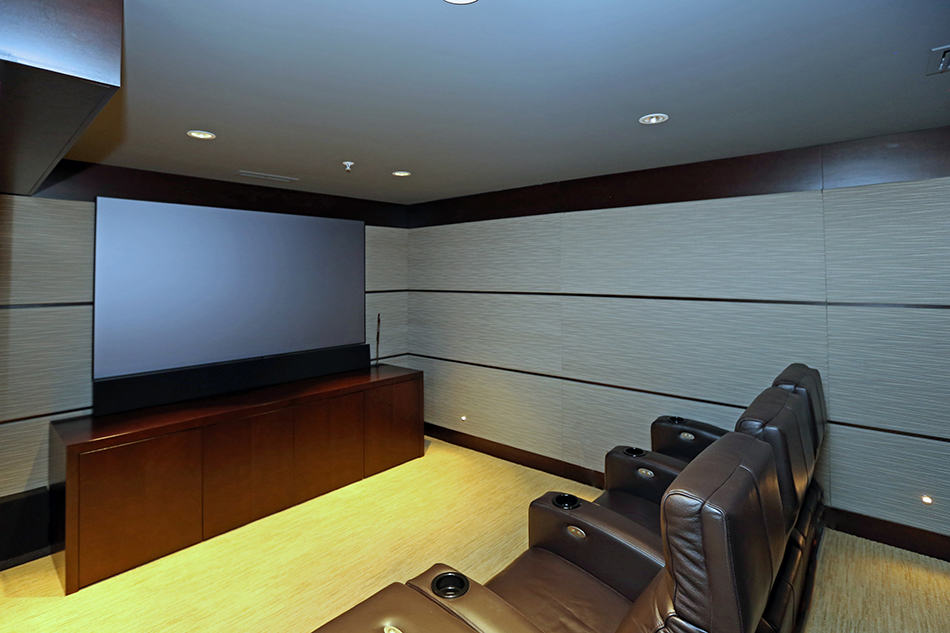 Have you ever wondered why cinemas aren't located in square-shaped rooms? This is due to the fact that square rooms distort harmony, hence the reason why people usually prefer rectangular rooms.
Here is a picture of a contemporary rectangular home cinema with modern lighting and a large screen. The lack of windows helps prevent distractions, so take this into account when choosing a suitable theater room in your home.
3. Combine the Living, Dining, and Entertainment Area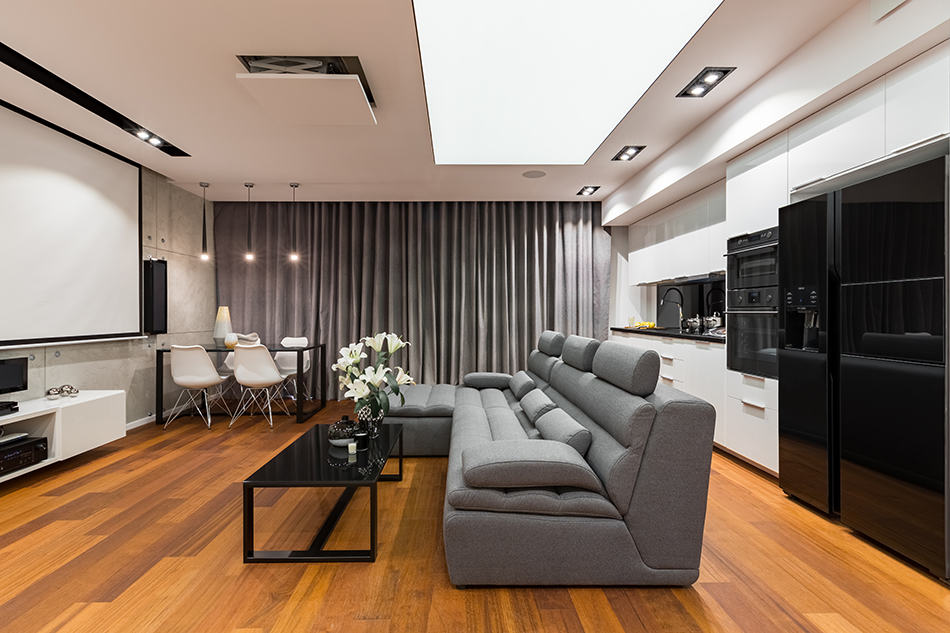 One of the main advantages of combining your living room with a cinema room is the functionality of such space, especially when entertaining guests.
This open-plan layout with the dining room, living room, and entertainment areas is all in one place, thus making it easier to watch a movie whilst eating or drinking with your guests or family.
4. Choose the Screen Size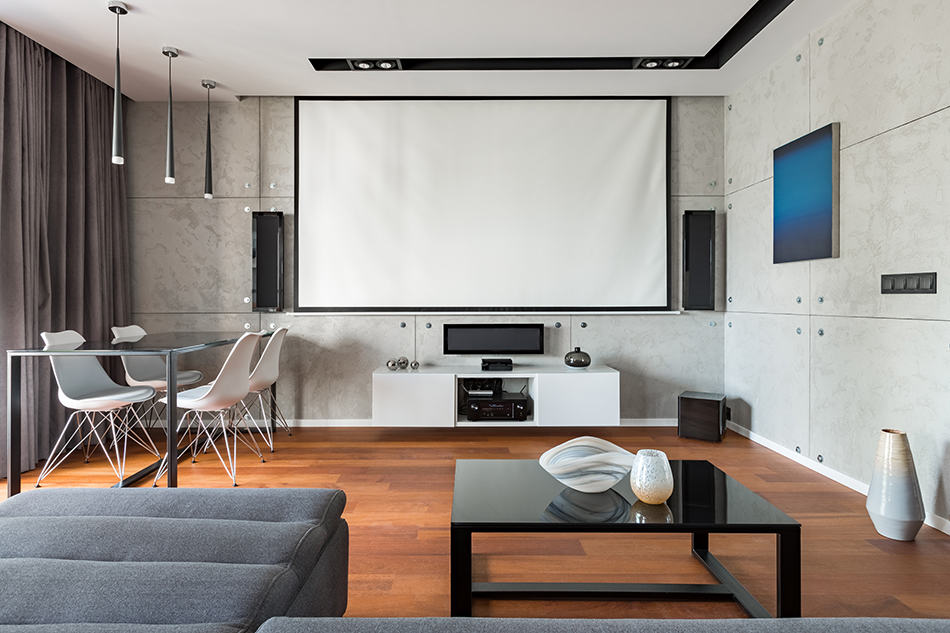 Now here comes the most important part of a home theater – the screen. While you don't need to buy a hugely expensive and high-tech TV, for a truly ultimate movie experience, a large projector will be a wise choice.
There are many modern alternatives that work perfectly for gaming and movie-watching purposes without having to break your budget.
5. Organize the Seating for Best Viewing Experience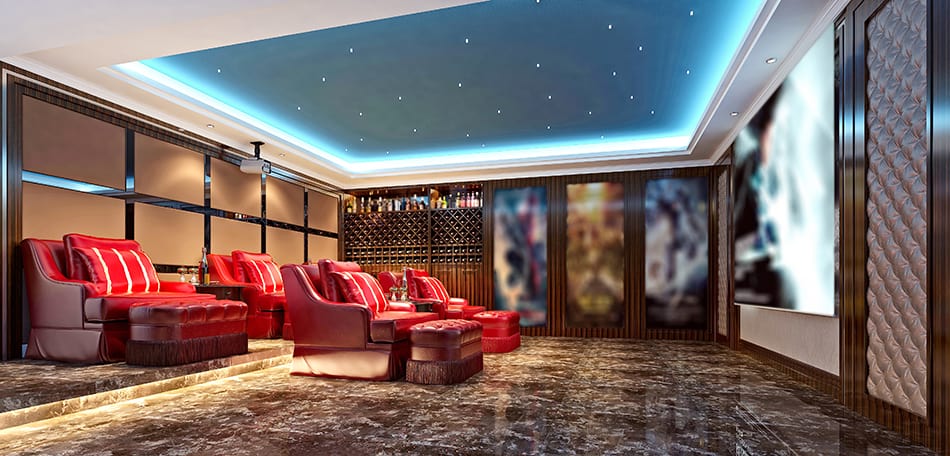 You wouldn't like to have your view of the screen blocked with futuristic style in a cinema, so why should your family or guests experience this in your home theater? A well-planned seating arrangement can easily be achieved no matter how small, or large your home cinema is.
The distance from the movie screen is determined by the room size, so make sure the seating is arranged just like a cinema, as shown in this image. And don't forget to choose super-comfortable chairs as you and your guests will be sitting on them for hours.
6. Display All the Gadgets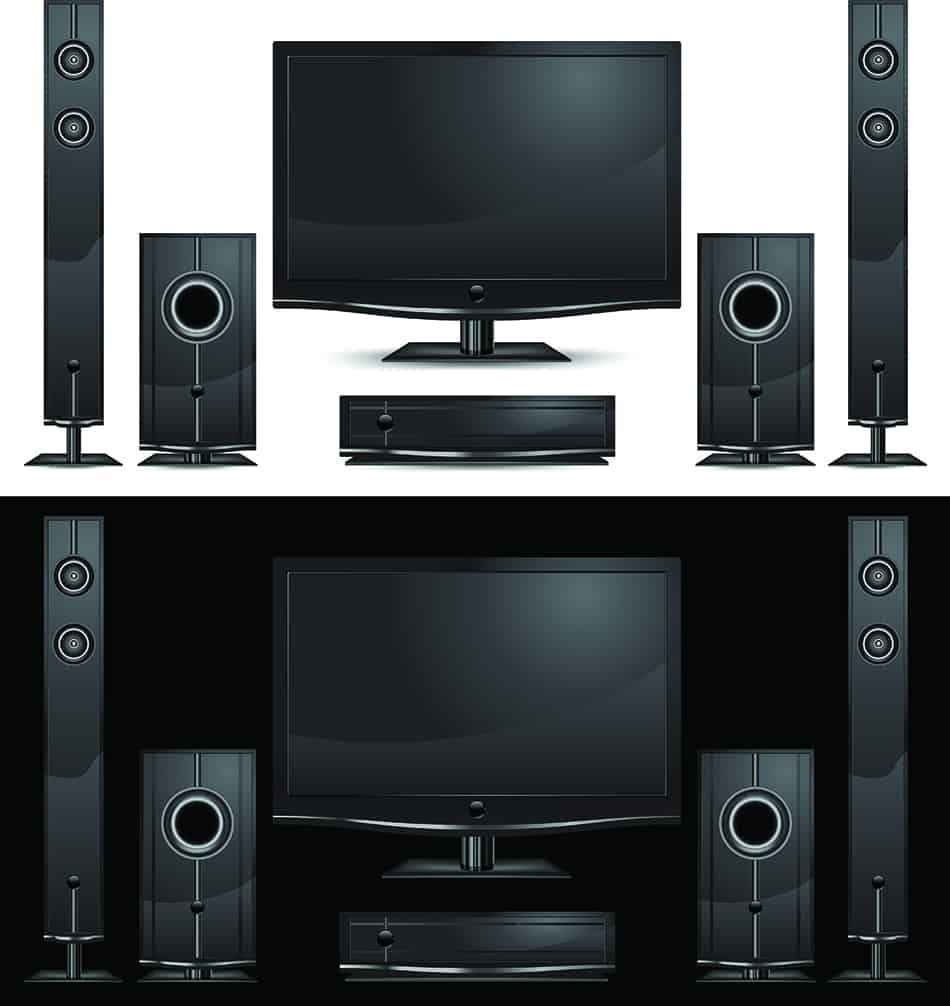 From projectors and smart TVs to stereo surround sound systems, there are many different types of theater gadgets to display on the wall.
A high-quality LED TV with all the best features is one option, but you'll need to take the size of the room into account before choosing the TV, the projector, the AV receiver, the game console, the sound bar, and the universal remote. Remember, the better the quality sound system you install in your theater room, the better your movie experience will be.
7. Lights Camera Action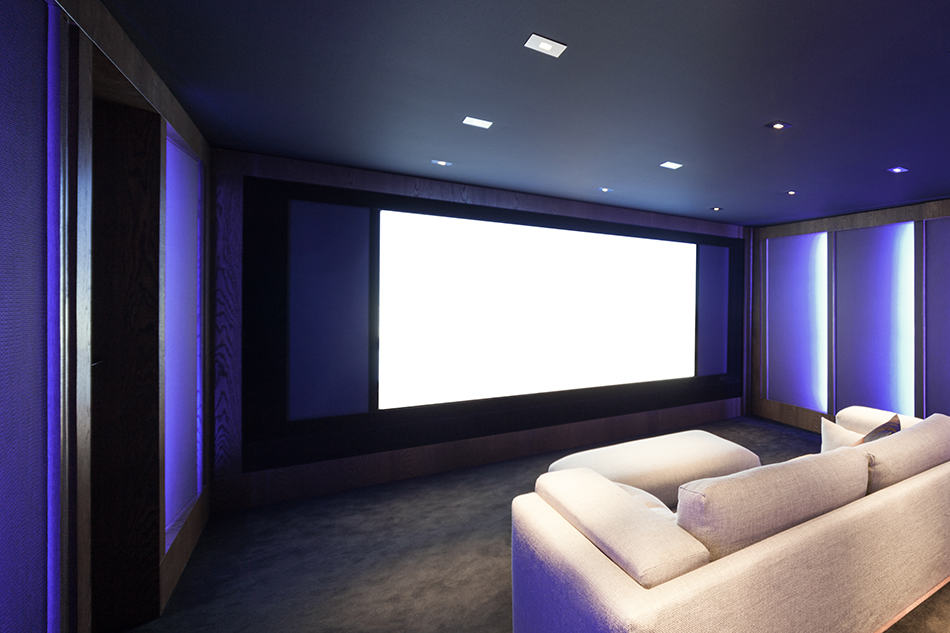 A cozy home theater shouldn't have any windows, as natural light can be an issue in the entertainment room. LED lighting or wall sconces don't cause reflections and glare, plus you can easily use dimmers to control the light source.
See how the clever lighting on the walls and on the ceiling has created a comfortable ambiance in this theater room. In case your cinema room has windows, you can add thick curtains or automated blinds to shut out the natural light.
8. Black Paint to Frame the Screen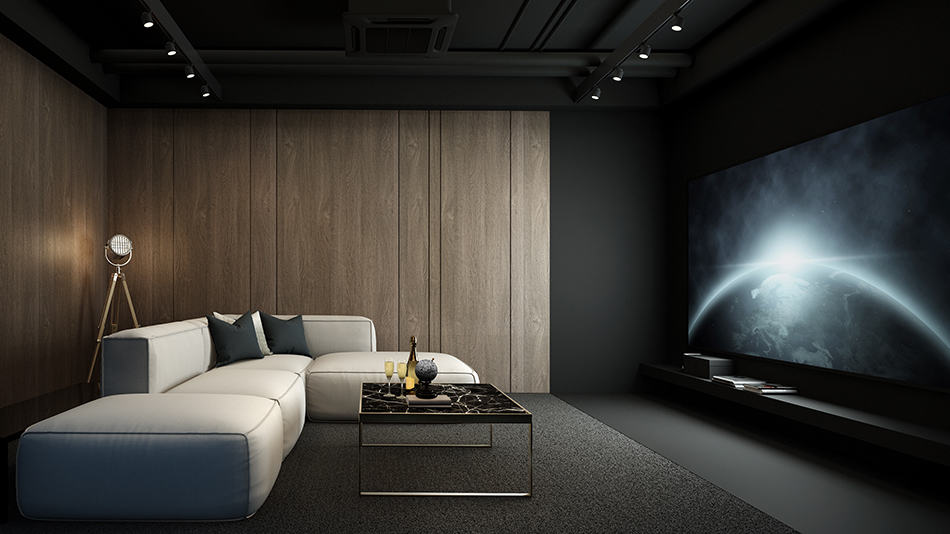 The color black is one of the best room paint shades when it comes to creating the perfect movie theater. This color eliminates all light so your focus is purely on the screen. Although black can be quite intense and make the room appear smaller, you can still make it work by blending it with a light-color sofa for a relaxing atmosphere. In this image, the black ceiling, flooring, and the TV wall don't look overwhelming thanks to the brown wall and white sofa.
9. Grey for a Classy Finish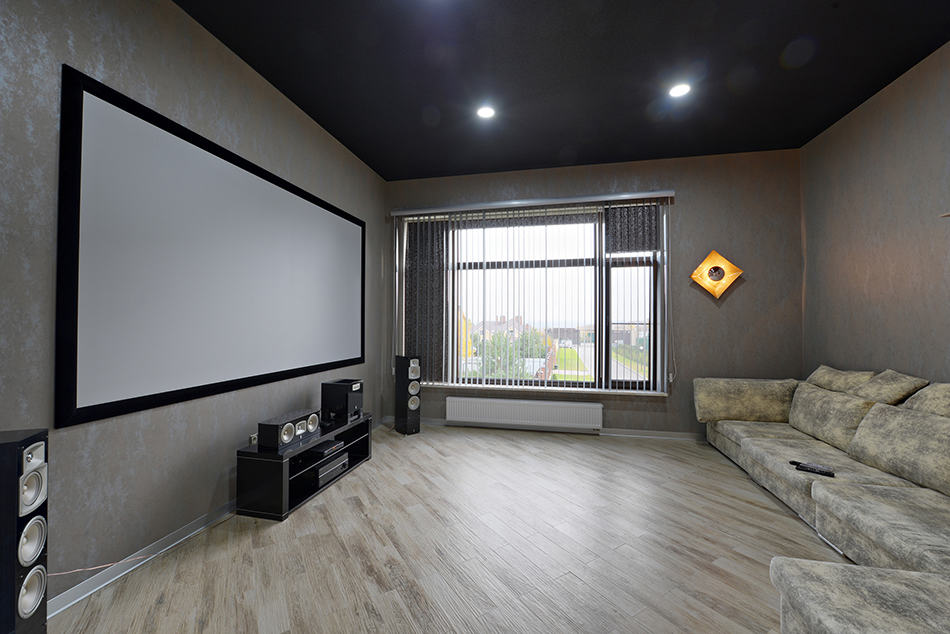 A modern home cinema with grey walls and a simple layout offers a tasteful and classy finish. In this image, the dark grey color scheme works great with the mahogany floor and the sofa for a touch of warmth.
The black ceiling with the grey walls has made the theater room appear comfortable with an emphasized projector that stands out in the room. Although this room has a large window, the retractable blinds help prevent glaring.
10. Bold Shades to Create a Feeling of Luxury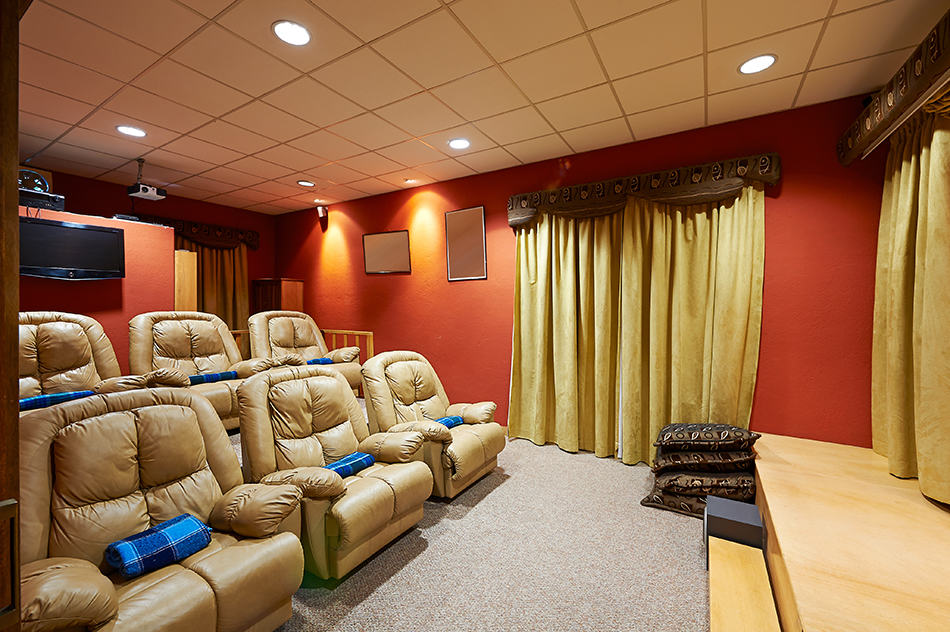 Bold shades, such as red, blue, and yellow, can be tricky colors to use in interior decor, but why restrict yourself to darker shades when you can go one step further and incorporate vibrant colors into your theater room's decor.
To create a feeling of luxury and elegance, make the most of red, yellow, and blue by adding them to the curtains, seating accessories, and the walls. See how these bold shades are used beautifully in this stylish home theater. The lighting has made a distinct impact on the entire room, and the bold yellow curtains with accent upper frames on the red wall truly stand out here.
11. Choose Homely Furniture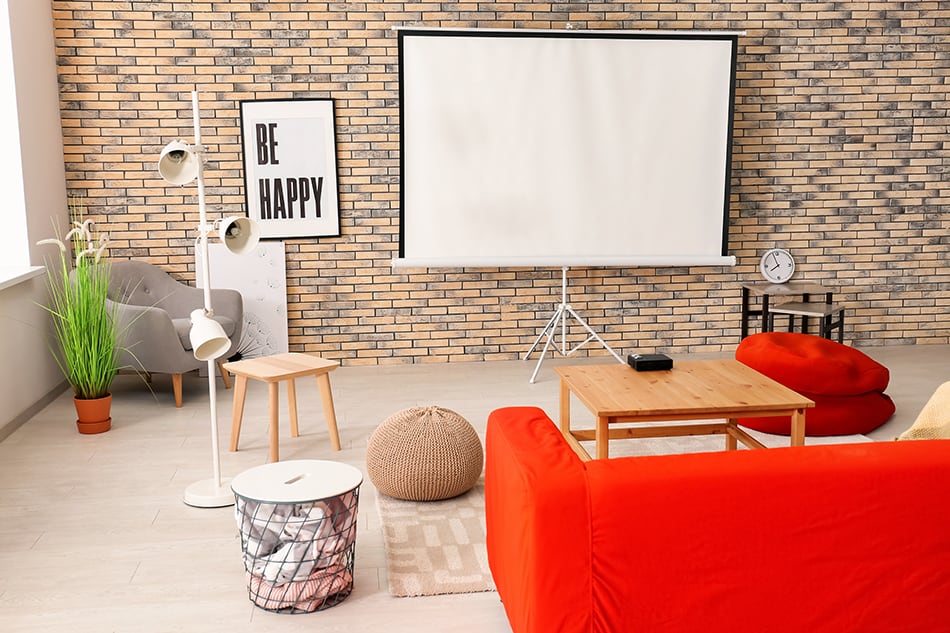 While home theaters can be furnished using specifically-designed items, why spend more than you need to on furniture. It's best to get a little creative and re-use the old elements you already have.
For example, a recycled armchair or second-hand sofa with a simple table can make a home theater feel cozy and homely. This idea is perfect for those who are on a tight budget and don't want to buy new furniture. Just like in this image, there is no specific color coordination, but the bold orange sofa works just fine with the brick wall and minimalist furniture.
12. Design the layout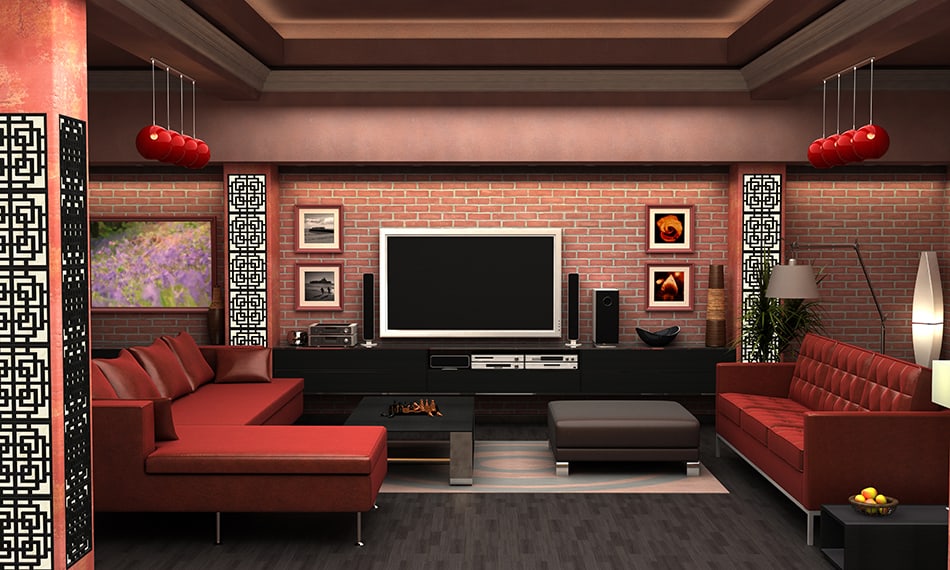 Once you've worked out how to furnish and decorate your theater room, it's time to think about the layout. A typical interior layout for a cinema room is a stadium-style seating arrangement; however, why not make it cozier and more inviting by placing a sectional or L-shaped sofa opposite the seating to make the room function as both a living area and a theater room.
Remember to keep the lighting as dim as possible and match the color of the sofas with the wall for harmony.
13. Have a Vision of a Cinema?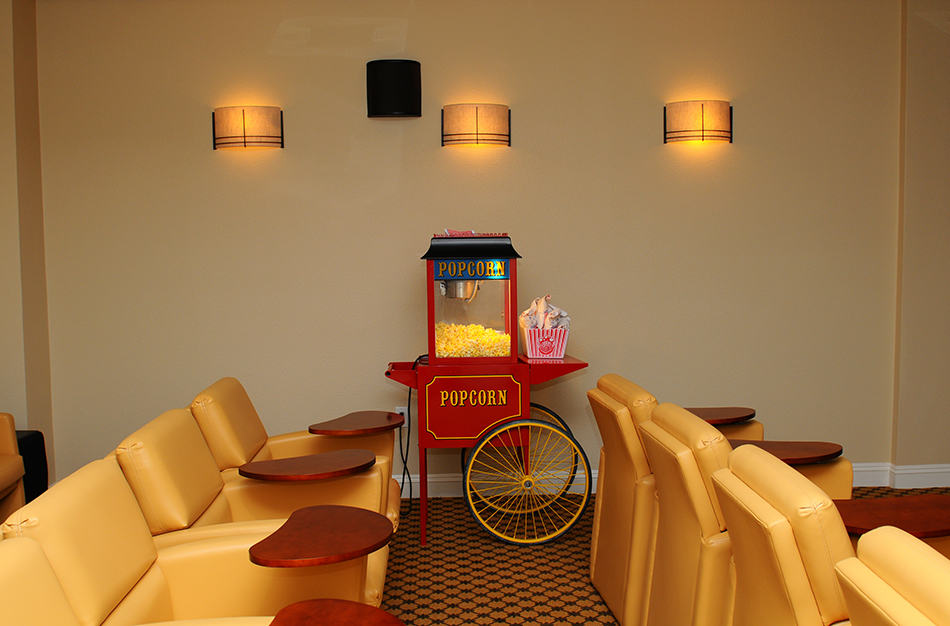 If you want your theater room to look more like a cinema than a living room, then simply add tiered seating, a popcorn maker, and red velvet flooring to the theater room, as shown in this image of a classic home cinema.
You can even install a red curtain on the screen that can be pulled up when the movie starts.
14. Choose Your Favorite Interior Style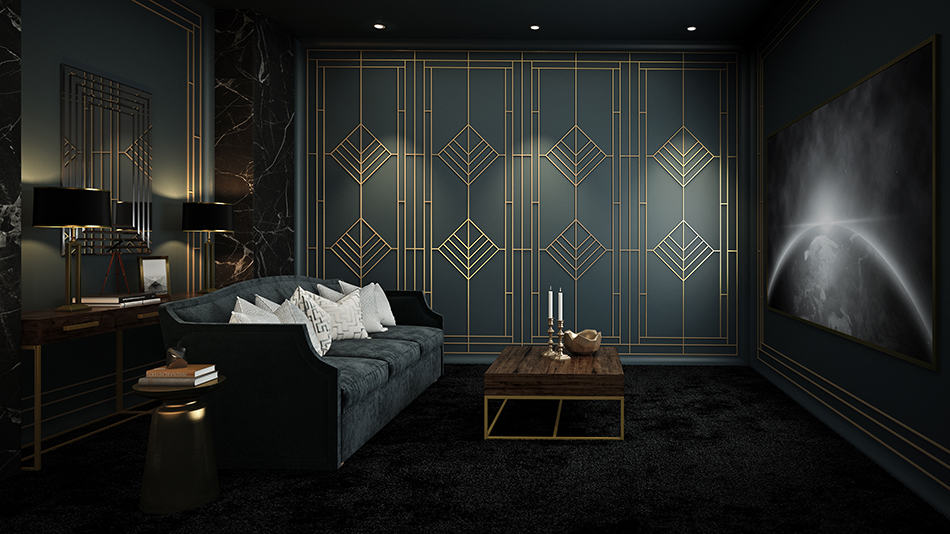 To help bring everything together in your theater room and make the space more personal, choose your preferred interior style. Creating a themed room can be quite expensive, but if you have the budget, you can be more selective with your furnishing and decor.
Here you can see how the Art Deco style has been used to make this home theater feel relaxing and inviting. So if you like the modern look, Art Deco is the style to go for, while the rustic interior design is the style to choose for traditional interiors.
15. A One-person Home Theater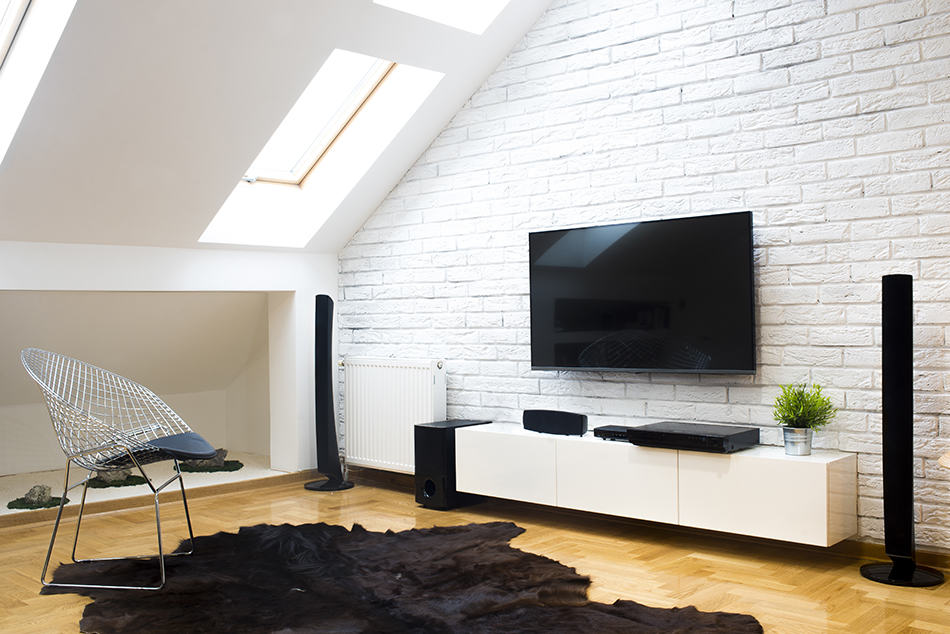 A one-person home theater is just as enjoyable (or more) to watch a movie in as a multi-person one. After all, there is no worrying about the sound volume; who wants to watch what and cluttering the room with lots of seating.
Comfort is the main priority in a one-person home theater. You'll want to think about the seating carefully as you'll be spending many hours in this room.
16. Keep it Simple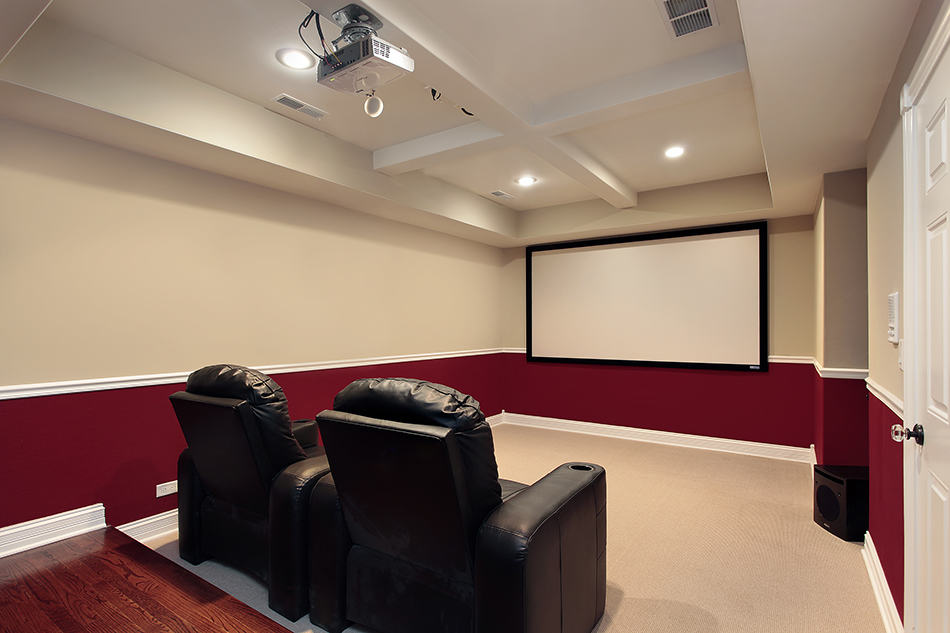 As mentioned before, you don't need to splash out on luxury furniture and gadgets to enjoy your home theater.
Decorating this room in luxury colors instead of spending the money on expensive furniture would be a better option, as shown in this image of a luxurious yet simple home theater.