Lockers are a type of storage commonly used in public places, such as in schools, gyms, workplaces, and transport hubs like train stations and airports. They are generally made from sheet metal that has been painted and is narrow in shape, with individual height measurements that will vary depending on the number of tiers in the unit.
Standard lockers are 18 inches deep and 6 feet high. Each locker unit's height depends on how many tiers the lockers have – a 1-tier locker has one 6-foot-high locker, a 2-tier locker has two 3-foot-high lockers, a 3-tier locker has three 2-foot-high lockers, a 4-tier locker has four 1-foot and 2-inches-high lockers, a 5-tier locker has five 1-foot-high lockers.
Locker Dimensions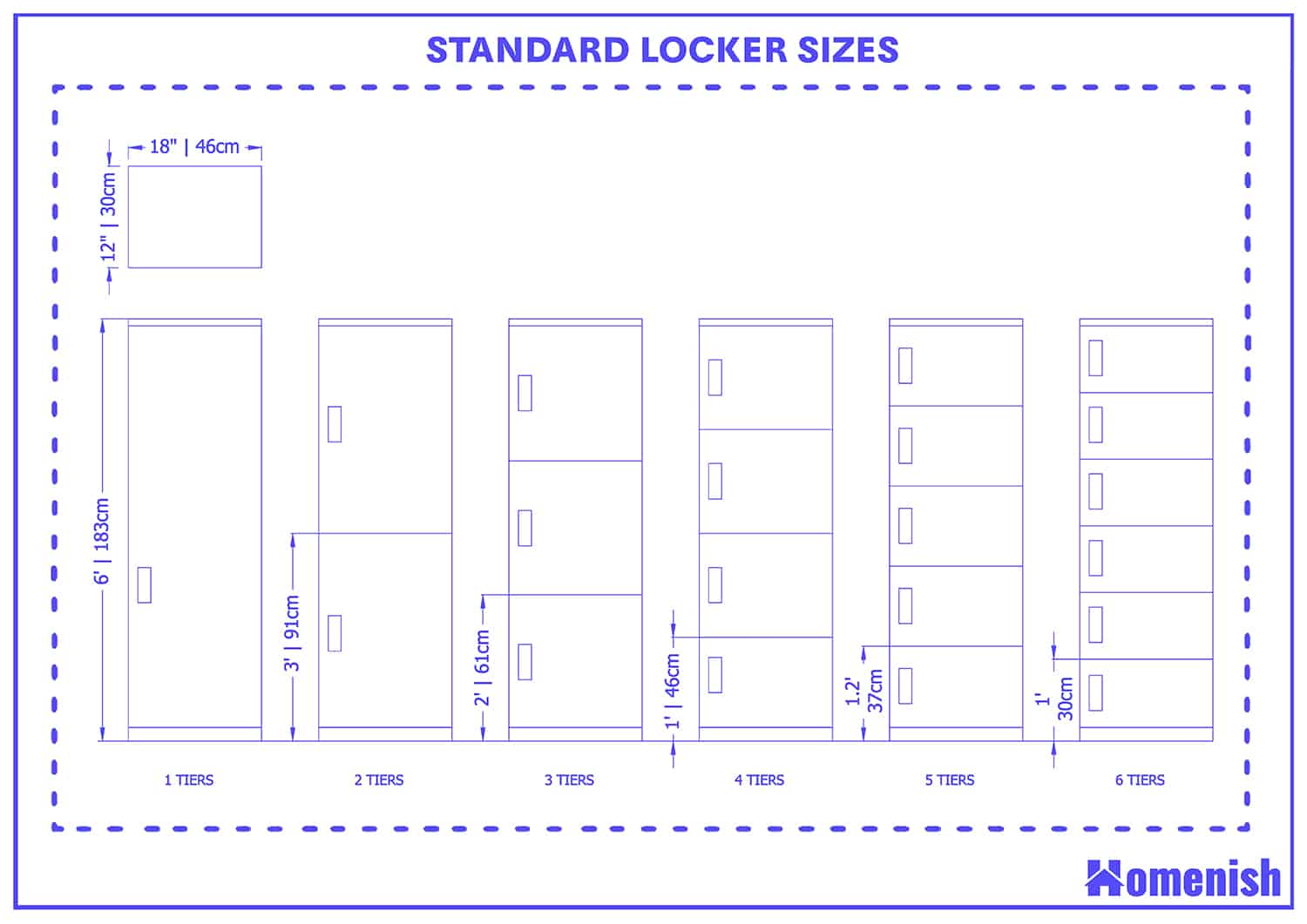 Width
The most common width measurement of a locker is 12 inches, which is equivalent to around 30cm. Some lockers, notably those which have been manufactured more recently, can have width measurements of 15 inches, which is approximately 38cm.
Height
The height of a locker is the most variable measurement. The height of an individual locker will depend on the number of tiers on the locker wall and how tall the wall is. For one-tier lockers, which are the tall rectangular-shaped lockers, the typical height is 6 feet or 183cm.
In these lockers, you can typically expect to find a top shelf, where books or files may be stored, and a hook or peg underneath the shelf where you could hang a coat, spare clothing, or a gym bag. Some tall lockers like this can also feature a lower shelf, creating a compartment to keep footwear.
In the instance of locker blocks that have two tiers, you will have two lockers in the place of where one tall locker would have been, creating an upper locker and a lower locker.
The height of each of these lockers will be approximately 3 feet or around 91cm.You can also find units of lockers that have 3, 4, 5, or 6 tiers. In a 3 tier locker, each locker will have a height of 2 feet or 61cm. For a 4 tier locker, each locker will measure 1 and a half feet or 46 cm. A 5 tier locker will have an individual height of 1.2 feet per locker or 37cm. A 6 tier locker will have individual lockers of 1 foot each in height or 30cm.
Depth
Standard lockers are 18 inches deep, which is the equivalent of around 46cm. This measurement does not tend to vary in Europe or Australia unless you have custom lockers made. In the US and Canada, some locker units are available with a depth of 12 or 15 inches, which is equal to 30 or 35cm.
Locker Features
Lock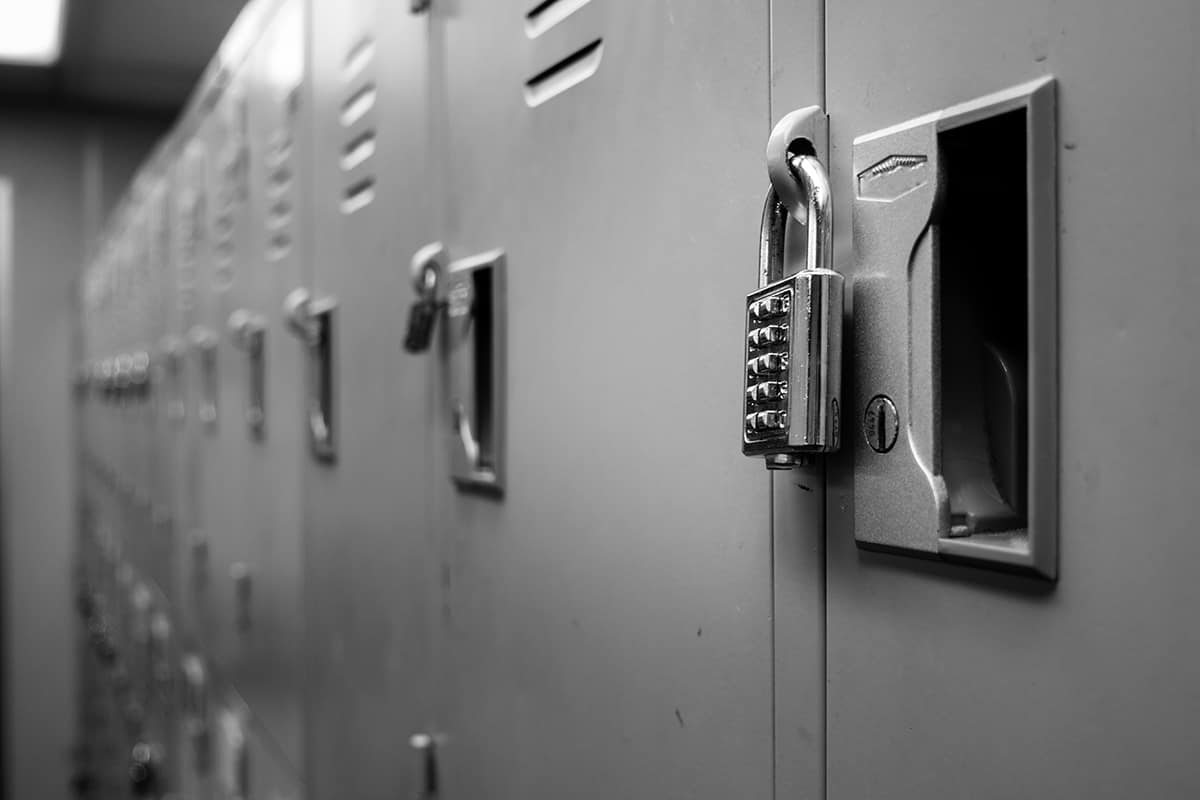 Lockers are usually equipped with an inbuilt lock, such as a combination lock which can be operated by the user or a key lock. Lockers that do not have locks will have fittings that allow a padlock to be used in conjunction with them. This is most common in gyms where members pay a membership fee and have locker storage included, and people will keep a padlock attached to their gym bag ready to use on a gym locker for storing their personal belongings while they work out.
In public swimming pools, key locks are common, where the user will have to insert a coin, usually a quarter, and the locker will be unlocked upon receipt of the coin. The user can then take the designated key, which is often attached to a strap, and use it to lock their belongings in the locker while they swim. The strap will be suitable for securing around a wrist or ankle while the user swims.
Shelves
Tall shelves are usually equipped with at least one shelf, giving users the opportunity to store items in different ways. Shelves are ideal for storing paperwork, books, and files, or smaller personal belongings such as jewelry, watches, cell phones, and wallets.
Hooks
Most lockers will be equipped with a hook inside at the top, suitable for hanging a coat or another type of clothing. This can help to prevent creases when items are left inside for long periods of time and can also make the organization of clothing easier so that you can find them more quickly when you return to the locker, instead of having a pile of clothes to contend with. Hooks can also be used to hang sneakers, or bags can be hung from their straps.
Ventilation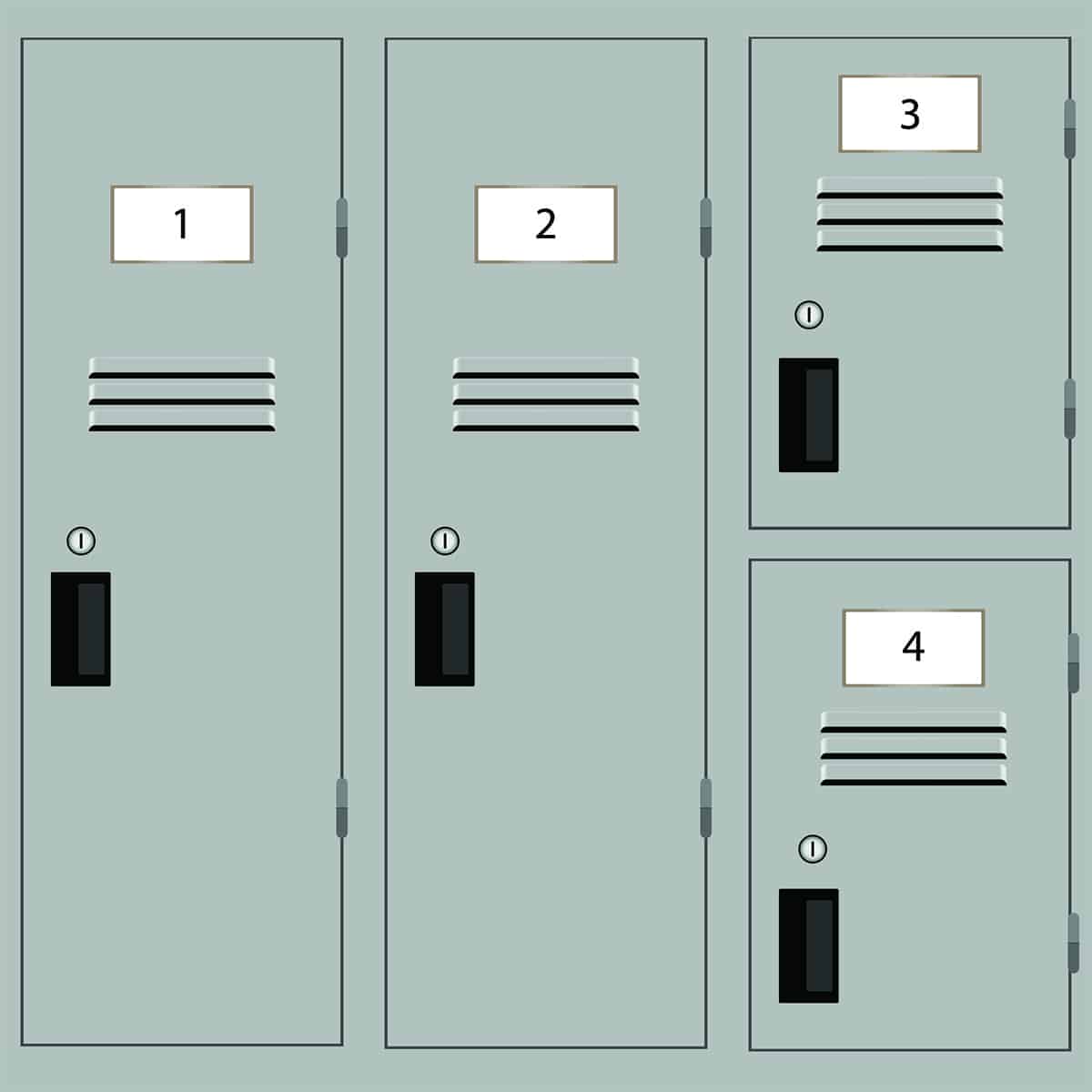 All lockers should have vents on their doors that are there for ventilation purposes. This will allow air to flow in and out of the closed locker, which prevents the items contained inside from suffering from dampness or the growth of bacteria that cause mold and mildew.
Sloping Top
The majority of locker units will have sloping tops, which prevents people from storing items on top of the lockers, which could compromise the stability of the lockers. If people store their items on top of lockers for free, this could also be seen as unfair by the people who have paid to use the lockers. Sloped top lockers also help to prevent dust, dirt, and debris from accumulating on the top of the units.
Heavy Duty
Some types of lockers are made from a more heavy-duty type of steel, usually sheets that are 1.2mm thick compared with the standard 0.8mm sheet metal. This makes the lockers harder to compromise. Heavy-duty lockers are also usually equipped with three-point locking systems, making them much more difficult to break into. Scenarios where heavy-duty lockers are common include storing guns and ammunition. These are known as gun lockers.
Oversized
Oversized lockers are bigger than the standard dimension of lockers, and they can take on unusual shapes. One example of this is a bicycle locker which will be triangle-shaped. These are found at transport hubs, where people will securely store their bicycles while they take a train or a subway.
Perforated
Some lockers will be made from perforated sheet metal. This means that although the contents of a locker are held securely, they can be inspected from the outside. This might be important from a safety perspective, allowing officials to visually examine what a locker contains through the holes in the sides or door.