Buying second-hand furniture is a great way to fit out your home in an individual style, while also saving money and shopping in a sustainable way. These are some of the best places to look for second-hand furniture online.
AptDeco

AptDeco was born in 2014 as a solution to the problems faced when buying used furniture from individuals. The founders of AptDeco understood that responding to online ads for second-hand homeware, or buying used furniture on popular platforms like eBay or Craigslist typically led to scams or awkward and even creepy encounters with strangers. Sorting out collection or delivery was also a common problem faced in these types of transactions.
As a response to this, AptDeco created an online platform where users could buy and sell antique or second-hand furniture and other homeware items, which would then be delivered by AptDeco's own trusted delivery team.
The delivery team would also be responsible for inspecting the item on the collection, eliminating quality issues or uncomfortable confrontations between buyer and seller. AptDeco is primarily for buyers and sellers based in NYC, with most items for sale being local to this area.
However, the popularity of AptDeco is spreading into other areas of America, so it's worth checking out if there is anything available near you, even if you live outside of New York. AptDeco is a great place to find high-end pieces of furniture at a good discount.
It specializes in on-trend items and artisan or custom-made pieces, which means it's great if you're looking for a good quality piece of second-hand furniture because you won't have to trawl through dozens of pages of worn-out, dated sofas, which you can expect to do if you're browsing a more wide-ranging peer to peer platform like eBay.
This website is very user-friendly and intuitive. It is enjoyable to use and has a sleek design. AptDeco prides itself on encouraging sustainable shopping, promoting that by buying second-hand furniture online, the buyer is reducing their carbon footprint and helping to eliminate unnecessary emissions.
As a buyer on AptDeco, you can expect to save yourself some money when buying high-end pieces of furniture, or you can register as a seller and make yourself an extra bit of income from old furniture you no longer need.
1st Dibs

1st Dibs is a website that curates a selection of the finest pieces of furniture, jewelry, fashion, decor, and art, from sellers and craftsmen all around the world. It works to showcase some of the most beautiful antique, vintage, and handmade pieces all in one place, bringing a custom selection of items available to purchase from anywhere in the world.
This is the go-to online store if you are looking for one-of-a-kind or rare antique furniture pieces, and you will typically pay a premium to get exactly what you want. You can expect to pay anywhere from $1,500 to $10,000 for a vintage side table, so if you're in the market for second-hand furniture as a means of saving a few dollars, then this might not be the place for you.
1st Dibs only allows professional sellers to feature on their website, so you will be buying directly from antiques dealers or tradesmen, rather than individuals selling their own used belongings. This ensures a certain level of authenticity, and the company ensures rigorous background checks of any sellers they allow to participate in their program, giving buyers added peace of mind.
The website has a seamless feel to it that is easy to navigate, and the company aims to make buyers transactions equally seamless. They offer support for buyers, along with the buyer guarantees. The website is broken down into categories for easy use, and you can also filter according to price bracket so that you don't exceed your budget.
Chairish

Chairish is a peer-to-peer marketplace where individuals can buy and sell used furniture conveniently and with minimal risk. What makes Chairish stand out from other buy and sell peer to peer platforms is that every single item listed on the website is screened by the company to ensure it meets their high standards.
This means that when looking for a high-quality, chic sofa, you won't be faced with pages upon pages of old IKEA rejects before you find what you're looking for.
This is a specially curated marketplace of designer and vintage pieces of furniture, which claims that it will change the way you approach furniture shopping after just one transaction experience with Chairish. When buying from Chairish, you have the option of collecting the item yourself or having Chairish arrange delivery for you. This added convenience makes buying used furniture seamless and simple.
For additional peace of mind, when you receive an item you have purchased from Chairish, you have two days to decide whether you are happy with it, and if not, you can return it without question. During these two days, Chairish will hold your money before passing it onto the seller of the furniture so that it can be refunded back to you without dispute during your two-day window.
Chairish notes that they have a return rate of just 2%, which speaks to the quality of items they have on offer, and the accuracy of their seller's descriptions. As a seller on Chairish, if your item is deemed acceptable by the curation team, you will receive 80% of the purchase price of your item.
Etsy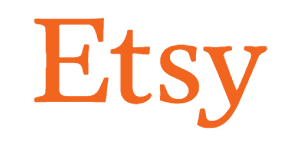 This is a widely known website, which is famed for selling arts and crafts directly from the creator to the buyer, while the website offers no 'service' as such, but acts as a shopping' location,' and thereby takes a fee based on the percentage of the seller's sale price.
While you may have browsed through Etsy before for home accessories or greetings cards, you may not be aware that you can actually buy second-hand furniture from this website. Sellers can list almost anything they want for sale on Etsy, within reason.
Suitable items aren't 'vetted' as such, so this isn't a curated list of furniture, and instead will more likely resemble a yard sale, but with greater convenience. Many sellers on Etsy list antiques or retro used furniture or furniture that is made from repurposed items and therefore has a 'used' feel to it.
Etsy will be popular among people who like their used furniture to have a unique edge. Sellers can set their own postage fees and that regions they will dispatch items to, so some may offer delivery while others might be collection only. You can search for items based on the location that is useful if you're in the market for a large piece of furniture such as a sofa.
Amazon
While Amazon is considered to be something of a one-stop-shop where you can buy almost anything you can think of, you may not have considered it as a destination for buying used furniture. However, used furniture is a big business for Amazon, which sells through third-party sellers and then takes a cut of their sale price.
Amazon is a convenient shopping website for most people, with intuitive and easy-to-navigate web pages and search filters. It doesn't restrict any used furniture items, so to find the perfect piece, you may have to trawl through many pages before you find anything that fits your criteria.
Used furniture on Amazon spans a wide range of price brackets, so it's great whether you're looking for a bargain or an antique. You can set your filters according to price so that you only have to search through furniture in your price range.
Apartment Therapy Bazaar

This is a website or an app for iPhones that is owned by Apartment Therapy and acts as a marketplace to connect like-minded individuals who want to buy or sell used furniture. This app allows anyone to sell their used or refurbished furniture and advertise it for sale to the public.
It's a great place to find unique items or grab a bargain, but as a platform that is not curated, it can be similar to the likes of other peer to peer marketplaces where you have to search through a lot of garbage to find what you're after.
Sellers on Apartment Therapy Bazaar can also list homemade or DIY-crafted furniture or original homeware pieces. The website doesn't get involved in any transactions, so to purchase an item, you will need to organize collection or delivery directly with the seller and settle on an appropriate payment method. The app does provide a built-in messaging service so that users can connect easily, and they take it forward from there themselves.
As a seller, this is a great way to get rid of furniture you no longer want or need that is taking up valuable space in your home and even make some pocket money in the process. This can also be a great place to list free items that have seen much better days, and you won't be able to sell them, but by giving them away for free, it means you won't have to go through the hassle of finding somewhere to dispose of it.
The website itself has a glossy and attractive appearance that makes it enjoyable to use, and once you start searching through the offerings, you can soon find yourself losing hours to this website.
Kaiyo

Kaiyo is a used furniture marketplace that is committed to great design and sustainable practices. It allows anyone who has second-hand furniture they wish to sell to upload photos and submit details about their item. The team at Kaiyo will then review the submission and approve or deny it for sale.
They are focussed on providing only top-quality furniture, which helps to ensure customers are satisfied and makes the buying process easier. Once approved, Kaiyo will collect your furniture and store it while it is listed for sale on their website. They will inspect the item and clean it up so that it is in the best possible condition for the new buyer.
Once a purchase transaction is completed, Kaiyo will deliver the furniture to the buyer and then give the seller a cut of the sale price. The price you get will depend on the condition of the item and Kaiyo's own appraisal of it, so as a seller, you do have to hand over a lot of trust to the website.
If you prefer to have more control over sale price, this might not be the website for you; however, it's a formula that works well for anyone who values convenience. You won't have to deal directly with any customers or clean up your item for sale.
As a buyer, Kaiyo is a convenient way to buy used furniture, with a glossy website that is appealing and pleasing to use. Prices are set, so there's no awkward haggling with the owner of the furniture, and you simply select a delivery date, and the Kaiyo team will bring your furniture right to your home and even set it up for you.
You will have peace of mind that any used furniture you buy is in the best possible condition, as it will have been checked over and given a clean up by the Kaiyo team.
Delivery is also often a sticking point with buying used furniture online, but this is easily taken care of by Kaiyo, so you don't need to worry about anything other than making sure you're home on delivery day.
This is a great website if you're passionate about making ethical purchases, keeping furniture out of the landfill, and you like good design and high-quality pieces. As the furniture is assessed by Kaiyo, you won't have to trawl through pages of other people's trash in order to find a good buy.
Kijiji

Kijiji is a peer to peer marketplace in Canada, and it operates in much the same way as Craigslist, but the website itself is much more intuitive and appealing to use. Anyone can post anything they like on Kijiji, and the website doesn't get involved in the transactions themselves, but simply offers a platform to connect buyers and sellers.
Kijiji doesn't charge a fee to sell items, though, as a seller, you can choose to upgrade your sales listing if you wish in order to garner more attention. Buyers and sellers will need to communicate with each other to agree on a price, a payment method, and a form of delivery or collection.
Kijiji was launched in several cities in the US in 2007, but it failed to take off, while its popularity in Canada goes from strength to strength. You can buy absolutely anything on Kijiji, and this website is especially popular for buying and selling live pets and vehicles, though used furniture is also a very popular category.
The scale of items available on Kijiji is enormous, and you can pick up furniture for free or for a fraction of the original price. It's a great spot to find a bargain or get a high-quality item second hand that you wouldn't have been able to afford to buy new. It's also a brilliant place to find used furniture for free or extremely cheap if you find yourself in a fix and need to furnish your home on a tight budget.
Sotheby's Home

This furniture marketplace was originally launched under the name 'Viyet' in 2013, as a platform for design enthusiasts and connoisseurs of antique and vintage furniture to buy and sell their belongings. The website developed into a popular curated consignment marketplace, which was acquired by Sotheby's in 2018.
The brand underwent a name change to Sotheby's Home, drawing on the long-established history of Sotheby's, which is regarded as one of the most prestigious auction houses across the globe.
As you might expect, you cannot sell just any old furniture on this website, and each item submitted for sale will be checked and approved or denied by Sotheby's staff. Within three to five working days of approval, the item will be priced and professionally cataloged before going live on the website.
There is no upfront fee for sellers, and instead, Sotheby's get paid when the item sells, and they take their cut of the sale price. This is typically in the region of 50%, and the remaining 50% goes to the seller.
Because Sotheby's specialize in high-end furniture and homeware items, they have general guidelines for what they will accept as a listing on their website. This includes the item having an established resale value, the item being in excellent or very good condition, and the item having a minimum retail price.
Furniture will need a minimum retail price of $1000 per piece, while lighting and accessories should have a minimum retail price of $500.
There are exceptions to these guidelines, but for the most part, these are closely adhered to in order to ensure only the finest items are listed for sale on Sotheby's Home. This makes the website a trusted source of buying used furniture because buyers know they are only looking at high-quality items.
There are two physical locations where items for sale on Sotheby's Home can be viewed, and these are Commack, NY or Carson, CA. For all other orders placed online, buyers cannot view the items before purchase, but once items have been delivered, the buyer has two days to inspect and decide if they are happy to keep them.
After these two days, the items can no longer be considered for return. Due to the rigorous conditions Sotheby's home puts on items it lists for sale, the website has a very low return rate.
This is a great place to find antiques or hidden gems if you are prepared to part with a considerable amount of money. It won't list IKEA furniture or anything from Pottery Barn, and will not be a good place to look for budget buys.
eBay
This popular auction-style website allows anyone to list almost anything they like for sale, including used furniture. Much like Amazon, Kijiji, or Craigslist, listings are not quality controlled, and so the responsibility is on the seller to thoroughly check an item before they part with any cash.
This also means that you might need to spend long time scrolling pages until you find something suitable, but often, the reward is buying something for a bargain price.
Items for sale are usually sold in an auction format, where you make bids as high as you are prepared to go, and if you are lucky and find that you have few other bidders going against you, then you can save some serious money on buying used furniture. There's also often the option to 'buy it now' if you're in a hurry or don't want to waste time bidding against other people.
You can filter search results to show the nearest first, which will be useful if you want to make a local purchase to make collection easier. Otherwise, delivery is often an option at an added price for many items. As a seller, eBay is a convenient place to list your used furniture items, allowing you to free up space and earning some money in the process.
Craigslist
This is an online bulletin board where anyone can list their items for sale. It can be a great place to find some bargains if you're looking for cheap furniture to furnish your home in a pinch but don't expect to find any antiques or high-end pieces on here.
Craigslist has suffered from bad reputation problems, as some users will take advantage of people and scam them on the website. If you're using Craigslist, do your research and ensure anyone you meet with is legitimate before you meet them or hand over money.