Tan doesn't have to be a bland color. If your house exterior is painted in tan, this can be an excellent canvas to pair with other accent colors. Choosing white trim for a tan house makes perfect sense as the two are neutral hues that give your home a unique personality.
When you pair your tan house and white trim with other decorative details and colors, you can increase the resale value of your home.
Don't forget the trim goes beyond window frames and columns as there is also your roof color, the front door, and other elements to think of. By adding pops of color that blend well with your neutral siding, you can make your home's exterior stand out.
Whether you prefer a subtle or bold color scheme to pair with your tan house and white trim, the following ideas will help you find the perfect color combinations. Let's take a look at them now!
Tan House with White Trim Ideas
Accentuate with Stone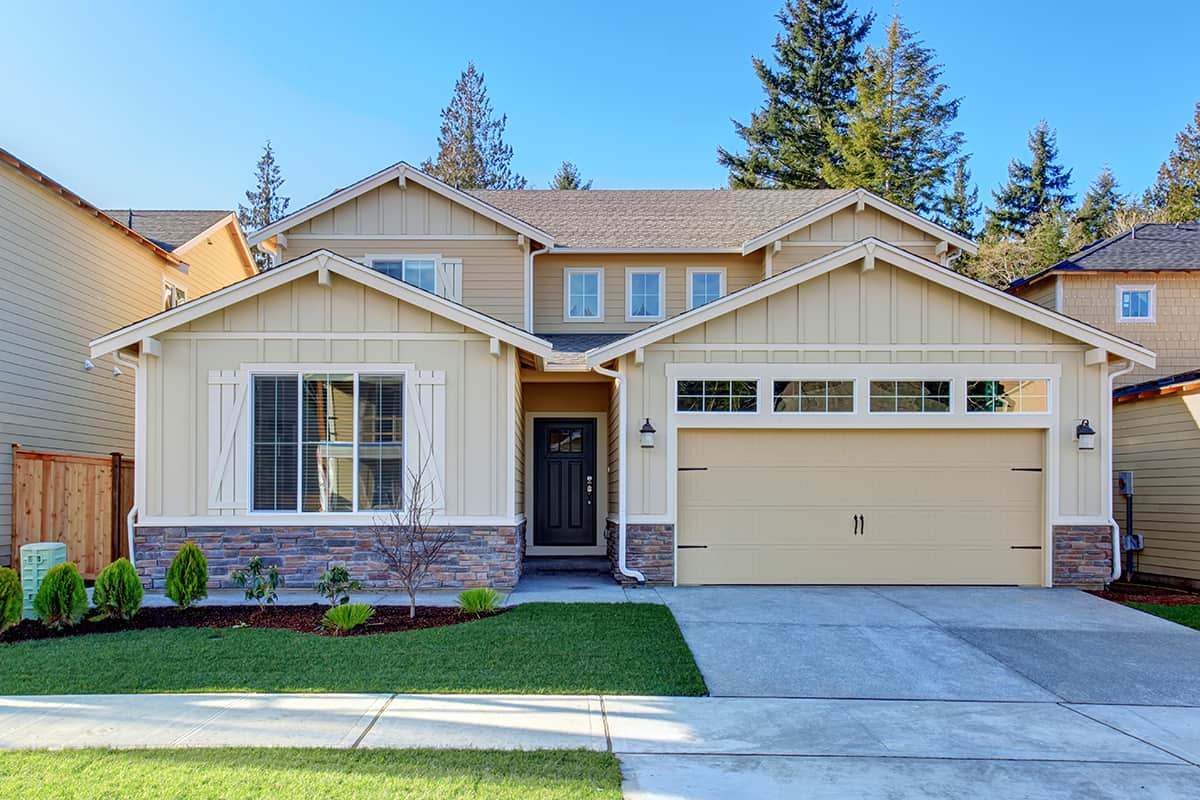 Accentuating your tan home's exterior with natural elements, such as wood or stone ensures perfect harmony with the environment. Any size home can benefit from a blend of stone, brick or wood siding.
Lighter colors don't shrink the features of your home, so if you want to highlight your home's white trim and tan exterior, opt for light natural materials to accentuate the design.
Just as you can see in this example, the stone accent on the wall paired with tan siding and white trim work in harmony with the overall design of this beautiful house.
Pair Tan with Brown Shutters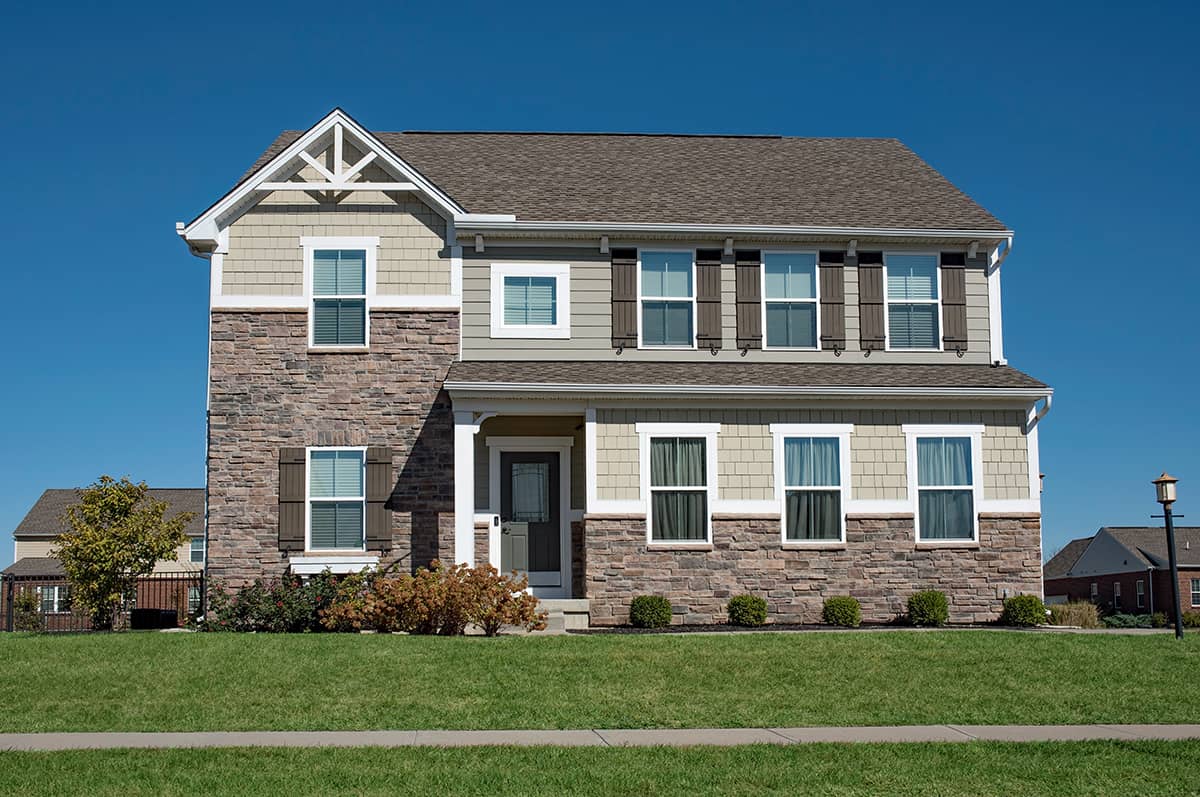 Tan is an earthy color, so it works best with warmer hues like brown. A tan exterior with white trim will look beautiful when you pair them with brown shutters. Brown is a warm and soothing color that can look great next to crisp white trim and a creamy tan exterior. This color scheme will create a clean design as per the example shown here.
We love the idea of brown shutters on a tan and flagstone exterior. The crisp white trim stands out the most here, together with the gray stone siding. This house blends beautifully with the green landscaping thanks to the use of natural materials and earthy colors.
A Bright and Bold Entrance for Personality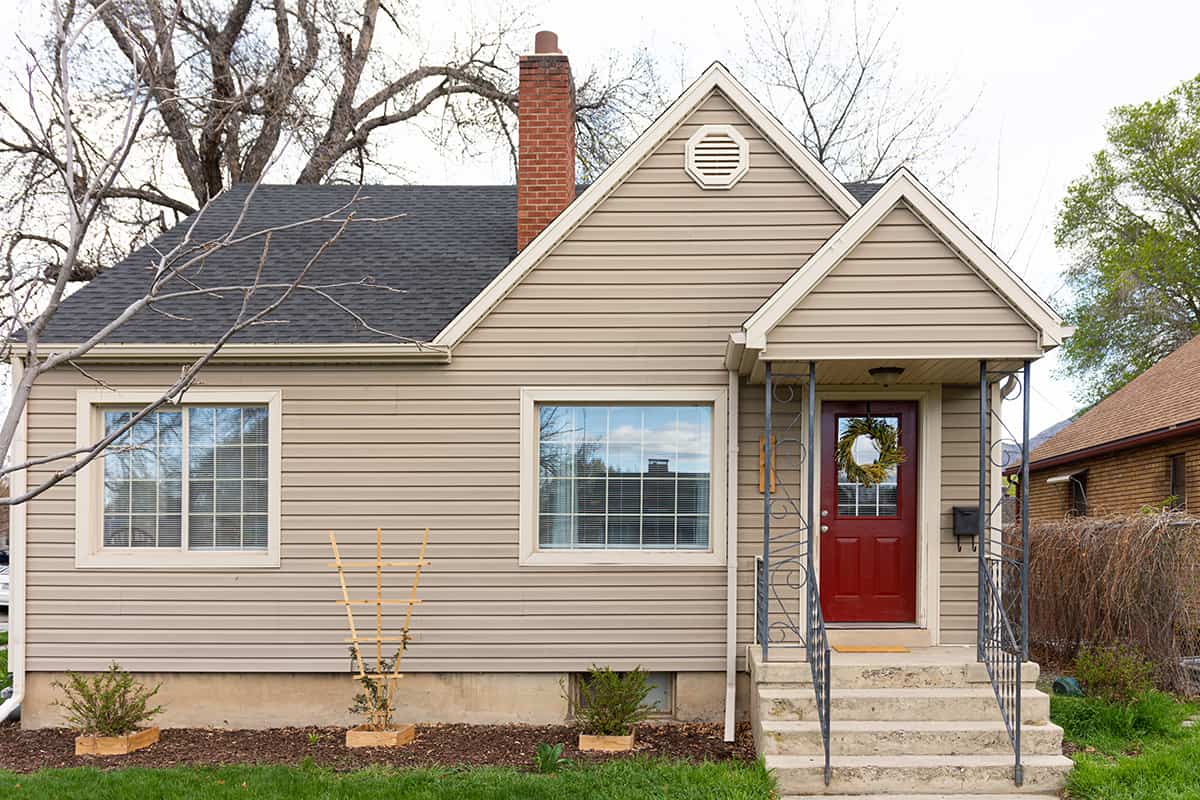 When your home's siding and trim are neutral, a bright front door color can bring a splash of personality to your entrance.
You can treat your front door as the symbolic piece of your home exterior, so be sure to pick a bold color that stands out. After all, you want to make your visitors feel welcome even before they enter your home.
Tan is a neutral hue that goes well with cherry or ruby red. This color combination will give your entrance a vibrant pop as shown here.
Tone it Down with a Deep Blue Front Door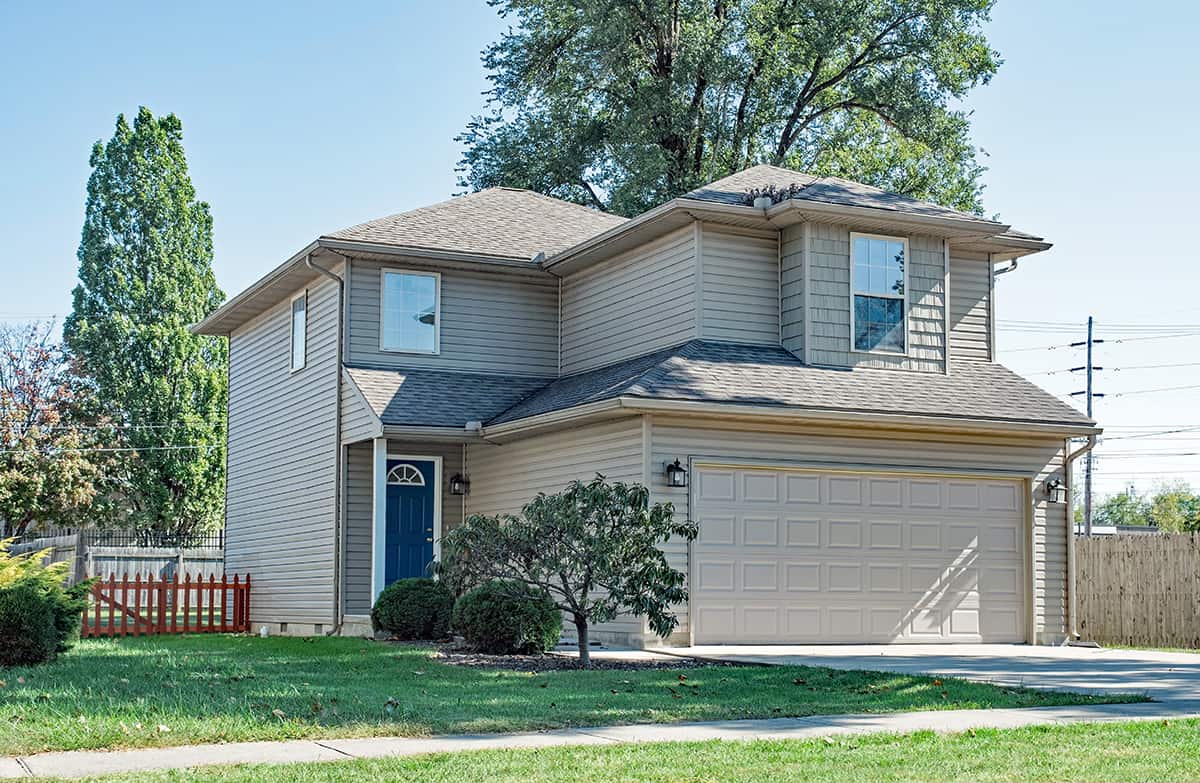 If you're not keen on a bright bold red for the front door, then why not consider a deep shade of blue instead? This color is ideal for contemporary style tan homes with white trim.
Dark blue is a popular choice for the front door. This color represents power and agility. The darker the blue, the more visually pleasing and inviting your entrance will feel.
Dark blue shades like cobalt, admiral berry or even the good old navy are suitable for tan exteriors with white trim as you're mixing a rich hue with neutral shades. This is a toned-down alternative to red, and works particularly well next to darker tan and white.
Keep it Calm and Creamy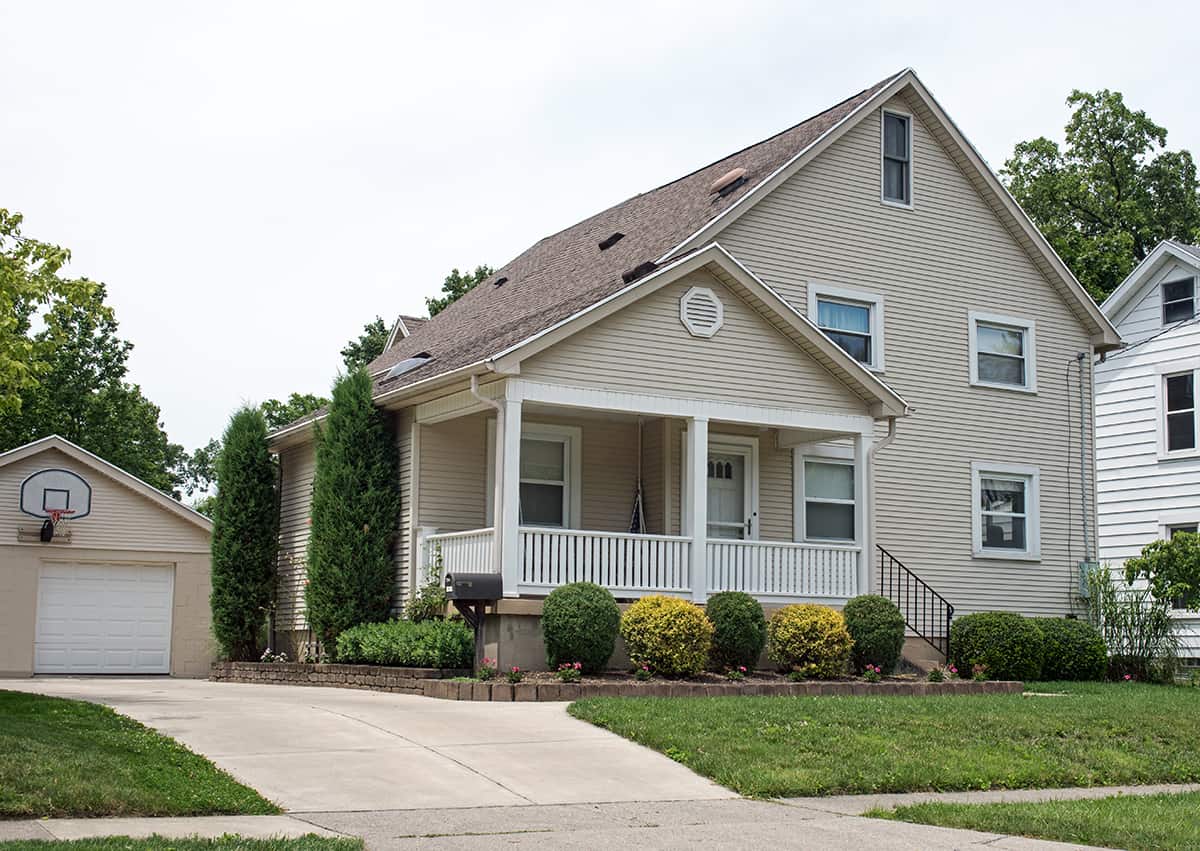 A creamy tan siding with white trim emits a calm and soothing feel. This combination is a safe and stylish option for your exterior. The tan color's subtleness gives the home a modern twist, and when paired with white, your exterior will feel effortlessly elegant.
If you love the idea of a calm exterior appearance, then opt for a creamy tan siding next to white trim as per the example shown in this image.
Paint the Gutters a Complementing Color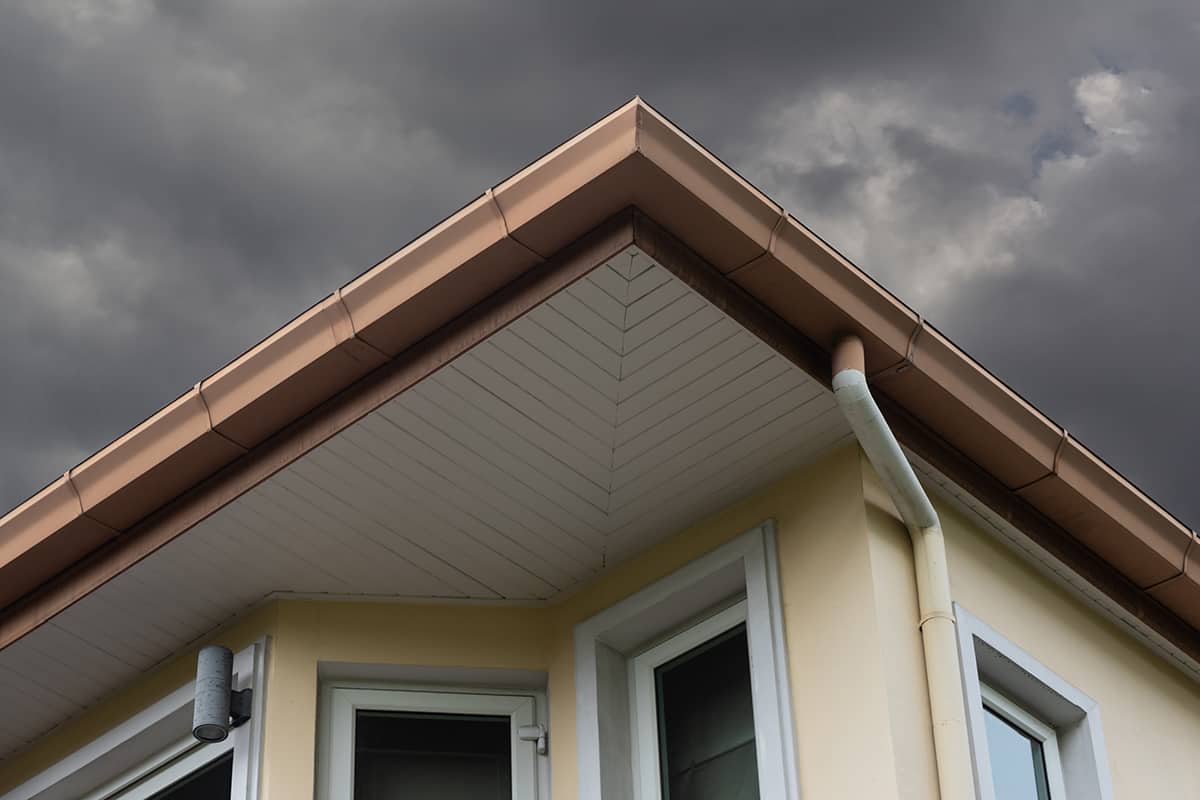 Perhaps the most overlooked exterior parts of a home are the color of gutters and downspouts. On a tan house with white trim, you must pay careful attention to the color of your guttering system as it should not stand out like a sore eye. On the contrary, the gutters must blend in with the trim and siding colors.
For example, a tan exterior with brown metal gutters can indeed look very smart and the brown won't disappear against the cornice. Whether you choose to paint your current gutters or install new ones, be sure to keep the color in sync with your home's exterior. In this case, tan and brown go hand in hand.
Choose a Cool Roof Color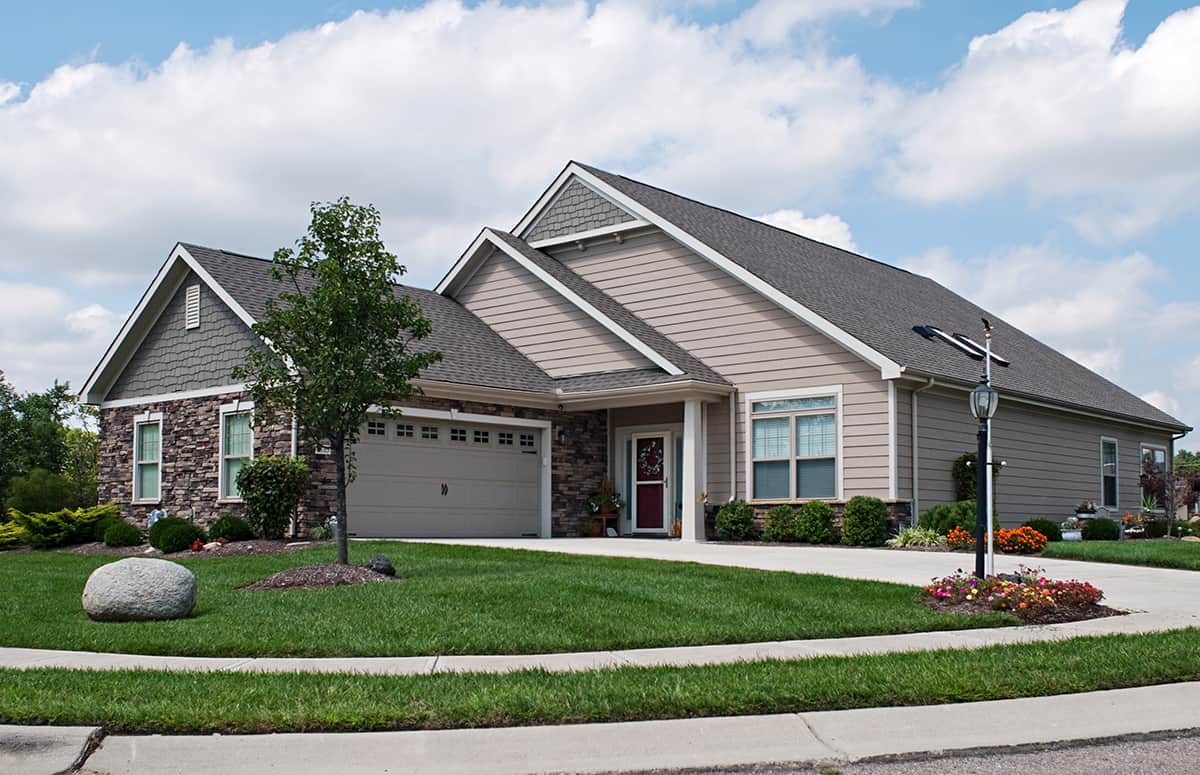 Since your home's roof is usually visible by about 40% of the total exterior of your home, it must be coordinated with the color of the siding and trim. Selecting the right roof shingle color that works with your home's tan exterior and white trim is super easy as the safest option is to keep it neutral.
Gray is by far the most popular roof shingle color as it suits most home styles and exterior colors. No matter which roofing material you go for, a neutral gray tone provides a nice undertone to the other color palettes.
A tan house with white trim and a gray roof is a classic color combination that can work on both modern and traditional homes.
On this beautiful tan and stone house, the gray roof gives the overall design an edgy look, with the muted tan siding and bright white trim as the perfect color combos.