If you have a home with a red brick exterior, then you might find it challenging to choose a suitable accent color for your front door. This is because red is not a neutral color. Instead, it can read as rather intense, making it somewhat tricky to pair with other colors. Red is certainly a warm color, but fortunately, most red brick properties are light or dark shades of red, which appear more muted.
Red brick homes are rarely bright, primary red, and instead, they appear more terracotta or rust-colored. While red is certainly not neutral, the fact that red bricks come in more earthy tones of red means that they read as less vivid and more muted. This is good news for anyone with a red brick home because it means accent door colors are easier to choose than you might have first thought.
You can contrast against your red brick home by choosing a green-colored door since red and green are complementary colors. Alternatively, embrace an entirely warm color palette by opting for an orange or wooden door. There is also the option of using neutral colors such as beige or white to try to tone down the effect of the red bricks if you find the color to be too harsh. Here we look at a range of accent colors to use for front doors on houses with red bricks.
Accent Colors for Red Houses
Contrasting Accent Colors
A contrasting accent color is a color that sits directly opposite your main color on the color wheel. In this instance, red is our main color as we are looking at accent colors for red brick houses. The color directly across from red on the color wheel is green, making green the contrasting color for red.
Contrasting colors help each other pop, and they also help to balance each other out. However, they can also appear overstimulating. To ensure you achieve the right combination of contrasting colors, choose at least one color in a shade that is more muted or subtle.
For example, a bright lime green door on a bright red brick house will look so distinctive that it may look unappealing. However, a lime green door on a dark red brick house will look quirky and fun, or choose an olive green front door on a pale red house for an even more subtle contrast.
Advantages
Contrasting accent shades help each other stand out, so if you want your front door to be the focal point of the house, choose a green shade against the red brick exterior.
Contrasting colors also help to create balance because one color will always have a cool temperature while one will always be warm. This means that the overall effect will never be entirely cool or warm; instead, it will read as steady and considered.
Disadvantages
The disadvantages of contrasting colors are the same as the advantages of contrasting colors; it just depends on your viewpoint and how you feel about your red brick home. Since contrasting colors help each other stand out and appear more vivid, a green door is only going to serve to make your red bricks appear more vividly red.
If you don't want this result and instead are trying to tone down the look of your red home, then a contrasting accent color is not the solution.
Analogous Accent Colors
Analogous colors sit alongside each other on the color wheel, so the analogous accent colors for red are red-orange and magenta (or red-purple). Analogous colors are those which create harmony instead of contrast.
To use an analogous color scheme with a red brick house, you may choose a natural wood door in a honey oak finish or opt for a magenta-painted front door next to dark red bricks.
Advantages
The advantage of an analogous accent color with a red brick house is that it creates an easy look on the eye. It is not contrasting or stimulating, which can make it an easier color palette to be around compared with complementary color palettes.
For example, you can still create depth with an analogous accent color by altering the shade. This could be achieved with a dark red brick facade and a pale orange door.
Disadvantages
The disadvantage of using an analogous color palette is that it can fall flat. If your accent color and main color are too similar, your front door might seemingly fade into the background along with the bricks.
By using an analogous accent color on a red house, you also risk the whole look feeling too warm without a cool color to balance it out.
Monochromatic Accent Colors
Monochrome accent colors are the same hue as the main color but are either darker or lighter. For a red brick house, this means opting for a red door.
You can achieve a sleek look with a monochromatic color scheme, for example, if your bricks are light-medium red and your front door is mid-red. Alternatively, you could create contrast with shade by using dark red paint on your front door with light red bricks.
Advantages
A monochromatic accent color typically looks very classy, and it can work on both traditional and modern styles of homes. It is versatile because you can opt for a contrasting monochromatic accent color or one that blends in.
Disadvantages
Like analogous colors, monochromatic colors can read as flat or too samey when there isn't much difference between your two chosen colors.
Best Accent Colors with a Red Brick House
Black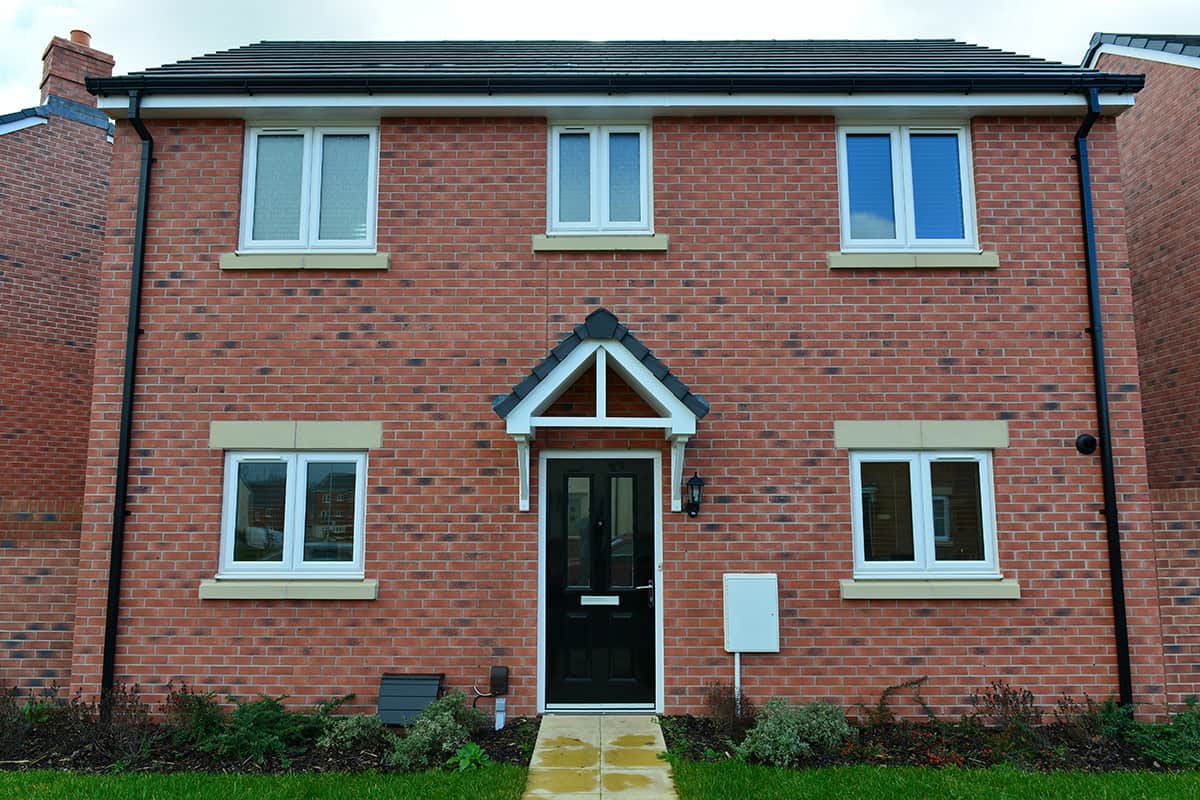 If you're looking for a traditional style, then a black door with a red brick house creates the ultimate traditional vibe. This is a classy, timeless combination that allows the front door to take center stage without creating too much of a contrast.
Opt for white trim to help set off the black door, and choose shiny hardware on the door to maintain a sophisticated look.
Analogous Red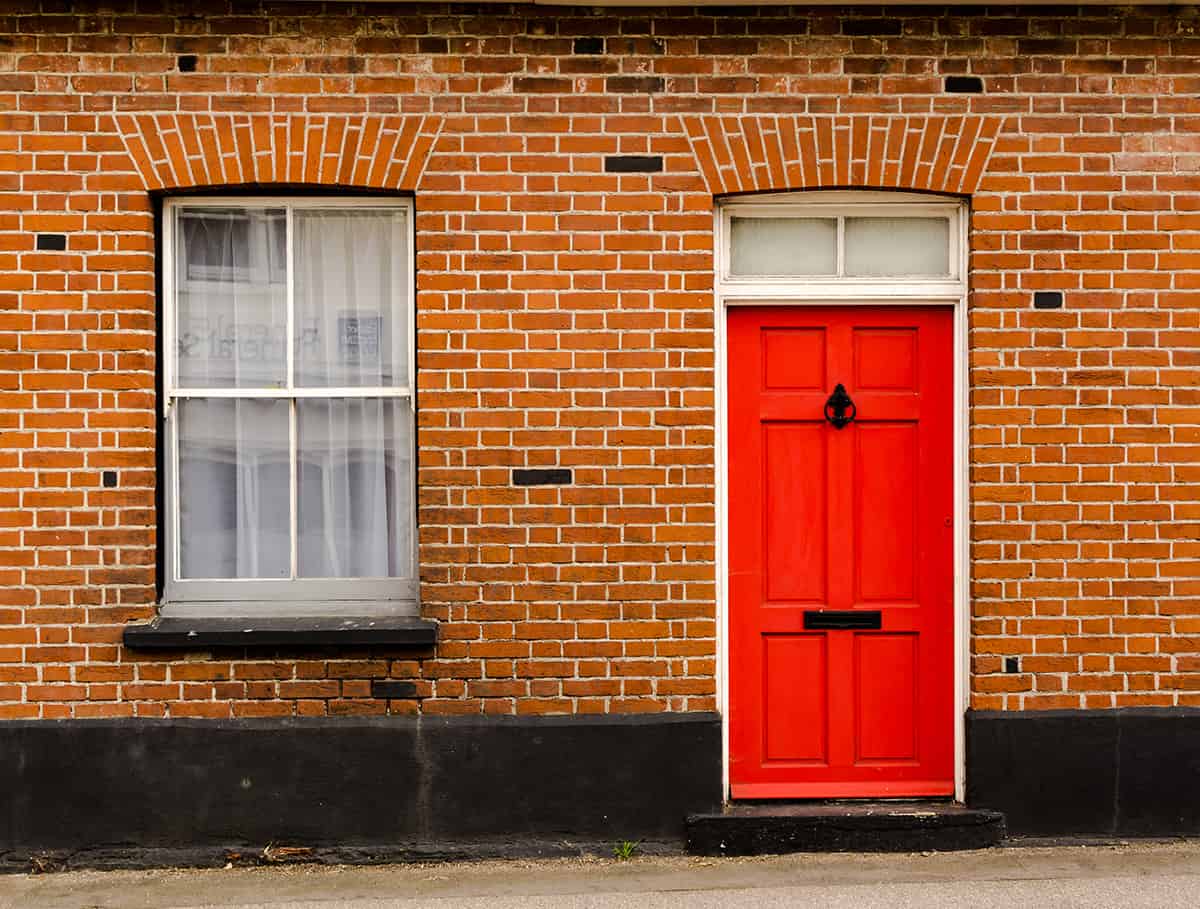 This house is an excellent example of an analogous accent color, as the red brick is an orange-red shade, while the front door is a bright red.
These two colors would be next to each other on the color wheel, therefore creating a harmonious look. The white trim around the door helps keep the colors separate, allowing them to stand out.
Monochromatic Red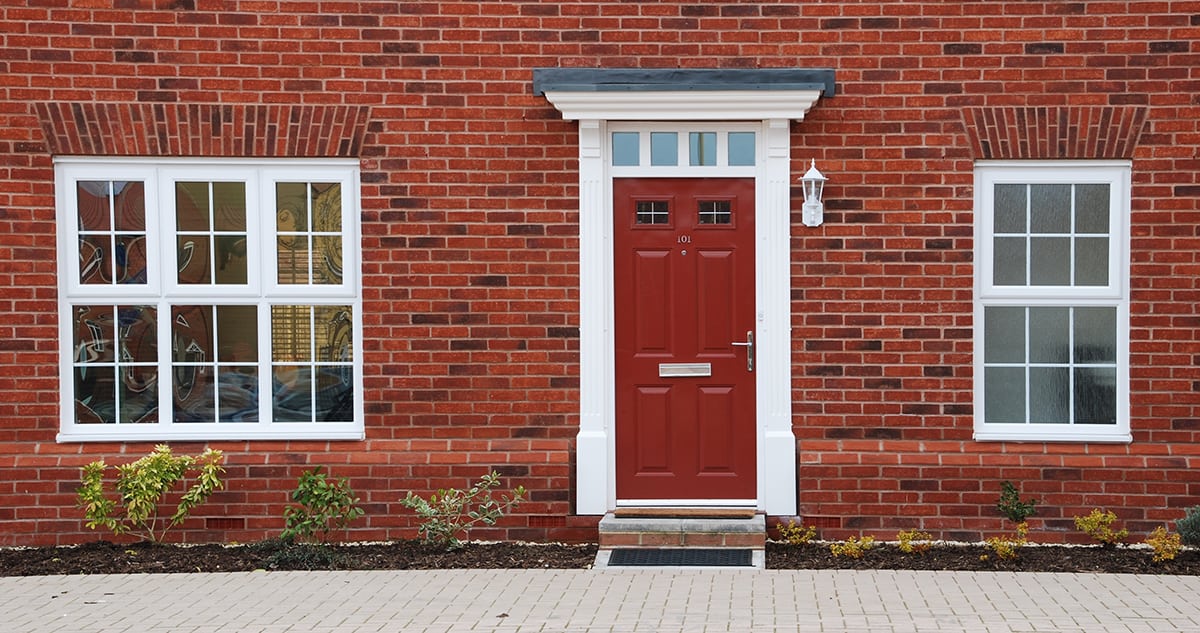 The front door of this house is painted in a medium shade of red, very similar to the mid-red of the surrounding bricks. This makes the color scheme monochromatic, with the accent color being only marginally different in shade from the main color while maintaining the same hue.
The result is a very uniform look, which is prevented from coming across as flat or dull thanks to the addition of white trim.
Blue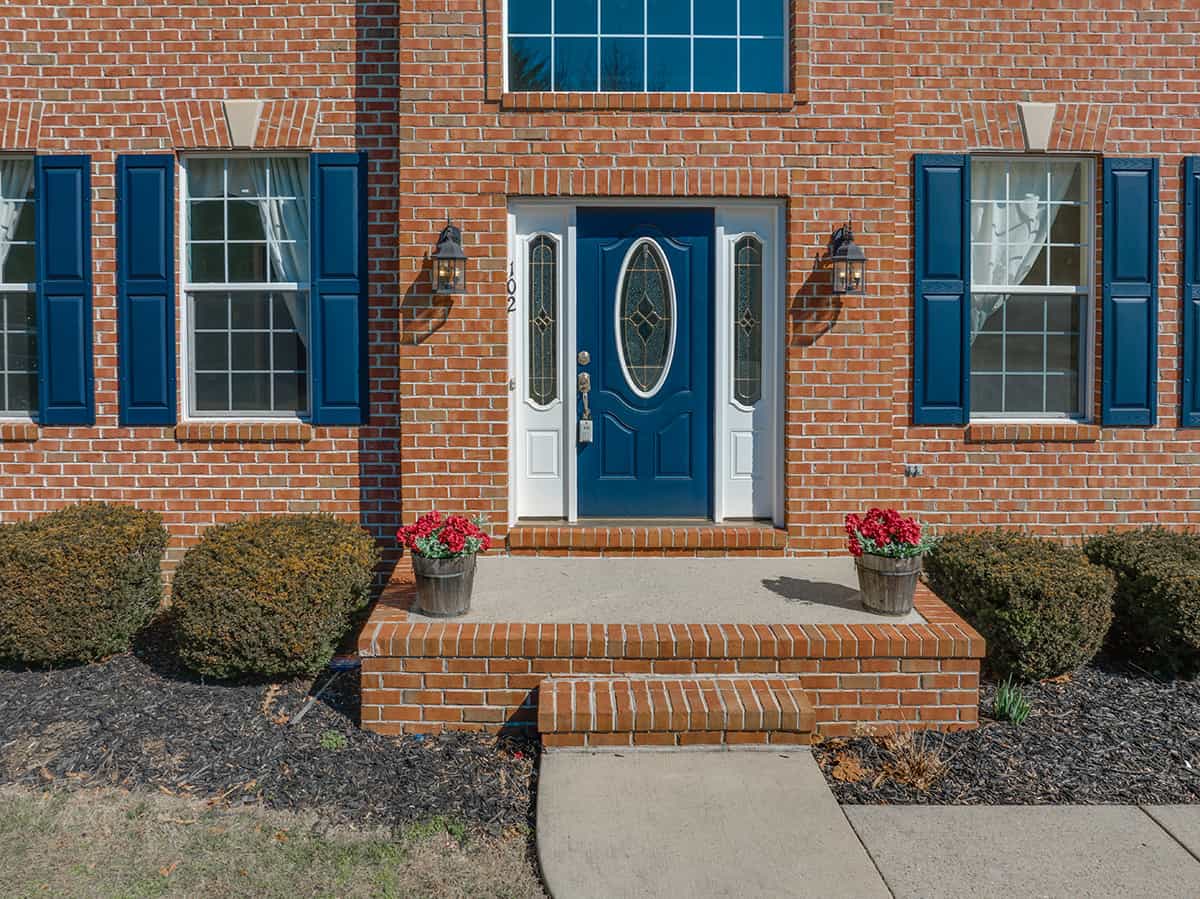 Both the shutters and the front door on this home have been painted in a medium-dark shade of blue, which accents the red brick facade with a nice contrast.
Blue is not a directly contrasting color to red. However, it is a cool color, while red is a warm color, so the temperature contrast is still present. This effect is that both colors appear more vivid, as they help set each other off. The warmth of the red bricks also balances out the fresh feel of the blue door so that the resulting atmosphere feels level and steady.
White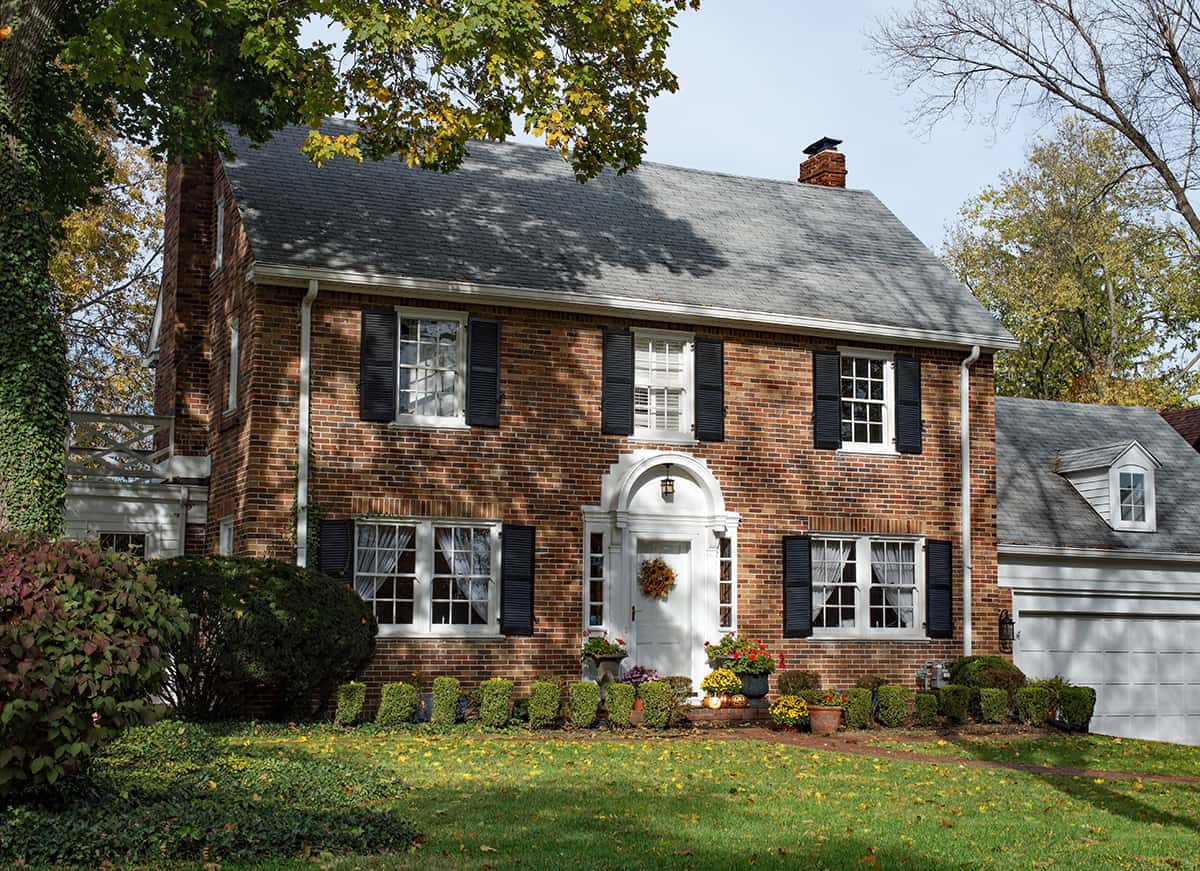 A white door will work well as an accent for any colored home, but it looks effortlessly classy and elegant when set against a red brick house. This house oozes sophistication, and at the same time, the white serves to tone down the red hue of the bricks.
If you don't like your red bricks and want to make them appear less red and more neutral, opt for a pale neutral color as an accent shade.
For the shutters on the exterior of this home, the owners have opted for black paint, which, again, is a neutral color with an elegant appeal. Using a different accent color to the front door ensures the front door still stands alone as the focal point.
Green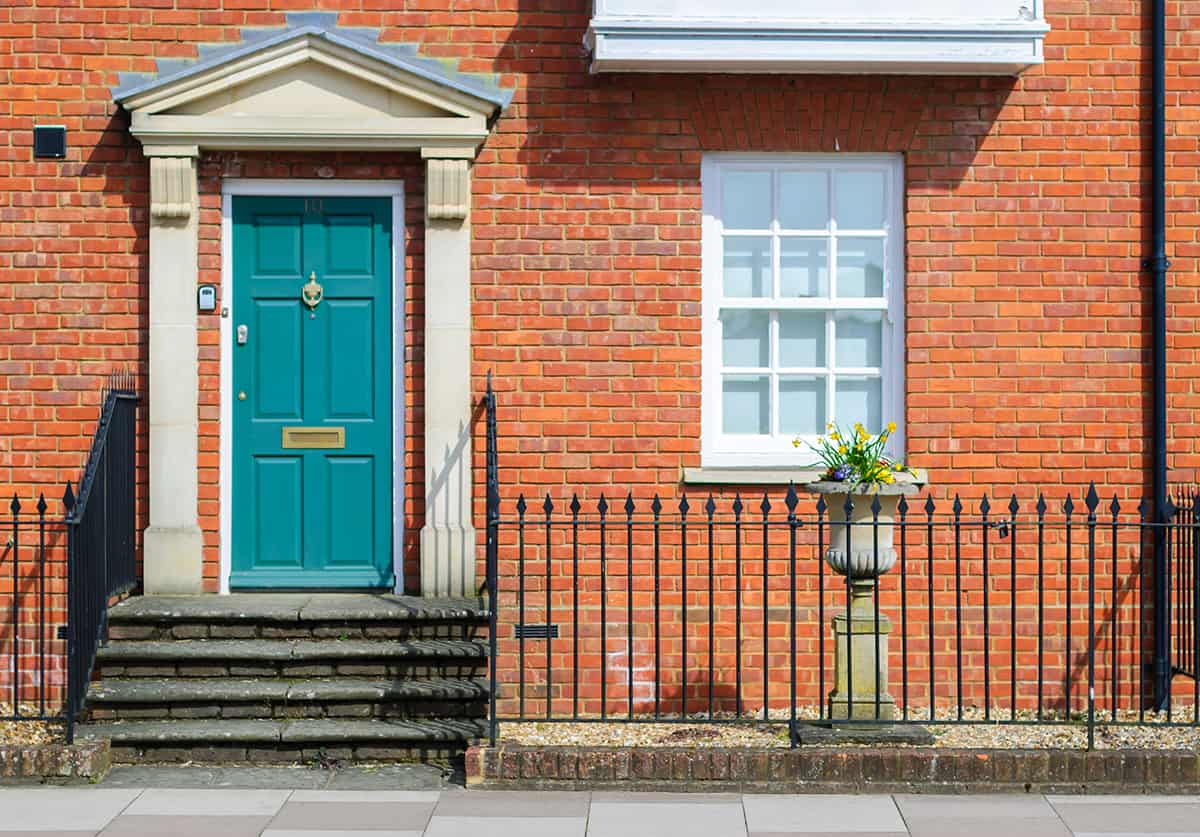 The door of this home has been painted teal, which is a vibrant shade of green-blue. The contrasting color of green-blue on the color wheel is red-orange, which is also the color of the brick walls of this home.
This image displays how using a contrasting accent color makes the front door the focal point of the whole house, despite only taking up a small percentage of surface area.