Matching your tan house with black trim can do wonders in elevating your home exterior's aesthetic appeal. With so many accent colors to pair with your tan house and black trim, you'll be surprised with your options.
Since tan is such a versatile color, it brings a luxurious look when paired with black. In fact, any siding color can look elegant next to black trim – including tan. But there are many ways you can enhance the beauty of your home by adding other accent colors to the mix.
Once you've coordinated the perfect exterior design for your tan home, you're sure to get many compliments from your neighbors and visitors. So let's take a look at our best examples right here:
Tan House With Black Trim Examples
Add Creamy Tones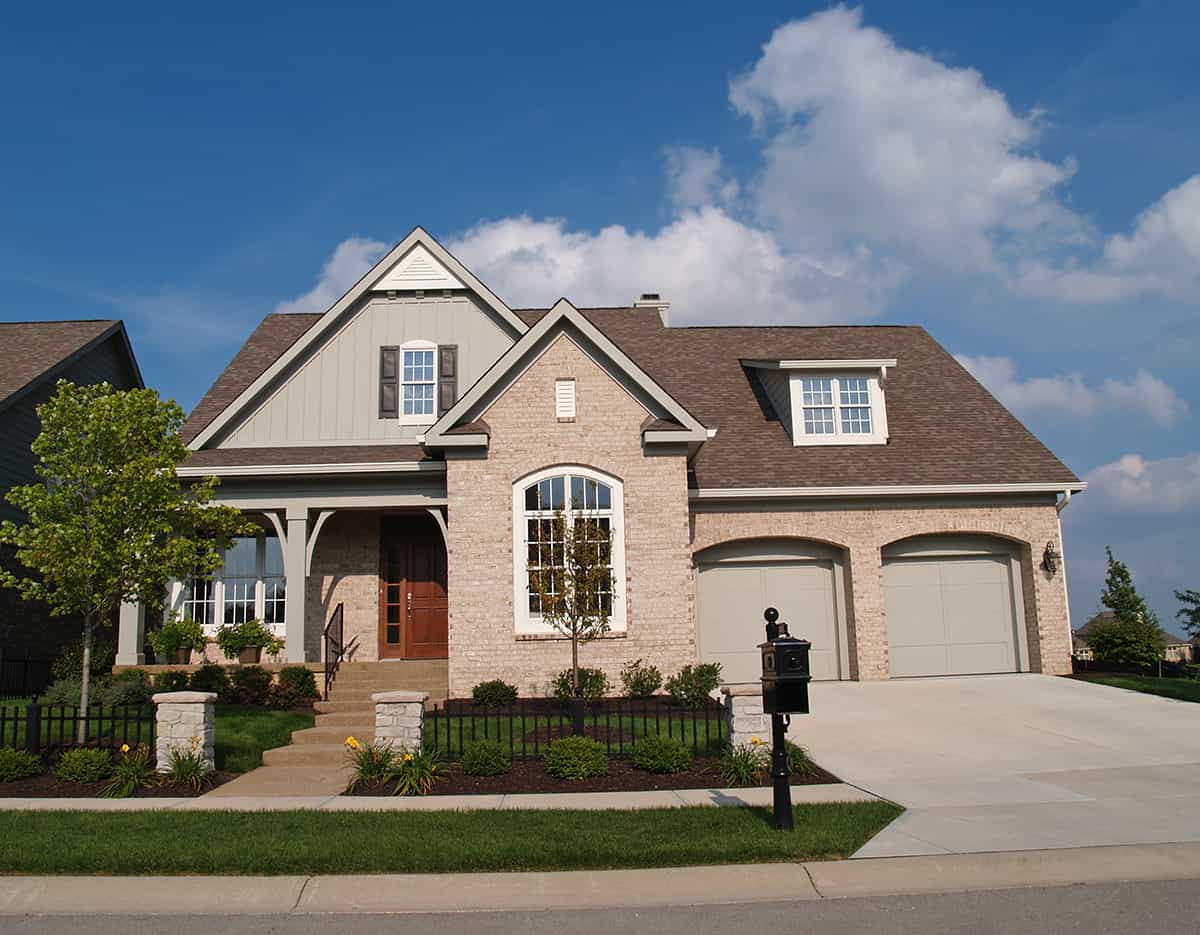 Using a bright and clean color on your tan house with black trim can really make it pop. Cream is a vibrant hue that won't stand out, but at the same time, it's not as bright as white. A creamy tone as an accent color will look stunning on a light tan siding. Just like the black trim, cream is a safe option to style your exterior with.
Creamy tones add a subtle yet modern edge so it's important to use these neutral tones sparingly throughout your tan and black exterior.
Go for Earthy Accents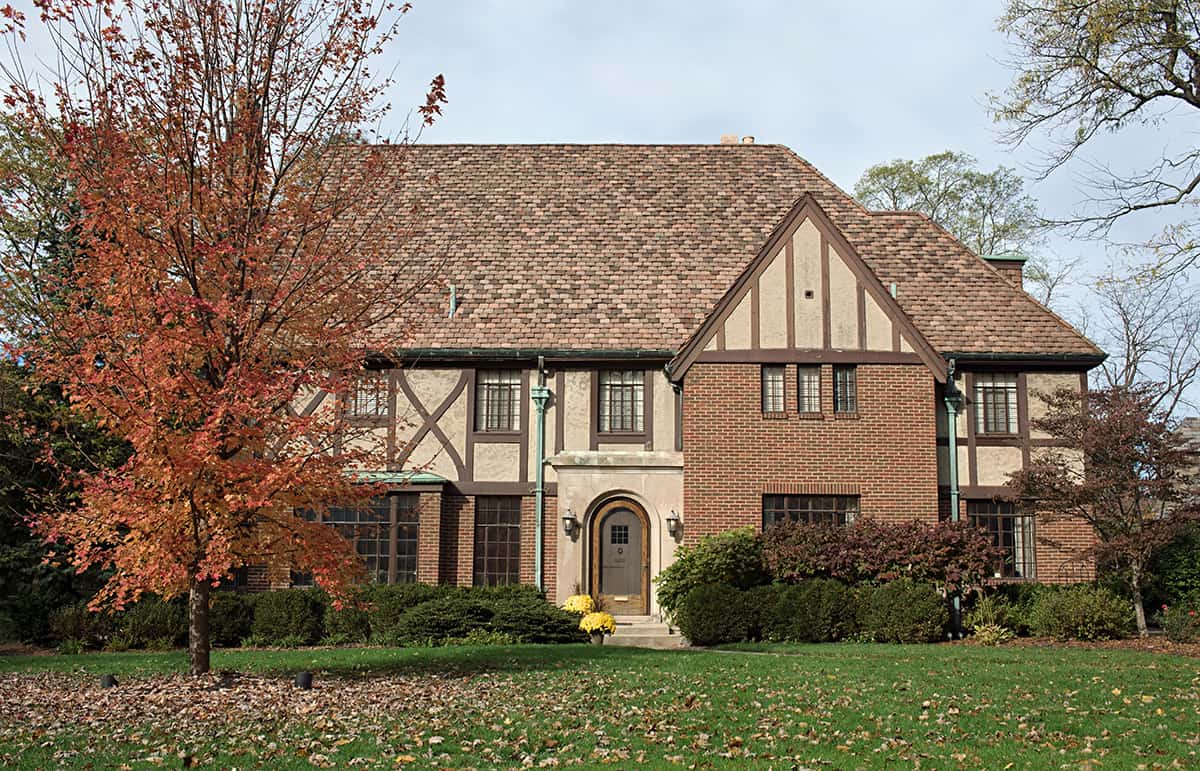 Another safe color option to use on a tan and black exterior is a light shade of brown. If your home is made of brown brick, then you're already halfway there.
Introduce terracotta red or a darker shade of brown to harmonize the tan siding and black trim. This combination will prevent your exterior from looking too loud or overwhelming.
Make the Black Trim Stand Out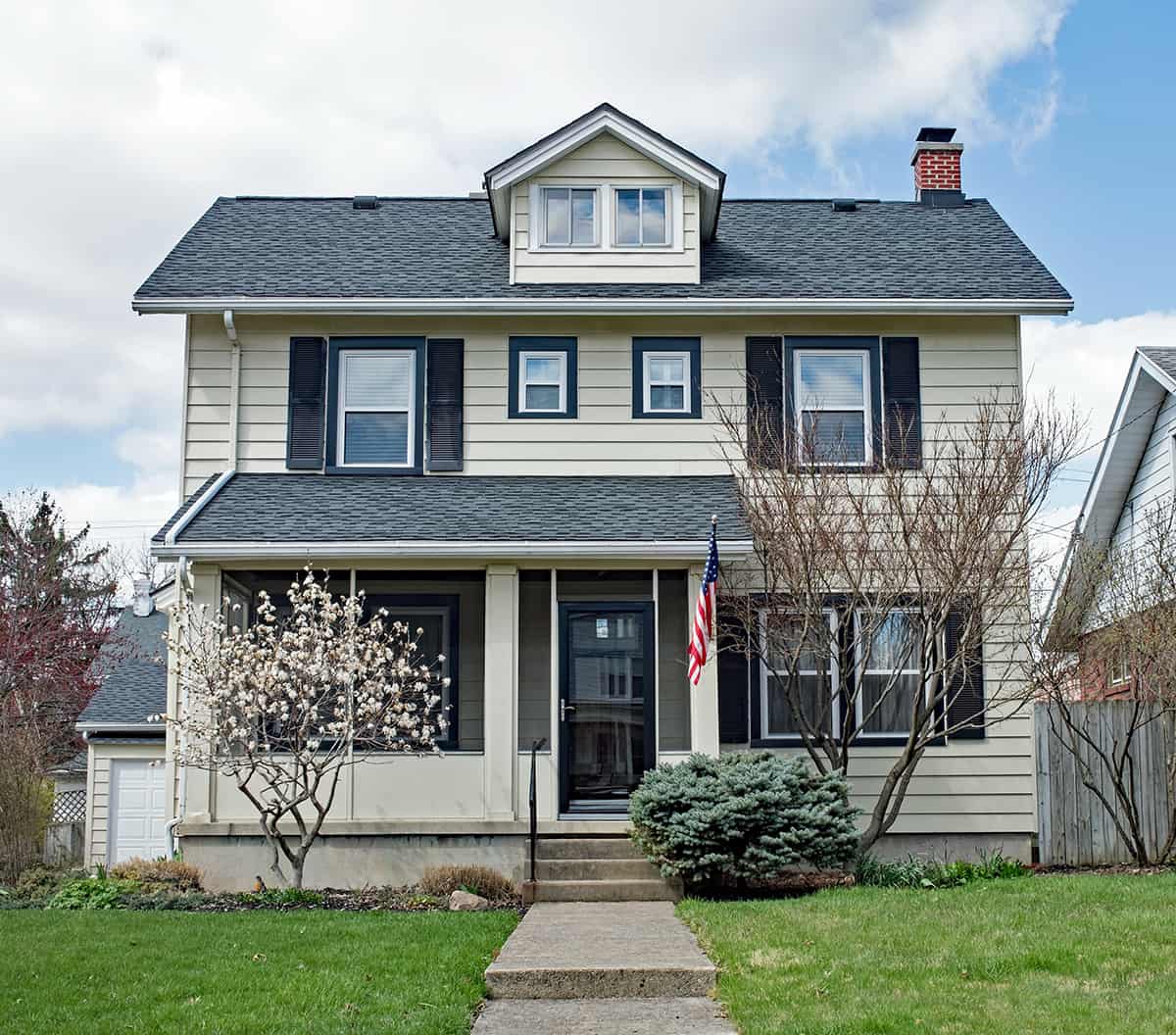 Instead of adding any other colors to your tan house with black trim, consider making the black stand out. This will give your home a well-defined and striking look. The trick is to incorporate more black into the tan siding.
To prove how a dominating black trim can look on a tan house, just take a look at this stylish house. With the black shutters and window frames, the eye is drawn directly to the trim rather than the siding. Black is a beautiful contrasting color against the warm tan backdrop, don't you agree?
Introduce Some Gray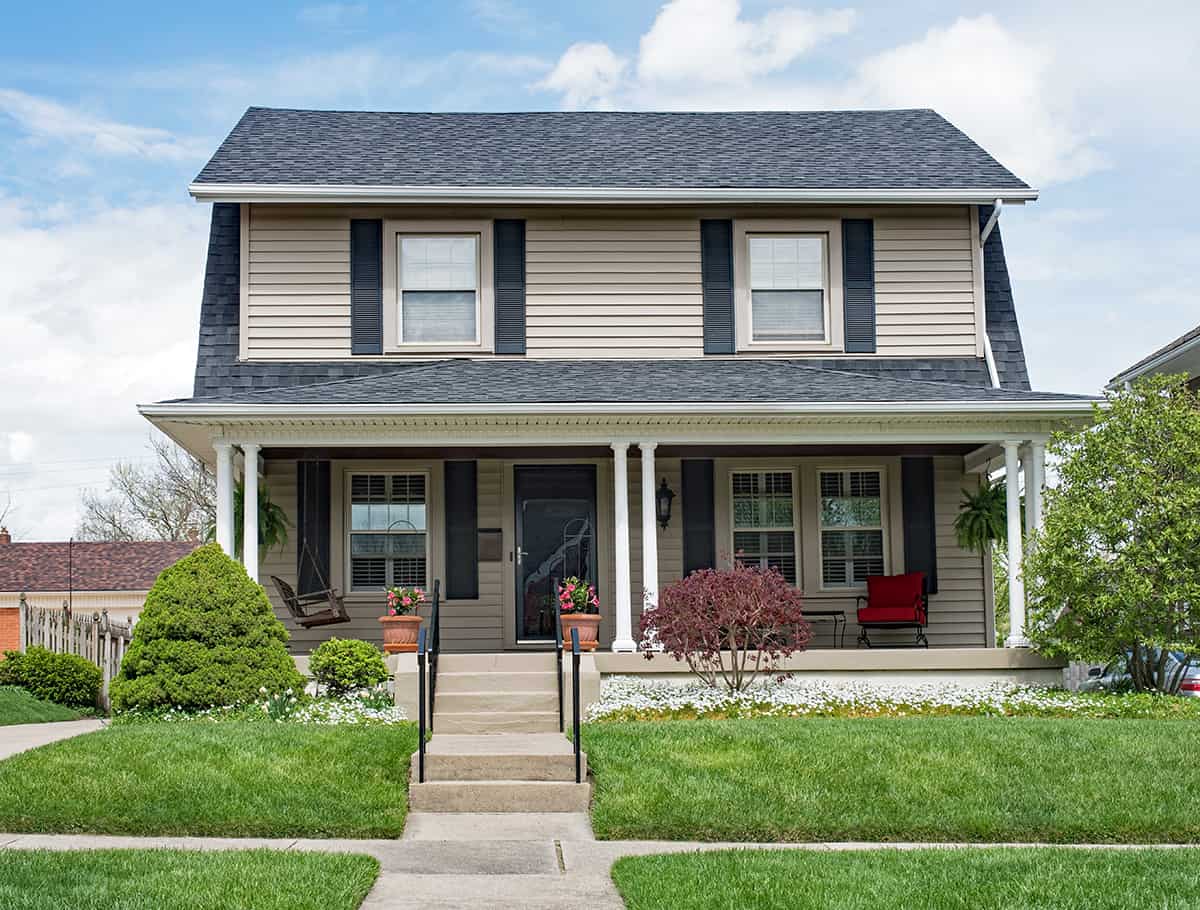 If you want to tone down the black, go for some gray instead. This cool hue can be used as the roof color or the stone siding for a subdued aesthetic appeal.
On this house, for example, the gray and black color palette works in harmony with the tan siding. So this proves you don't have to stick with just two colors to elevate your home's curb appeal.
Use Pastel Colors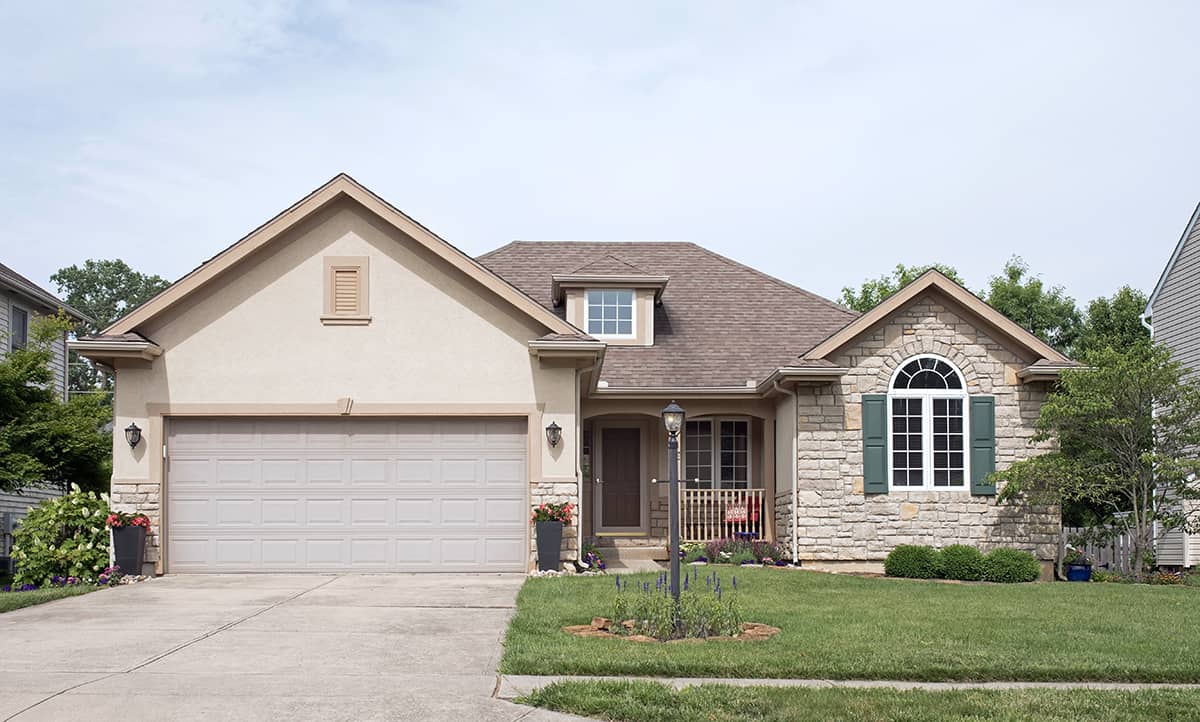 Using pastel colors like red or blue may not be the obvious choice for a tan house with black trim. But by adding a bright splash of color to your home, you can show off your personality. So if you are somewhat of an eccentric person, then pastel colors are just what your home needs.
This stunning Midwestern tan house features blue shutters that blend in nicely with the rest of the color scheme. We especially love the stone stucco as the perfect backdrop to the shutters.
What Accent Colors Go with Tan House and Black Trim?
Tan is a neutral and versatile color that can look great on most homes. It creates an inviting impression on both modern and rustic-style homes. Since tan is a neutral tone, you can easily blend it with other accent colors.
Here are some excellent accent colors that you can pair with your tan house and black trim:
White
A crisp white color scheme next to tan siding can bring a luxurious look into your exterior design. Bright white window frames are an excellent way to balance out the black trim and tan siding. This combination lessens the effect of black and detracts the eye from the bold trim color.
As long as you incorporate white accents into the right places (in small doses) you will definitely create a brighter and welcoming impression.
Earthy Tones
Earthy tones, such as warm greens and brick reds, can easily be paired with a tan and black exterior. You can even add metallic accents to this mix for an edgier appeal. When your tan home has a large amount of black trim, adding earthy tones will lessen the drama and keep the exterior feel more welcoming.
For example, why not add hanging plants to the walls close to a red front door? This combination is sure to highlight your tan and black color palette.
Teal
Another beautiful color that is sure to stand out on your exterior walls is teal. Whether you use this lovely rich, blue shade with an earthy green or light blue, it will create a soothing and relaxing feel. Teal is a great color as the shutters or front door of a tan and black house.
Yellow
Tan is a warm hue that goes well with yellow. While many people are hesitant to add this warm color to their tan home, the truth is, a sunny shade of yellow can emit a sense of Mediterranean to your exterior color palette.
For an ultra-sophisticated look, a tan home with black trim needs to have some yellow as its accent color in order to turn heads. But if you're still not convinced, you can always opt for a light shade of brown as an alternative.
In Closing
A tan house with black trim can benefit from many accent colors and decorative features to enhance its curb appeal. Whether you add shutters, paint the front door, or frame the windows in any of the mentioned colors in this article, you're sure to wow the passersby with your exterior color palette!