When redecorating a bedroom, the first thing most people start doing is to choose a color scheme. The colors you pick for your bedroom should reflect your personality so it's important to make the right decision. For bedrooms, pastel colors like purple and white are the best choice as there are lots of different purple shades that you can combine with white.
In this article, we'll give you tips and tricks on creating purple and white bedroom designs as well as show you some great examples of this color combo. Keep reading to learn more…
Why Choose Purple and White for Bedroom Design?
Purple is often associated with power and wealth. In the old days, producing purple-dyed products was very expensive, which is why this color was only reserved for the upper class.
When it's combined with a neutral color like white, it makes the bedroom look so exclusive that you can't help thinking it's only fit for royalty!
When deciding on the best purple shades for your bedroom walls and furniture, go for those with a reddish or bluish tone. These can be used as purple undertones to complement your white bedding. For example, a reddish-purple tone matches well with the blue base colors.
Having said that, most purples work well with gray, black and of course white. Lilac or lavender go with pale blues, while fuchsia pairs with bright white and pink. Thanks to the vast varieties of purple hues, the possibilities of using this color are endless. Here are some common purple shades used for a white bedroom:
Lilac: this is a pale purple shade closely resembling a soft violet color.
Lavender: yet another beautiful purple shade with a little more vibrant than lilac.
Mulberry: this purple shade takes its name from the mulberry fruit. The color is rich with a strong reddish-violet undertone.
Mauve: originally named after the mallow flower, this is a dark purple shade with a more neutral undertone than the rest. Mauve is very popular in modern bedroom designs and is ideal as an accent color. Since it's not too vibrant, it goes very well with white and beige colors.
Grape: this dark purple variety brings a sense of luxury to large bedrooms, especially when paired with soft white or cream colors.
Orchid: as a bright, rich purple that takes its name from the orchid flower family, this shade is best used for walls and curtains.
With such vast varieties of purple hues, the right mix can create a dream bedroom design. Below are some great examples of purple and white bedroom ideas to inspire you:
Purple and White Bedroom Ideas
Introduce Other Colors to Purple and White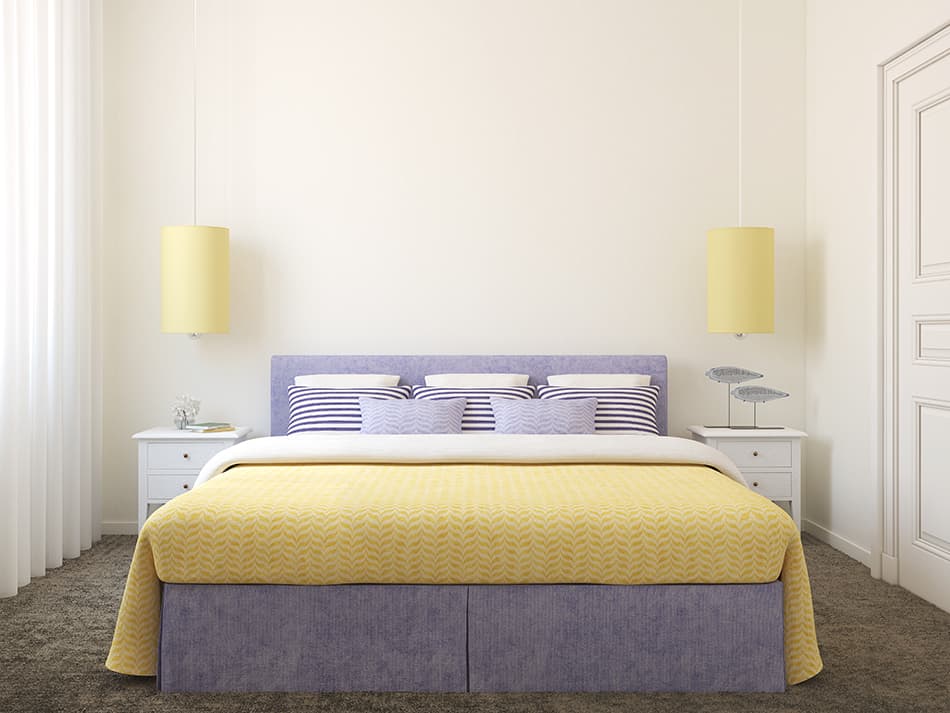 Just because you like the purple and white combination for your bedroom, it doesn't mean you can't include other colors to your interior decor. Introduce small hints of brown, blue, pink or even soft yellow like the bedroom example here.
This cozy and contemporary purple and white bedroom has hints of yellow for the bedding and lighting, which have softened the look even more and created balance. The bed frame is purple and the window treatments are white next to the white wall. A beautiful combination of yellow, purple, and white tones.
See blue bedroom color inspirations in our post ' 26 Serene Blue Bedroom Ideas & Color Schemes to Inspire You '
A Mix of Purple Shades and White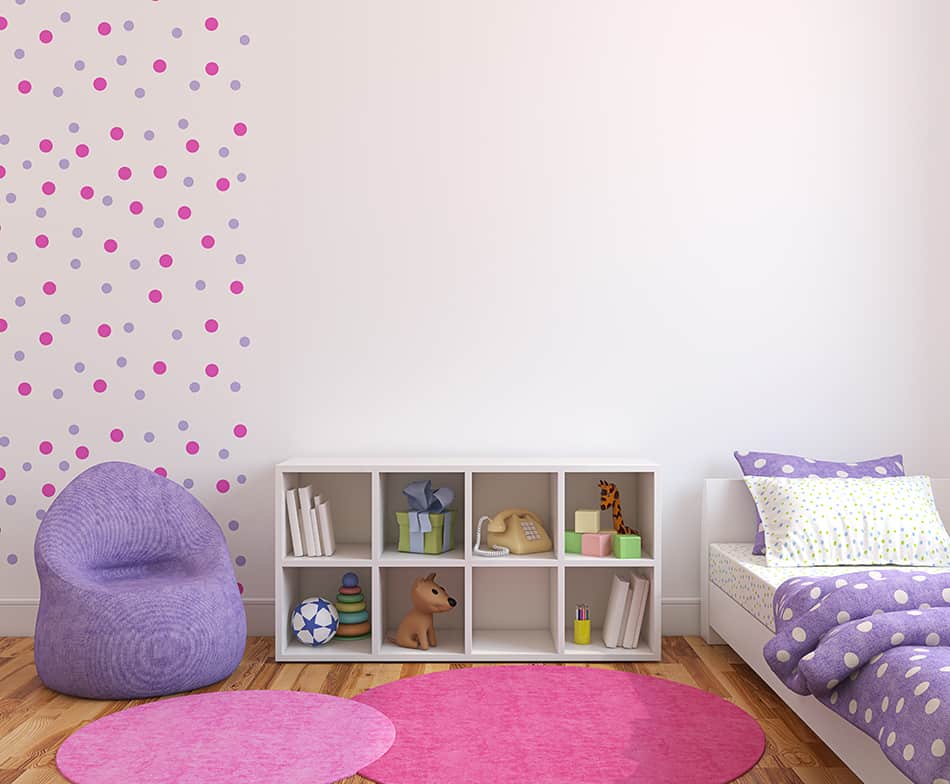 For a fun and energetic vibe, go for bold shades of purple by mixing different tones with white. Use plenty of patterns and textures to bring out the purples even more. Instead of limiting the purple shades to the walls, extend this color to the floor and ceiling.
Creating a color palette using light shades of purple for the furniture, moldings, and even curtains can help balance out the patterns and white accessories. Go for shades of lilac, lavender and wine for harmonious combos.
Dark Purple Walls with White Bedding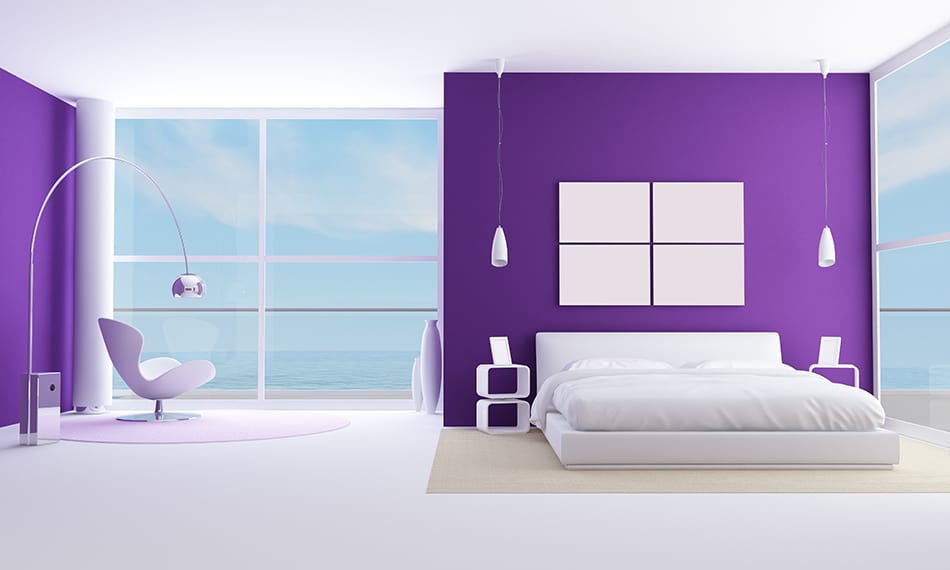 Although some people choose to play it safe and go for light tints of purple, why not make a dramatic statement by painting your bedroom walls dark purple!
Don't be afraid to use a deep, rich purple as the backdrop to white bedding. In large bedroom spaces, dark purple walls look modern and create a soothing feel.
In this example, the whited bed and matching furniture have taken a step back from the dark purple walls that are the highlights of this bright and large bedroom.
Purple Accessories for White Bedroom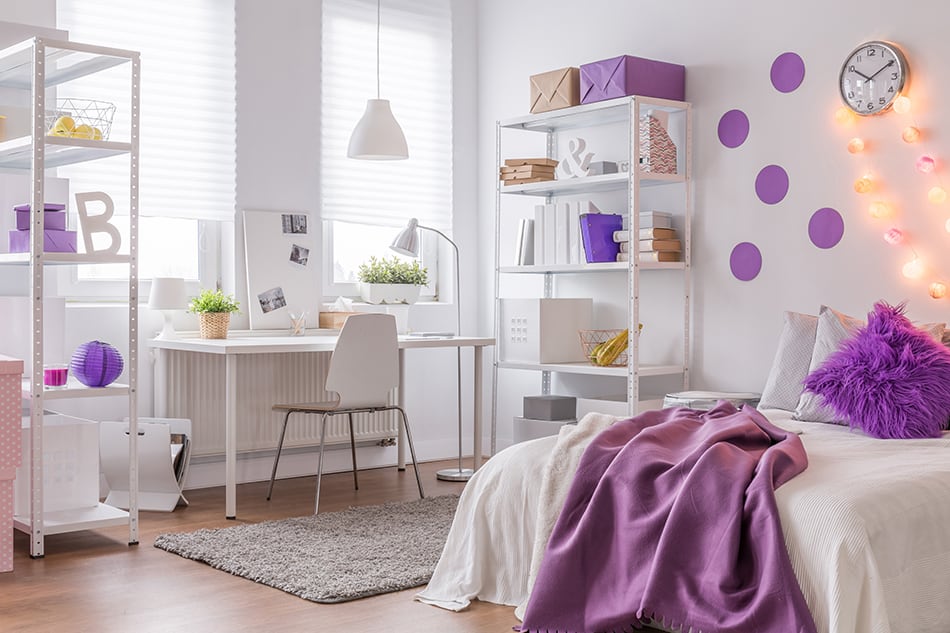 The bedroom walls aren't the only way you can introduce some pops of color into your sleeping space. Purple can be added to furniture or bedding instead while keeping the rest of the room neutral. You can even use purple tones for decorative elements, such as the throw blankets, pillows, lighting, and drapes.
In this contemporary bedroom design, the combination of purple and white look very elegant despite the crowded furnishings in this space. A combination of different furniture styles can be seen throughout the room, with scattered purple that adds a pop of color to an otherwise simple interior.
As an addition to the plain white walls, consider beige or cream with mauve accessories. This will make your bedroom space look even more lively without the white or purple overpowering the rest of the elements.
Dominate with Purple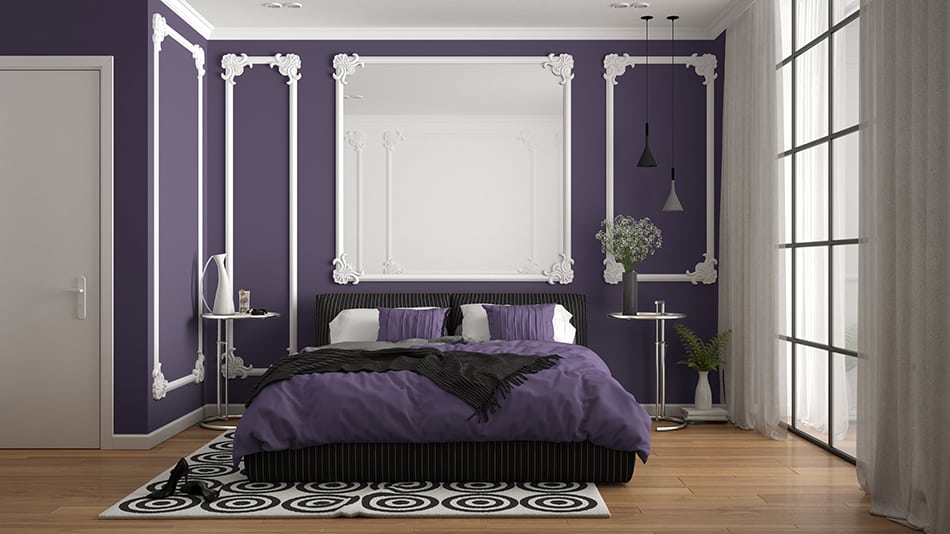 If you can't get enough of purple, then throw caution to the wind and opt for an all-purple bedroom design. This can include dark purple for the walls and bedding, with small white accessories as accent.
Here, the overall vibe of the purple and white bedroom is fresh and light – even though violet is such a dark and rich color. The combination of purple and white comes together nicely and proves you can never overdo it.
Muted Purple Shades with White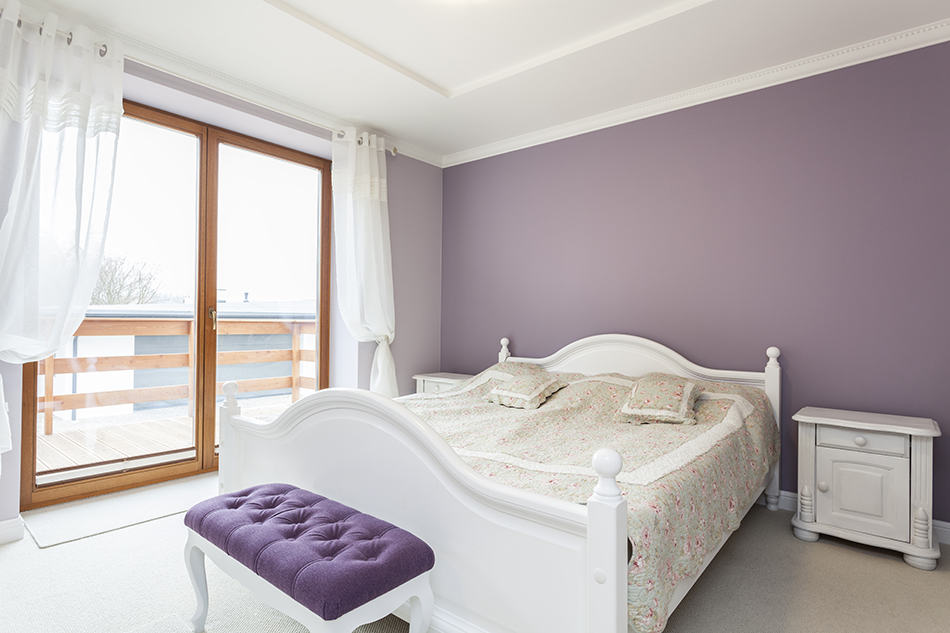 Combining muted shades of purple with bright white can end up making your bedroom ultra glamorous. As long as you don't overdo the white or purple, you'll create a sophisticated interior. Add mirrored nightstands, an all-white bed and throw pillows to keep the color scheme muted, not busy.
An endearing purple and white bedroom doesn't need to be loud. Soft lavender walls paired with light flooring and bed create a light background.
Even the bedside tables can be in white, with a purple seat to create contrast. Feel free to add some patterns and textures to the space, while keeping the muted shades of purple as the main players in the room.
Purple and White for Small Bedrooms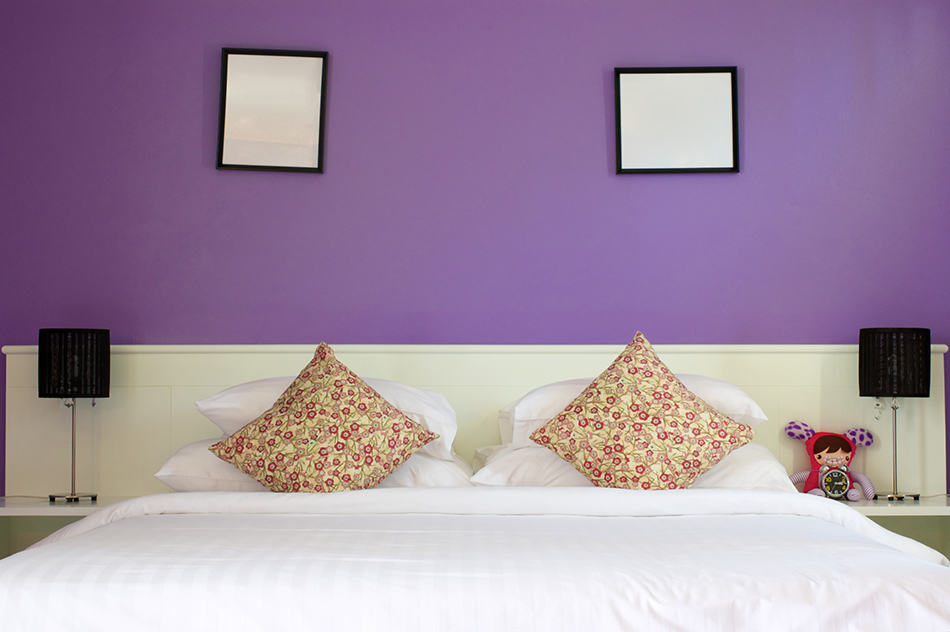 If you have a very small bedroom or guest bedroom, purple and white are the perfect color combos for such cramped spaces. Think purple walls and curtains with white bedding. To visually open up the space, add some other neutral colors as shown here.
With a limited color palette like purple and white, you can experiment with any other hue to make your bedroom space feel even cozier rather than make it look cramped.
Sophisticated Purple in a Minimalist Bedroom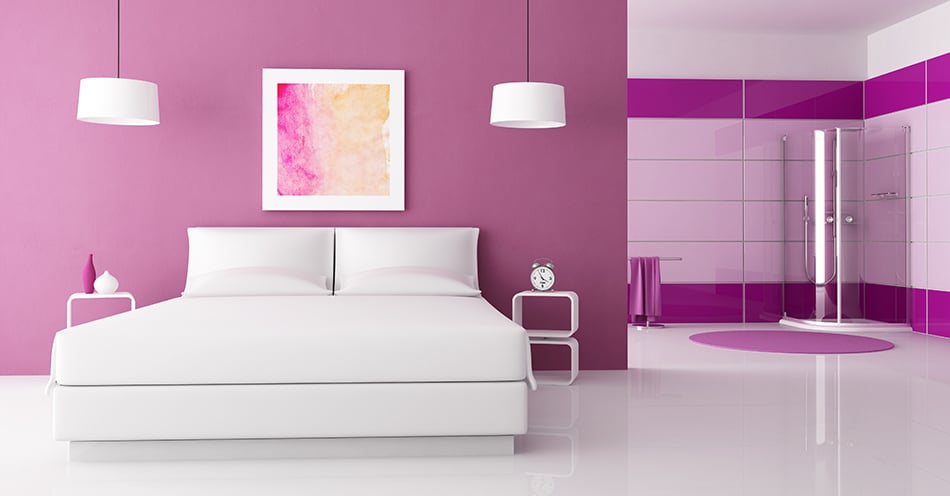 On the flip side, if you are lucky enough to have a large master bedroom, then any shade of purple will look sophisticated. Combine bold purple walls with white furniture to make the bedroom sleek and contemporary. Avoid any unnecessary clutte as purple and white are best used in minimalist interiors. Even the smallest touch of purple will work well with white.
See how this large master bedroom stands out with its two-toned purple walls and white bed. It is definitely an elegant bedroom for grownups with taste!
How do I decorate my purple and white bedroom?
To design and decorate your purple and white bedroom, pick a shade of purple that you like most for one wall and paint the other wall with a different shade. You may keep your bedding in neutral color but be sure to keep the other accessories in bright purple colors.
Window treatments or comforters in purple can transform your bedroom into a purple haven. To soften the look, just introduce some white bedside tables or an area rug.
What other colors go well with a purple and white bedroom?
The best colors that go with purple and white bedrooms are those that don't take the spotlight from purple. Go for light green or burnt orange and match them with neutrals like gray, black and brown colors.
Purple and white are such versatile color palettes that make it very easy to find matching colors. In fact, the possibilities of finding suitable colors that work well with purple and white are endless!
If you love the color purple, give your white bedroom a boost by adding your favorite shade of purple to the walls, bedding or furniture. Whether you choose to go all-out on purple or just use an accent color next to white, you're sure to find some inspiration from our above examples.