Shutters are a sophisticated and popular finish for brick homes. They have been around for many centuries and come in a variety of colors and materials.
Choosing the right shutter color for a brick house is essential to maximize your exterior design's curb appeal. Ask any real estate agent and they'll tell you what a great impression shutters make. After all, a good first impression is important in order to sell a house in the quickest possible time.
There are many advantages to shutters, which we will talk about a little later in this article. If your home's exterior is made from brick, adding shutters to your windows will create an immediate focal point.
But it is important to coordinate the shutters' color scheme with the tone of your brick exterior. Let's take a look at our list of shutter colors that go with brick so you can implement the same for your own home.
Best Shutter Colors for Brick House
Black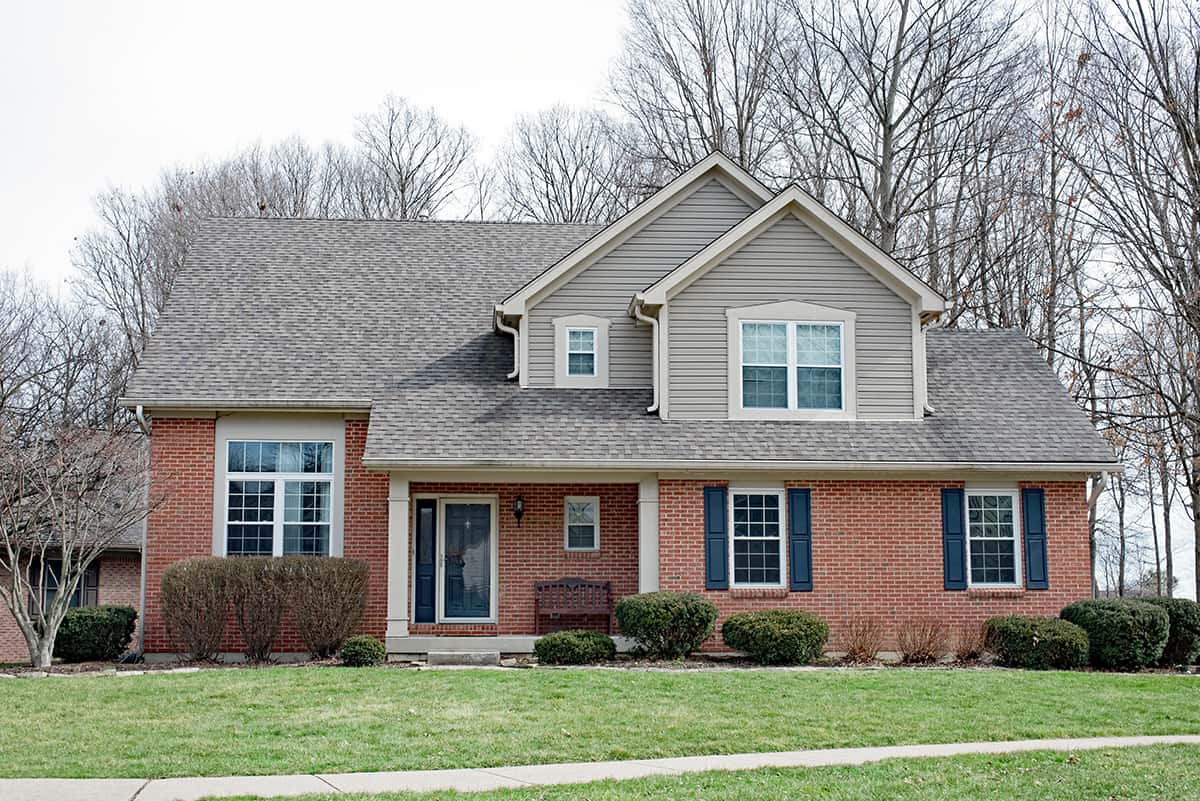 Out of all the shutter color options, black is the most popular for brick homes. This classic hue looks stunning on any brick color.
This is because black is a striking neutral color that goes with just about any other color. From fiery red or brown brick to orange and earthy brick exteriors with a smooth finish, black shutters are just what a brick home needs to increase curb appeal.
As a great example, take a look at the picture we've selected here featuring a part brick/part vinyl exterior with white trim and black shutters. Although the house is a little on the small side, the color scheme of its facade has enhanced the visual appeal.
White
As a bright and airy color, white shutters are the second most popular window treatment color after black. These timeless and clean trim options will make the window on your brick exterior appear larger. Whether you match your white shutters with bold or neutral accent colors, they are a stunning combination when paired with brick siding.
The pairing between white shutters and the brick material boosts the contrasting appearance as well as the elegance of a traditional home.
And just because the shutters are white, it doesn't mean you have to keep repainting them every year in order to keep them in crisp, shiny condition. White shutters can look even better as their white tone becomes off-white over time.
This traditional brick house features crisp white shutters and matching trim, with a bold blue front door to make the entryway stand out. It is the white shutters that play a dominating role here, with the brown brick walls as the backdrop.
Red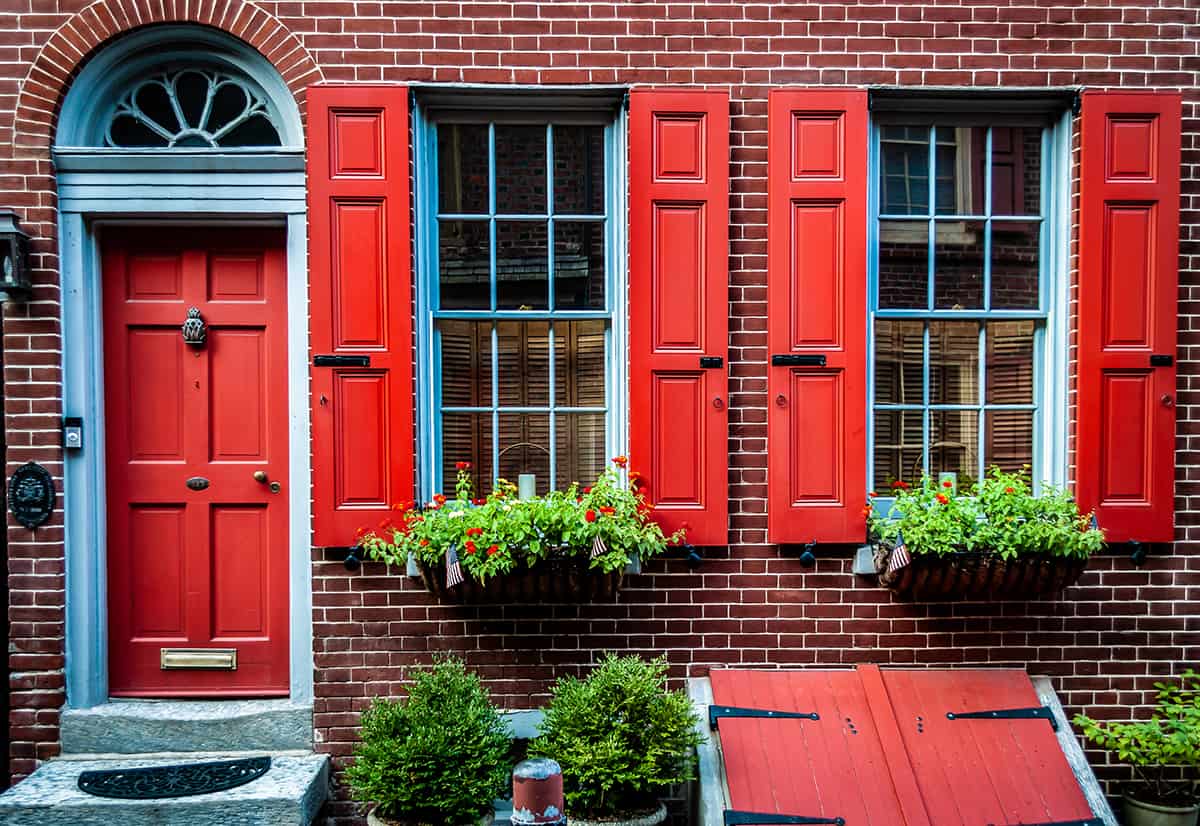 As a vibrant and bold color, red is a great shutter color choice that offers a classic look. This color works especially well with red brick exteriors, depending on the shade of red chosen. Bright red shutters go excellently with dark red brick exteriors, while dark reds match orange-red brick tones.
When pairing your red shutters with brick, you can take this feature to the next level by adding a red front door as shown here.
Brown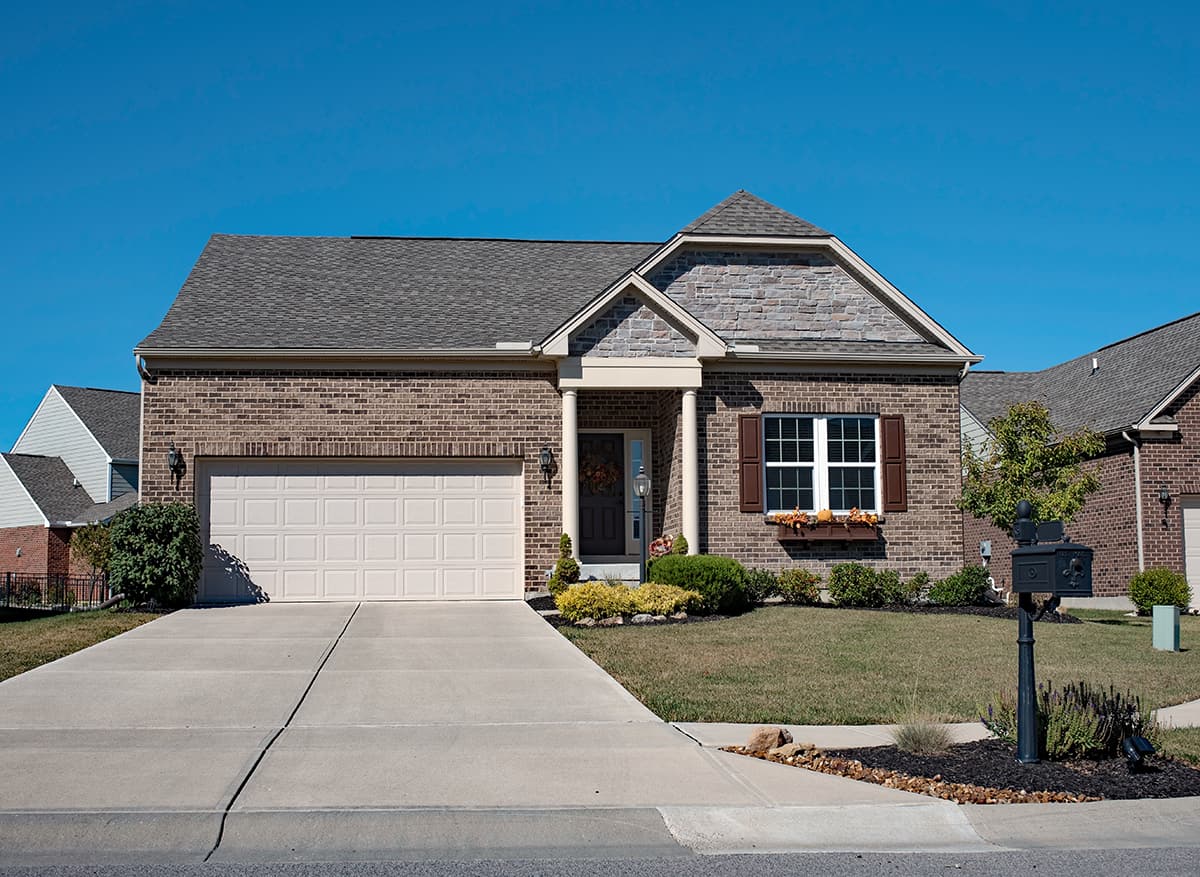 As a stately color, brown shutters are ideal for brown brick homes thanks to their earthy tone. This is an excellent option for homeowners who prefer using natural colors to make their exteriors look refined or polished.
Any shade of brown will complement the dark brown or light brown brick exterior. This idea will add a cozy and welcoming touch to your brick home as brown is an easy color to pair with any brick tone.
The house in this example has beautiful dark brown shutters against the grayish-brown brick exterior. The white accents and gray roof in this picture both complement the brown shutters beautifully in this exterior home design.
Green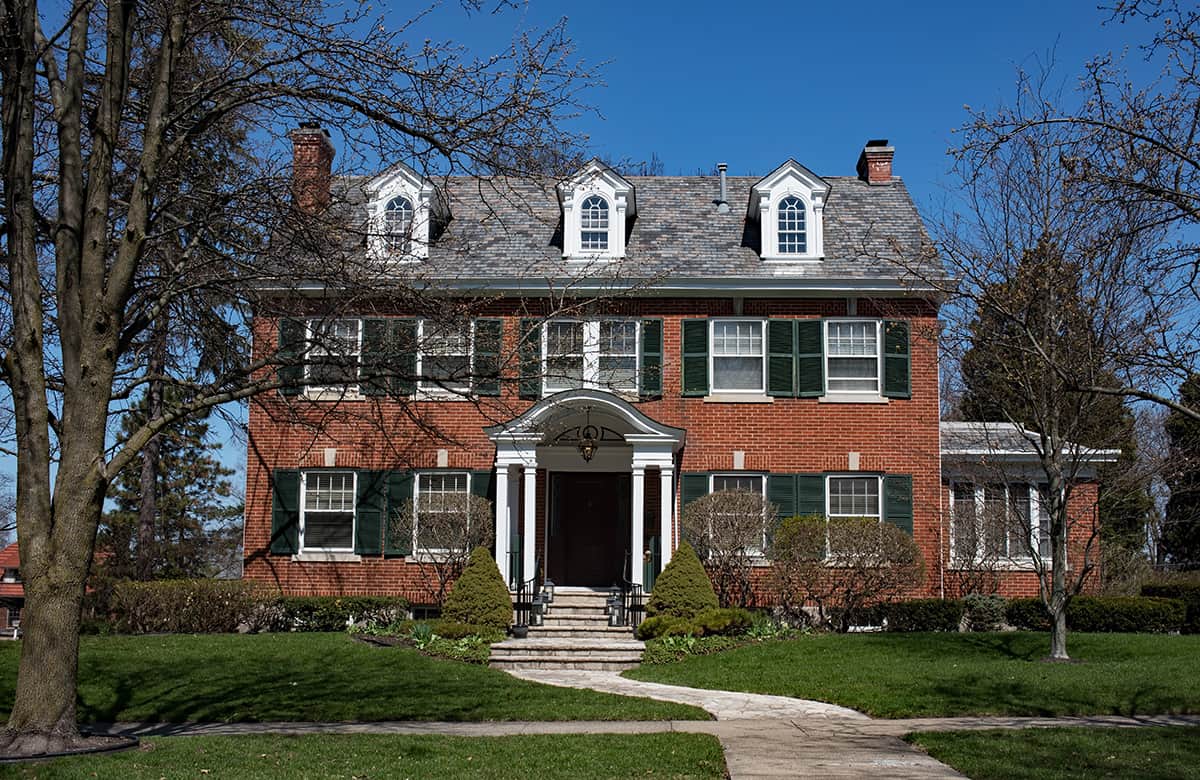 Green is another classic color for a brick home's shutters. Whether your brick undertone is brown or red, a dark shade of green will work well on a traditional house. The brick color with the green shutters complements one another as they are both earthy hues.
Although green shutters aren't as commonly seen as black or white in traditional homes, it is still a great choice for those who are after a natural and earthy color.
Since green is such a versatile color that goes with most other hues, especially red and brown, it makes sense to pair this shutter color with a brick house. Green also works well with other neutral accent colors as well as roof shingles.
The general rule for your exterior design is to pick a nice shade of green based on how dark or light your brick exterior is. Keep in mind that your green shutters should contrast the tone of the brick no matter how light or dark the brick is.
In this example, the brick Colonial-style house features dark green shutters with white trim, which together make a dramatic statement. Green is an ideal shutter color for traditional homes.
Blue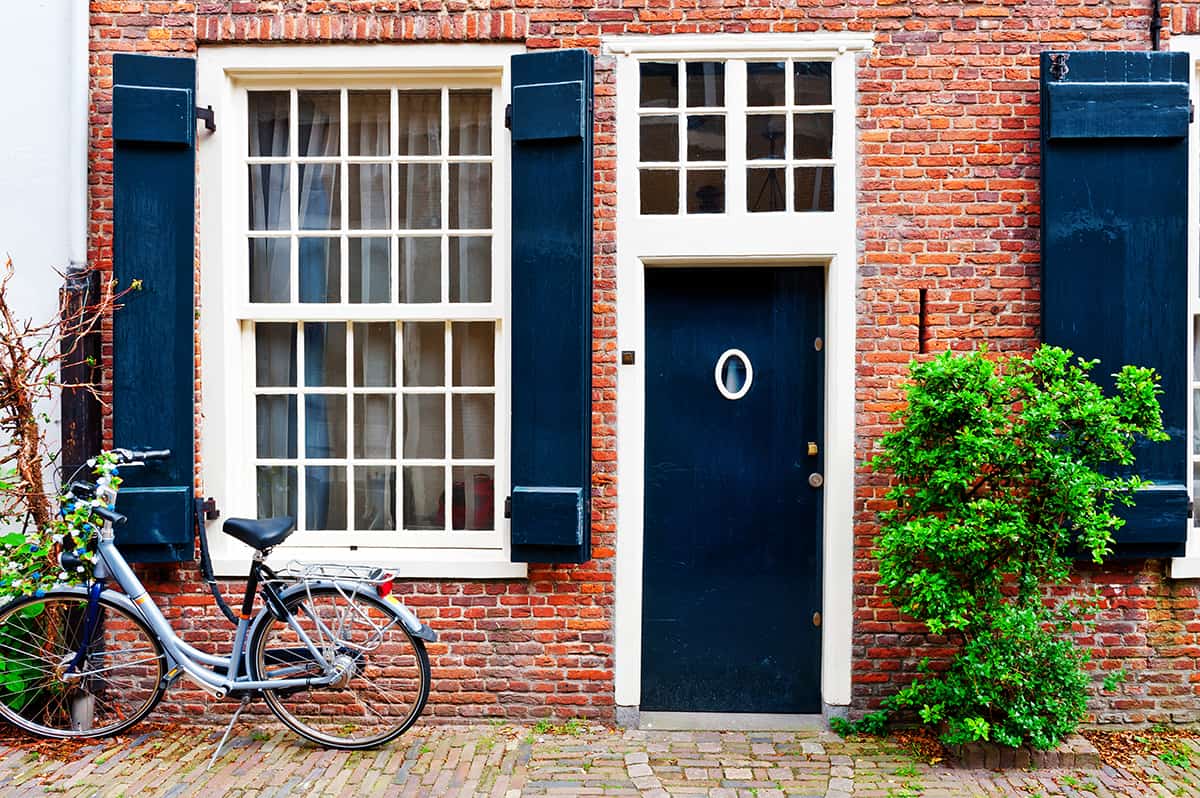 Some people think that blue is a cold color for their brick home's shutters. However, a dark shade of blue like the one shown here can really stand out next to the light red brick facade.
This makes your exterior warmer and more inviting as the blue tone creates a contrast without appearing overwhelming.
More importantly, the red brick tone in this exterior design is still dominating even though a dark shade of blue has been chosen for the shutters. Navy blue shutters bring depth to a traditional-style brick home, thus a perfect combination to showcase your personality. You can make your shutters pop next to your brick facade, without the need to add any other accent color.
Gray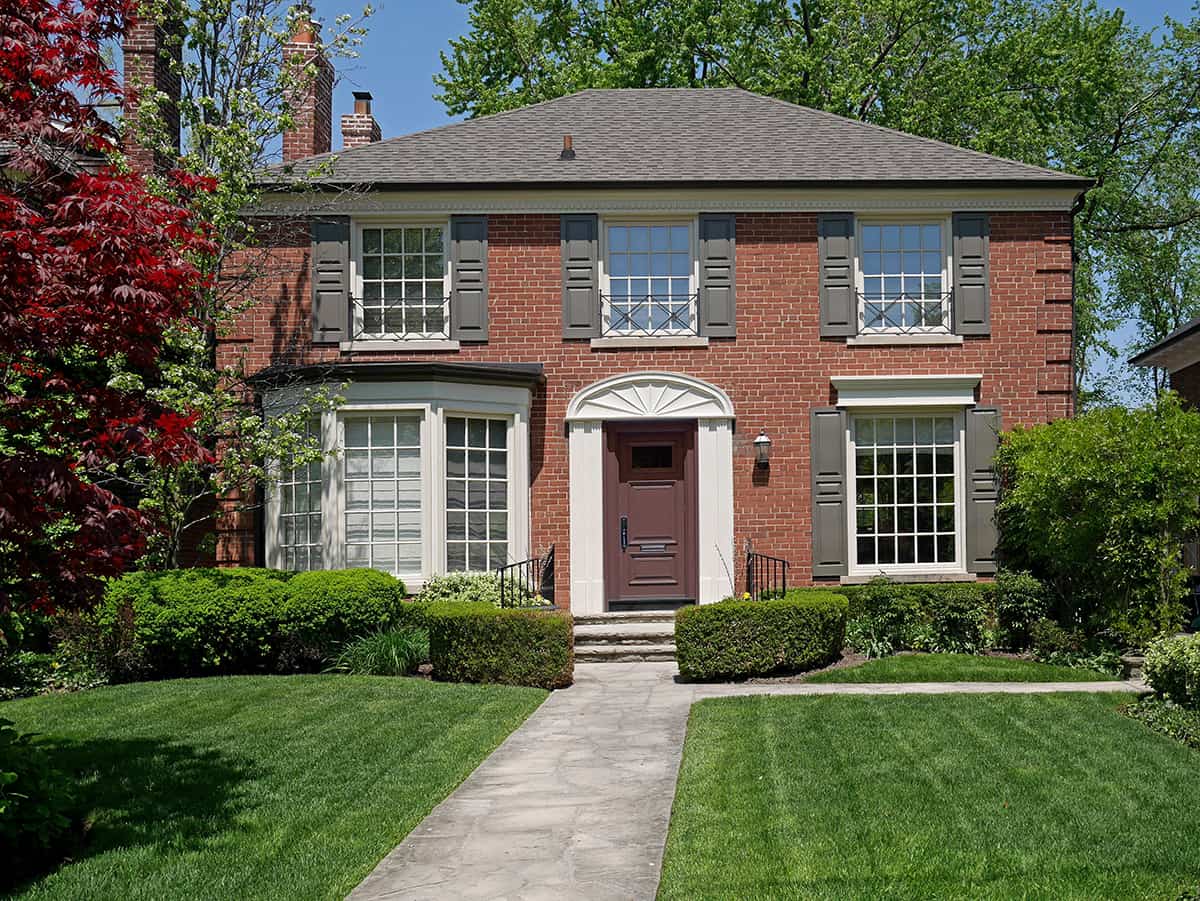 Our last but not least shutter color for brick houses is the classic yet modern gray. This color has a distinctly updated look and works very well with muted neutrals and brick exteriors. Gray shutters complement any accent colors like blue, white, beige, or jewel tones.
With this idea, you can make a subdued statement using a subtle shade of gray for your shutters as it ensures your home won't stand out in the street.
Why Add Shutters to Brick House?
More Privacy
For those who value privacy, shutters are the ideal solution. Often preferred over blinds and curtains, home shutters give the home more privacy with just a quick tilt of the slats. These window coverings are perfect for preventing the nosey neighbors from peeking inside your home.
Add Resale Value
Shutters don't just add elegance to the outside of the home. They are highly sought by home buyers and will add resale value to a brick home. These window coverings can even be customized to complement your home's architectural elements as a great strategy to sell the property quicker.
Energy Efficient
Shutters are an energy-efficient choice for a brick home. These window treatments provide insulation to the windows and keep out the heat in the summer while preventing cold drafts in the winter. This results in using less heating or air conditioning, thus lowering your bills!
Easy to Maintain
Unlike interior blinds that require regular dusting, exterior shutters only need a gentle wipe down every now and again. You must also readjust the hinges every few years in order to keep them aligned. All in all, most types of shutters are low-maintenance window treatments, and if they are made of wood, you must remember to apply a coat of lacquer to keep them in the best condition.
Good Choice of Materials
Wooden Shutters
These types of shutters are strong and highly sought by home buyers. This is because wooden shutters can be custom-made in any shape or design you like. These window treatment materials are easy to repair and thus an excellent choice for traditional-style brick homes.
Composite Shutters
For larger windows of brick houses, composite shutters make a better choice than wooden shutters. As a considerably less expensive option, composite shutters are durable and long-lasting for both traditional and modern brick homes.
Vinyl Shutters
These types of shutters are better suited to patio doors and windows. They are easy to clean and fade-resistant with better water-resistant properties than wooden shutters. Just like composite and wooden shutters, vinyl window treatments can also be custom-made to fit any window size.
In Closing
Brick is such a versatile and earthy material that can easily be paired with any window treatment color to increase a home's curb appeal. Shutters are a highly-sought window treatment, which are low maintenance and incredibly attractive to look at. Use our suggested shutter colors for brick house ideas to choose your favorite tone for your home.