Houses with red brick are beautiful. The timeless design of red brick is classy, low maintenance, and extremely durable. This building material gives a home a rich look and works on a variety of exterior styles, from ultra-modern houses to country cottages.
But aside from red brick exteriors, you will still need to think about the color of your roof tiles to match your red brick home. The roofing shingle color shouldn't look out of place when paired with red brick.
Some colors look better than others, so it's important to choose the most suitable ones. A new roof will be a huge (not to mention expensive) decision. The wrong choice can ruin the curb appeal of your home.
When it's time to replace your roof tiles, choosing the color for a red brick house must be done carefully. After all, you will have to live with your chosen roof for at least 25 years so it's important to have a roof that complements your red brick home.
To help you with this task, we will give you some tips and recommendations on how to match your roof color with red brick exteriors.
How to Match Your Roof Color With Red Bricks
Installing a new roof will make a huge impact on your red brick home's curb appeal. But aside from the type of shingle you choose, the roof tile color will also need to be picked carefully. Matching the roof tile color with your red brick home's exterior must be done carefully.
The roof of a house makes up about 40% of the exterior, depending on the style of the house, so it's important to pick the right shingle colors. The roof is the first impression you make and the biggest factor that affects the resale value of your home. For this reason, we've highlighted the following tips to help you make a wise decision:
– For a red brick exterior, the first step is to evaluate the color composition of the brick. Most bricks have underlying tones that include pink, tan, orange, brown, or black. Once you've determined the overall color of the brick, you will be able to find a matching roof tile color.
– Subtle roof colors won't stand out against red brick, but this doesn't mean they are a wrong choice. It all depends on the intensity of your red brick home.
– The type of roofing material, as well as its color, will either contrast or complement the red brick and set the tone for the rest of the exterior. The siding and roofing colors are the most visible, hence being the defining aspects. It is, therefore, important to get the color scheme right.
– The architectural style of your red brick home is another thing to consider. For example, trendy roof material and color might look great on a contemporary home, but it won't work on a Colonial or Victorian-style home. Some roof shingles are specific to the property's style, as some are old-fashioned (wood shingles), while others are more modern (metal shingles).
– Perhaps one of the most challenging aspects of replacing your roof is figuring out the type of tiles you should use so as not to make your red brick exterior appear cold. Think about the roof's tone and how it contrasts with the rest of the house. As a rule of thumb, it is best to go for a darker roof tile color than red brick. For instance, if your home's exterior is of light red brick, opt for a medium-toned roof tile. Dark red brick, on the other hand, goes with darker shingles.
– The need for contrast is extremely important. Always avoid picking a roof tile color that clashes with red brick. That said, your roof tile color should clearly stand out from your red brick home.
– The right roofing material, color, and shingle style are all big decisions that not only have an impact on your home's curb appeal but also affect the resale value and maintenance costs.
– Make sure the roofing color you choose works with your home's exterior design. For example, if you have a country cottage with a red brick exterior, keep the style within the established color for the roof otherwise, you will risk putting off prospective buyers. After all, no one wants to buy a red brick house with an unsightly roof that looks out of place!
Once you've determined the roofing material that works with your red brick home, you can start thinking about the roof's color. To give you some ideas on the best roof color for a red brick house, take a look at our suggestions right here:
Roof Colors That Go with a Red Brick House
Gray
Gray roof shingles look best with red brick exteriors. This neutral color sets the undertone of the brick, especially if you have an orange-red brick. The warm tone of the roofing color works beautifully with red brick.
Gray is a color for those who want to make the red brick stand out as it's a cool tone and red is a warm tone. Pairing a gray roof with red brick creates contrast and improves the curb appeal of your home in a major way.
As you can see in this example, a red brick home with a gray roof looks stunning no matter which shade of red brick you have. Gray is an easy and safe color to work with, but we recommend you go for a darker tone of gray, as shown here.
The white windows have added a little brightness to the dark gray roof and create a nice definition to the home's architectural details. Since this home's brickwork consists of uniform red bricks, the texture of the gray roof shingles works especially well.
Black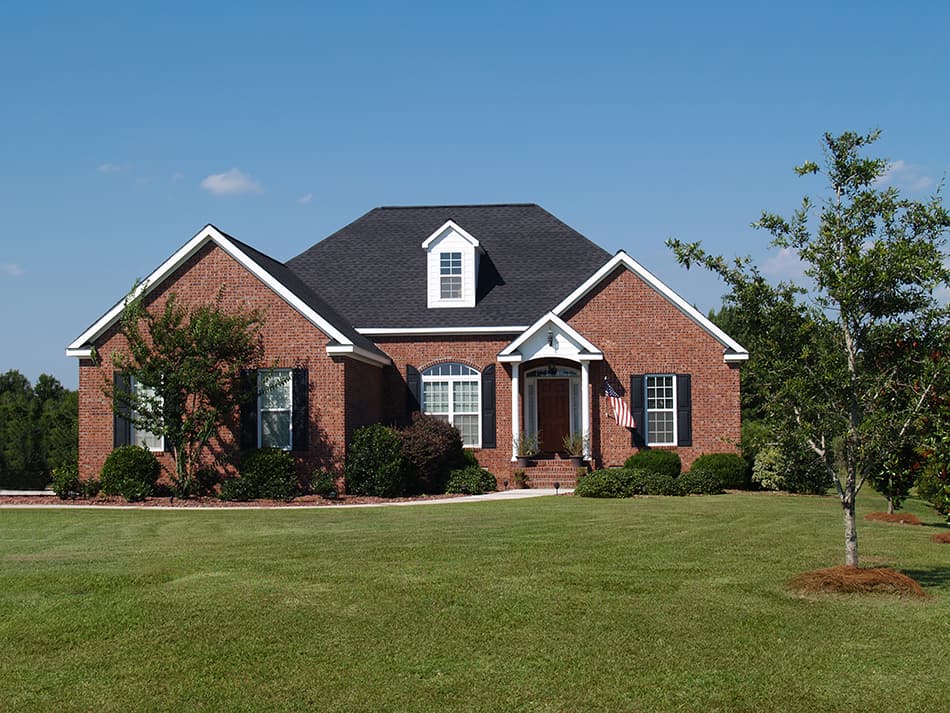 Black roof shingles are slowly making a comeback as a chic alternative to boost your red brick home's curb appeal. If you want to enhance your exterior design elements, black tiles on red brick used to be considered traditional or outdated, but now, it is seen as a bold statement, especially when paired with black shutters.
If you recall, we previously suggested that the roof shingles should be a darker tone than red brick in order to make the red brick exterior stand out. Black is the ultimate shingle color that will help you do just that. It oozes sophistication and goes with any red brick tone.
Here the black roof and matching shutters make a dramatic statement, along with the white trims and dark red brick exterior. It is simply stunning!
Brown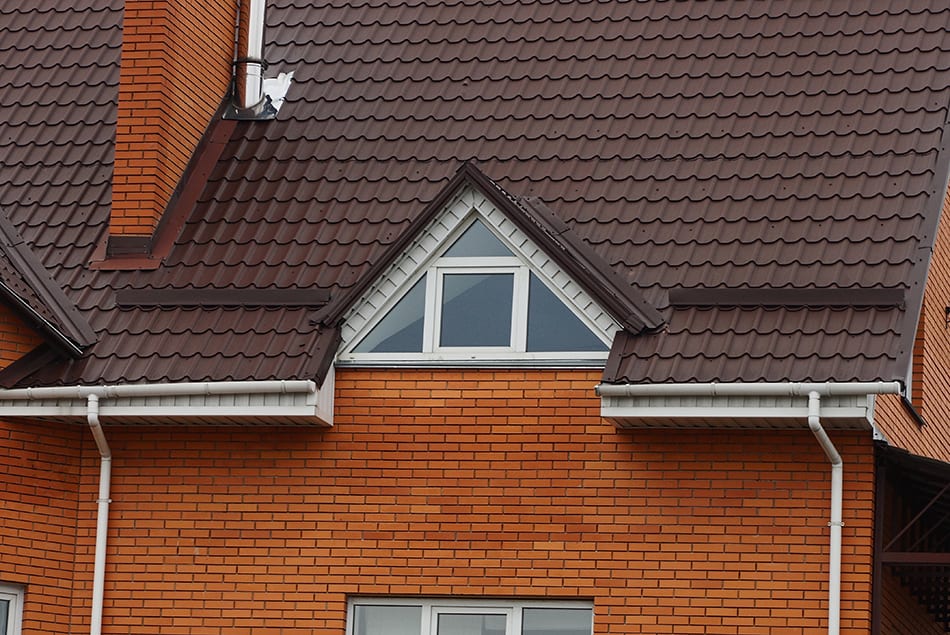 Brown is an earthy color that pairs perfectly with just about any color. It makes sense to choose a brown roof for a red brick home, so you're free to go for any shade of brown to complement your warm red brick siding.
Dark brown roof shingles coordinate particularly well with dark red bricks, especially on ranch-style houses. This makes a dark brown roof the ideal choice for a red brick home, as shown here.
A reddish-brown tone for the roof color also makes a good choice. Sometimes it is best to stay away from traditional roof color choices for maximum results. As long as the tone works with your red brick, you can go for darker or lighter shades of brown.
If your home has a lighter shade of brick exterior with white trims or columns, you can brighten it up even more by going with light or medium-toned brown roof shingles.
Green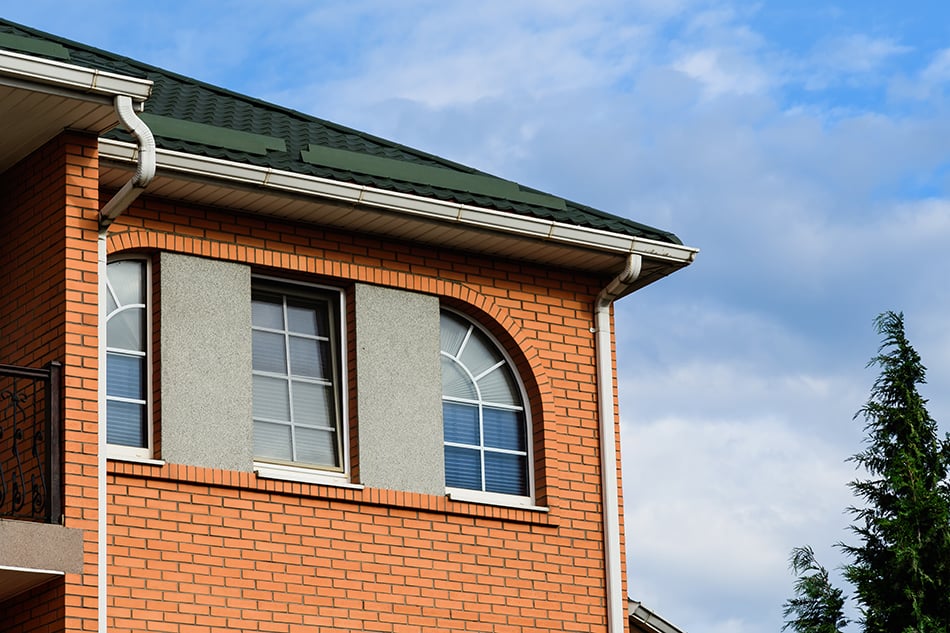 To make an even bigger statement and impact, go for a dark green roof. The contrast between dark green and red brick works especially well for asphalt or metal shingles. These materials will give your red brick home an earthy look rather than dated.
Darker shades of green, like jungle green, give the house a warm feel when paired with natural red brick. There is also mint green that goes well with dark red brick.
This color combo can make a house look more modern, but it also looks good on Colonial-style houses. Pair it with shutters in matching green shades to enhance the curb appeal of your house.
There is no denying how much curb appeal homes with red brick have. This fantastic siding material goes with most exterior finishes, but it's not like neutral colors, which work with any roof color. Red is a bold color that limits your options when choosing a roof tile color. A
After all, you'll need to make the roof as impactful as your red brick home. By spending a little time researching the best roof color for a red brick exterior, the finished project will be well worth the investment. We hope our tips and suggestions have helped you make an informed decision.