A house with a red roof stands out from the ordinary. Red roof tiles are a vibrant paint color that can easily be matched with other exteriors' color schemes. While red roof tiles are most commonly found in Spanish-style or Mediterranean homes, they are fast becoming the must-have roof color for many homeowners.
So how do you find the best exterior color that complements your red roof tiles? After all, you must take into consideration your home's trims, architectural features, and landscape, which can all be quite overwhelming.
But worry not, as in this post, we will help you choose the best exterior colors so you can make an informed decision. Let's get started now!
How to Determine the Right Exterior Colors for Red Roof Tiles
Play with Different Tones
Coordinating colors and tones help you determine whether your exterior will work with your red roof. Generally, most tones are broken down into two categories: cool or warm. Warm tones include orange, red, brown, yellow, or beige, while cool tones have a purple, blue or white undertone.
Since red is a warm tone, it makes sense to pair it with warm-toned siding. Having said that, red roofs generally complement most colors so it is best to play with different tones to see which is to your liking.
Subtle or Dramatic?
Colors can either create a very dramatic or subtle look for a home and changing the exterior color of your house can have a profound impact on its appearance. It is, therefore, often helpful to determine whether you want a bright or muted color scheme for your exterior. Think about whether you want your exterior to have a subtle look or a dramatic one before getting your paint brush out.
To give you an idea, the more contrast you add, the more impactful the final look. On the flip side, the less contrast or understated the exterior color, the quieter the final look.
For example, imagine dark blue siding with red roof tiles. This is obviously a dramatic look, as blue is a cool tone. But going for a dramatic hue doesn't mean you need to opt for bold, bright colors; it is all about increasing the contrast between the siding color and your red roof.
This will result in your home standing out more distinctly. However, if you want a subtler appearance, you may opt for tan or taupe instead.
Consider Your Home's Accents and Trims
It is not just your exterior color and your red roof that you need to coordinate when choosing the right siding colors; you must also pay attention to your home's trims and accents in order to achieve the desired look.
For instance, having your home's accents coordinate with your red roof can help create a cohesive and subtle look for the entire home, thus allowing you to experiment with trim and siding colors.
Trims are used to add more vibrance to a house with a red roof, so your siding color must remain similar to the trims' colors. This is why it is preferred to use bold trims to avoid your home looking bland. Just remember to keep a balance between the red roof and trim, so the siding color is what makes the whole design come together.
There are many ways you can successfully coordinate your siding color with the trim, red roof, and accents of your home. By choosing the right exterior color, you'll find the perfect combination to highlight your home's curb appeal. Take a look at our color suggestions with pictures to help you decide on the right siding color:
Best Exterior Paint Colors for House With Red Roof
When it's time to repaint your siding, it is important to coordinate the colors of your entire exterior with your red roof tiles. While many tones and hues look good together, there are some combos that can either make or break your home's curb appeal.
Knowing which exterior colors work best with a red tiled roof will increase your home's resale value. Browse through our examples with pictures to get a better idea.
Gray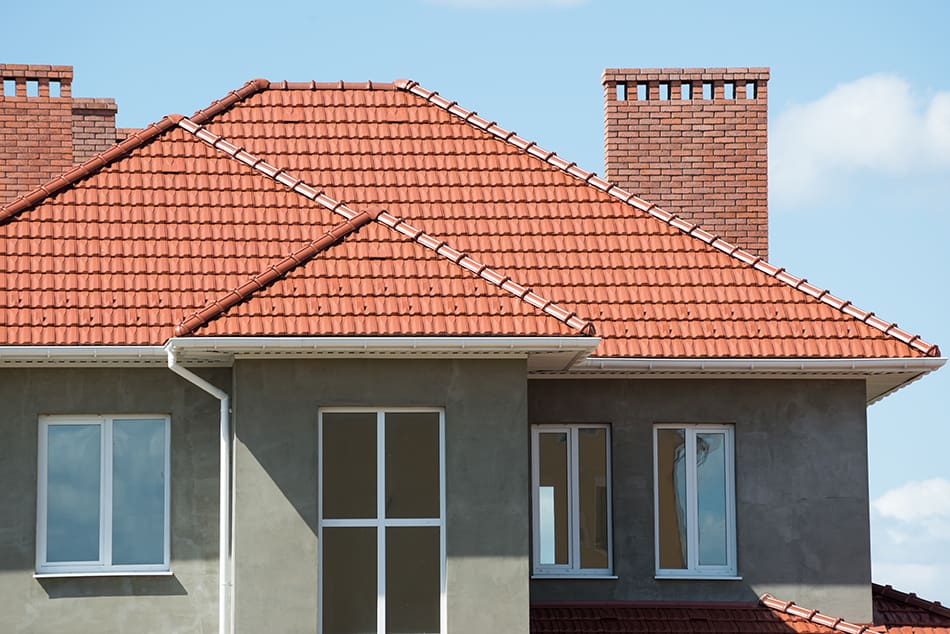 Going grey brings dignity to a house with red roof tiles. While grey is a neutral color, when paired with red, it can add a majestic appearance. Blue-tinged grey for the siding provides a subtle reunion with the red tiles.
If your red tiles lean more towards orange or pink, opt for a dark grey shade to complement the wall color. Whichever shade of grey you choose, your front door in black or white will certainly enhance the look even more!
Here the classic red tiles are paired beautifully with a dark grey exterior. The boldness of the orange-red roof is offset by the calming tone of the grey siding. The white framed windows add a lovely accent to the rest of the house, and all meet in harmony. All in all, this house with a red roof looks everything but bland!
Earthy Tones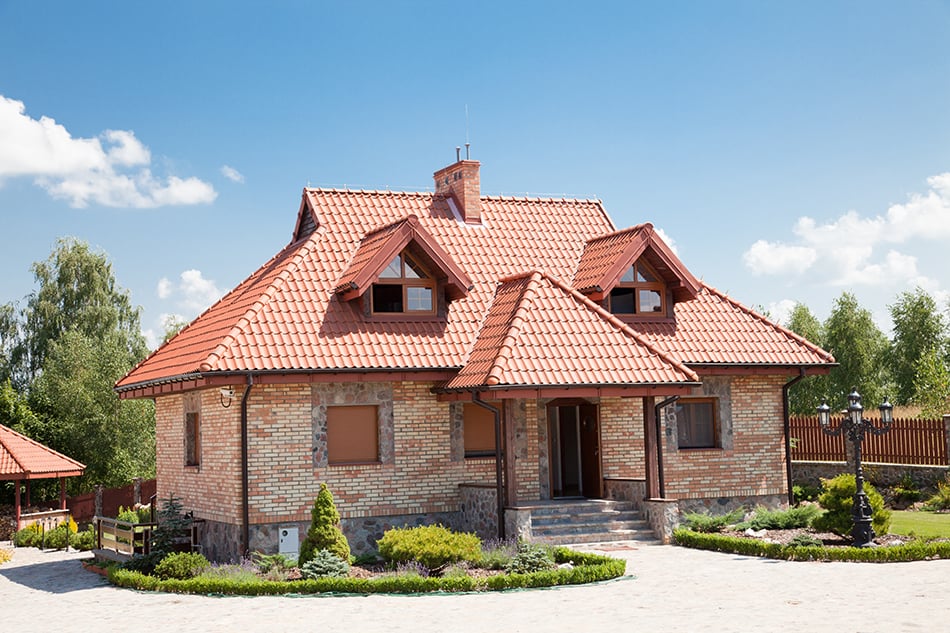 Red is a warm, earthy tone that can easily be paired with other nature-inspired colors. Depending on your home's trims or landscaping, why not finish your siding with red bricks to blend the red-tiled roof visually with the rest of the house?
When the house is surrounded by greenery, a red brick exterior works very well with red roof tiles.
In this example, the single-family house with a red roof and red brick exterior looks harmonious and welcoming. The surrounding landscape evokes the feel of a forest dwelling and flatters the sunlit house.
White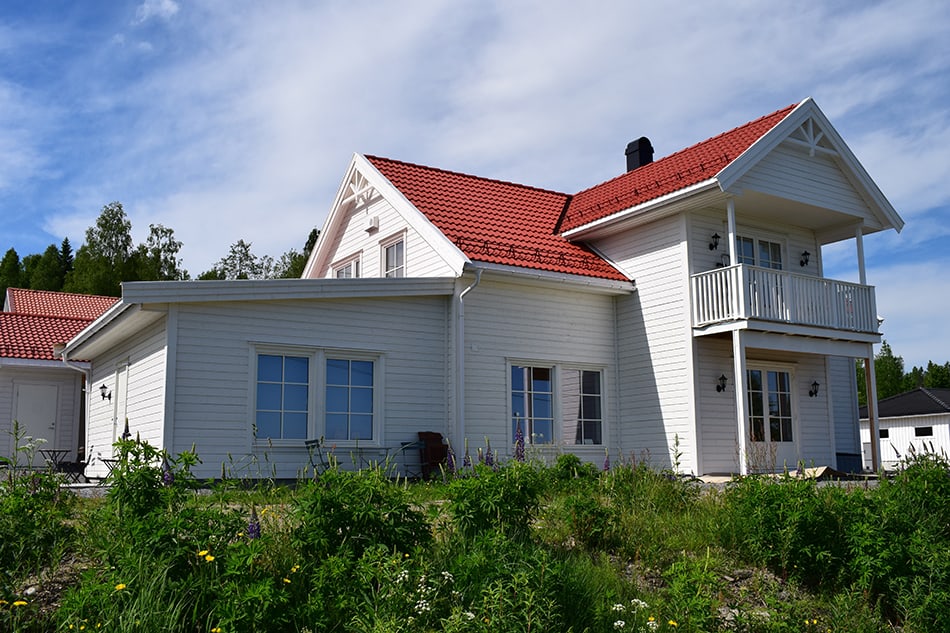 There is something utterly charming about red roof houses with a white exterior. It reminds us of villas by the sea or country cottages on the hills. If you are looking for a classic-style home, how about a red roof design with white siding as a characteristic combination? As you can see here, red and white blend beautifully together without looking cold and unwelcoming.
Muted Yellow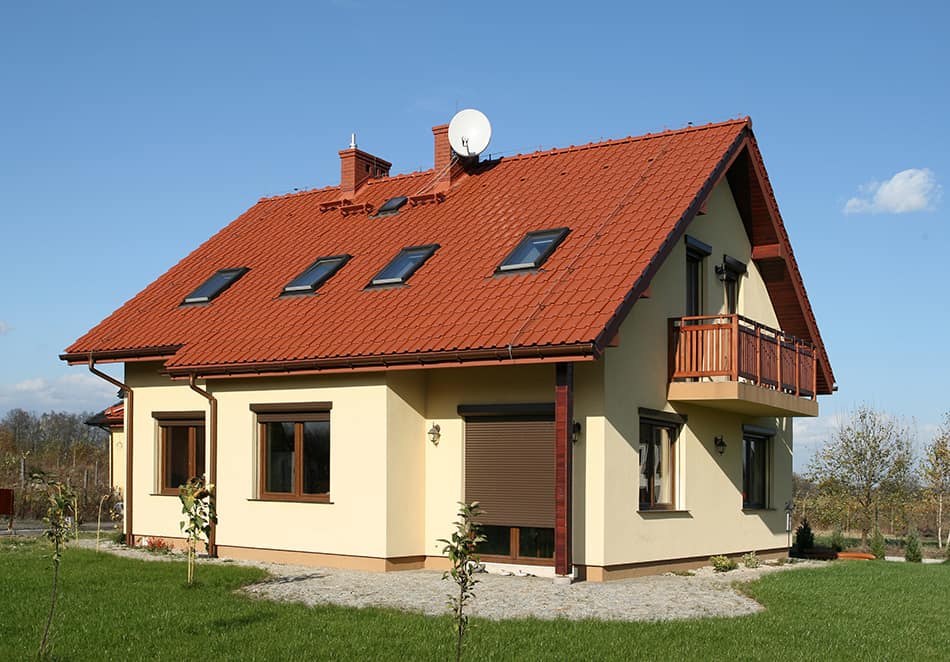 If bright and vibrant isn't your thing, then go for a muted version of yellow for your red roof house. Although yellow and red are contrasting colors, when used in a toned down way, yellow can actually complement the red and tie in with the whole look.
See how stunning this yellow home with a red tiled roof looks. The yellow and red perfectly match the brown door and windows as the three color combos are all earthy tones that create a warm feel.
Beige or Sand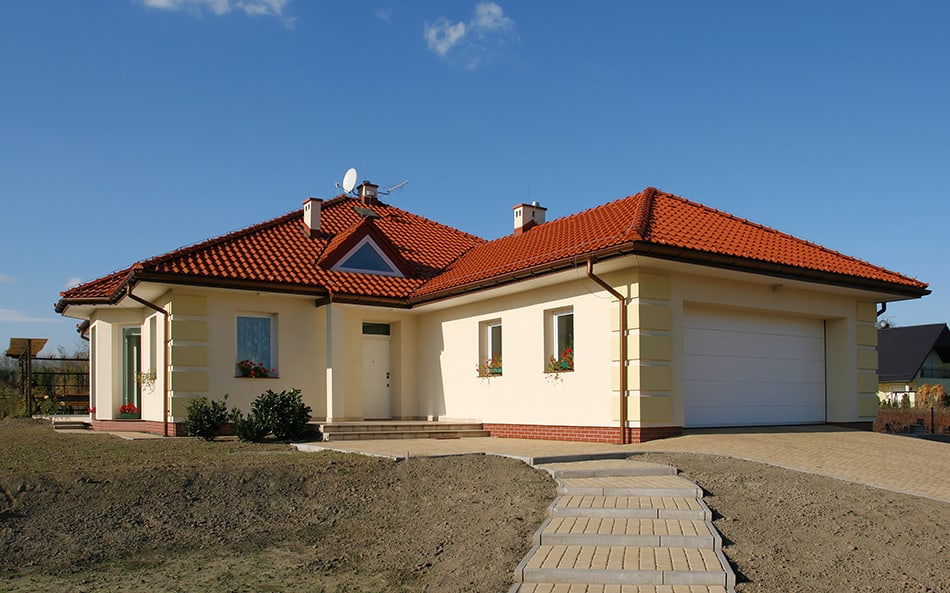 If you like neutral tones, why not paint your home light beige or sand, as any of these colors perfectly go with a red roof? Similar to muted yellow, beige for an all-over siding and taupe for the trim adds visual interest.
Here is the perfect example of a red-roof house with a sandy beige exterior. To take the neutral color theme one step further, consider white for the front door and garage door as shown here. The combination of the three colors go hand in hand to create a cohesive look and, of course, a lot of curb appeal!
Is Red a Good Color for Roof Tiles?
The unique color, style, and durability of red terracotta tiles add vintage elegance to any home. Red clay tiles are inspired by Mediterranean designs, and they complement a variety of sidings. For instance, a terracotta red tile can enhance stone or brick sidings, thus making it more compatible with the latest design styles for residential homes.
Red clay tiles offer a durable and aesthetically pleasing exterior. Most red clay roofs can last for a century, with some requiring only a minimal amount of maintenance. This makes red clay tiles a preferred option for homeowners.
Similar alternatives to clay tiles include slate, molded concrete, and fired clay. So the answer to the question is red; a good color for roof tiles is a big YES!
Should Gutters Match My Red Roof?
Not necessarily. Gutters should seamlessly blend into your red roof home and the exterior color you choose. Since the function of gutters is purely utilitarian, it is best to match their color with either the trim or the roof color.
After all, the gutters should not visually stand out and steal the spotlight from your red roof. Your other option is to match the gutter color with your home's siding instead of the trims. The most important thing is to look at where your gutters are installed in order to determine which color choice is the least visual from your home's curb.
Whether you prefer warm or cool tones for your home's siding, there is no denying how visually appealing red roof tiles look with the exterior colors we've listed above. Take your pick and grab that paintbrush today!