If you want to paint the walls in a room with dark floors, then you may be thinking about ways you can complement the floor color or ways to decorate that will lighten up the feel of the room. Before you can learn that colors work best with dark floors, you'll need to identify the undertones on the floor.
Here we look at some of the best paint colors for warm, cool, and neutral-toned dark floors.
Tips for Choosing a Paint Color with Dark Floors
Don't focus too much on the floor
Getting too caught up in trying to ensure the color of paint on your walls compliments the color of your dark floors is a mistake that lots of home decorators make.
The color of your walls is always going to be more important than the color of your floor for two simple reasons. The first reason is that the walls cover more surface area than the floors, so this will be the dominant color in the room that covers the majority of the space.
The second reason is that the color on the walls is what our eyes are naturally drawn to, simply because it is on a vertical surface that is at our eye level, whether we are sitting down or standing up.
The floor color is much less important because most people don't walk around with their heads hanging down, looking at the floor, so it just won't be noticed as much as you might think.
With these reasons in mind, remember not to get bogged down in the trap of basing your wall paint around the color of your floor. Although a room will look great when the wall color compliments the floor color, the wall color does not need to revolve completely around the floor color.
Use rugs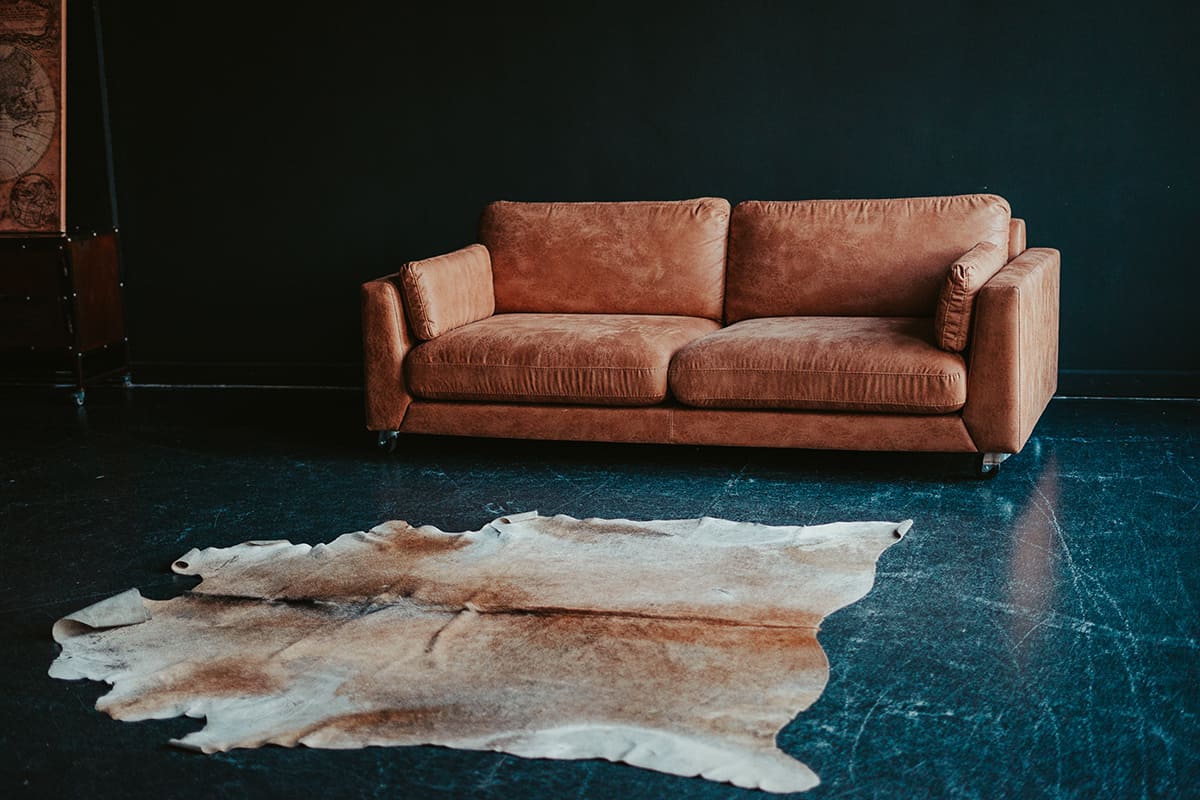 If you have dark floors but you want to present your room as bright and airy, then you can do this by minimizing the amount of dark flooring on show. Use light-colored rugs that will create an overall lighter appearance in the room, and they will also reflect light to make the space feel breezier.
If you have dark furniture on dark floors, then this can cause the furniture to appear to be sinking into the floor, and this can also be avoided by using light-colored rugs underneath the furniture.
Choose an atmosphere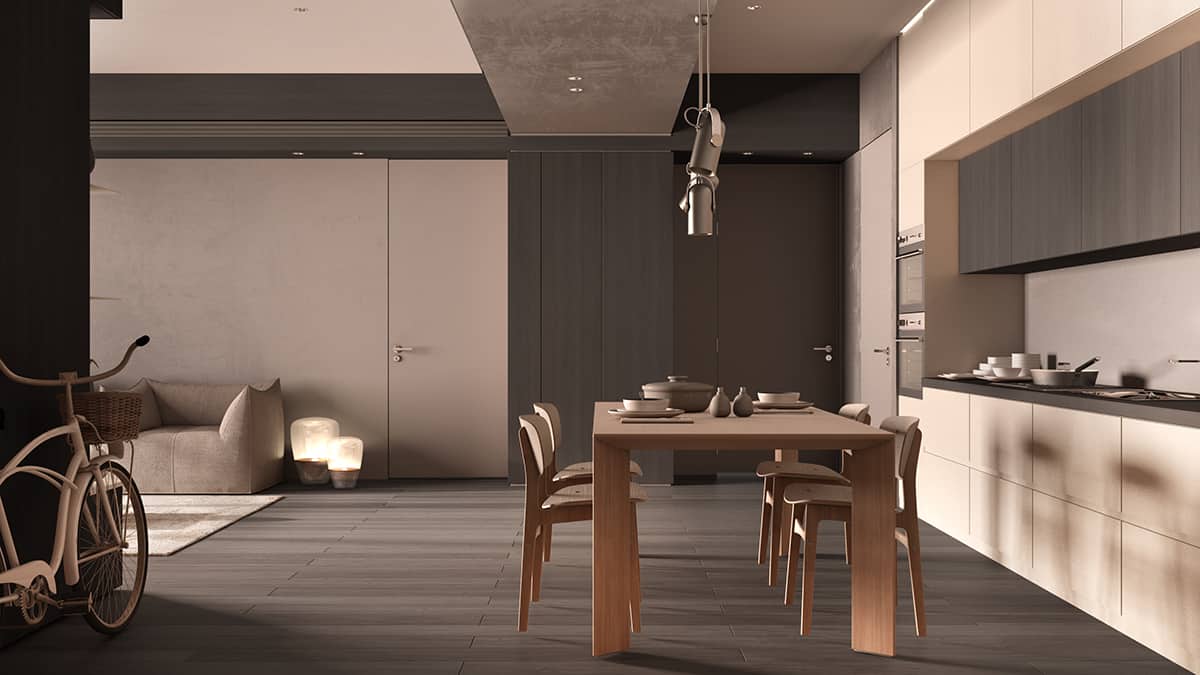 When you are looking for the perfect paint color to use in a room with dark floors, there is more to it than simply choosing a color that pairs well with the floor color.
You want your room to reflect the use of the space and how you want to feel when you're in there, and this should be your guide for the color you choose, with the need for it to coordinate with the floors a secondary priority.
If you want to create a light and bright atmosphere, then this can be achieved in a room with a dark floor by selecting a light, uplifting neutral paint color on the walls, such as a pale greige.
If you want a cozy and snug feel in your room with a dark floor, then lean towards medium to dark paint colors with warm undertones.
Paint Colors for Warm Toned Dark Floors
If you have oak or walnut hardwood floors, then you're in luck because these types of dark flooring surfaces will look great with a wide range of colors. You can contrast against these warm tones by using cool colors such as blue, green, or gray. To achieve a brighter look, opt for pale shades of cool-toned paints such as light sage green and pale blue-gray.
You can also use darker cool tones like forest green and navy blue with warm-toned dark floors to create a more dramatic or intimate atmosphere.
Alternatively, if you want to create a cozy and comfortable look in a room with dark warm-toned floors, then opt for warm neutral shades such as beige, tan, and brown.
Some dark floors will have more intense warm tones, such as dark red cherry or mahogany woods, and these can be trickier to compliment. Using warm neutral paint colors with these types of floors can look garish and old-fashioned, so these should be avoided.
Instead, balance out the strong warm tones by using subtle cool paint colors on the walls. Pale mint green or dove gray would be great choices.
Valspar- Cadet Gray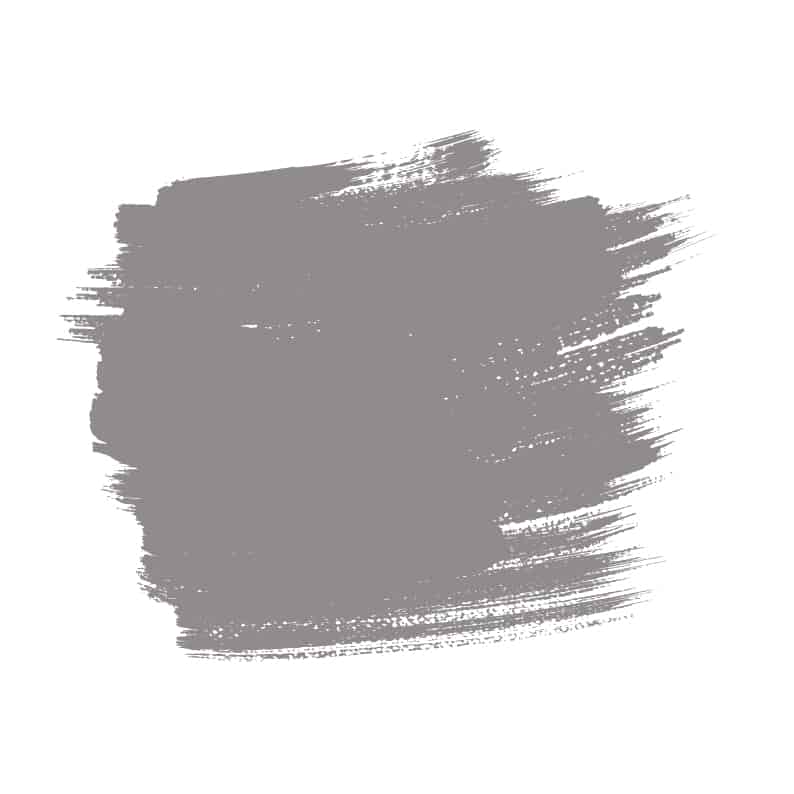 Cadet Gray is a dark shade of greige, which has pink undertones. The gray element of this paint color ensures it feels modern, while the beige element makes the paint feel warm and classic.
Since this hue is much darker than most shades of greige, it is perfect for achieving a cozy and intimate effect in a room with a dark floor.
If your dark floor has warm tones, a greige is a great choice because it maintains the warm feel in a subtle way so that it does not feel overwhelming or look dated.
Sherwin-Williams- Kilim Beige
This is a tan paint color that is warm because of its orange undertones. It will look great with a warm-toned dark floor that isn't too intensely warm.
For example, a dark oak hardwood. The paint color is a medium shade, so it will provide a subtle contrast against dark floors but is strong enough to offer a sense of depth in a room. Use it with dark floors to achieve a modern take on a cozy style.
Paint Colors for Cool Toned Dark Floors
If your dark floor has cool tones, then follow the same guidelines as above, but in reverse. Cool-toned dark floors include hardwood that has been tinted in charcoal gray or black wenge hardwood. To lighten up a room with cool-toned dark floors, choose a light paint color such as off-white or pale gray.
If your room gets plenty of natural light, then you could opt for a cool-toned off-white or cool gray, but in a room that is not well-lit, this can make the room look cold and sterile.
Instead, opt for warm light neutrals such as greige. Alternatively, opt for dark paint colors on the wall that complement the undertone of the floor for a cozier feel.
Benjamin Moore- Gray Mist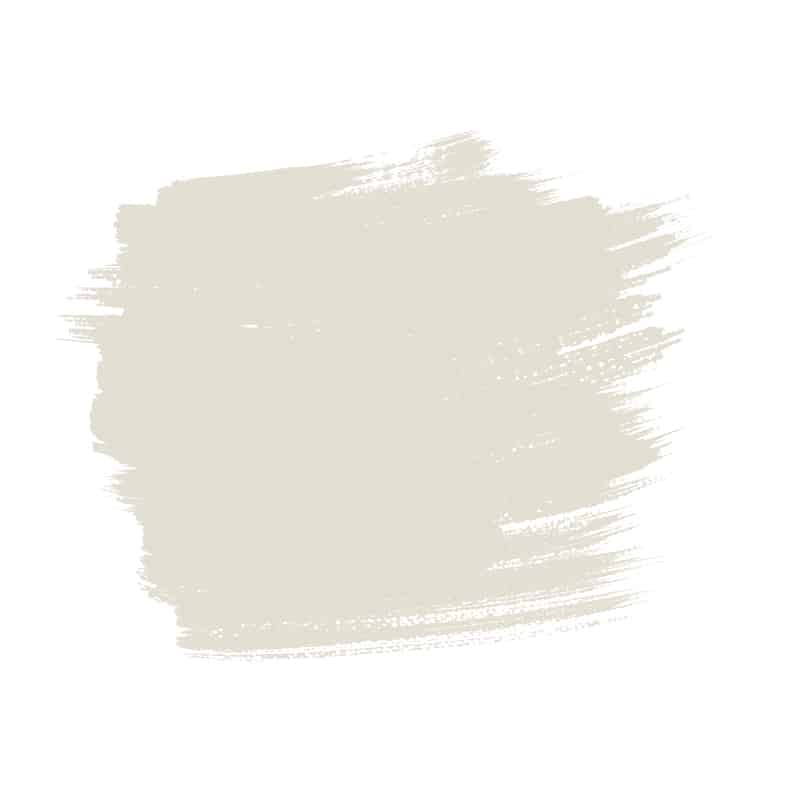 Gray Mist is a light gray paint color that will make for a stunning contrast against a dark floor since it is so pale that it is almost white. Unlike most shades of gray, this is a warm gray paint color, so it is perfect to pair with a cool-toned dark floor to help create a more welcoming atmosphere while also brightening the space.
Sherwin-Williams- Anchors Aweigh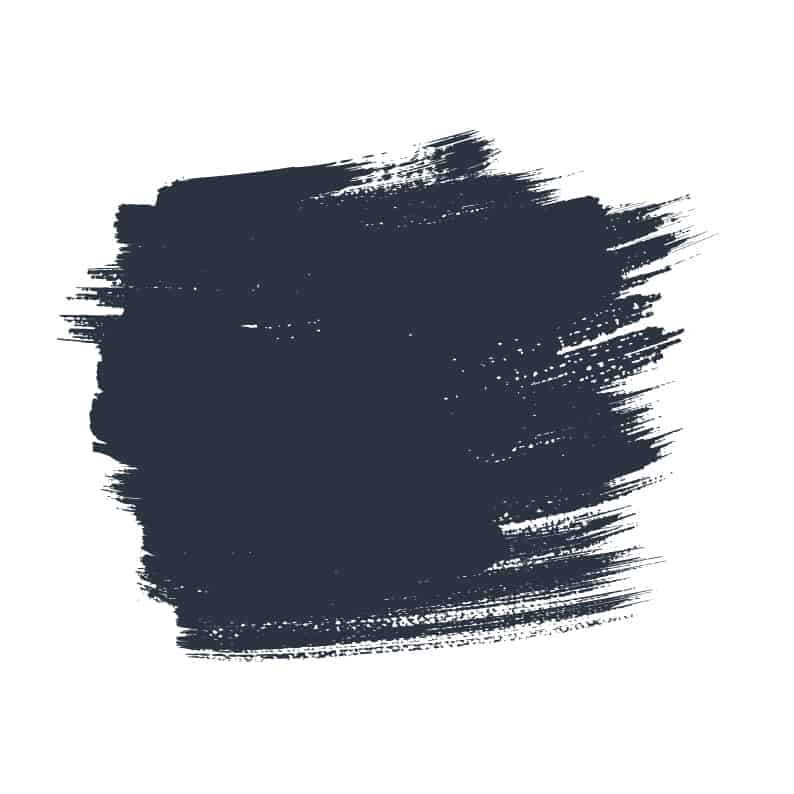 Anchors Aweigh is a navy blue paint color that is ideal for a coastal or nautical-themed space, as you may assume from its name. This would look great in a room with a cool-toned dark floor, but be sure to use a light color for the trim, such as pure white, to add some definition between dark floors and dark walls.
Paint Colors for Neutral or Colored Dark Floors
If your dark floors are tile, carpet, or linoleum, then they could be any dark color at all. Neutral dark floors could be black, dark gray, or dark brown, whereas-colored dark floors could be navy blue, dark merlot red, or dark eggplant purple.
The important thing to concentrate on when you have neutral-colored dark floors. For example, slate tiles are what wall color is going to work to achieve the atmosphere you are looking for and the color scheme you are drawn towards.
Neutral dark-colored tiles will work with almost any paint color you could think of, but a shade contrast always works really well; so, for example, if you have dark charcoal floors, then paint your walls in a soft pale gray color.
The only rule you really need to follow in this instance is to avoid painting the walls in the same color as the floor because these can make the two areas feel as though they are merging.
If you have dark flooring in a specific color, such as dark red, then look for wall colors that contrast and complement. The opposite color on the color wheel to red is green, but a bright shade of green would look too intense with dark red, so instead, opt for a muted dark green or subtle light green. For example, moss green or pale olive green.
Sherwin-Williams- Alabaster
This is a really modern neutral paint shade, which is a warm off-white color. The warm undertones are very subtle, so the effect is not creamy, and instead, the room will feel fresh and clean.
This will work well with black or dark gray floors because the warm tones will create an inviting atmosphere, and the lightness of the shade will contrast against the darkness of the floor.