Red brick houses are popular in ranch-style properties or in historical cities.
It can initially be a challenge to find a good paint color for trim, front doors, and window frames on red brick houses, but if you can get to grips with the tones and complementary colors for your shade of red brick, then you'll find there are various different colors of paint that can look beautiful on a red brick house.
Tips for Choosing Paint for Red Brick Houses
Identify the tone of your brick
The vast majority of red bricks can all be separated into two different categories based on their tones. You will either have orange-red bricks or pink-red bricks.
The orange-red bricks will be easy to spot by their warm terracotta tint. These bricks typically tend to be lighter in shade compared to pink-red bricks, but you can find darker orange-red bricks that will have a more brownish red appearance.
By contrast, pink-red bricks don't have such an intensely warm feel, and they will look more obviously red than orange-toned red bricks. The color of these bricks will look like a rosy red, and they are usually medium to dark in shade.
Once you have identified the tone of your red bricks, you will have a much easier time finding complimentary colors. Orange-toned red bricks look great with blue paint because blue is the opposite color of orange on the color wheel.
This also means that blue-hued shades of gray will also work well. For rosy red bricks, green paint will look striking because green is the opposite color of red on the color wheel.
Choose muted colors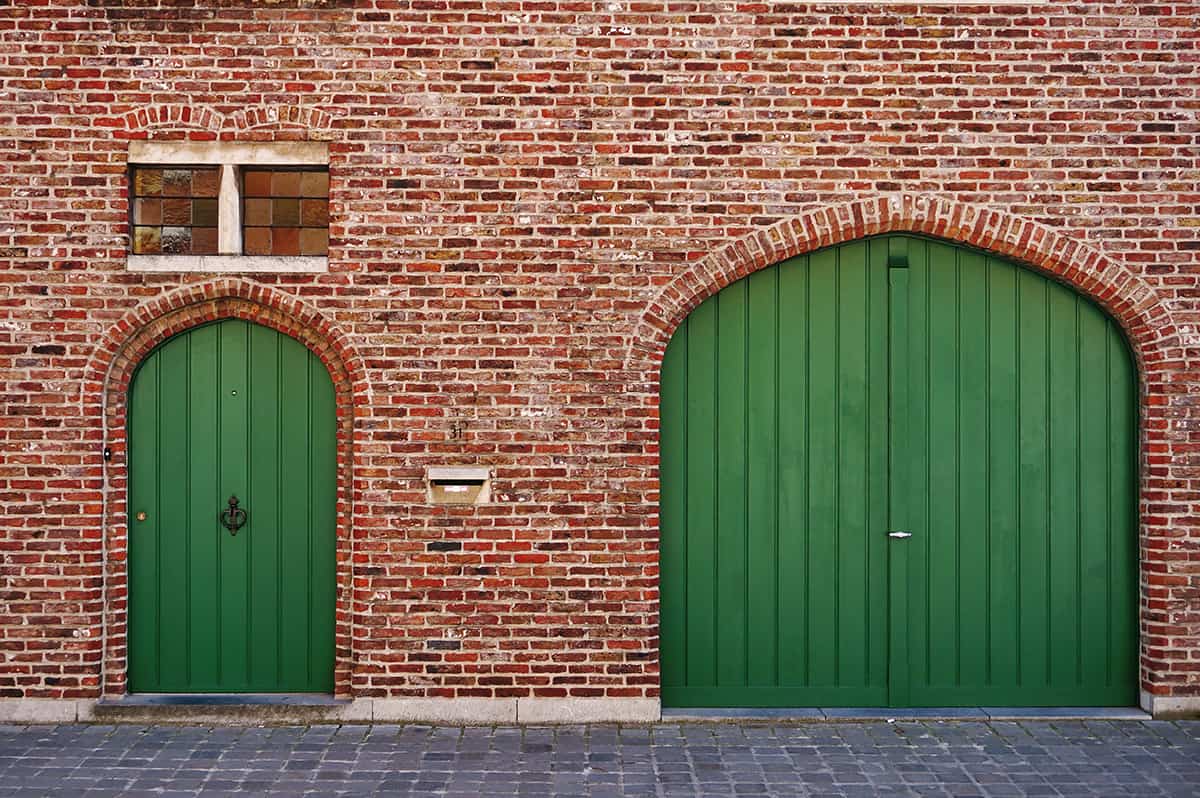 Bricks are generally quite earthy, muted colors, so a very bold or bright paint color can look out of place against the natural red bricks.
To ensure a sense of harmony, even when you choose a contrasting color for front doors to use with red bricks, stick to muted or subtle shades.
For example, on a rosy red brick house, a sage green front door will work well because it will achieve a contrast to make the door stand out, but since both the bricks and the shade of sage are toned down, the look feels elegant and consistent.
On the other hand, a lime green door on an earthy red brick house will make a statement that might seem fun and flashy, but it won't look sophisticated or in keeping with the style of the house.
Paint appears lighter outdoors
One important thing to remember when you are choosing exterior paint for front doors, garage doors, outbuildings, trim, fences, and gates is that paint always looks two to three shades lighter outdoors in natural light.
This means that your favorite shade of navy that you love in your dining room will actually appear more like a vivid sapphire blue when used to paint your garage door.
It's vital to consider this when choosing your exterior paint color because you can end up with a color that appears vastly different from what you were expecting.
If you are torn between two shades, always opt for the darker shade when choosing paint for outside because it will read as lighter than it looks. This is the opposite tactic to what you should use when choosing interior paint when you should opt for the lighter shade when choosing between two colors you like, as they typically dry darker and appear darker in a home interior setting.
Consider the style
As well as thinking about what paint colors are going to be complimentary to your red bricks, you'll also want to factor in the type of style you are trying to achieve.
If you enjoy a traditional look, then you'll want to stick with more classic colors, while if you're looking for a sophisticated style, then shades of gray or black are ideal.
Use three colors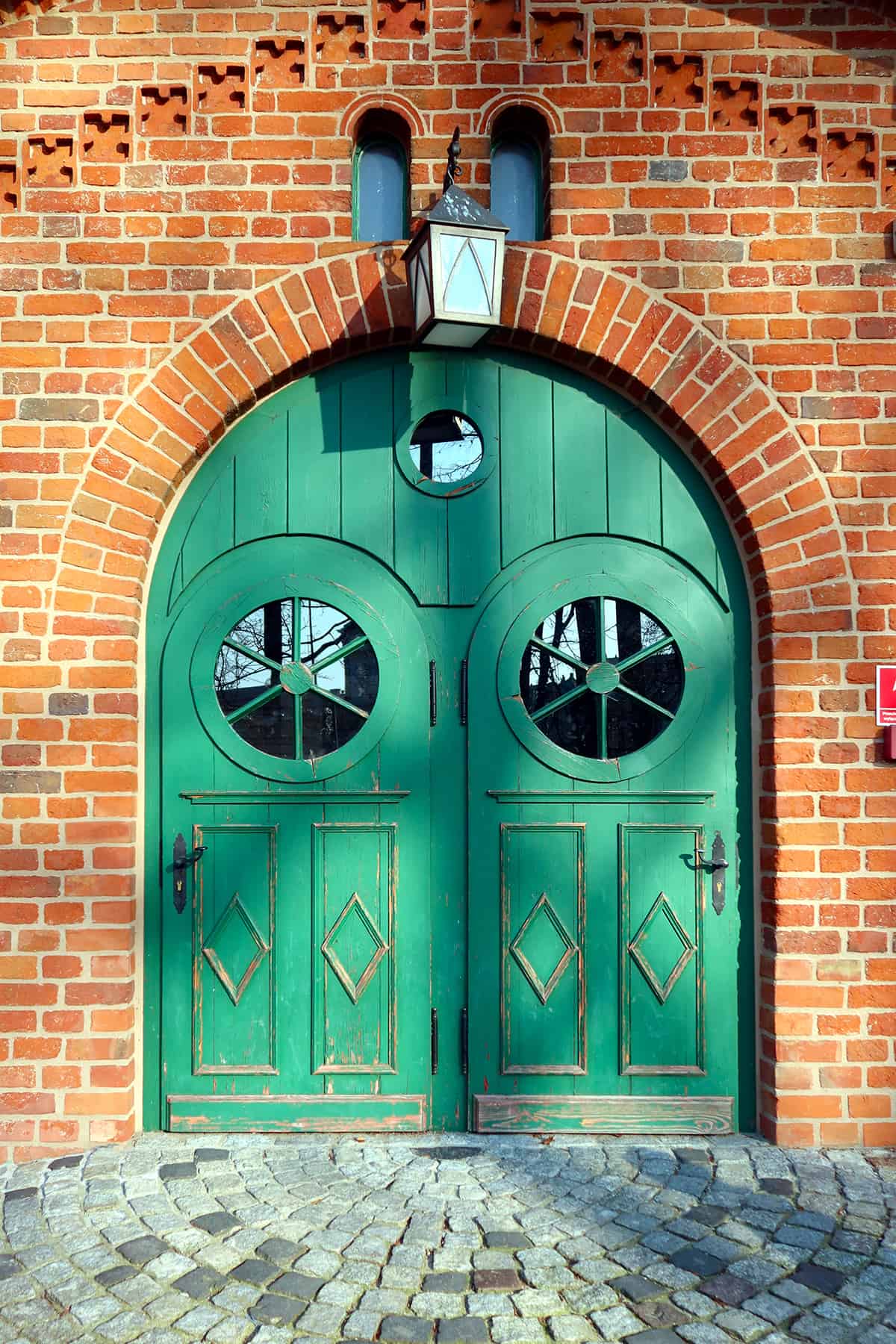 When choosing a color to use with red brick, you shouldn't stop there. The best interior designers agree that color schemes work best in sets of three, so with your red brick being the main color, you should then choose two further colors to use around the exterior of your home.
One of these will be used more heavily than the other, with the final color acting as an accent.
For example, in a color scheme using red brick, dark green, and cream, your walls will be red brick, your front door and garage door can be painted in primary colors like dark green, and the window frames and trim around the property will be painted cream. This works to create a sense of balance and allow each color to shine.
Blue
Sherwin Williams- Cyberspace
Prestige Paints Interior Paint and Primer In One, 1-Gallon, Flat, Comparable Match of Sherwin Williams* Cyberspace*
This is a dark shade of blue that will read as more of a medium to dark blue when used on the exterior of a property and viewed in natural daylight. It is a really modern, fresh color that will work well with both orange-red and rosy red bricks. Use a shade of off-white or pale gray for the trim on a red brick house to add distinction and definition.
Benjamin Moore- Tranquil Blue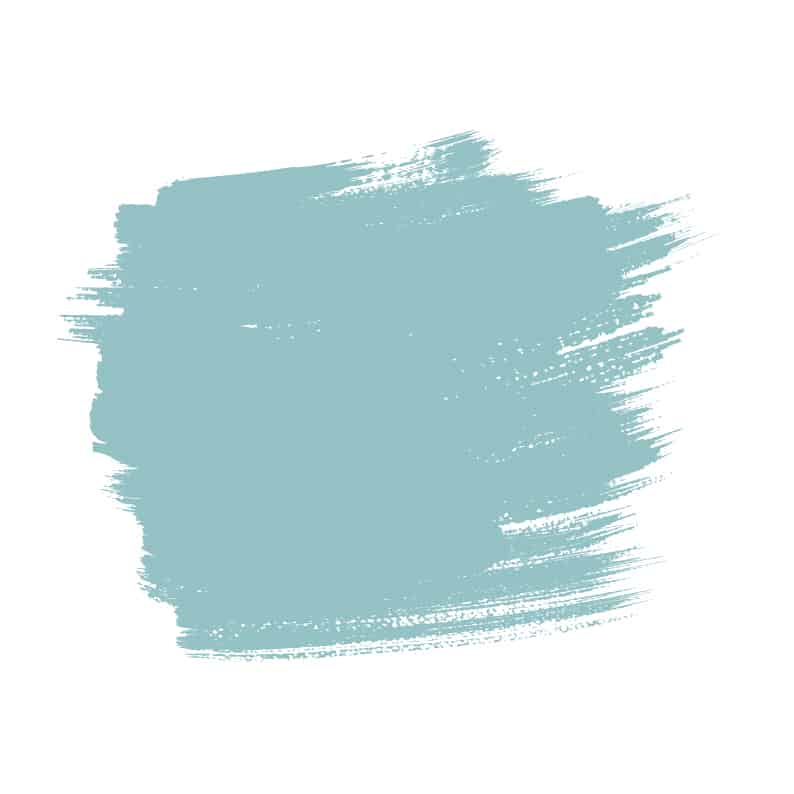 This is an uplifting, bright shade of sky blue that is ideal for orange-red brick houses. Use it as a front door color and choose a shade of dark gray or cream for the trim.
Benjamin Moore- Winter Lake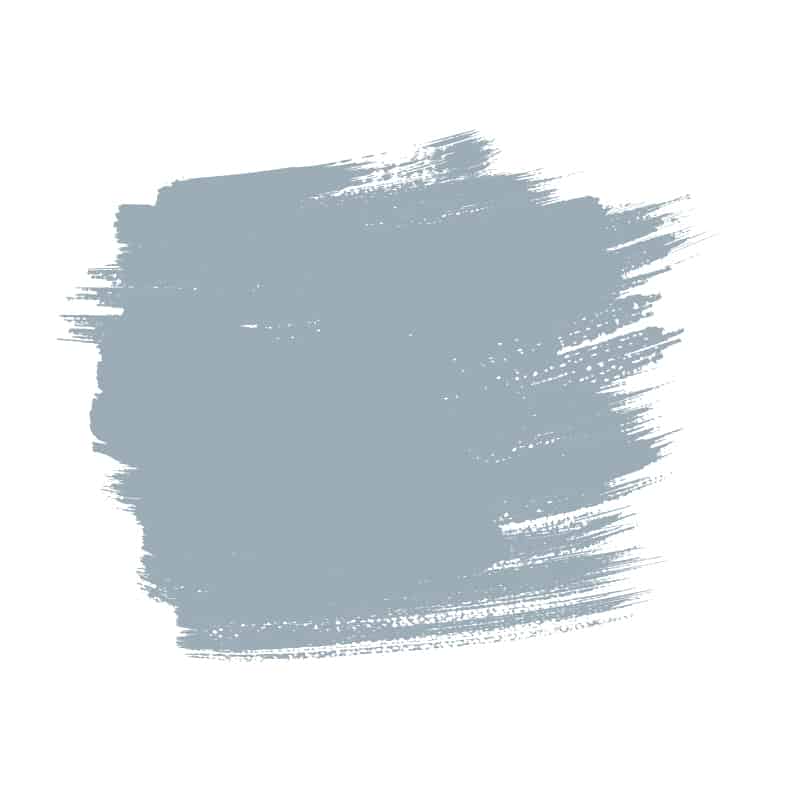 This is a very muted shade of blue with gray undertones. It will work well with both orange and rose red brick houses, though the greater contrast will be achieved when used against orange-red bricks. Use this color for the exterior trim and a pale neutral paint for the front door.
Gray
Benjamin Moore- Soot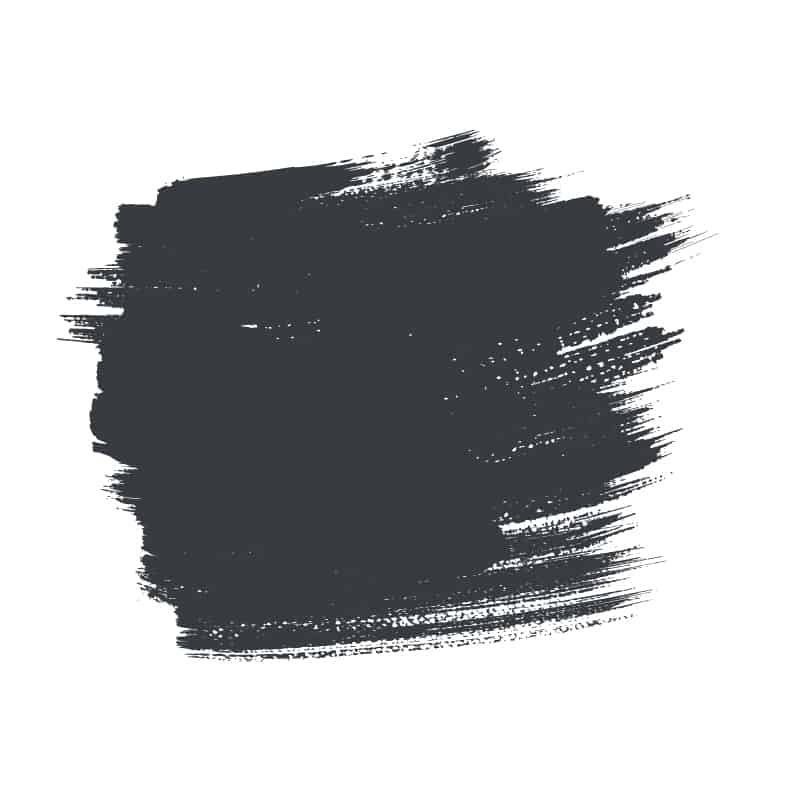 This is a deep shade of gray that will appear navy in bright sunlight due to the blue undertones. It is a really contemporary and sophisticated color to use on a red brick house, which will be ideal for either trim or doors.
Farrow & Ball- Manor House Gray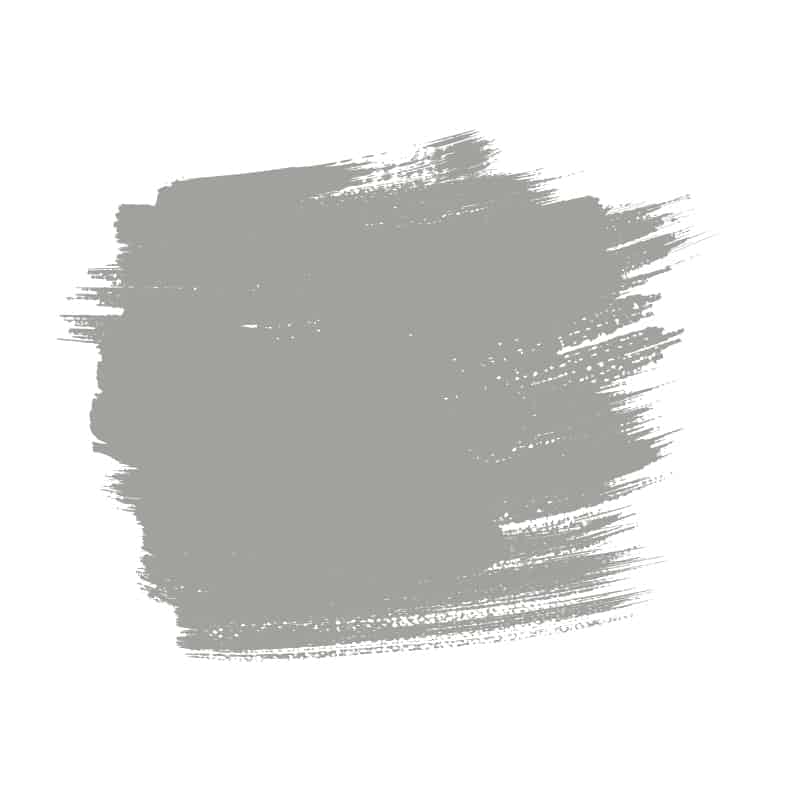 This is a muted gray paint that is a modern neutral. It can read as almost off-white in bright light, but on dull days will appear a truer shade of gray. It is great for bringing a red brick house up to date.
Black
Sherwin William- Tricorn Black
Prestige Paints Interior Paint and Primer In One, 1-Gallon, Flat, Comparable Match of Sherwin Williams* Tricorn Black*
This black paint is more of a very dark charcoal gray in reality, but it's a perfect choice instead of a pure black because it won't feel as harsh next to red bricks.
The earthy tone of red bricks means that a true black paint color can look too harsh, whereas this color will read as a softer black. Use it for the trim on a red brick house and then contrast this with an off-white front door.
Farrow & Ball- Off Black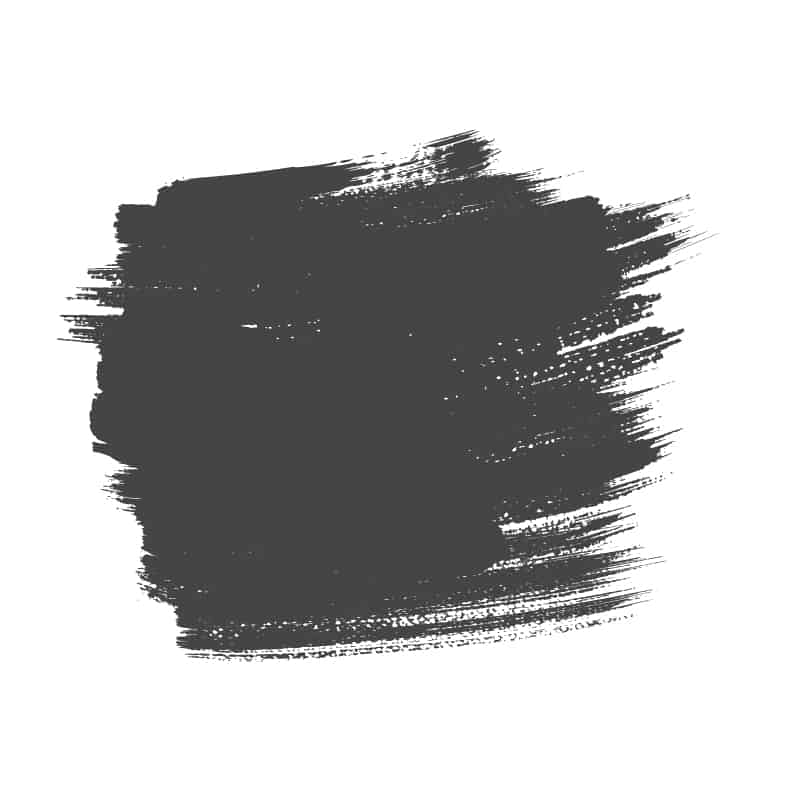 This is another shade of black that can appear as black or dark gray depending on the time of day and the level of light. Use this paint color for all of the trim and doors on a red brick house for a formal, dignified look, or add a third lighter color to the mix for a brighter effect.
Beige
Sherwin Williams- Wool Skein
This is a medium shade of beige that has green undertones, giving it a fresh feel. In natural outdoor light, it will look cream, which makes it a nice alternative to white on the trim.
White
Sherwin Williams- Westhighland White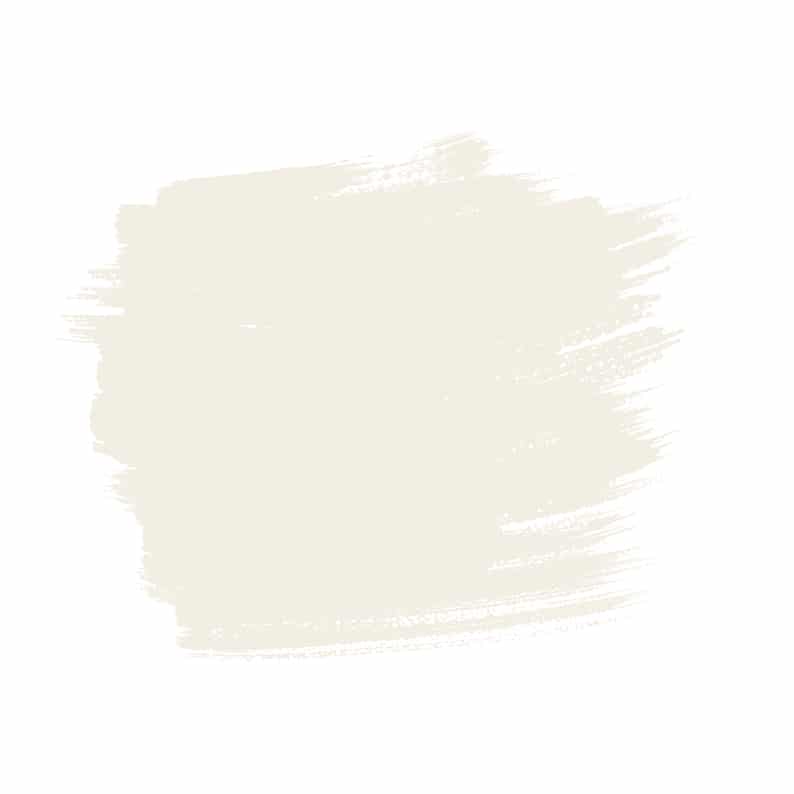 Pure white paint colors can look harsh against red brick, especially when used outside. To avoid this, off-white shades are a better way to achieve the look of white without the cold or stark feel.
This is a shade of cream that will read as white against a red brick exterior. It is great for trim, siding, or window frames.
Green
Farrow & Ball- Card Room Green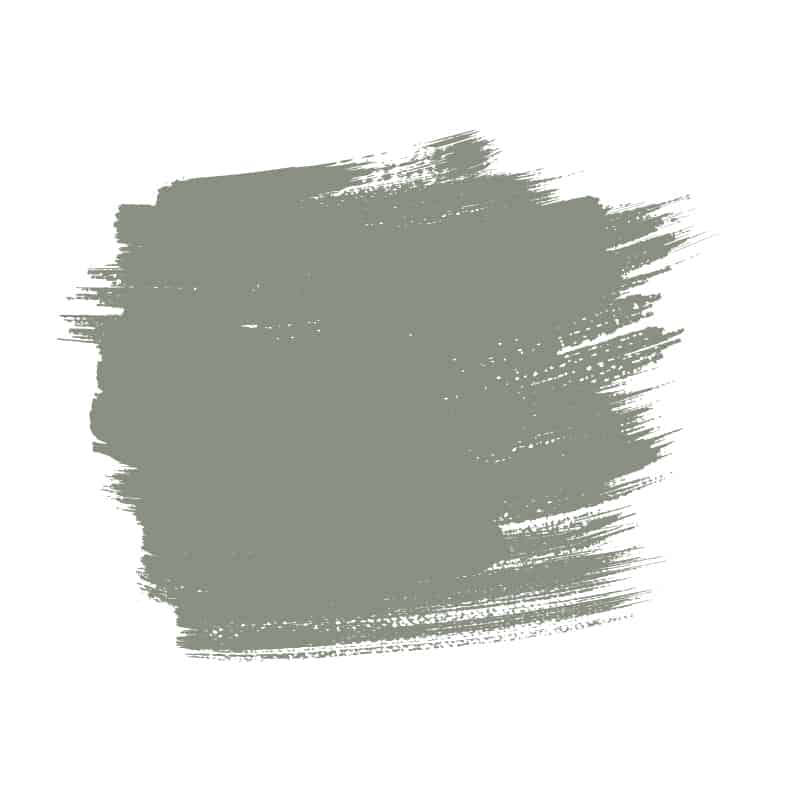 This green paint is a muted shade of sage with gray undertones. It feels earthy and neutral, making it a really soothing choice to go with red brick. Use it as a front door color with cream trim for a classic country look.
Red
Benjamin Moore- Heritage Red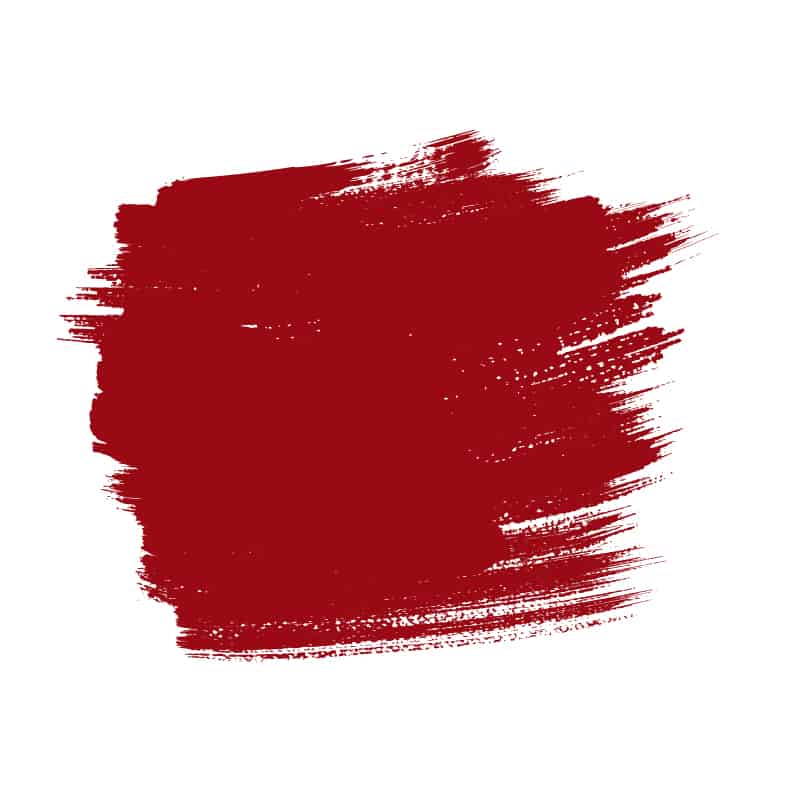 You might think that red paint should be avoided on a red brick house, but in fact, this can look really stylish. There are some key points to follow to ensure the home doesn't look garish or gaudy. Firstly, the red paint should never be directly next to the red brick, so you'll need to have another color to separate them.
For example, don't use red paint for trim if it is next to the red brick; however, you can use red paint for the front door if you use gray paint for the trim to create a border between the red door and the red brick walls. Heritage red is a rich, deep shade of red that is ideal for front doors because it feels traditional and elegant.
If you have shutters or a porch, paint these in a neutral color like white or gray to add definition and balance.