If you are looking for a new paint color for the front door of your home, then you won't be short of options.
The range of colors available for exterior wood and metal paints over the last decade has exploded, and you can now even have paint customized to create the exact color you want to achieve.
Here we look at some of the best colors for front doors and discover what the color of a home's front door says about the inhabitants living inside.
Tips for Choosing a Front Door Color
Reflect your style and personality
A front door is not just what keeps weather and unwanted visitors from getting inside your home; it is also what most guests will see as their first impression when they arrive at your home, and it serves as an indication of the type of family you are, and the style that can be expected inside the property.
The color of your front door is almost like a sneak peek of what the rest of the style inside the home will be like, so if you have themed your rooms in a coastal or beachy style, then it would make sense for your front door to be white, blue, or gray.
A front door color that is completely at odds with the colors used inside your home will seem like an odd choice, whereas if the front door color reflects your personal style and your personality, then it will make for a cohesive feel for your property.
Painting your front door also presents you with an opportunity to express yourself to neighbors and anyone else who travels past your house.
If you want to create a bright and welcoming impression, then paint your front door sunny yellow, or if you are a mellow character, then a shade of beige or earthy green will help to convey this.
Consider the heritage of the property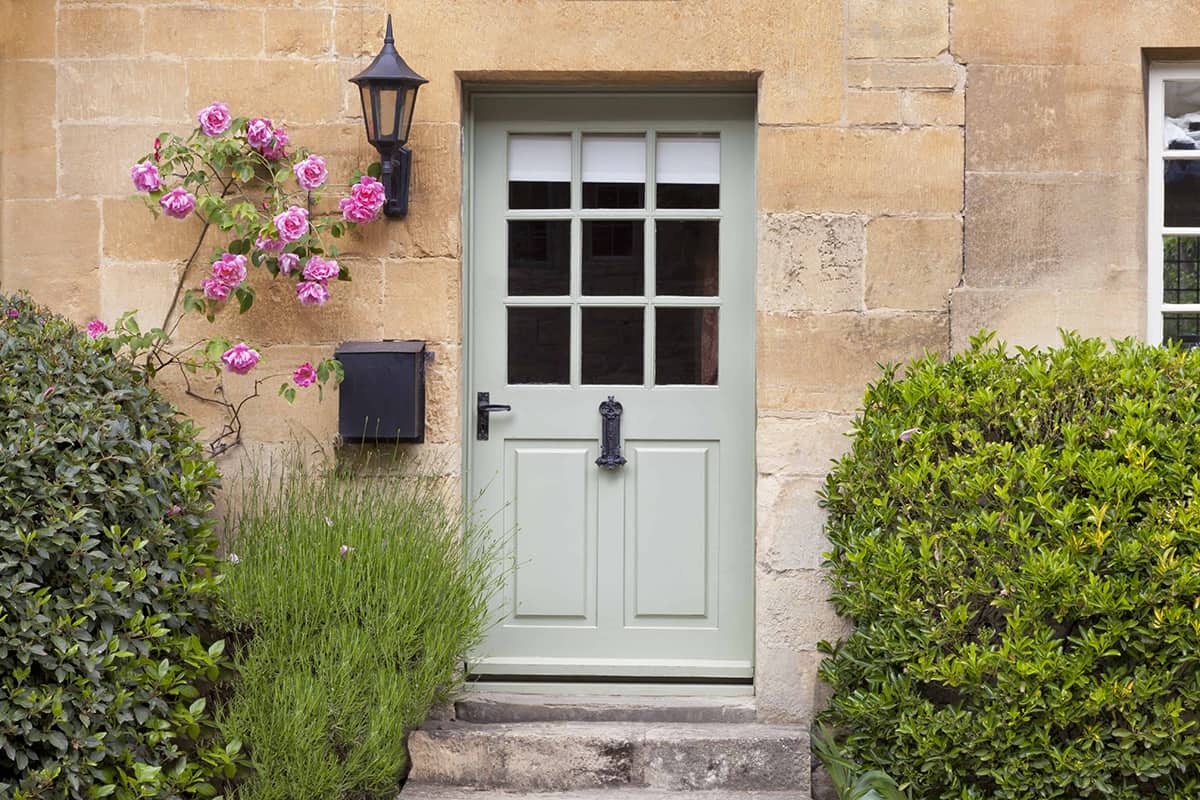 Respecting the style or heritage of your property is important when choosing a paint color for your front door. Choosing a neon pink paint for the front door of an old, historic home could appear disrespectful, and it also wouldn't suit the style of a classically built property.
Instead, look to the architectural style of your property for guidance on the type of color for your front door that will ensure a sense of consistency.
A cape cod home will have a traditional, casual style that suits classic front door colors like white or pale blue, whereas a Victorian-style property has a more formal look that can handle more intense door colors like burgundy or dark green.
Take cues from siding, brickwork, or trim
Your front door color is going to need to either coordinate or complement the other colors featured on the exterior of your home. Some people choose to match their front door color to their garage door color or the color of a garden fence, which creates a cohesive look.
Alternatively, you can make the front door stand out alone by painting it in a color that is different from any of the other colors on the outside of your home, but ensure the front door is a complementary shade to avoid a garish or clashing look.
For example, a home with gray siding and white trim could have a bright blue door because the cool tones of the blue will coordinate with the cool tones of the gray.
Consider neighbors and color psychology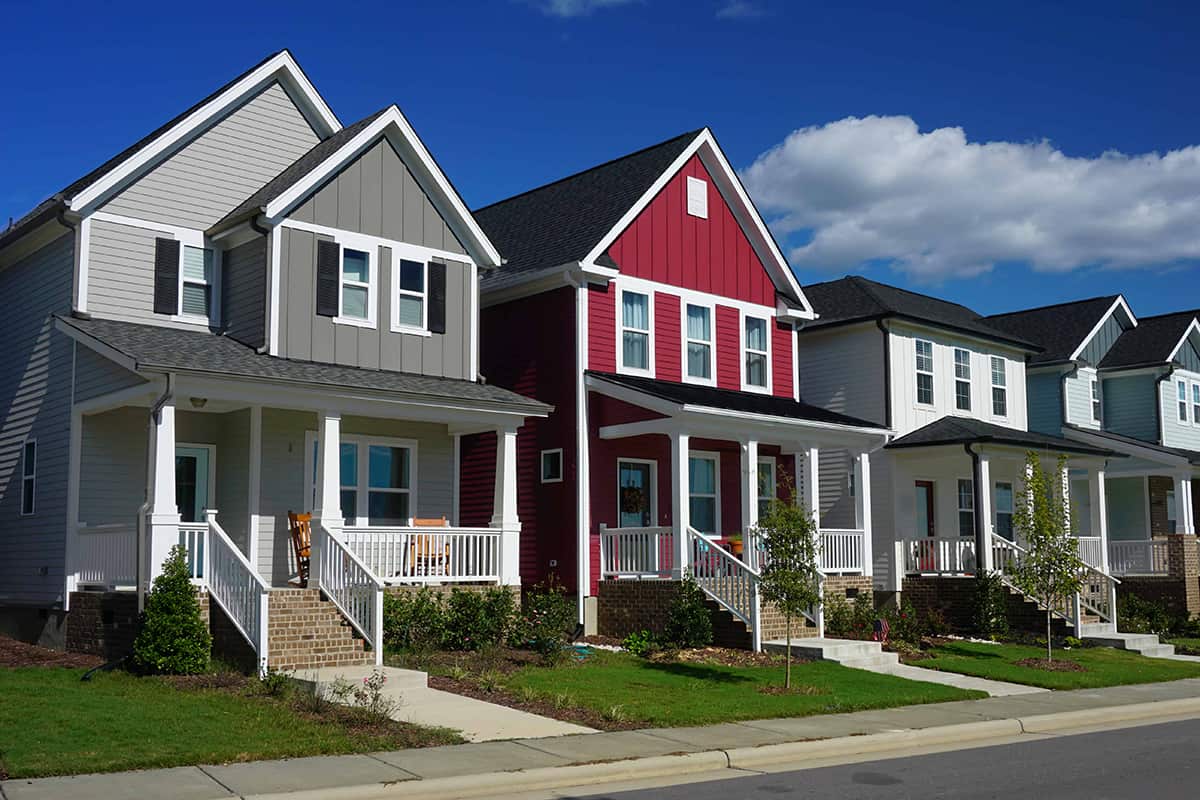 When choosing a front door color, you should also respect the style of the neighborhood and make sure you aren't going to cause any offense.
If you live in a suburban area where all of the other homes on the street have neutral white or beige doors, then it might be frowned upon by some people if you paint your front door in lime green.
You should also consider the feng shui colors and messages that might be conveyed to others when choosing your door color. For example, a shocking magenta-painted front door could be perceived as rebellious, whereas a muted shade of green will appear friendly and approachable.
Red
Red is a bright and bold color that is associated with love, passion, and intensity. As a door color, red can be perceived in different ways depending on the colors of your property's exterior.
With dark gray or black siding, avoid red doors as these colors together can be reminiscent of violence and gore. However, when used on blue or white houses, red can be cheerful, traditional, and even patriotic.
Benjamin Moore- Umbria Red
This rich shade of red is named after the Umbria region in Italy, and it gives off bold Mediterranean vibes. This color would look great on the front door of a home with white siding; paint the window frames in the same color for a coordinated look, or add a red mailbox for a more subtle harmony.
Blue
Blue is among the most widely chosen paint colors for front doors because it is very inoffensive. Pale blue is associated with the ocean and the sky, and as such, it has a relaxing and soothing feel that gives a good impression on a front door; however, even the darkest shades of blue still feel easy to be around, which is why any shade of blue will be a nice choice for a front door.
Since we are around a lot of blue shades when we are outside, blue can come across as nearly-neutral, which might also be why so many people are drawn to this color. Blue is a cool color that also means it feels fresh and clean, so it can convey the sense that a home is well-kept.
Benjamin Moore- New York State of Mind
This is the perfect, classic navy blue shade that is incredibly versatile. It will work on such a huge range of front door types, creating a cool contemporary look on a home with pale gray siding, or achieving or more traditional Nantucket style on a white house with red trim.
Black
Black is a neutral color, and as such, black can pair easily with a wide range of other colors; however, the intensity of black can make it difficult to work with on front doors.
It can be used to achieve an elegant and formal look, or it can appear to be depressing, so you need to use it in the right way.
Farrow & Ball- Pitch Black
This is an intensely black paint color that lacks any undertones of other colors. This gives it a very distinctive look, which is entirely neutral since it cannot be deemed warm or cool. The neutrality of this black paint means that it will work with any other color you put with it.
Black doors look sophisticated and elegant on houses that have siding or brick work in medium shades. For example, a home with light to mid-gray siding will work well with a black door since the contrast will be evident without being too harsh.
For a bolder, monochromatic look, use black paint for the front door of a white home. This can look striking on houses with minimalist or modern architecture, or it can make a front door stand out in older homes without having to use a bright color.
If the bricks or siding on a house is already dark, such as navy or dark gray, then avoid painting the front door in black because this can create an overall sense of doom and gloom. Instead, brighten up the front door with a lighter, contrasting color, like lemon yellow or white.
Gray
Gray is the modern neutral that will instantly make a house look fresh and contemporary. For an uplifted look on your front door, be sure to use a cool gray tone, whereas warm gray tones are better for more traditional-looking properties.
Use gray paint on your front door to create a contrast against the siding on your home without making it feel overstimulating or gaudy. Instead, focus on the darkness or lightness of the shade to achieve your appealing contrast. Dark red siding will look attractive with a pale gray front door, or opt for a dark gray front door on a pale lemon-colored house.
Benjamin Moore- Hampshire Rocks
This is a really versatile pale shade of gray that can be used for a lighthearted, casual look on the front door of a cape cod home, or it can also look elegant on an English country-style cottage.
This cool-toned gray has lilac undertones, so it will pair well with homes that have green, blue, white, or dark gray siding.
Yellow
Yellow feels like a daring color to use on a front door, but soft yellows are actually very casual and cheery.
Farrow & Ball- Citron
This is a dusty shade of yellow that feels simultaneously classic and contemporary. It looks stunning on white houses with blue trim.