If your bedroom lacks natural light, you can always brighten it up by adding some golden hues to the interior decor. A good color that looks natural and brightens up the space is yellow. This hue can turn a dark, gloomy room into a warm and welcoming space. And since yellow looks beautiful with neutral and natural textures, it's an easier color to work with than you think. After all, yellow is the color of the rainbow and associated with happiness. Need further convincing? Then read on.   
Why Choose Yellow for the Bedroom?
According to color psychology, yellow can be a soft and soothing color as long as you choose the right hue for your bedroom. This bold color evokes strong emotions and can quickly grab attention. Most people see yellow as a bright and cheerful color that evokes happiness. For the bedroom, yellow must not be overused as it's a high-energy color that stirs a sense of excitement so bear this in mind when choosing a shade of yellow for your bedroom.
What are the Most Popular Shades of Yellow for the Bedroom?
The following is a quick list of the most popular shades of yellow used in interior design:
Mellow

Golden

Canary

Butter

Dijon

Pineapple

Lemon

Bumblebee

Honey

Mustard

Banana

Corn

Daffodil

Blonde
Whether you're just looking for a totally new color inspiration for your bedroom, or simply want to switch to a different shade of yellow, the following 16 yellow bedroom ideas will make you look on the bright side….and inspire you for sure!    
1. Display Yellow Wall Art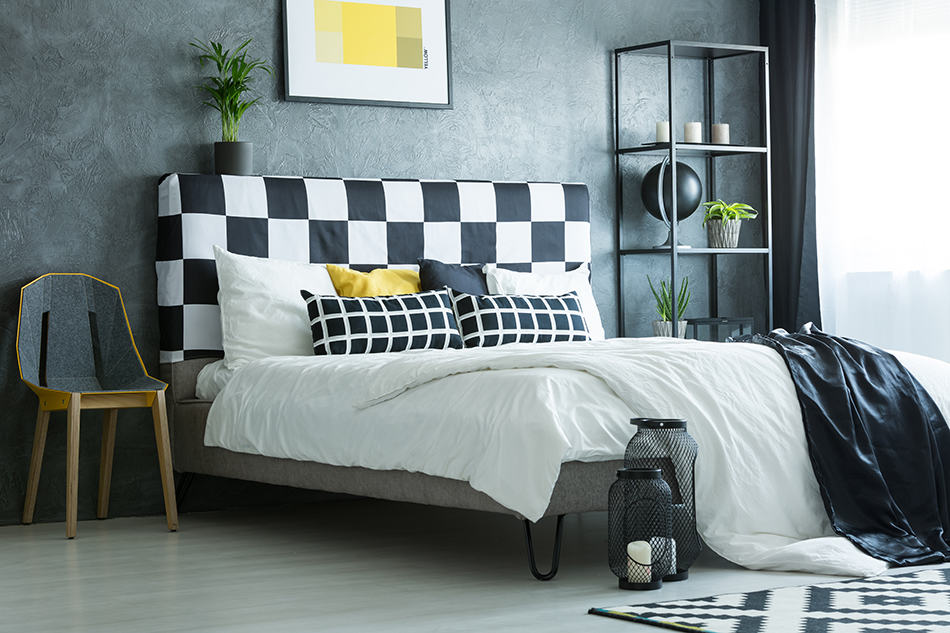 To create a bohemian feel in a dark bedroom, display yellow wall art as a statement piece.You can see how this black, grey, and white bedroom has reflected the interior space in a true bohemian fashion by adding a yellow wall art and cushion to make a high impact. The subtle hints of yellow blend beautifully with the checkered fabrics and textures.   
2. Paint the Ceiling Marigold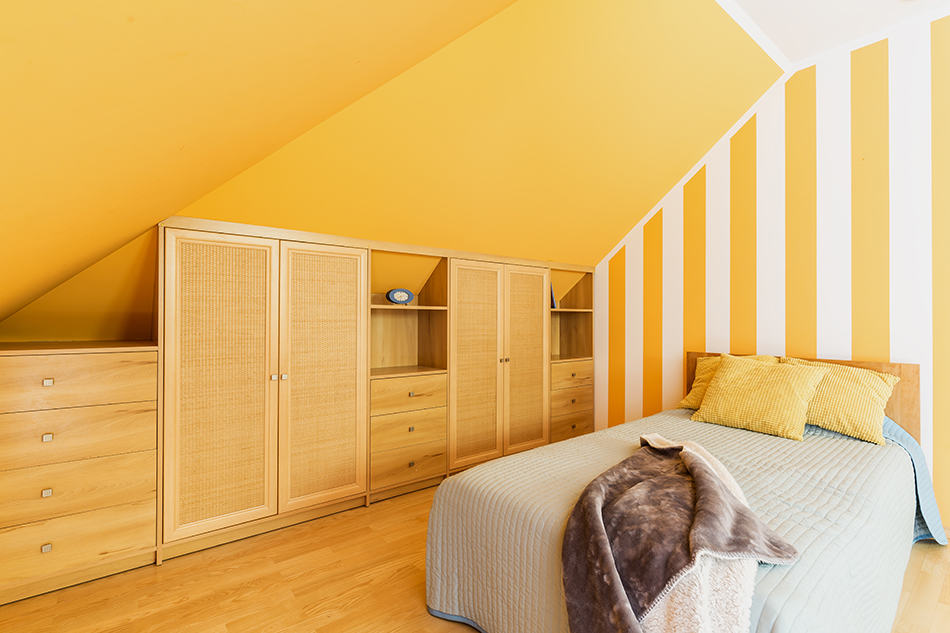 The bedroom in this image is a beautiful example of how marigold can complement pine wardrobes and flooring with an unexpected pop of yellow ceiling. The intense yellow and white wall next to the marigold ceiling, together with the yellow pillows, make a bold statement.
3. Add Colorful Accessories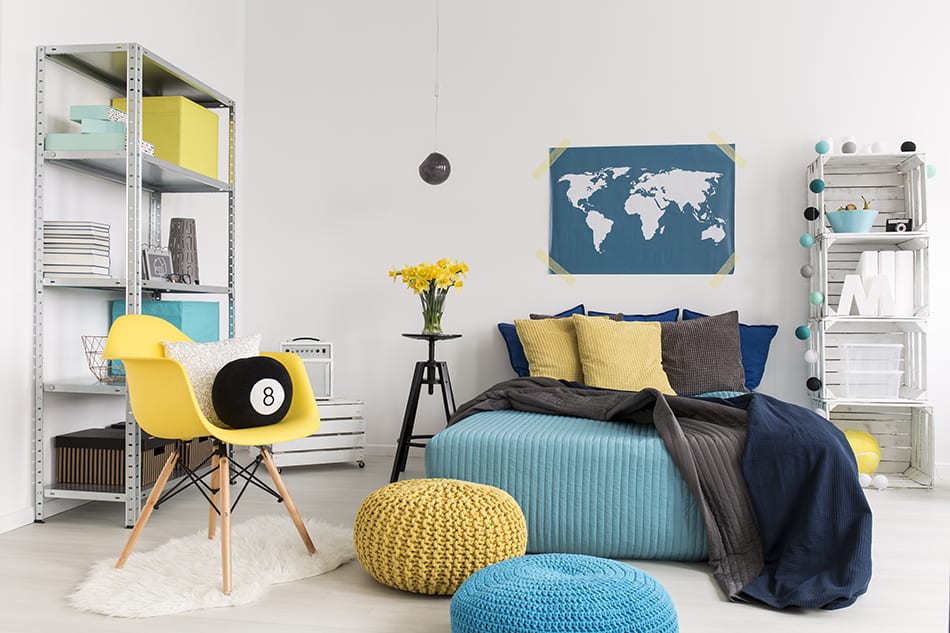 Yellow can work with many different colors, not just grey and black. Add a yellow chair, yellow and blue bean bags, and even yellow flowers to your bedroom just like in this image as an experiment to see which blend of colors you prefer with your favorite yellow hue.
4. Try Bold Yellow Wallpaper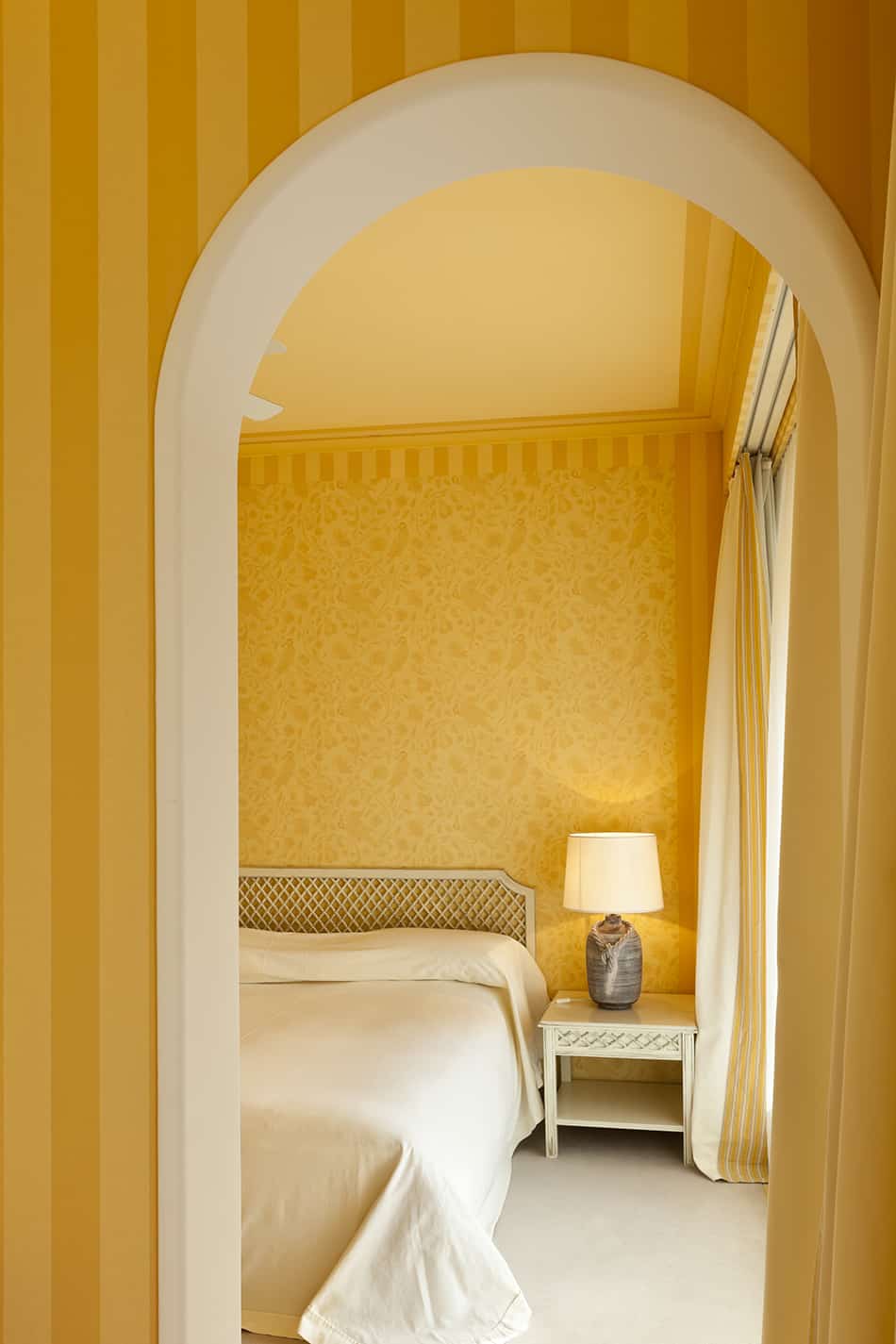 Yellow wallpaper brings a sense of optimism to any interior space. You can easily contrast the wallpaper with soft neutral tones. See how the white bed and bedside furniture has softened the yellow wallpaper in this bedroom. The only thing that's missing is a wall art on the wallpapered wall.  
5. Create Balance with Softer Textures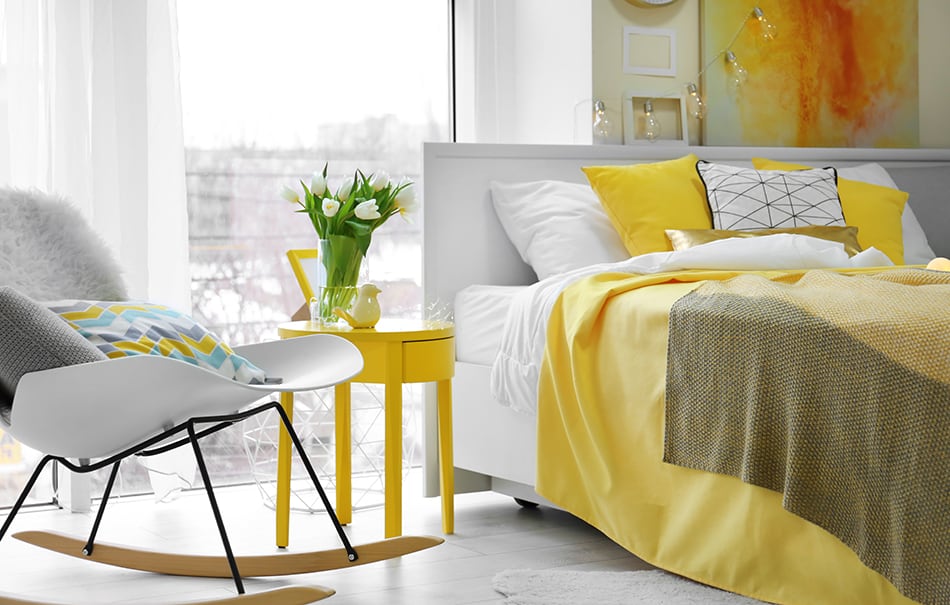 If you prefer a deeper shade of yellow for your bedroom furniture, bedding, and wall art, consider adding grey and white textures to soften the look. Greys and off-white hues used throughout the bedroom will help create balance as proven in this image.
6. Mix Mellow Yellow with Banana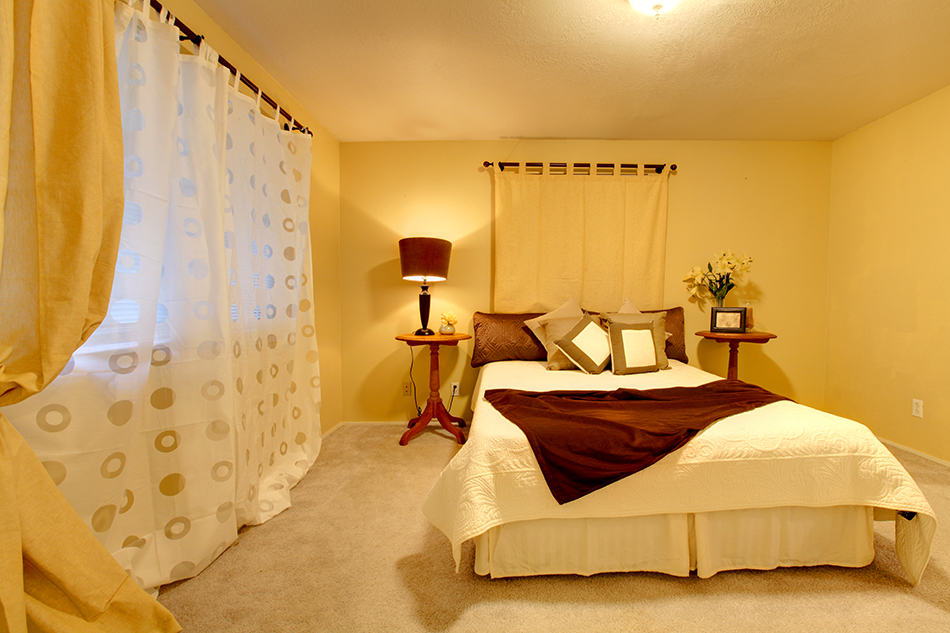 For those who prefer to use yellow throughout their bedroom, why not match soft yellow with its sister hue, such as banana or mellow. Here, the curtains and cushions give a gentle, yet energising contrast to the banana-colored bedding and brown furnishing. This bedroom feels relaxing and warm, without the two yellow shades looking overwhelming.  
7. A Yellow Vibe with Rainbow Colors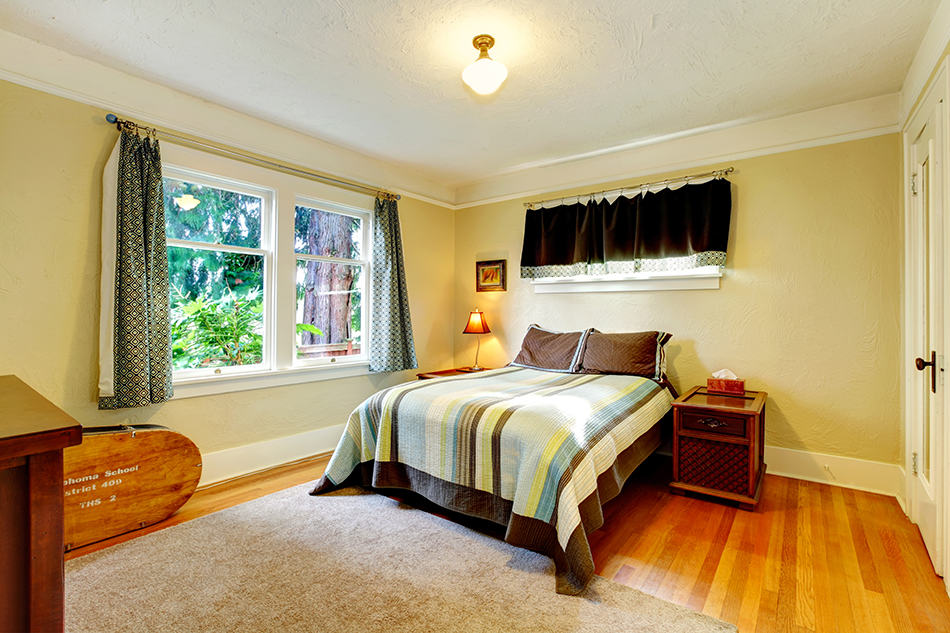 To prevent yellow from overpowering your bedroom's decor, team it up with other rainbow colors for a soothing effect. The colorful stripes on the bedding here, along with the wooden furniture and flooring, perfectly work with the soft yellow walls to give the space a homely feel.
8. Play with Two Shades of Yellow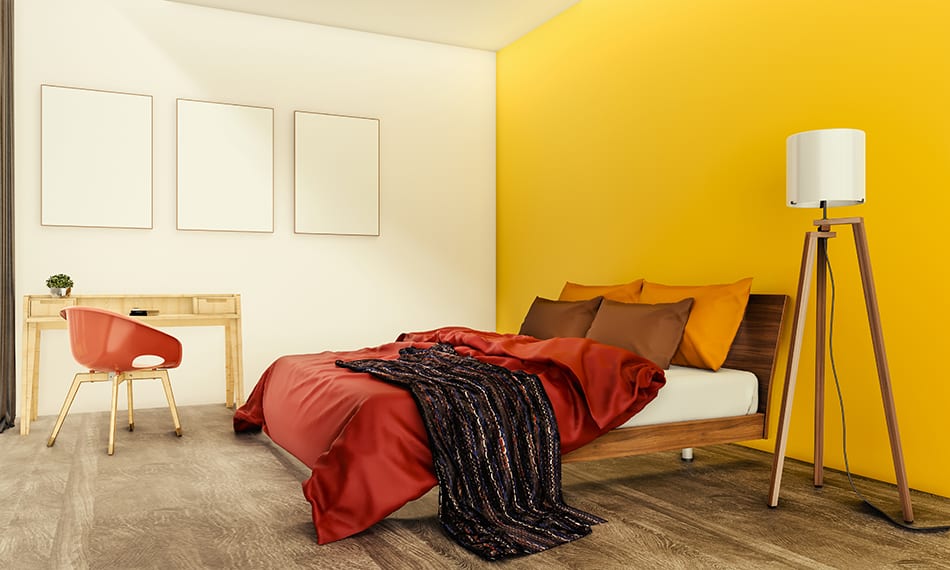 Experimenting with two shades of yellow, both with different intensities, can be an interesting way to turn the bedroom into a vibrant space. For example, use a darker shade of yellow for the pillows to match the brown, and paint an entire wall behind the bed an intense yellow to suit the dark flooring as shown here. While the yellow wall of this bedroom may look intense and bold, it, nevertheless, looks relaxing thanks to the wooden bed and the darker-color bedding.  
9. Add Yellow Accessories to Cheer Up the Space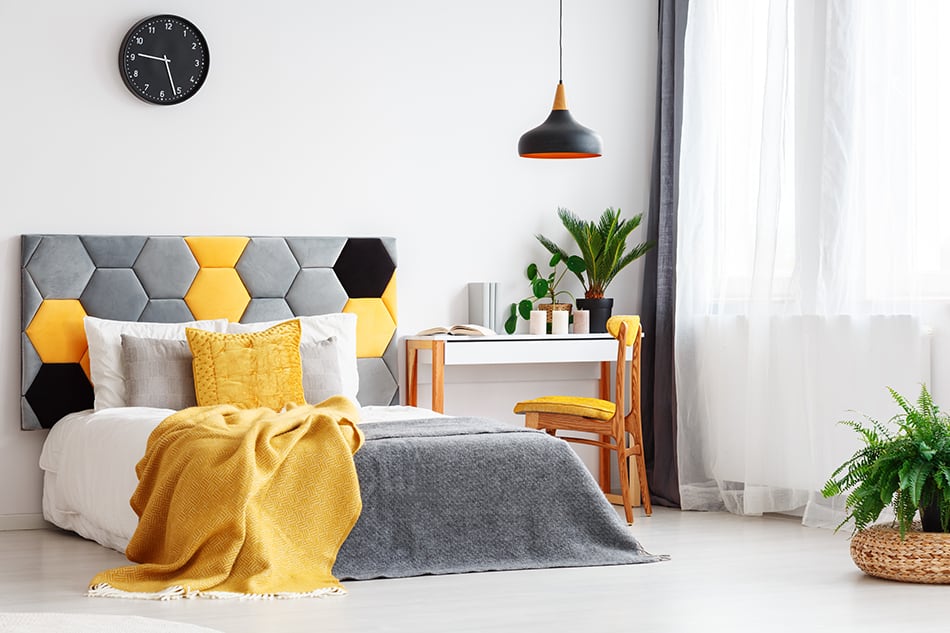 Not everyone is keen on the idea of using yellow on all four walls as this can understandably overload the bedroom. Instead of painting the walls yellow, incorporate one single shade of yellow throughout the room by introducing yellow fabrics and accent pieces to the decor. This idea especially works in black and grey bedrooms that need a little touch of brightness. The bedroom in this image is perfect for those who are a little color shy as the yellow color can subtly be seen on the geometric headboard, the chair, the blanket, and the cushion. These accessories are a great way of bringing a shade of yellow to the room without feeling overwhelmed by this hue. Tip: place the yellow accessories in strategic places to make a stronger statement. 
10. Color Coordinate for a Warm Feeling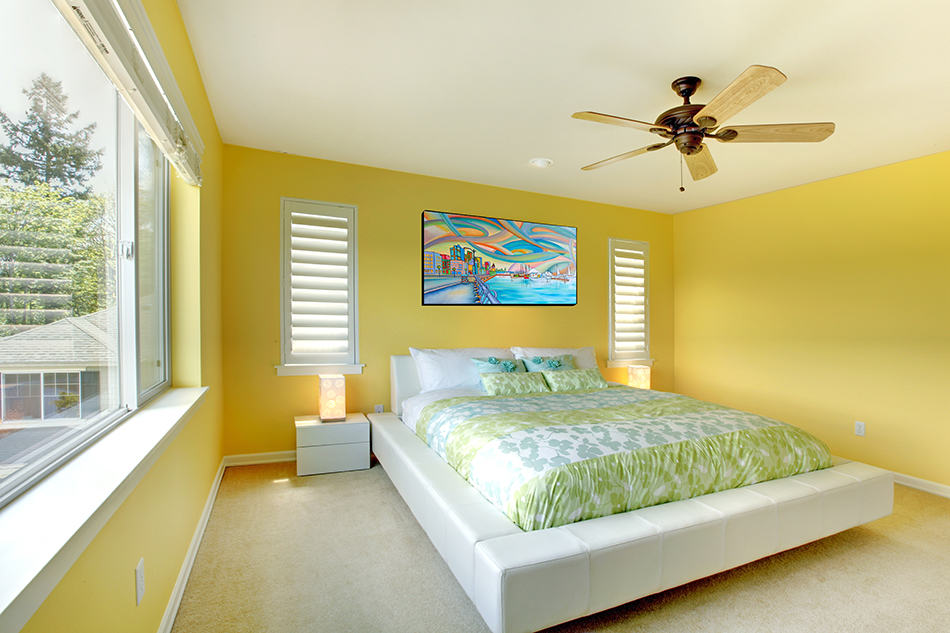 The right color combinations can create an inviting and cozy bedroom. While yellow and grey have always been the traditional color combinations, bright yellow with soft green and white are also a great way of making a bedroom brighter and more contemporary. In this minimalist bedroom, you get the feeling of brightness thanks to the mixture of bright yellow walls with the white and green bedding. The abundance of windows in this bedroom have brightened up the space even more.    
11. A Yellow Sunny Corner to Relax in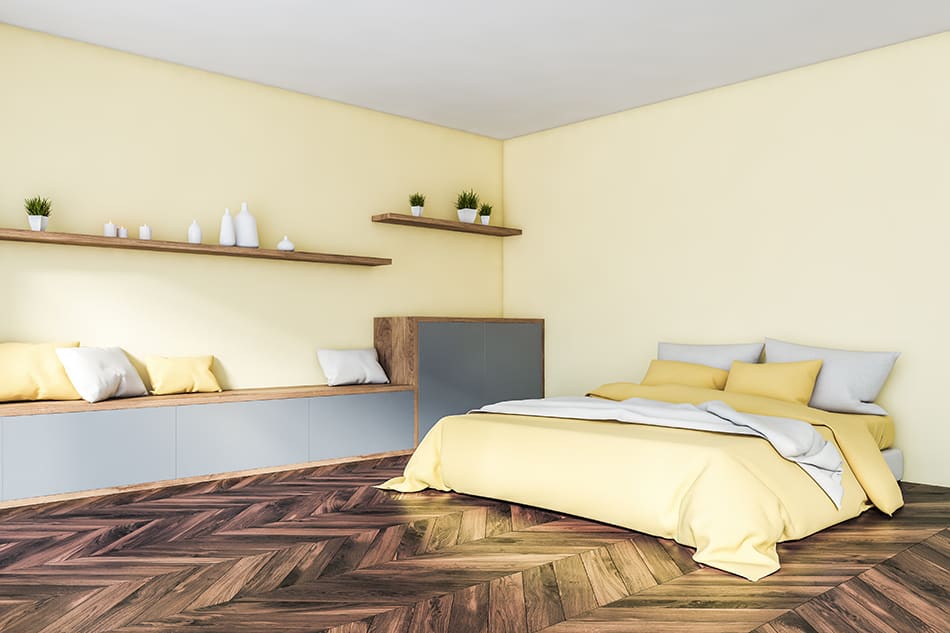 Creating a bright sunny corner in your bedroom, where you can sit and read a book or just enjoy the moment is a great idea. Since neutral colors go with yellow, put some white, grey, and yellow cushions on the seating corner to match the bedding. And don't forget to paint the walls the same yellow as the bedding just like shown here. 
12. Dare to Go All-out with a Full Yellow Decor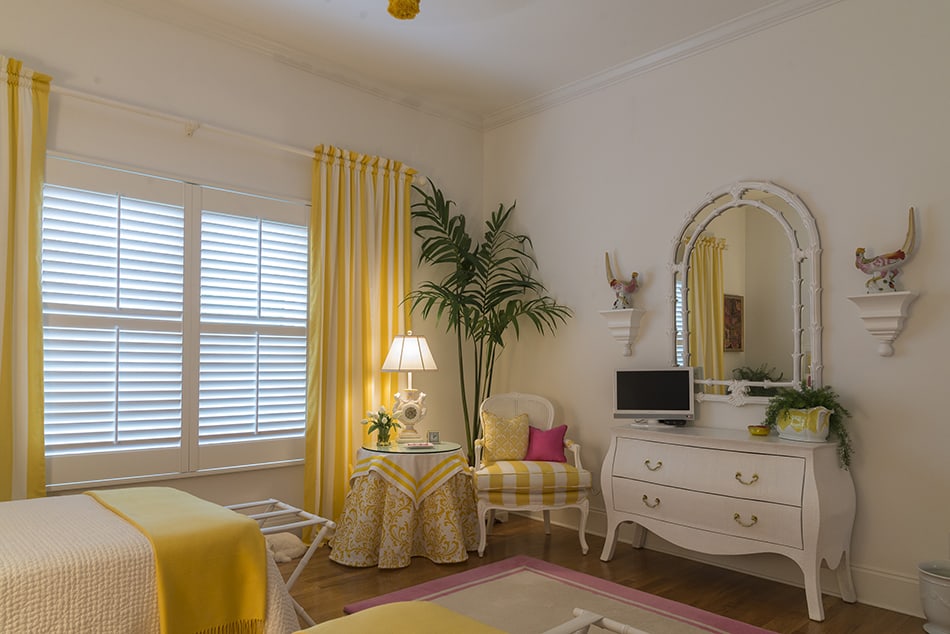 To give your eyes a little extra stimulation in the morning, dare to go all-out with one single shade of yellow for your bedroom decor. This however, doesn't mean you'll be painting the walls yellow. Try to leave the walls white and consider using sunshine yellow for the furniture and accessories. You can choose striped yellow curtains with a matching armchair, a corner table in the same hue, and yellow bedding in order to stop the overall effect being too overwhelming. This image is a perfect example of how sunshine yellow can be subtly introduced throughout the bedroom, without being over the top.  
13. Use Yellow as an Accent Colour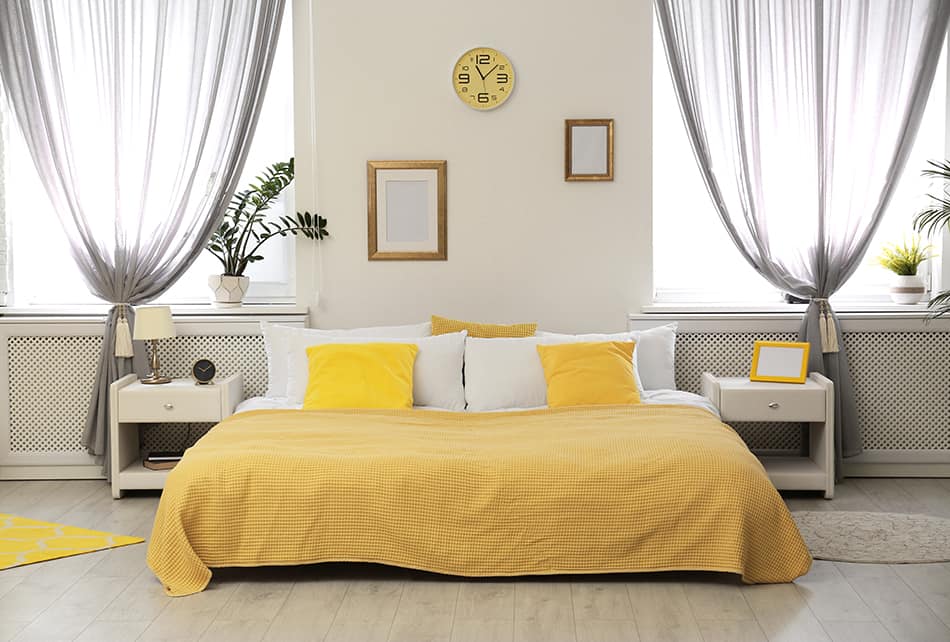 A yellow bedroom doesn't have to be full on. You can simply use yellow as an accent color to bring out this vibrant shade. To incorporate this color in an off-white bedroom, add it to a framed picture, the rug, the cushions, and the clock as per this stylish bedroom idea. Notice how the shade of yellow stands out in this calm, greyish white bedroom. 
14.
Add a Few Metal Touches for Glamor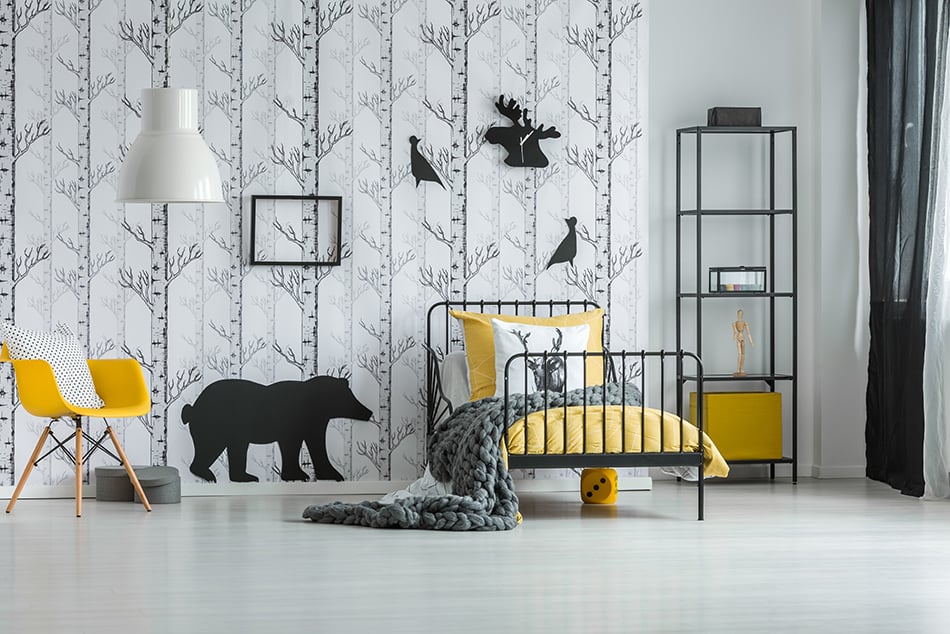 A few metallic pieces make a great accent finish as part of a glamorous bedroom. This forest-themed bedroom shimmers with pops of warm yellow and metal animal shapes. Metal and yellow work beautifully together to complement the grey and black decor. 
15. Combine Rustic Furniture with Yellow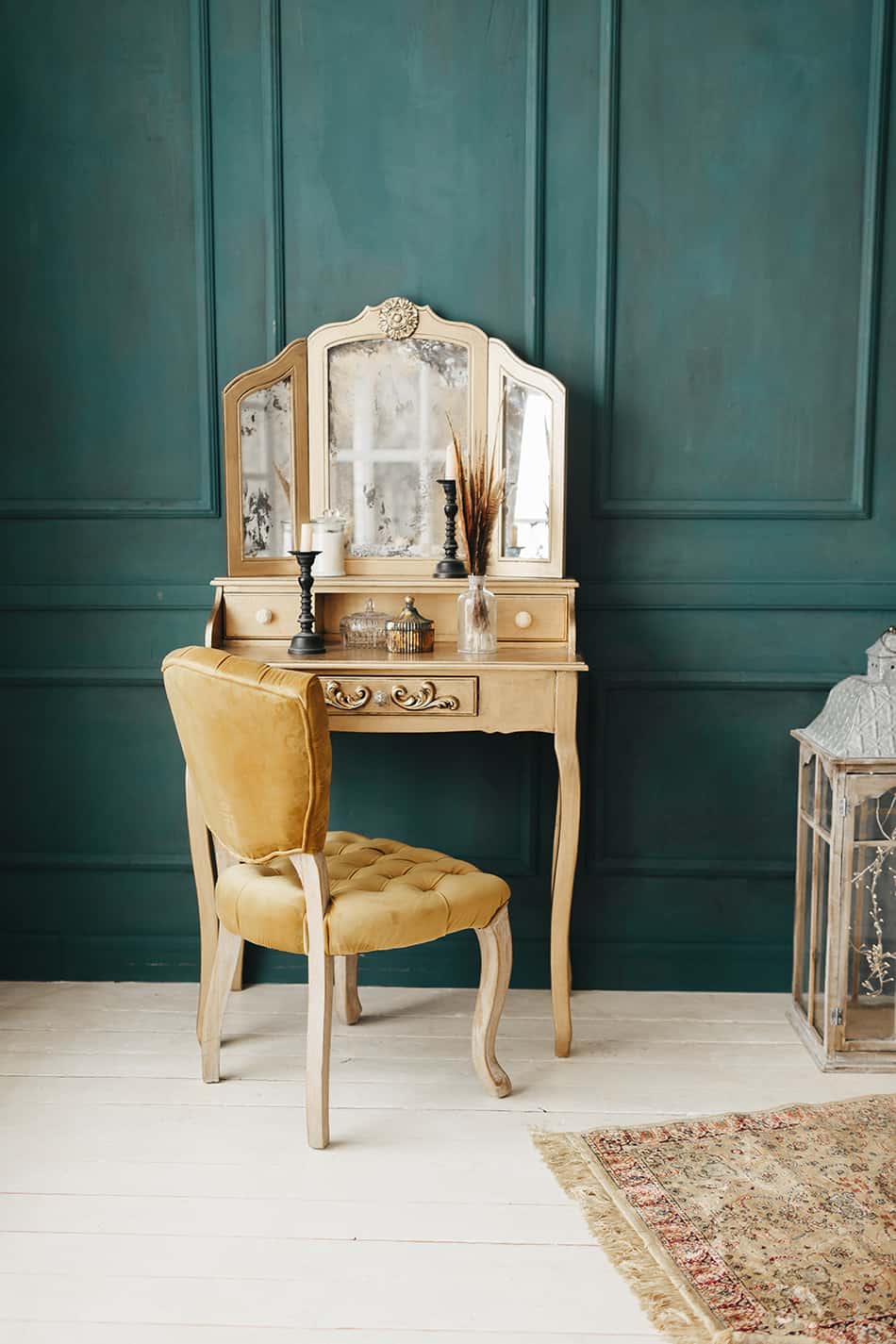 It's not just metal that goes together with yellow. Wood is another element that can further enhance the warm appeal of a yellow bedroom. Whether it's wooden flooring, vintage wooden furniture, or a stylish armchair, you have plenty of options to combine rustic wooden furniture with your favorite shade of yellow.
16.
Create a Yellow Child's Bedroom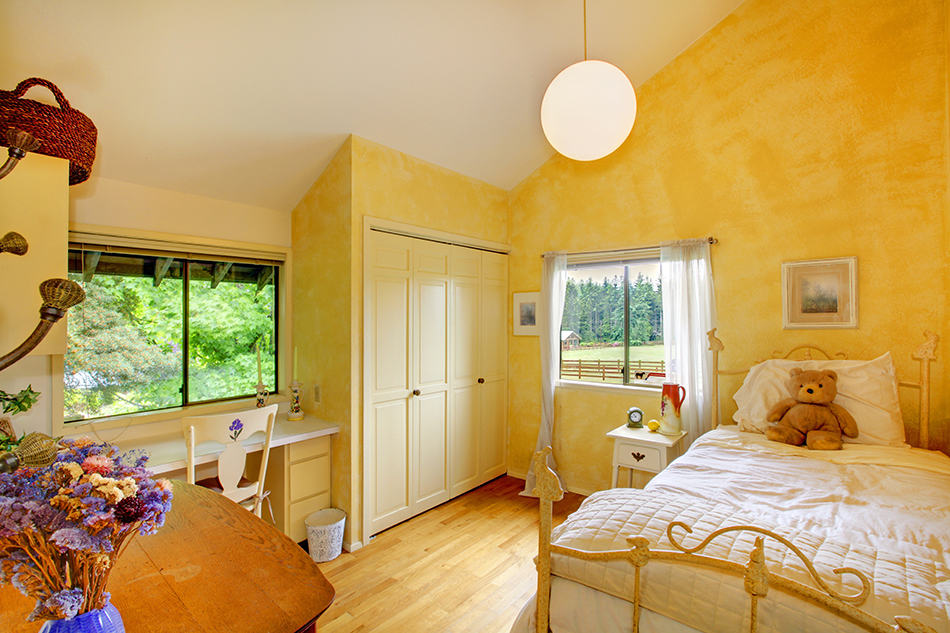 Adult's bedrooms aren't the only spaces that a shade of yellow can be used in. Little girls' bedrooms can also look more exciting by adding lots of yellow hues throughout the room. Paint the entire walls yellow and choose light-colored wooden furniture to match the yellow walls. Remember to include lots of storage options to kick-start the yellow color scheme. In this image, the little girl's bedroom doesn't look overwhelming with the bold yellow walls as the rest of the furnishing is in pine color.