A home's architecture isn't entirely dependent on its exterior features, but also on the right color combinations. Choose the wrong exterior colors and you'll risk making your home lose its curb appeal. The siding and trim colors must work together to highlight the home's best features.
Blue is a calming and invigorating paint color for the siding of a house. When paired with black trim, a traditional or contemporary house can enhance its nautical or sophisticated undertone, while remaining timeless.
If you're looking for ideas on combining your blue house with black trim, be sure to browse through our examples with pictures right here.
Blue House with Back Trim Ideas
Create a Muted Contrast with Black Shutters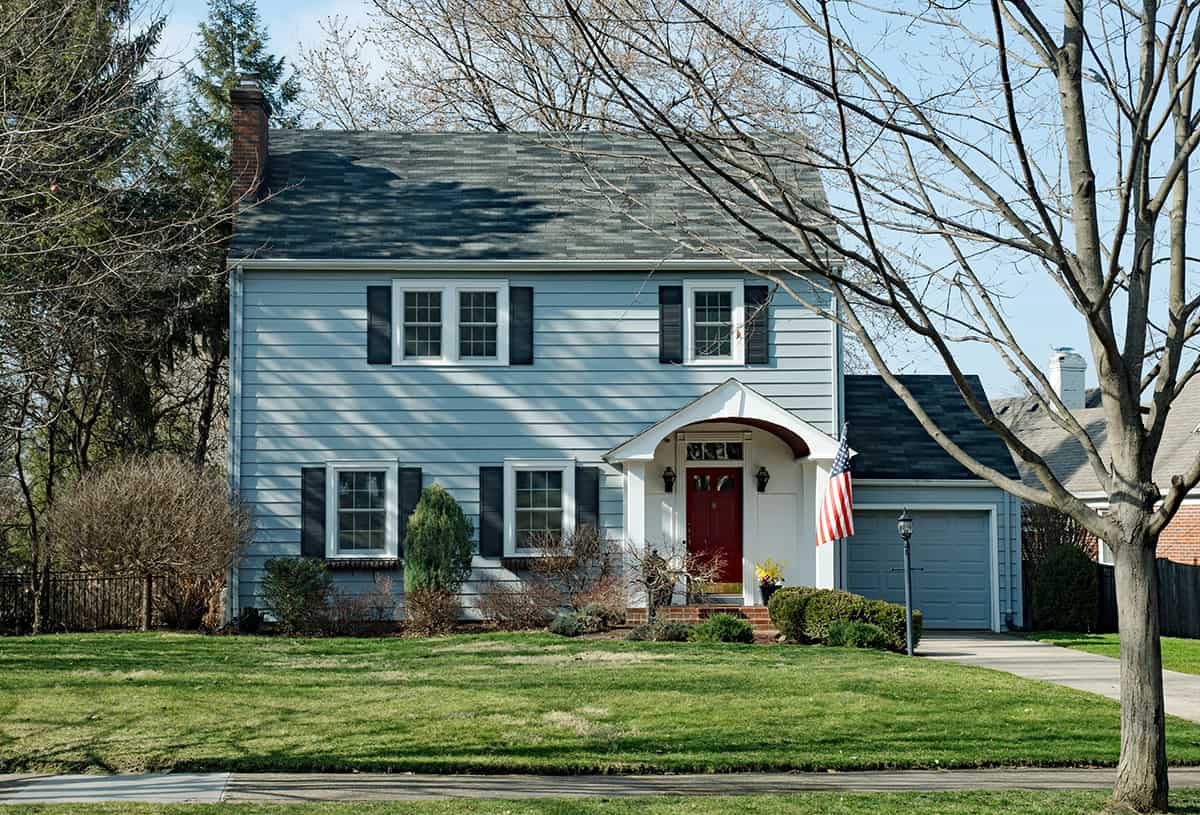 A light blue exterior with black shutters can benefit greatly from this desirable addition. Whether your home is painted in light or muted blue, when it's paired with black shutters, the muted contrast can make the transition a little easier.
In this example, the black shutters and red front door stand out on the muted blue siding, thus causing a fluid appearance. The gray roof combined with the warm tone of the front door and shutters prevents the colors from appearing too dramatic.
Go for a Two-Tone Contemporary Design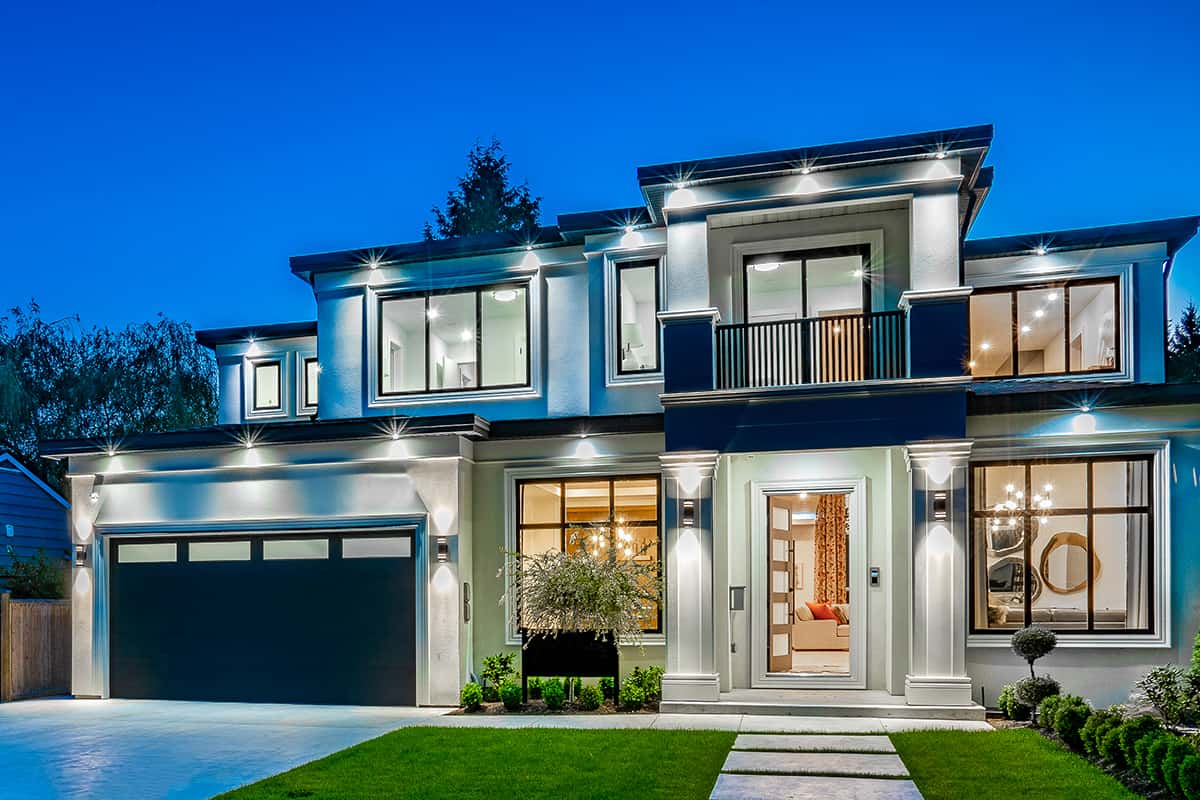 A two-tone design is when you combine two shades of blue for the siding of your house in order to create a contemporary look.
This beautiful contemporary house boasts navy and light blue paint colors paired with black trim. The two shades provide a warmer feel, while the black trim helps tie the exterior design together.
Blend Light and Dark Colors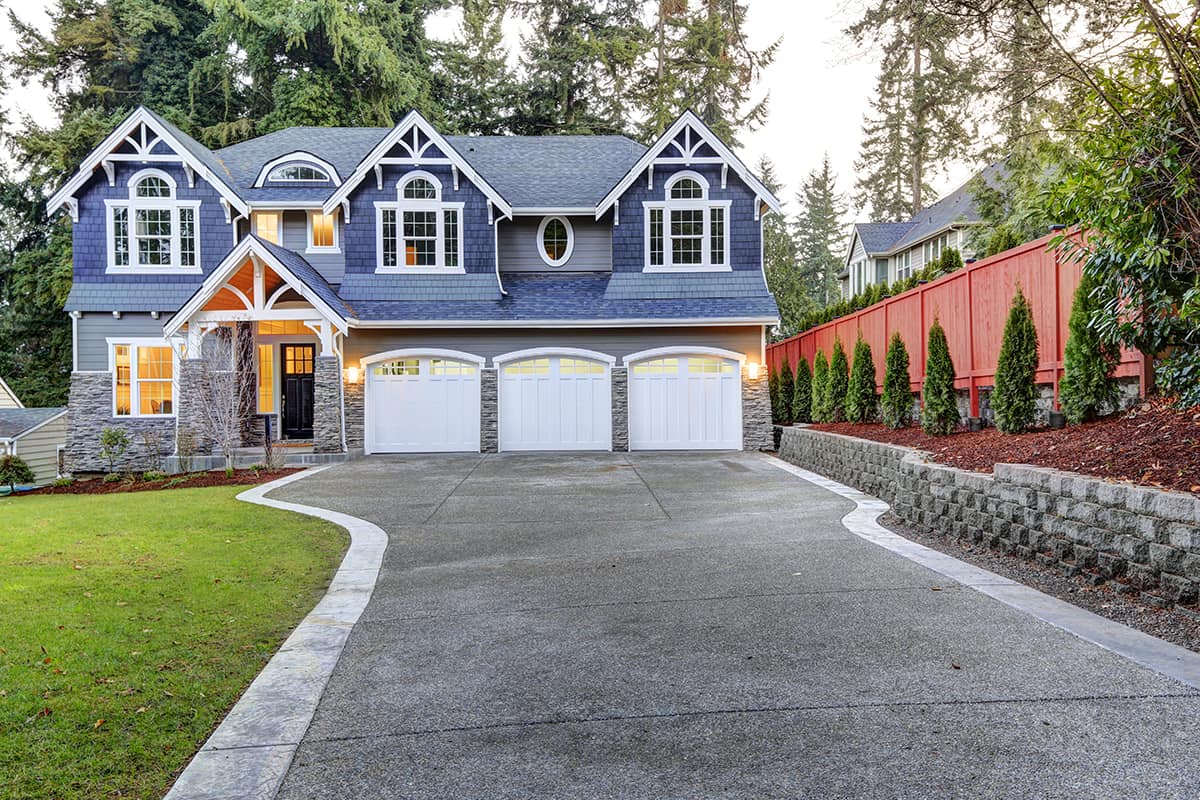 By suggesting you use light and dark colors, we don't mean the same color tones. This time, instead of using two shades of the same color, opt for blue and stone veneer with white accents and a black front door.
This is a mixture of light and dark colors with natural elements that provide a harmonious feel. To prevent your blue home from appearing too dark, it is important to incorporate a crisp white accent into its exterior design.
This luxurious house features blue vinyl siding with stone veneer and plenty of white accents to brighten up its appearance. Notice the black front door as the focal point of the entrance.
Use Warm Tones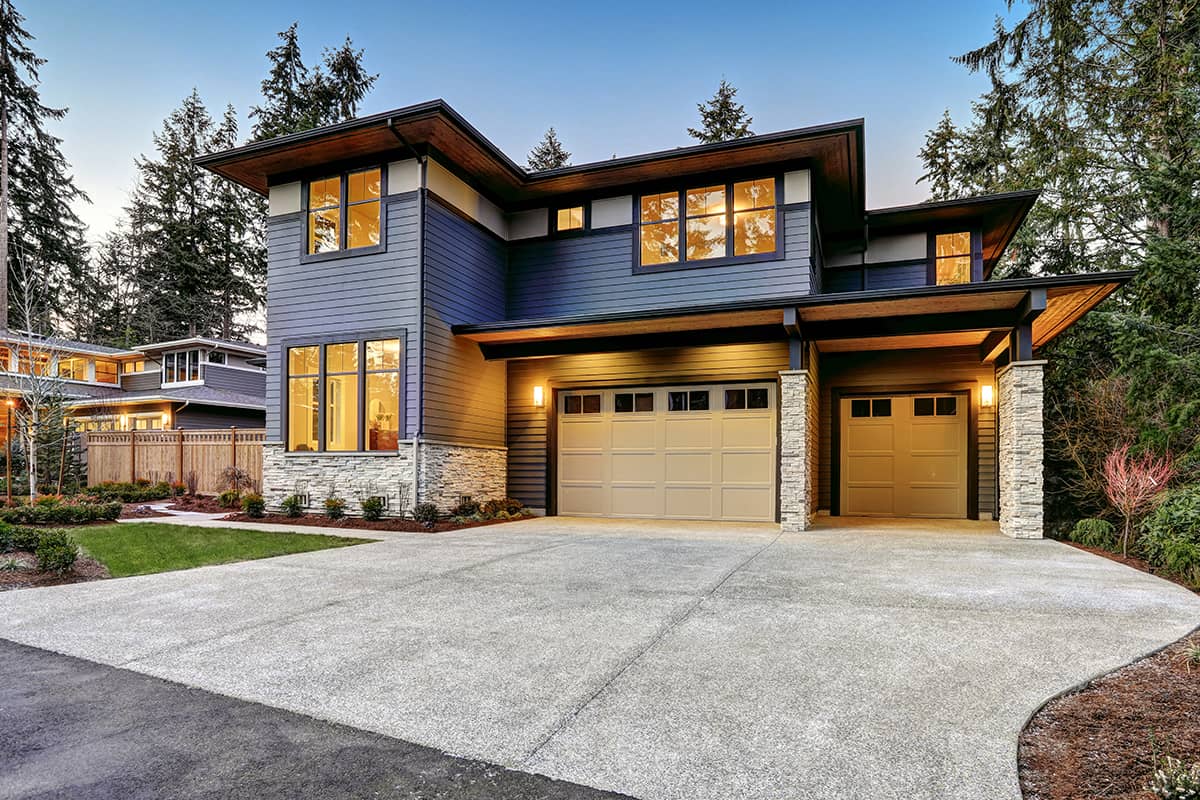 When your blue siding is perfectly balanced with black trim and natural materials, it makes sense to use warm accent tones in order to prevent your home from appearing cold or stark. Opt for a warm beige for the garage doors to create a more inviting feel as shown here. The combination of beige doors, black trim, and blue siding come together nicely as a welcoming and visually interesting entrance.
What Color Front Door Goes with a Blue House?
On a blue house, white is the safest color choice for the front door. A crisp white door can give a boost of curb appeal to your blue home with black trim. Although a white door requires more maintenance such as repainting every so often, it is still a highly preferred color.
Another striking color for a blue home's front door is black. A glossy black door is a traditional choice that makes your entryway appear sophisticated. A black front door next to blue siding and black trim is a stunning combination on a traditional and contemporary style house.
For a brighter alternative, consider a front door with yellow color for a blue house with black trim. This sunny color option brightens up the entrance and ties everything together. Opt for a golden or citrus yellow shade for your front door, and match this color with your shutters for a cohesive design.
Another bold color for a blue home's front door is a rich shade of red. This is another warm color that emits a welcoming and happy vibe, which is why so many homeowners prefer it for their blue homes.
What is the Best Shade of Blue to Paint Your House?
A light blue shade may appear exciting, especially when it's trimmed with black trim, but it is important to think carefully about the particular shade of blue you choose for your home's siding. Greyish blue paired with midnight black trim injects elegance into a suburban home. Include some deep red accents to enhance this color combo.
Other blue shades that work very well with black trim include navy, turquoise, sky, and true blue shades. But before selecting the best shade of blue for your exterior, take into account the location of your home as the climate, sunlight and the proximity to the sea will determine the best blue hue for your siding.
You may even mix two shades of blue paint in order to create visual interest. For example, on Victorian-style or traditional homes, blending light blue with white paired with black trim will work beautifully. One unique blue shade you can choose for your traditional style home is eggshell blue. This is a traditional blue shade that goes great with a Victorian or farmhouse-style house.
As we mentioned earlier, navy is a beautiful shade of blue that goes well with black trim. This versatile shade is highly valued for its dramatic and cozy look, plus it matches lots of other color schemes. Navy blue boasts a dark tone that instantly captures attention, especially on contemporary or coastal-style homes. Since navy is a dark blue hue, it provides a good balance next to black trim and other bold accent colors.
In Closing
When you have a blue house with black trim, it is possible to pair a wide range of accent colors to create your desired look. By using the above examples as your starting point, your blue house with black trim will boast the perfect facade thanks to the most beautiful accent colors you can pair it with.